What is the world coming to? This is the second consecutive entry without mention of daring deeds and adventure on the high seas. Obviously we are beginning to live life according to "Siga Siga" and take things more slowly. But don't despair yachting chums, I can't actually manage to write without some reference to life aboard and tell you specifically about three things to note.
Firstly, the anchorage in Barbados, although excellent for getting provisions, buses and generally having a good time, is very very roly. Some travellers more seasoned than ourselves have developed systems for minimising roll such as buckets or cones attached to either spinnaker pole and/or boom but as yet we haven't adopted this technique but would certainly consider it were we to spend any length of time in a similar anchorage.
Secondly, spare parts aren't easy to come by in Barbados. There is a small chandlery but it is aimed more at fishermen. To be fair to them they were very helpful as several of our forays into "Carters" resulted in us being advised where we might try to find what they couldn't provide. Thus, we were able to get spare shear pins made for both bow thrusters and outboard at Carmichaels and thimbles attached to steering cable at Rotoplastics [a supplier of water butts and the like], but we weren't able to source a replacement Navigation light and had to  order one to be waiting for us in Grenada. It is quite understandable why yacht supplies are low as only a few of those yachts which cross the Atlantic actually stop in Barbados and then it is only over a period of two to three months of the year that they arrive.
Thirdly, and most importantly, stock up on wine before you leave the Canaries. Put it anywhere that there is a space because unless you are in the Superyacht category [which we certainly aren't] it is going to blow a bigger hole in your budget than you might like. However, as the last entry showed, there is no shortage of rum punch or beer.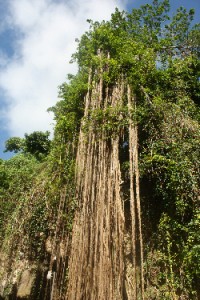 Have you ever wondered where Barbados gets its name? No, neither had I! But it comes from the Portuguese for beard [Barba] because before the colonialists and plantation owners decimated the island to plant sugar cane there were lots and lots of trees which look like they have beards. Some remain, notably in the steep gullies where the rainforests survived because they were too steep for cane. They are quite a sight to see and certainly prompted the early visitors of 1625 to name the island after them.
The island also used to be full of Mahogany trees but sadly, these were also cut down to make way for the plantations. There is a nature conservancy trust trying to preserve what is left and the avenue of beautiful trees near to St. Nicholas Abbey is probably the best example. We visited St. Nicholas Abbey as part of a great day out with our friend Chris. Although Chris now lives in the UK he was brought up in Barbados and was able not only to show us the highlights but also tell us of the interesting history and culture.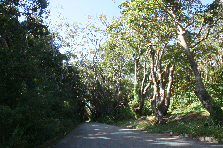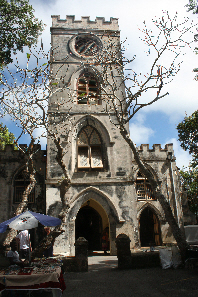 Our round the island started at Codrington College, a seminary built in beautiful grounds with fabulous views over the East coast and from there we travelled north to see St. John's church before dropping down to the East coast at Bathsheba. Bathsheba is where all the really serious surfers go. It is certainly not for beginners, and we watched in awe as the "Soup bowl" was tackled by those brave few.  It was in Bathsheba that we finally managed to get a Flying Fish "cutter" [the Bajan name for a sandwich]. Apparently flying fish – of the right size – are getting harder to come by. We saw notices in a couple of fish and food outlets along the lines of "due to the lack of fish in Barbados and the whole of the Caribbean….." I am afraid that trawler type fishing is now severely damaging fish stocks everywhere.
Chris had hoped that the "cutters" would come with breadfruit chips but the "Round House" didn't have any on the menu on that day so Chris explained to us how to make them – as well as giving us the low down on other breadfruit recipes. So, after replenishing our inner fuel we moved inland to the Abbey mentioned above which isn't actually an abbey at all – it's a plantation house and rum distillery. It was built in 1658 and for much of its time was occupied by the Cave family [no, not Fred and Wilma]. Part of the tour includes an opportunity to view cine footage filmed around 1935 of plantation life, Barbados country life and the trip by liner from Bristol to Barbados – a fascinating glimpse of yesteryear. The steam mill and syrup plant have been part of sugar production at the abbey since 1890 but it wasn't until its new owners Larry Warren, and his son Simon, bought it in 2006 to preserve it as a cultural heritage site that they actually started to produce rum – any jolly fine it is too.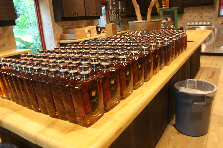 Finally we travelled to the north of the island to look for the Flower Cave which, despite following various signs we managed to keep avoiding! At one point Chris stopped at a junction to study the map [and as per previous blog entry please bear in mind that these maps are not an exact science]. A minute later came the tooting of a bus horn. Chris moved round the corner to let the bus pass and as it was doing so, it slowed down alongside with the "conductor" leaning out of the window. This was not to shout abuse but to ask if we wanted help. As Chris said "Only in Barbados" but even having been given a local chaps advice this also just took us around in a circle. As we passed the same district police station for the fourth time we decided enough was enough and we headed south again.
Our day ended with a view of the ocean and the sunset from Chris's patio whilst we watched a humming bird which came to stock up before bedtime.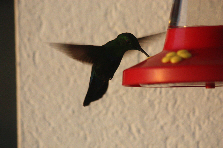 We were also given a yummy Panetone which we enjoyed for about the next week as it was so huge!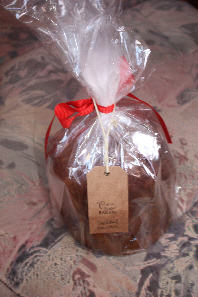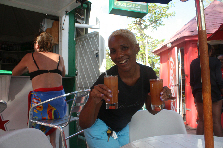 Regular readers will remember that I said in the last episode that there was another story to be told about the Oasis Bar in Worthing where we met Joan….. and that is….Joan's Rum Punch. However, as all good purveyors of fine food and drink [and to be sure her Fish cakes were just as good as the punch] Joan does not disclose her recipe. Fortunately for us Chris's reminder that the best recipe is "One of sour, two of sweet, three of strong and four of weak" is the way to go.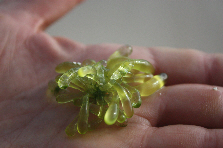 Now, what do you think this is? No, we don't know either. We found it whilst walking along the beach on the south coast and so it is possibly some form of seaweed, or maybe some type of marine animal? Or is it some kind of "flower"? We didn't see anything like it on any other beach and not being in any way expert on flora or fauna on land or in the sea we remain curious. Talking of plant life, we have been amazed by the beautiful flowers and shrubs that we have seen. Many gardens look like an extended version of a house plant collection with many of the same plants we have indoors in the UK proliferating the gardens and the countryside. Below are just a few of the flowers that we have seen, the last one being a Ginger lily which has white flowers inside the red bracts.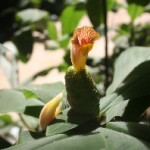 The other amazing thing about these plants is their size as you can see from the Macaw Palm and the bamboo…..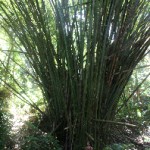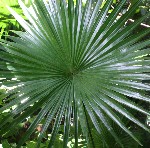 …. and it's not just the plant life which is on the large size. How is this for a snail?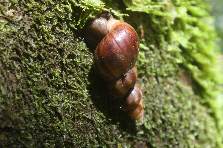 …and as for these millipedes!!!!!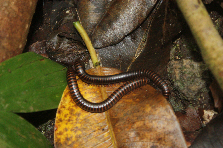 In actual fact, it's the snail which is a problem as it harms the environment and the government pay $0.50 [about 12p] per pound of snails collected. Not really sure this is much of an incentive and we left this one to its own devices. The millipedes, of which there are hundreds eat only dead material and are absolutely harmless to humans, as are all of the snakes on the island – not that we have seen any.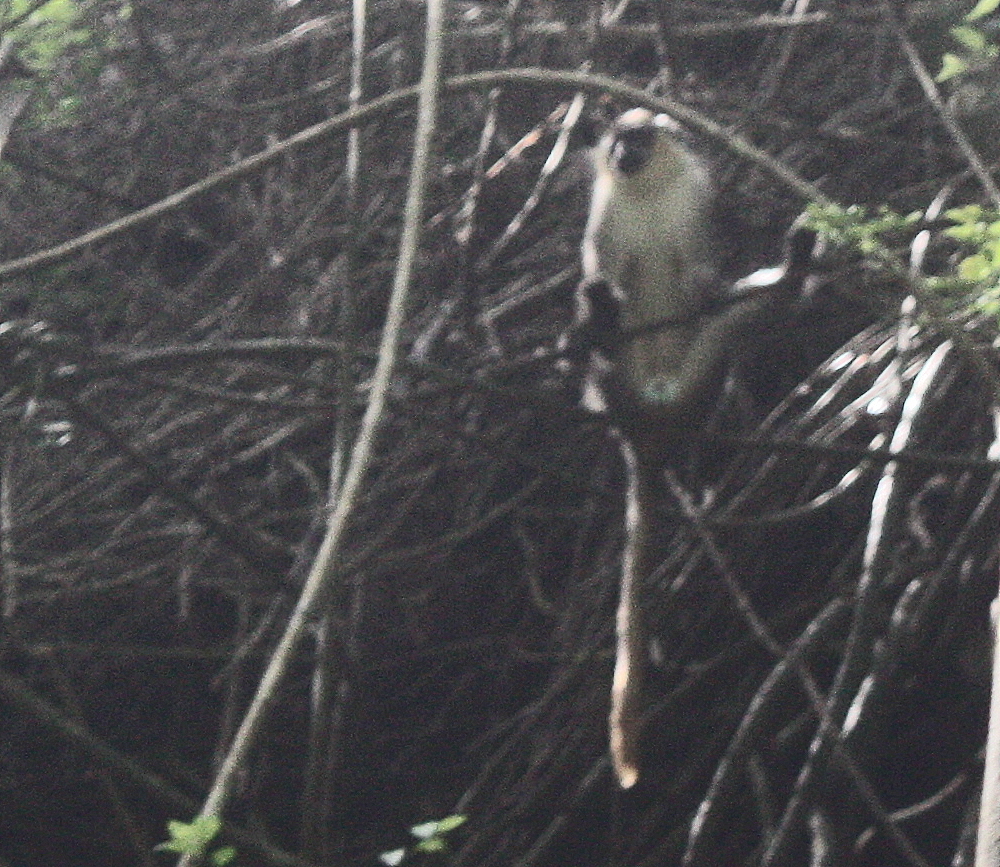 Our new found knowledge on plant and millipede life was learnt at Welchman Hall Gully. We visited with Stuart and Steph who were anchored next to us on Matador and we had a great day out with them, the usual hairy bus ride taking us too and fro. We were all keen to see the Green Monkeys in their [natural] environment. The natural is in brackets because they aren't actually indigenous to Barbados but I am sure you know what I mean. It was possible to visit the wildlife park [outdoor zoo] but we were really pleased to be able to see them in the gully. I am afraid that the photo isn't exactly the best as they are very adept at both hiding and at moving just when you are ready to take a photo.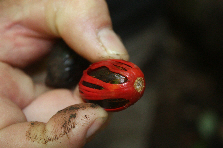 Perhaps the most interesting find in the gully was this….
Have you guessed yet? You may work out that the inner part is nutmeg – but what about the outer red casing? Well, it's Mace. It feels quite waxy but, when dried it is powdered and used for cosmetics etc as well as in cooking.
In our quest to understand the origins of the island and its geological history we visited Harrison's Cave. I hesitate to say "You have seen one cave, you have seen them all" because we have visited a number of caves in various parts of the world and generally found that each had something unique and interesting to offer. I am afraid that by commercialising this cave much of the beauty has been taken away. I am not sure how anyone could think that taking a caterpillar digger into a cave to produce a road along which "trains" can run could possibly enhance it! Ah well.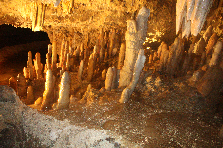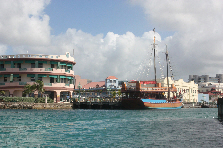 As was noted earlier, being in Carlisle Bay gave excellent access to Bridgetown and to a number of opportunities to learn about Barbados, its history and its people. A visit to the museum which is found at the Garrison is well worth the 20 – 30 minute walk from the Carenage where we generally docked the dingy. The Garrison is, as you would imagine, the area south of Bridgetown where the British garrison was situated. There were other smaller fortifications at various times which can be seen scattered down the coast road but this area housed the administration, accommodations, stables and the military prison, in which the Barbados museum is now situated. When we paid our dues to enter we were told that it would take us about 30 – 45 minutes to tour the museum. We emerged about 2 hours later. OK so maybe we read almost everything there was to read but why not? You may recall that several blog entries ago I mentioned a book we were reading about crossing the Tropics etc. Well, in that same book the main character [a deportee from Bristol] had been given a small water purifier made of limestone. Here in the museum we saw a full size version of the same thing which was built to provide a whole house or community with pure water.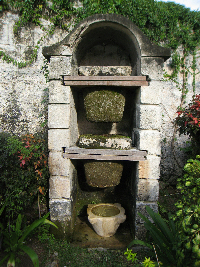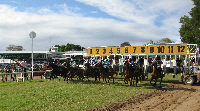 The Garrison area also houses the modern day racecourse. Horse racing is very popular in Barbados [and, we believe across a number of the Caribbean islands]. Apparently races are supposed to take place every Saturday but we didn't see any evidence of that. However, there was a race day on 2nd January and, as we knew that the main part of the track was just open to the public we decided to go along and take a look. It was great fun – not only because of the horse racing but because there are lots of other things to see. It is very much a family thing and there were food stalls and stalls selling children's games etc. There were also several "homemade" roulette wheels and a gambling game where a tennis ball was thrown into a box which had holes in it each with a different colour [about six colours in all across maybe 84 holes] and the better had to guess which colour the ball would land in. What was particularly good was that, in reality, the whole of the racecourse was accessible. We wandered across the track between races, went to the winner's enclosure, saw the horses being paraded before the start and sat for the last race in the grandstand – all at absolutely no cost.
Horse racing is not the only sport enjoyed by the islanders with polo and, of course, yacht racing being just two others. We didn't see the former and, due to being fed up of rolling we decided to leave before the Mount Gay rum yacht race. Stuart and Steph did enter in the cruiser section as they were waiting for some friends to join them so couldn't leave and, with about four parties hosted by Mount Gay included as part of the fairly modest entry fee it seemed like a good deal.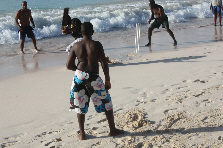 But, as you will know Cricket is really the national sport of Barbados and we saw several groups indulging in the sport along the beach. We could have gone to watch a 20:20 game [East Indies v West Indies] on our last night there but it didn't start until 7pm and we wanted to leave early so we declined. Again, the accessibility of this was exactly as it should be with tickets at the equivalent of £1.30.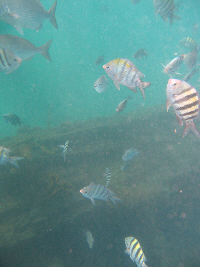 A very popular activity in Carlisle Bay is snorkelling with day trippers from cruise ships or hotels being ferried into the bay by small catamarans. There is actually no need to go on one of these trips unless you want to experience a short sail [and we really didn't think that applied to us!] because the bay is only 10 minutes on foot from the town centre [and on the way to the museum if you want to make it a joint trip]. We were able to dingy across to the "marine park" – a rather grandiose name for something which is actually a small area marked by two white buoys. In the "park" is a sunken wreck with corals and fish and a whole host of turtles. The main advantage of doing an organised trip is that they take along turtle food and you are therefore guaranteed to swim with turtles. We, therefore, missed swimming with them. During the course of our stay we saw several swimming past the boat and past the dingy when we went into the carenage and, on our snorkelling day we also saw two but, by the time I was in the water they were gone. We should probably have been cleverer about it and waited for a catamaran and tried to sneak in amongst those swimmers. We were also a bit disappointed by the clarity [or lack of] of the water. As we know from beaching the dingy a couple of times there is a lot of sand in the water and this was also apparent out in the bay over the wreck. But we still enjoyed our swim with the fish.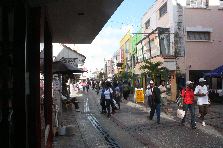 Overall, Bridgetown is a very vibrant place, full of colour and music. Although it is generally quiet by night it bustles by day. As was noted earlier, many yachts by-pass Barbados which is a shame because, despite the three cautionary facts at the start of this entry we are really glad we stopped here. The island is well worth visiting and, for yachties a local guy has now opened a cruisers bar. We still prefer to gather with the locals but we were definitely in the minority of fellow travellers doing this and, if gathering to swap sea-faring tales is what you want [and we do engage in that sometimes] then Earl's Bar [almost opposite Carters chandlery] is the place to go. It's actually called "Lucky 7" or something but the owner is Earl and that's how it seemed to be affectionately called.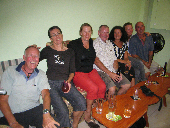 And so….. onto Grenada about which you will hear about soon……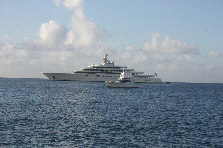 In the meantime – this is how some people prefer to do it – or not, as we don't believe Mr. Abramovich was actually aboard his new yacht "Eclipse". But, at the end of the day it is only in the same bay and seeing the same things as the rest of us more lowly "Liveaboards"