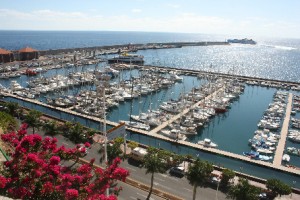 Well, where to start with this entry? It doesn't really lend itself to a chronological approach so I will begin by telling you why we are still here in La Gomera. I am afraid I have to report that the antibiotics given to me during the two weeks at home did not have the desired effect and, on 2nd November – three days before we had originally planned to leave, my abscess returned. Contrary to popular belief – or the position taken by a few friends at home – that antibiotics can just be bought at a chemist in Spain, the Canaries and various other parts of Europe, I have to report that they can't. So, I ventured to the dentist and have to say that the treatment I have received so far has far exceeded that in the UK. To start with dentists are available to see you without an appointment and, when confronted with a swollen face don't just send you away with an antibiotic but take x-rays and begin treatment to relieve whatever is causing the abscess. Secondly – they only seem to charge the same as the National Health Service at home for what is, essentially, private treatment. All along I have been offered choices, including partial treatment to enable us to sail to Cape Verde to finish treatment there. However, although we have heard that there is a very good Dutch Hospital in Cape Verde, I decided to finish the treatment here – even though it has meant a bit of a delay.  Well, 10 days of delay actually. As I write this I am due to return for what I hope is my final treatment on Monday which should allow us to sail on Tuesday 15th.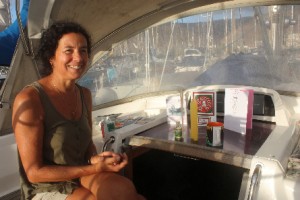 So, enough about woes – and on to some good bits, starting with my birthday which was celebrated a week after our return from the UK. Thanks again to those who remembered and sent me good wishes by card, e.card and text.
Initially, we had thought that a visit to El Hierro would be a good thing to do for my birthday as it is the only Canary Island we haven't been to. The pilot isn't very complimentary about the harbours and suggests there are no anchorages and so we looked at using the ferry. Unfortunately, even though it is advertised, there is actually no ferry direct from La Gomera. To get to El Hierro involves a ferry to Tenerife and then a second to the smaller island. Although the ferry company does time the two to make the journey viable, the cost is rather prohibitive. It would have been around £100 – £120 each return and although I know that when compared to a 2nd class return from Manchester to London on the train it is a small price to pay, we decided that it was a bit extravagant just for a birthday trip. So, back to taking the boat was our next plan – but this was scuppered when we spoke to some neighbours about the possibility and they advised that El Hierro was actually erupting! I shouldn't think the rest of the world knows about this and certainly we hadn't picked up on it – but apparently it is spewing lava into the sea at quite a rate, the islanders have been prepared for evacuation and one yacht which happened to venture there unknowingly was confiscated for two weeks and the two crew put into the evacuation accommodation with the islanders. We have checked on the internet and the eruption, though supposedly "safe",  is actually happening.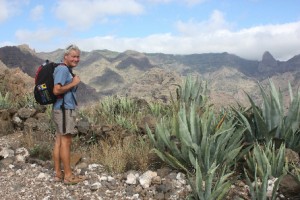 So – we abandoned the idea of El Hierro and went for a bus ride instead! I guess that doesn't sound very exciting but it was a planned trip with a leisurely start on a 10.30am bus to Targa [about 15k north of Santiago] and a walk down the barranco to a beachside bar/restaurant for a late lunch before catching the bus back to San Sebastian.
Such was the size of the lunch that the steak we had bought for tea that evening was actually consumed the following day [and jolly fine it was too] – though the bottle of bubbly did go down a treat.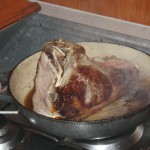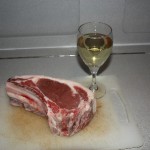 Now, you might begin to wonder what on earth we have been doing with the rest of our days. Well, it's amazing the number of jobs that a boat can create. Some of you will be aware that we had two big projects lined up which were pre-planned and these were the things that we tackled first and, as a result, we now have our solar panel fixed firmly to the stern arch and successfully wired and the Satellite phone working and linking properly to the computer. What is even more amazing is that those two projects were completed without any hitches. I am busy holding on tightly to a great lump of wood [namely the cabin table] as I type this because of course it could be a case of "time will tell". But – as seems to be the case with just about everything – there is no point in dwelling on what might go wrong until it does. Very philosophical hey – which it is much easier to be when thinking about it than when it happens!
Having blamed my abscess for our delay is not, however, the whole story. In an effort to reduce the strain on our batteries – particularly when sailing at night – we decided to invest in a full set of LEDs. Although on our purchase list from the UK, with everything else that we did during the two weeks back in England Mike didn't manage to get around to ordering them. On the one hand this wasn't a bad thing because if we had it is likely that some of them would have been the wrong type [i.e. fittings at the side rather than the back] but, on the other, it was a bit frustrating to find out that the UK manufacturer/distributer of these is actually in Rochdale and we could have popped up the road and brought them back with us, especially when – despite prompt an efficient service by Searolf – Spanish/Canarian post delayed their delivery by about 5 days meaning that they arrived just after we had originally planned to leave.
It is interesting that the part Mike was really not looking forward to, i.e. scaling the mast to affix the anchor light was accomplished in no time and without any hitch [and to the absolute delight of Mike who has now conquered that fear] but fitting the navigation lights at deck level turned into a real epic because the wiring of the old lights was a complete mess and we ended up drilling holes in the ceiling to find out where the wires went and another hole in the back of a cupboard to get at the fittings and fix them. But that wasn't the end of it. If ever asked how long it takes to change a light bulb in a saloon wall light then the answer seems to be two hours for two people. Well, that was the first one – fortunately after that it was reduced to about 15 minutes per bulb – but still!!!!
And now for another story involving the Pig…. the new Pig.
You need to hear that upon arrival we took it eagerly out of its box – after all this is a new toy and being anything other than eager just won't do – and worked out what bits were what and put the pump together and then found that the pump fitting didn't fit the valves. Whatever we tried to do we just couldn't get it to pump up. And so, after taking photos of the valve and pump connector and sending them to Roche Marine with a request for a replacement fitting [or something], pig sat in a sorry un-inflated state in its bag for almost a week before a couple from Falmouth stopped by for a few words because our boat is registered to Falmouth and they wondered if they knew us. They too happen to have a Lodestar and, in swapping stories of jobs to do and jobs done it came about that we were having problems. The guy went off to get their pump and, at first viewing, it looked as though there might have been egg on the face because there was no discernable difference between their fitting and ours and theirs worked. However – face saved – guy tried our fitting and…it didn't work. Mike decided that the solution was to fashion a different, thinner washer for the fitting and, although Roche had agreed that replacements needed to be sent and had posted them, as with the LEDs delivery was slow and no new fitting had arrived.
Mike's invention worked and the result is below.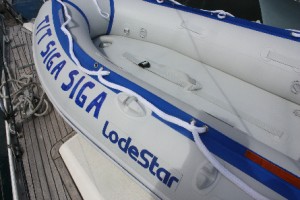 Everyone can now remark on the pretty pig……. not to mention the artwork! Talking of which, I could do with sis's help here as she is quite an artist [I am talking of the drawing variety before any of you think otherwise] and I want a pig drawing on the front. I have done one on a piece of paper but Mike says it looks more like a cat – so that wouldn't be best if I copied it in permanent marker.
Just to digress for a moment from tales of jobs – my comments above about chatting to the couple from Falmouth reminds me to discuss the relative sociability [if that is a word] of yachties from different parts of the world. The Dutch are absolutely brilliant at being sociable – and there are lots of them. Every time a Dutch boat berths all the other Dutch folk turn up to help/say hello or whatever and they all end up socialising and swapping tools and generally acting as though they have known each other for ever. The French do likewise – except I tend to prefer their socialising habits as it tends to revolve around food and drink rather than tools. The Germans are probably slightly less sociable, though German boats do seem to have a lot of people on them – so there are already people to socialise with without getting off their respective yachts. And then there are the Brits.
The couple from Falmouth mentioned above can only be called "the couple" as we didn't swap names, nor did we speak to them again other than hello if we crossed paths on the way to the shower or something. We did invite them on board for a drink which they politely refused and we did say to them to come another time but No – we remain Billy No Mates. We did hear them speaking to other British people who they were in a small pre-arranged convoy with – but maybe it was because we are from "Oop North" and their accents were decidedly on the "we sail in the Solent" side.
Actually, we are not totally friendless – there are Martaan [Martin] and Marieanne our neighbours who are, guess what – Dutch and we have spent the odd hour chatting to them so all is not lost. We have even swapped tools – so we must be mates!  It maybe that we are the wrong age?  We don't seem to look as old as the other British couples [maybe I deceive myself?] and we are certainly not as young as most of the Dutch and French travellers – many of whom are in their thirties and travelling with young children. Quite how they are managing this I don't know – maybe they have a better employment system which allows long[ish] periods out of work? Maybe they just have loads of money – though they don't come across in that way. Whatever it is, their kids are certainly getting an excellent education.
Anyway – back to boat jobs. There is a story I could tell for each of the jobs we have done but if I did that this entry would run to many more words than necessary so, just to impress – or to make you realise that you can always find one more thing to do – I will just list them:
Updated the operating system of the chart plotter
Fitted a reversing solenoid to the windlass [and serviced it] so it now goes up and down!
Made mosquito nets for the hatches
Moved everything around on the transom so that the life raft is in a more accessible position
Serviced the outboard
Mended the stern transom shower
Changed the pulley system on the stern arch to better lift new pig
Devised and fitted various systems for keeping the toolbox and under-seat lockers from spilling items in rough conditions [a must if there is ever a broach] and fitted netting to the shelves for the same purpose
Fixed the cabinet door in the stern heads
Put hinges and chains onto the control panel front
Resealed the sink and fridge units to the work surface and resealed some deck fittings
Made adjustments to the tent so that it can be more easily adapted to sun/wind changes
Fitted an inspection hatch and cover to the hole made in the cupboard when doing the wiring
We have also bought some sheeting to make rain covers for the hatches. We did get a quote for this being done using "boat material" which came in at €750. We bought our sheeting for €33. It may be green and not very pretty – but if it keeps the rain out then that's what matters. We are now hoping that Mike has remembered to bring the rivet punch!
So, that is a synopsis of our preparations, other than provisioning which in itself has proved quite a task. Malc and Nikki and Steve and Gill please note – if/when you join us in this fantastic lifestyle, consider how many tins of stuff you might be able to bring from the UK unless you want to live off tuna, meatballs and sweetcorn. Finding a variety of foodstuffs has been quite a task. We have managed to extend the store cupboard a bit beyond the three items above – but not much. I guess it might have been a bit easier were we not going via the Cape Verdes and also spending some time there or if we had heard that Cape Verde had plenty to offer – but unfortunately the reverse is the case. We have been advised that there is little or no provisioning opportunity in most of the islands. So we are trying to plan for about six weeks of food.
The positive thing is that we have found a butcher in San Sebastian [Carniceria Malagua] who will vacuum pack meats. We have tried his chicken, burgers, pork and mince and know that all is to a high standard of quality and taste so hope that we will have a good supply of meat stuffs for at least the first couple of weeks.
I guess I have been giving quite a lot of blog space to all this preparation and provisioning activity – but there is a reason, which links in to the question of what on earth we have been doing with our time. The reality is that it is not like in the UK when you go to Tesco or Asda or B+Q and get everything you need. Here, thankfully, the small shopkeeper still survives. But it does mean that when a particular part needs to be bought it could mean a trip round town to the Motor shop, the Fishing/Boat shop, the Chandler, the Electrician, both of the Ferreterias [Iron Mongers] before you find whatever it is you are looking for. We have been lucky to have met Thomas [chandler] and Andy [general handy boat guy] who, when they haven't been able to immediately assist have been able to point us generally in the right direction – but even so, it can take a morning just to find what you need to do the job. Similarly, there are Bakers and Chemists and Greengrocers and, to get the best provisions you don't just go to the supermarket. Thus, we have spent quite a lot of time shopping! Now, is this because we have the time and therefore do it – or is it because it's the only way to do it and therefore one needs the time? I am not sure of the answer to that but what I do know is that it wasn't possible in our former work based lives and now, neither of us have the same dark smudges under our eyes!
Anyway, it hasn't been all preparation, preparation, preparation. We have also enjoyed the town life here in San Sebastian – even though we haven't been able to understand all of it e.g. there was a Children's Lantern parade advertised – so we went along to see what this was. There were children and there were lanterns but of the parade?????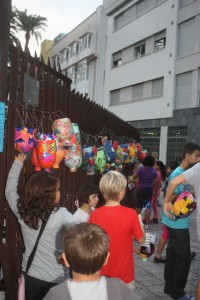 We went on a second walk, which went a little bit wrong because we went down the wrong valley and ended up on the north-west coast in a village without public transport rather than in Valle Gran Rey from where we had the choice of bus or ferry back to San Sebastian.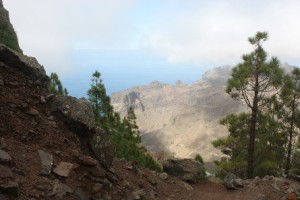 So, having walked down 1800 [plus?] feet we found a different ridge to walk back up! Clearly we are both fitter than we thought we were. We found a tapas restaurant at the bus stop at the top so all was good with the world.
We then went back to complete the original walk yesterday and it went much more according to plan. It wasn't made any easier on our first attempt that we were in cloud – as is often the case on the top of the island. Having said that, yesterday we saw the ridge along which we had made the traverse back the first time and Mike was horrified. I think if we had been able to see the drop alongside the path on which we were walking Mike would have gone back to the bottom of the valley and hailed a taxi!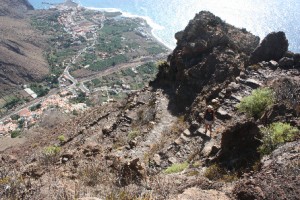 We had a fantastic day for the walk yesterday, clear skies right to the top of the island and therefore we were able to see views we hadn't previously seen. However, it is noticeable now that the weather is beginning to change.  We are getting some slightly cloudier days and the evenings are definitely cooler. We are still most often in shorts though I have taken to wearing a sweatshirt from around 5 or 6pm. The shops have had jumpers and furry boots in them for a while and even though I am not tempted to buy them I can understand that the locals may well do this – not just for a change, but also because I am sure that they will feel it as quite cold.
We have also indulged in a spot of culture by visiting the small museum here in San Sebastian. The museum is dedicated to Chrisobal Colon – which is Christopher Columbus to you. We had wondered why so many streets on the island are called Colon and although we had decided it was probably nothing to do with English grammar we were at a bit of a loss. Anyway, it's basically because he provisioned here on three of his four voyages. He also took goats and pigs from here which started the herds in Haiti. So now you know.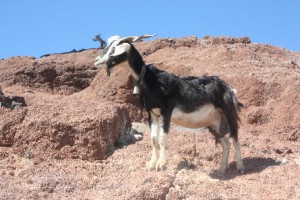 Finally, we were advised that one of our entries made when we were in Portugal "cut off" half way through a sentence. I think we were so pleased to get something onto the blog with the poor internet connection that we didn't notice that only half of it had properly loaded.  So, if you wondered what happened with the saga of our engine,  if you go back to the post about "Our extended stay in Leixois" you will now be able to find the whole story and also see a couple of photos of Porto.
And so, that's it for now. Hopefully you will hear from us again sometime after we reach Cape Verde.