The long awaited date, 1st June, dawned bright and clear and after visiting the Port Police, to retrieve the boat registration document which had been lodged with them over winter, we were off….. private cruising yachts were now allowed out of Greek harbours and marinas. Hooray!
Whilst yachts which were already in Greece were able to sail, yachts from other countries were still generally not allowed. Their date of entry varied according to the country they had been in [not their flag] but none were entitled to enter Greek waters until at least 15 June unless they had special permission from the maritime authorities.
So we, and six other boats left that morning, two heading straight to the Cyclades and the rest to the two anchorages at Koroni. Two crews opted for the town anchorage – where we have been twice previously – we, along with "Coriander" went round to the southern "Zaga beach" anchorage with lovely views up to the old castle.
Koroni was our first stop on our way round the tip of the Peninsular and into the Ionian. We had chosen this sailing ground for summer 2020 for two reasons. Firstly, given that it is likely to be a quieter season it was an ideal time to visit places and anchorages which are normally teeming with boats…. an opportunity to see the Ionian islands at their best. Secondly, and perhaps more importantly, we had no idea when we left [and still don't have] whether the Greek Government will need to impose another lock-down. When they took that decision in March of this year, they gave boats 48 hours to get to a harbour or marina before either fining crews for sailing in Greek waters or expecting them to have left the country. We know that, except in extreme weather conditions, we could get from anywhere in the Ionian back to Kalamata within that timescale. As we had also decided that Preveza and the Gulf of Amvrakia were as far north as we wanted to go, the likelihood of a relatively easy, swift return was increased…. and, with two longish day sails, would also allow an overnight stop half way.
Before leaving the mainland and heading out to the islands we stopped at Koliuri Bay near Finakounda….
….. at Methoni….
….and in Ormos Navarinou where we anchored firstly at Pylos for two nights to weather out some strong wind and rain….
….then at the head of the bay and finally at Gialova where, incidentally, we celebrated our ninth Wedding Anniversary….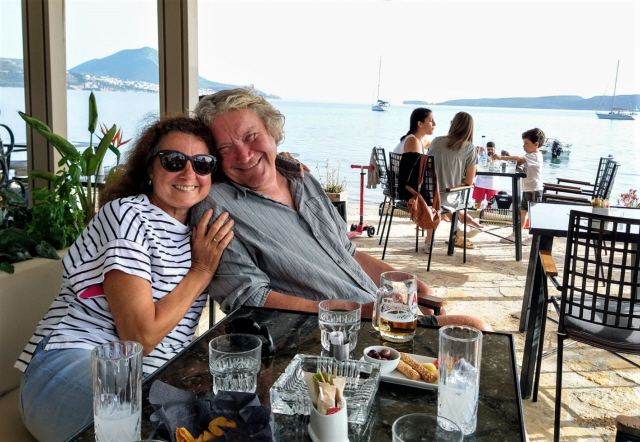 …… before heading north to our last mainland port of Katakolon.
Eager for both culture and to get out and about and stretch our legs more than the lockdown period had allowed we went exploring at all of these places.
Methoni and Pylos were both strategically placed historically, significant towns and therefore had the required castles/forts to protect them. Both are reasonably well preserved and we enjoyed visiting them though, unfortunately, because indoor museums were still closed we were unable to view the archaeological collections.
Perhaps the most interesting walk was from the head of Navarinou Bay which is famous for the battle of [you guessed it!] Navarino when, on 20 Oct 1827 the combined British, French and Russian fleets fired at point blank range on Ibrahim Pasha's Turkish, Egyptian and Tunisian fleet sinking 53 ships and killing 6,000 men… a decisive moment in the War of Independence.
However, on Koryphasion Hill which overlooks the site of this battle lies another ruined castle and Nestor's Cave where, according to legend, Hermes hid Apollo's cattle.
A walk from the anchorage, along the side of the lagoon and through the sand dunes….
leads to the horseshoe shaped "Voidokilia Bay"…..
….and from there a scramble up the dunes to the cave.
It is possible to climb from there to the old castle but it looked far too steep and treacherous to attempt. Maybe, if we visit there again, we can take the alternative path which leads up the seaward side of the hill and is a much easier route.
It is perhaps worth me pausing from our travels at this point to make an observation about the impact of lockdown on local people who depend on tourism for their livelihood. The photographs below aren't all taken in the usual quiet middle of the afternoon, but at various times of day.
We first noticed the lack of people as soon as we left Kalamata and, speaking to a young man in Koroni, Mike was told that his restaurant had used only 1 x 10kg propane bottle in the 3 months of lockdown. For comparison, that is the same as Mike and I use in about 10 weeks on O+P.
The story was the same wherever we went. Shopkeepers and restauranteurs telling us that on the one hand they were desperate for tourists but on the other worried about what that might mean regarding the spread of Covid 19 which, to date, Greece has managed very well. Many shops had clothing and other goods on sale at the start of the season, something for which one would normally have to wait until at least September. Café owners and others have made a point of asking where we are from. That is a common question in Greece and once answered is usually followed by the name of a football team they think you will support based on your answer. This year the question had an underlying meaning so we have been at pains to say that although we are from the UK we have been in Greece for two years and spent lockdown in Kalamata. That has prompted smiles, a more relaxed stance and further conversation most often about health v money.
A slow start to tourism hasn't just been a feature on the Peloponnese Peninsular. The situation was the same when we reached the islands, though this has been, in part, a result of the Greek Government delaying flights from certain countries where the epidemiological figures warranted it.
Our first island was Zakynthos which, as many of you will know, is a well-known holiday island. What is more, anchored at Ormos Keri, in the only part of the Marine Park where anchoring is allowed during turtle nesting season, we were only about 4 miles from the most popular resort on the island…. Laganas. Having been to Laganas twice [yes, I know….sorry!] I am fully aware of how trip boats ply the bays, scooters and jeeps zoom round the island villages and there are holiday makers everywhere. Not this June. On arrival on 10th June there was just one coffee shop open in Keri and the small supermarkets were just starting to stock their shelves.
Two walks into the interior gave us great views….
…. took us past fabulous olive groves….
… brought us to a small hilltop village of Apelati [pictured above]
… and allowed us a close quarters look at [and smell of] the tar bed lagoon just behind the shore at Keri. The tar used to be used, amongst other things, to line the hulls of ships.
Hopeful of an influx of visitors when island airports were opened to direct international flights on 15 June, a restaurant and gyros bar opened in Keri three nights later – the night before we left. I fear they may not have had the numbers they expected because we saw very few visitors anywhere during the rest of the month.
So, where did we go? Well, from Keri we moved 10 miles east and round the corner to Porto Roma ….
……. a strange place which I'm not sure I would normally choose to visit, but pleasant enough for one night without the reported jet skis, loud beach bar music and partying young folk.
A lack of tourism suits us old fogies!
Those were our only anchorages on Zakynthos from where, on 15th June, we sailed 25 miles north to the small harbour village of Kato Katelios at the SE end of Kefalonia.
Now, rather than take you on a day to day tour following our route and anchorages for the rest of the month I will tell you that between the middle and end of June, in no particular order, we visited Agia Eufimia and Fiskardo [which are also on Kefalonia], Ormos Filatrou, Vathi, Kioni, Frikes and the small bay behind Agios Nikolaos islet [all on Ithaki] and Vasiliki [SW Lefkada].
As we had hoped, in none of these places did we have a problem with space to anchor or berth.
We were the only boat on the west wall at Frikes – there was one catamaran on the north wall at the same time.
We were one of four boats anchored in Ag. Eufimia with similar numbers in the two bays on Ithaki's east coast.
We have long lined three times but where boats would normally be in very close proximity to each other there was lots of space…..
….and we were one of the few boats anchored in Vathi – a significant difference from the upwards of 200 boats either berthed or anchored as reported by Steve and Gill when they visited two seasons ago.
Vathi is another place we went to "hide" from a blow.
Initially anchored off the town quay we woke, on the morning of 21st June to 35-40kn winds blowing directly into the anchorage. Whilst the excellent mud bottom gives good holding, "Owl and Pussycat" was being tossed around and we felt it was too uncomfortable for us to sit it out. So, whilst "Coriander" moved back to Ormos Filatrou which, being on the east coast, was sheltered from the westerlies we moved to the north west end of the main Vathi harbour and were similarly sheltered.
Ithaki Vathi [or "Big Vathi" as it is popularly known] is the largest town on Ithaki, provides good provisioning opportunities and has plenty of bars/restaurants to visit if you choose. We were delighted when on our first night we were passing a bar and saw two Swedish friends with whom we had spent winter 2018/19 in Kalamata. It's always good to catch up… just a shame I had left both camera and phone on board.
Although I have reported above that we were generally sheltered from the 24 hour blow, one big gust put such force onto the furled mainsail that it pulled the lazy jack pulleys from the mast. There was no other damage but Mike spent a sleepless night knowing that somehow these pulleys had to be put back up. We tried to buy stronger rivets but none were available. Mike hit on the idea of one rivet plus one screw. Great…. But going up the mast is now proving a challenge for Mike as his head for heights is getting worse. I am OK with heights but not strong enough to do the job.
So….Captain Courageous Steve to the rescue.
Up he went and in no time all was well once again…. In fact all was better as the new arrangement is at least twice as good. We bought the drinks that night and then all celebrated with a meal at "O Nikos"….
…..unfortunately for the proprietor, another example of the dearth of customers. He told us that in a normal season he often has 200-250 covers per night with tables booked in advance or queues down the street. As a "flotilla favoured restaurant" we normally wouldn't go, but there was nothing to signify this. We were four of only ten customers that night and he was a friendly guy, his food was good and there was absolutely no problem with "social distancing"!
It's probably now time for another "aside". In June, there were no regulations about mask wearing in supermarkets, shops or restaurants but there was an expectation that tables were adequately spaced in restaurants and that only a certain number of people could be in a shop at any given time – the number dependant on the square footage. As you might have already ascertained, given the number of people around this wasn't generally a problem.
Disinfectant/handwash is provided at store entrances and at tables in many bars/restaurants and we watched a young waiter disinfect ALL of his menus one lunchtime even though there were no other customers than us and we hadn't asked for a menu as we only wanted beer/soft drinks.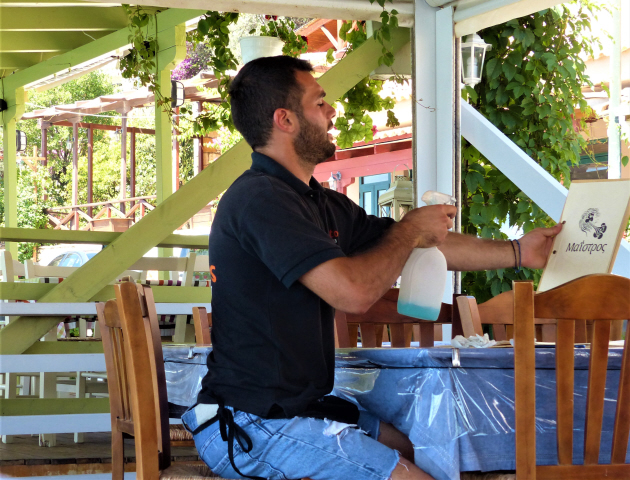 The Greek people seem to have, at least outside of the two major cities, taken "protection" very seriously and we have too.
We don't actually know whether other "liveaboard" boats [other than "Coriander"] are doing this or, indeed whether charter boats and day trip boats are following the requirements but, when the sanctions were lifted about boats sailing in Greek waters there was a mandatory regulation that each boat should have a crew list and also a log of each of the crew members/passengers temperatures every morning and where they disembarked/embarked and the timings of such. We have followed the regulations religiously.
We understood that this log should be available for inspection at any time by Port Police or Coastguard but we have never been asked for it…. or for any other papers. Twice we have seen coastguards approaching us, firstly whilst at anchor in Koliuri and secondly in Filatrou Bay. On both occasions they seemed to look at our boat name and/or flag and then either waved and moved off or ignored us completely. We don't know whether they had been following us on AIS and therefore knew that we had come from Kalamata or what but it wasn't a case of not being vigilant as we saw them approach and speak for some time with the captains of two Maltese flagged motor yachts who both then immediately left the anchorage we had all been in.
Getting back to our adventures, there are some more places and walks I want to tell you about.
One anchorage we were lucky to be able to visit, as it is normally chock full, was the one tucked in behind Agios Nikolaos. A beautiful setting with crystal clear water….
…..and a fabulous "cantina" type of taverna…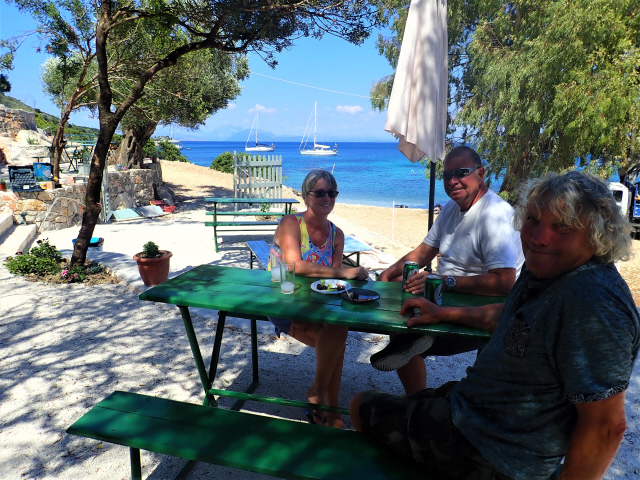 ….where sundowners are no doubt enjoyed by many, though we were the only customers that evening.
We took lots more walks too. From Vathi we headed out along the coastal path to the chapel we had seen on our sail in. Mike managed well….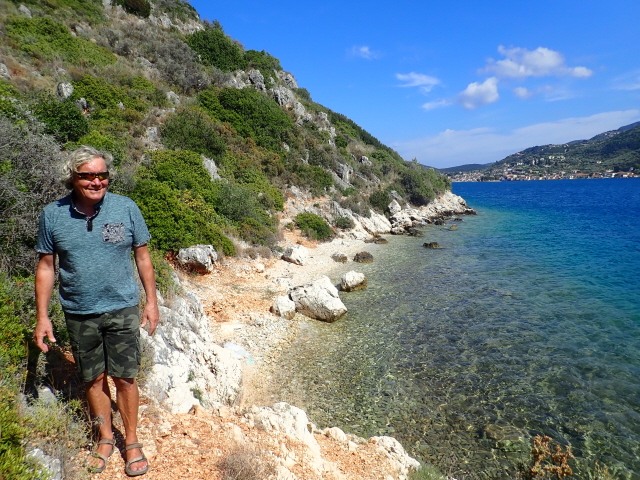 ……despite some tricky patches where his vertigo could have forced an immediate turn round  but we decided that taking the inland route back would be better….. or so we thought! First of all we found ourselves trespassing, but carried on as there were no signs of life at all in what were probably expensive holiday rental villas set in extensive grounds. Having found the track out we followed it up, and up and even further up. Whilst it afforded us a fantastic view of Vathi….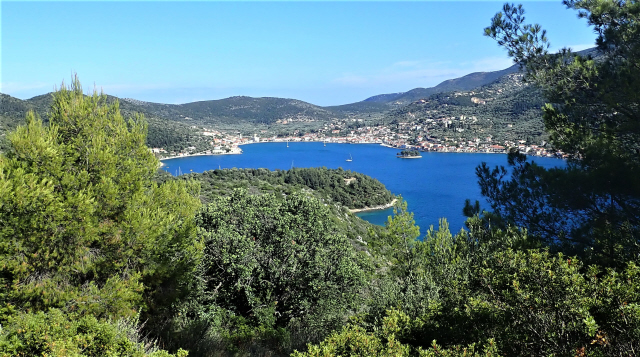 …. the downside was that we then came across locked gates and a fence. Fortunately we were able to scale a fence pole and escape but the short inland route we anticipated turned into a long, hot haul up and down.
We fared rather better from Frikes when we meandered along leafy lanes to the lovely inland village of Stavros….
…… where the town square incorporates a small exhibition dedicated to the mysteries of Ithaki….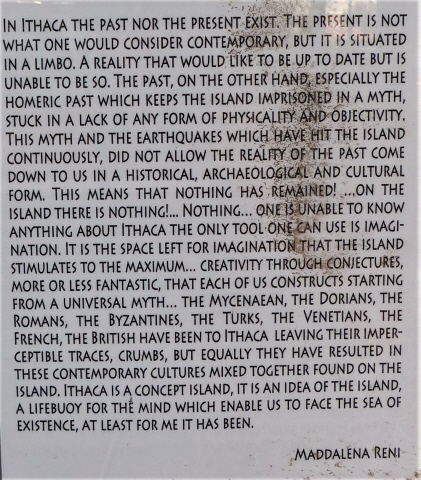 …… and to Homer and the voyages of Odysseus.
Some years ago I had a holiday on Kefalonia, based in Sami and I was eager to see the town again as I couldn't really remember it. So, we decided to catch the early morning bus from Agia Eufimia, visit the town and walk back. Whilst the harbour looks lovely viewed from the ferry dock….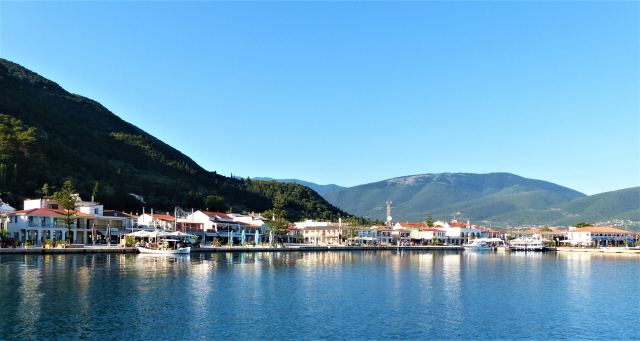 …. there was little to commend the town itself and I realised why I had probably forgotten it!
The walk back, however, took us through the village of Karavomylos and its small lake.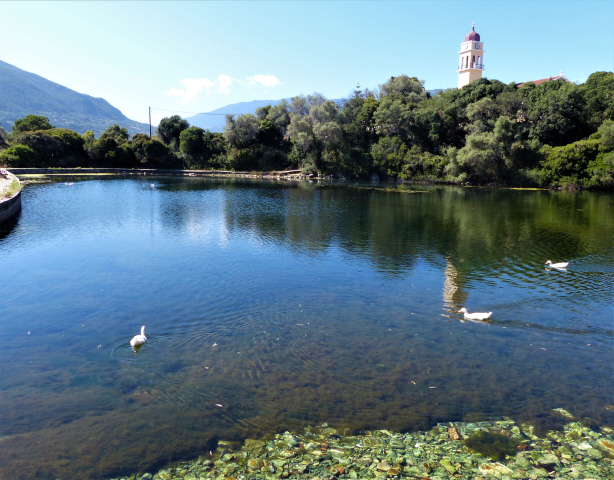 What was particularly fascinating was that there was a constant flow of water running through the lake….
……… and into the sea but no visible stream coming in. It may well be linked to the underwater system which feeds the more well- known and visited Melissani Lake Cave just a little further inland.
From Fiskardo we followed two well marked walking trails……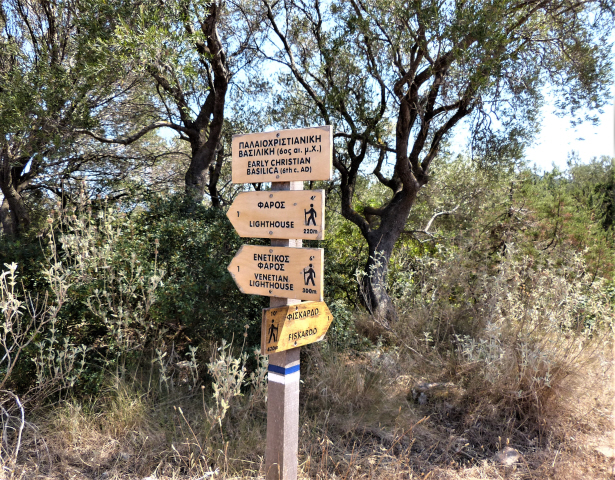 …. the first being a short walk from the anchorage out to the two lighthouses on the point….
……..and the second being "The Cypress Trail".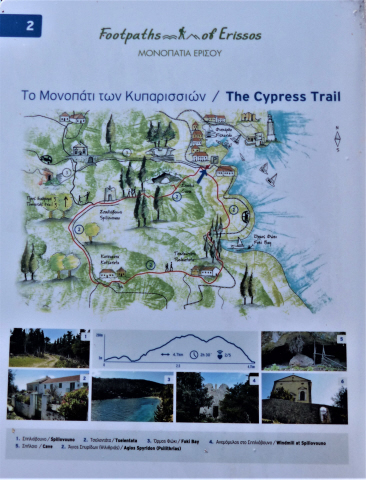 This took us through wooded hillside where we encountered an abandoned village….
…. and Mike took a detour to see a cave. I had decided I didn't want to do this part of the walk because having slogged uphill….
….. the way to the cave was back down again which would obviously mean more up to regain the main trail. Mike declared my decision as the more sane one as the "cave" wasn't exactly worth the detour!
The funniest thing we encountered was this…..
… and perhaps the most interesting were these….
…. which are actually at the outer limits of Fiscardo village and which can be easily visited without doing the whole trail.
As always, wildlife takes my eye and a feature of many of our walks were spiders…
…. so it's a good job Gill wasn't with us for the Vathi walk where I needed a ""spider stick" to push aside the webs, and often the large spiders on them, which hung across the path.
I also captured some more colourful flora…
… and fauna….
….. and just couldn't resist taking this shot.
As always, everywhere visited brings us "Joy" and it has been a considerable joy to be in the Ionian this June, seeing the places at their best. Apparently a Blue Jays feather can also symbolise "healing" so I take this as a positive whilst we continue to make our way through these strange times.