The second part of our cruising journey in the Sea of Cortez this year was spent mainly in Bahía Concepcíon. I will tell you about that in a moment – but first, a couple of stops we made between Loreto and the Bahía.
Isla Coronados, just 6nm NE of Loreto, is a volcanic island with a walk up to the top of the crater. It was our intention to do the walk – but by the end of June the temperatures are really beginning to climb – so we didn't!
A dinghy trip to shore seemed a much better option….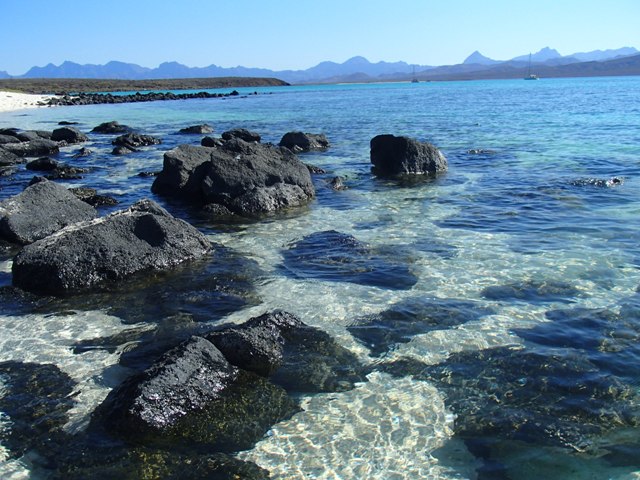 ….where we enjoyed the lovely turquoise waters….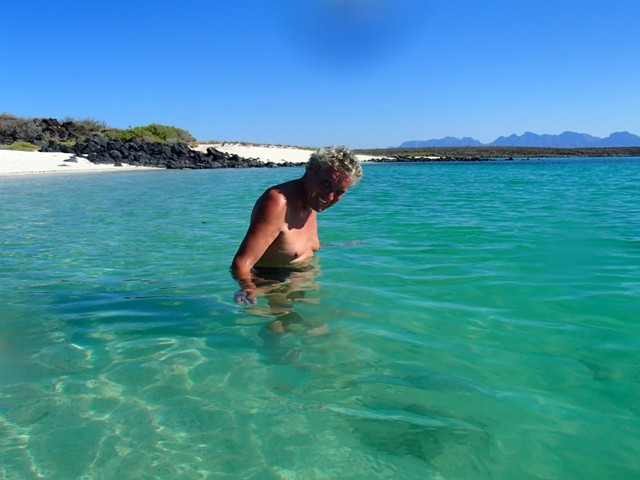 ….and played with some fish. Or, rather, they played with us. As we kicked around in the shallows we obviously disturbed tiny delicacies in the sand which these Sergeant Majors like to eat.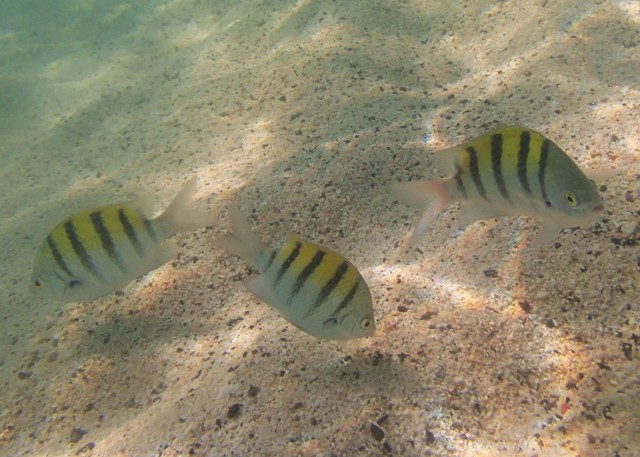 Amusingly, when we stood still so that we could take their photograph the sand settled and they decided to nibble us instead!
We had intended spending three nights there so that we could have another day enjoying the soft white sand beaches and lovely water but the local wildlife had other ideas. On our second morning I woke to find about half a dozen bees flying around the cockpit. Well, half a dozen isn't bad, so I put the kettle on for a brew and took two cuppas back to bed while we listened to the local radio net and the weather. 20 minutes later we got up to find that we no longer had six bees in the cockpit – we had about one hundred and they were mainly in the saloon/galley! Among the cruising fraternity, Isla Coronados is renowned for its bees. We had, therefore, been cautious and had not e.g. rinsed our swimsuits in fresh water after our swim the day before. They search out fresh water, as we had found out on Isla Espírutu Santo at the outset of our "Sea" adventures when we washed down our solar panels after crossing from Mazatlán. So, obviously they were attracted by the sink and taps. We decided it was time to go. The good thing is that they are territorial – so within about 5 minutes of leaving the anchorage [and therefore the island] they all flew off – back home.
Our second anchorage was at Caleta San Juanico – a beautiful place about 19 miles north west of Isla Coronados. It is one of the favourite anchorages in the Sea due to its assortment of beaches and geological formations.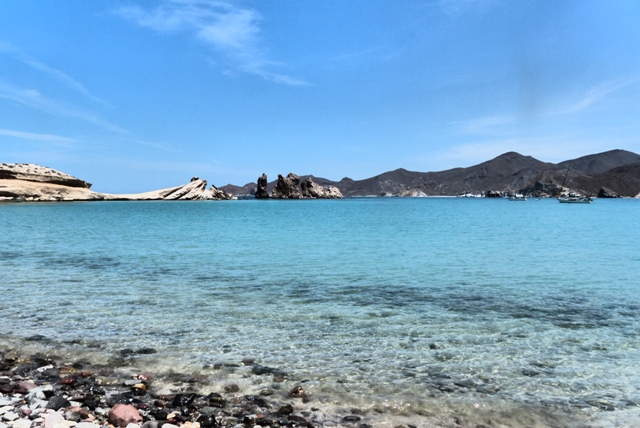 We spent two nights there anchored, the first night, west of the two rocky pinnacles [you can just see us in the right of the photograph below behind the right hand rock].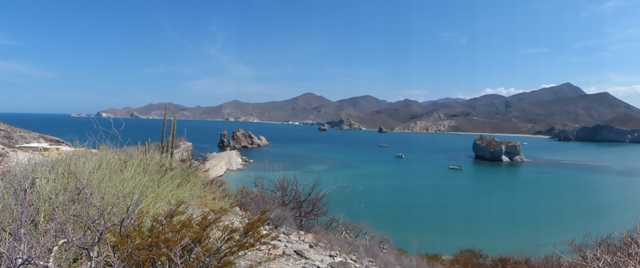 The second day we moved between the rocks, taking the place of the two boats nearer the centre of the picture who left early morning, and found it to be quite well protected from swell as well as wind. We went for a pleasant walk across the peninsular to an alternative anchorage called "La Ramada". It was very pretty and we will keep it in mind for next year. The folded rocks along the shore were quite interesting….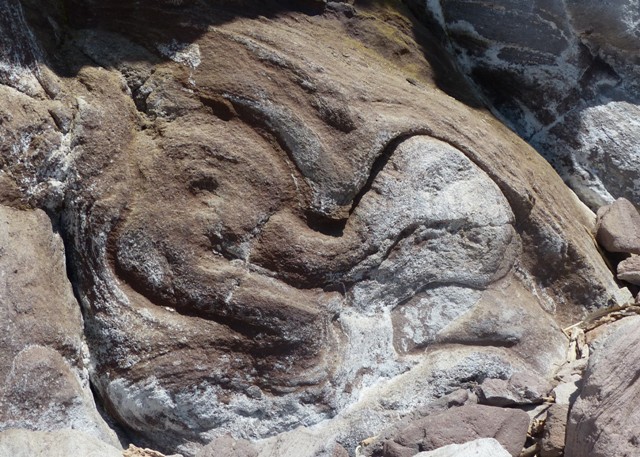 … and we found another skeleton – a fossil for the future!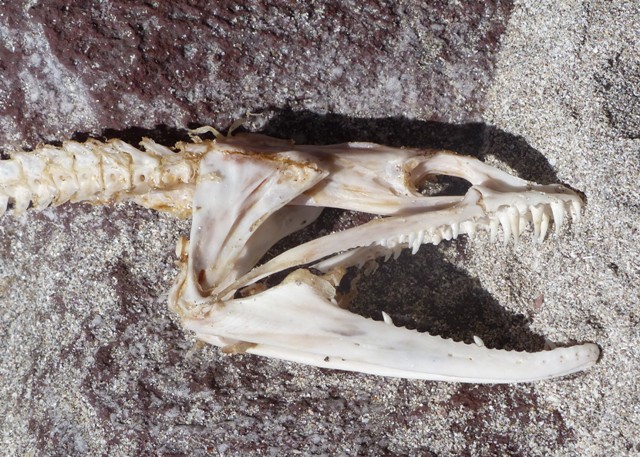 Some cacti were starting to bloom….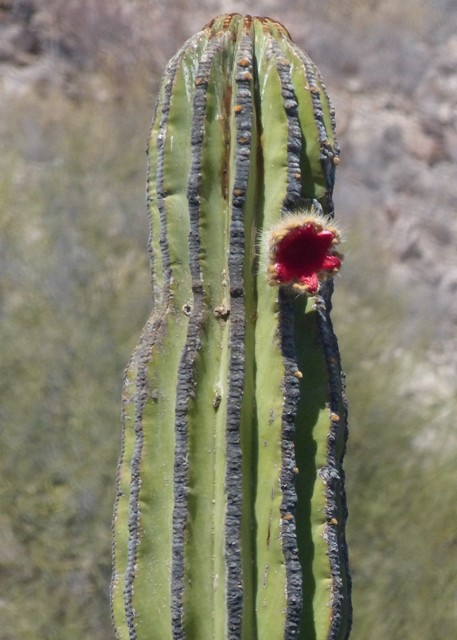 …which seemed a bit strange as we haven't had any rain?
We also saw several lizards.
Although mainly inhabitants of Isla Carmen – hence the name – they are also found on this part of the mainland.
Another memory tree decorates the shoreline….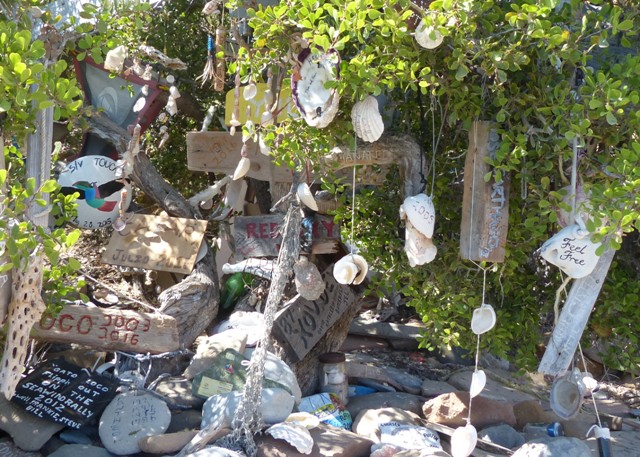 …this one having some rather more sophisticated mementoes than the painted pebble!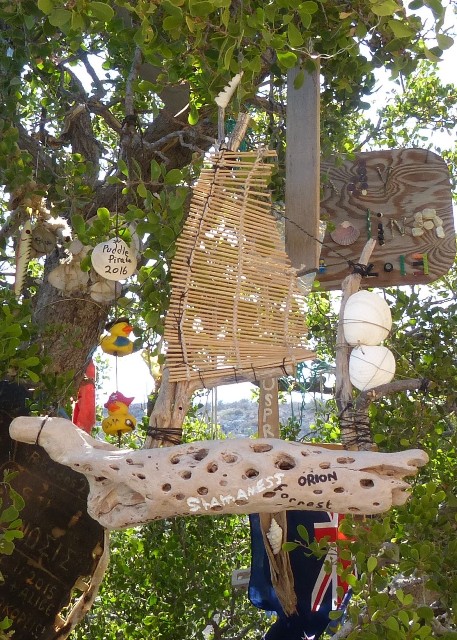 However our most memorable aspect of San Juanico was seeing a pair of Osprey nesting in the rocks in front of the boat.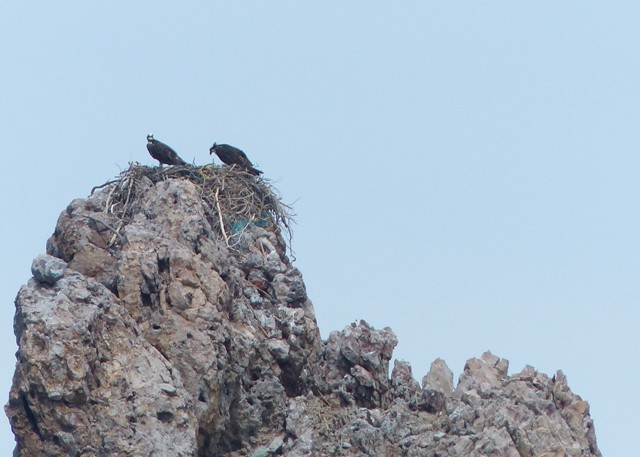 We spent a couple of hours just watching them – fabulous.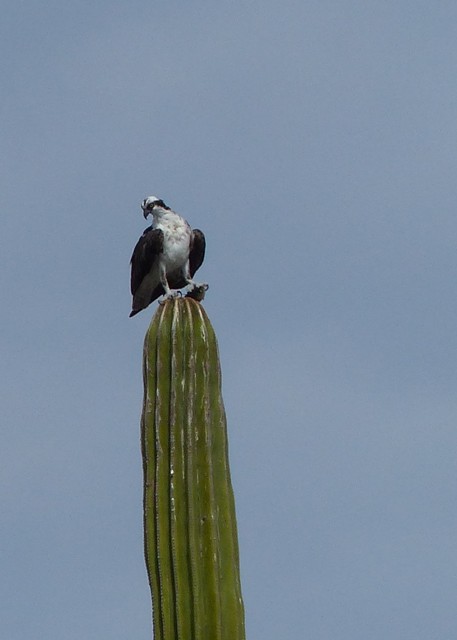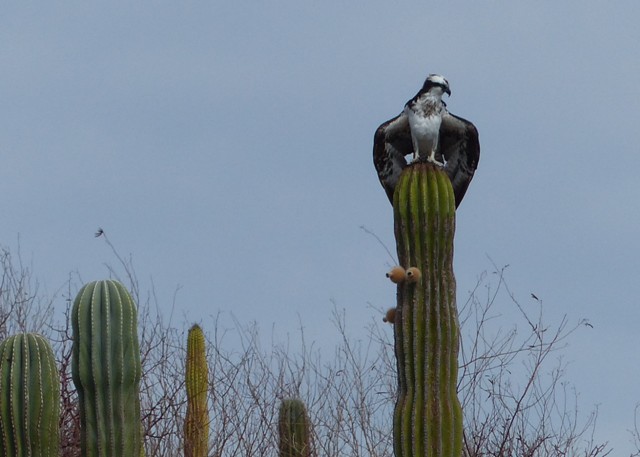 The following day we made our way to Bahía Concepcíon. This large bay is almost like a sea within the Sea and is protected from the east, south and west. Because it is open to the north some of its anchorages are too exposed during the main [winter] sailing season – though there are places tucked away where boats gather. In the summer months all anchorages are protected and/or open to the gentle prevailing south easterlies and we spent ten days in four different places.
Having covered 46 miles from San Juanico we first anchored in the top corner – at Santo Domingo – where the 3-7m [10-23 ft] depth extends for almost half a mile from shore.
This gives some indication of the shoal which can be found in this bay. Sailing down into the main part of the bay it is important to keep more or less midway between the shorelines – probably favouring the eastern side – as shallow waters extend a long way out from both shores.
Once into the main part of the bay there are, within about a 4 mile stretch, eight anchorages – mainly tucked into the coves along the western shore. We were headed for Playa El Burro which, with its immediate neighbour Playa Coyote, gets filled with boats for what has now become an "institution" in the Sea – i.e. Geary's 4th July party.
Geary, an ex cruiser, settled in Playa El Burro 21 years ago and this was his 18th party. He is best known for his daily weather reports on the Sonrisa Ham net and annually cruisers gather to celebrate with him. We were really pleased that the timing fit with our schedule. It isn't necessarily something we would want to do year on year – but it was great fun for a one off event.
Lots of eating [Geary's hot dogs complimented by various pot luck dishes to share provided by the cruisers] and drinking and fun in the sun and sea….
…. followed by fireworks – provided by a guy who works on film sets with special effects pyrotechnics and made the fireworks himself.
Being in the bay wasn't just about partying though – especially for Mike who could be seen variously swabbing the decks….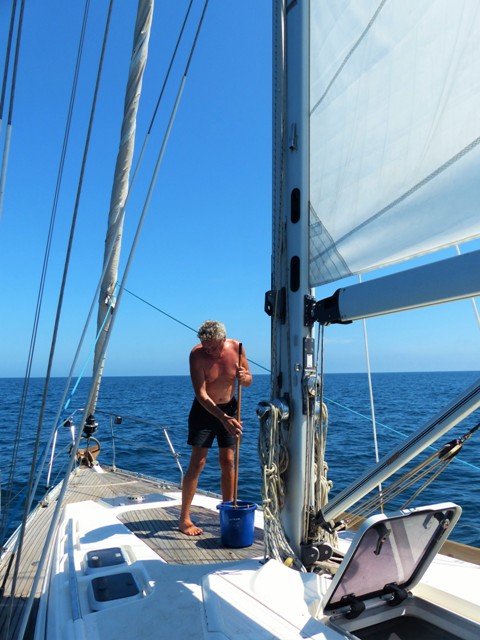 …… and fixing the mainsail!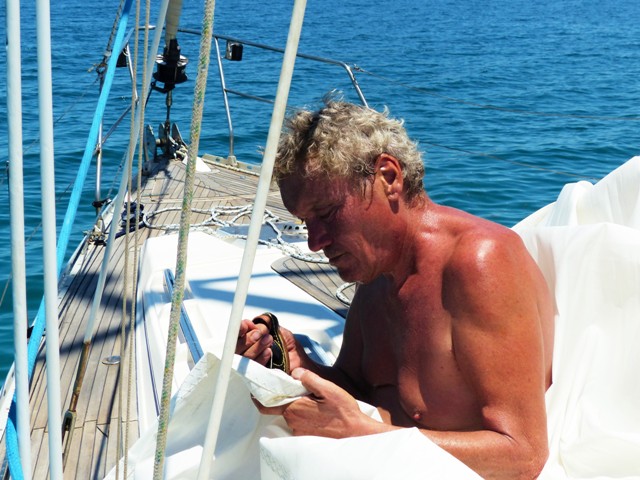 Obviously I just sit around doing nothing except take photographs – if only!!!
Ashore at Playa El Burro are a few Petroglyphs scattered around the hillside.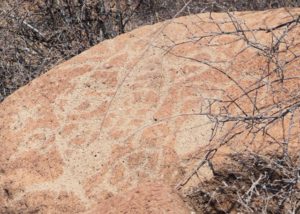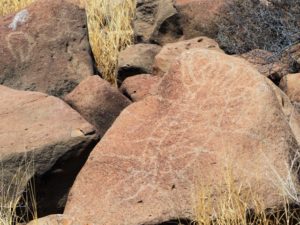 We later read about them when we visited a museum in Mulegé – about ten miles up the coast – but I have included the explanation here as it seems to fit better with the photographs. I love some of the explanations we have found in museums – the translations are sometimes quite funny – but at least there are translations and better than anything I could do from English to Spanish.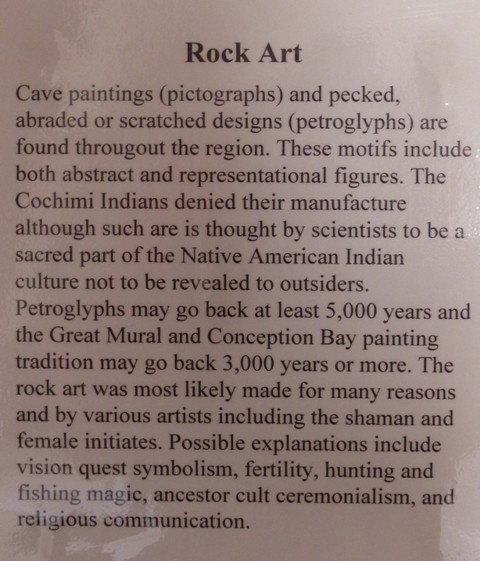 Another popular anchorage is Playa Santa Barbara but it is almost enclosed and we decided that with next to no wind and blazing sun it wasn't going to be that pleasant so we by-passed and went about four miles further south in the bay to Isla Requéson – a small islet connected to the mainland by a narrow sand spit.

Probably my favourite place in Bahía Concepcíon, it is very quiet and relaxing and we enjoyed our short walk on the island….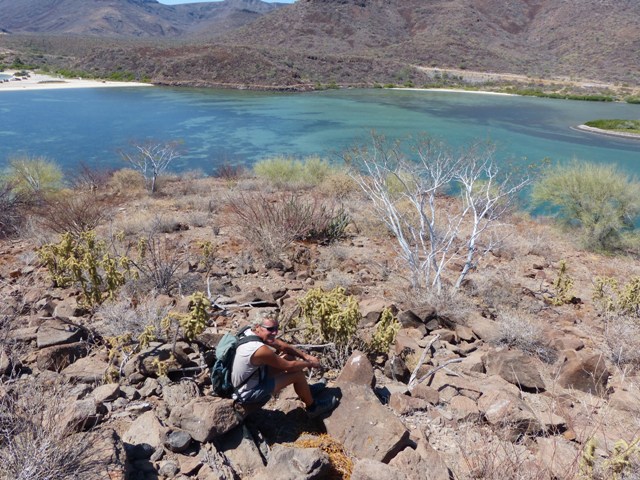 .. and our swim in the warm waters by the spit.
This seems like a good time to tell you about the water temperature – it's about the same as a warm bath and other than the fact that it is wet it is really hard to tell that you have entered the water at all! Because of its almost landlocked aspect and generally shallow waters, Bahía Concepcíon is warmer than the rest of the Sea of Cortez – at least according to those who know [or say they do]. All I know is that everywhere we have swum in the Sea has been very pleasant indeed! For those who like a more refreshing dip, come in the winter months when I believe it is considerably cooler.
Whilst I have shown you photographs of cactus before they have always been growing in, at least, dry sand. The cactus on Requéson appeared to spring directly from the rocks. I am sure there must have been dregs of soil or sand there but it didn't really look like it.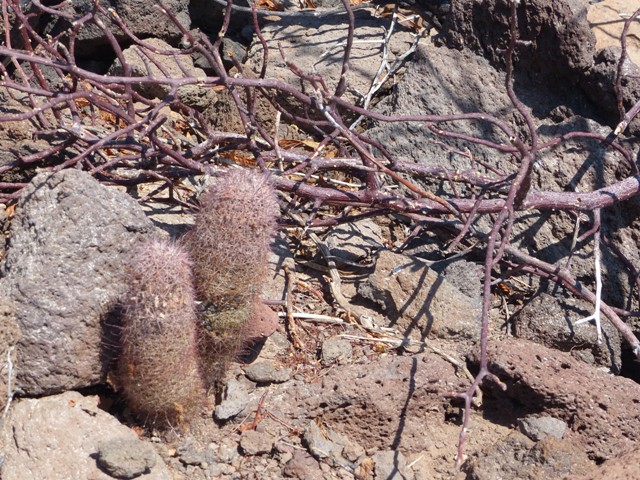 We also came across something on a branch and we couldn't decide whether it was some form of fungus or a dead slug – what say you?
Our final anchorage in the Bahía was Playa Santispac.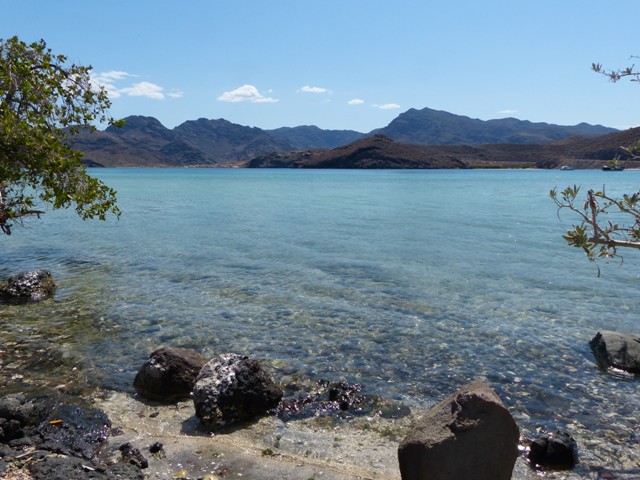 This was the most "built up" bay we visited and is the closest to the above mentioned town of Mulegé. Highway 1 actually skirts the whole bay – though it is really hard to believe that it is the main road from the border to Cabo and La Paz. There was maybe a vehicle every minute or so during the day and next to nothing at night. Mulegé is, therefore, the closest town for provisioning if you are spending long periods of time in Bahía Concepcíon, but most of the bay anchorages have small tiendas selling mainly tinned goods – though we got bread and tomatoes as well – and there are also the occasional bar/restaurants. During the winter months the bay is busy with RV's and more of the restaurants are open but we ate out on two evenings at two different places and had a beer at a third.
Having left Bahía Concepcíon on 10th July we stopped twice more before reaching Santa Rosalía. Punta Chivato, 23 miles north of Santispac, was a nice place to stop for just one night. It is famous for its shelling beach. Although we think we have seen prettier shells elsewhere, you certainly couldn't fault it for the volume of shells available.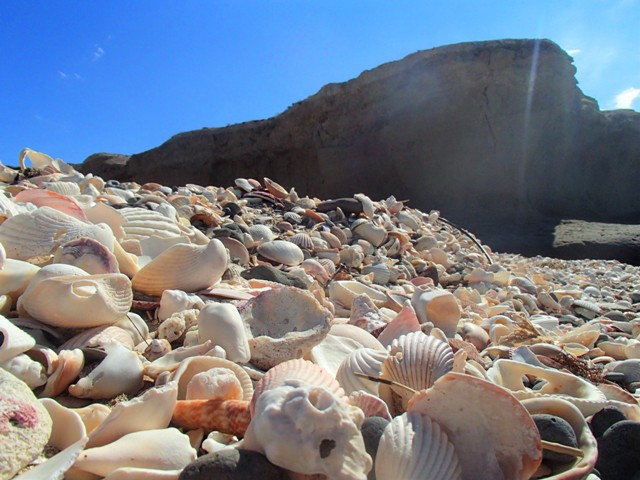 Our final stop was Sweet Pea Cove on Isla San Marcos. To get to it from Punta Chivato we took a route outside the island avoiding the Craig Channel. Whilst looking quite wide [2.5 miles], the navigable section of the channel is only narrow [0.5mile] and the bottom rises from 2,400 ft at the north end of Isla San Marcos to just 26-30ft in the Channel which severely amplifies the current. Given the weather conditions it was possibly an unnecessary detour but we encountered about 1 knot current against on the outside of the island and when, having rounded the northern point and turned south towards the anchorage we had 2-3 knots in our favour. So, coming up the channel may well have felt like quite an uphill struggle.
All in all then, the second half of our travels in the Sea have been just as good as the first. It was a different experience with most of our time in just four anchorages in Bahía Concepcíon rather than a change of anchorage almost every day. We also spent time with other cruisers which was totally opposite from the La Paz to Loreto leg when we were practically alone every stop we made.
However some things were the same, regardless of the time spent in a place or where in the Sea we were or however many other people were there as well. These were the beauty of the landscape, the variety of wildlife – especially given that it is mainly desert – and the calm and wonderfully relaxing atmosphere.