Described in the Cruising Guide as an "enchanting little cove" we decided that Puerto Angel was a place we definitely wanted to stop on our route between Huatulco and Acapulco – and we are very glad we did.
The small fishing port straggles around a rocky bay….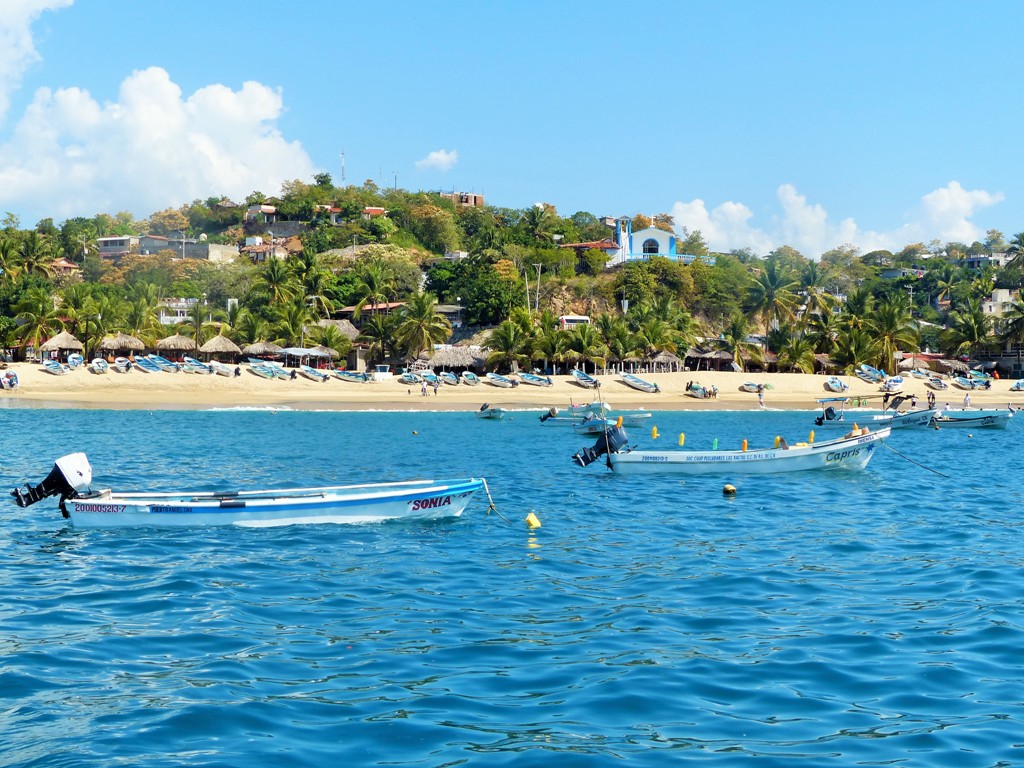 ……and is surrounded by thickly wooded hills. Some cruisers avoid it because the number of panga moorings severely limit the anchoring room but, as the only visiting boat [when we arrived], we had little trouble finding the perfect spot.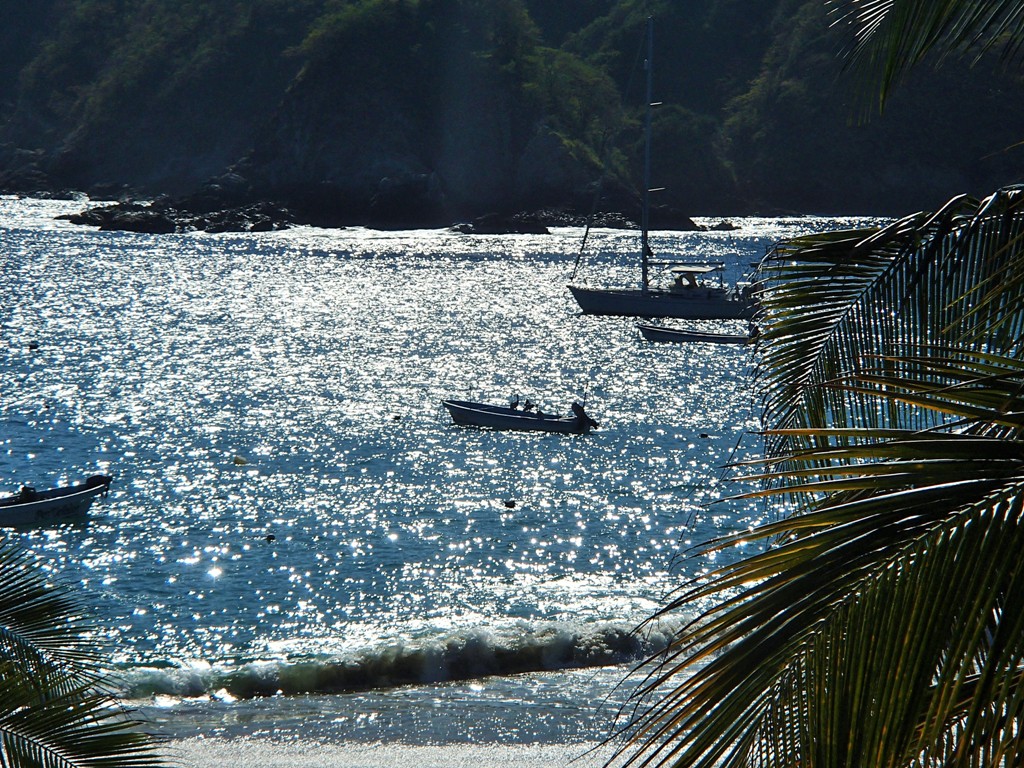 Puerto Angel is a very quiet little place which doesn't see many tourists but there are several small stores if basic provisions are needed. What we rather enjoyed about it was that to buy chicken you had to go to the chicken shop and it was the same for meat, fish/seafood, vegetables and bread – in other words the small supermarket only sold tinned and packet goods and therefore the fishmonger, baker, greengrocer, and butcher also got trade and we got to see more of the village and meet more people – just how shopping should be.
On the west side of the bay a small beach, "Playa del Panteón", is lined with palappa restaurants. They were a little overpriced but as we had already decided on fresh local shrimp for dinner this didn't matter and we just stayed for a drink and took in the view of the anchorage and town.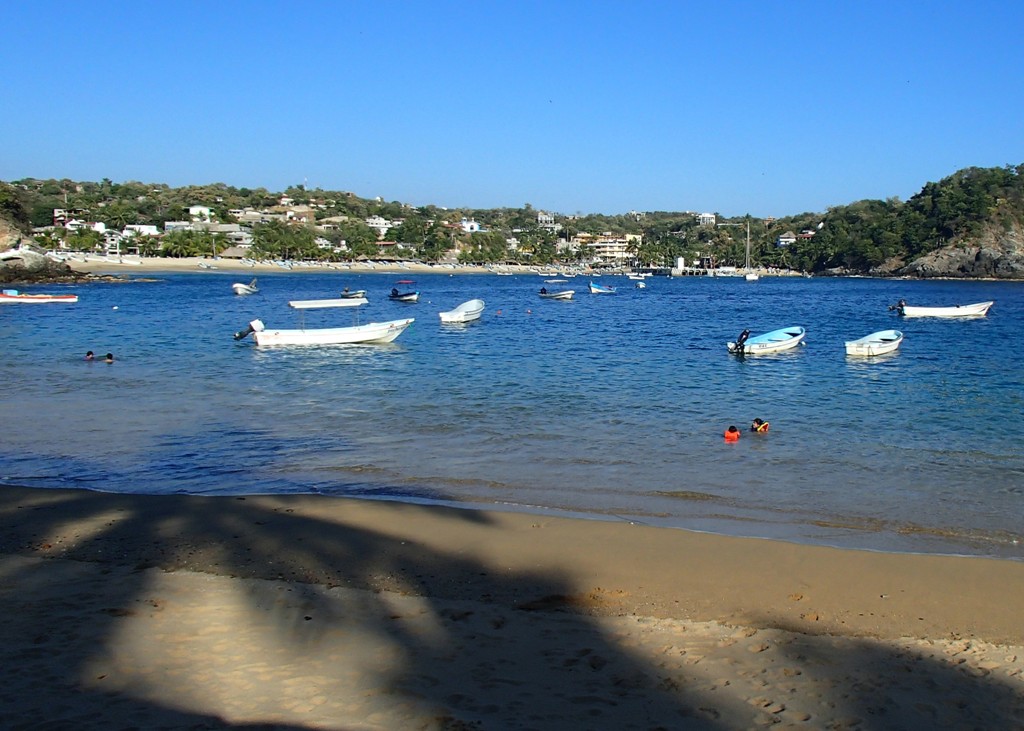 Having walked there by road we came back along a walkway which runs between that beach and the main town beach of "Playa Principal". At the end of the beach, the "Catch of the Day"….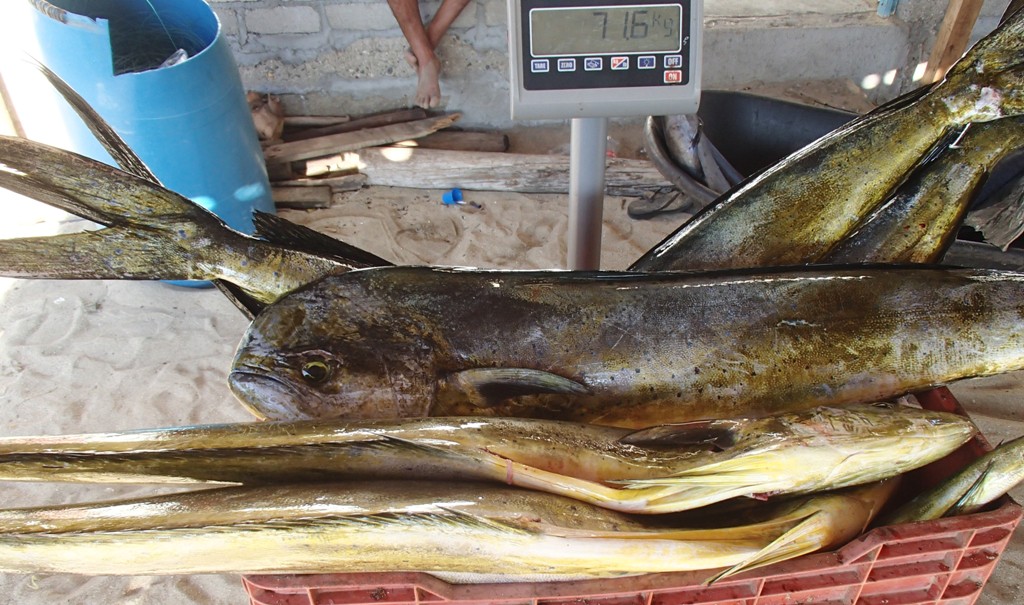 …. is weighed before being driven off somewhere. We also saw lots of shark carcasses being processed. They had already lost their heads [for their jaws to be detached, dried and sold to tourists!] and fins [sent to the Far East] but our Spanish wasn't good enough to ask what was going to be done with the body. I have seen shark for sale in the UK but have not often come across "Tiburon" on the menu in Mexico. They do have sea bass and the following day Mike enjoyed it smothered in Chilli and Garlic and I had some in my seafood soup.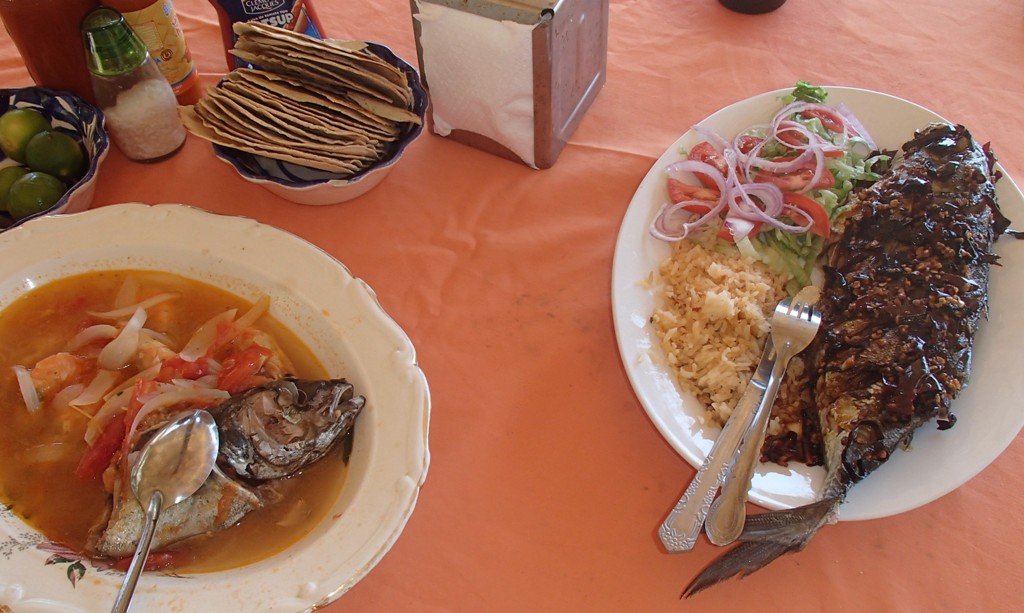 Yes, I know – being served a head wouldn't suit some people but there was lots of flesh as well and six huge prawns all served up in a tasty broth.
Just past the end of the small harbour is a fisherman's bar….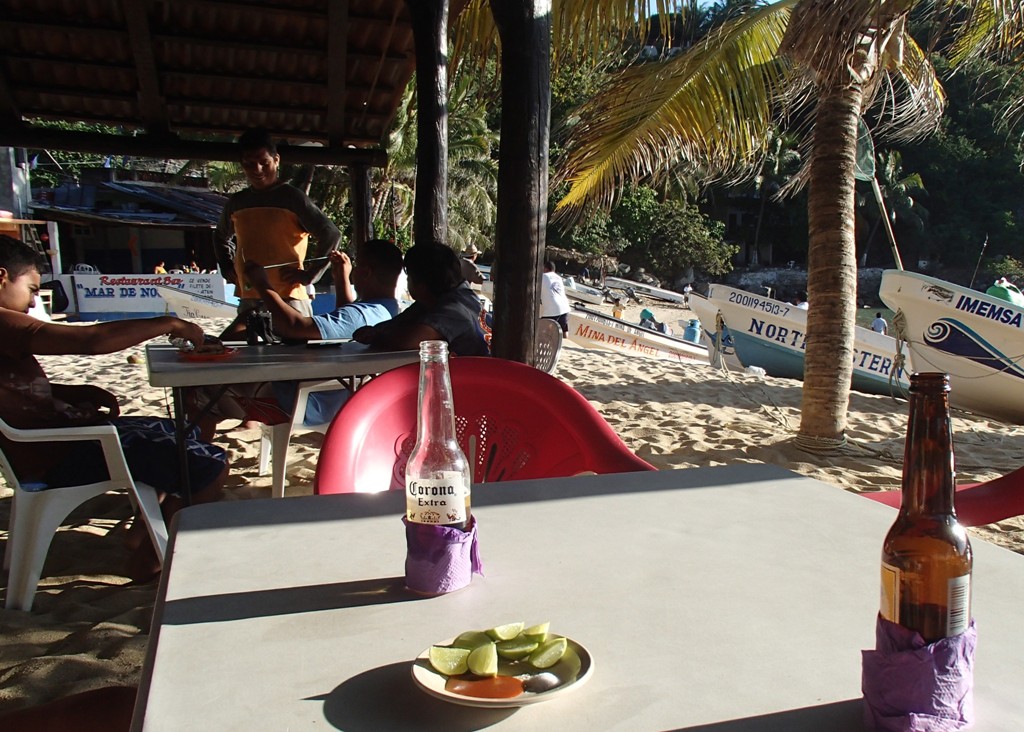 ….where beers cost M$15 [60p/90c] and from where we watched fishing pangas returning to their beach "parking" spot. They line up….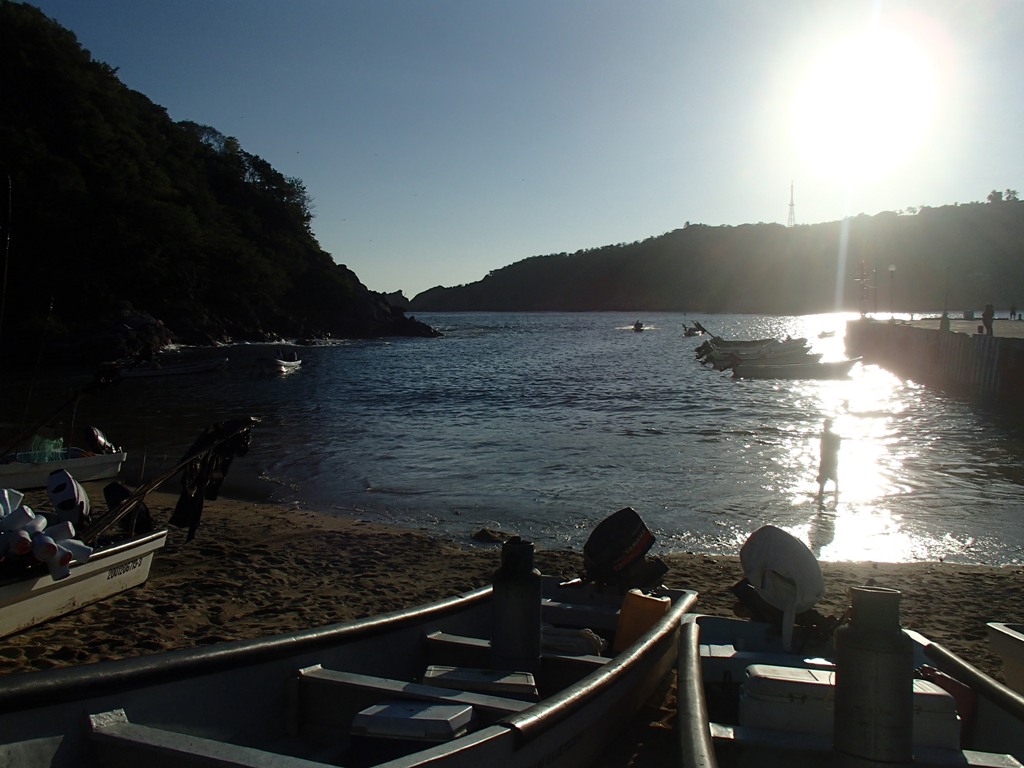 ….rev up…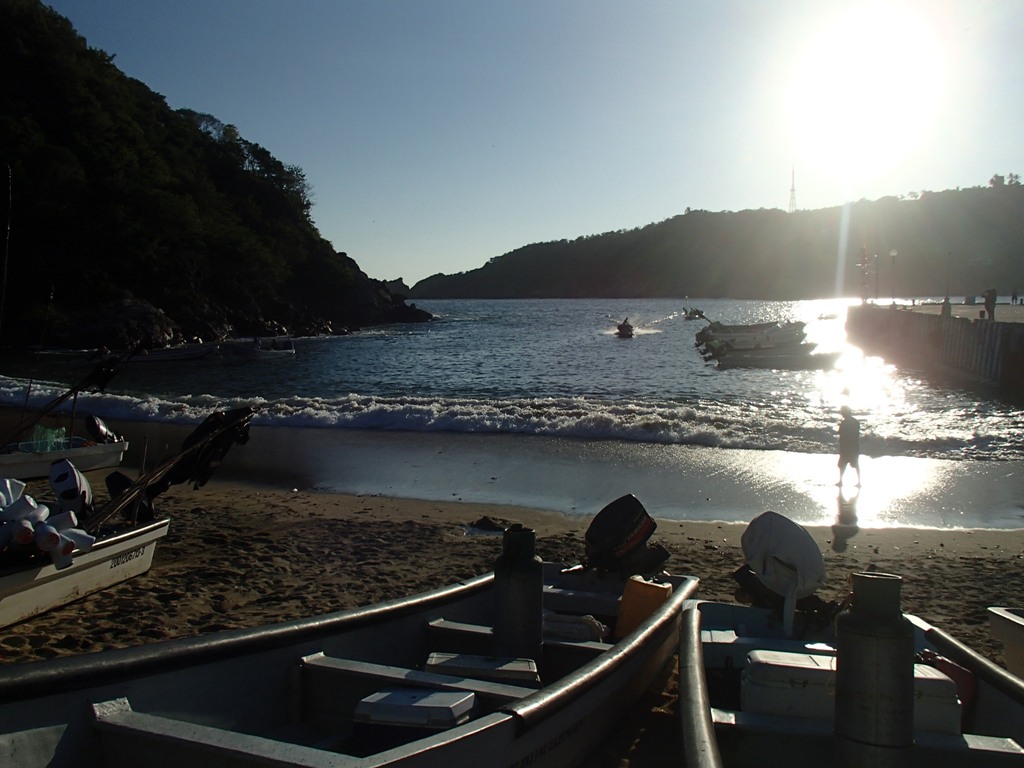 ….and drive up!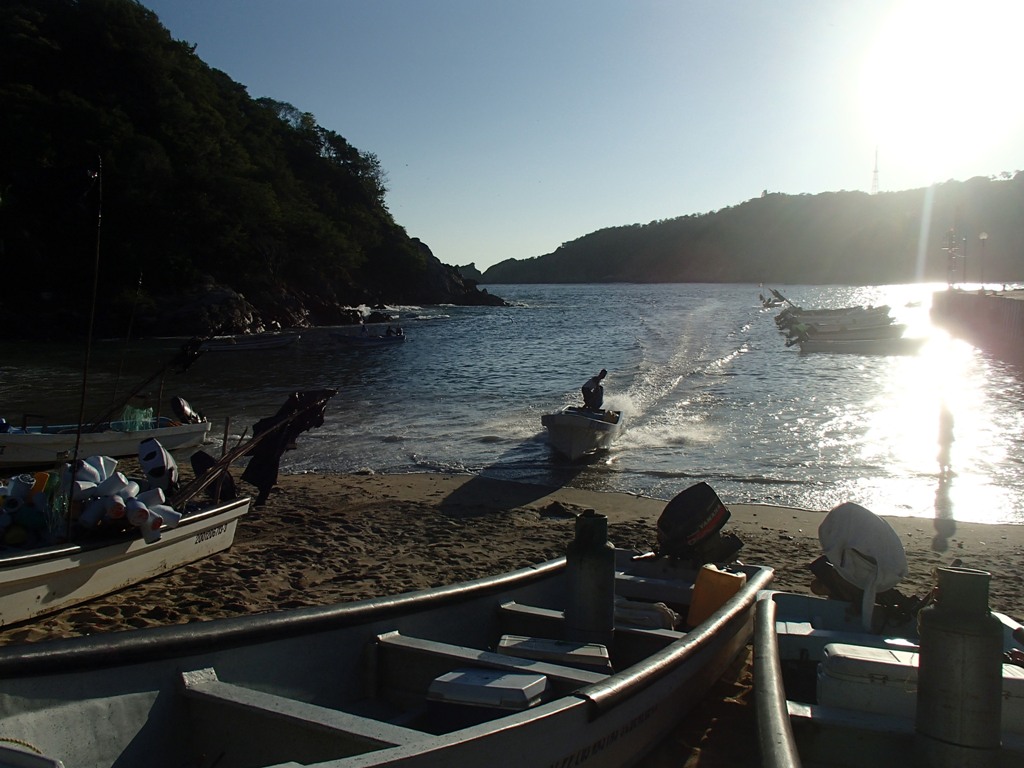 We are certainly glad we didn't just sail past Puerto Angel – it was a nice relaxing couple of days before the 216 mile trip to Acapulco. We left on 3rd Dec at 8.00am and, having dodged pangas and fishing lines outside the bay we settled down to enjoy the journey. About two hours out we were joined by a large pod of dolphins who swam around for a while – which always brings smiles to our faces – but it was what we saw two hours later that really delighted us. We have got quite used to seeing gulls riding on branches and logs but as I looked at a number of gulls around us at this time I realised that they were riding on turtles….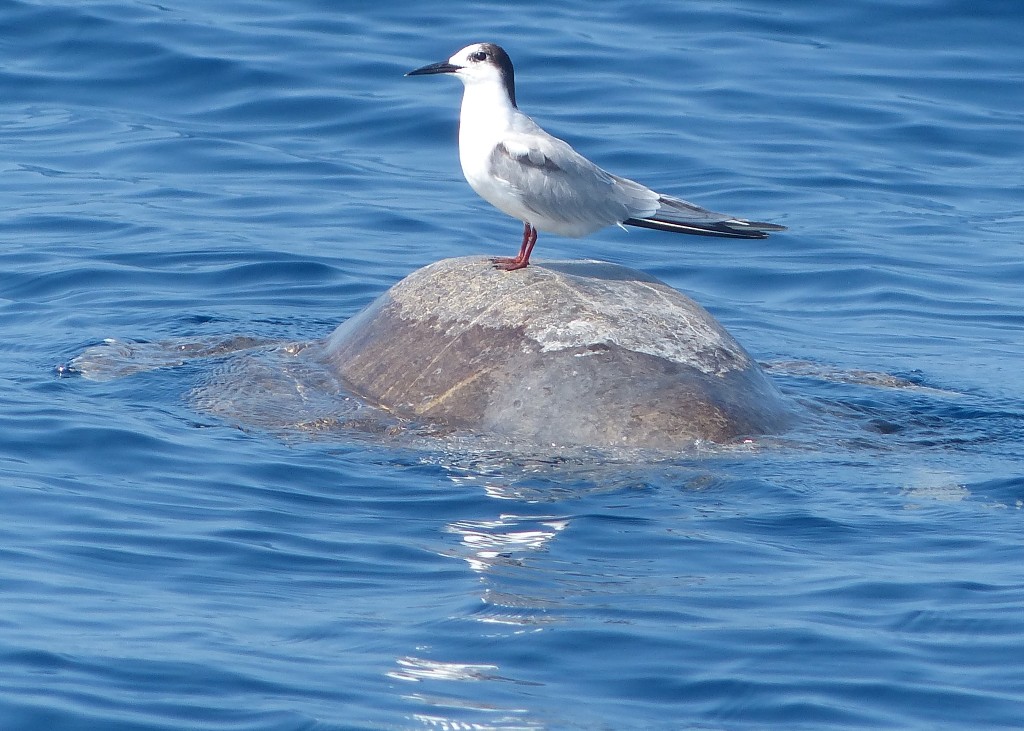 We were sailing just off "Playa Escobilla" which is a 15km long beach and one of the world's major nesting grounds for "Olive Ridley" Turtles. Not being a turtle expert I can't say whether this is an Olive Ridley or not – but it was great to be able to get so close whilst sailing.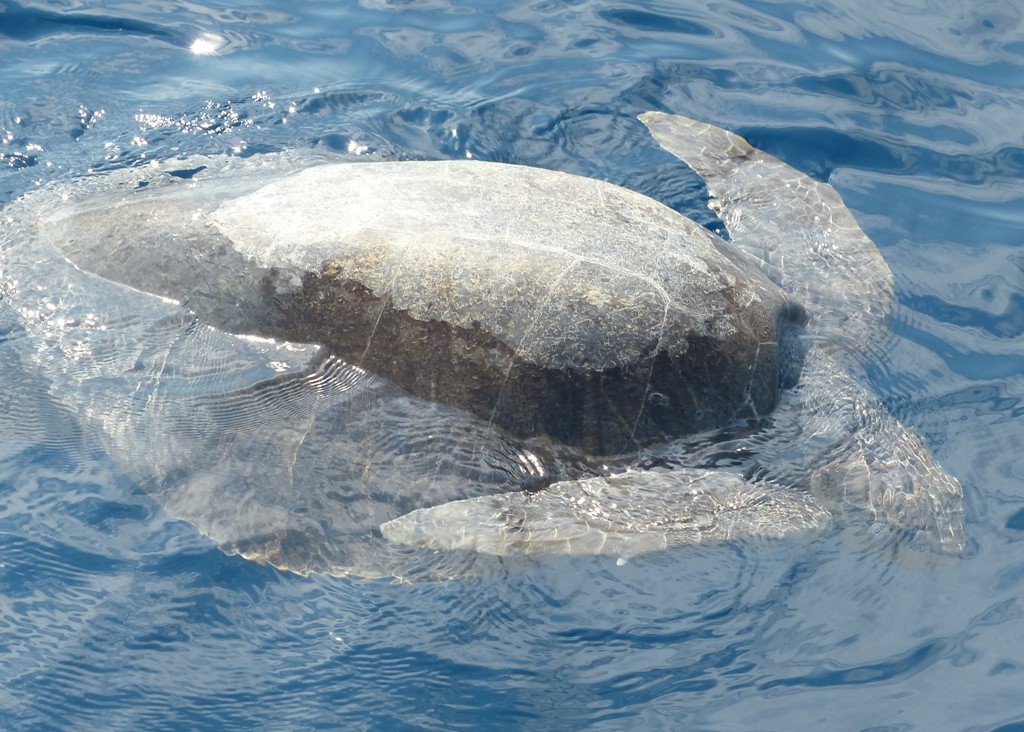 Later in the day we picked up a passenger….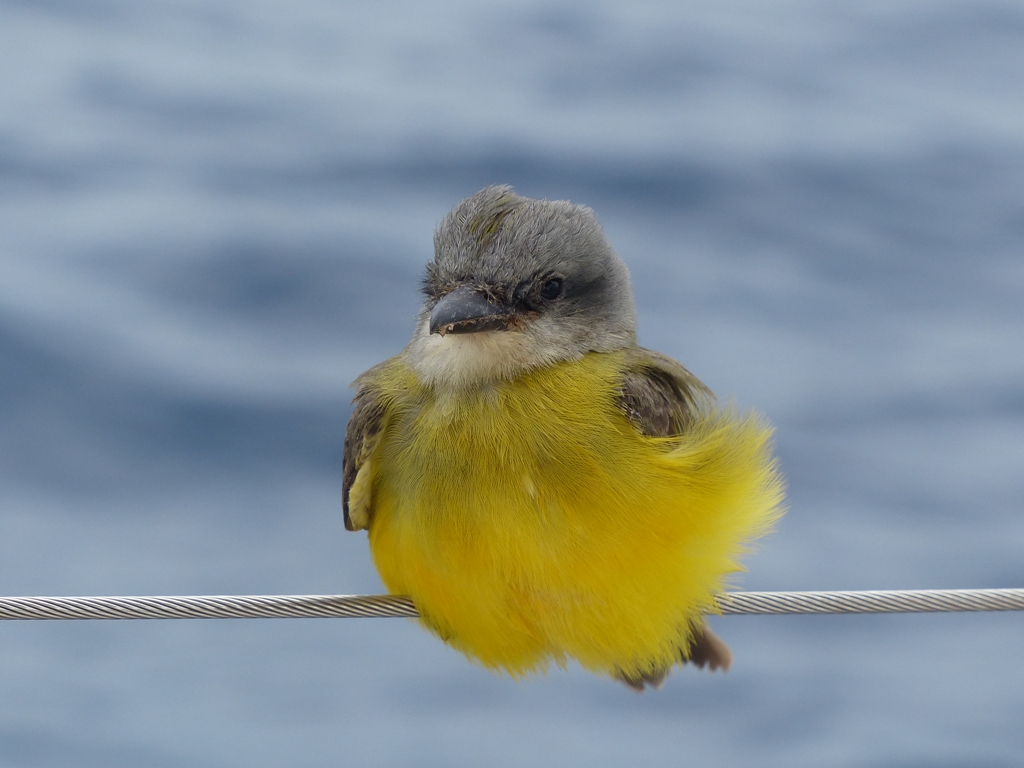 ….who stayed with us for about 5 hours and that evening we witnessed a beautiful sunset. As well as the usual sunset photographs I also took this one….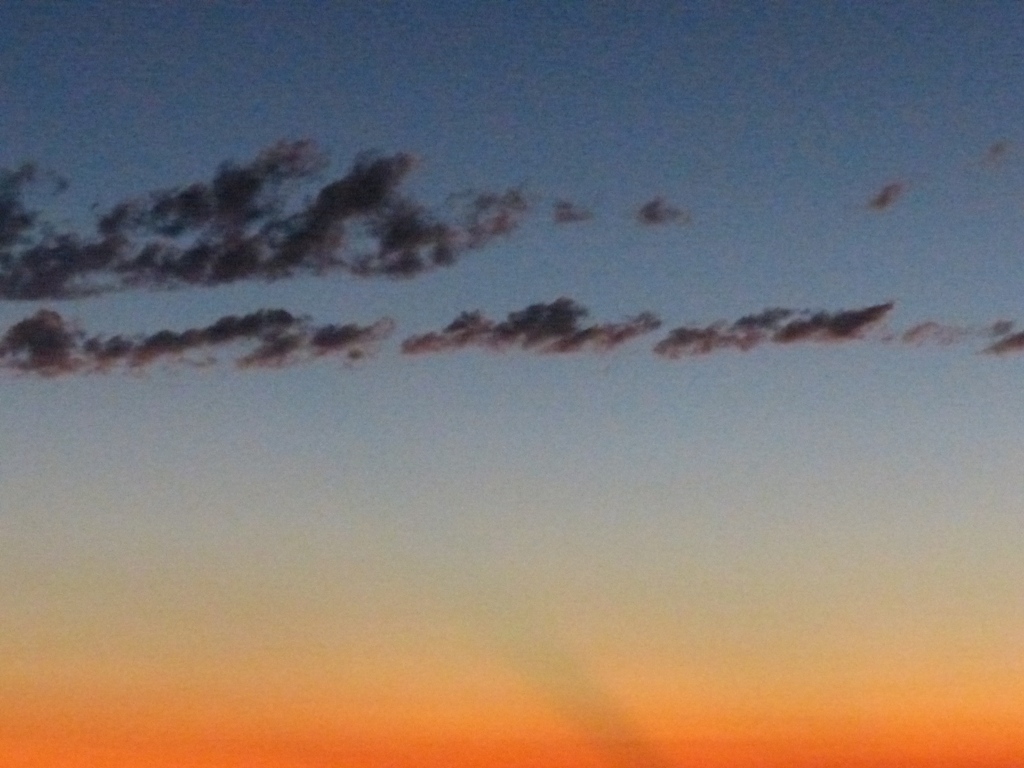 …. which has not been "photo-shopped" or altered in any way [other than a slight crop to get rid of a bit of sea] and I really quite like it.
Having had such a nature packed first day, the next day was really quite dull in comparison but we covered the miles and pulled into Acapulco Bay at 4.30am on 5th Dec. Other than an anchorage on Lanzarote when circumstance meant we had to anchor just after dusk we have avoided entering any port/harbour/anchorage at night. Regular readers will know that we have slowed down, hove to or sailed up and down coastlines waiting for dawn following night passages. However, Acapulco Bay is huge, has no hazards and it was like sailing into a jewellery box!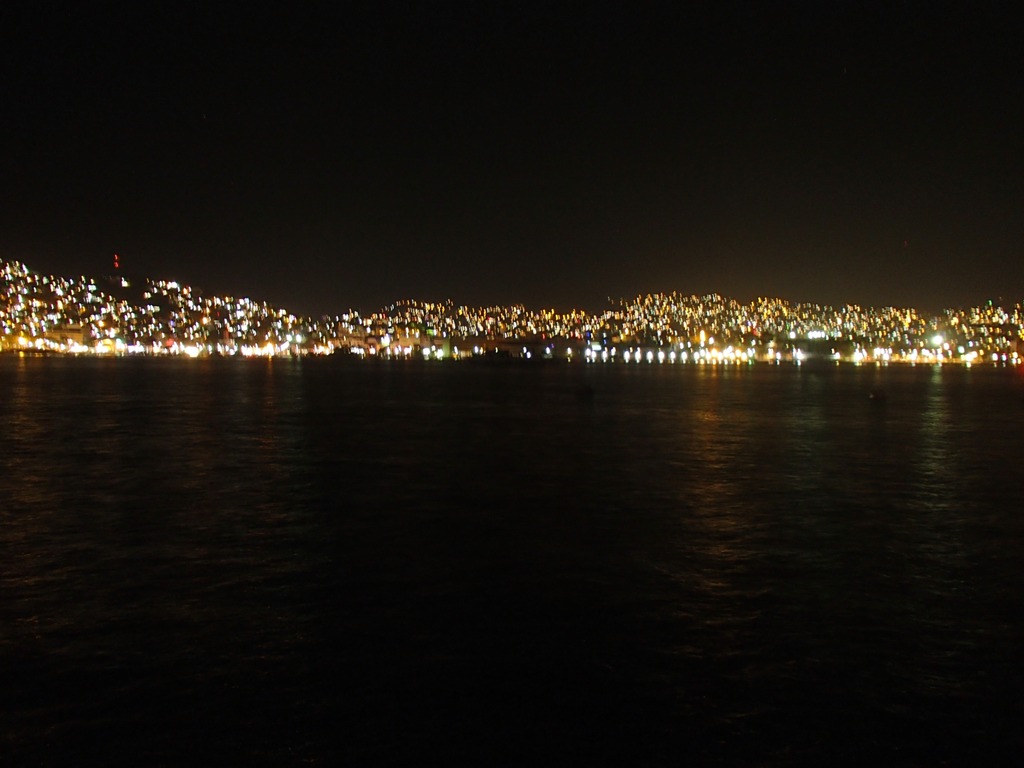 One of the Cruising Guides describes it as "a bowl of diamonds" but with the neon blues and the reds and greens I thought all the gems were present! Even though we were happy entering the bay we did not go immediately to the main anchorage because we had read that there were lots of mooring balls which we might not have been able to see clearly so we went to the eastern end and anchored quite near the naval base, settled down for a few hours sleep and then moved back across the bay.
It is possible to anchor – and I am not really sure why we didn't – but instead we took one of the mooring balls on offer outside the marinas which cost us M$1,200 [approx £48/US$72] for the week.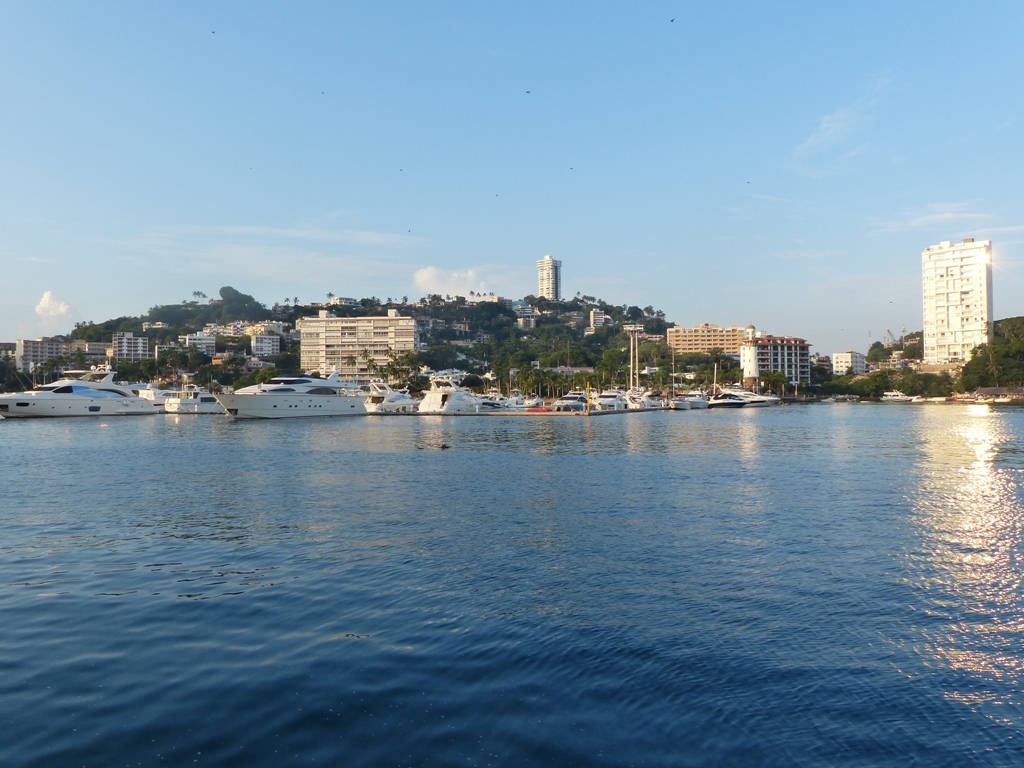 Although there were a couple of places it might have been possible to take the dinghy we took full advantage of Nauti Nauti being in "Marina Santa Lucia". The marina's staff were excellent and did not mind us taking our dinghy alongside Nauti Nauti every day. If I returned to Acapulco I would seriously consider taking a berth at Santa Lucia as the rates were very reasonable. Toilet and shower facilities were limited but it was very secure and meant much easier access to the shore, which was particularly useful for the provisioning trips to the large and excellent supermarkets – particularly "Superama" [opposite the Club de Yate back entrance].
We visited the Zócalo [Central Plaza] and "Nuestra Señora de la Soledad" cathedral….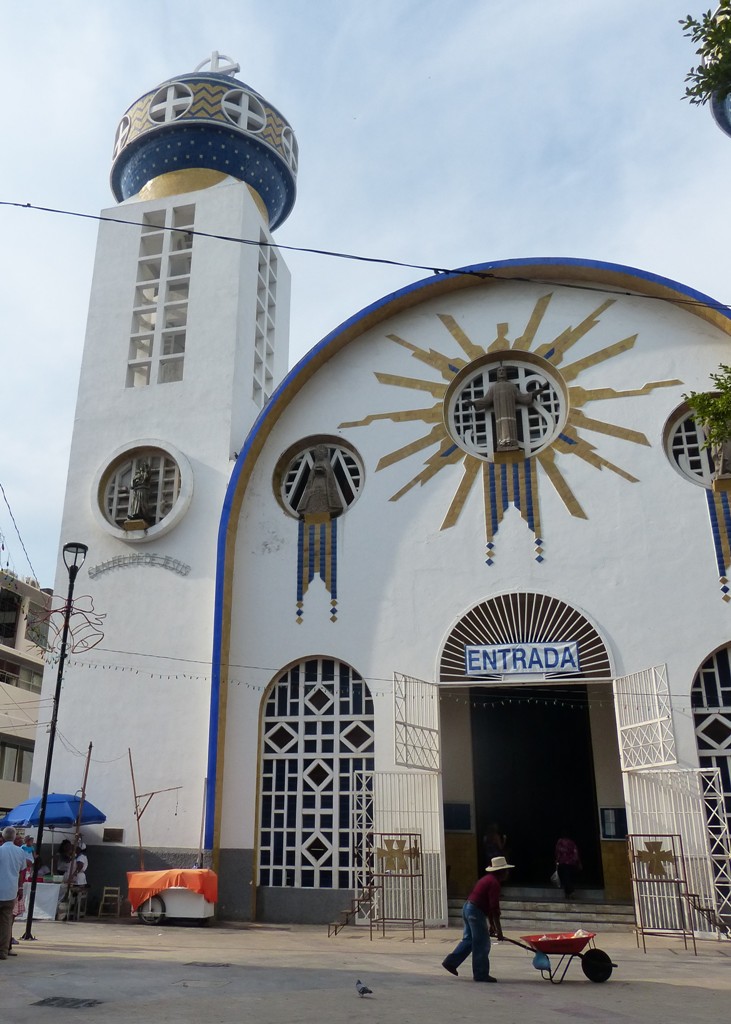 ….around which there are numerous stalls selling crafts and snacks. Nearby are local restaurants which offer excellent value for money meals [the meal of the day at M$55, just over £2/US$3, includes a soup, rice, water and dessert]…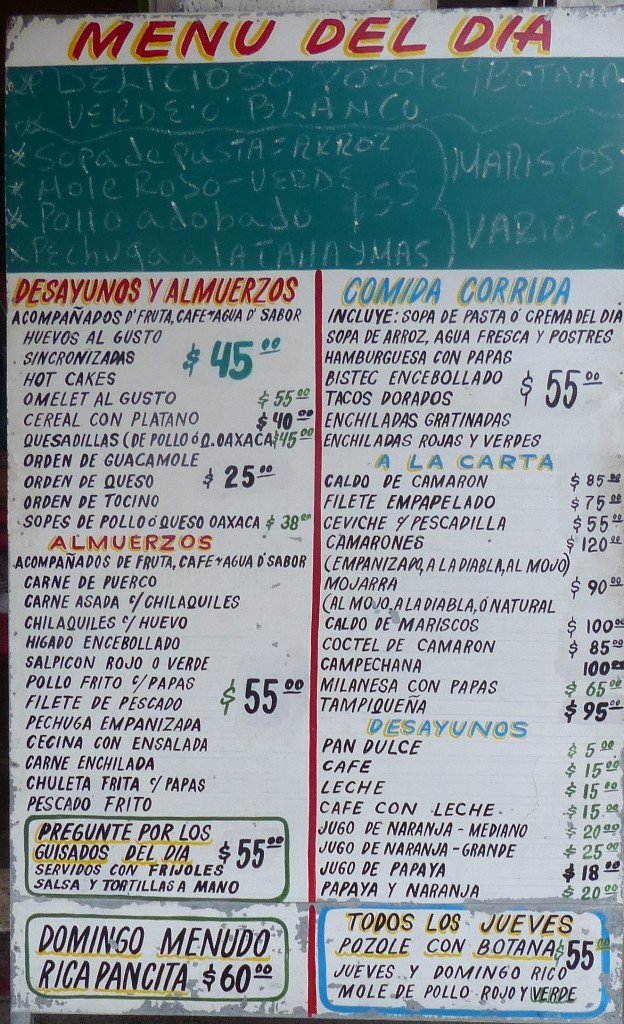 ….. or you can wander the many beaches and find yourselves a seafood stand…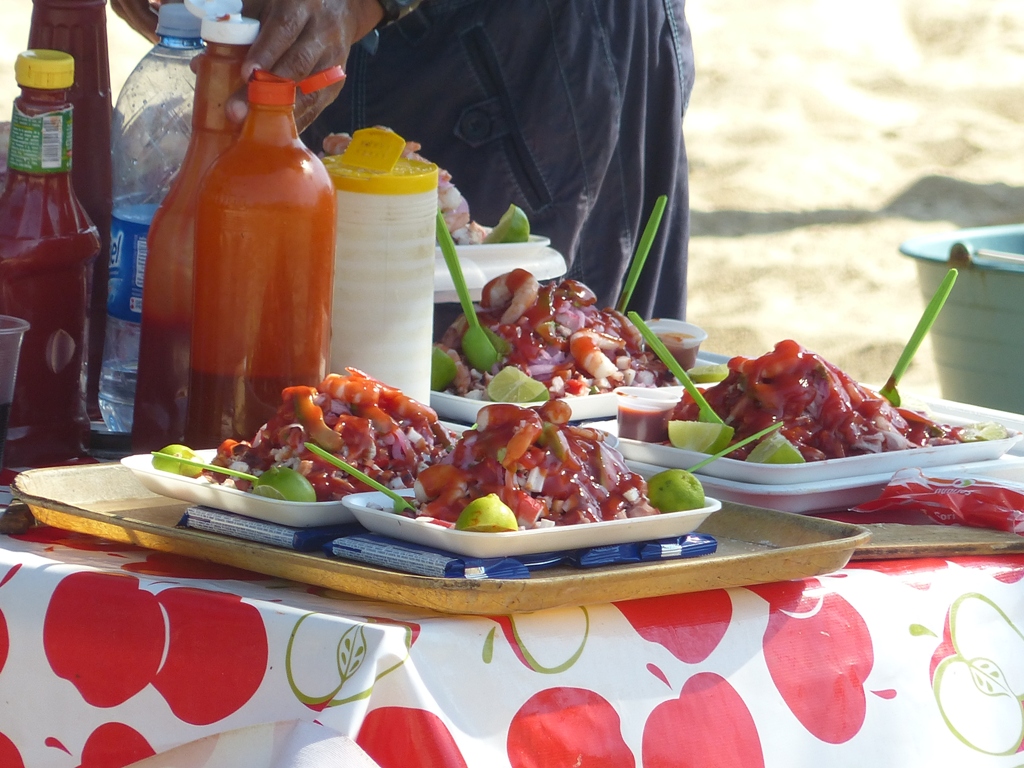 ….. or have it brought to you……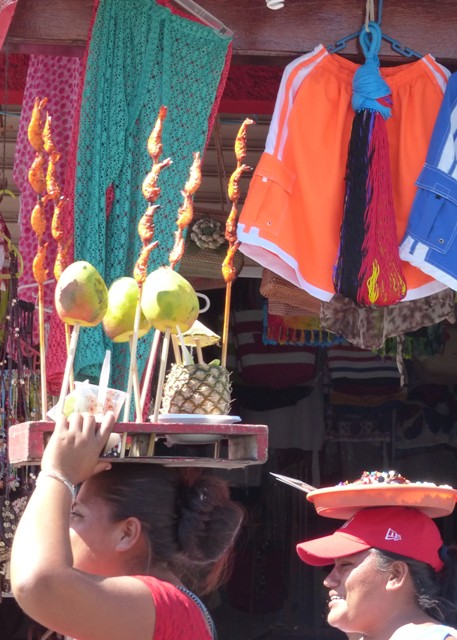 We visited the museum which introduced, to us at least, a new perspective on Mexico – its exhibits concentrating on the trade route between Mexico and the Philippines….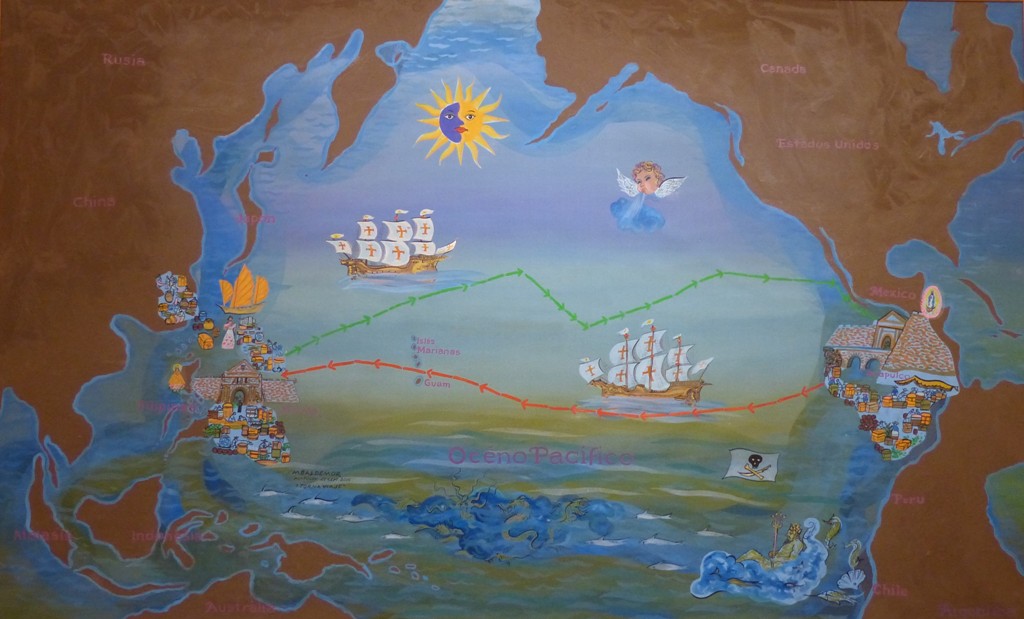 ….with explanations about how much of Mexico's culture – dance, fireworks, cut out paper flags and musical instruments – are linked to that of Manila and China. There was a special exhibition by the Philippine artist Manuel D Baldemor [maybe Philippinos have Spanish names as another example of links?] and a couple of his works are shown below….
The museum is housed in the old "Fuerte de San Diego", a restored pentagonal fort built in 1616 to protect the Spanish trading ships from English and Dutch buccaneers. From its grounds and walls there are excellent views across the bay and the city…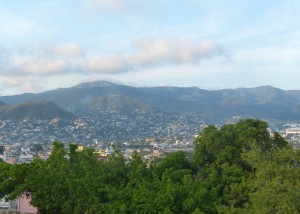 …. and from there we also saw, and heard, a band……….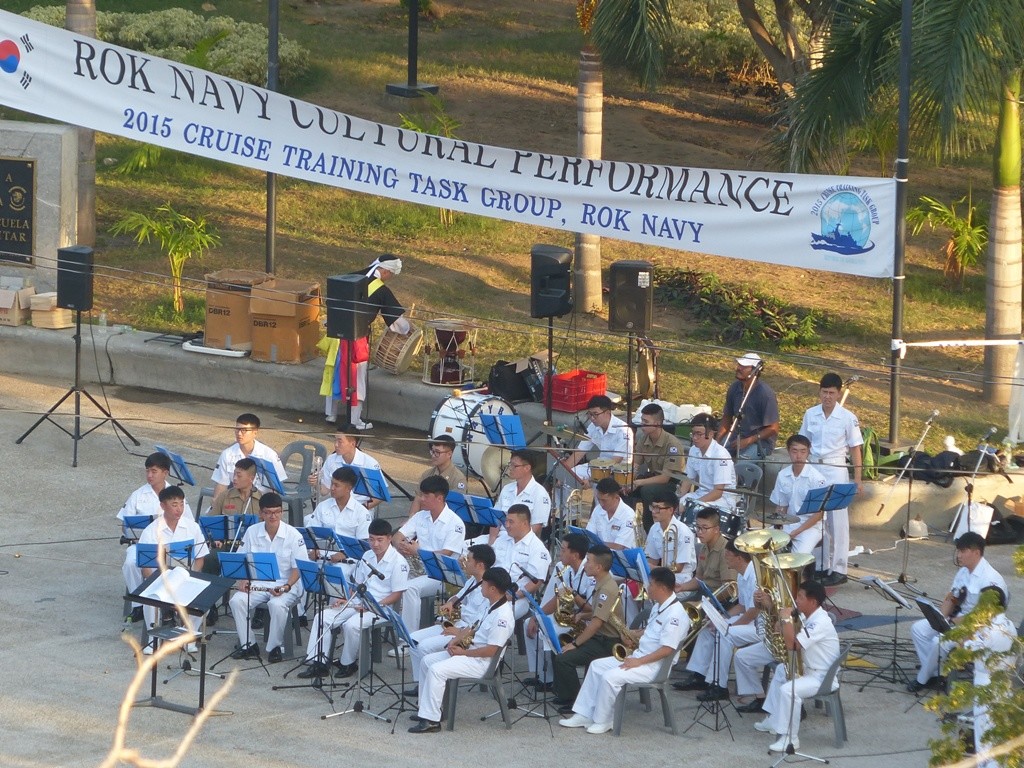 ……..from the Korean Navy………..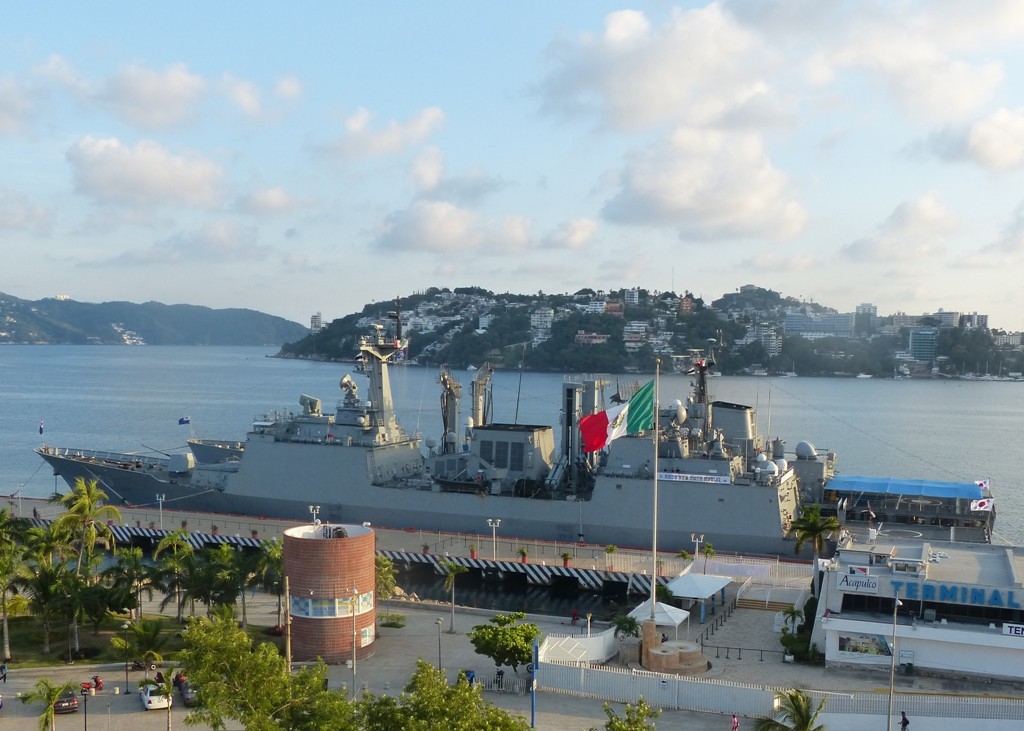 ……..who were visiting Acapulco for a few days and who also gave a martial arts demonstration – but unfortunately, we missed that.
What we did not miss, however, was seeing "La Quebrada Clavadistas". The cliff divers have been giving daily performances since 1934 – with father teaching son and so on – keeping the tradition in a certain number of families.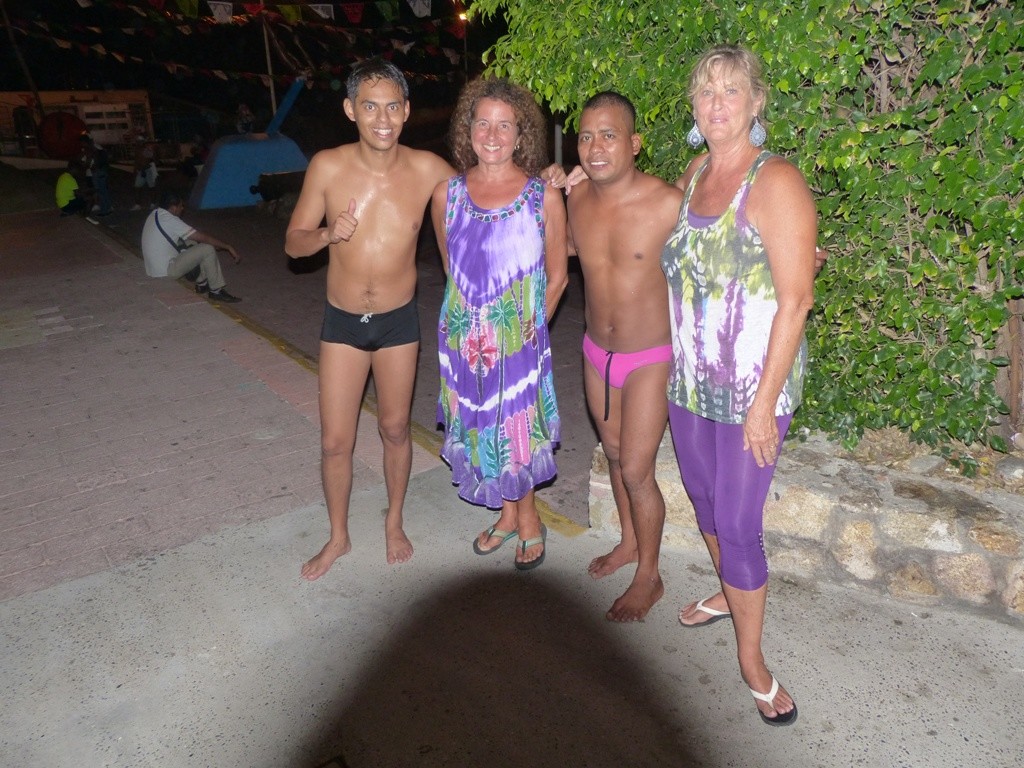 We went twice, the first time at night as we had been told that the torch led performance was the best. It is a spectacular setting…..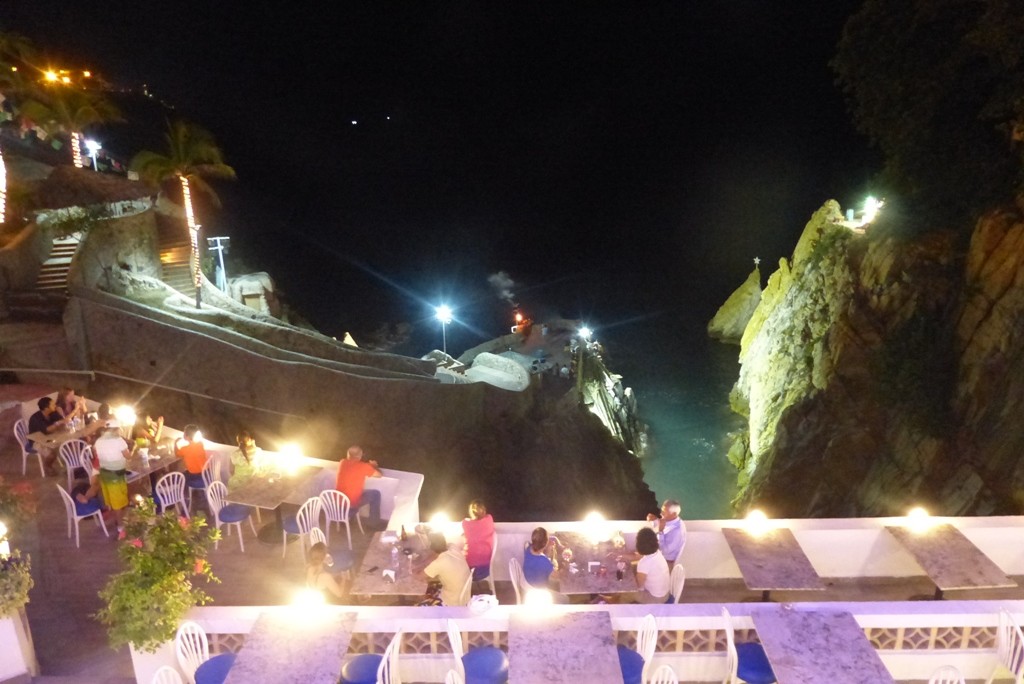 ….but unfortunately you don't really see the diving – and capturing it on camera would take a better photographer then me.
Over the years many famous people have watched the divers from this spot and their signatures can be seen around the walls of the bar/restaurant.
On the second occasion we went for the one afternoon performance which we watched from the viewing area – from where we felt we got a much better perspective.
Having jumped into the water from the platform…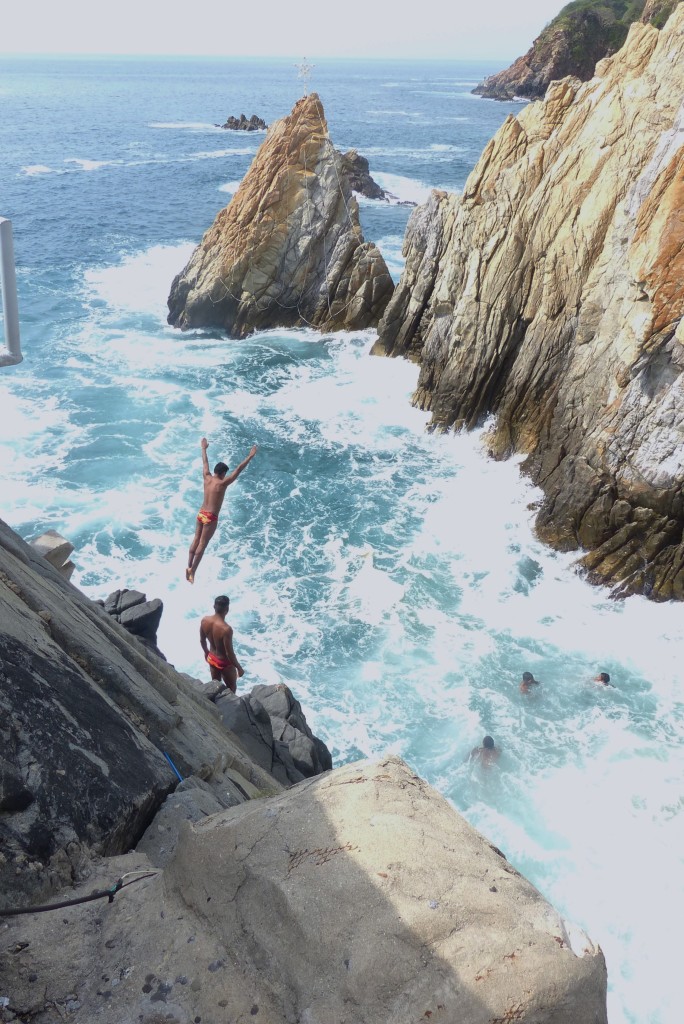 ….the young men scale the cliff on the other side of the narrow ocean cove into which the sea pounds…..
…..before congregating and watching the tide [and waving and whistling to any nubile young women they see in the crowd!]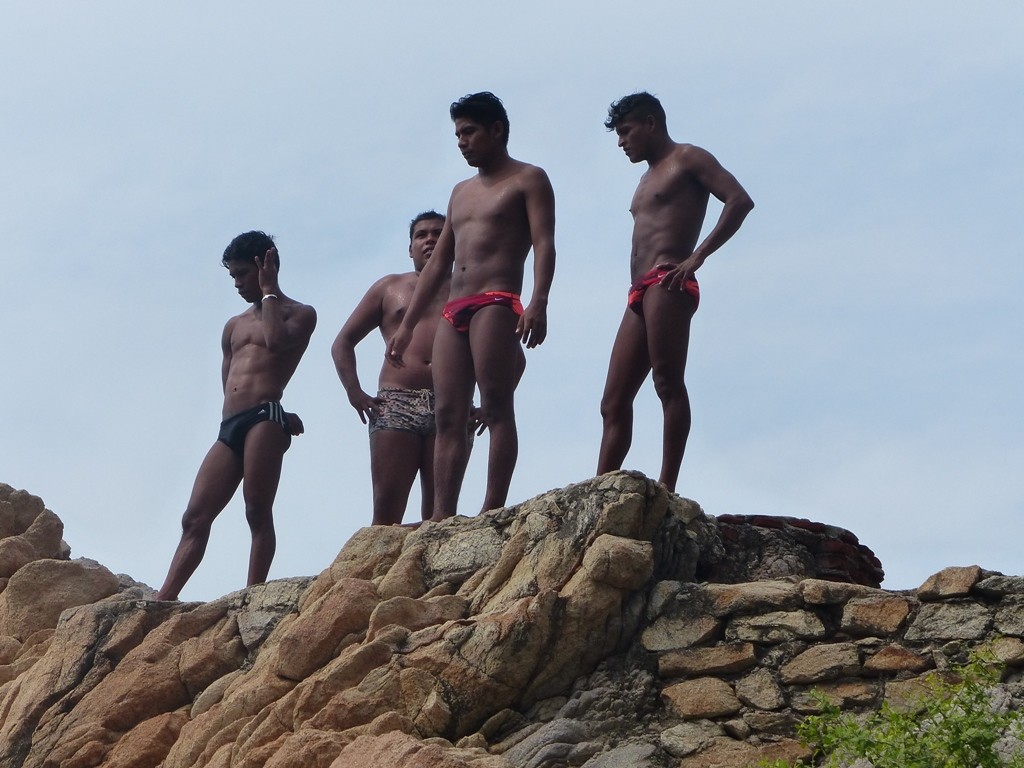 They dive from various heights between 25 and 35 metres but all of them go first to the top and kiss the statues of the Virgin and pray for a safe dive.
They dive backwards…….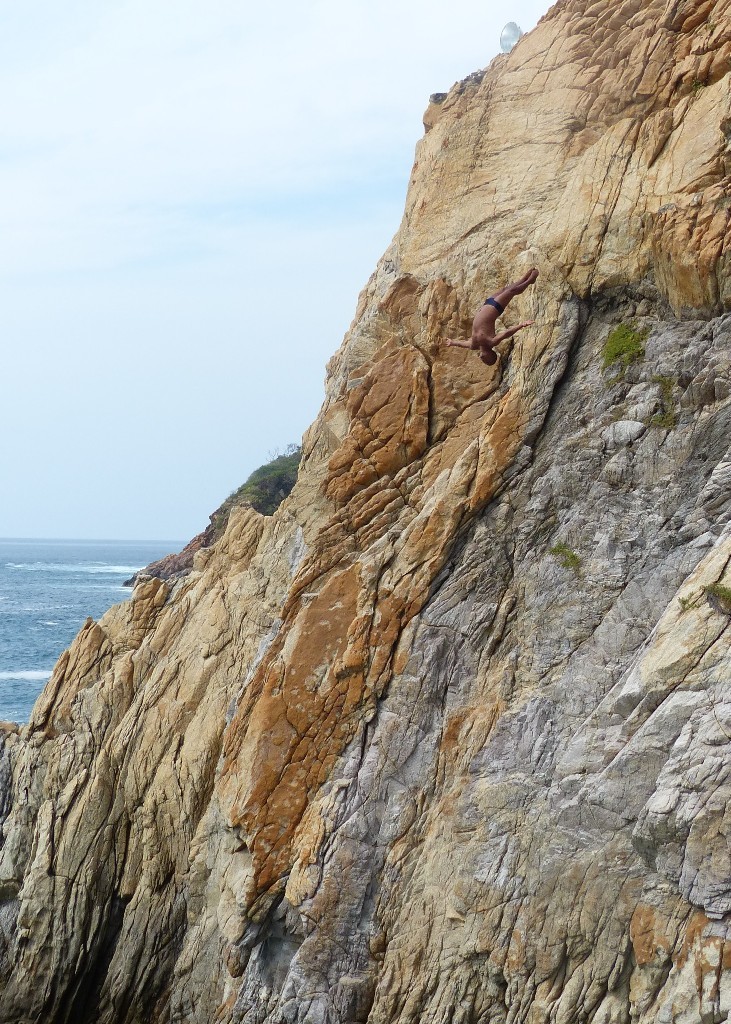 and forwards, and include pike somersaults….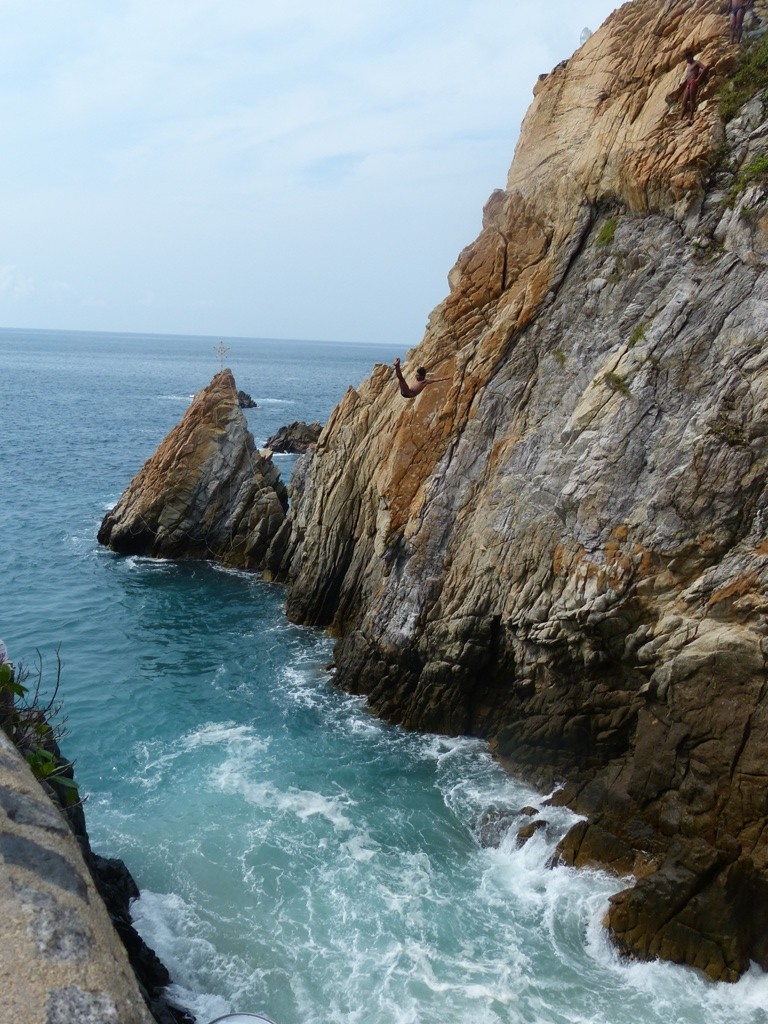 …. but my favourite was the co-ordinated swallow dive.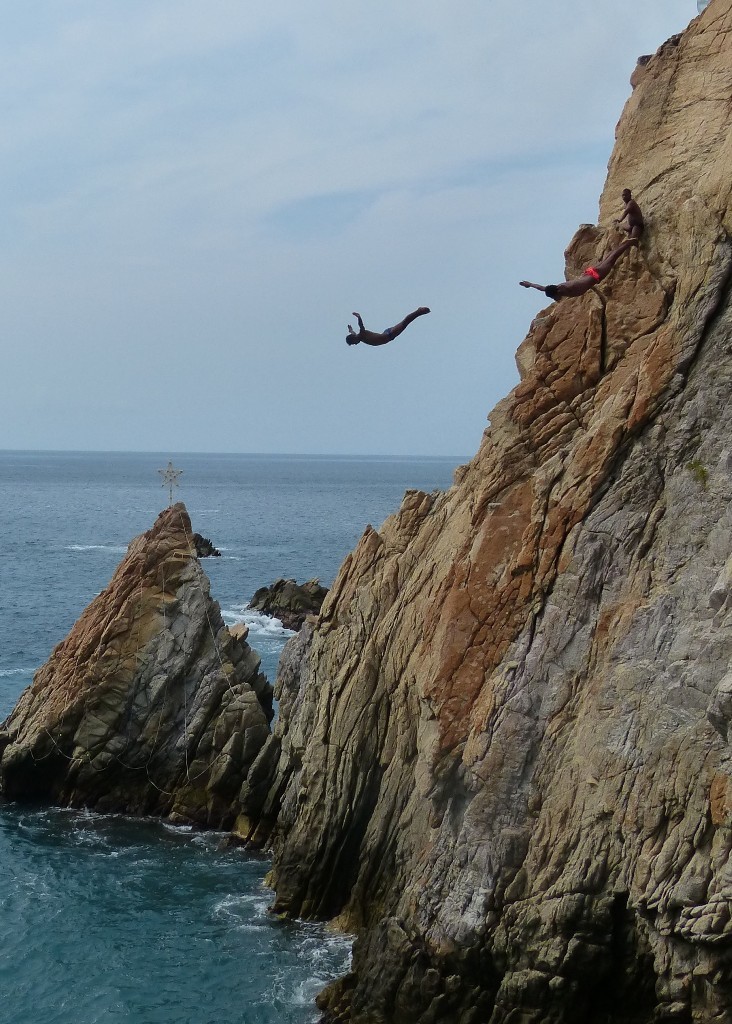 We had to pay a very reasonable entry fee for the night performance [which included two drinks each] and there was a token charge for the viewing platform but it is said that for good karma you should also tip the divers. Obviously a clever bit of PR – but these guys deserve every peso. Would you throw yourself off a cliff into shallow, foaming water for nothing?
10km north of Acapulco is the small seaside suburb of "Pie de la Cuesta" [Foot of the Hill] – a very rustic place.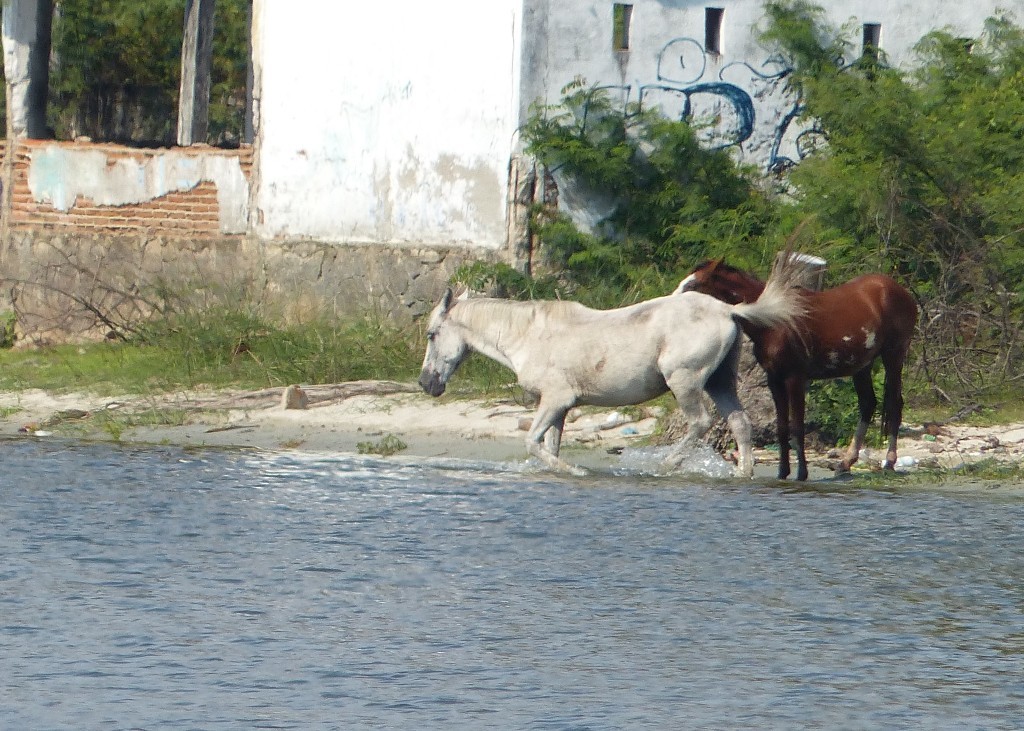 It sits on a narrow strip of land with a long, almost deserted, sandy beach, the Pacific Ocean, a few seafood restaurants and beach chairs on one side…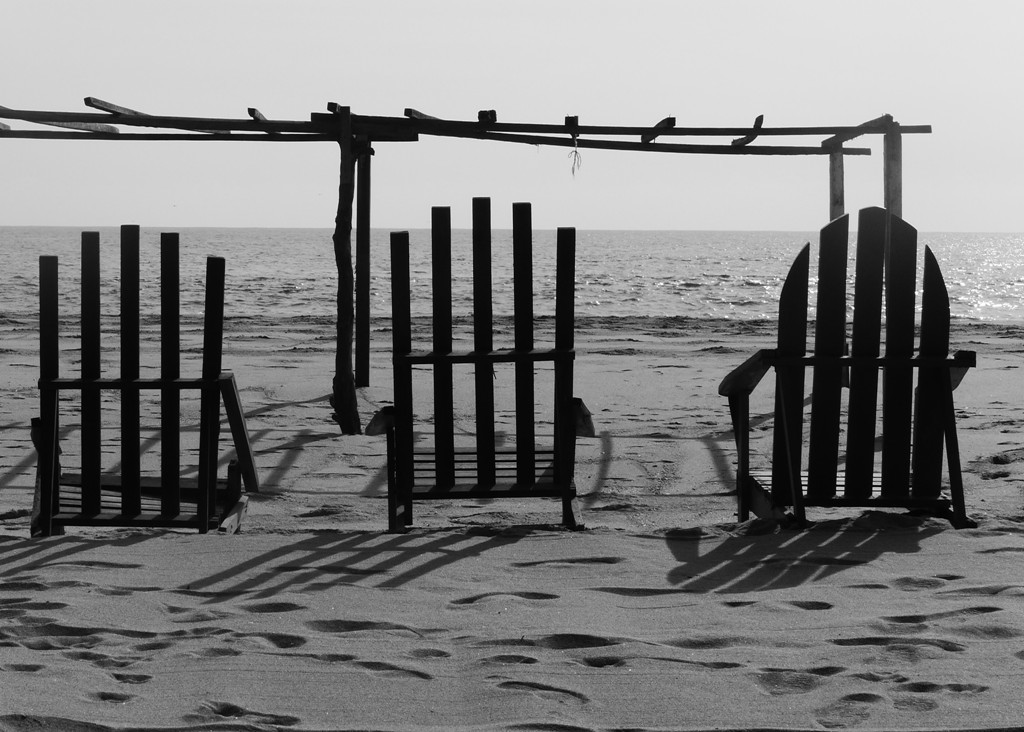 ….and the freshwater "Laguna de Coyuca" on the other….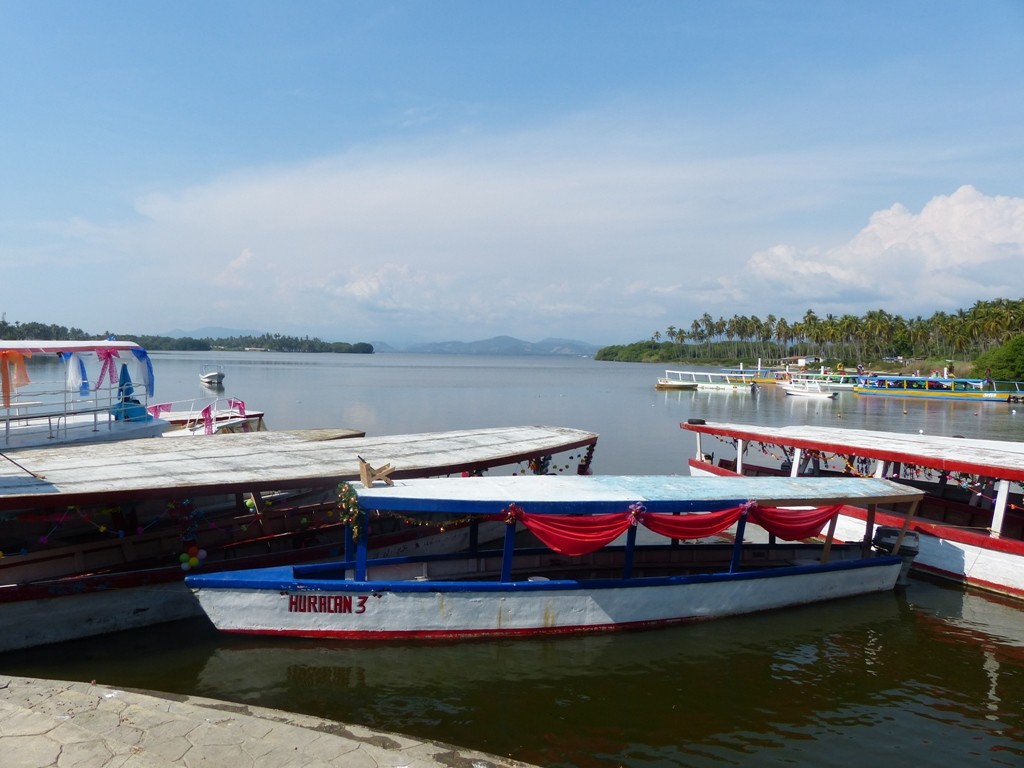 We were there on Dec 11th – the day before the "Día de Nuestra Señora de Guadalupe" – celebrated quite widely across Mexico with small parades. The locals in Pie de la Cuestra were busy decorating their pangas on the lagoon…..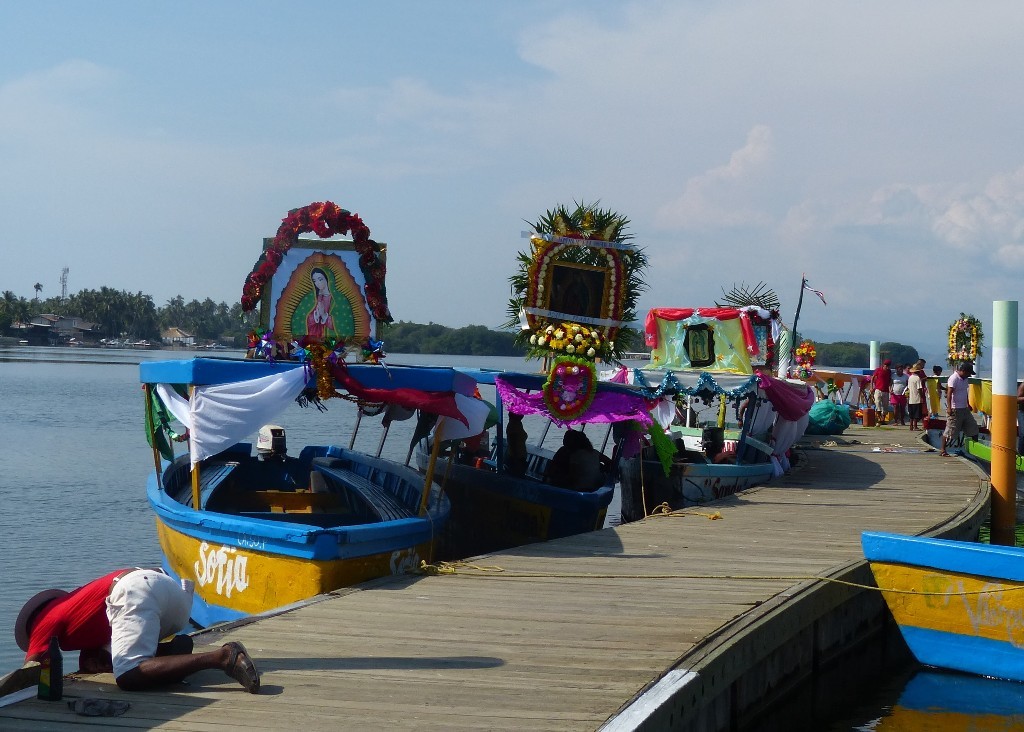 …. and on our return to Acapulco we saw a waterfront parade congregating with children in traditional dress….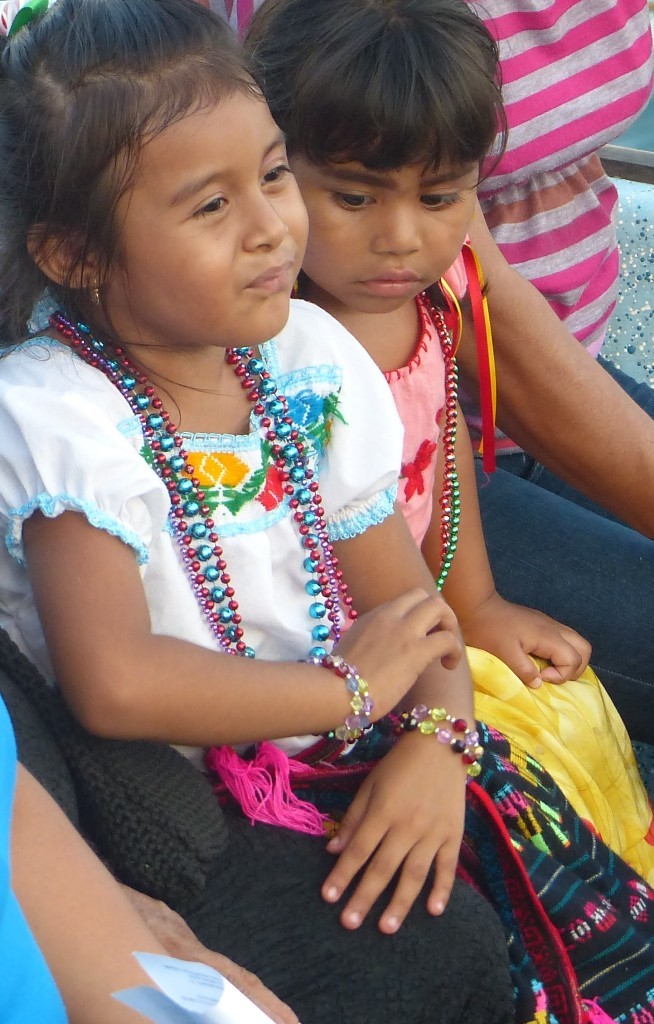 ….. and the band warming up….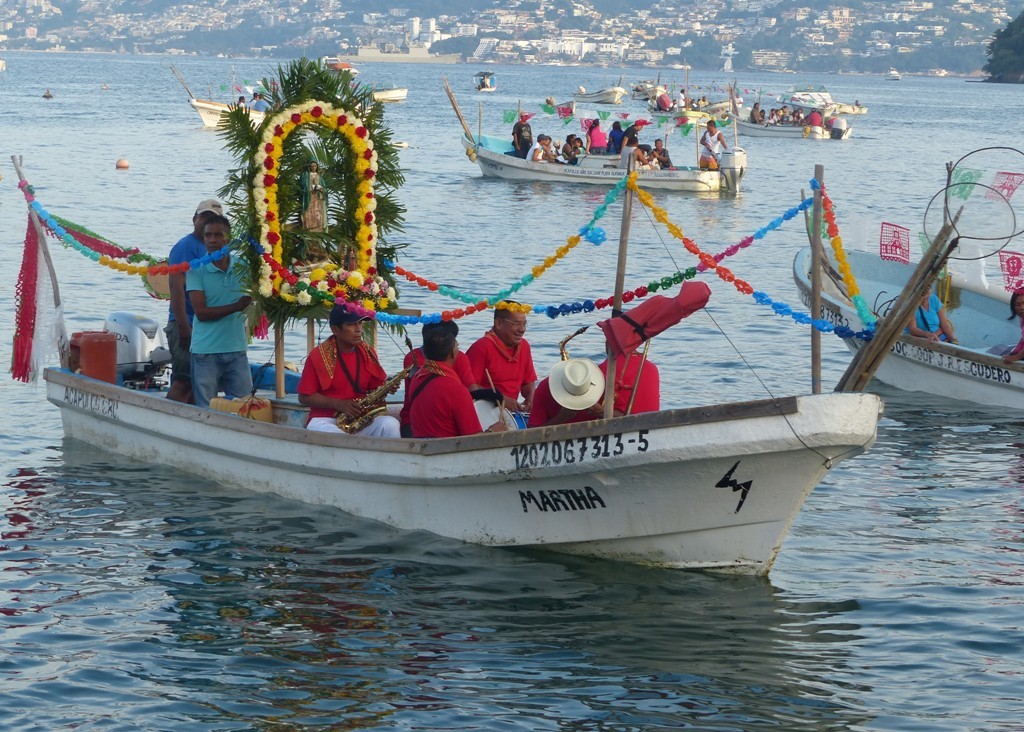 ….before they led all the boats out into the bay.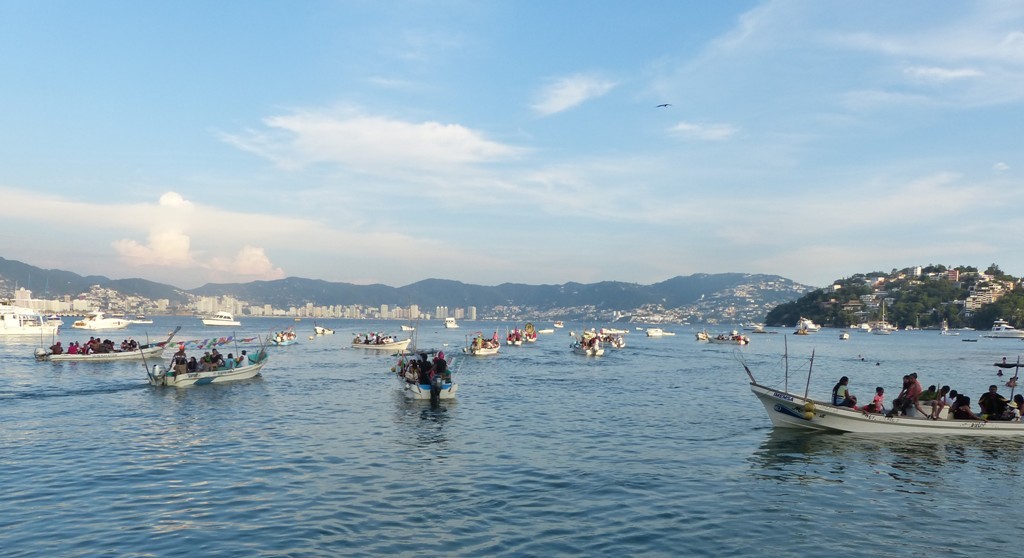 It appears that these water based parades are a prelude to the main event, on the 12th, when there were a number of walking parades in various parts of the city.
Before leaving Acapulco we spent a couple of nights at the anchorage off Isla Roqueta.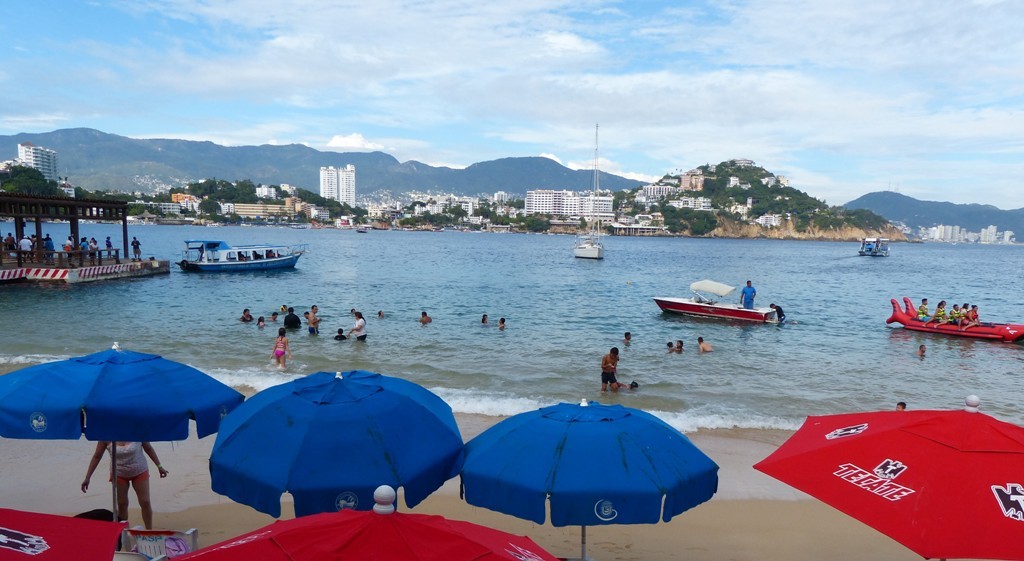 As you can see it is very close to the mainland and is very popular during the day – but those visitors leave by 6pm and it becomes a peaceful place to spend the night. Come the morning, the first "visitors" are the refuse collectors who clear all the bins along the landing pier and the beach.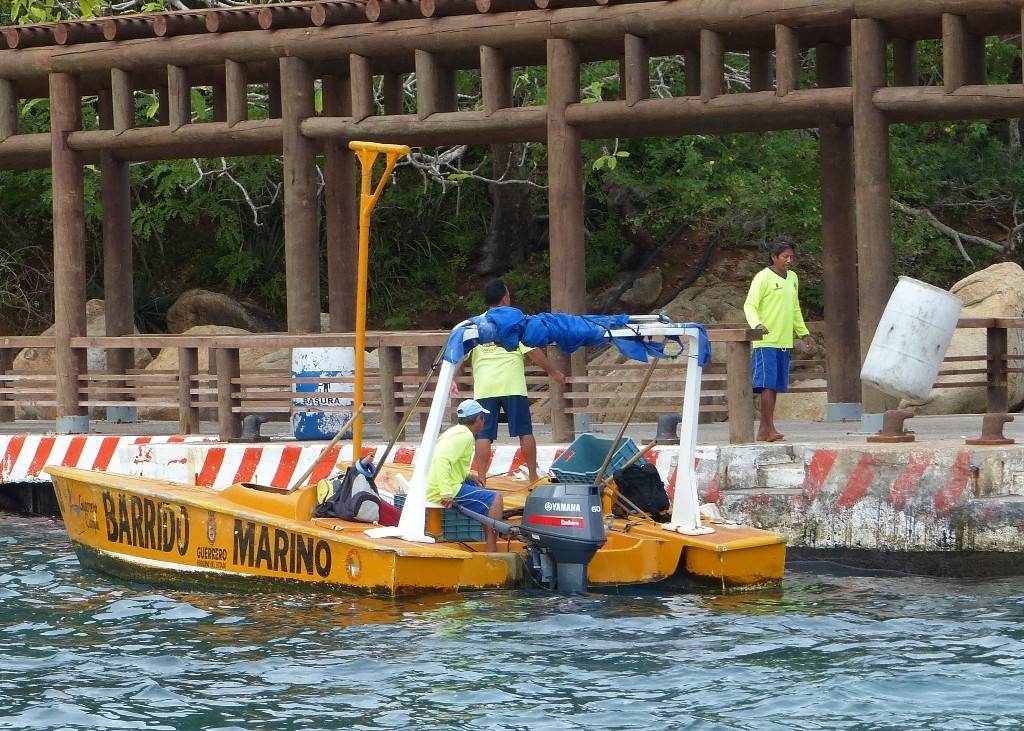 They even came to our boat and took our rubbish bag from us – excellent. The channel between Isla Roqueta and the mainland is navigable and free of hazards and so, on 14th December, we left via that channel for our next leg of our journey – to Zihuatanejo.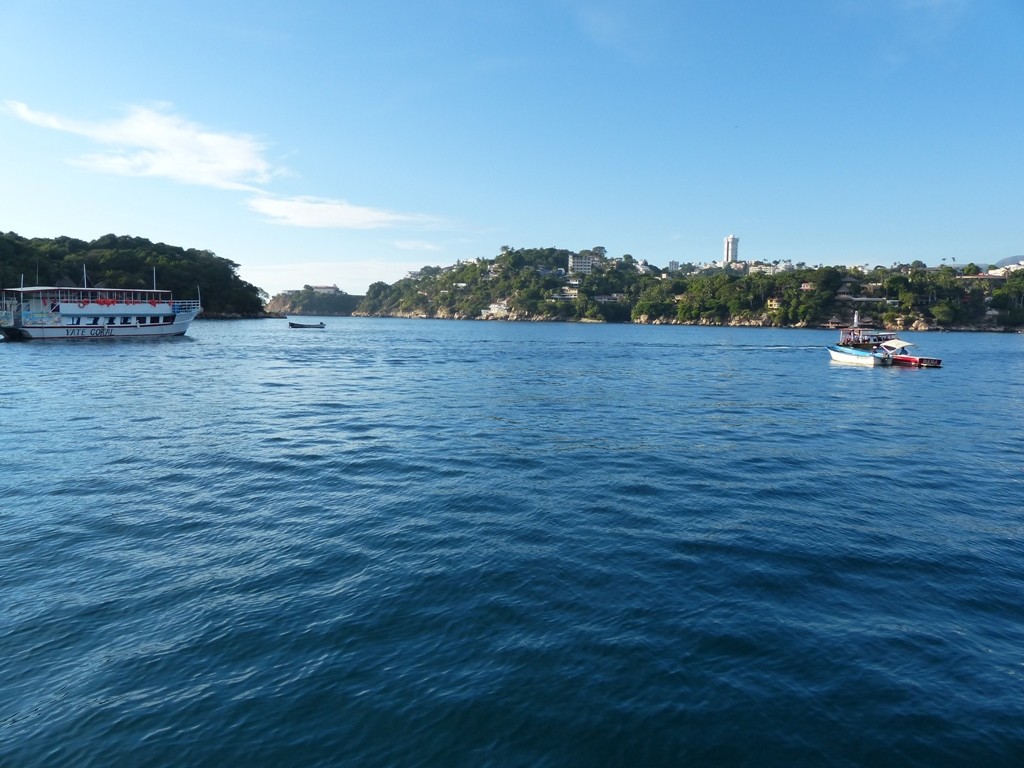 On a final note, Acapulco gets bad press from a lot of cruisers [some of whom haven't actually been!]. We would say "Go there". At the least it provides good anchorage for an overnight stop to break up the 342 miles between Hualtulco and Zihuatanejo and, if you have a few days to spare, then take the time to stay around and venture into the city. It is not the dirty, dangerous, loud place it is sometimes purported to be. It has a few rough edges but there are interesting things to see and do – go and make your own mind up.