As reported in my previous post, we encountered a delay – well several really, but no need to go into that – in our new dinghy arriving in Marina Chahue, Huatulco. On hearing early in the morning of Saturday 14th November that we could not expect delivery before Thursday 19th we made a snap decision to go to Oaxaca for a few days as we had heard it was a nice city to visit. We packed quickly and arrived at the bus station about 5 minutes before a bus was due to leave – how lucky was that!
Set in the centre of three mountain flanked valleys, most bus routes from the coast to the city involve lots of winding roads and dramatic scenery.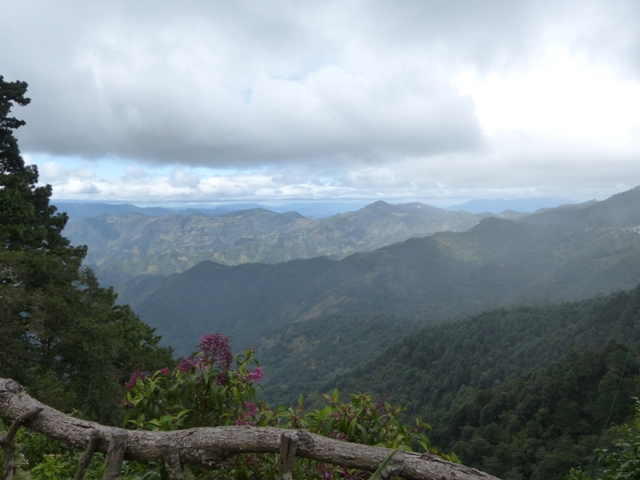 [For anyone who might be visiting the area and want to take the trip, we used "Expressos Columbo", one of two minivan services which ply the Huatulco/Oaxaca route. I expect the "Huatulco 2000" service was just as efficient. Apparently there is also a 1st class "coach" service but this goes via Salina Cruz and takes longer].
Our journey took approximately seven and a half hours [including a refreshment/comfort stop] so we arrived around 6pm. This was the first time that we hadn't booked accommodation in advance. The place I had hoped to stay was fully booked so we ended up with a pot luck approach. The place we found advertised a private double room ensuite for M$800 [£32/US$48] per night. It was more than we have paid previously in Mexico but, given that it was getting dark we decided it would do. When we told the guy at the desk that we wanted four nights he got on the phone to someone [owner?] and promptly reduced the rate to M$400 per night! It wasn't the most salubrious place we have ever stayed but it was clean, in an excellent position for getting round the city and, at £16 per night it suited us fine. Just a shame I can't remember what it was called!!!!
You might recall me talking about "Dia de Muertos" – the Day of the Dead. Well, Oaxaca is one of the places where it is celebrated in style. Unfortunately, as those of you who read my last blog will know, we were in La Crucecita, Huatulco on this day but, there are lots of permanent clues dotted around the city – as well as skulls for sale in every tourist shop – to remind you just how seriously it is taken.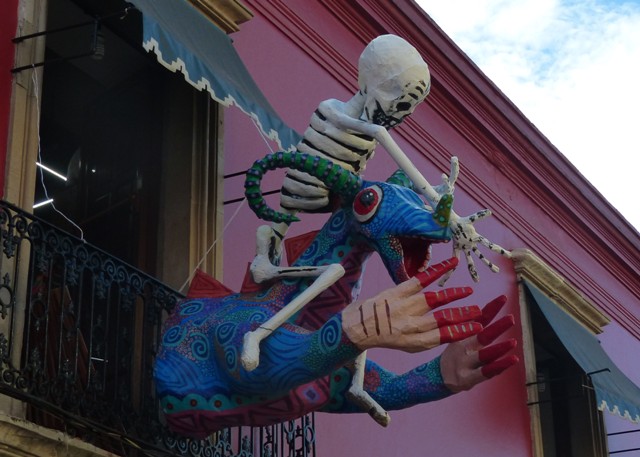 Masks also seem to play a central role as we saw them displayed in many different venues across the city.
The Zócalo [Central Plaza] is traffic free, shaded, surrounded by impressive buildings and arcades and bustles with life. By day and night there are balloon sellers……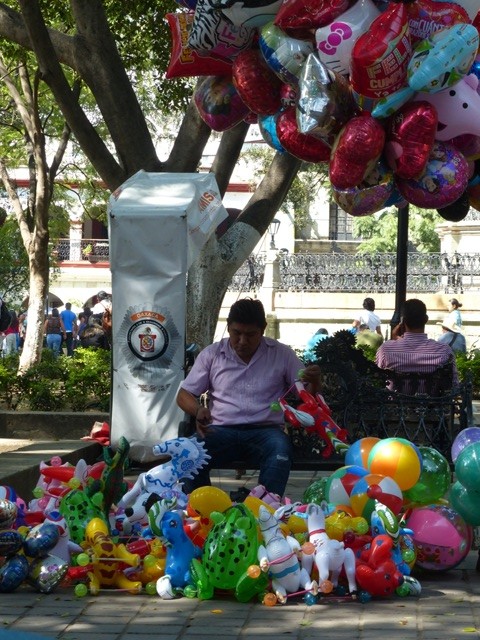 ……and lots of hawkers of local crafts who, as in the rest of Mexico, don't continue to hassle if you politely say "No, Gracias". We particularly loved the nights when bands played…
….locals and tourists mingled in the pavement cafés….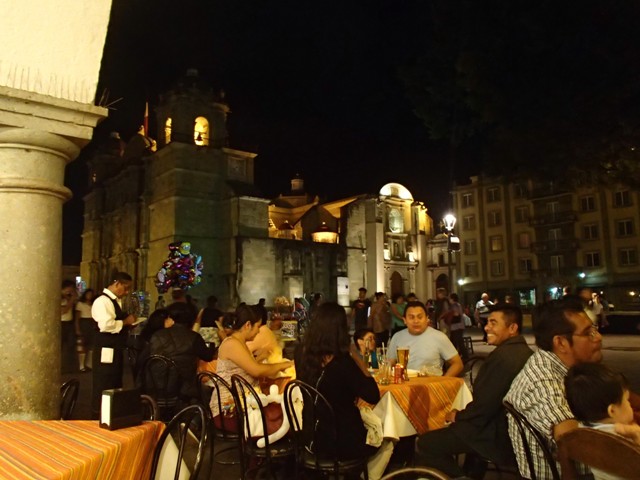 ….and entertainment was provided by Marimba players and by a couple of guys who simultaneously played Ukulele and Pipe.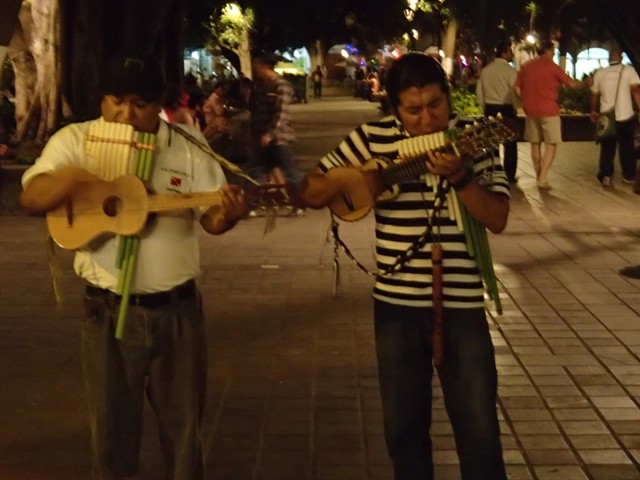 A brilliant atmosphere.
Early morning, by contrast, is very quiet….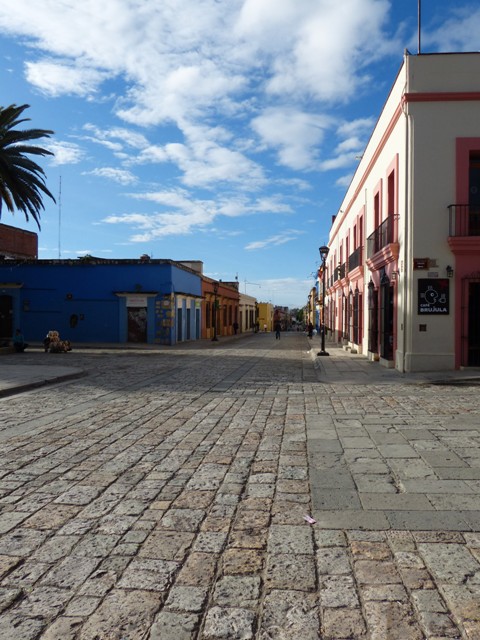 …but a great time to wander freely and admire the colonial buildings.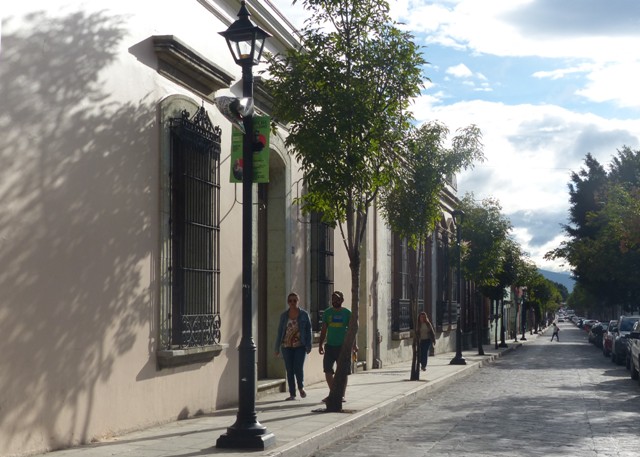 The "Templo de Santo Domingo"…..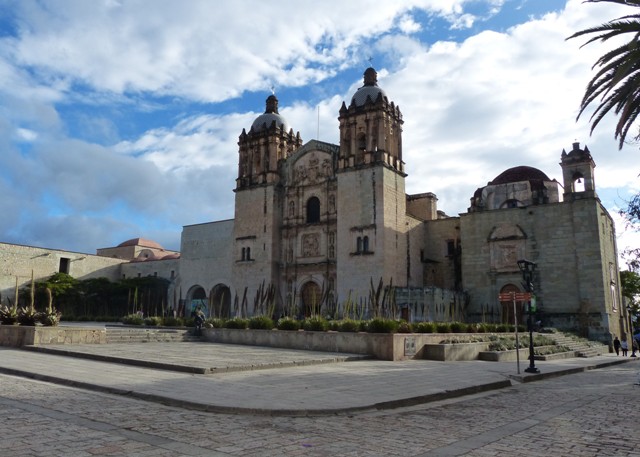 … is Oaxaca's most elaborate church featuring more baroque facade carvings than the cathedral…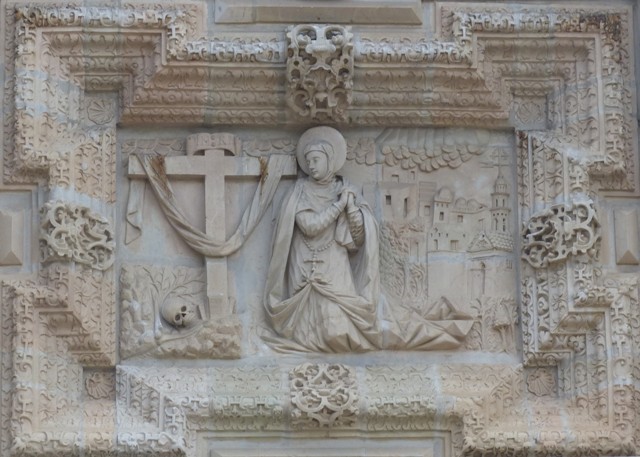 Adjoining the Temple is one of Mexico's best regional museums – or so they say. We do tend to visit quite a lot and after several of them I have to admit that, unfortunately, they begin to roll into one – but the "Museo de las Culturas de Oaxaca" certainly did have some of the best preserved and displayed statues that we have seen…..
….. and a stone carving of the sun god.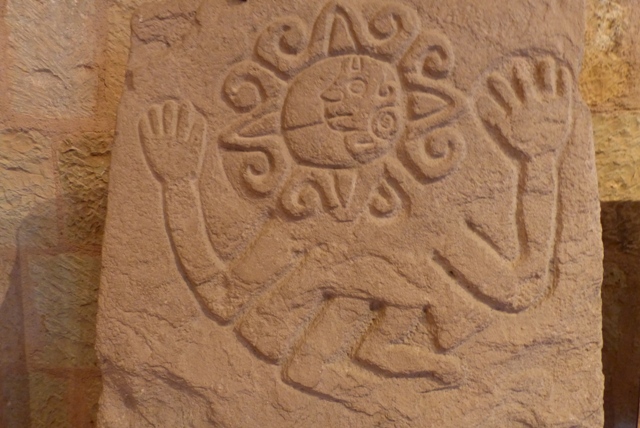 The exhibits were in several separate rooms spread over two floors and it was easy to get lost and end up in the same room more than once – but, as a result of our wandering around, we found ourselves admiring the building and stone cloister ….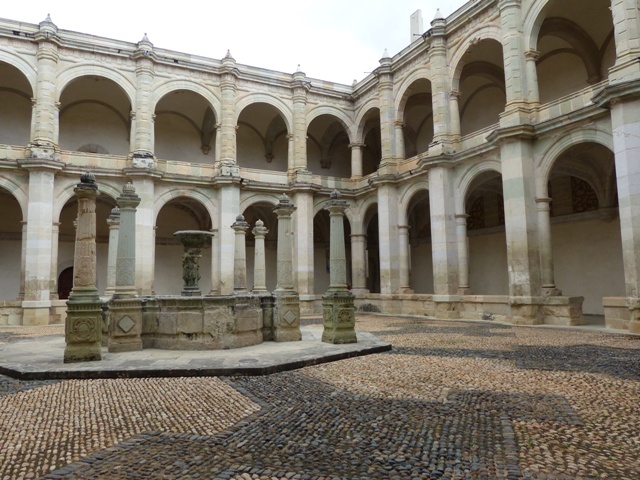 …. as well as the exhibits which ranged from pre-hispanic history up to the modern day. In former monastic grounds behind the Temple was the "Jardin Etnobotanico". Visits are by guided tour only and the English version is 2 hours long. Lunch was calling so we had to forego the delights beyond the gate…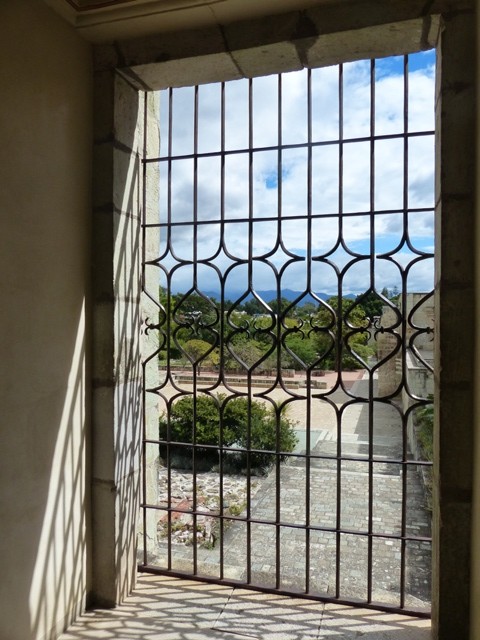 Sunday snacks [and possibly on other days too] are available right outside the church…..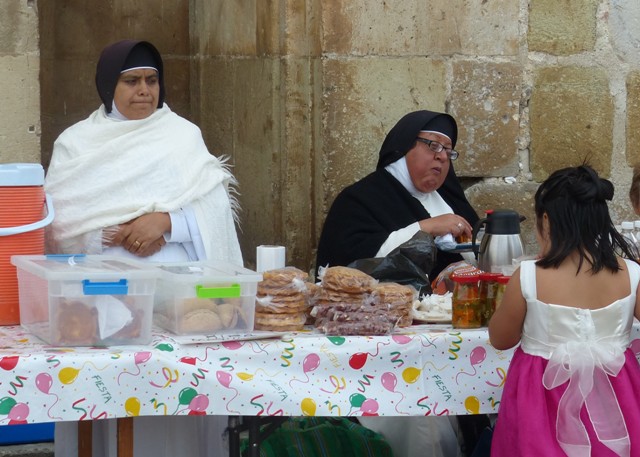 …..but we opted for a bakery – "Boulenc" – which I had read about on Trip Advisor.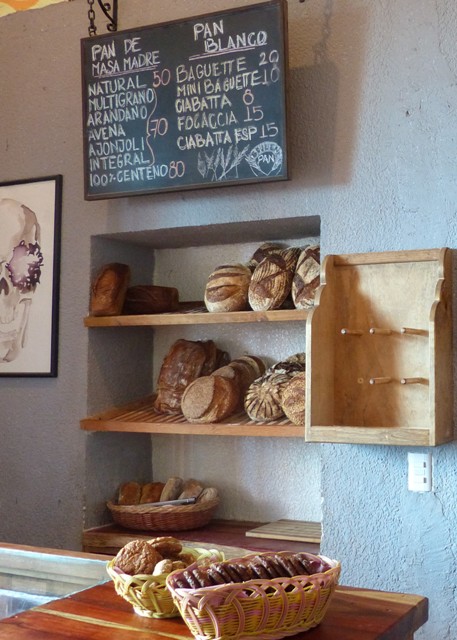 As you might imagine Mike was interested in their ovens, but I concentrated on the preparation of my toasted spinach, garlic and mushroom ciabatta.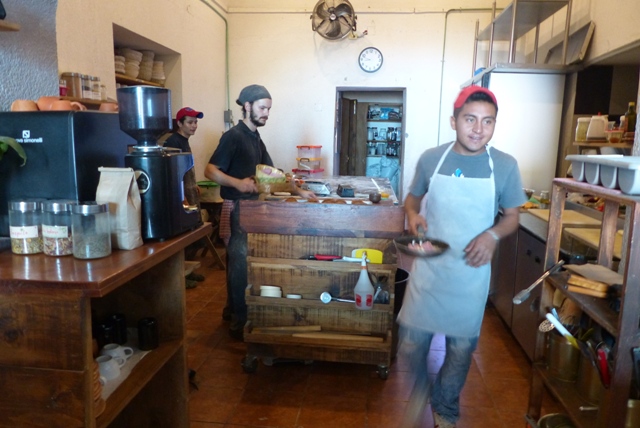 Yummy – as was the bread we bought on our last day in the city to take back to the boat and, at the local market, we sampled equally filling and tasty BBQ meat and sausage, cooked to order and served with salsa, onions, hot sauce and tortilla.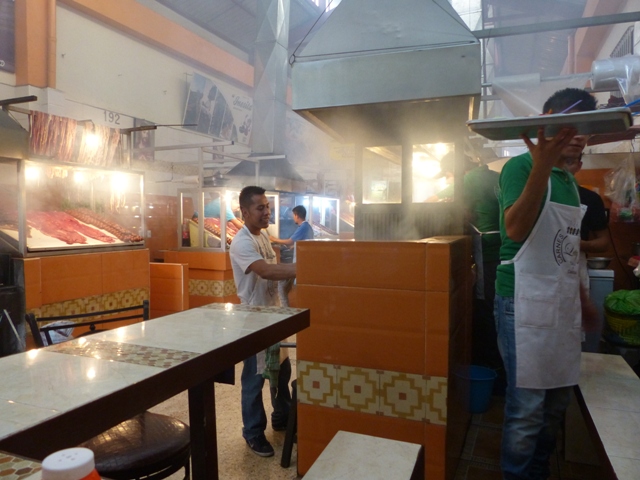 One of the things we observed, which I have no explanation for, was a "ceremony" taking place inside and outside the church. I have no idea what it was about – whether it was a christening, a wedding, or something else entirely but it involved a couple, a small child [not a baby] and their family….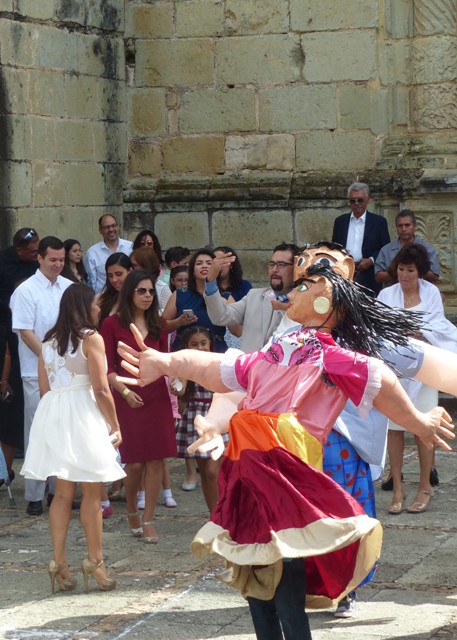 ….plus a band….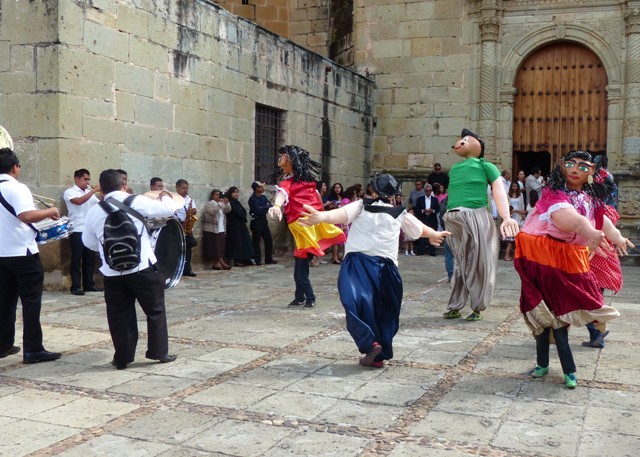 …..and several large paper-mache headed figures dancing.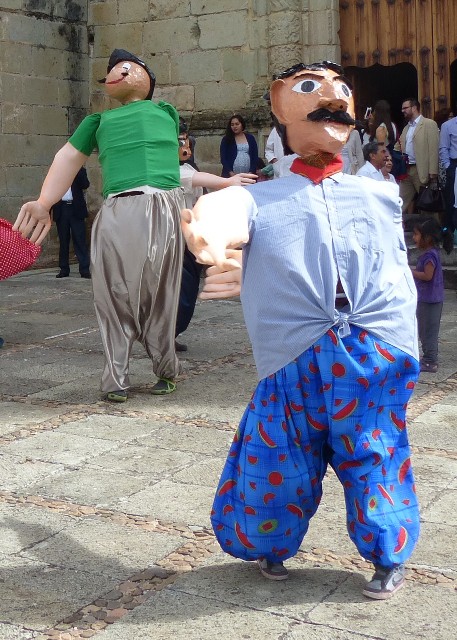 Inside the figures are children who I think are paid to dress up and dance. You can see slits at around waist level in the figures which are at eye level to the children inside. Whatever it was it was fun, colourful and obviously enjoyed by all those taking part.
We took two day trips from the City – the first an organised tour to into the "Valle de Tlacalula". Our first stop was the village of "El Tule" to see the famous 2,000 + year old "El Árbol de Tule" – claimed to be the largest tree in the world. Certainly there are similar claims elsewhere [in regard to height, volume, width etc] but it was certainly an impressive tree which totally dwarfs the church beside it.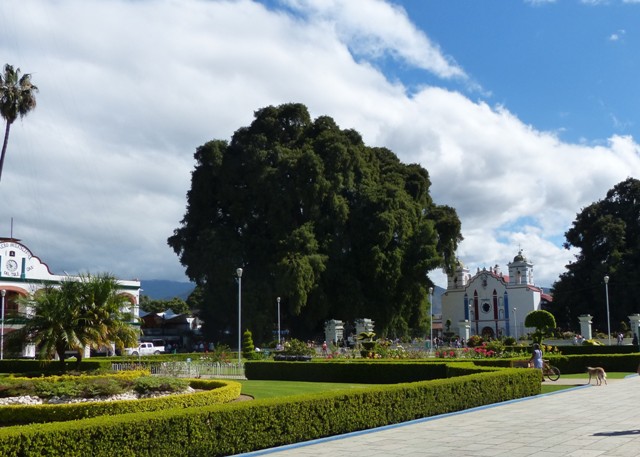 For those of you who like statistics the tree is 42m [approx 130ft] high with a trunk diameter of 14.3m [50ft]. They say it is 58m [approx 180ft] thick – by which I assume they mean the widest part of the top branches, and have somehow calculated that it weighs more than 636,000 tons? Quite a tree!
From there we went to the weaving village of "Teotitlán de Valle" and saw a local weaver at work.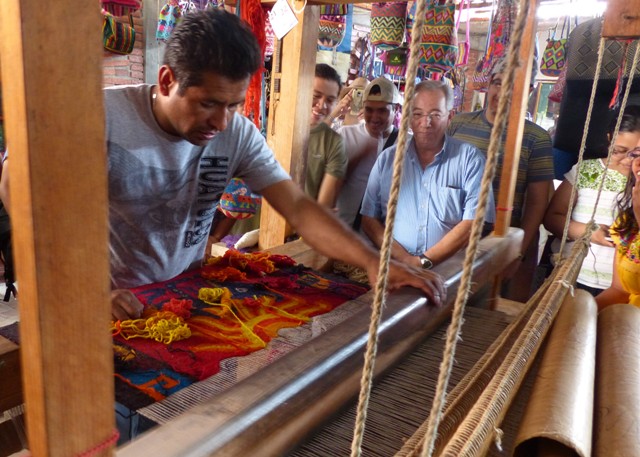 The weaving tradition in this village goes back to pre-hispanic times when the villagers had to pay tributes of cloth to the Aztecs. We were shown the natural sources of traditional dye….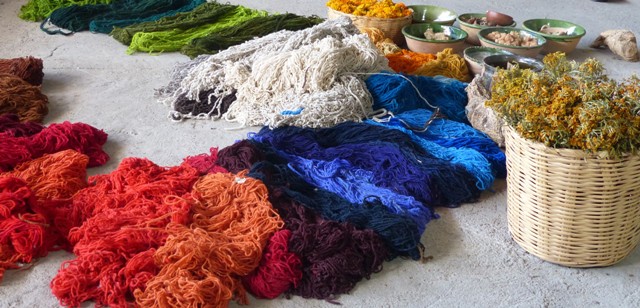 …..such as moss and flowers and, most famous of all, cochineal from the beetle which, as most of you will know, lives on "nopal" [cactus].
I think that one of the things that I found most interesting was the change in the red colour of "untreated" cochineal when mixed with citrus juice [acid] to turn the dye orange and chalk [alkali] which results in a purple shade. Probably the chemists among you would have known that this was how it was done but I assumed orange and purple just came from other base sources.
Our third stop was a Mezcal factory. Mezcal can be made from around 20 different species of agave – also known as "maguey"…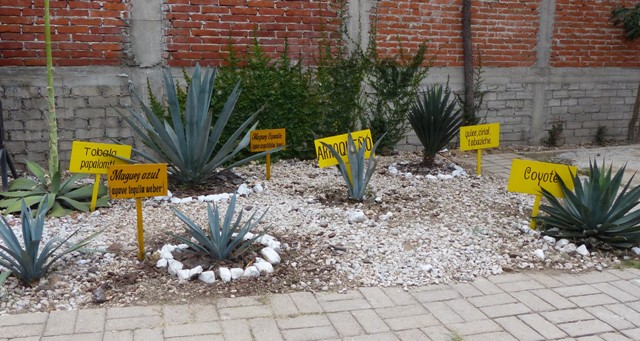 You can see that the Maguey Azul [Blue Agave] is marked as the specific tequila producing agave and basically that is the only difference. Connoisseurs of Tequila will tell you that Mezcal is a second class drink but those who appreciate Mezcal will tell you that there are at least as many bad Tequilas as there are good Mezcals!
Mezcal production begins when the mature agave sprouts its once in a lifetime flower bearing spike – called a "Quiote"- which can take anything from 7 to 70 years. The agave is dug up, the leaves removed and the heart ["Piña"] is chopped before being cooked for several days over a wood fire oven in the ground….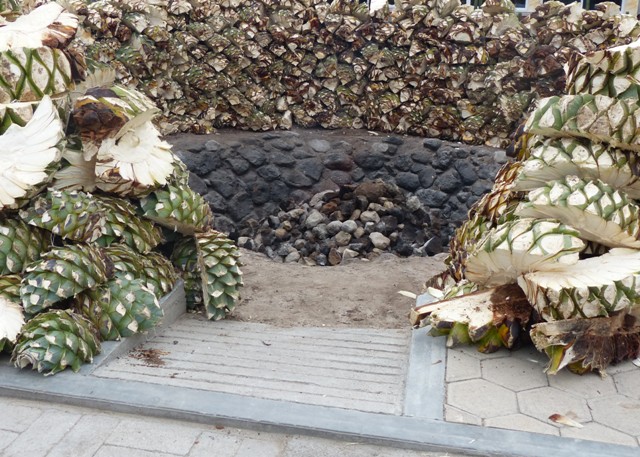 This sweetens the piña which is then crushed to a fibrous pulp…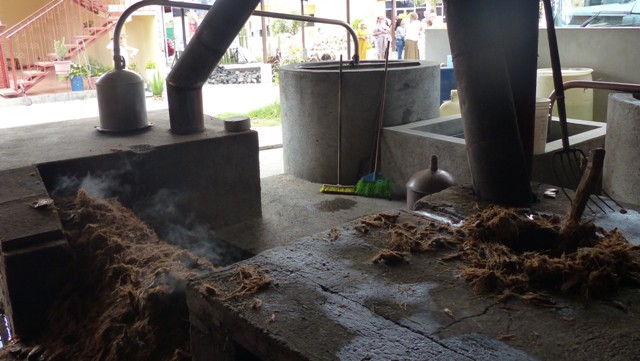 … before being fermented with water for several weeks and then distilled to produce the spirit which usually has a 40%-50% alcohol content [sometimes over 60%!].
Oaxacans are very proud of their Mezcal with approximately 60% of Mexico's production coming from this region. Apparently the saying is "Para todo mal, Mezcal. Para todo bien, tambien". [Literally – "For all bad, Mezcal. For all good, the same" – in other words whether things are bad or good drink Mezcal!]
Whilst recovering from a few free samples of the spirit we moved on to the ruins of "Mitla".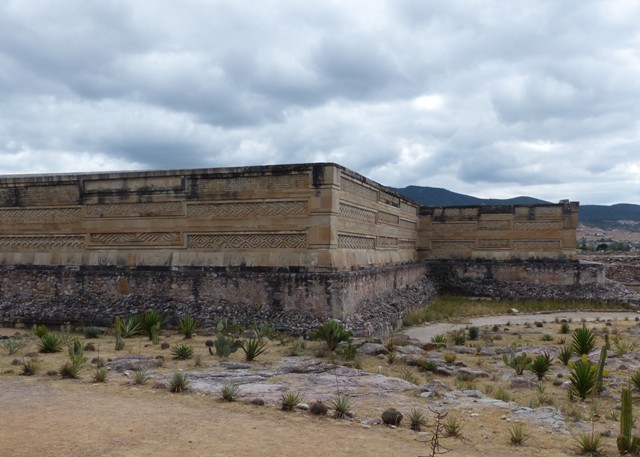 At the site there is evidence of human habitation since around 0-200AD but it reached its height of power around 950AD and continued to flourish until 1521 [Spanish Conquest]. The geometric stone mosaics….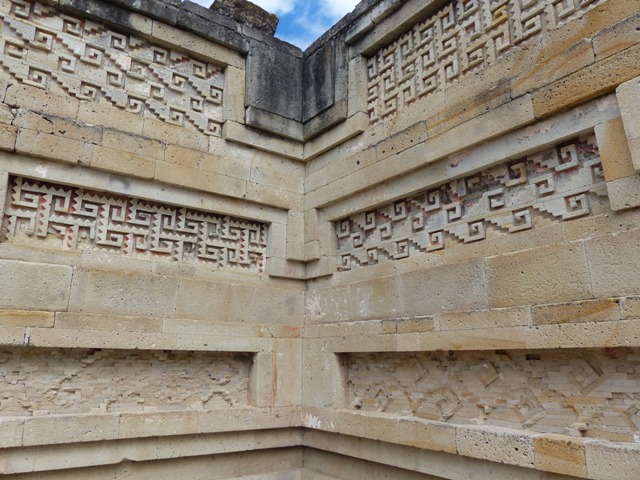 …. of which there are 14 different designs spread across the site in some way symbolise the sky and the earth.
Apparently Mitla was a very significant religious centre – a cult dominated by high priests who performed, literally, heart wrenching human sacrifices. There are two tombs……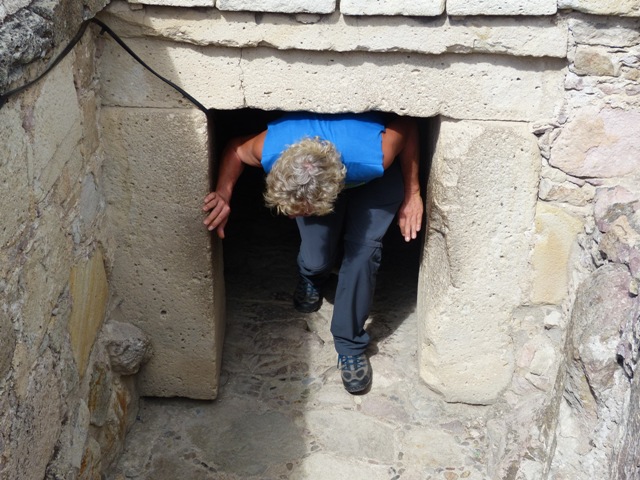 …… but whilst we are told that "the funerary tradition called for consecutive burials depositing the cadavers with their offerings and moving the remains of earlier deposits to one side", it doesn't say whether it was the priest or the sacrifices who were buried there. I kind of assume it was the priests?
Although the Mitla ruins are scattered for many kilometres the main two structures are the "Grupo de las Columnas" [the photos above] and the "Grupo del Norte"…
This second group originally had three courtyards each bounded by four stone and dirt built rooms. Constructed around 1400AD it housed rulers [rather than priests] and was partly demolished when, during the Colonial period the Catholic Temple of San Pablo was built on top of one of the suite of rooms and courtyard and other modifications made to make room for the parish priest's house.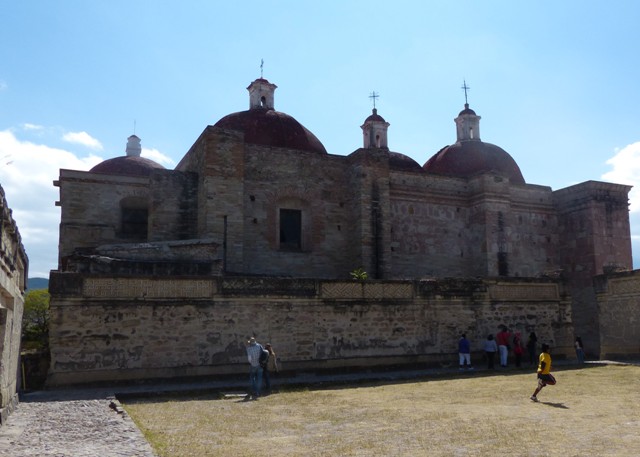 After stopping for a late lunch we then moved on to our final stop of the day "Hierve El Agua". What a brilliant place. For people contemplating visiting Mexico and wanting a campsite with a view [Kev and Kirsten?] then this is a must for you.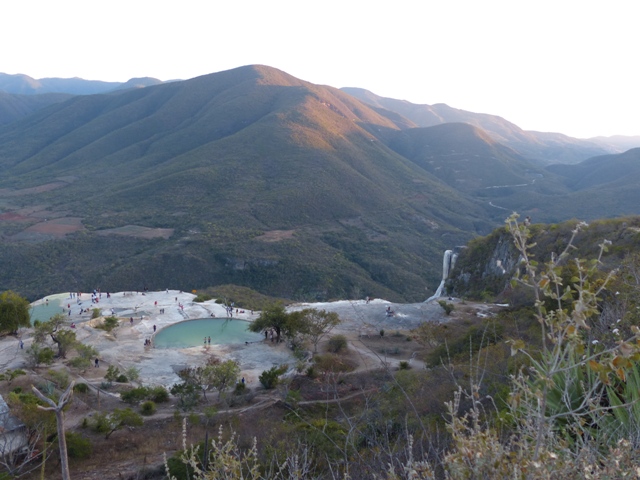 Bubbling mineral springs…..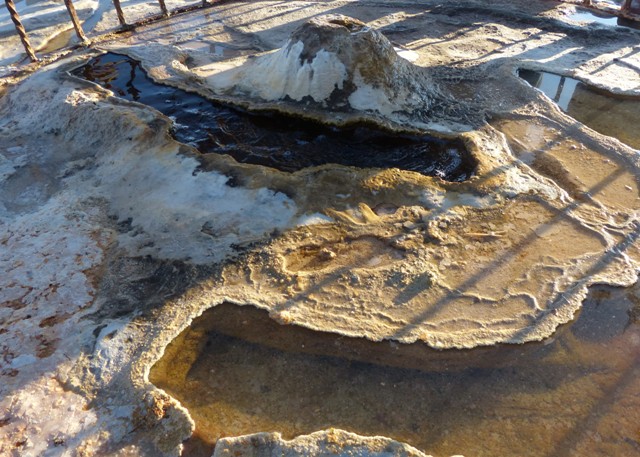 …..run into bathing pools with a spectacular cliff top location….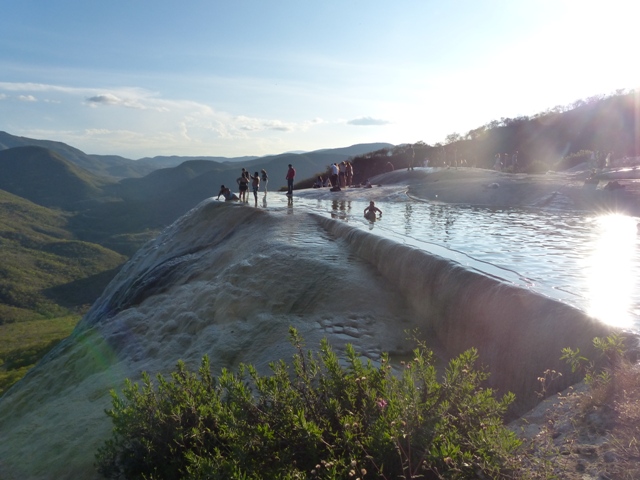 ….and expansive panoramic views.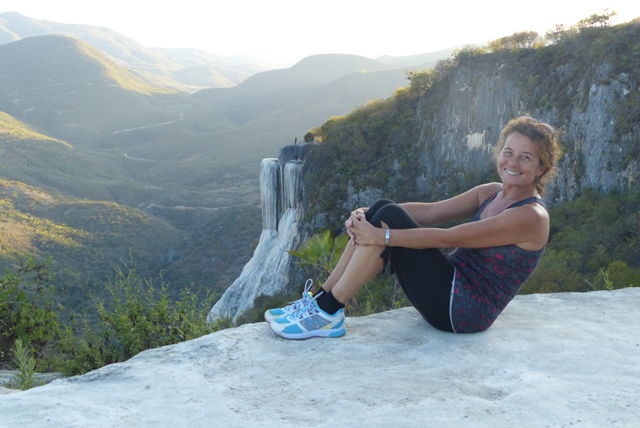 Water dribbling over the cliff edge for millions of years has created mineral formations which look like waterfalls. Hierve El Agua means "water which boils" – which refers to the bubbles not the temperature. It is cold but not too cold to swim/lie if you want the ultimate in infinity pools…..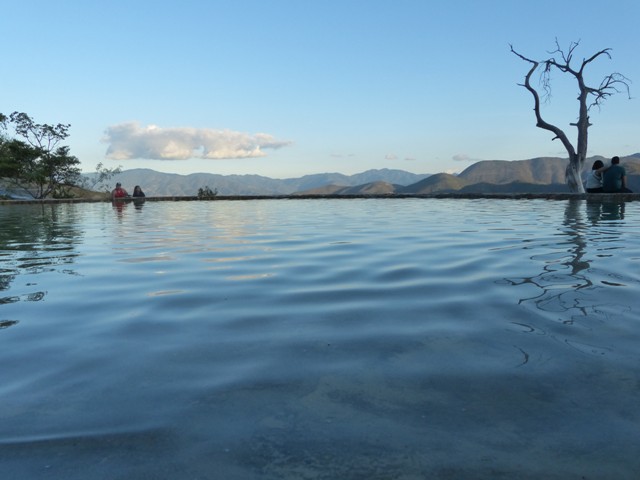 I really loved it here….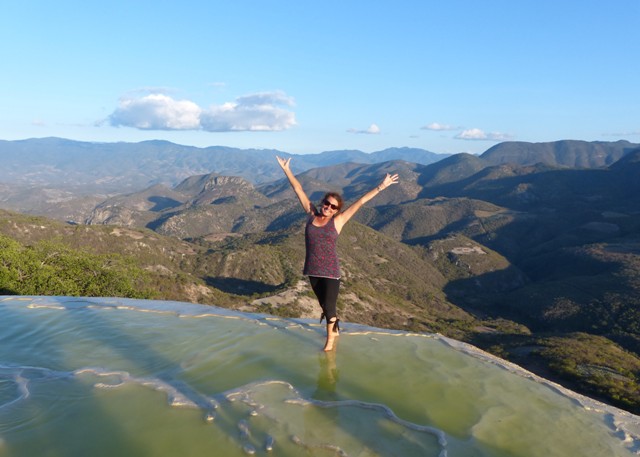 The following day we did a "do it yourself" trip to the wonderful ruins of "Monte Albán". Buses ["Autobuses Turisticos"] are available from the city and run an hourly service to the site. You pay for a round trip [M$60/£2.40/US$3.60] and depending on what bus you take for the outbound leg you are given a specific time for the return journey – to ensure that not everyone is trying to catch the last bus back. The schedule gives plenty of time to visit the site and museum and, if you wish, have a snack in the small restaurant. Official guides offer their services but the site is well signed in English as well as Spanish and Zapotec.
Monte Albán stands on a flattened hilltop 400m above the valley floor. It is a spectacular site with temples, palaces, platforms and ball courts.

The museum is at the entrance and, among other things, displayed some original carved stones from the buildings…..
The hilltop was levelled by the "Zapotecs" around 200BC, the temples and palaces built and a town of approximately 10,000 inhabitants grew. Between 200BC and 350AD it increased its power in the region and, with a population now in the region of 25,000 was at its peak between that time and 700AD. Then, if you have remembered what I wrote above, Mitla became the seat of power from 950AD at which time Monte Albán was abandoned and slowly fell into ruin – though "Miztecs" arriving from the north used some of the old tombs to bury their dignitaries.
Given its abandonment the site is remarkably well preserved.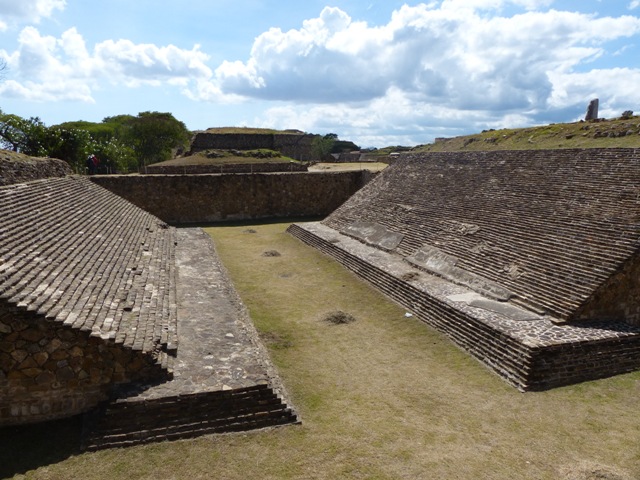 This ball court still has all the steps which, incidentally weren't for spectators – as the explanation below shows.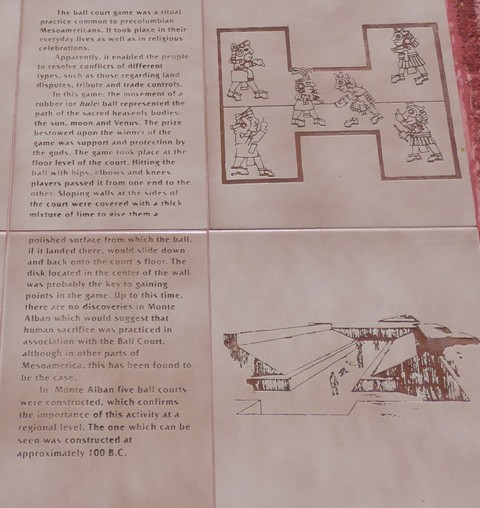 The previous ball court we saw, at Chichén Itzá, was one of those used for sacrifices – though, if any of you reading this have been following all my blogs, you may remember that there it seemed to be an honour to be the sacrifice and it was the winner of the game who lost his head.
What we liked most about Monte Albán – apart from the spectacular views and the magnificence of the site itself was that there was hardly anyone else there!

Tour buses seem to visit the site early in the morning before going off to do other things so, when we arrived around 11am there were very few people and it became even more deserted as the afternoon approached.
Absolutely amazing. We loved the ruins, had a great day out and ended our few days in Oaxaca feeling privileged to have visited a super city and all the surrounding sites it has to offer.