When thinking about the next few posts I plan to write about our travels in Central America, I realised that I run the risk of being repetitive – who, me? We can´t have that! So I decided that the best way to cover some of the things like accommodation, transport, border crossings etc was to do one entry. Yachting friends may already be thinking that topics like "accommodation" isn´t really for them and, when we left the UK, we would have probably thought the same. BUT, whilst sailing the world is still our dream we realize that we would miss out on so many fabulous places if we didn´t take the opportunity to get off the boat from time to time and travel inland. So, hopefully any sailing folk reading this will get as much out of it as any backpackers who might access the site, friends thinking of new places to take holidays or even friends travelling by motorbike and sidecar who are heading this way in the next twelve months or so [Hi Kev and Kerstin].
Firstly……accommodation. In Central America there are options to suit all budgets and tastes. We are probably what you would call "higher end backpackers" i.e. we don´t take the cheaper shared dormitory option and, being a bit long in the tooth [though we do sometimes seem to forget this!] we tend to avoid those places described as "party hostels". Our most visited websites to find accommodation are "Hostelworld" and "Bookings.com". Obviously everyone has their preferences and all are as good as each other – its just that we have got used to these two. With all sites which rely on user feedback, you have to get used to "reading between the lines" and work out what people really mean and if they are people who are particularly fussy [or the opposite] etc
We only got it wrong once. Into which category of "fussiness" do you think the people who gave good ratings to this hostel fell?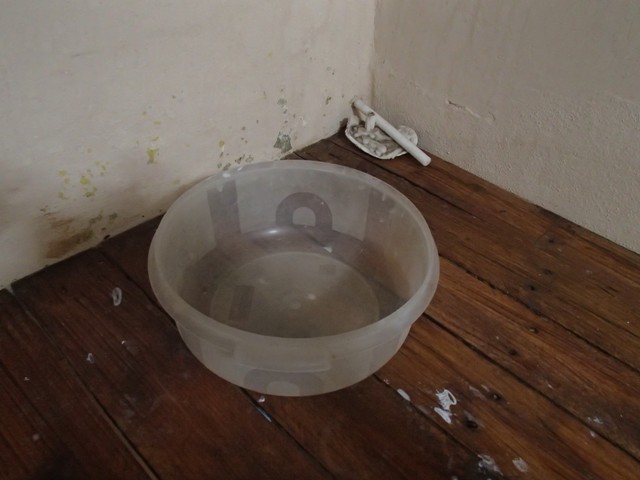 That was our "bathroom sink"!!! OK, had it been in some parts of the world where this is the norm we would have accepted it – and even expected it – but generally Central America offers far better than this.  Amazingly we actually stayed because the sheets and towels were clean, we had just had a long day including a border crossing and Mike had had to buy a new pair of sandals which, after only a very short walk, had already gouged holes in his feet so trolling around looking for alternatives would have been painful.
However, that really was the exception but if anyone is thinking of going to Leon then maybe "Posada La Gordita" would not be to your taste either [especially as it wasn´t the cheapest place we stayed or the cheapest that was available in the city – try Via Via!]
As I say, that was not the standard we generally found. We stayed in some slightly quirky places e.g. In Masaya, Nicaragua we were in what we think was the owner´s daughter´s bedroom [the daughter having now moved away I might add!]…..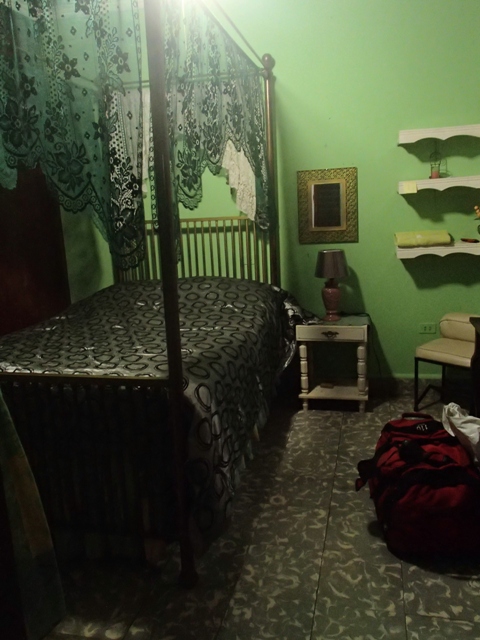 ….in rustic/bohemian type places [Bocas del Torro,Panama]…..
….in places with lovely gardens for sitting and whiling away the time [San Salvador and Juayúa – both in El Salvador]….
….in old colonial buildings [Liberia, Costa Rica]….
….and in hostels with nice cooling pools [Grenada, Nicaragua and Santa Ana, El Salvador]….
Some of the places we stayed included breakfast in the price, some free coffee/tea/iced filtered water, two included a free beer on arrival. Some had beers, soft drinks and snacks for sale and one, to our amazement, had a wine cellar [and the price of the wine wasn´t extortionate either]….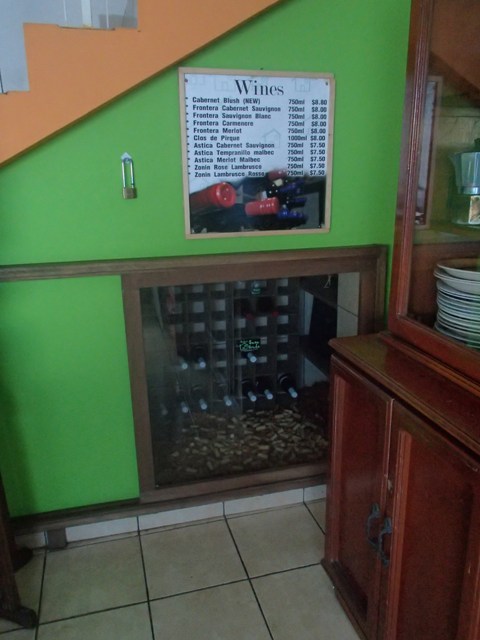 In total we were away for 52 nights and the cost of our accommodation was approx £1,100 [US$1750]. We spent two nights on buses [more about that later], so the average cost for two people per night in a room with private bath ensuite was £22 [US$35]. As I said above, there are good places to suit every budget. We spoke with people who spent double [or more], having chosen more up-market hotels rather than hostels/small hotels and we met people who spent less – though this did normally mean dormitory bunk or at least a shared room with three or four other people. Generally everyone seemed more than satisfied feeling that, whatever your budget, "you got what you paid for".
I said above that we took two overnight buses. These were at the start of our journey, out of Panama City to Bocas del Toro, Panama and then at the end, from San José, Costa Rica back to Panama City. Long distance buses aren´t cheap but they do save accommodation costs and, having previously done fairly long distances on two nine hour journeys between Panama City and David, Panama we decided that if you have to sit on a bus for that long you might as well do it overnight.
We found these buses to be comfortable [well as comfortable as you can expect from a coach] with probably slightly more leg room than economy plane travel. There are toilet facilities on the bus, though we always waited for rest stops which are approximately every four hours. The rest stops are at transport/motorway café type places which serve good, local food at affordable prices and are normally of approx 20-30 minutes duration which allows for leg stretching. All the buses have TV´s – though most of the films are fairly violent [Don´t know why?] and, of course, in Spanish – but that does give you a chance to pick up the odd word or two to improve your vocabulary!
Perhaps the best advice I can give anyone considering taking a long distance bus is have layers/warm clothing in whatever bag you take into the coach. The air-con can be brutal. We have one friend who admits to wearing a jumper on her lower legs and feet [that seems reasonable] socks on her hands [not too bad] and a pair of knickers on her head [oh no!] just to keep warm as it was the only spare clothing she carried.
It is probably worth mentioning that many of the "international" buses don´t leave from the normal bus station. Each different company [and there are several] tends to have its own bus depot which is often hidden away down some backstreet or other. Finding the depot, or even somewhere to buy a ticket, can be a challenge especially as their web sites are not easy to use or reliable. In San José we were told there were three different companies who undertook the route back to Panama City. One listed a telephone number which no longer existed [though we know the bus did because we saw it later at the border], one was a long way out of town and, initially we only wanted to go to it to buy a ticket and the third had three different addresses in the city depending on where you got your information from. Having finally ascertained the real address, with the help of the hostel staff, we set off to find it.
Now, this is not really a deviation from the story because, it is worth my telling you that finding anywhere in Central American towns and cities based on directions can be amazingly complicated as they assume that you know their starting point e.g. the directions might be "Dos y media S desde El Mercado" -Two and a half – which are "blocks" [which tend to vary in size depending on who you talk to], S which is South – OK as long as you know which direction North is and from El Mercado – the market – which is also OK if you know which market, as there is often more than one, and you also know where whichever market it is can be found.
Anyway, we had to find a bus depot which was one block west and two and two blocks south of Torre Mercedes [The Mercedes tower]. By further research we ascertained that this was on Calle 5.
Calle 5 [Street 5] usually means a street near the centre as street numbers tend to start from the central plaza or Calle Central [and go 1,3,5 etc one side and 2,4,6 etc the other] but that street could stretch out of town in either/both directions for some considerable way. Avenidas [Avenues] cross the Calles to form a gridiron pattern and work in a similar 1,3,5/2,4,6 etc pattern from the same Central Plaza or from Avenida Central  so you can work out how far out of town it might be. But we didn't have an Avenida number!
However, the helpful receptionist in the hostel said it wasn´t far out – maybe a fifteen minute walk from the centre and that it was obvious that it was the Mercedes Tower and that everyone knew it. Why was it obviously the Mercedes Tower? Given that Mercedes is a popular name it could have been anything so we were hoping it might be something to do with the car with, maybe a showroom? Once we got to where we thought was approximately the right place there were three towers – none of them had names inscribed on them [though one did have, as its ground floor, something that looked, from a distance, like it a car showroom – were we right after all? Who knows, there were no cars – or for that matter, anything else – in it!]. We saw a small shop nearby with three young guys outside and we asked them. We got three different versions of which, if any, of the three high rises nearby was the correct Torre. Maybe they knew where the "Ticabus" depot was? Having asked them we figured they didn´t know but they were still very keen to try to help us with Torre Mercedes so we went through the whole conversation again and this time got three new suggestions. So, armed with six possibilities for Torre Mercedes we set off once more and, luckily, came across a Canadian couple who were catching that evening's Ticabus and could direct us. If we had just followed our first instincts and believed that the empty bottom floor had once been a showroom for Mercedes cars we would have been correct.
So, where was I? Oh, yes – long distance bus depots being in obscure parts of town. What this also means is that when you get to your destination in, what is likely to be for you, a new city you haven´t a clue where you are and – just as in most of the rest of the world – bus stations/depots aren´t usually in the most salubrious areas [think hotel rental by the hour]. What you will then find is a hoard of taxi drivers just waiting to rip you off.
I will say more about this in a moment but want to finish off my bit about long distance buses by saying that as well as in the capital cities of every country, there are additional designated pick up points along the Inter-Americana [the main highway through the whole of Central America] which mean that you can catch the bus in e.g. David, Panama or San Miguel, El Salvador or Estellí, Nicaragua etc. We didn´t want/need to do this so I can´t really comment on how easy or difficult it is but most backpacker hostels will probably be able to help [even if you aren´t staying with them].
Back to taxis at bus depots…..most of the drivers are there because they know that many of the passengers getting off will be "gringos" and gringos are fair game. Regardless of country they seem to prefer to work in US$ which allows yet further ripping off because you may not know enough about the currency of the country you are entering or, even if you do, your maths skills [yes, I´m sorry all you US readers, but math does have an "s"]may not be up to quick calculation with everything else which is going on like trying to remember the name of your accommodation and checking whether you have all your luggage and that your wallet etc is safe. They also work in US$ because lots of people haven´t arrived with local currency. There are several money exchangers at all borders and, surprisingly we generally found we got a good deal [better than banks]. So, I recommend that you arrive with local currency, understand the exchange rate between it and US$ and be aware that the "starting price" for your taxi journey is likely to be at least twice what it should cost. You could also try walking some distance from the bus station or using delaying tactics [we were able to use Mike wanting a cigarette] to give yourself chance to think.
However, not all taxi drivers are like that. When we used taxis within the city they were generally charging the correct rate – well maybe the correct "gringo rate" at least! You also need to watch out for cycle taxis as they, too charge far more than the local rate. Be prepared to bargain and agree your price before you get in any taxi. Don´t be afraid to say No either – there is always another one.
I don´t want you to think that all travel in Central America is difficult and/or subject to scams. Most of our travel within the countries we visited was on local buses. By local I mean the usual "chicken bus" – including those with chickens!…..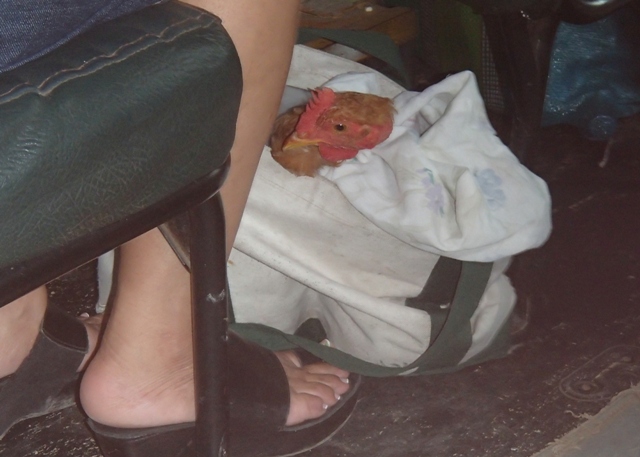 ….as well as the microbuses which some places have for inter-town travel and the longer distance national [ì.e. within their own borders] buses. We were constantly amazed by the efficiency and low cost of these. Most of these buses go from a town bus station. Note that I don´t say THE town bus station and that's because most towns have at least two. You do need to be sure which you want because they can be some distance apart.
Whilst on the subject of what you want…. a piece of advice I will give you is that if the bus you are catching is not to your final destination tell the driver or conductor what that destination is. They will help you get off their bus at the best place for onward travel and will often point the bus out to you or at least which corner to catch it at etc.
It also seems to be that where there is a bus station there is a market….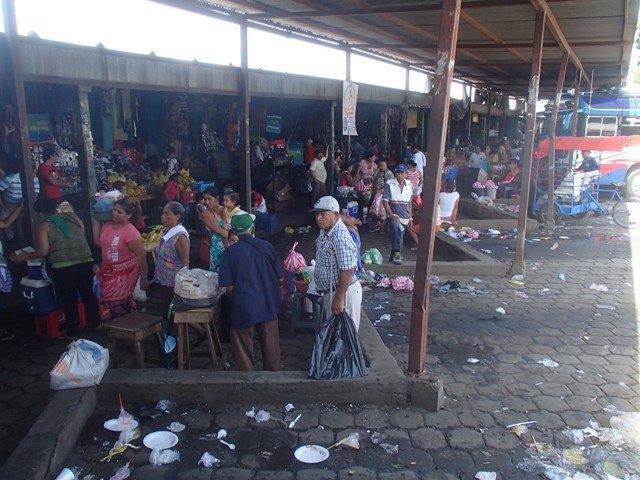 ….though why people actually get off the bus to visit the market I´m not sure. Maybe you are now thinking that Mike and I don´t buy produce from local markets. Come on now, you know us better than that! No, what I am alluding to is the fact that most of the proprietors of these market stalls along with other street vendors climb aboard the buses and sell stuff on them. This may take place when the bus is waiting to leave, they may get on en route or they may be standing at random bus stops along the way. But you will be offered fresh fruit and veg, snacks and drinks, batteries, watches, underwear and socks, and drugs – and no I don´t mean illegal drugs, I mean things like headache tablets. There are some "pharmaceutical distributors" who carry a whole range of things and give a long spiel about how one tablet a day is going to cure just about every ailment you have. Your bus is equally likely to be boarded by someone spreading the gospel or selling pamphlets or, occasionally just wanting money for their wife/mother/daughter who is ill. Local people don´t tend to give the latter anything – our perception was that they would rather a person was trying to sell something, however small, than just begging. So, bus journeys are never dull – and I recommend the yucca and plantain crisps [chips!] served with a drizzle of spicy sauce.
Buses which have as their destination a border crossing might be boarded by people selling immigration forms. Do NOT buy these. They will tell you that you need to complete one of these forms which is quite true – but they are given to you at the border at no cost.
Which brings us nicely to Border Crossings…….
In the course of eight border crossings we went through five different crossing points [once through Guabito-Sixaola between Panama and Costa Rica, twice through Peñas Blancas-Rivas between Costa Rica and Nicaragua, twice through El Espino between Nicaragua and Honduras, twice through El Amatillo between Honduras and El Salvador and once through Paso Canoas on our return from Costa Rica into Panama.
The easiest and quickest was the little used crossing at Guabito-Sixaola. Other than having to cross a very rickety bridge we had no problems at all and were through in an hour. It is little used because unless you are going to/from the Bocas Peninsular or maybe to Puerto Limón in Costa Rica from Panama it would be completely out of your way.
The longest and most complicated was the other Costa Rica/Panama crossing at Paso Canoas. You may remember that for this crossing we were travelling on the Ticabus. This means a whole bus load of people queuing for what seems to be the norm of one, or if you are lucky two, Immigration Officer[s]. To compound the problem all the long distance buses seem to travel to similar schedules and therefore all turn up at the border post at the same time! On this crossing, in addition to Immigration [Migración] we also had to go through Customs [Aduana]. This was a farce but it took an additional forty-five minutes or so. Everyone had to take their luggage from the coach and line up in a room. Your name was called and you answered "Si" [when you realized that you were ignorantly expecting "Here" or "Yes" to work.  Well it was the middle of the night!]. Several names were called which resulted in no-one answering – in any language. Nothing was done about this?? You then had to open your luggage for a very perfunctory search before putting it back on the coach.
As I said above, all border crossings require completion of the form [you know, the one you don´t buy on the bus] and when filling it in you have to give an address. We booked most of our accommodation in advance so had an address but it would no doubt be OK to put somewhere you thought you might try or just picked anywhere. I don´t think anyone checks – but don´t hold me to that statement! Some countries want to know that you are going to leave and ask for proof of e.g. onward bus or airline ticket. The only time we were asked this was on our return to Panama. In anticipation of being asked the question we took a letter from Shelter Bay on headed notepaper with information in both English and Spanish stating that we [our full names and passport numbers] had been at Shelter Bay Marina since June [date of arrival given] and had left our boat there until our return [approximate date of expected return given]. The marina confirmed that we would then leave Panama in the boat and offered phone contact. We also took a copy of our registration document and Panama Cruising permit. As I say, we were only asked for this once. We handed over the letter which the Officer looked at but, we think, couldn´t read – even though it was in Spanish! In the end she just shrugged her shoulders and stamped our passports.
As you can see from the photos above [that is Peñas Blancas-Rivas] there are lots of lorries going through. Fortunately they usually have separate facilities for their Immigration/Customs and the buses [local of international] travelling to the border do not have to wait in line behind them.
Other than the Ticabus crossing we arrived at the border on a local bus, hoped we would avoid the hoards [and generally did] walked to and between the actual border posts and then out and onto a local bus in the next country. We had to show our passport several times at each post and hand little slips of paper to some randomly situated guy having being given it only 30 seconds before etc. We were never asked to open our bags except when on the long distance bus and we found all the officials helpful and generally friendly. The average time for getting through both sides was about two hours. I can´t really go into immigration costs because these vary so much and also change quite a lot – possible even at the whim of an individual!
You may be approached by people wanting to cycle taxi you across from one post to another. Sometimes you can´t see how far it is, because of lorries or buildings or a bend in the road, but we always walked and generally it was no further than is shown below where the two photos are taken from one spot on the bridge.
We actually enjoyed those short walks – there are sometimes quite lovely views e.g. between Nicaragua and Honduras…..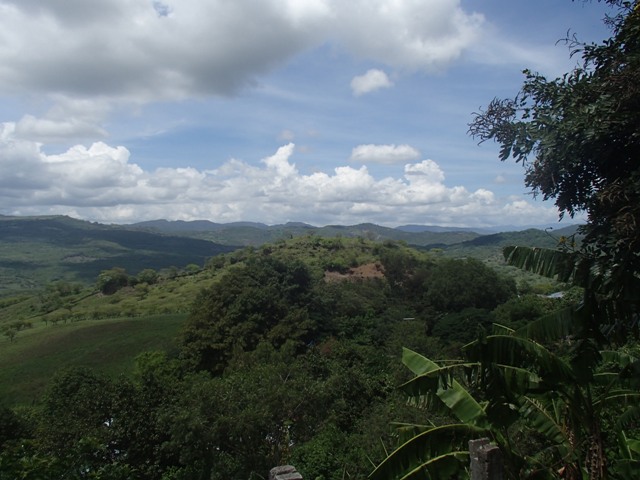 …..and Honduras and El Salvador.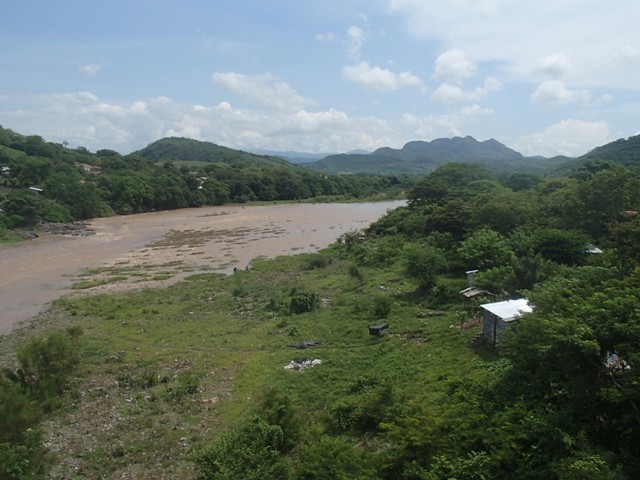 So, overall we found crossing the borders was nothing to be concerned about; transport through the countries was cheap and reliable and accommodation was plentiful and of a good standard for the price paid. We recommend to anyone reading this that you seriously consider Central America as a destination and, in advance of that, that you try to learn a bit of Spanish. We wish we had learnt more but have found that if you at least try – a little can go a long way.