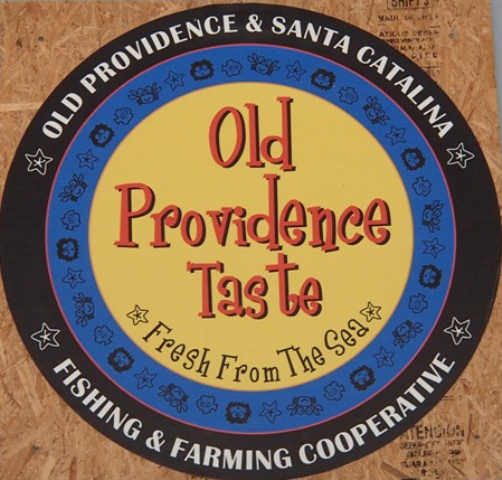 Providencia, a Colombian Island, actually lies nearer to Nicaragua [which is 140 miles to the west] than it does to mainland Colombia [480 miles to the south east]. It was named "Old Providence" by its original settlers – English Puritans who, in 1627, split from their contemporaries in Massachusetts. Not sure how "pure" this branch was because shortly after their arrival they turned to slavery and then piracy! From 1670-1689 the island was Captain Henry Morgan's HQ until the Spanish regained control.
As you can imagine, there are many stories about Morgan's treasure. Some stories are about gold recovered. Others are about gold yet to be found! Despite walking Morgan's trail….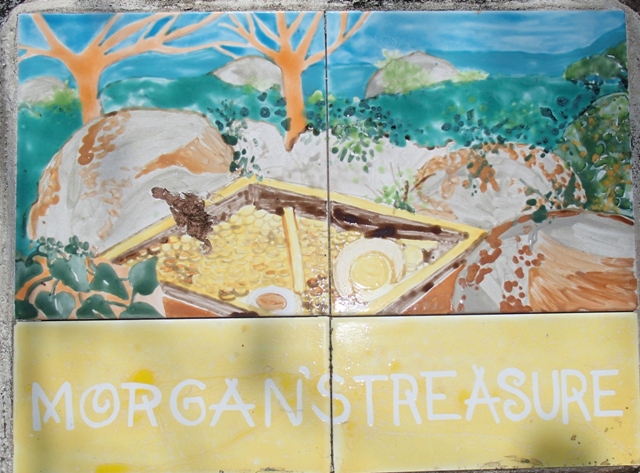 …we only found his "head" – the name of the rock at the end of the trail.
Maybe the "treasure" is the legacy which was left behind because this island is an absolute gem.
What do you think of when someone says Colombia? Maybe drugs, maybe gangs and violence, maybe third world and poverty? Well, think again, Colombia is a first world country, the Navy, the Coastguard and the Port Authorities are very professional and the most vigilant we have come across, the island police force is for directing what little traffic there is because there is nothing else for them to do as it is virtually crime free and the locals could not be more welcoming. There is a decent road all round the island and, most noticeable of all – there is absolutely no rubbish on the streets. Bins are emptied daily and all the beaches are raked clean every morning. Of course, this is not the mainland but, having met a number of people from there, we have no reason to believe that Colombia is any different to most European countries. It has its tough spots – but where doesn't – and Providencia is certainly not one of them. For us it has been a real find and we would recommend any cruiser [or non-cruiser] to visit.
For visiting yachties it is necessary to use an agent – this is the case at all points of entry/exit in Columbia. Mr Bush [Providencia's only agent] seems to be "on call" every day. It cost us 300,000 Colombian Peso for clearance. Sounds a lot eh! Its the equivalent of approx £100 and includes immigration, zarpe and a 12 month Colombian cruising permit. We are a little unsure exactly how this works – i.e. we don't know whether when we visit Panama between our two planned Colombian stops beyond here [San Andres and Cartagena] the 12 month permit will "expire" as we will have visited another country. We will let you know.
Most of Providencia's 6,000 current residents are descendants of former slaves and still speak their own Creole English. There are some Colombians here who have come from "the Continent" [as the locals call mainland Colombia] but we have been told that without special permission, "Continental Columbians" can only spend six months of every year in Providencia.
The main [only] town on the island is called Santa Isabel and is very laid back. Business hours are around 8.00 – 12.00 and 3.00 – 8.00. During the mid day "break" and all day on Sunday virtually nothing moves…
There are a number of small cafe's in town which mainly serve lunch. There is also a fish collective where you can buy fresh fish as well as eat in their "Old Providence" restaurant [from where the photo at the top of the blog came].
As you will have noted from the photos above, many of the island buildings have a Colonial feel. The "town hall" is another good example….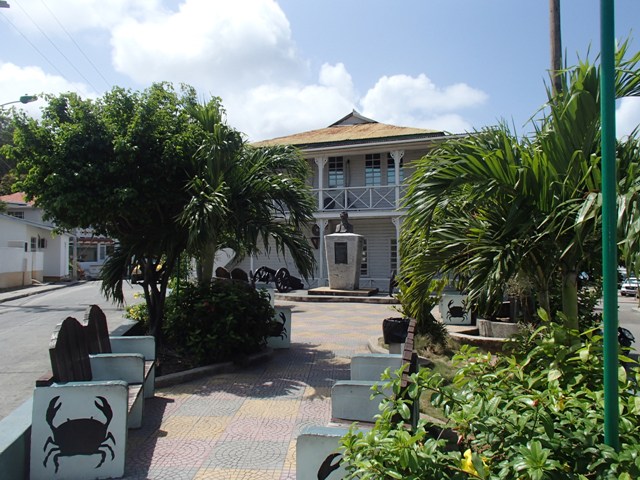 …and the principal form of transport is the scooter or small motor bike…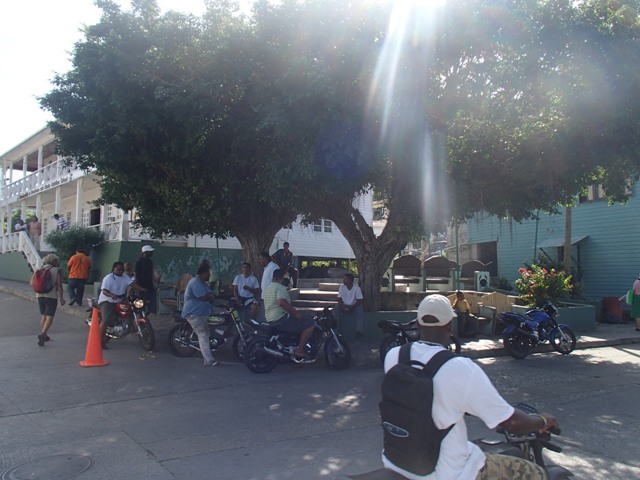 It is possible to hire scooters or golf carts for anything from Peso 60,000 [£20] per day for a[scooter to Peso 150,000 [£50] per day for a cart. It is also possible to hire one of a small number of taxis which seem to operate, but we don't know what they cost because we discovered the bus service. There is one bus route round the island which takes about 45 minutes in total and it seems as though there are two buses which make the run. It costs approx Peso 2,500 [80p] each time you get on regardless of where you want to get off so you can do a full round trip for 80p or you can get off a couple of times and make a day of it for £2.40.
On our first day out we were picked up by Nelson and we used him thereafter. Although it was a bus, if we picked a time to suit him and his route he would basically take us to and pick us up from anywhere we wanted. We did two round the island trips with him stopping off for beaches and/or lunch and two trips to the bottom of the mountain [more about all those trips in a moment]. On our next to last night – which also coincided with a Mike Birthday celebration – he took us to and from the restaurant and, although it was after the buses normally stop [6pm] he did not charge us more than the standard 80 pence  per person fare.
So, where have we been? Well, I mentioned beaches and two of the finest are found at Manchaneel Bay…
and South West Bay… [and yes – they are different!]
At the former there is also "Roland' Roots Bar and Restaurant" – a brilliant place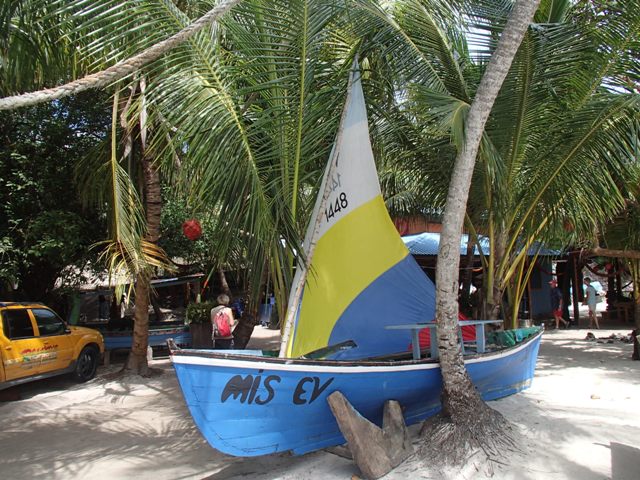 where we chilled with drinks….
watched young folk at play…
and were served a brilliant fish meal by Roland..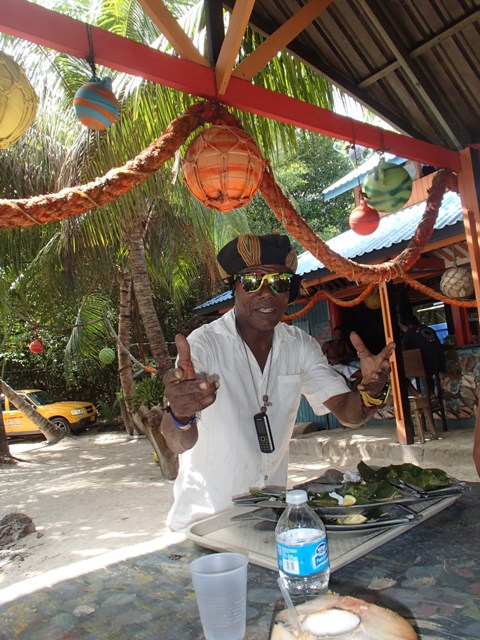 SW Bay is also well known for the horse races held there. We were told that these take place every Saturday – or maybe Sunday – or sometimes Thursday. No two people had the same idea about when it should happen so although we went to the Bay three times, we never saw a race! We did do plenty of eating and supping beer though, initially with Larry and Marlo [Beatrice], Steven and Sandra [Yonder] and Anton and Rita [Albatross].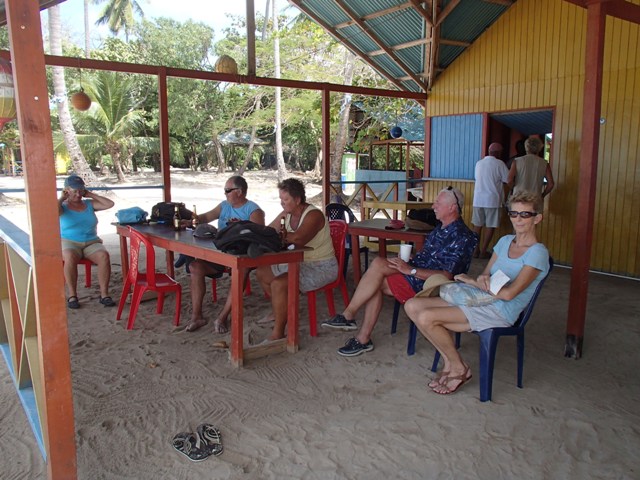 My favourite of the SW Bay restaurants was El Diviñio Niño Jesus…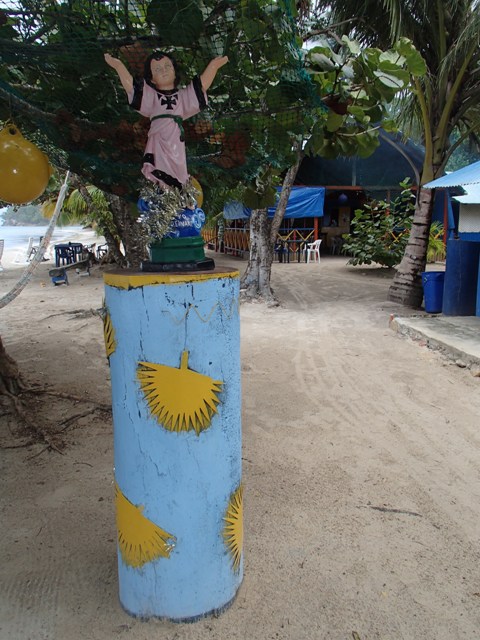 ….where Mike and I had a 44,000 peso [£15] Mixed Plate for two. Two red snapper, half a lobster, some Creole conch, a portion of crab, rice, fried plantain and salad. Needless to say we didn't need a meal that night!
I also mentioned that we did two walks up a mountain –El Pico – the highest point on the island. Why twice? Well, the first time we got lost! We were following the path quite well when we came across some barbed wire and a sign which seemed to be pointing up what looked like a smaller trail to the left. A party of young Brazilians had passed us and then waited just around the corner as they were unsure of the route and thought we had a guide [because they had seen us with Nelson]. We all agreed that the left hand trail seemed to be the right one [if you get what I mean! ]and started up.
It soon became clear that if this was the path, it wasn't much used…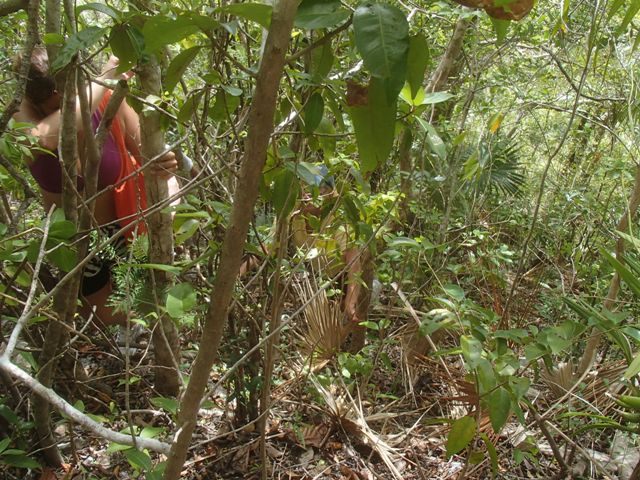 But we struggled on and got to a top…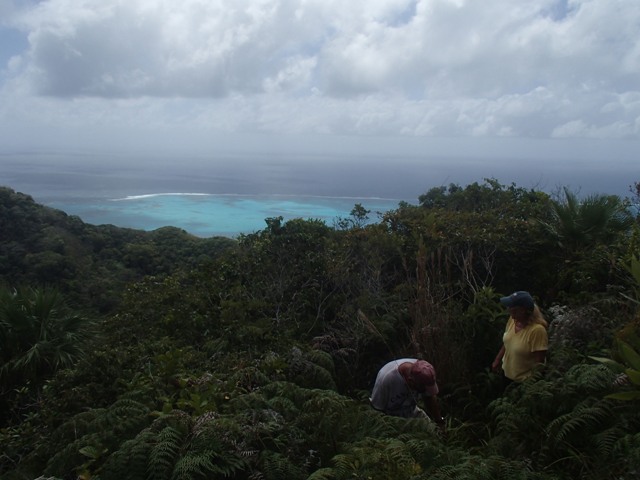 …but not the right top. So, down we went again and found where we should have gone – i.e. through the barbed wire fence. Here we said goodbye to Mateus and his mates who, being young and fit and, with the remains of our donated orange drink, decided to go and do the real peak..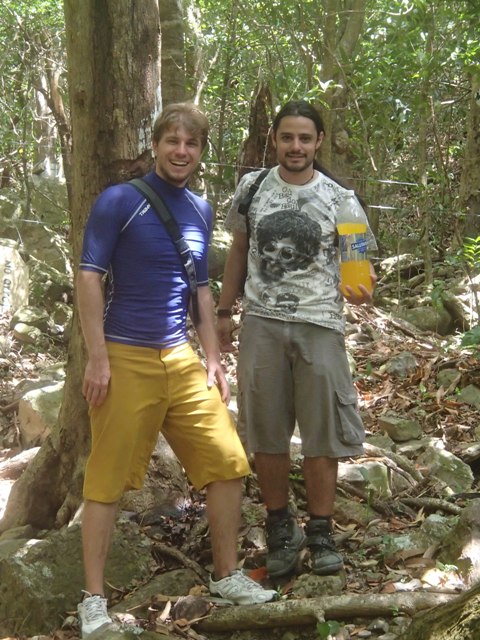 We felt that the three and a half hours we had already spent trying to conquer the peak was enough for one day and retired to the nearest watering hole.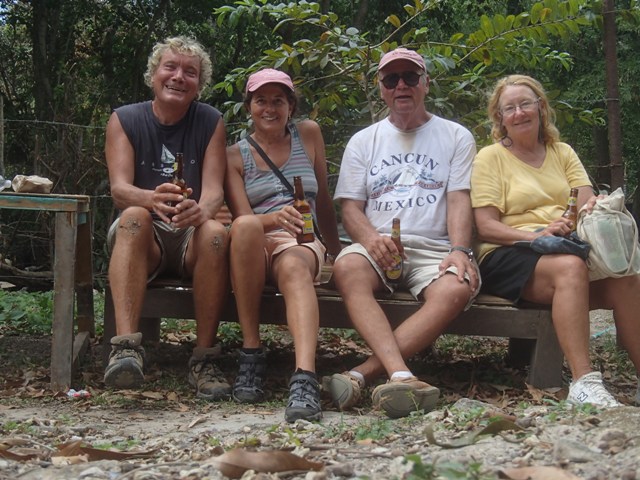 But, despite the cuts and bruises and the very itchy ant bites we were not deterred and planned another assault later in the week.
Just a quick word about the ant bites. These ants live on the very aptly named "Cockspur" plant.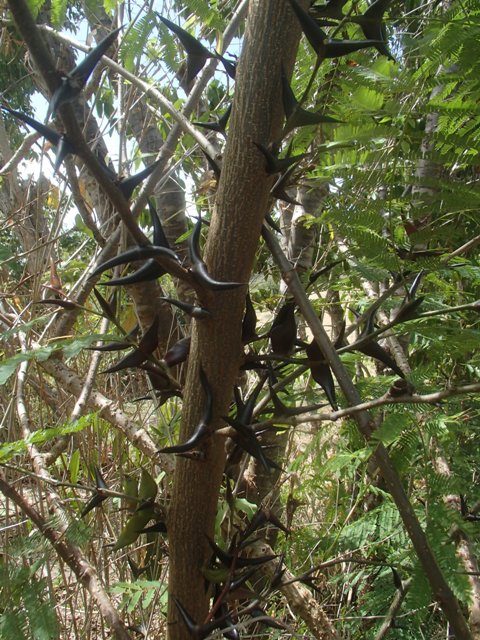 There are warnings about their bites but, in the undergrowth it was near impossible not to have an ant or two transfer from these plants to us. The initial bite stings for a couple of minutes and then goes away – but only for about 12 hours and then the itching really begins. This lasts for approximately 24-36 hours so, if possible we will make more effort to avoid these in future!
Anyway, ascent number two took place two days later. This time we were a party of 15 people as, over Happy Hour drinks with fellow cruisers, we met Hans and Linda [Baros] who had walked the peak 12 times already on previous visits to the island , Jim [Rapscallion], Laura and three of her six crew [Alliance] and Russell, Laura and Mathilda [Lutana]. A friend of Laura – from Providencia – was the final member of the assault team. This time we made it and, having climbed for about an hour we got a bit of rest as we traversed the flat bottom of the remains of the crater…..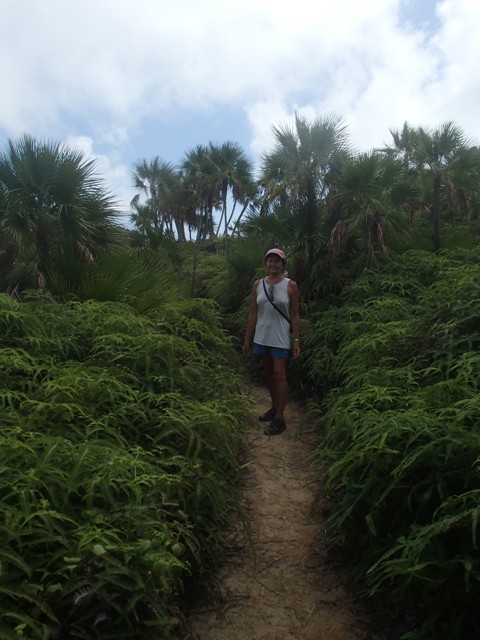 …before clambering once again up to the top……
from where we were treated to magnificent views of the south of the island…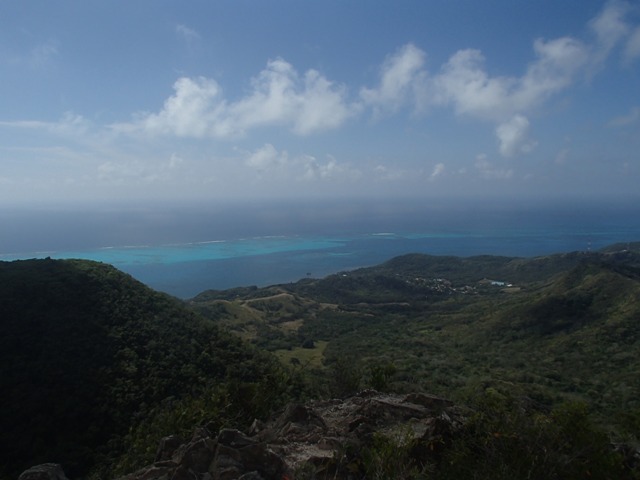 …and also down to the anchorage…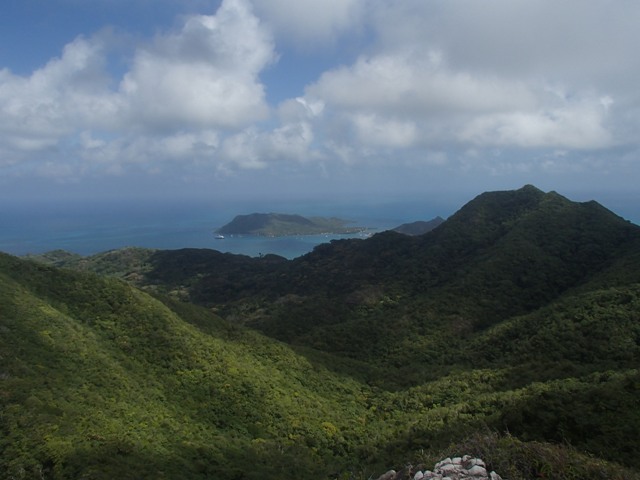 There are easier ways to get views of the anchorage from both the Morgan trail….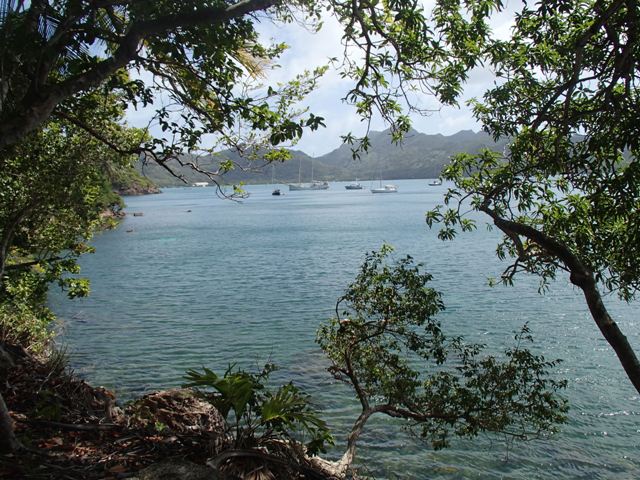 …and from Warwick Fort, a small fortress which doesn't seem as if it could have repelled anything though its guns perhaps did some damage.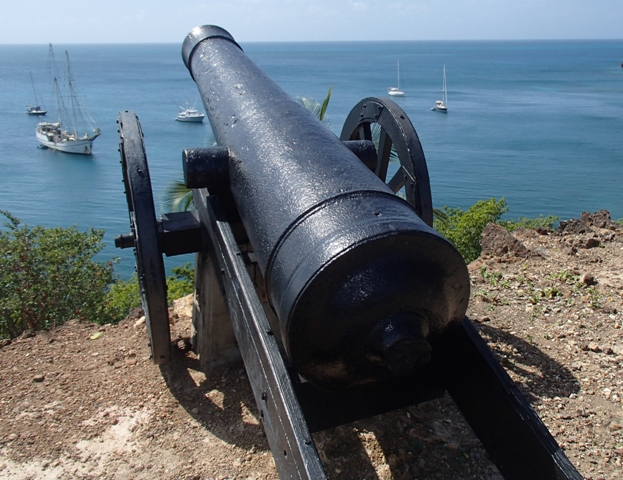 The anchorage is in two parts. There is the main anchorage [which used to be the only one cruisers could use] which sits between the last two buoys in the channel and the dock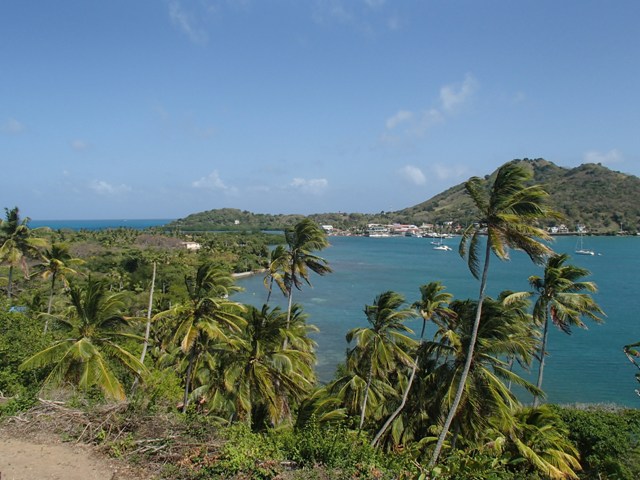 and the smaller anchorage lying under the area between Morgan's Head and Warwick Fort [which the previous two photos showed]. We loved this small anchorage. We could dinghy to the nearby beach, walk up the steps to the fort and then down again onto the Santa Catalina "malecon" [promenade]…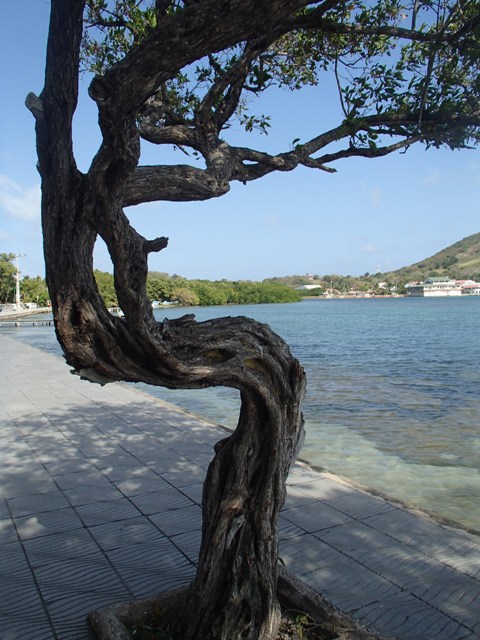 ….from where it was possible to walk to town and back across the colourful bridge.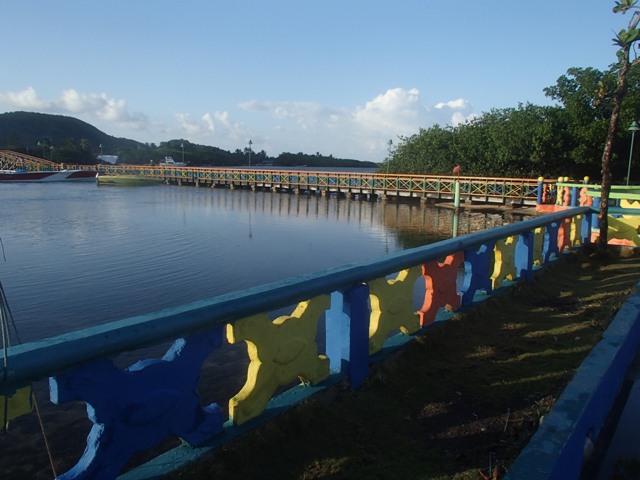 We also took a walk to the north side of the main island where we stopped for a drink at the posh hotel "Deep Blue".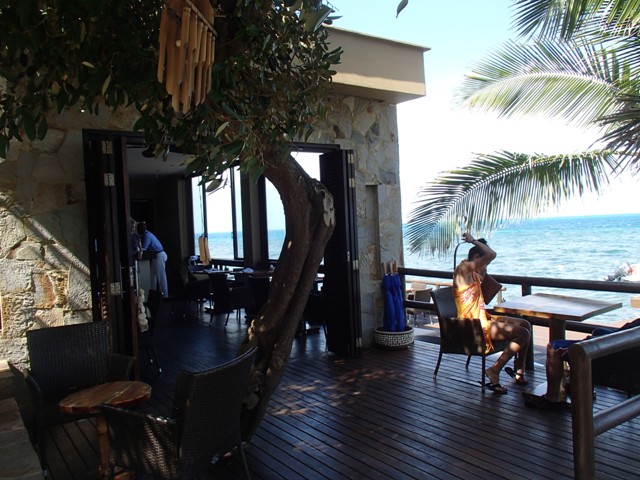 Along the way we were able to take photographs of some of the islands bus stops. The one on the left is by a small beach and on the right is a stop near to the library.
We also passed Iguana, Octopus and other beautifully designed stops on our bus trips but there wasn't the opportunity to photograph them.
We also liked the anchorage because we could just jump off the boat and snorkel the nearby reef. We saw many more fish here than we had in the Bay Islands – swimming and/or congregating in small shoals…
Those are fish – honest!
Some are really quite well camouflaged…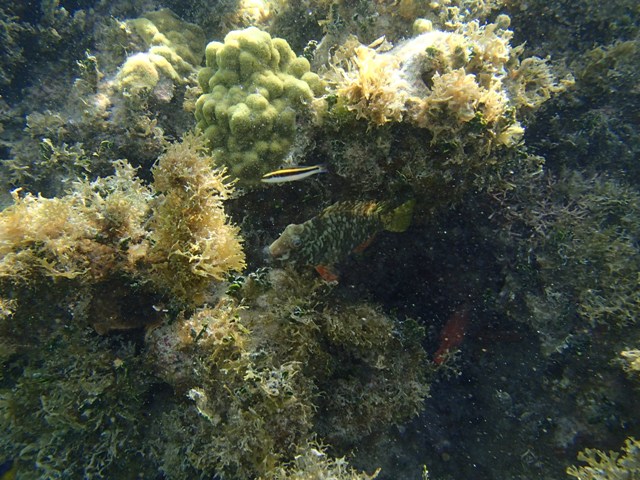 …and Mike also managed to take a photo of some beautiful angel fish with their pouty white mouths and yellow underside to their fins. Unfortunately we spotted these around the point where the water is a bit murkier so the shot is not quite so clear.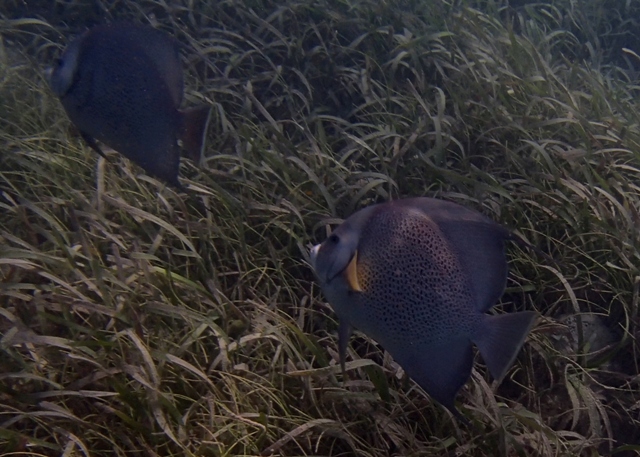 I mentioned the beach where we could leave the dinghy. It was also great for BBQ's – particularly as there is a BBQ pit provided. We gathered here to share a Valentine Day "Braai"…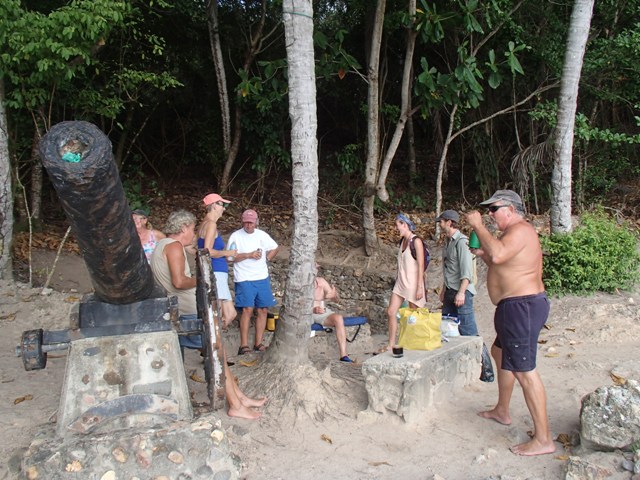 …were joined by the Port Captain and his friends…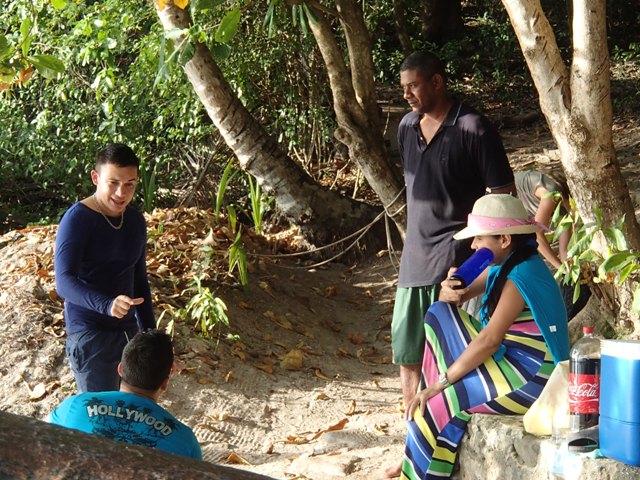 ….and looked out to our anchorage as dusk approached.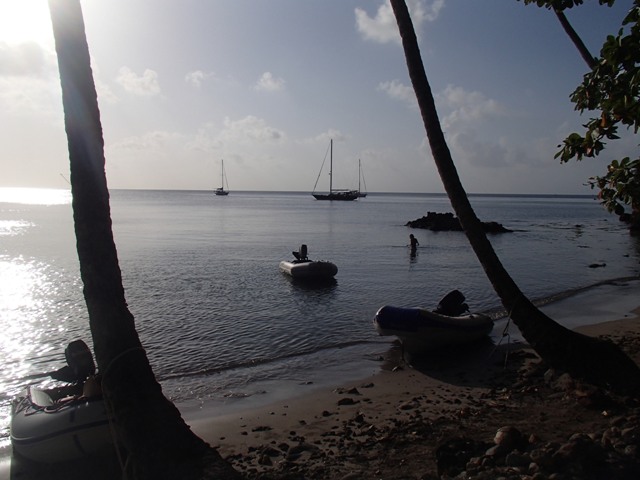 Two new flora/fauna finds on this island have been the cotton bush…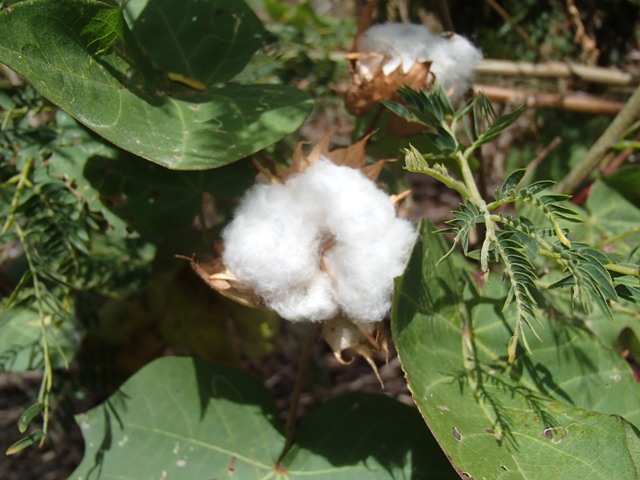 and a fabulous blue lizard…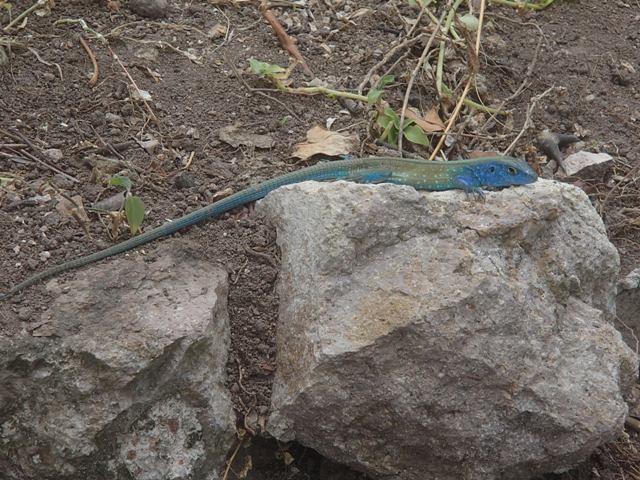 Apparently the males are blue and the females green. All the ones we saw seemed to be a bit of both, especially this little chap who looked like he had just walked through a paint pot!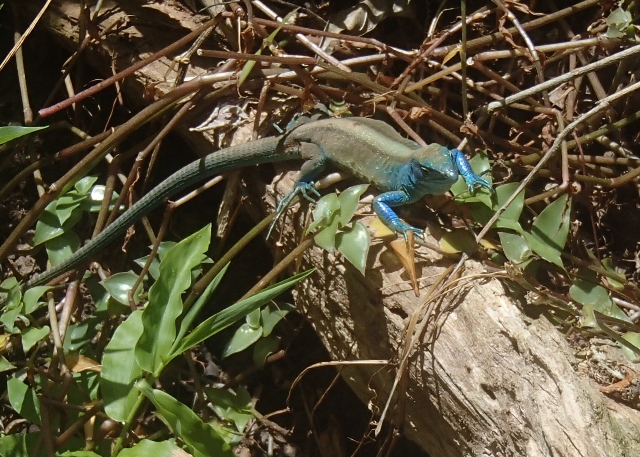 And so, to the end of our stay on Providencia – which coincided with Mike's birthdays. We started celebrating on Tuesday 25th and the mountain walks and several shared lunch time meals and drinks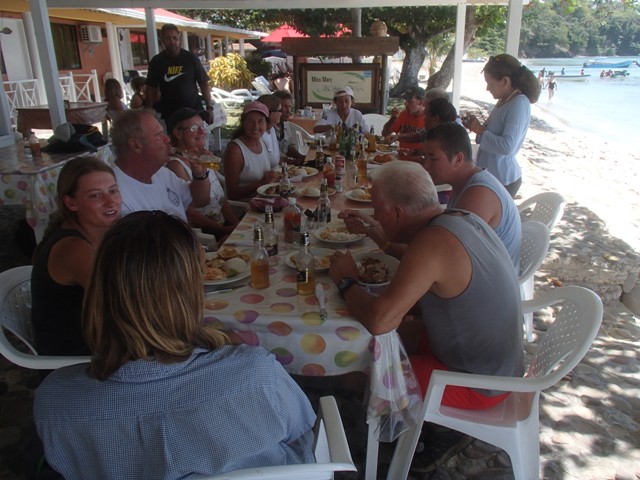 brought us to his official birthday sometime between Friday and Saturday. It culminated in a special evening meal on Saturday at El Donde Martin where a lovely evening was enjoyed by all. [Thanks to Russell and Laura for telling us about this place and arranging it].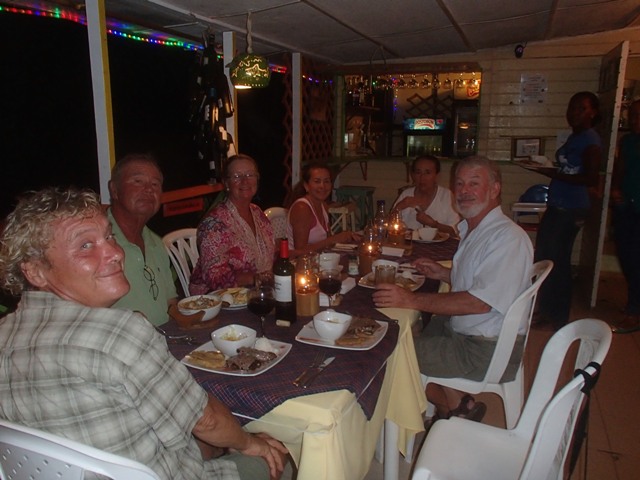 Mike and I finished off the evening with a tot of Old Providence Bush Rum – a local brew…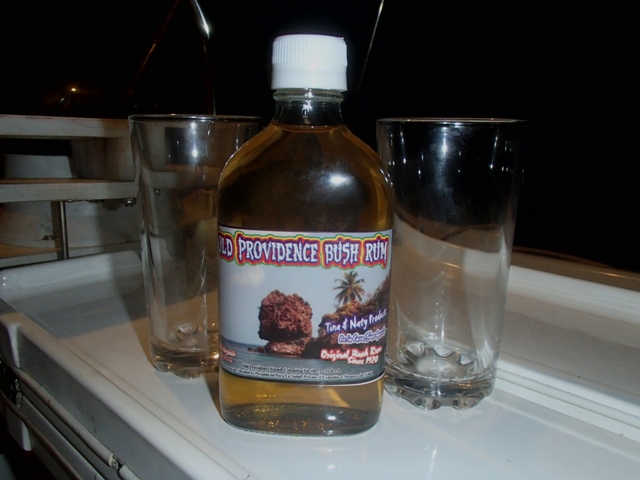 So, until next time – where I hope to be "reporting" from San Andres – its cheerio from us….