As the last couple of blog posts have been based around "Siga Siga" being at French Cay regular readers will probably have worked out that this is the main anchorage on Roatan.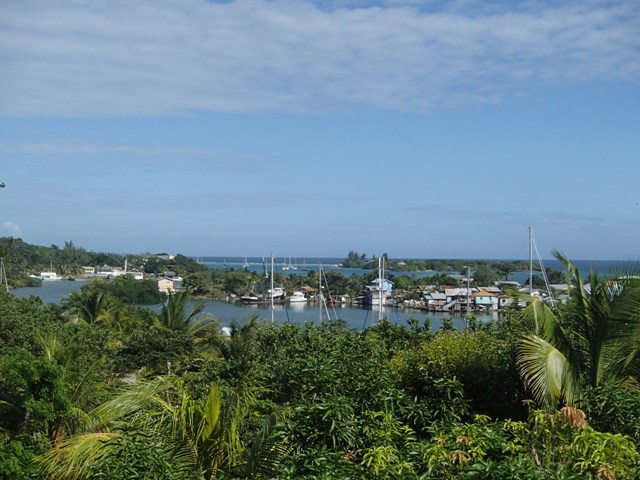 By main, I mean the one that the majority of cruisers spend the majority of their time at – be it in one of the three marinas or at anchor. Some yachties "live" there for the whole six months between hurricane seasons but most cruisers spend some time there [anything from a couple of days to a couple of months] whilst in transit to or from Mexico, Belize, Rio Dulce, Colombia or Panama.
There is a large US supermarket [Eldons], laundry services, fruit and veg delivery, a hardware store [ACE], a "mall" with clothes and phone shops, beauty parlour, coffee shops etc and a kind of chandlers who can ship goods in if they can't be found on the island. As you will have noted from the earlier posts there are local mechanics and electricians who have become fairly well known and respected by the yachting community. There are also two options for getting fuel and a water delivery service. So, French Cay is certainly a good place to stop.
If you are the kind of cruiser who likes to play Volleyball every day, do Yoga three times a week, watch a movie at the Friday film night, attend a book club and/or painting classes weekly and go to a Happy Hour get together almost every night then French Cay is certainly the place to be. I guess that Mike and I just don't quite fit with that kind of scene. As you will know, we did join in with quite a lot of things but, for us, it all got a little bit "Hi – de – Hi holiday camp".
So – whilst waiting for the right weather window to leave the Bay Islands we decided to get out and about and explore some other anchorages.
The first place I want to tell you about is "Cayos Cochinos" [Pig Islands]. These are a group of 2 large Cays and around 6-8 small Cays which lie approximately 24 miles south of Roatan and 30 miles of the north coast of mainland Honduras. I know, I know – that means they aren't actually Roatan anchorages – but they are easily accessed from Roatan and are a "not to be missed" place to visit.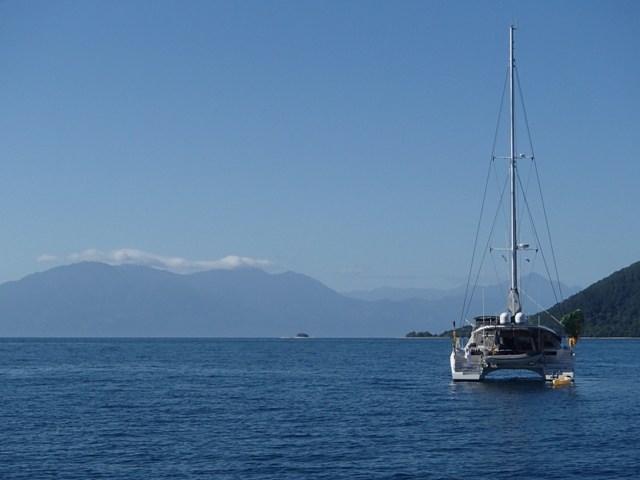 They form part of the Roatan National Marine Park and five mooring balls are provided [anchoring not allowed]. The mooring balls are in good condition and are maintained jointly by the Marine Park and the Turtle Lodge Eco Dive School which is based on Cochino Grande.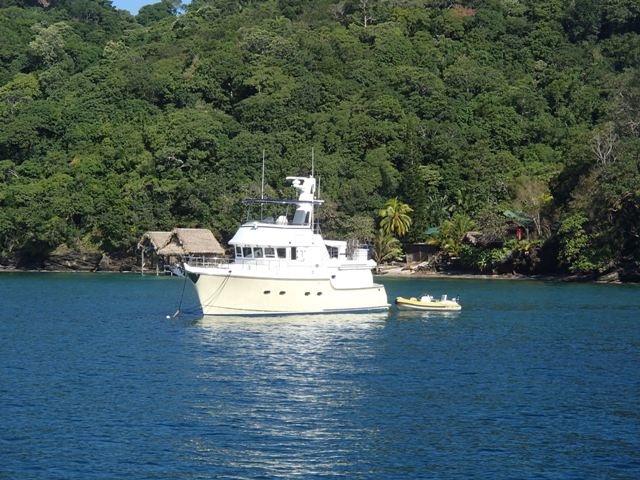 We were told that there are also three balls off the south eastern tip of Cochino Pequeño [Little Pig], but we stayed in the very sheltered "anchorage" on the western side of Cochino Grande [Big Pig]. We did consider taking a dinghy ride for snorkelling from Cochino Pequeño [it is forbidden to go ashore there] but found enough to do based where we were.
Before I describe our activities it is perhaps a good time to explain that the electronic charts for this part of the world are, at best, rather scanty in detail and that there is no up to date cruising guide for the area. This may explain why some cruisers are reluctant to venture out. But, I managed to obtain and scan some drawn plans of the Bay Island anchorages from a cruising guide written in the early 1970's and these, with some eyeball navigation and good light saw us into all the Roatan anchorages we visited. We now have accurate waypoints, I have put reviews into "Active Captain", and I have put various waypoints at the end of this post if anyone is interested.
Anyway, back to our activities. We visited the Cayos with our friends JD and Linda ["Kokopelli"] and John and Diane ["Jasdip"]. JD had been four years previously and he told us about a walk up to the old lighthouse – which you could get into and climb to the top of – and with views throughout the walk across to the mainland. So – off we went. About 15 minutes after we started out it started to rain and it rained and it rained….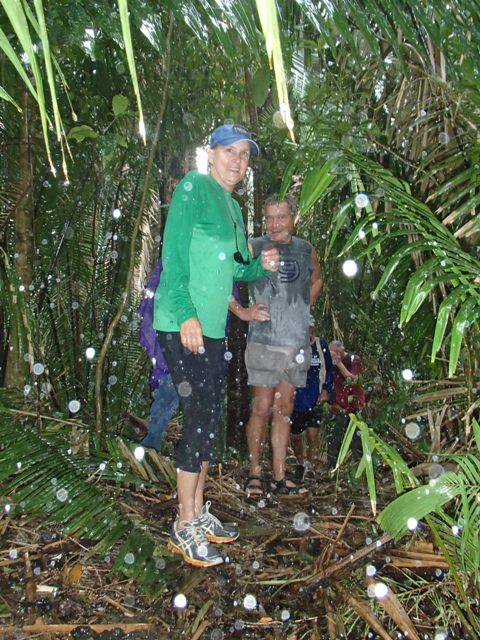 ….but we were not deterred and eventually arrived at the lighthouse which actually looks rather more like an old fashioned missile with a door…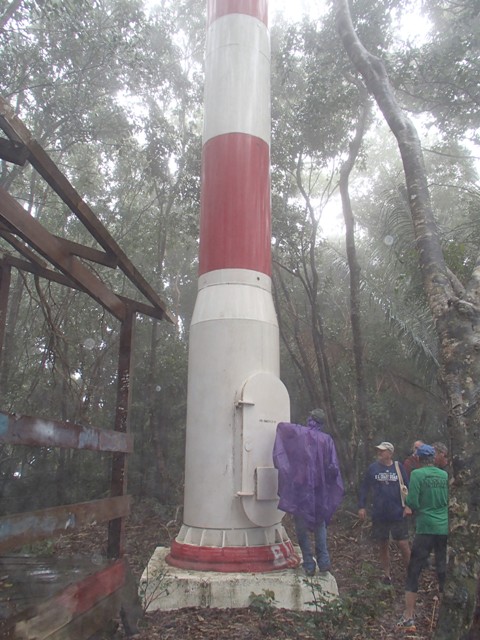 Hmmm – door locked. It seems that the lighthouse has been renovated and is now working again so is no longer accessible. Never mind – there were always the promised views except that the trees have all grown up since JD last visited and therefore no more views! We did stand on a rock [henceforth known as JD's rock] and get a view down to a bit of a coral beach – but that was about it.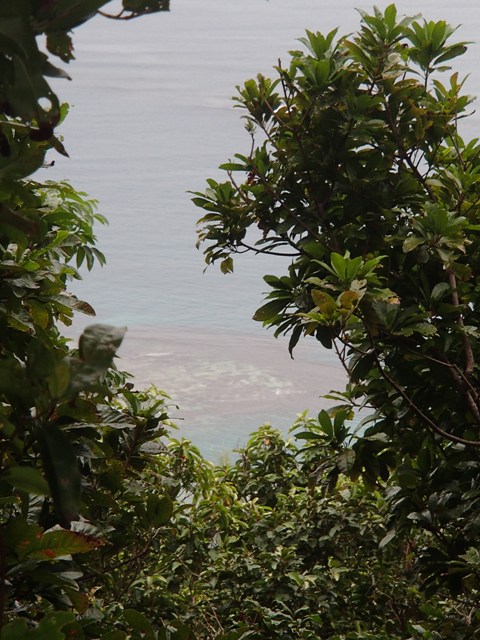 Still, it was warm rain and good fun and it gave us something to talk about over a couple of restorative beers.
The following day was absolutely beautiful with clear blue skies and therefore perfect for snorkelling.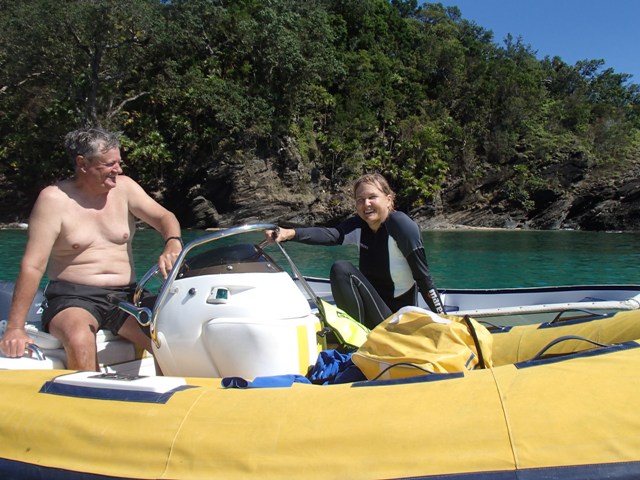 I was so taken with Diane's "rash suit" that I am now the proud owner of one just like it.
The coral formations were quite good and there were some nice sea fans….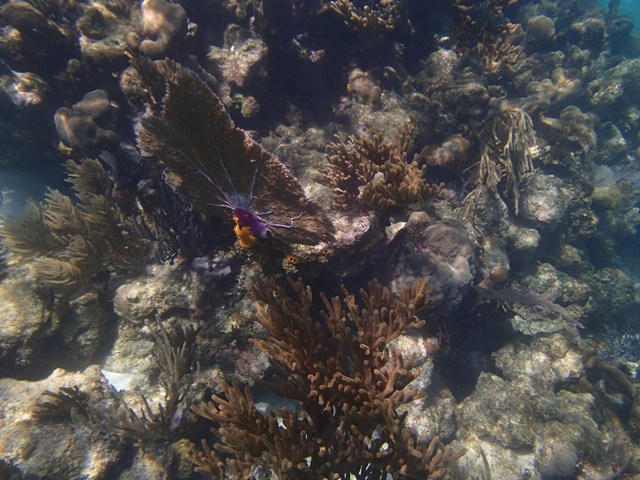 but we were a bit disappointed in the lack of fish. John and Diane saw an octopus and JD saw a school of blue tang but I only managed to capture a lonesome one…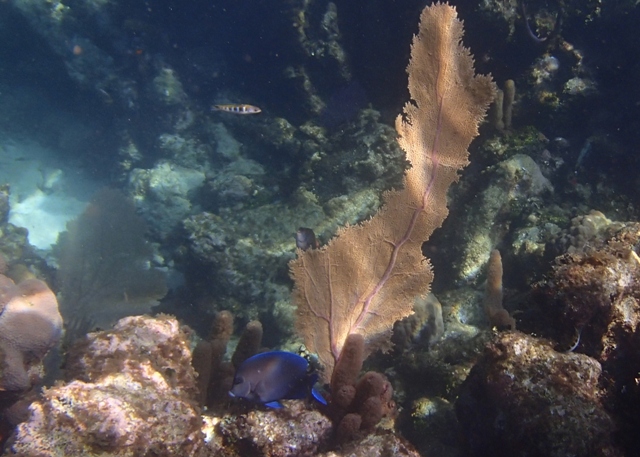 When most boats arrive at Cochino Grande – and possibly at Cochino Pequeño –  they are quite quickly visited by "Fausto" who paddles his small canoe across from one of the smaller inhabited cays. He comes to sell necklaces and also to invite you to his "restaurant". On our second day we decided it was a good time to visit and therefore took the dinghies across to the amazing "Chucuuate"….
I am not quite sure of the spelling, though this is what was written down for me by the dive school. It was pronounced Choo-Choo-Arte which seems to be a kind of Mayan type name. It is believed that Mayan people lived on the islands but it could also be a Nahuatle word – that being the language of the Mexican Aztecs who also seem to have spent time here. The current inhabitants are Garifuna.
Whatever its name – it was a fabulous place…. [No Health and Safety Exec here!]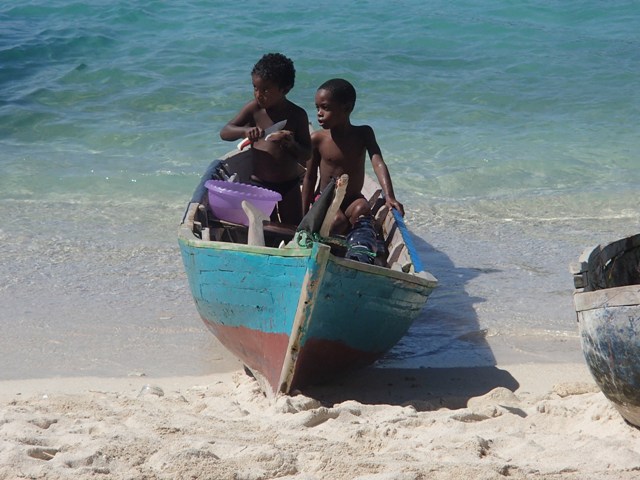 ….and we spent a happy twenty minutes wandering around.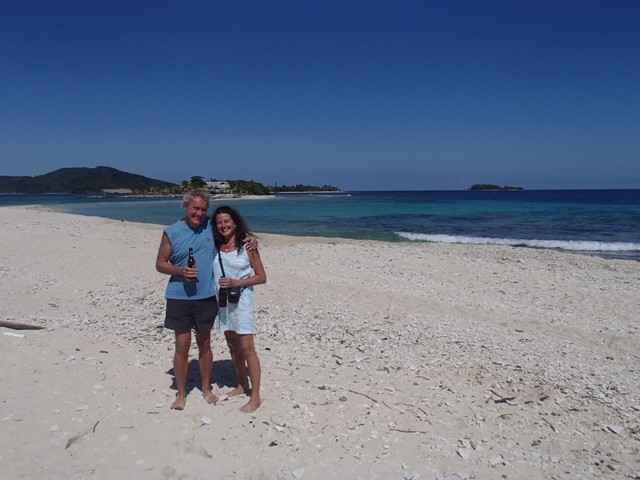 The whole island would actually only take about five minutes at normal pace but there is no such thing as normal pace in this little bit of paradise – it is all very laid back indeed….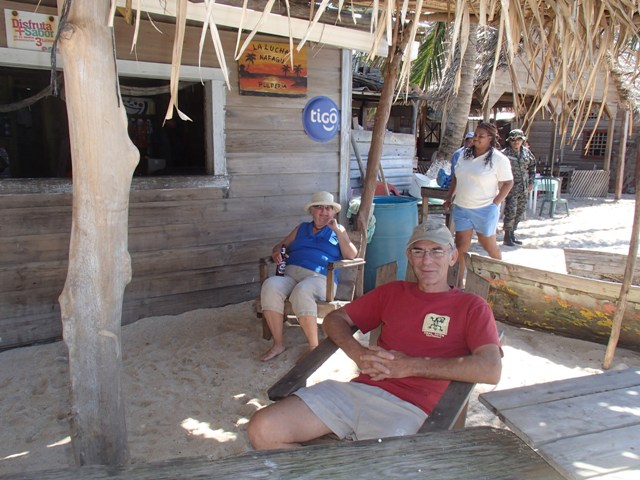 Whilst walking round, Mike overheard a guy ask one of the locals where the "Baños" were. He was directed to a tree at the end of the island!
Fausto was still toting his jewellery even whilst showing us his kitchen….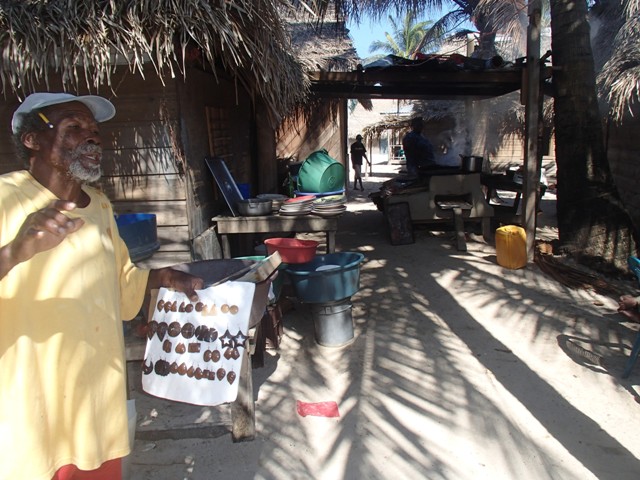 Which might not look much….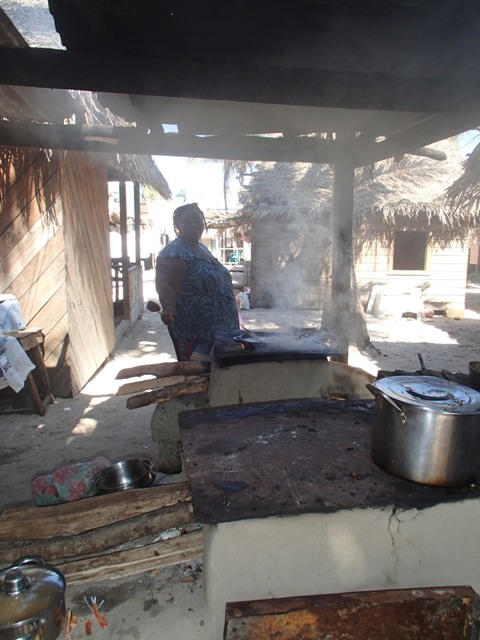 but from which came a great fish meal…..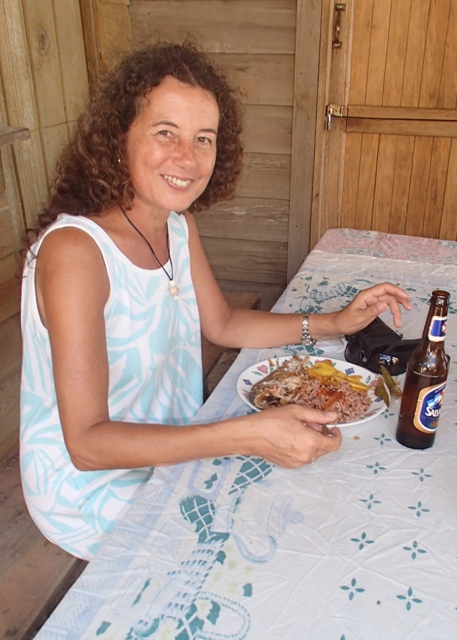 and also Cinnamon buns [which were for sale – though we didn't partake]. I wonder Martin, maybe Becketts could consider offering a free coconut and a piece of driftwood to keep the trays steady!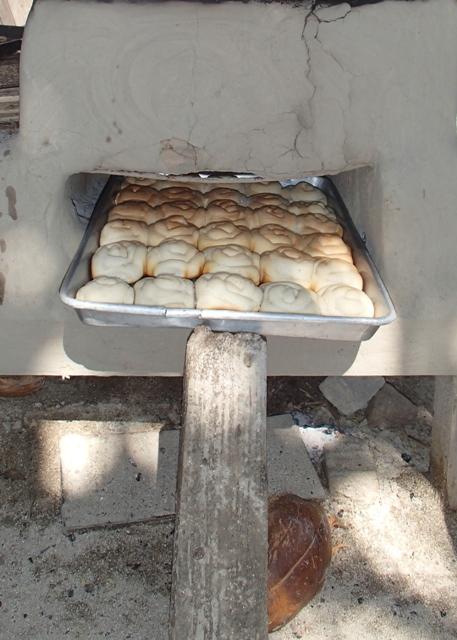 We also did another walk around Cochino Grande which took us to the small settlement called "East End"….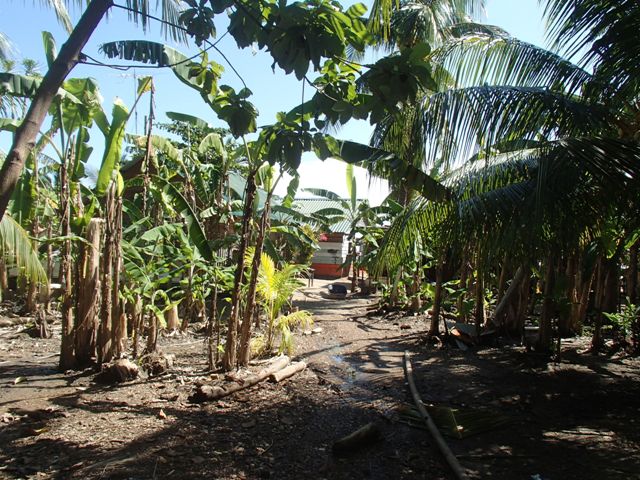 …which consisted of about three houses and a boat shed….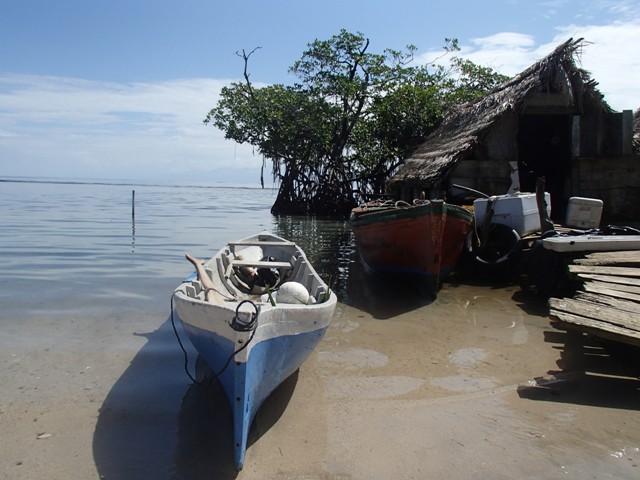 and then around the south of the island past a number of small bays with a view of "Little Pig Cay"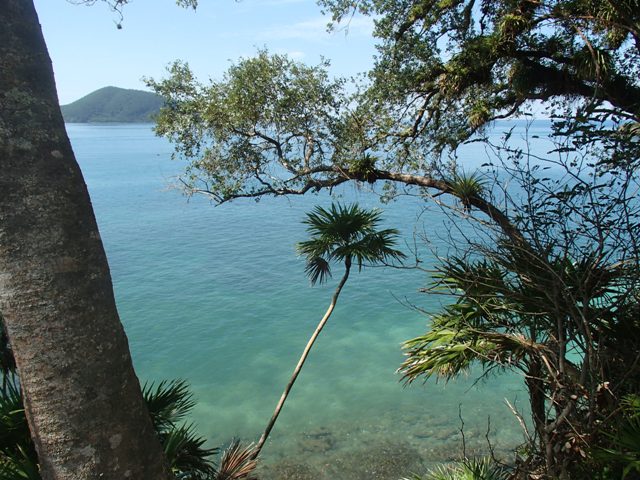 We ended up having to ask the way a couple of times as the footpath petered out and also had to climb back up and over the ridge as the path didn't go all the way round the island but, again, it was an way to get some exercise and while away a couple of hours or so.
Back on Roatan we took another bus trip to West End. There is a stunning anchorage here – in the right weather. The first time we visited it was really rough and we couldn't imagine where anyone might anchor – but on our second trip we saw completely different conditions and thought "Why Not"….
Well, why not is because just two days later another boat [the third we had heard of] became stranded on the reef at West End when the winds changed yet again. West End is only tenable in fairly mild Easterlies and is therefore definitely best visited between March and July when the easterly trade winds have become established and before the dramatic thunderstorms and wind shifts which precede hurricane season.
Port Royal [toward the eastern end of the island] is much more of an all weather anchorage which is possibly why, in the mid 17th century, it was "inhabited" by about 5,000 people, most of whom lived on Pirate ships!
There is very little there now, just a couple of residences and down at the opposite [western] end to where we anchored is a new resort which provides security for the anchorage. There are two possible entrances, one has a white marker but we entered through the more easterly passage past a small outer island which used to have a small airstrip on it.
The clarity of water in the anchorage is excellent – giving plenty of opportunity to see if your anchor is properly set…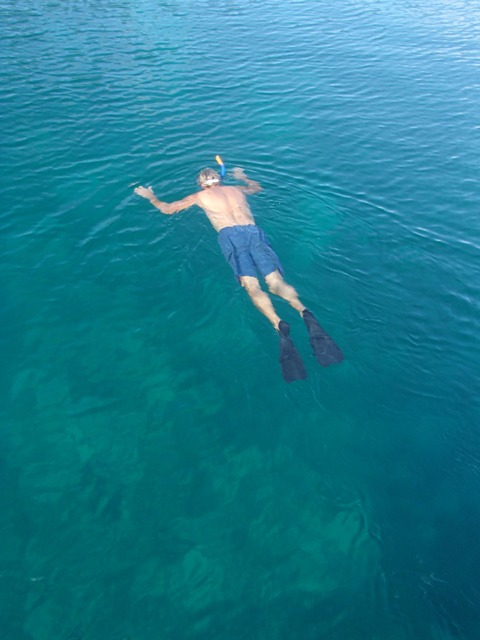 ….and apart from one catamaran which came in for a couple of hours for snorkelling, the only company we had was the squadron of pelicans who surveyed the fishing potential from the nearby abandoned structures.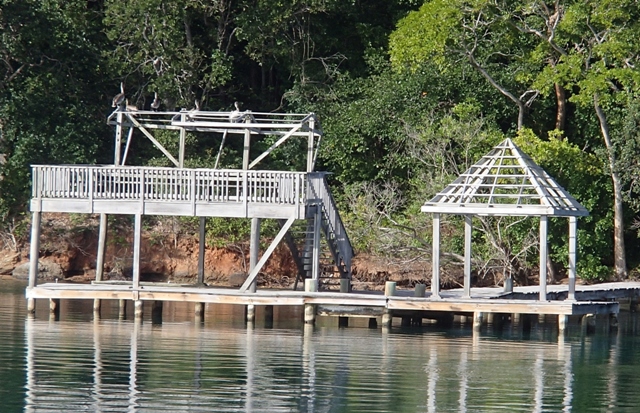 It is possible to take the dinghy through a small gap at the eastern end of the anchorage into "Old Port Royal" – also sheltered by reef but, we thought, less attractive. Across Old Port Royal Bay canals weave between the mangroves and it makes for quite a pleasant little trip.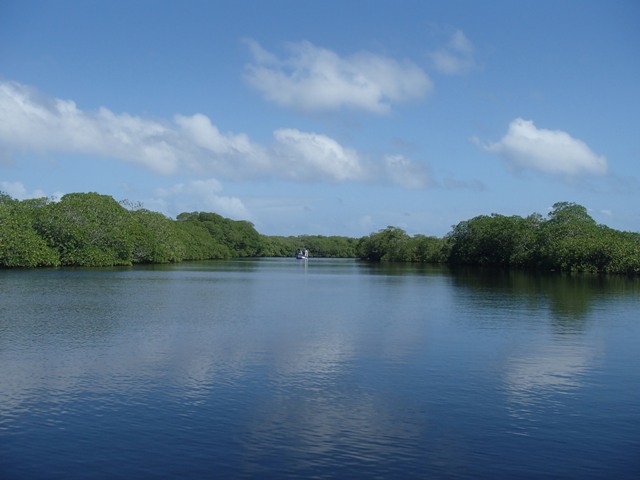 Calabash Bight lies approximately 6 miles west of Port Royal [back towards French Cay]. It is a buoyed channel with a red outer buoy from which you line up to pass midway between the inner red and green buoys. There are two mooring balls available [apparently no charge] but we anchored further up the bight. The photo below is looking back down the bight to the sea.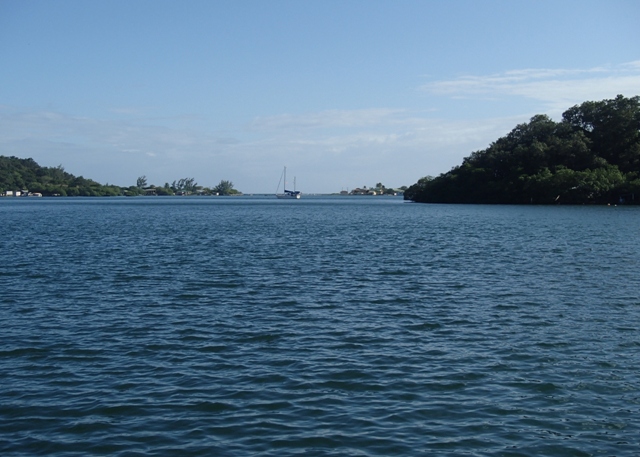 The depths vary in this bight and we found it better to anchor in 7-8m where there was thick mud [like we found at Port Royal and at French Cay]. At 3-4m the bottom was rocky and the holding poor.
Just after anchoring I looked up and thought that there was a large tree coming towards us – it turned out to be some form of Harvesting going on?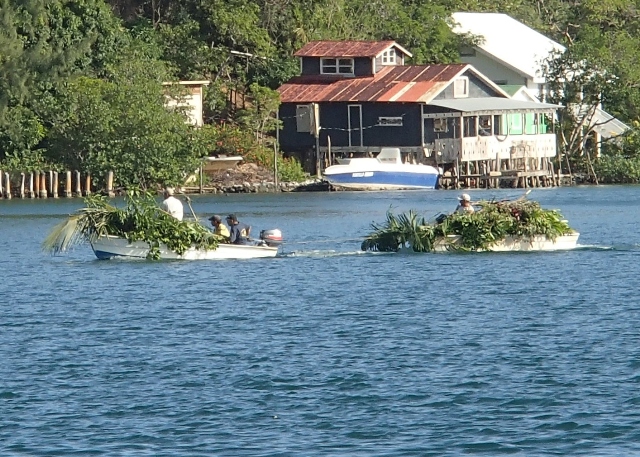 Calabash Bight is at the eastern most end of the inland water way and it is possible to dinghy along canals and behind the reef through the settlements of Oak Ridge and Jonesville.  Just before the bridge over the canal in Oak Ridge we found "BJ's Backyard"
which used to be a well known cruisers hangout. Unfortunately very few yachties now anchor in Calabash or Jonesville but BJ…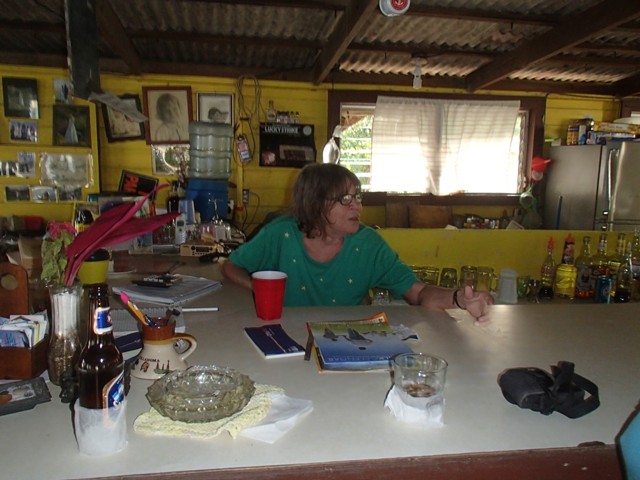 …and her husband "Carman"…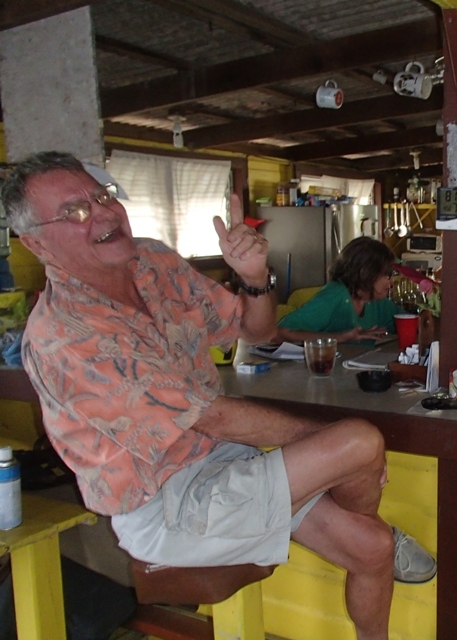 run the place as she has been doing for 40 years. It is certainly worth a visit and apparently there is still a Friday night BBQ and live music. We visited on Saturday when normal opening hours of 9am – 5pm were operating, though we were told that if you are there at 5pm and want to stay she will lock the door but carry on serving "lock in" style.
You might remember that we had already been to Jonesville where we missed the famous Puky McNabs Sunday BBQ. This time we made it.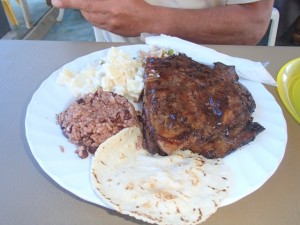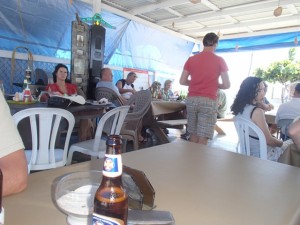 We also decided to look inside a cage at the back of the garden – well everyone else was looking – and found 3 Caiman [or should that be Caimans??].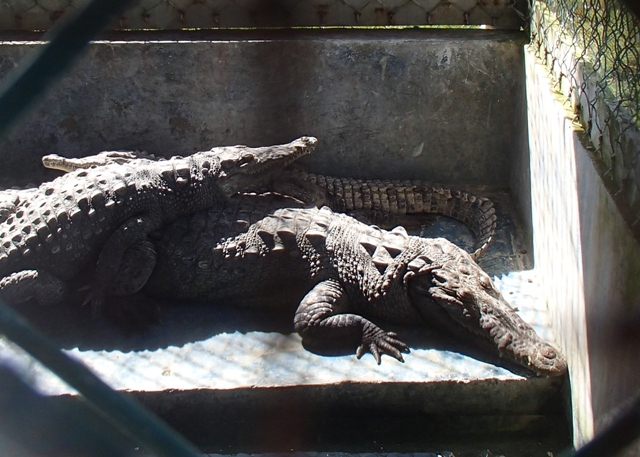 At least we think they are Caiman?
As on our previous trip to Jonesville we anchored in Hog Pen Bight. We found the entrance through the reef to be quite manageable but maybe in less kind conditions [high seas/rain] it might be easier to enter the Jonesville Bight anchorage which is marked by a couple of sticks. Shrimp boats use this entrance and dock nearby.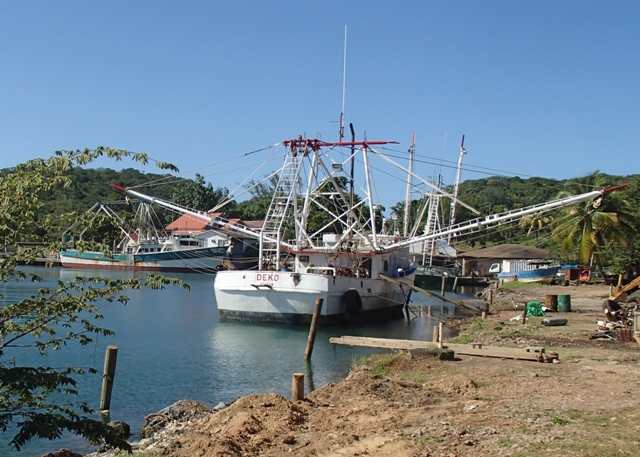 There are some anchorages to the west of French Cay which we didn't visit. We have been told that one of them, Brick Bay, was effective as a hurricane hole during Hurricane Mitch some years ago. We hope that we won't ever need it for such a purpose though if we visit Roatan on our planned return to the Rio we might just take a look.
WAYPOINTS:
Cayos Cochinos:
15 58.946N   86 29.475W
15 58.192N   86 29.475W
15 58.318N   86 29.928W
Port Royal:
16 24.080N   86 17.452W
16 24.268N   86 17.558W
16 24.433N   86 17.670W
We anchored at the east end at 16 24.67N, 86 16.75W
Hog Pen Bight:
16.23.069N   86 21.816W
16 23.146N   86 21.854W
16 23.271N   86 21.829W
Stay to the east side of the bight- via 16 23.423N, 86 21.930W [to leave the shoal to your port side]
Anchor between the end of the shoal and the overhead cables at the northern end of the bight.