HAPPY NEW YEAR. Mike and I wish everyone a great 2014.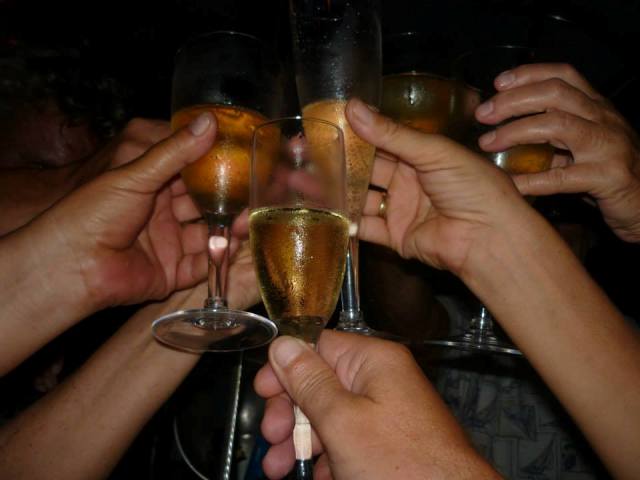 I now need to apologise in advance to Malc and Steve [Toms] and to any cruisers who may be reading this post hoping for a few hints and tips about anchorages or routes or hoping to hear about passages undertaken or jobs completed because this one is all about fun and games and parties. OK I know that lots of my posts involve fun and parties but there is usually some titbit about sailing – but sorry, not this time!
Having left the UK in June 2011 this was our third Xmas/New Year afloat and, as regular readers may remember, the first one was spent in Barbados – where  during the festive period we only knew two other boat crews – and the second was in Culebra [Puerto Rico] where we knew no-one. So, although very enjoyable, they were quite quiet. Not so this year!
In French Cay Harbour [where we arrived on 18th December] there are three marinas – Brooksy Point, Fantasy Island and Roatan Yacht Club. Along with Frenchy's 44 [a restaurant and small island "getaway"] they offer Happy Hours, lunchtime meal specials and specific events to which cruisers at anchor are often invited. As you might imagine, there was quite a lot of competition to attract everyone to the various Xmas and New Year events – but, to be fair to the organisers – other than on New Year's Eve – events were set up so that they did not coincide.
So, to start the proceedings on Xmas Eve we went to the afternoon beach party at Fantasy Island. This was very much an event for children [of all ages!] and we played "shot coconut", "stick javelin", paired "toss and catch the egg", a kind of "human bingo" and, for those without knackered knees, beach volleyball.
This was followed by a "Pot Luck" meal, with Fantasy Island providing the Ham and Turkey and the cruisers bringing all manner of side dishes. When the event was advertised we were each told to bring a wrapped white elephant gift. We weren't exactly sure what was meant by this but our friend Allen said that you took something that you didn't want/need anymore or something funny. We still didn't have much of a clue but Mike found a nice parallel rule he no longer wanted [which we thought was a bit useful – for drawing straight lines at least – but also a kind of  joke because everyone is phasing out paper charts!]. I just couldn't think of what to take so ended up making my gift which turned out to be the cause of much laughter – but I think that everyone thought I was either totally mad, or taking the p…. and the organisers said that in all the years they had been running such an event they had never had a gift like it before.
What do you think?………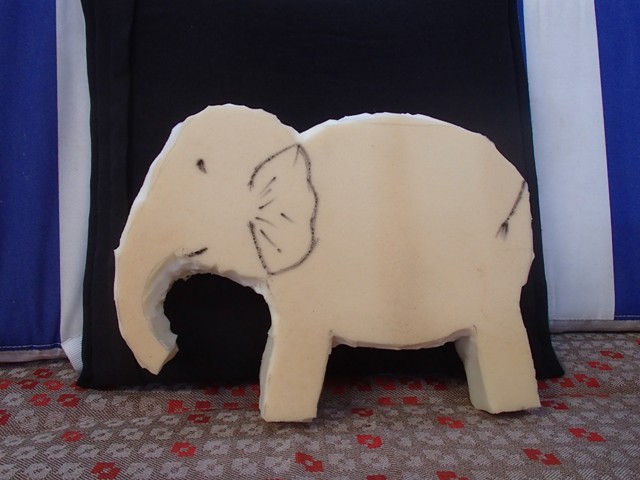 So, Christmas Day dawned and Monkey wore his Santa hat and had gifts for both of us….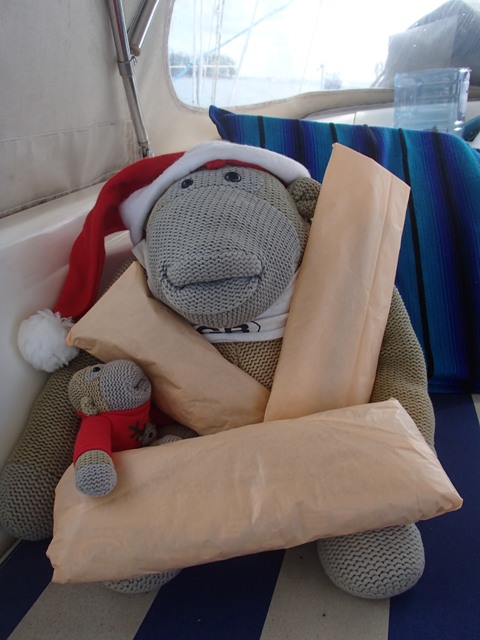 and some new rope for "Pig" [who at that time seemed to be holding up with the re-glued seams].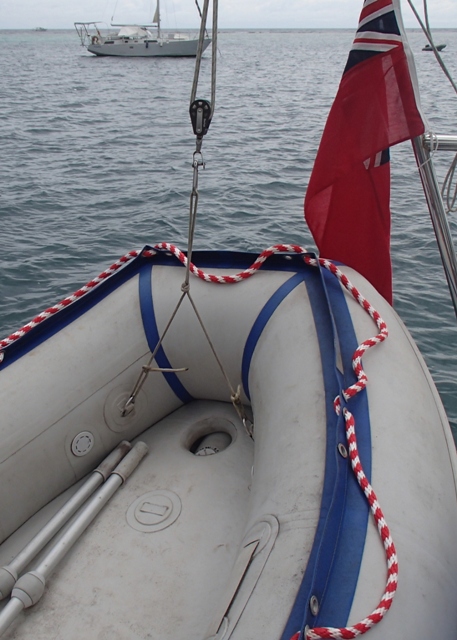 The new rope was necessary because, like the glue, the original rope just disintegrated in the Guatemalan heat/sunlight.
Anyway, the Christmas Day party was at Brooksy Point – with a similar format to the previous evening, but with Pork as the main part of the meal. Again, there was an expectation of one gift per person – and this time we had been asked to spend between US$5-10 each. So, we thought, this is where you take a nice gift and duly bought a bottle of wine and a box of chocolate coated sea salt caramels. I "won" a second hand "Little Book of Yoga" but I think the gift which Mike won topped the lot – a small jam jar filled with baby oil and sea salt with Bath Scrub written on it in felt tip pen. You can see just how impressed he was….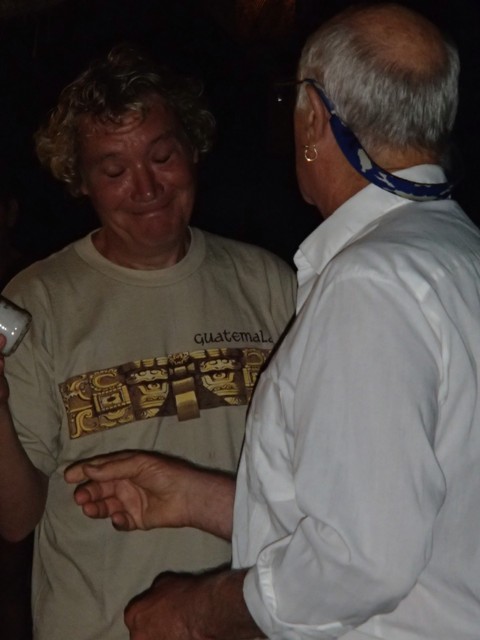 Had this been the White Elephant night it would have been quite funny – especially as most of us bathe in sea salt fairly regularly anyway – but as a US$5-10 gift went it left something to be desired! Still, it was all good fun especially as the idea is that prior to selecting a gift you have the option of swapping with someone else who has already got their present. There were near fights over bottles of rum and our wine but once the gift gets into the third person's hand it is then frozen. Unfortunately by the time Mike's and my numbers were called it was almost the end of the draw so we were stuck with what we got. That process had also caught us out the night before because there Mike "won" a brilliant Aussie hat but it was "stolen" from him so he had to pick again and got some jewellery which was, in turn, stolen from him and he finished up with a decent sized pack of nice locally grown filter coffee. Unfortunately we don't have a filter and, as you know, we now both drink de-caff!
Oh – and the Xmas Eve hat thief was none other than our friend JD – who then wore it on Xmas Day. Some friend he is!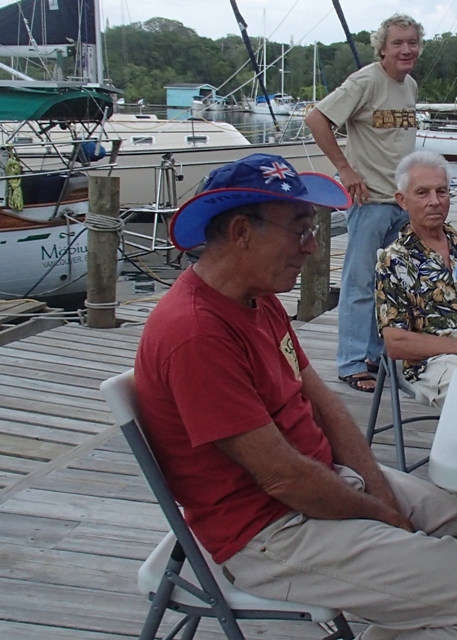 Actually – he is really nice and, believe it or not, we also gave him and Linda the coffee. To be fair, he then gave us a "Tigo" stick which has enabled us to get internet on the boat – so it all worked out fine in the end.
The Xmas Day evening was rounded off by a local band with a superb guitarist. We think he was called Brian James and we were told he played with a band which used to open for the Rolling Stones? Whoever he was, he certainly knew his way around a guitar.
Because of all the entertainment we didn't get round to eating our own Xmas dinner until Boxing Day but really enjoyed an excellent Marmalade and Mustard Roast Ham….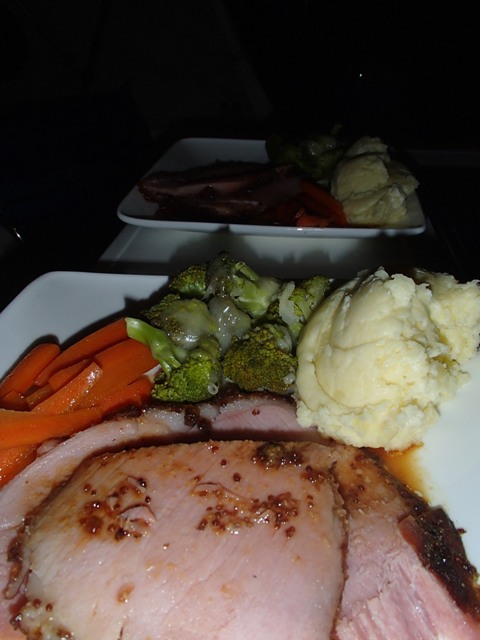 ….followed by Christmas pudding [homemade] and cream….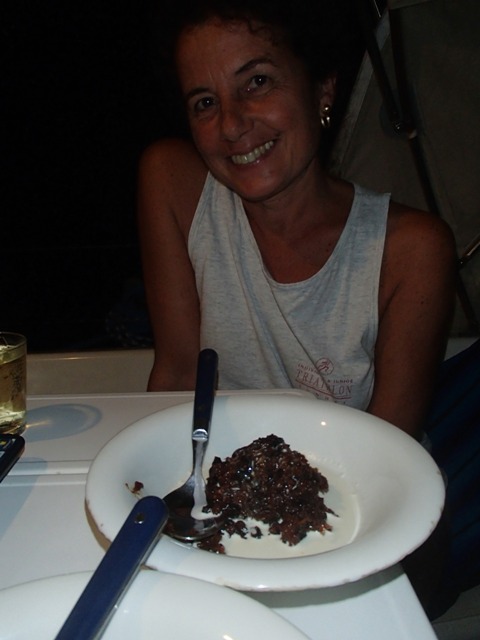 It's surprising what can be achieved in a small yacht galley.
On New Year's Eve we had the choice of a US$20 Lobster meal and disco at one venue, a US$50 buffet, all you could drink bar, singers and fireworks at another venue or a US$20 buffet and acoustic guitarist at the third venue. The Yacht Club is a bit of a dinghy ride away so we decided against that. Being budget conscious, having friends on even tighter budgets and realising that even we can't eat and drink US$100 worth [at local prices] between us we also vetoed that bash. That left the lobster disco – but we had heard that not many lobsters were going to attend so we agreed to have a "moveable boat party". Don't worry, we had no intention of upping anchor under the influence, it was us who would move. Each boat provided a couple of "heavy" hors d'oeuvres – no, not pound cake or rock buns [not that they are hors d'oeuvres!] –  they [Americans] just call them "heavy" so as to differentiate between something less substantial like a few peanuts [examples below from Coquina and Siga Siga]
….and we agreed to have a couple of drinks on each boat. It was a hoot – 4 dinghies's whizzing around the anchorage with the occupants getting louder as the evening wore on.
So, first we were on "Coquina" hosted by Jon and Becky…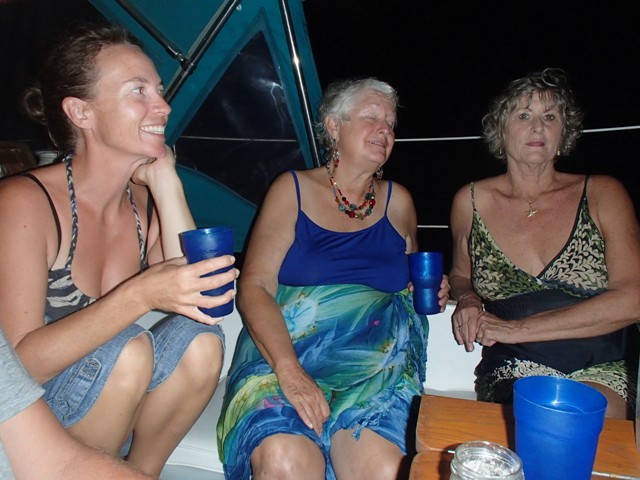 Then Larry and Marlo treated us to meatballs and hot cheesy rolls on "Beatrice"…..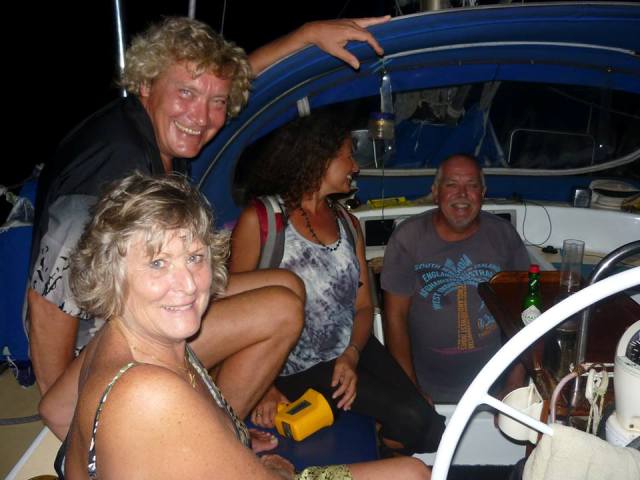 Next it was "Siga Siga"…. with ice provided by JD, much to Becky's delight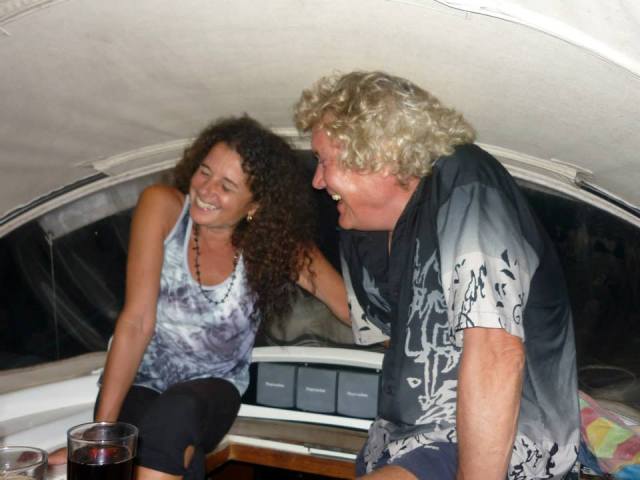 And finally, for the midnight toast we visited "Kokopelli" where JD and Linda were very, very generous with their bubbles ….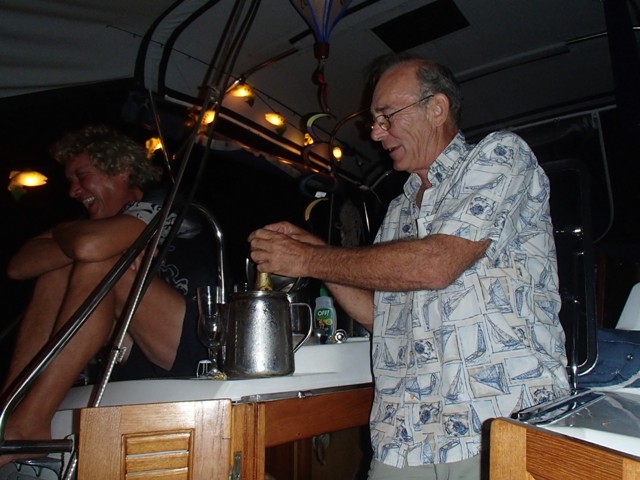 …and Jon found some late night "Scooby Snacks"….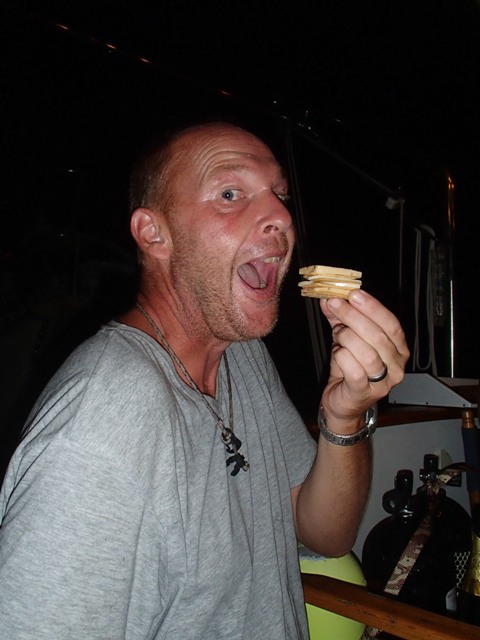 It was great that Patricia ["Nauti Nauti"] who had just returned from some time "stateside" was able to join us. Unfortunately Allen wasn't back from his unexpected return to the US.
At the end of the evening several of us ended up playing recorders and other indigenous instruments [don't ask!]
We have also been out and about having daytime fun. There is a reef right in front of the anchorage which is great for snorkelling. It is within the Roatan Marine Park so no fishing or taking of lobsters or conch are allowed. We therefore saw some HUGE lobsters – sorry I didn't have my camera – but we may go again.
I did have my camera when we went to the Iguana House [also on the edge of the anchorage] where there are, supposedly, 300 Green Iguana. We didn't see 300 but there were quite a few and many of them are fairly tame and enjoy being fed Elephant Ear leaves – supplied to paying day trippers by the owners ….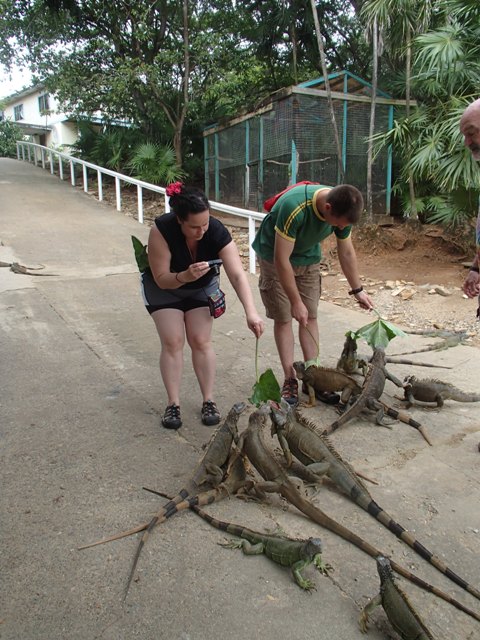 or with scraps of vegetables and non-citrus fruit – supplied by cruisers who can visit free of charge , by using the dinghy dock, if they take grub at around 12noon for feeding time. It was really possible to see how film makers can use these lizards to create "dinosaurs"…..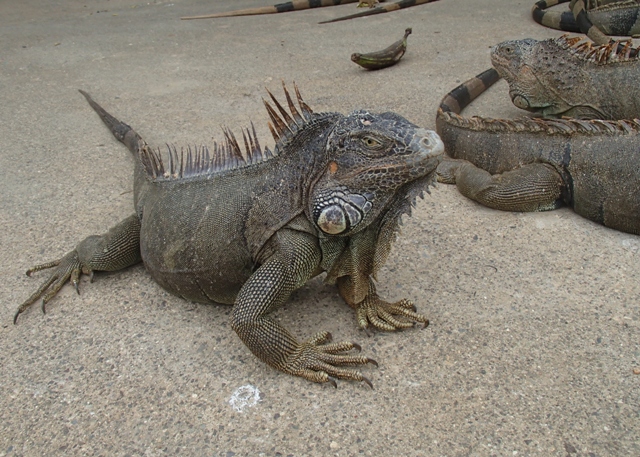 …and, despite what might be assumed by this photograph…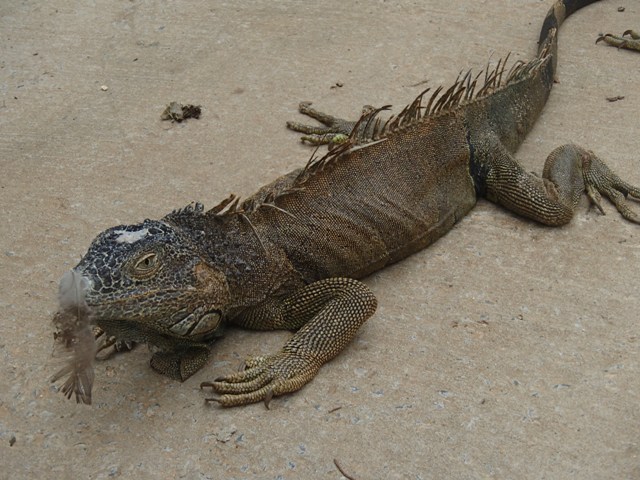 …. Green Lizards are in fact vegetarian and totally uninterested in eating animals, insects or birds.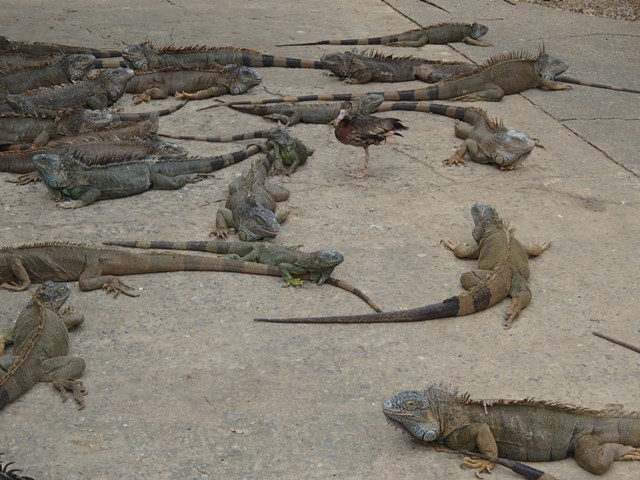 As you know, Sunday lunch with friends has always been a favourite pastime of ours so we just couldn't resist a Sunday Morning Bloody Mary brunch. All the ingredients for the Bloody Mary's were provided by Jerry – the cruisers dockmaster at Fantasy Island…..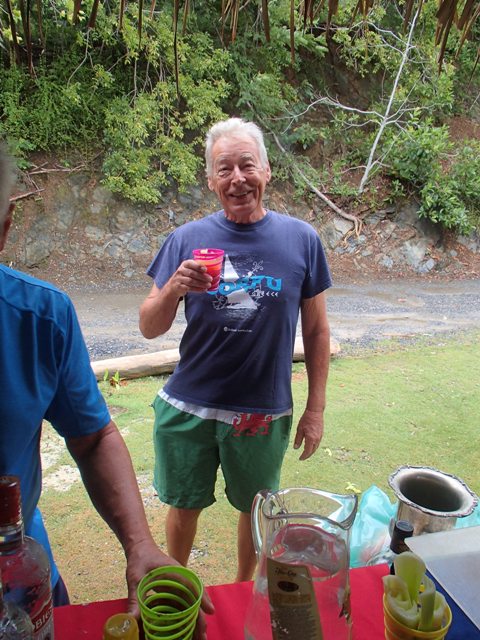 There was a charge of approx £2.00 per drink – but it was mix your own so they could be as "virgin" or "bloody" as you wanted.
Brunch pancakes and Taco's were beautifully prepared by Bill and Joanne ["Ultra"].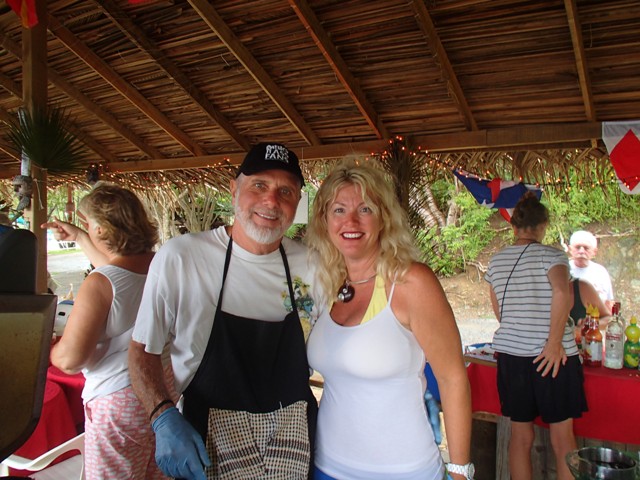 We actually met this fun couple in Grenada in November 2012 so it was great to see them again.
Finally, in the company of Larry and Marlo, JD and Linda, Steve and Sandy ["Yonder] and John and Diane ["Jasdip"] we took an island tour. It was nice to get views of the north side of the island which is inaccessible by boat because a reef runs all along it.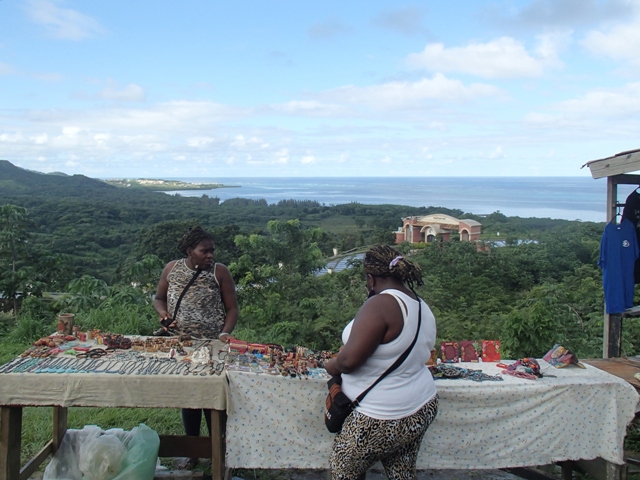 We also visited Oak Ridge – a Garifuna village towards the East End [poorer, local communities]….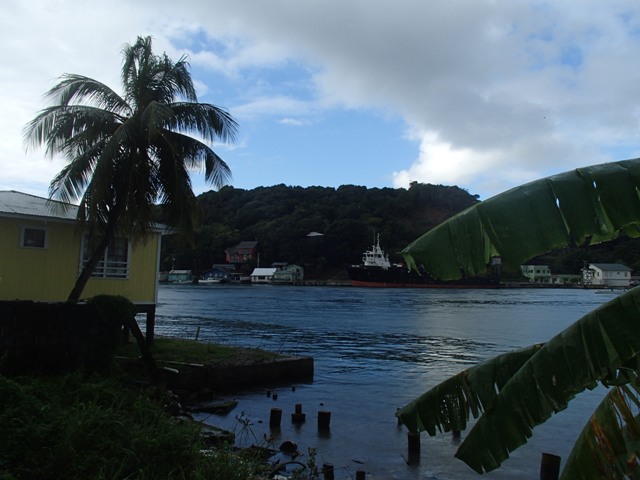 ….and travelled down to the West End which is much visited by Cruise Ships and has quite a tourist and backpacker vibe. That said, there were no big malls or duty free shops selling perfumes and gold and other overpriced souvenirs and, despite there being more bars and restaurants than could possibly be filled, there was a nice quaint feel to the main street with its various churches…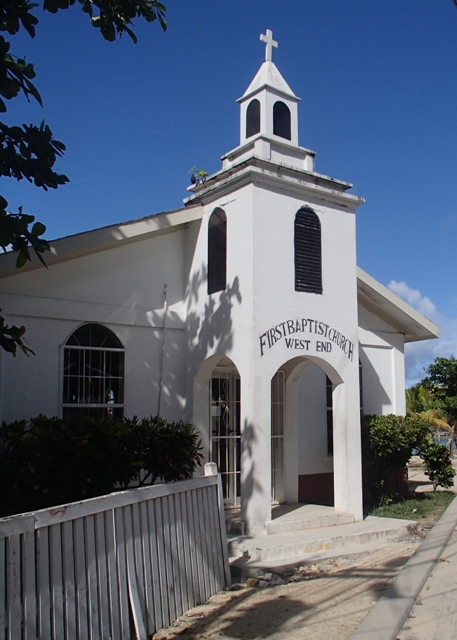 ….and local beach bars.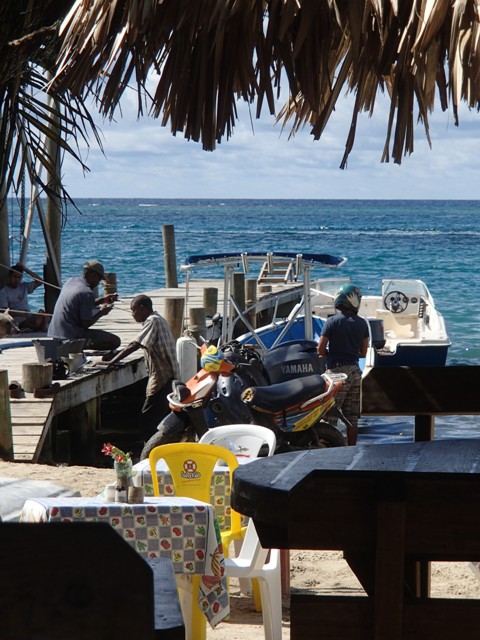 And yes, motorcyclists in Honduras [unlike in Guatemala] wear helmets.
So, that's about it for the fun and frolics over the Festive period but, just in case you think we might have drunk too much [or are even feeling a bit guilty yourselves] maybe this will help to put you straight…..