At the end of the previous blog post I stated that we were about ready to leave the Rio. Maybe I spoke to soon or, maybe there are such things as "announce the leaving date" gremlins. It certainly seemed that way because no sooner had various boats stated their intention to set sail that things started to go wrong. Jean-Marie dived to clear a bit of weed and check his anodes – to find the anodes in perfect order but his prop more or less eaten away. "Four Gulls "Dave had a jammed furling forestay, "Beatrice" was found to have blisters on her hull when Larry and Marlo did a late haul out for antifouling and "Coquina" suddenly "lost" their depth gauge. "Matador" tested the rigging and came across a partly sheared shroud and "Siga Siga" appeared to develop domestic battery problems and, when we pumped up the dinghy after giving it a good wash, "blew out" the ends of both sides because the glue had rotted.
So, it was a mad scramble with frantic activity in and around the cruisers lounge. But we all mucked in together, offered help [usually in the form of beer] and at last were ready to go – and on the appointed date. All, that is, except Matador who had been able to get and fit the necessary swages to their rigging but who were [and still are] waiting for the delivery of their new anchor chain. Understandably, having convinced each other that a new anchor chain was required – because they couldn't trust their old one for the forthcoming 7 month season of anchoring – Stu and Steph now can't unconvinced themselves and decide that the old one will do until next year.
Anyway, on 11th December "Siga Siga" was off down the river in a nice breeze…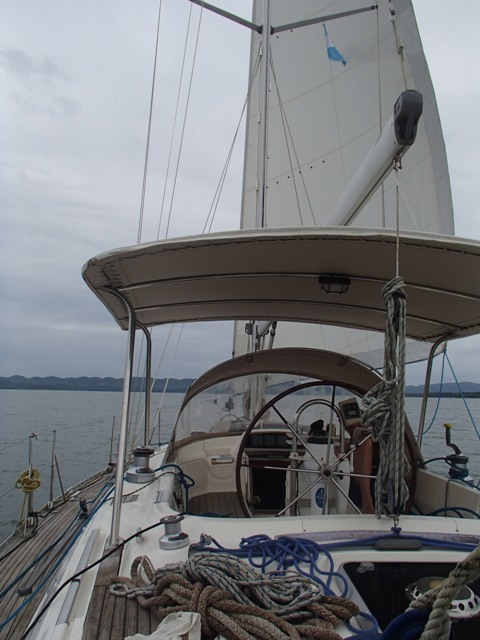 …. oh, how lovely to be out on the water AND sailing.
We spent the first night at Texan Bay [Cayo Comada] where, you may remember, we stayed during our journey up-river. Then, in the early morning mist on Thursday 12th we headed down the gorge.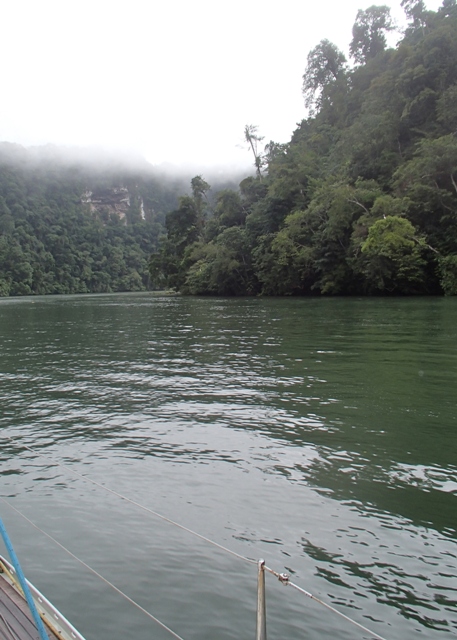 Just as we were approaching Livingston we noticed that "Coquina" had fallen behind and, over the radio, we heard that their engine had started to belch black smoke – never a good sign! So we turned round, pulled in behind them and slowed to their pace so that we would be on hand if there were any further problems. The smoke didn't look too bad, but it was clearly black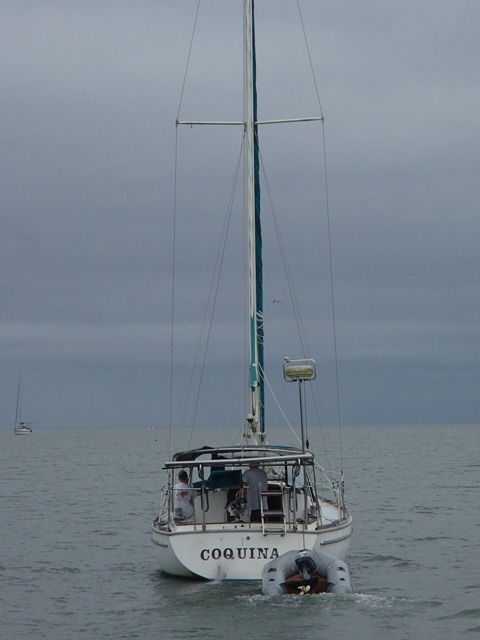 – which may not be that surprising given that we later found out that Jon and Becky hadn't done an engine service prior to leaving. As I am sure I told you in an earlier blog, Jon and Becky came to the Rio as backpackers and bought "Coquina" there about 4 months ago. So, they are just getting used to the cruising lifestyle and, like many new cruisers, are finding out that boats need lots of TLC and wads of paper money containing numbers with oodles of "0's" at the end thrown at them. In this case, engine oil seemed to suffice though we think a good overhaul might not be a bad idea.
It might now be a good time to tell any cruisers reading this – who are considering spending a hurricane season in the Rio – about the current state of play with boat "legality" and clearance in Guatemala. When we entered the Rio in June we were told we needed a three month cruising licence and that we could then apply for a 12 month extension which would still be valid should we leave and decide to return the following year. This is what "Beatrice" had done and, on coming in a second time the advice to them [in June 2013] was to either apply for a further 12 months or not bother with that if they weren't coming back again [in 2014] because the "fine" for 3 months of non-payment was about the same as the extension and less hassle??
Because we were first timers we dutifully bought our initial 3 months and then applied for our 12 month extension – which we still haven't got [in a written form and in our possession] and neither, it seems, have any other boats. I won't go into all the ins and outs and the conversations and rumours surrounding where any monies paid might have gone but the fact is that half way through the year the rules changed. As it stands at the moment we believe we are on record as having applied [and paid for] the 12 month extension and that next June we could just go back in. However, the rub now is that if we enter on that extension, when it expires in Sept 2014 we would have to leave the river for a minimum of 3 months before we could return to Guatemala and get a further extension. Well, who needs that right in the middle of hurricane season?
For those clever folks out there who have remembered that two paragraphs ago I said there was the "fine" option, rather than a further extension, well, that would still technically exist EXCEPT that as well as the fine per day there would be an additional US$500 [approx £350] payment required. We have spoken with Eugenio [the owner of Tijax marina] and to Raul [the "agent" you have to use for clearance, unless you want to go to the licensing court in Guatemala city yourself] and we believe that next year we will be able to "forego" our current extension and "start again" with the 3 months and then the 12 months. Or, there is apparently the possibility that the government will have been persuaded that 6 month licences would be the best way to encourage hurricane season cruisers. In offering 6 months the idea would be that after any two consecutive 6 month periods boats would then have to leave for 3 months – thus ensuring that people couldn't just keep their boat permanently in Guatemala without "importing" it legally, but that the "hurricane holers" would be adequately catered for and, if they chose, be able to come and go every year.
So, it's a case of "watch this space" for us now. We have told Tijax that we want to return next year but we will want assurance beforehand that whether it's a 3 + 12 month system which we can start again or a 6 month system, we would NOT have to leave in September.
Well, that aside took a bit longer to explain than I thought but maybe someone out there will find it interesting!
So, having got "Coquina" firing on all cylinders again [well, possibly!] Jon and Becky safely crossed the Livingston Bar in the company of "Smart Move". They are fairly shallow draft boats and were able to leave about 1.5 hours before "Beatrice" and ourselves. The arrangement was that we would follow our tried and tested incoming track back out and relay depths to "Beatrice" who would leave 15 minutes later.  But, possibly due to being rather anxious about the whole exercise, they proceeded to set off at about the same time as us and to follow a new track which had been radioed to the waiting fleet by a catamaran which had crossed just after "Coquina". We crossed safely. "Beatrice" ran aground and couldn't get off even though it was a rising tide and had to be hauled over in the semi dark [5pm] and pay for the privilege.
Because of the reported weather we had all decided that rather than just cross to Cabo Tres Puntas which, if the forecast was correct would be a lee shore, we would instead spend the night in Graciosa lagoon at the southern end of Tres Puntas. What a great idea. What a fantastic quiet, enclosed anchorage with good holding. BUT no one mentioned that local fishermen lay a line which hangs about six inches below the surface with no lights or markers and is impossible to see – certainly at dusk. Guess who managed to find it – yep "Siga Siga". We were well and truly stuck.
Despite our various woes – or maybe because of them – we spent the evening on board "Beatrice" celebrating Marlo's birthday with a wonderful Spaghetti meal provided by Larry, recounting our most recent adventures with engines, sandbars and fishing nets and making plans for solving the last of these three the following morning.
We arranged that Larry, Jon and Johnny would be available around 8am the following day to assist with any diving that needed to be done and so, when the fishermen woke us at 6.15am we told them our plans and they went away. At about 7.30am Mike started pulling and tying and pulling some more and it was clear that the line was wrapped very tight around the prop and that we would need the offered help. Unfortunately Larry was not feeling well so Mike collected Jon and Johnny who, it has to be said, turned into Super Heroes. They dived and cut and dived and cut and came on board for hot coffees and then dived and cut some more. It took about two hours until they felt they couldn't cut any more so Mike decided it was "now or never" time and turned the engine over. Off shot the last piece. Jon went down once more to check and hurrah – we were all clear. We couldn't thank the two of them enough but offered lots of coffee [with rum in it] and scrambled eggs and then Jon [and Becky] discovered that we have Marmite on board so felt that their reward was adequate….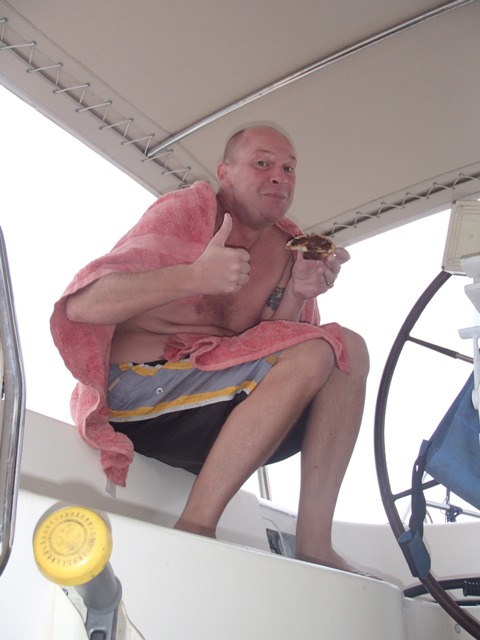 Meanwhile, the fisherman and his wife had returned to take away their net.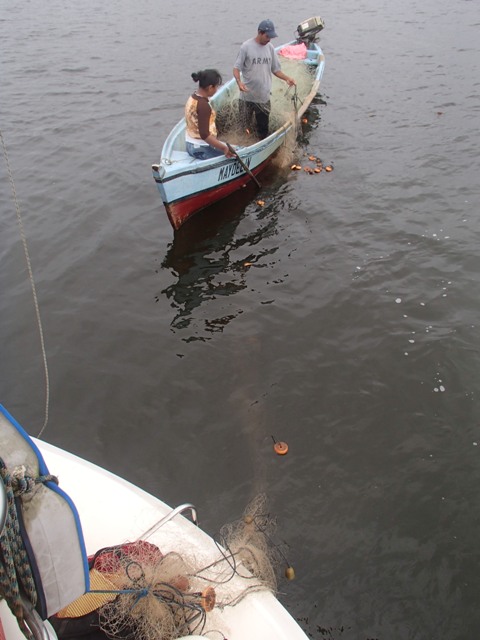 They probably lost about two foot off what must have been a hundred foot of very tatty, holey line. We gave them 100 Quetzals – which equates to about £8.50 – and, since the average weekly wage for a rural Guatemalan family is less than that we felt it was more than fair. They didn't seem to think so but when they were saying that it was a problem for them I told them that it was also a big problem for us – especially as at the time the Super Heroes were still struggling with the cutting and we didn't know whether we had any prop damage and/or whether we would need to call out and pay for people with proper diving gear to clear us. So Q100 was all they were getting and they finally got the message and left.
The following morning dawned fair….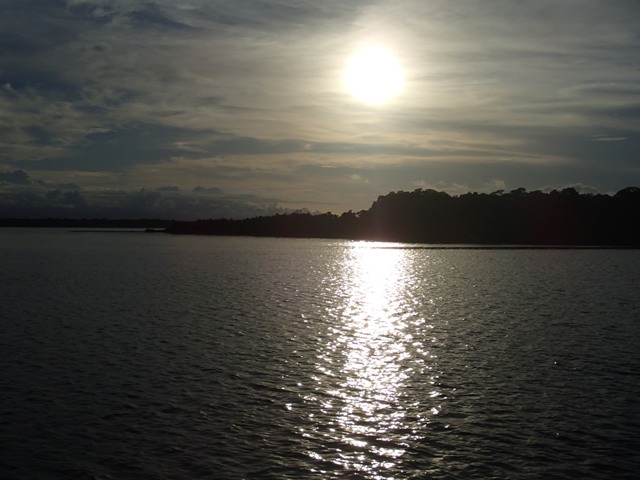 …..and, by 8am our small fleet was ready to leave….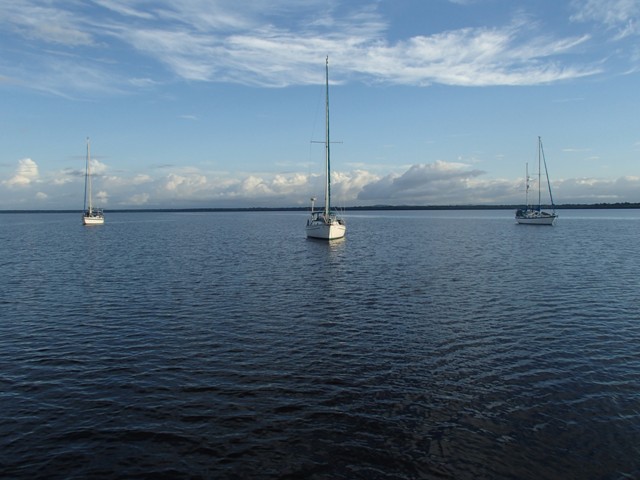 ["Beatrice" on the left of the photo, "Coquina" in the centre and "Smart Move" on the right.]
"Coquina" and "Smart Move" departed at 8am, "Beatrice" at 10am and we were about to follow them, and had started the engine, when we heard the most awful noise coming from the engine room area. We had run the engine the previous evening and turned the prop a few times so we weren't expecting a problem but it was very scary for about a minute, which felt like an hour, as the loud screeching and whining continued. It was the V belt on the alternator which had slipped and wasn't responding well to the full load we were putting on it with the cranking battery, the domestic batteries and the windlass battery all needing lots of power at once. It was certainly a great feeling to know that it wasn't the prop or, as I thought at one point, some misalignment caused by the strain on the underside of that tight line.
After all the excitement of the previous 48 hours I am delighted to be able to report that the 113 mile passage to Utila then passed without incident. We were bowling along at almost 7 knots and had to slow down so that we arrived in daylight. We tested the SSB and got weather and sent and received e.mails, the AIS worked perfectly and gave us all the details, speed, direction and passing point of a container ship which, if we hadn't had the AIS would have felt very threatening, and we had a beautiful almost full moon in clear skies.
The entrance to Utila is shallow, but not too difficult if you take note of the marker buoys around the reef and we anchored safely at 7.45am on Sunday 15th December.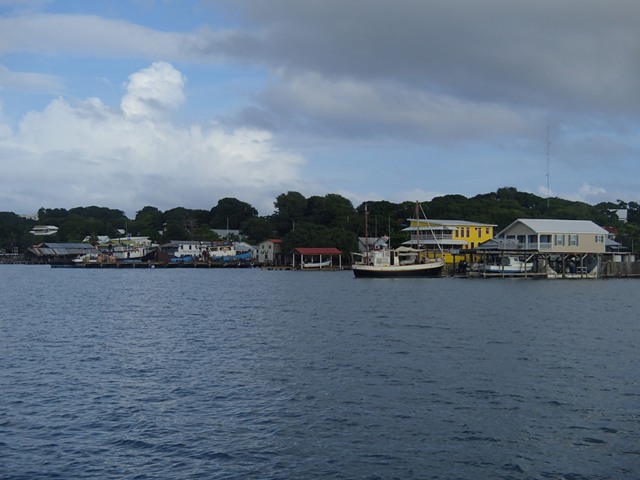 The Port Captain and Immigration don't work on Sunday so we were able to give the dinghy another 24 hours of glue setting as Mike had discovered another seam problem just before we left the lagoon.
Utila has a reputation for poor holding but we had light winds and a beautiful sunset…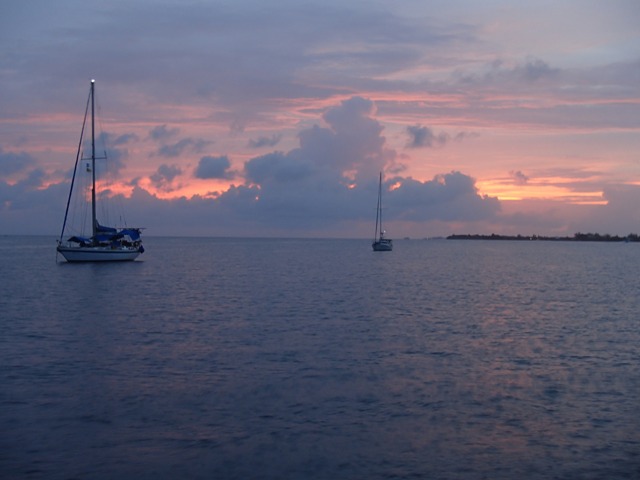 …and Mike was more than content with his book, a ciggie and a rum and coke before an evening meal and an early night to compensate for the previous nights semi sleep deprivation during the night passage.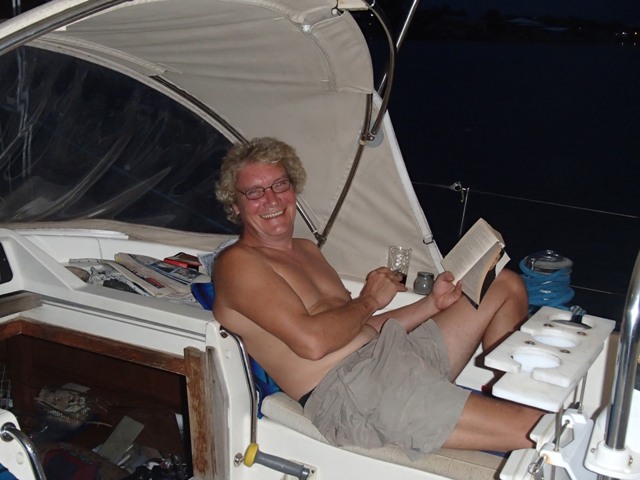 On Monday morning we waited out a small rain shower and then went into the town for Clearance – and what a delight that was. S/Y "Balvenie" [who we met in Barbados and whose blog notes we sometime use to guide us to places they have visited before us] reported a very rude "welcome" by Immigration. We had an excellent welcome, no hassle at all from the Port Captain or the guy in Immigration. We paid 400 Lempira [approx £12.00] for a 90 day Cruising permit, spent about 15 minutes total in the two offices and that was that. "Balvenie" had written of a female Immigration officer – so maybe it's just the luck of the draw?
Utila has one town and we wandered around, looking mainly for Internet to report our arrival to all you good folk out there. Despite finding two bars which said they had it we weren't able to connect. Still we got beers and pleasant views whilst trying!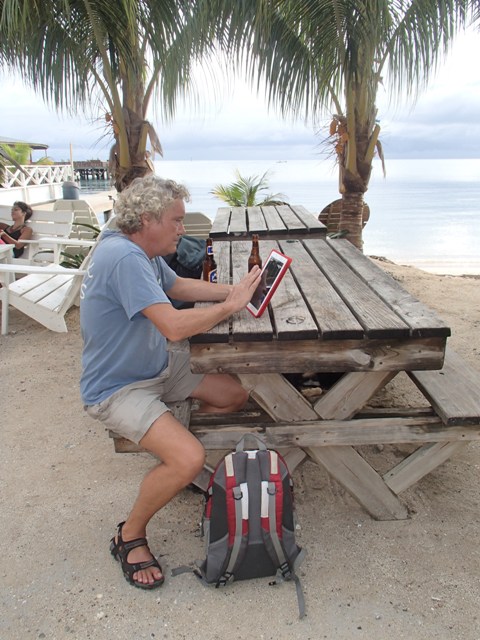 We also came across an excellent looking small bar/restaurant [unfortunately closed that day] whose proprietor clearly has a sense of humour. We loved the signs, especially the one at the bottom left as you look at the photo [Sorry Jack – but as you are an honorary Irishman it obviously doesn't apply!]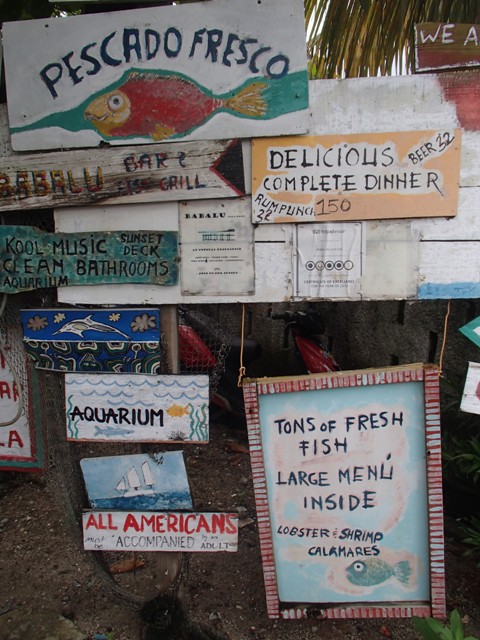 On Tuesday it rained for much of the day and other than Mike going across to "Coquina" to help them re-anchor after they had dragged, we didn't leave the boat. I said above that Utila is known for poor holding and, following "Coquina" dragging, "Beatrice" also moved about 10m overnight but fortunately dug in again. We didn't move at all during Monday or Tuesday but unfortunately, after more than 6 hours of behaving like a rocking horse – following a wind shift to the SW [the direction from which the anchorage is unprotected], our anchor decided it had had enough and we found ourselves heading rapidly toward the shore. Given that the wind was SW and that Roatan lies to the NE of Utila, rather than mess around re-anchoring and then continuing to rock, we decided to leave.
We covered the 32 miles in 5.5 hours and arrived outside French Cay Harbour just before 4.00pm. Balvenie's instructions for the slightly complicated entrance into the anchorage were excellent but it was really great that Allan ["Nauti Nauti"] and JD ["Kokopelli"] – who you have seen photos of in our Rio blog entries – came out in their dinghies to escort us in. We anchored safely behind Kokopelli and have been here since.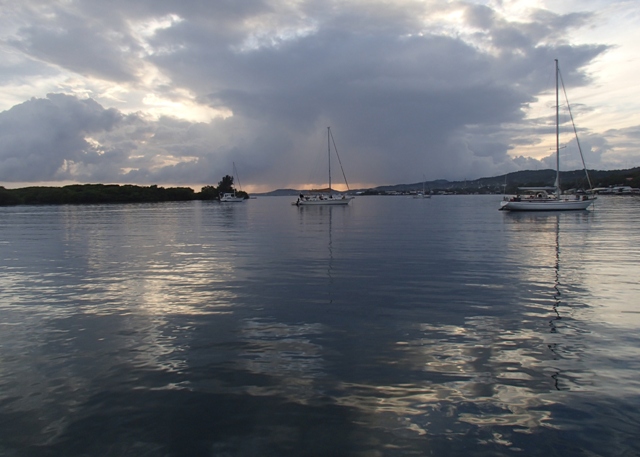 We will certainly return to Utila as it seems like a really nice place. We have now received additional information on the best place to anchor there [basically on the opposite side of the bay to where we were!] but, until then Siga Siga has her table decoration ready….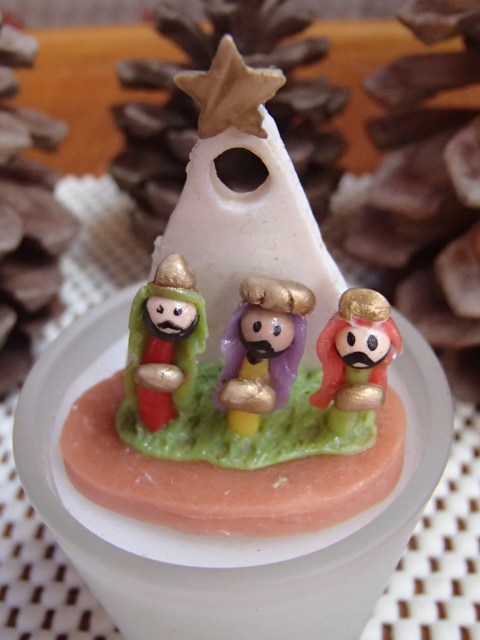 …..the drinks are poured…..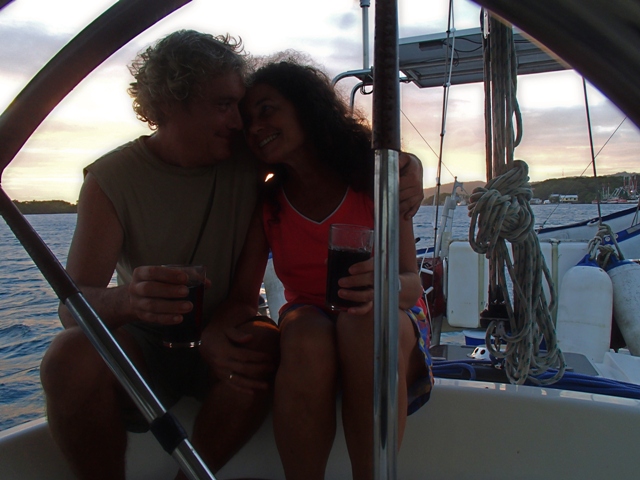 …and, it's a Merry Xmas to you all…