In an earlier post – about visa renewal – I mentioned in passing that, painful though it might be, on that occasion we decided against a visit to a micro brewery in Honduras. But, finding a bit of time on our hands [well, making time between jobs actually] and having a good excuse [my birthday treat] we decided to make a long weekend trip to the D+D Brewery close to the shore of Lago Yojoa. Wanting to be fully supportive of this idea, Steph and Stu – feeling that they couldn't possibly let us undertake a beer tasting journey alone – opted to come with us.
The trip there was fairly uneventful – if a bit longer than we had expected. We caught a Fuente del Norte bus in Rio Dulce direct to San Pedro Sula [approx 4.5 hours – including 2 x border crossing posts]. The border part went very smoothly and we can see why so many people opt for this route for their visa renewal even if it is technically "illegal". We then took a small "collectivo" bound for El Mochito which dropped us off at the end of the lane to the brewery around 2.5 hours after it left the bus station in SPS. It was this 2.5 hour part of the overall journey which was the surprising bit – these countries look a lot smaller on a map than they really are and, when you pay 50 Lempira [£1.66] for a bus journey you don't necessarily expect to be still travelling over 2 hours later – after all, £1.66 would scarcely get us a 15 minute ride from Rawtenstall to Ramsbottom [even if there was such a bus!].
The brewery is only small but it produces six different beers – Stout, Amber Ale, Pale Ale and three fruit beers [Raspberry, Blueberry and Apricot, the latter of which was surprisingly good]. They also make two or three soft drinks like Cream Soda and Lemonade, which were good for putting with Rum, but which we didn't try "unadorned". Mike and I liked the Amber Ale but the most popular beer of the weekend was the Pale Ale, also known as "Lenca", named after the original local Mayan inhabitants.
A surprising variety of very good quality meals were also available in the pleasant bar….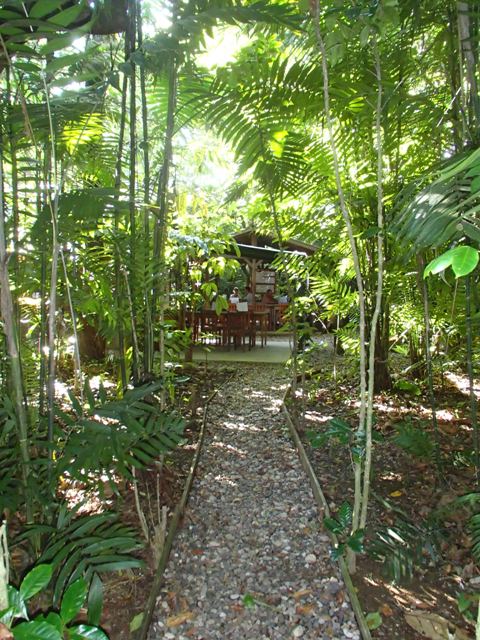 ….which was a good job as there was nowhere else to go! Some places might have taken advantage of the fact that they have a captive audience but we also found the food to be excellent value – especially the Ceviche.
The brewery has rooms which can be shared by two or three people and cost £5.10 per night per person. Some of the comments on "Trip Advisor" recommended the cabins as a good alternative option and this is what we got for our £20 per night [for the two of us].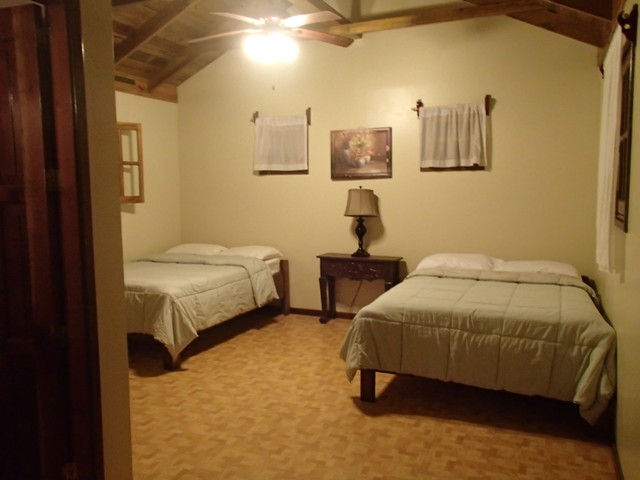 We did make the offer to Stu and Steph to share the cabin but they took their own "basic" room which was, as the name suggests, pretty basic. It had a bed and private facilities but nothing else. We had a wardrobe and the small table and reading lamp you can see. We also had a whirlpool bath as well as a shower.
Now, who's birthday treat did I say this was – oh yes, mine – but it was quite hard to believe some of the time….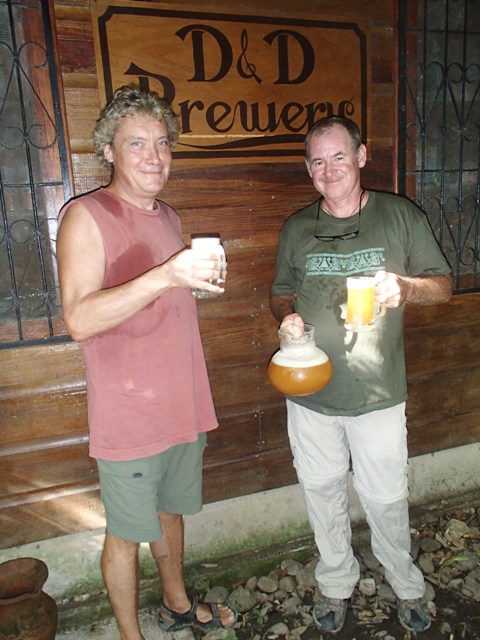 …..though on this occasion the guys deserved a cooling beer after one of our walks. Steph and I went for Margaritas.
Our first walk was down through the forest….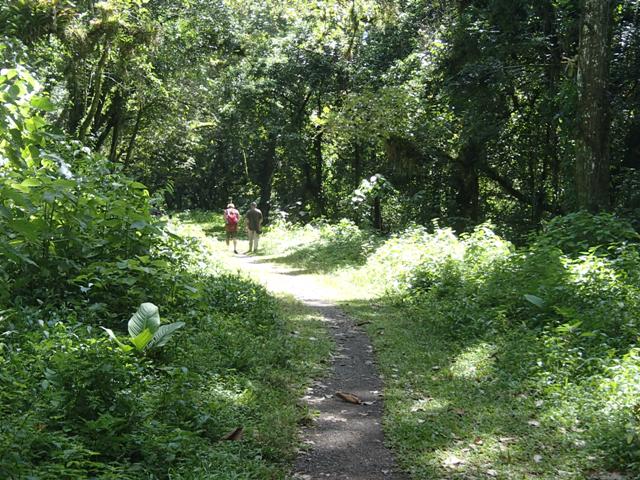 …..to the edge of the lake.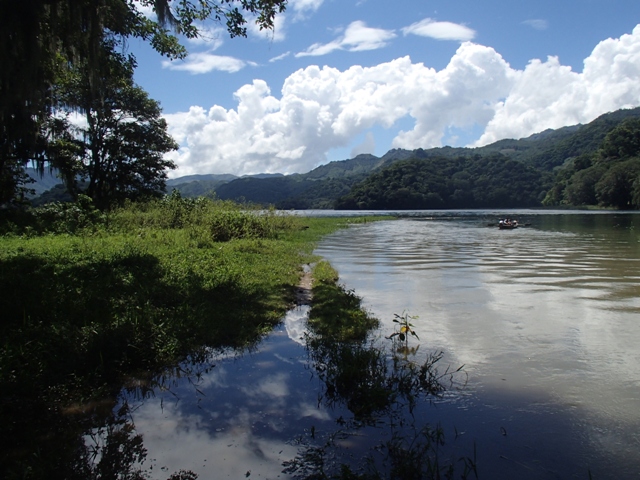 Unfortunately, there had been quite a bit of rain and we couldn't actually walk along the shoreline. There was also a bit of a "log jam" on the path but with judicious use of the wire handrail, we all managed without falling into the river.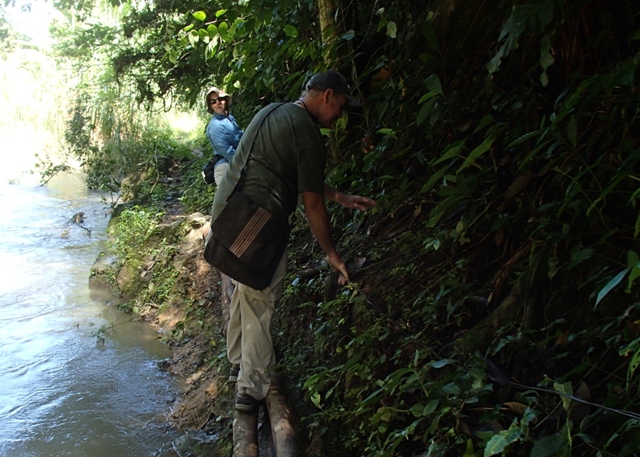 From the lake we found our way into the archaeological and ecological park. Can't say much for the archaeological parts…..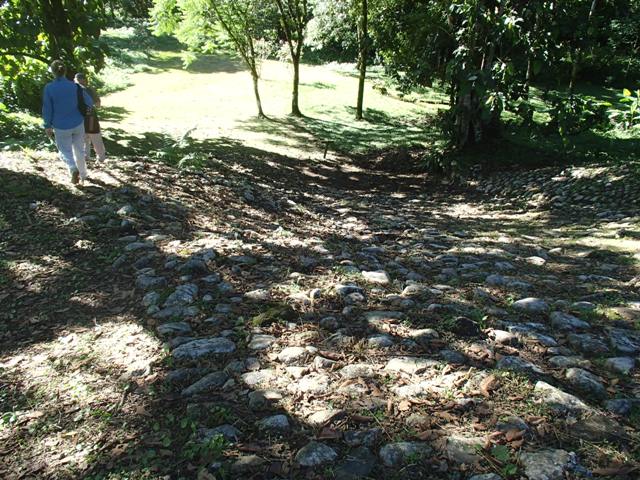 …..especially as this was the place most mozzies seemed to concentrate – so we beat a hasty retreat. However, the small museum was quite interesting and Mike found that the Lenca folk obviously had a kind of boy's third form humour….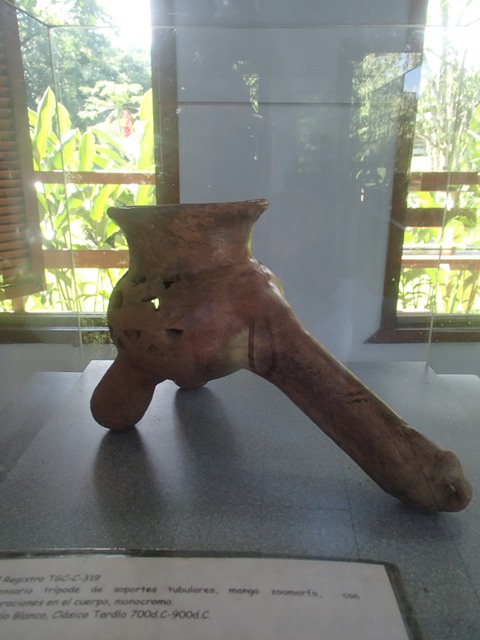 …. or is it just Mike which has that [I'm talking about the humour!].
The parkland – and in particular the walkway above the wetland – was really nice……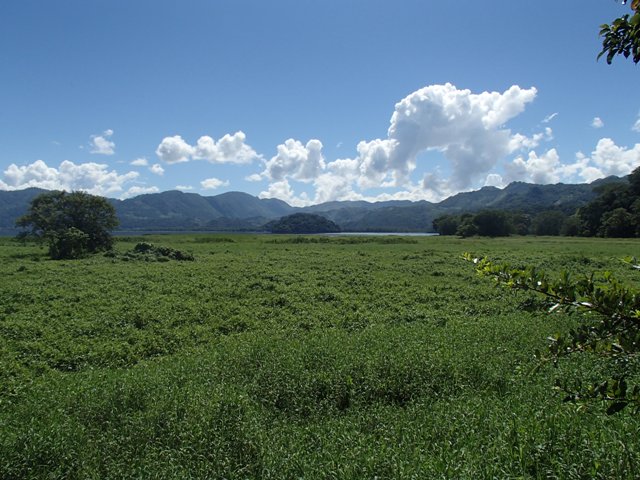 ….and we saw quite a few birds, some of which Mike and I actually recognised having done the Tikal bird watching trip. We also came across a large ladybird……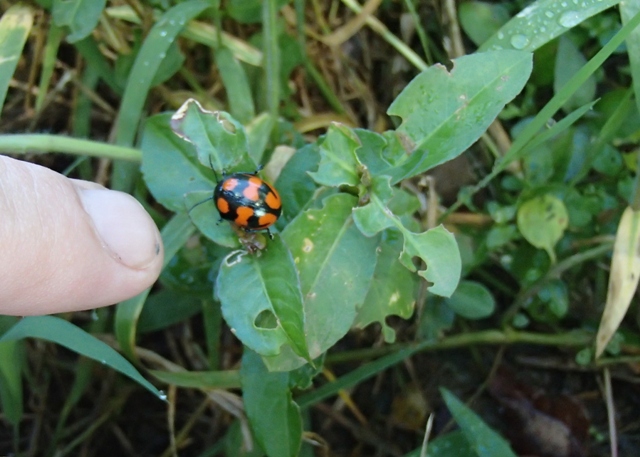 ….though, even with Stuart's finger as a gauge, it doesn't look that big- but it was about three times the size of a UK one.
I also found a rather unusual spider with a hard shell???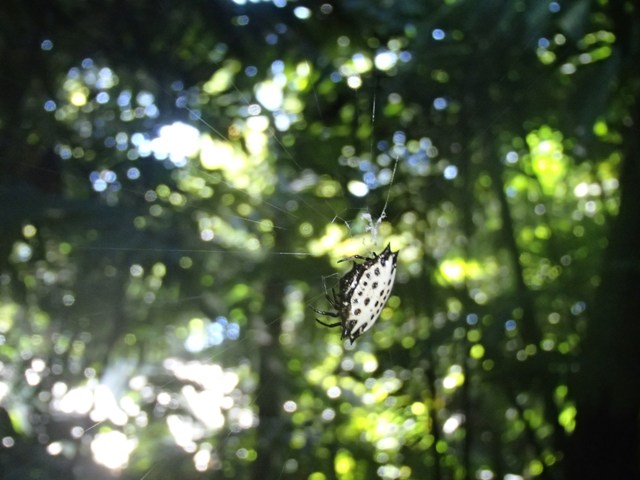 To get to and from the wetlands we had to cross the canal…
…which was built to carry the lake water to the nearby hydro-electric plant. It was possible to hire rowing boats or kayaks and take to the canal or opt for a kind of rafting in tyres trip down the river but we didn't have the time [or the inclination] for any of these adventures, nor for the caving or either of the two waterfall walks which were on offer.
On our second day we went to the nearby coffee plantation….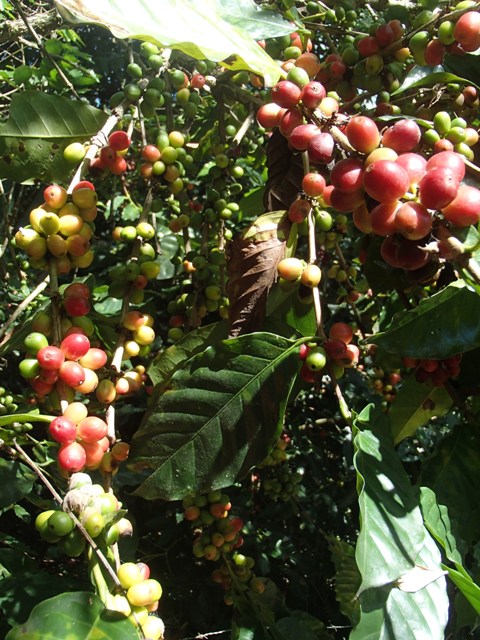 ….where, accompanied by "Fido" [no need for "Preston" to be jealous – no land crabs in sight!] …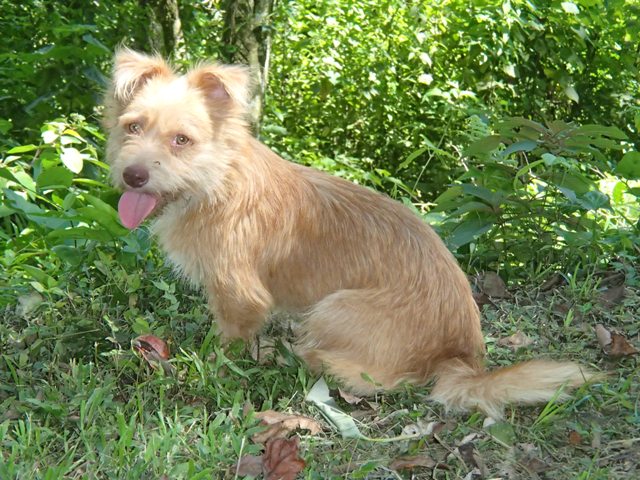 …. we climbed various miradors [look-out points], including one with a slightly more interesting Lenca ritual site.
Amusingly we got three quarters of the way down from the first mirador when Steph realised she had left her hat at the top, so she had to go back for it and Stuart decided he had better accompany her. At the base of the second one we noticed that Stuart's hat was missing – and yes, once more, it had been left at the top. Steph didn't accompany Stuart – sometimes it's good to be a girlie!
We were disappointed that the coffee plantation didn't actually serve coffee – or anything really other than Coke and a kind of lurid pink drink, neither of which we fancied – so we headed back through the small village…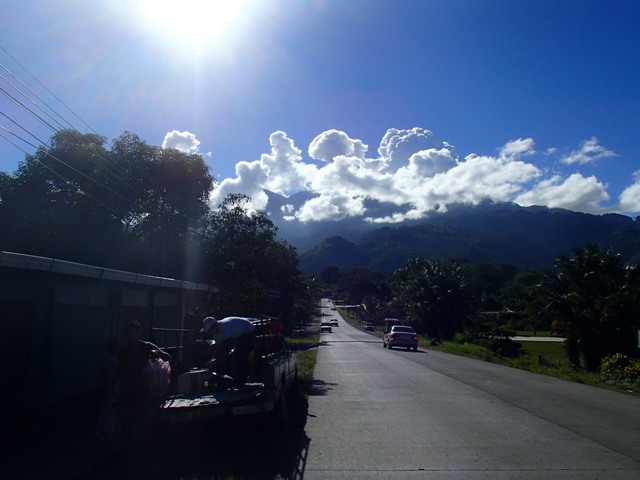 ….and onwards to the almost equally small town of Peña Blanca [which was a bit like a miniature version of Rio Dulce and not worth a photo at all – though we did find an excellent coffee shop there].
It seems that my blogs can't be written without some mention of the flora and fauna. We have already done insect life in this one so it just remains for me to show you some guinea fowl which graced the gardens in the coffee plantation….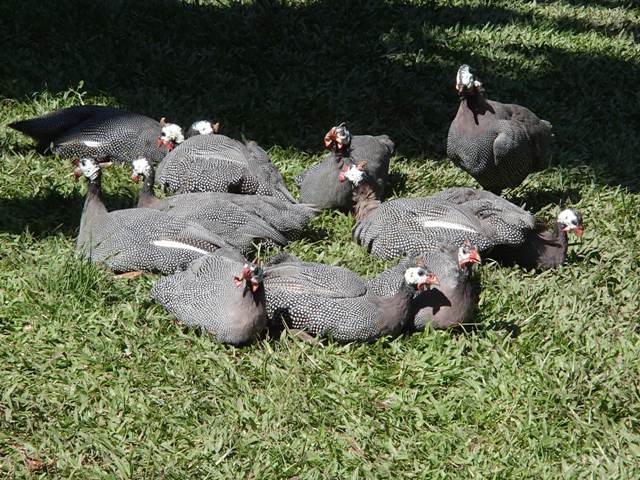 …and the flowers which abound in the grounds of the brewery.
Our final day was spent walking up "The Butt Cheeks". There is a real name for the hills but, before we set out, the kiwi guy who works at the brewery – and who was our guide on the walk – told us that locally they are known as the Butt Cheeks and that we were going to walk "up the crack". Nice! Actually, it was very nice – if a little strenuous with a one and a half hour climb up – but the view over the countryside was certainly worth it.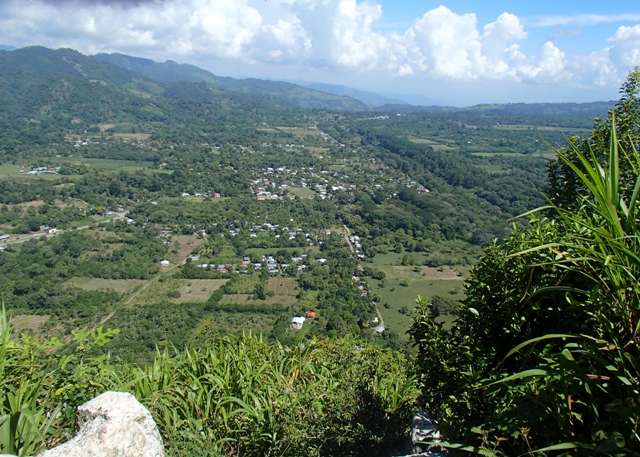 Thus, our short weekend away came to an end, except for the journey back. Having decided that we didn't want to reverse our outward journey – mainly because the Fuente del Norte bus leaves San Pedro Sula at 5.30am – we chanced our luck using collectivas all the way. Although it took about 9 hours and, on our fourth [out of five separate collectivas] we were one of 23 passengers crushed in and hanging out of the 15 seater bus, we made it back without any problems.
So, the D+D Brewery proved a resounding "Hit" for all of us and we felt that Lake Yojoa was well worth the visit too.