We were surprised and delighted when, about two months ago, we received an e.mail from our friends – Steve and Mary – asking whether we were still here in Guatemala and whether a visit was possible. In answer to those questions it was "Yes" and "Absolutely Yes, that would be fantastic" and so, on Sunday 6th October they arrived in Rio Dulce for the start of what proved to be twelve action packed days whizzing around taking in the sights and sounds Guatemala has to offer.
As regular readers of this blog will be aware, Mike and I had already visited the city of Antigua twice and Lake Atitlan once. We knew that we would love to share both of these places with Steve and Mary but we wanted them to have a say about where we went too so, after various e.mails back and forth, we settled on the above mentioned places for the second week [especially as Antigua is only a quick transfer back to the airport – though it was strict instructions all round that we weren't going to talk about going back before they even got here!] and a four day/three night trip to Tikal and Flores during the first week.
As Dave and Maggie know [because they visited it as a side trip during their stay with us in Belize] Tikal is one of the must see sights of Guatemala.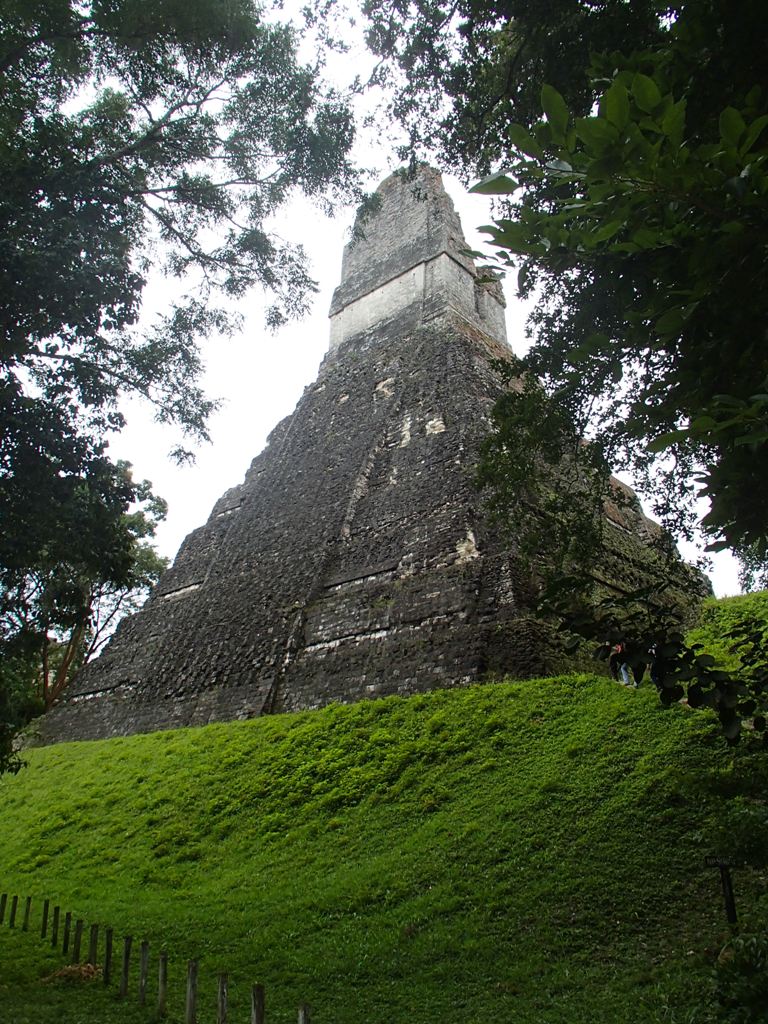 We had also been told that to make the most of the jungle experience it is particularly good to stay at one of the park lodges and so we opted for the Jaguar Inn.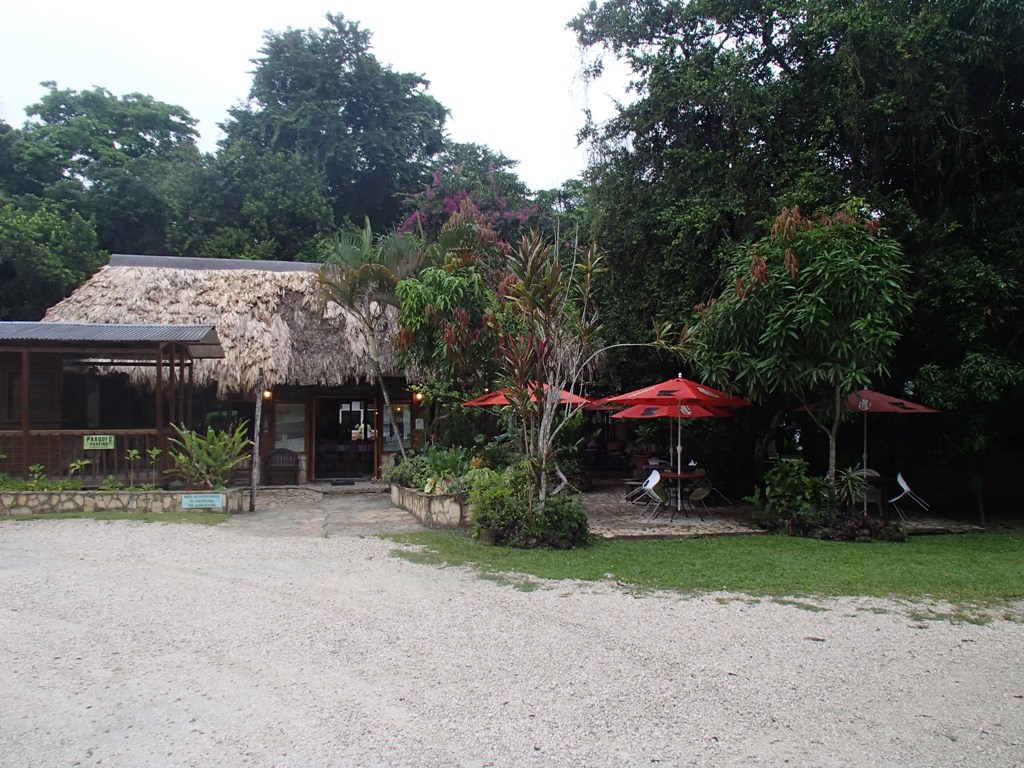 There is an option to camp but as we don't have any camping equipment [now, now – no sarcastic comments about Siga Siga and our lifestyle being only a couple of steps up from camping] and the camping option sounding like it would be rather too mosquito ridden, we booked a couple of the small cabins…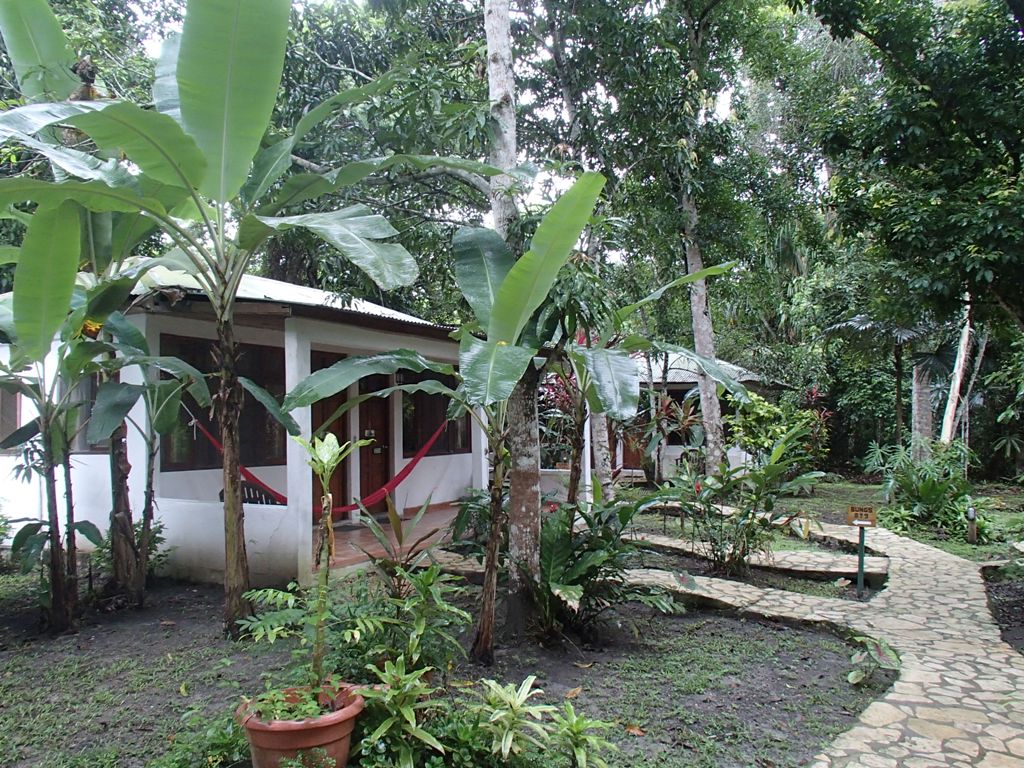 We did right…. The cabins were clean and cosy with hammocks strung outside for relaxing in and, if the two hour walk in the park late afternoon on the day of our arrival was anything to go by, then camping would have been mozzie feast day. But, we shouldn't complain because we got three "free" hours in the park that day – arriving after three pm means you can purchase a day ticket [6am to 6pm] for the following day but also go into the park until it closes on the day of your arrival.
We were the only visitors at the Jaguar Inn – no reflection on the Inn or the service; it's just a quiet time of year. It was rather strange that they turn the electricity off at 9pm but as this is to conserve energy who are we to complain. In any case, the beers had been bought [and drunk] by then, Steve and Mary were still suffering the after effects of their flight and two long bus journeys and we had also arranged for an early morning tour so we were quite happy not to spend the night partying. The other advantage of an early night is that we woke up in time to hear the howler monkeys – this really makes you feel a part of the jungle – the sound they make is a kind of growl which goes on for quite a while, rather difficult to explain really – it is something you will have to put on your "to do list" if you want to experience it [and it might also mean we get the pleasure of some more visitors!]
But, back to this visit and the tour we had booked. Seemingly there are four main tour options. You can book a guide for the day, a sunrise tour, a sunset tour or a bird-watching morning tour. Well, you know us – we prefer to explore on our own, so the guide for the day was a non-starter, in relation to sunrise and sunset – this happens so quickly and in fact, if it's rainy, may not be particularly spectacular – so, as Mary had put bird watching on her "wish list" the fourth option seemed the obvious choice. Apart from this, bird-watching starts at 6.30am so you are up in time for sunrise anyway and as noted above, the early morning sounds of the jungle were available to us because we were staying right in the middle of it and, Dave and Maggie recommended it as a worthwhile tour.
Our guide was a guy called Miguel whose father had worked as a gum collector in the jungle before it became a National Park. He taught himself all about the birds, could recognise over 300 and could imitate more than 100, and had learnt English when working on the sites archaeological digs with English speaking students. A very nice, and clever,man…..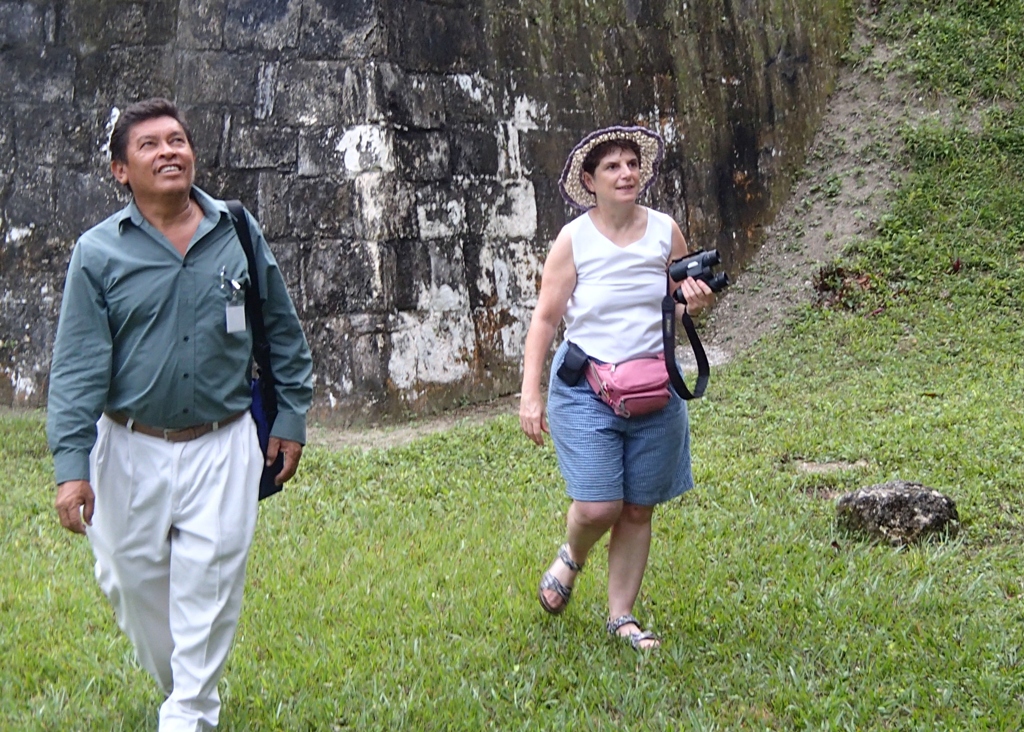 At the end of our three hours with him Mary was given a list of all the different birds we had seen. From memory there were about 68 different ones. My favourite was a red headed woodpecker, Mike liked the parakeets, Mary liked them all and as Mary was happy then Steve was happy to like them all too. I am sure Steve has got some good photographs but I only had my small camera which can't zoom in close enough so the only half decent photograph I managed was this silhouette of a hawk.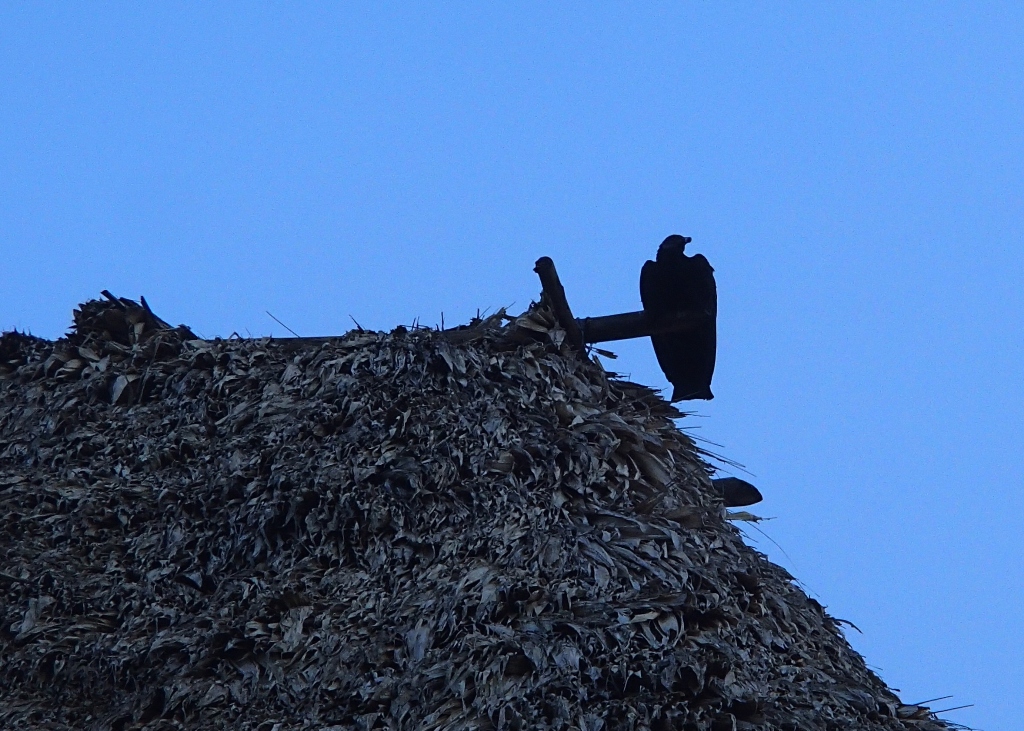 Birds weren't the only creatures which caught our attention. There were Agoutis and one small Crocodile [no photos there either!], but I did manage one of a Coatimundi….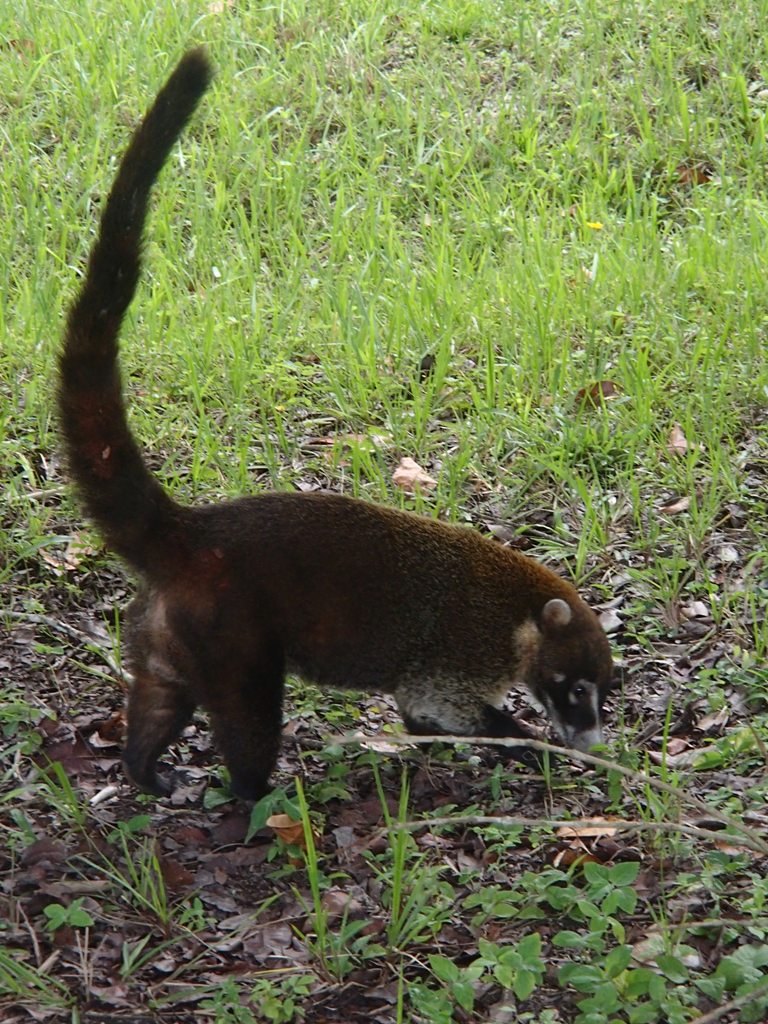 ….Mike took this very large and colourful caterpillar….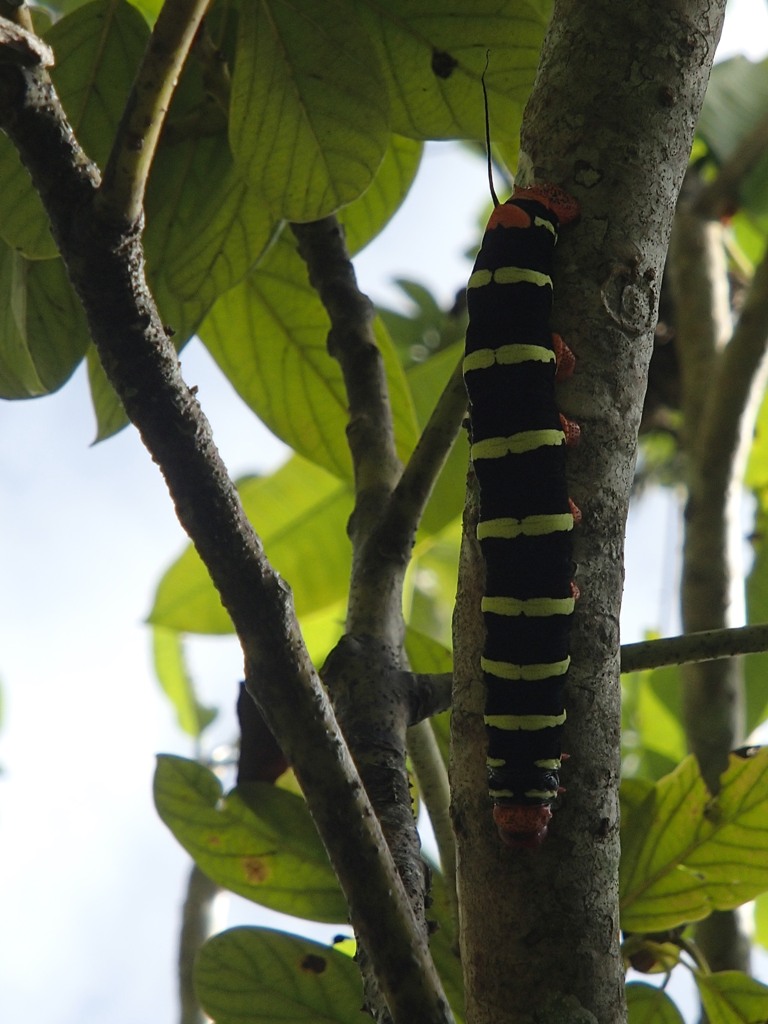 …. a slightly less colourful – but equally large – spider…..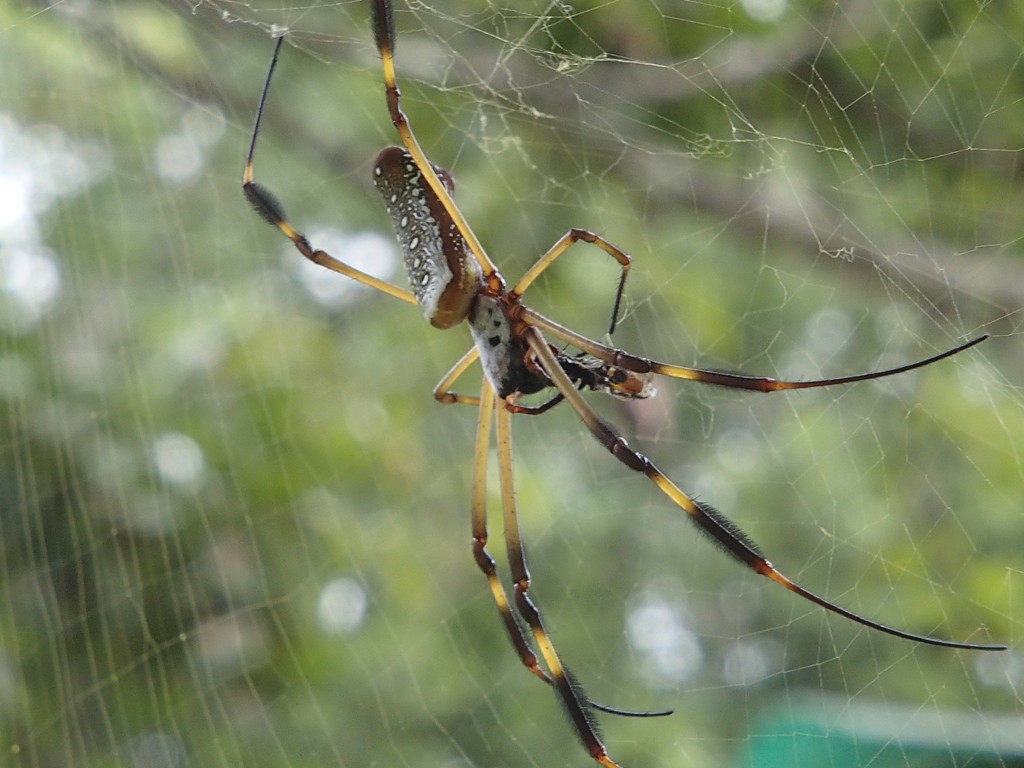 ….and a small snake….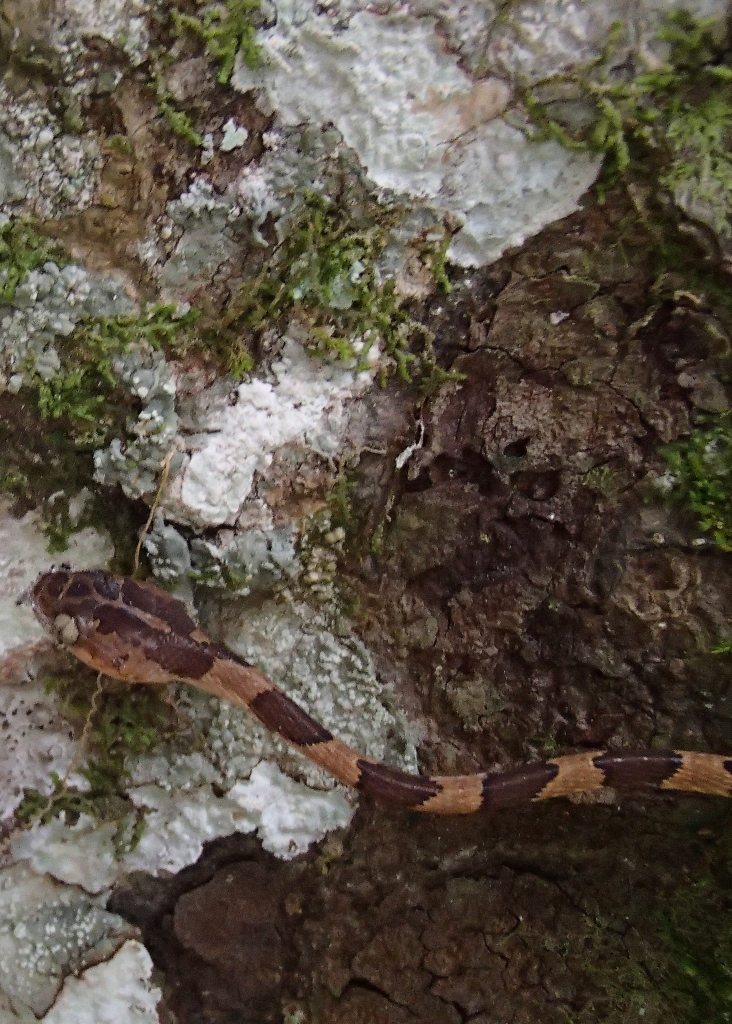 I have already mentioned that there are gum trees in the park but perhaps the most amazing trees are the Ceiba. This tree chooses its style of growth dependent on the surrounding foliage. If it's on its own or with only ground cover around it then it grows to about 10-12ft and spreads its branches some distance sideways. If it is surrounded by other trees then it grows to whatever height it needs to be above them and its branches are relatively compact. Yet again, I failed to take a photo of the shorter more spread out version [basically because at the time Miguel just said – "This is a Ceiba tree" and it wasn't until we came to the tall one that he gave the full explanation] but here is the tall version….
You may be wondering why I am blathering on about birds, animals, insects and trees when Tikal is about stones, statues and temples – but don't worry there are more photos of these too, with the usual context and history that you have by now come to expect.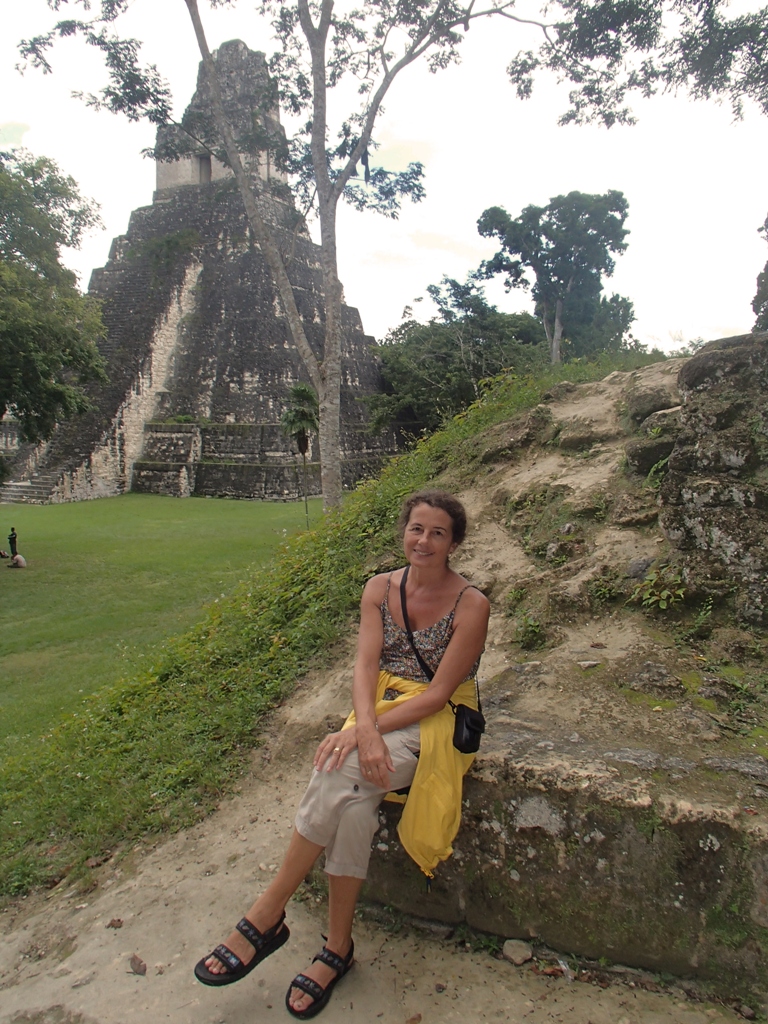 Tikal is set on a low hill surrounded by swamp/jungle and, from the top of the highest temple [Temple IV at around 61m] it is possible to see for miles around and also spot the odd bits of other temples poking through the treetops.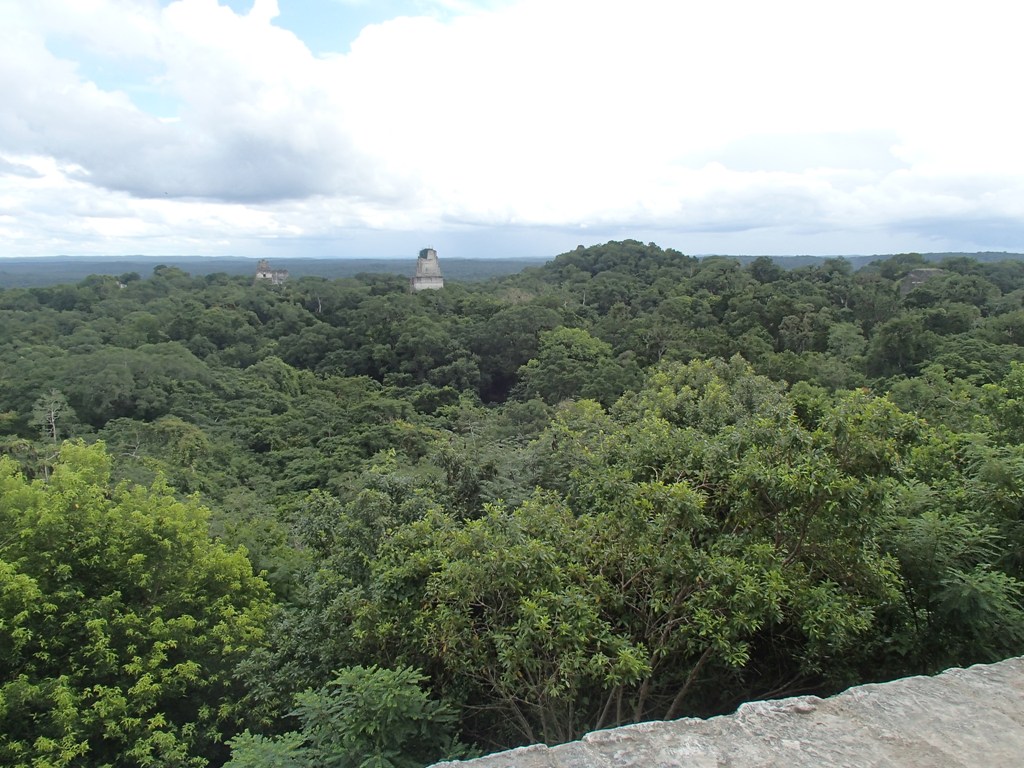 Looking around the site is therefore a vastly different experience from that of Chíchen Itzá [which we visited in Mexico] or, we are told, Copán [Honduras] because at those sites it is possible to see almost everything from one vantage point. At Tikal the temples and other building ruins disappear into the rainforest and even though you know there is another building close-by [as you have just climbed up and down it], once around the corner or 10m or so down the trail, it is no longer visible. The fact that many of the temples and ruins can actually be climbed also makes for a very different experience than other sites we have visited.
We were pleasantly surprised on one occasion when, having made our way up the back of what were once multi layered accommodations [kind of like flats!], almost all of the main plaza suddenly appeared below us and, although the small palappa roofs are now there to cover some of the altars and hieroglyphics, from a distance it did give an impression of what Tikal may have looked like when people lived there.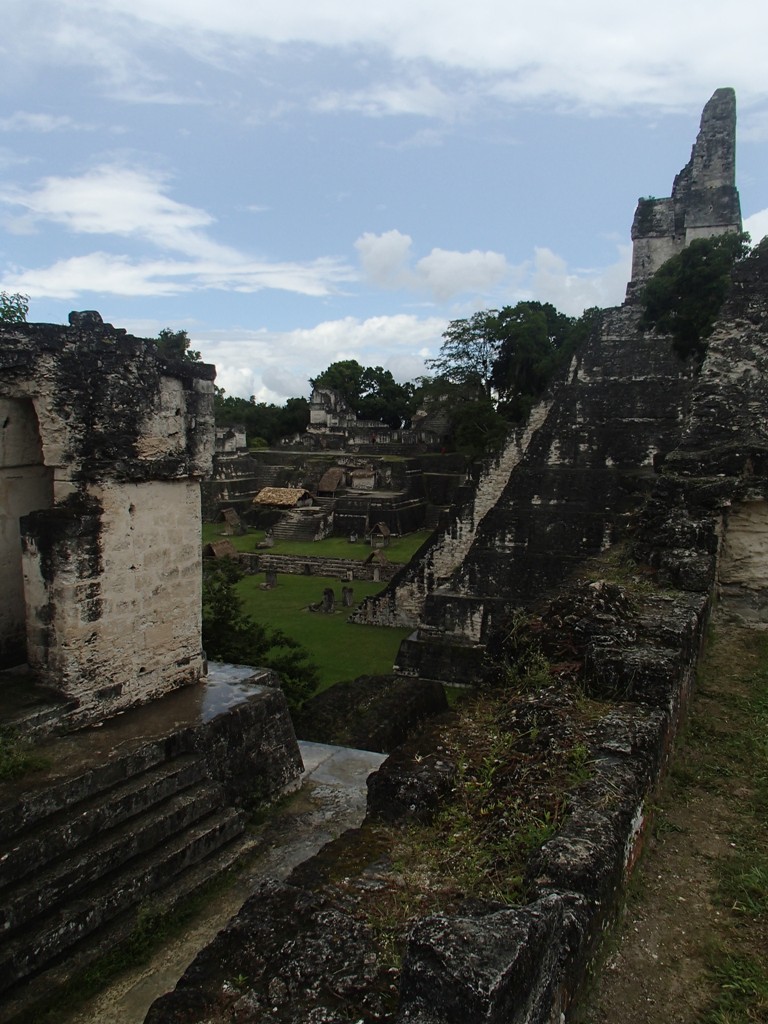 Although the first Mayans settled in Tikal in approx 700BC it wasn't until about 900 years later that the Great Plaza assumed its present shape and extent as, by then, Tikal had become a heavily populated religious, cultural and commercial city. By the middle of the classic Mayan period [mid C6AD] the city sprawled over more than 30 sq km and had a population of around 100,000.
Speaking of altars and hieroglyphics, here are examples of each….
…. though I think, by far, our favourite carving was this magnificent face……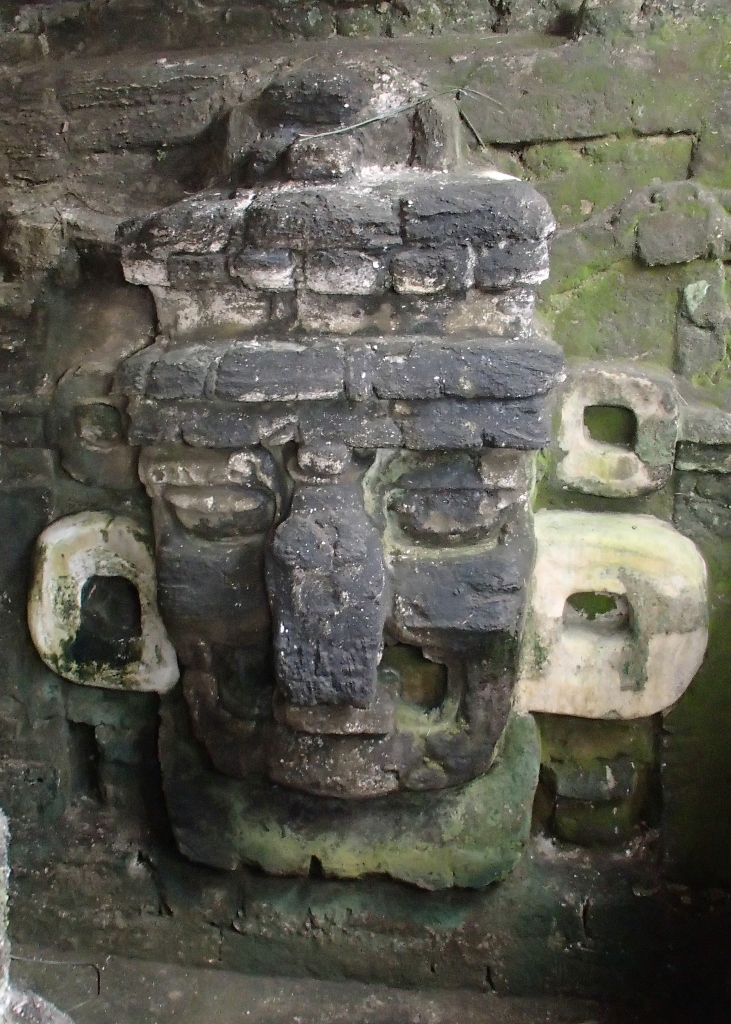 A part of Tikal that we all liked very much was "El Mundo Perdido" or "the lost world" where many smaller temples surround a 32m high pyramid. Many of the ruins remain totally hidden in the undergrowth and it seems that the National Park/University/Heritage Associations have decided that much of the charm of Tikal results from the fact that many of the structures have not been cleared of vines and other foliage. We agree – there was definitely something magical about Tikal, especially the lost world where Mike and I did, in fact, lose Steve and Mary – or maybe they lost us? Whatever, separately we enjoyed our own little adventures before meeting up at the end of the day for a well earned beer. To be fair, Steve and Mary probably earned it more than we did as they were further away from the Jaguar Inn when the skies darkened and the thunder started – so they got absolutely drenched whereas we made it back quite dry.
Keen to make the most of their stay Steve and Mary were up early again the following morning [Mike and I were still in the land of nod] and they walked through some of the outer park before breakfast. It was then off on a short [1hour] collectivo bus ride to the small town of Flores, which is rather spectacularly located on a small island in Lago [Lake] de Petén Itzá. Flores, or Tayasal as it was originally called, was founded by the Itzáes on the petén [island] after the Itzáes had been expelled from Chíchen Itzá and, at the time of its conquest by the Spaniards in 1697 it was the last major functioning Mayan ceremonial centre covered in temples, pyramids and idols. It's a shame that the Spaniards were such god-fearing men –otherwise maybe they wouldn't have destroyed every last vestige of this ceremonial site!
Today Flores is a lovely place to spend a few hours relaxing and taking in the ambience of the cobbled streets, the old houses and the waterfront.
It takes about 20 minutes to walk around the whole of it with many cafes and restaurants to entice en route. We were there for the night of 9th October which just happened to be Steve's birthday [Happy Birthday to Steve etc etc] and we began celebrating with a couple of cocktails at lunchtime….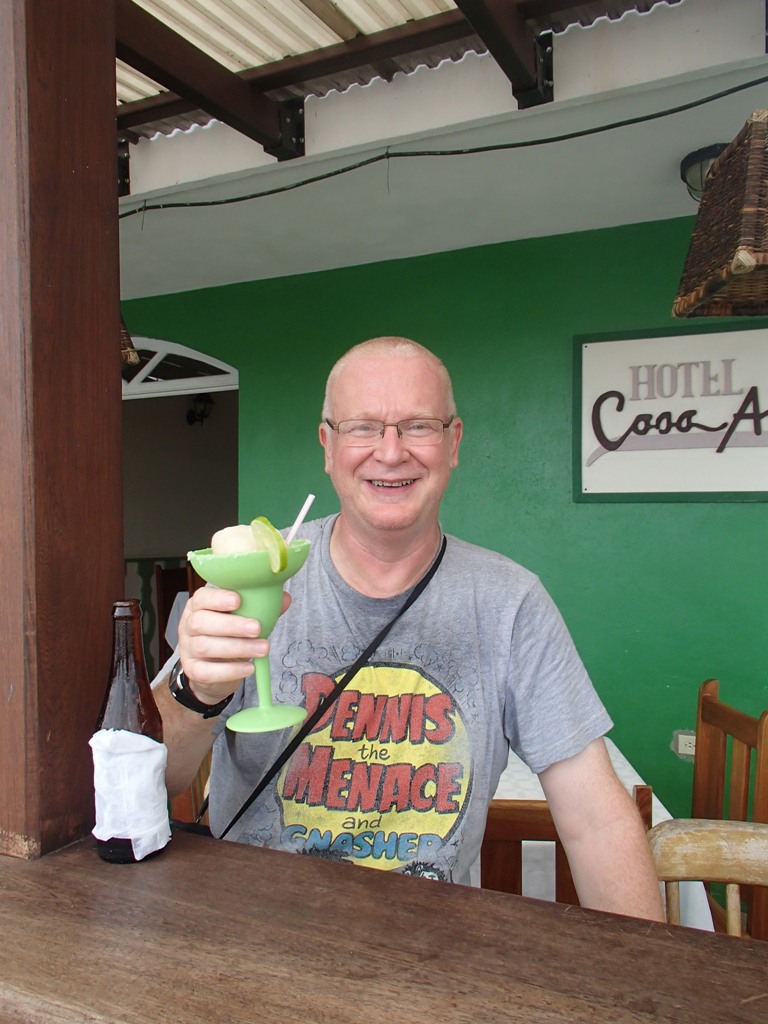 Well, you have to do these things don't you even if we then decided to be unusually sensible by moving on to ice-cream and seeing the sights before a convivial early evening drink whilst watching the sun go down [and the lamp post was bent – its not me!] …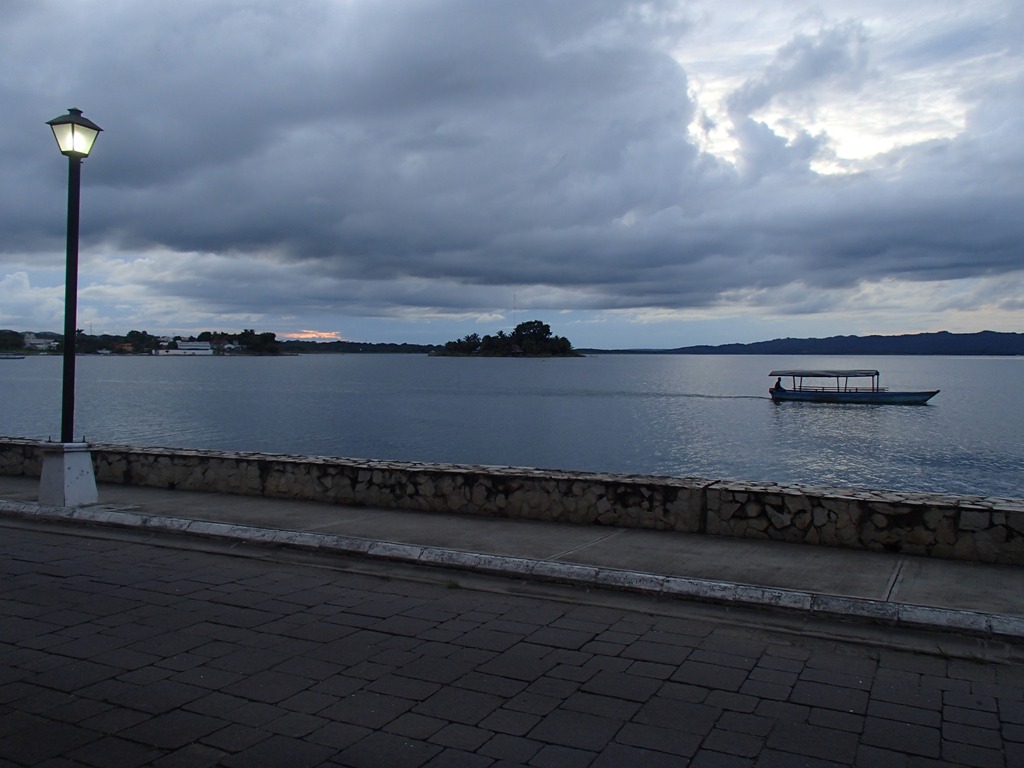 …taking in the flora [well we were in Flores]….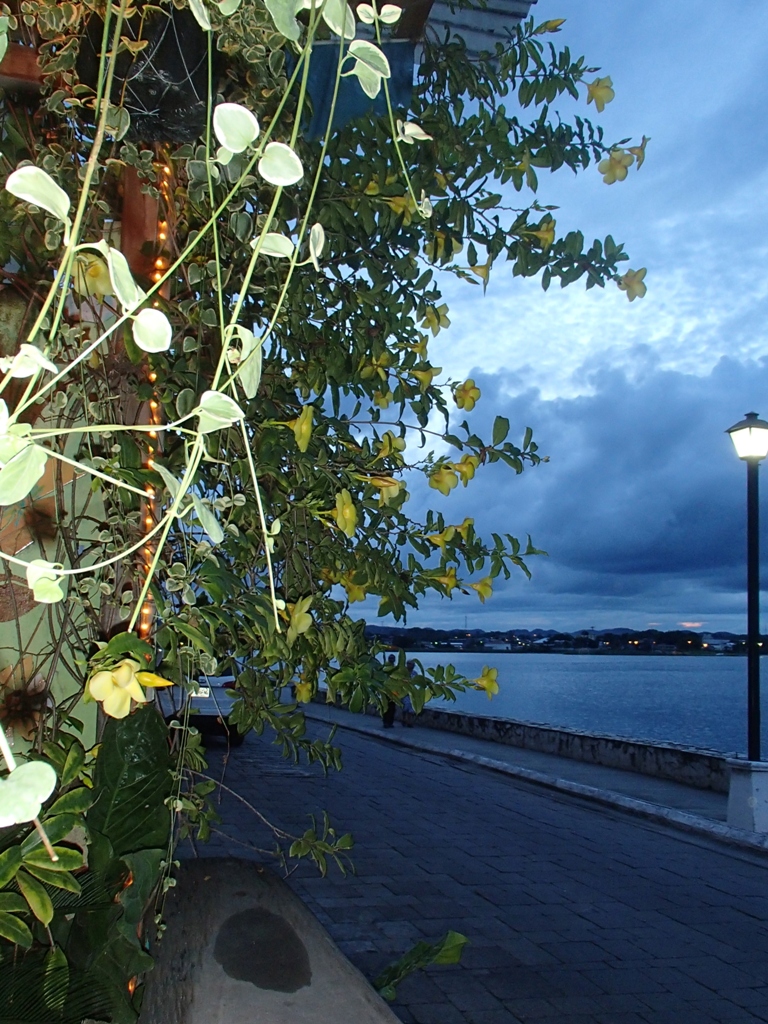 and contemplating the world and life in general whilst looking out over the lake…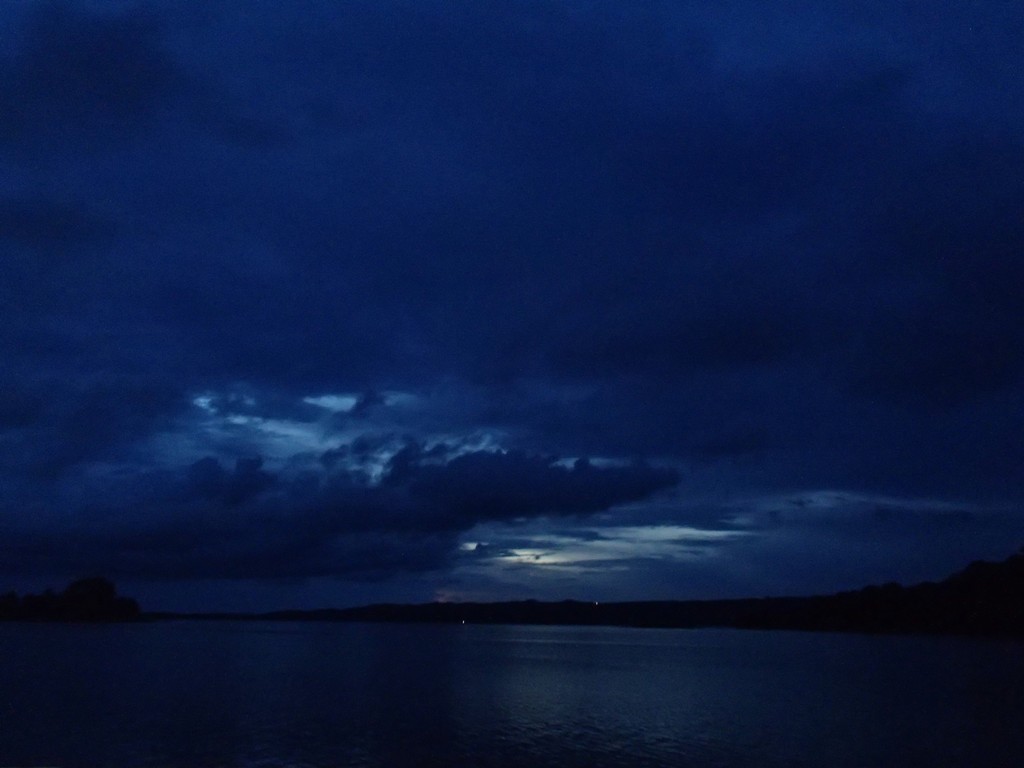 It was then time for a meal at the lovely "La Luna"……and then a few more drinks before bed.
10th October and, after having breakfast at the very excellent "Cool Beans" Cafe…..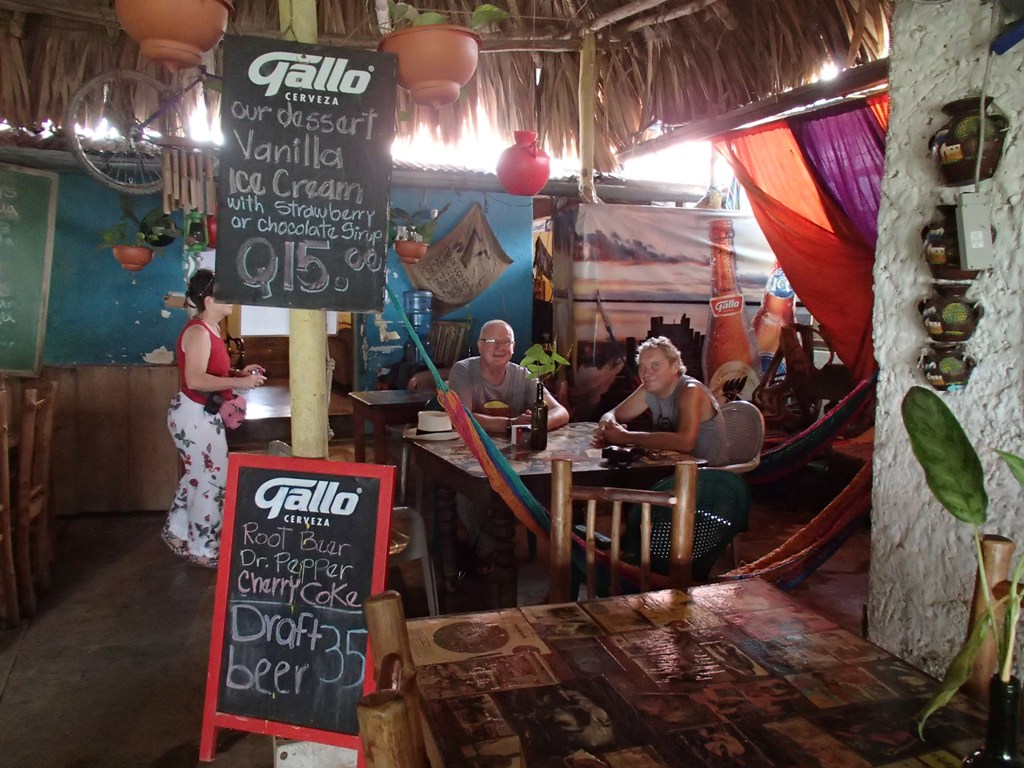 with its rather wacky decor and tribute to Che [which doesn't appear to be confined to Cuba]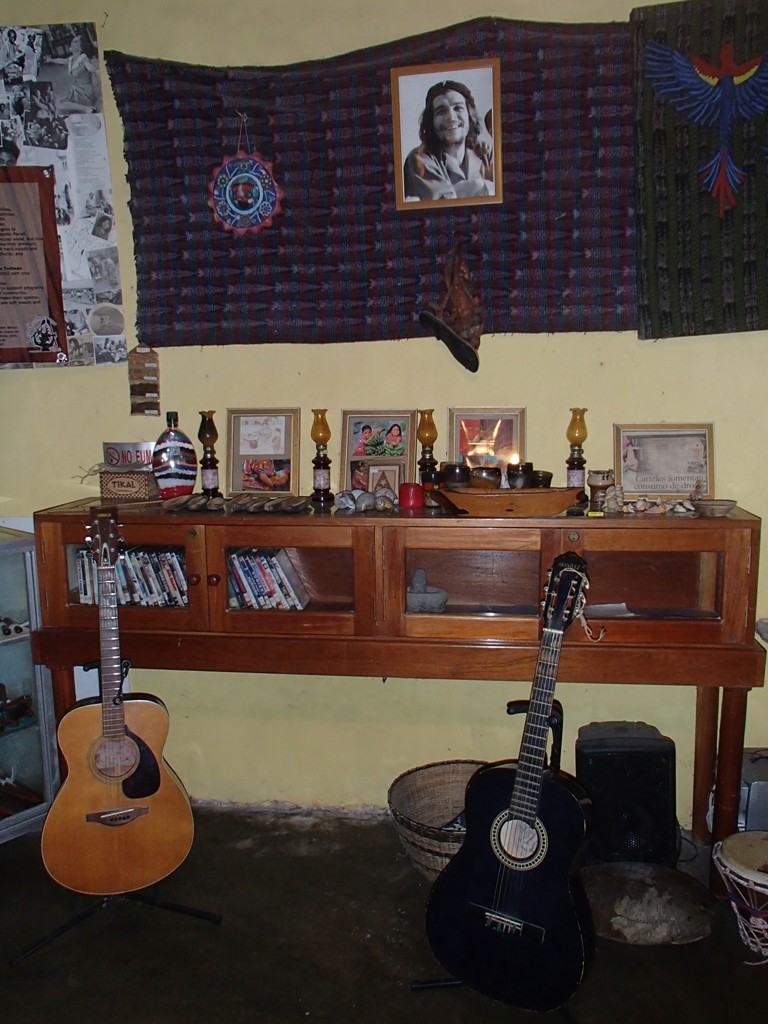 we returned to the Rio in time for the Thursday night Quiz – which we won! It's a good job that Steve and Mary were with us because they are regular "Foxies" or whatever team members of their local -"The Fox" – happen to be called. The quizmasters of the night were two published scientists who hadn't run a quiz before and thought that everyone else was as bright and academic as them – fortunately for us, the "Foxies" proved to be our secret weapon. Later that evening, as has become a bit of a ritual for the cruisers based here in Hacienda Tijax, we all took to the swimming pool for an evening dip. Of course, Cuba Libre tends to have a part to play in this activity. I won't give you the details but Mary, Steve and I all made it to bed before midnight. Mike, along with three other friends finally left the pool when the Rum and Coke and the cigarettes had all run out – 4am!
So, the following morning, whilst Mike was sleeping it all off, the three intrepid explorers set out to walk the Tijax grounds. We took the long trail up to the Shamen Tower and then returned via the swing bridges.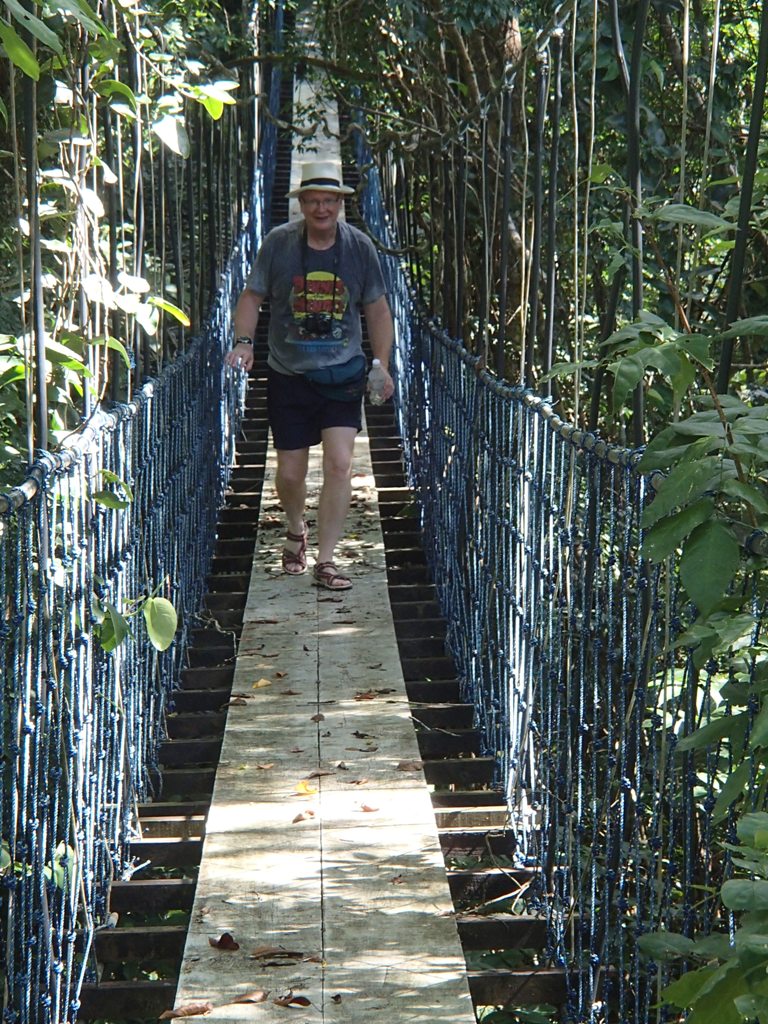 I only found out after I had taken them across that Mary didn't really like these types of bridge. You certainly wouldn't have guessed.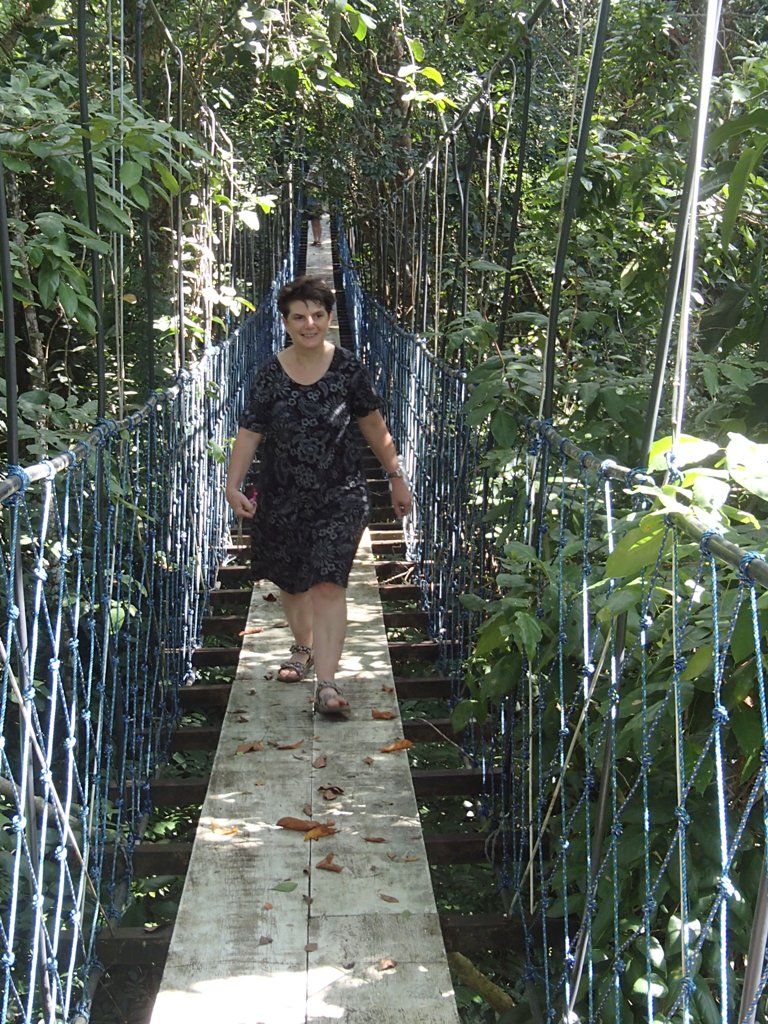 Whilst Mary might not like bridges, those people who know her will be very aware that she does like pink. She therefore rather liked the light fruit refreshment that we were able to provide….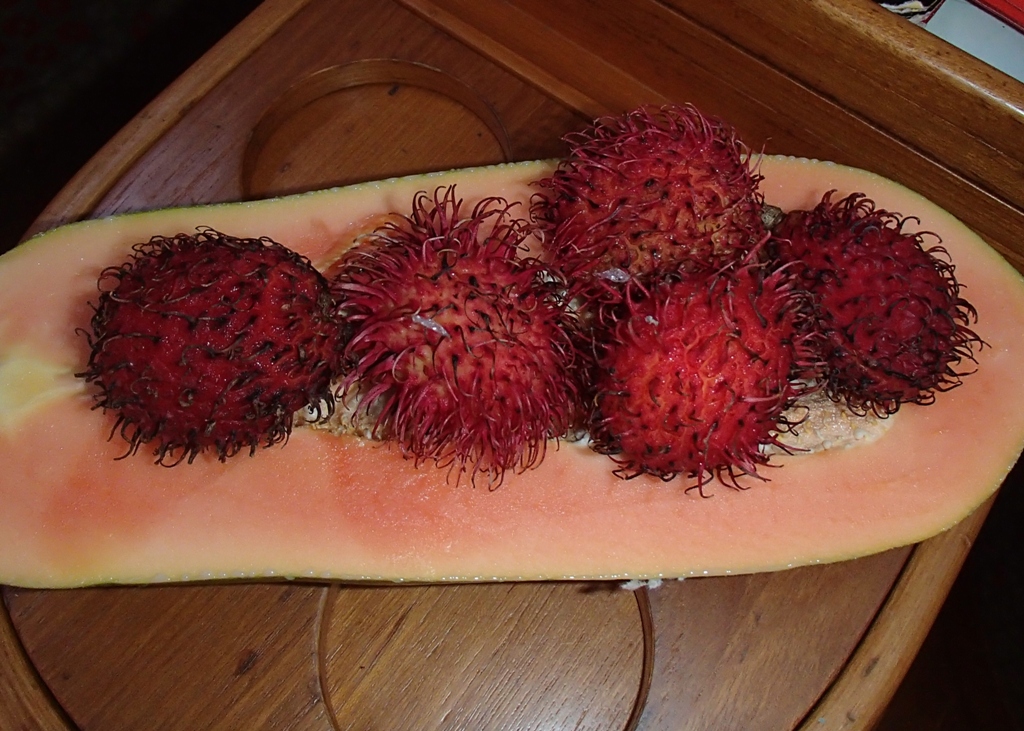 The paler fruit is the Guava; the excellent hairy balls are "Rambutan" which is also known as the hairy Lychee.
Well, already their first week had passed and, on Saturday 12th October, it was therefore time to head up to Antigua. We had arranged to spend one night there and made the most of the late afternoon wandering around and introducing Mary to the delights of Guatemalan shopping and weaving. This is not something in which the Rio Dulce excels so she needed to get a quick fix! We felt we deserved a sundowner and found this rather excellent wine emporium where the more you drink the cheaper it gets…. good concept!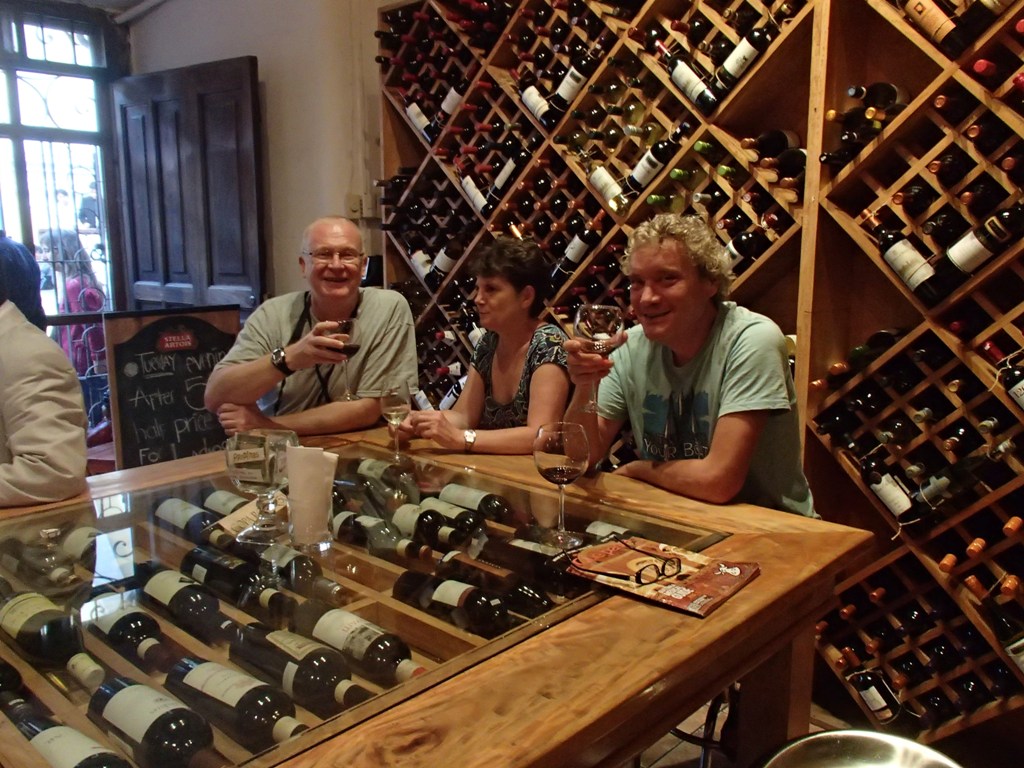 Outside there was some form of entertainment starting up and Steve was delighted to find that it included some Marimba bands – an experience that was on his "wish list"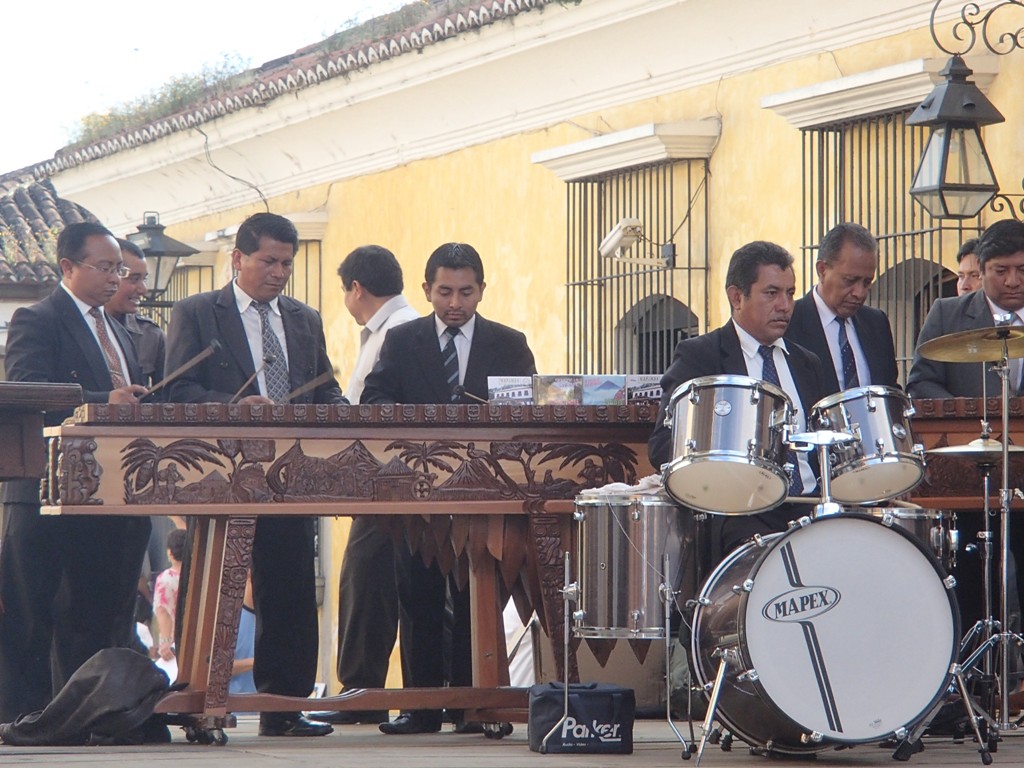 ….and one which he was also able to indulge in later in the week on our return to Antigua. But first it was off to Lake Atitlan by way of the four chicken buses trip which I regaled you with in a previous post.
We spent a night in Panajachel, two in San Pedro and a final one back in Panajachel. This sounds like another big itinerary but the pace of life in Atitlan is very laid back and the distances between the villages are relatively small so it is actually quite relaxing. We did a couple of walks, one from Santa Cruz to Jaibalito…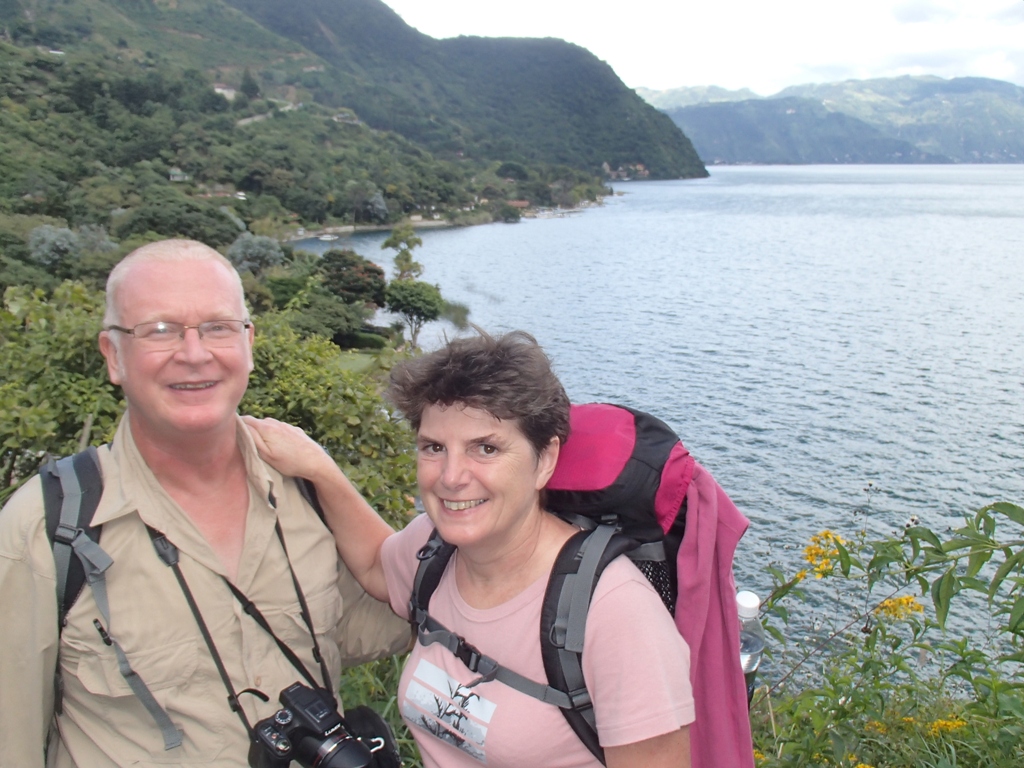 ….and one to Santa Catarina where I bought a woven card from a very entrepreneurial little girl who had learnt the names of all the colours in English so she could impress with her knowledge. As an aside, it may – or may not – interest you to know that 54% Guatemalan's live on less than £1.50 per day and that 13% actually live on less than 80p. So, the card which cost me 10 Quetzales, which happens to be approx 80p, was probably a significant contribution to that family's income for the day. She was certainly pleased that I bought it.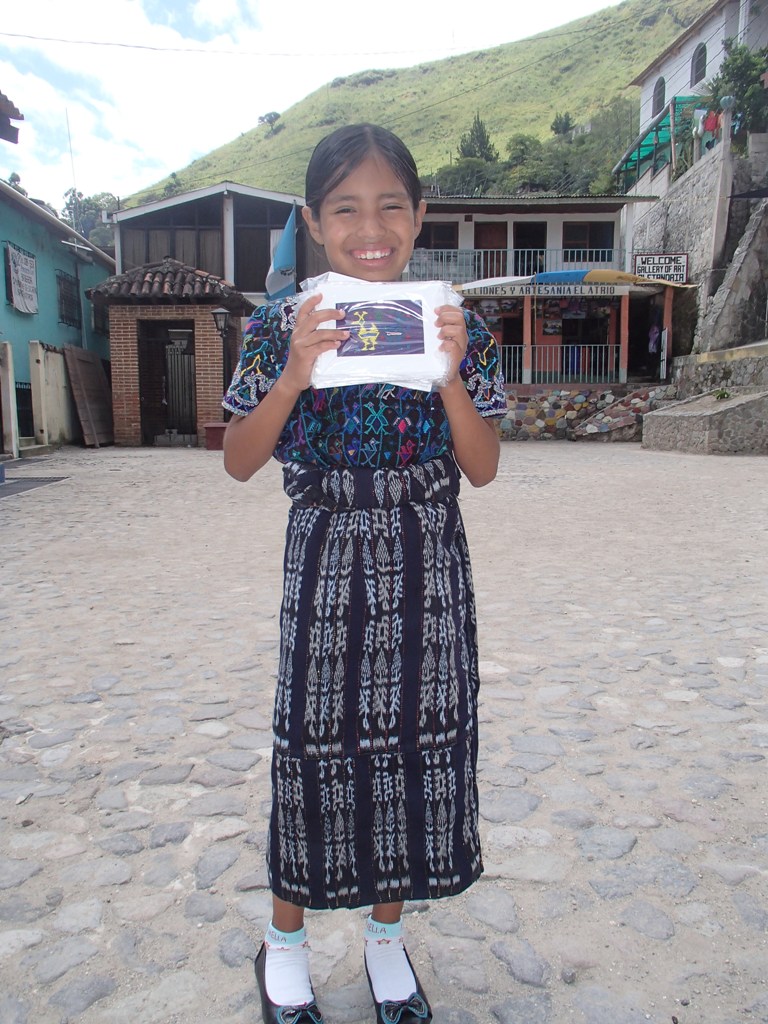 On the return walk to Panajachel, we saw a bit of a storm brewing….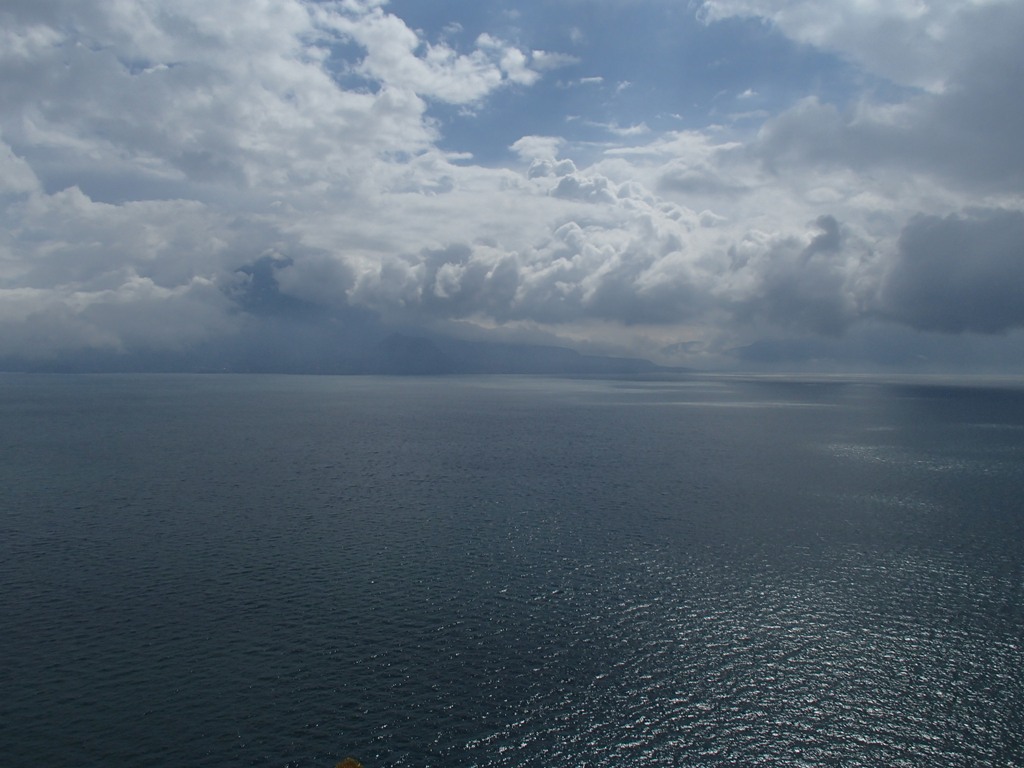 which, yes – you guessed it – Steve and Mary managed to get themselves caught in whilst shopping later. Another drenching!
We also caught a number of lanchas, giving me the opportunity to take photos of some fellow travellers….
I think that San Pedro was possibly Steve and Mary's favourite place on the lake. It is very friendly with is narrow, cobbled streets…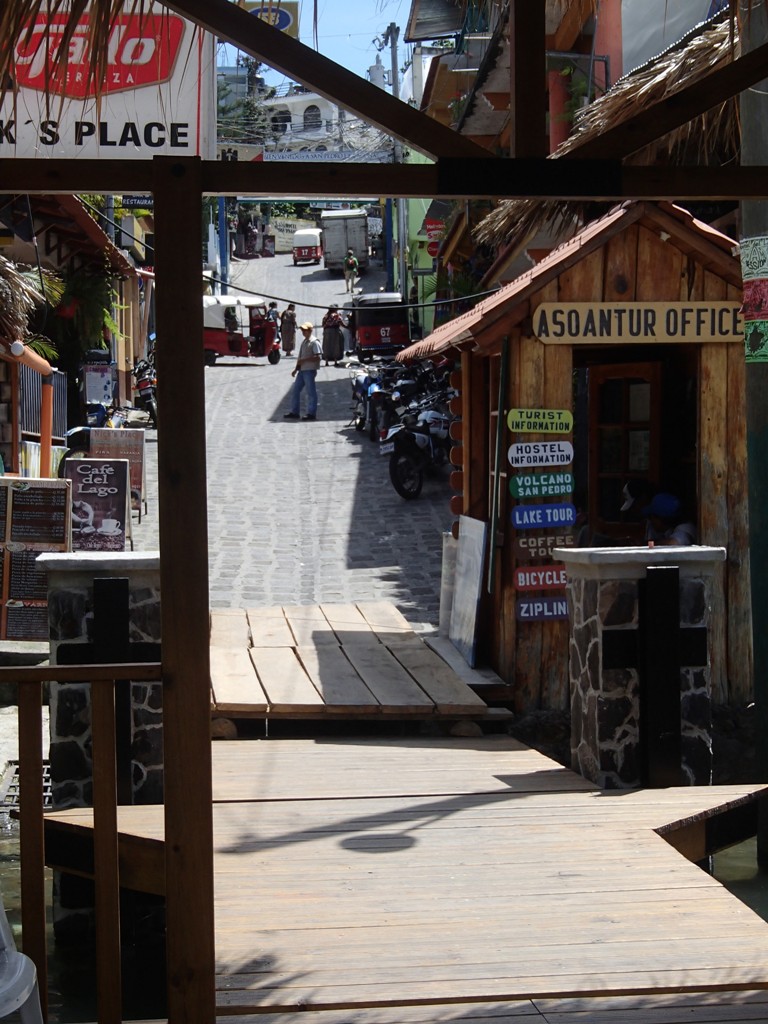 some lovely gardens in the old town…..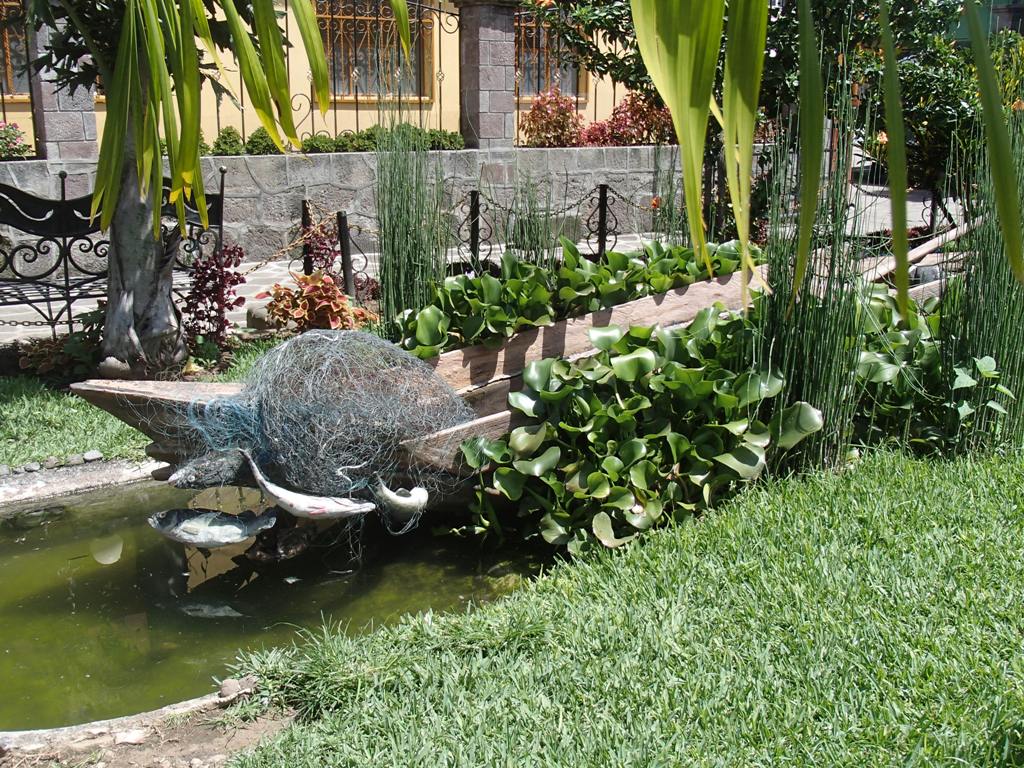 the oldest [and maybe the fanciest?] Baptist church in Latin America….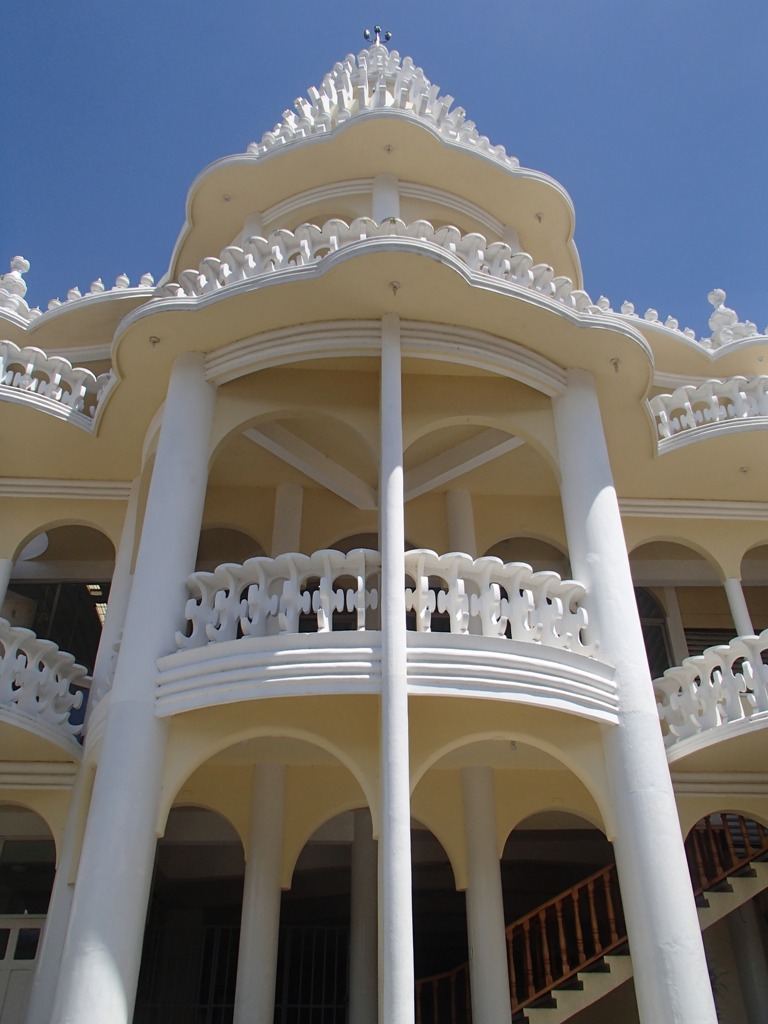 and, of course there is always people watching – but you never know who is watching who!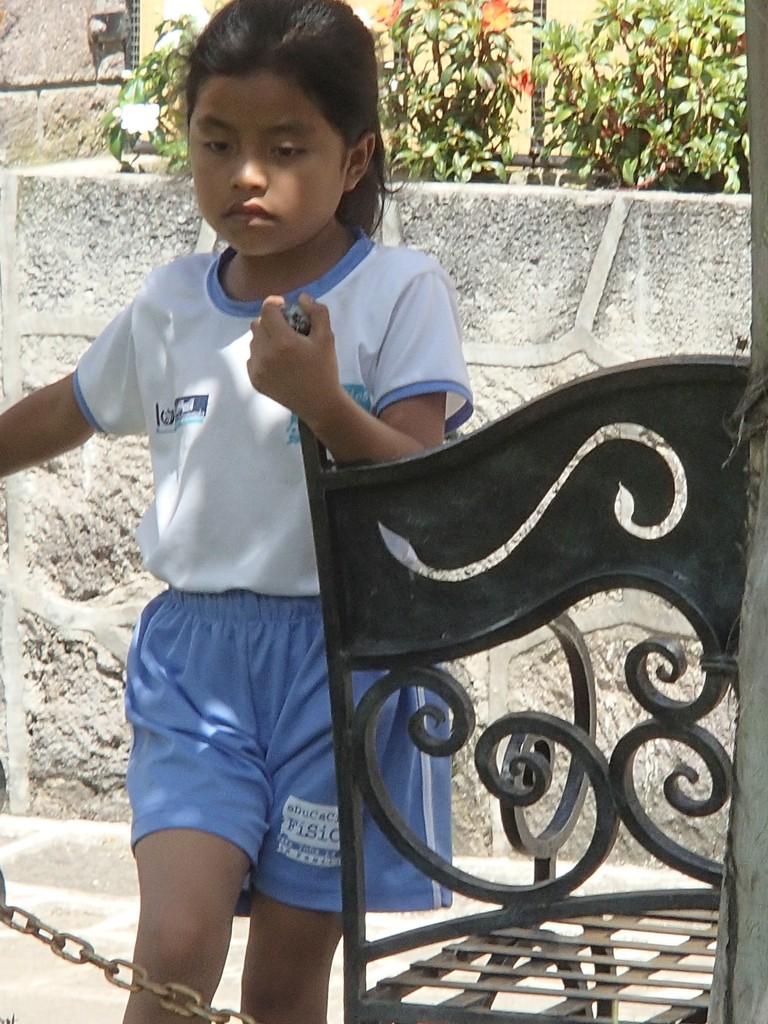 In San Pedro we stayed at the Hotel Mikaso which overlooks the lake and from which you see fantastic, dramatic  sunrises [you will have to thank Steve for getting up at around 5am to take these two photographs]…..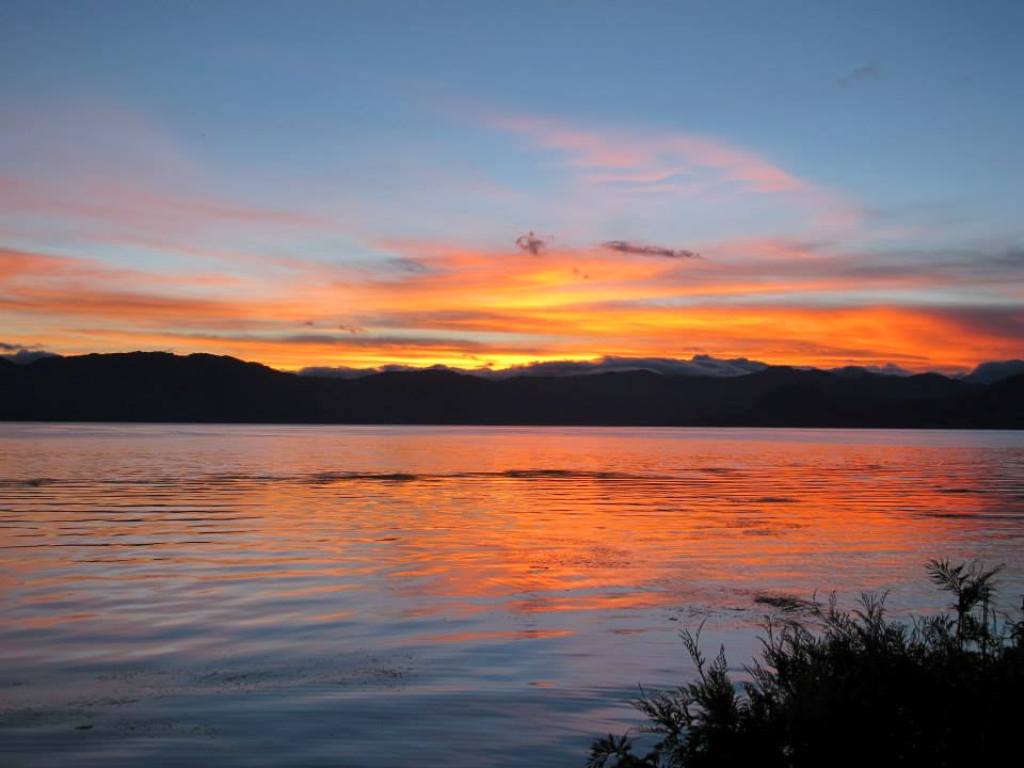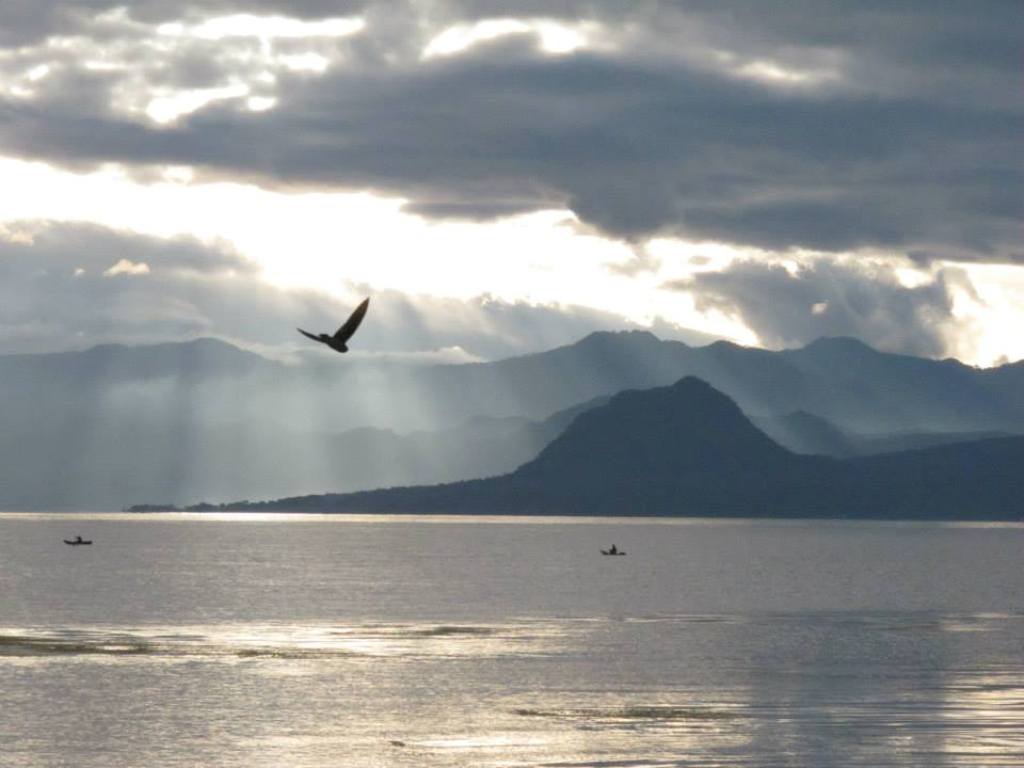 …and also for sunsets – which I managed to take myself…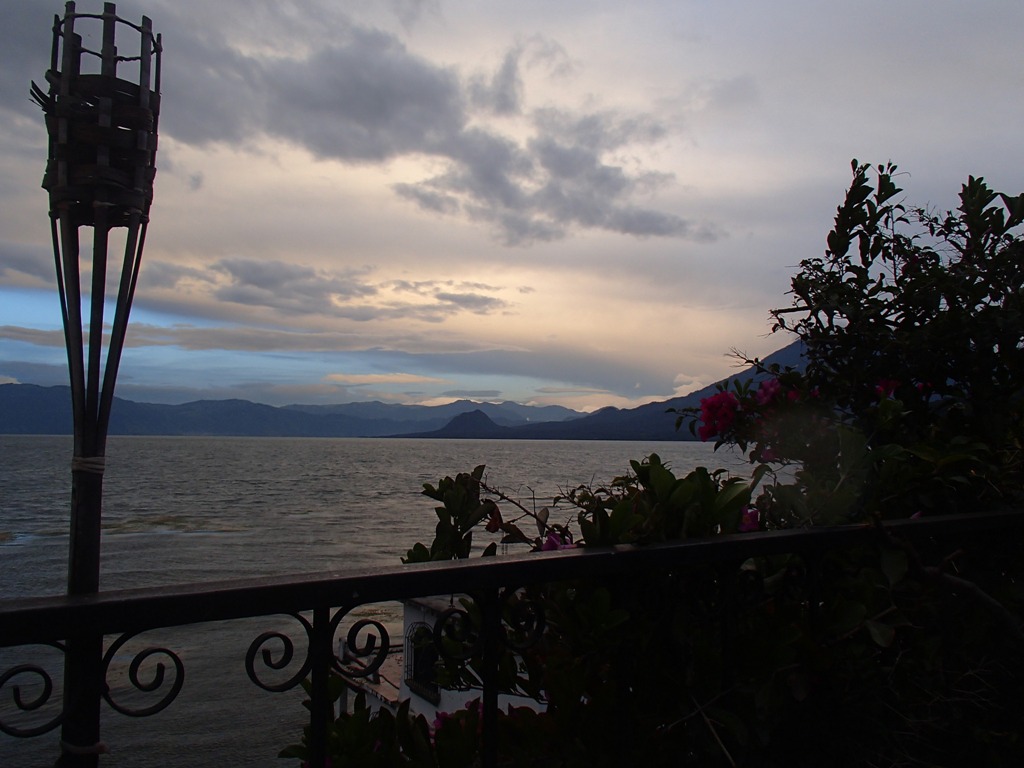 …particularly as there was liquid refreshment involved, including a small beer for Mary.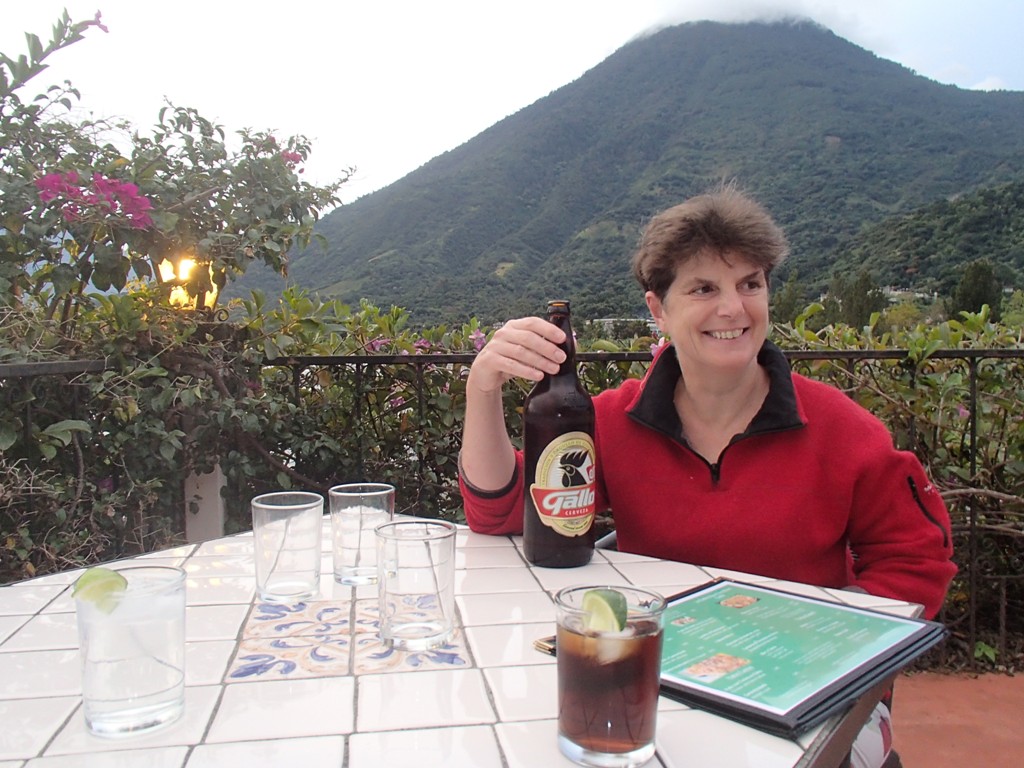 From San Pedro we did a short day trip to Santiago Atitlan, the highlight of which was probably the tuk tuk ride….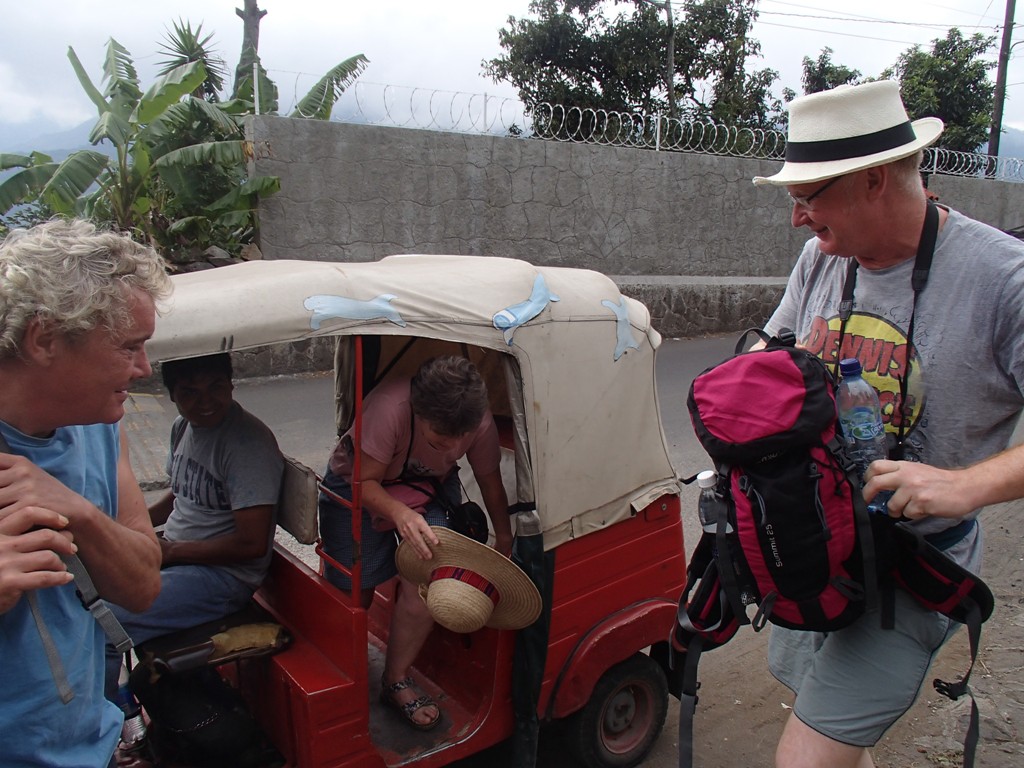 ….to an excellent lunch at the Posada Santiago. Certainly another wacky bar experience…. – this time photo courtesy of Mary.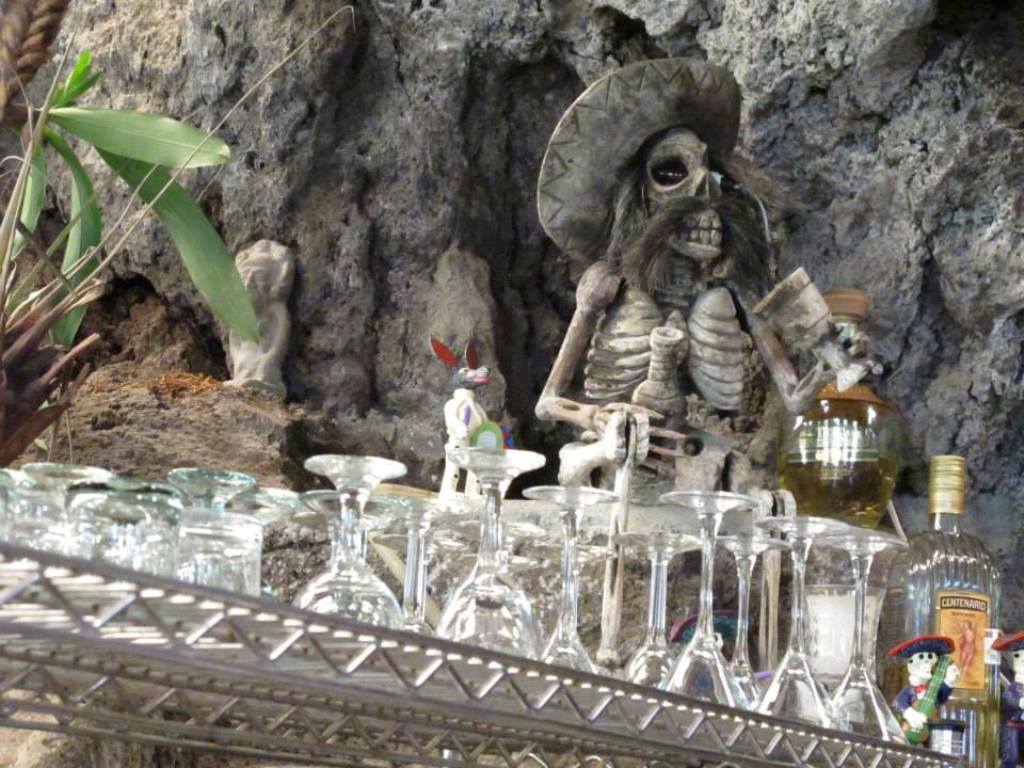 In Antigua we stayed at the Yellow House [Casa Amarilla] which is very popular with backpackers and has very helpful staff. They were happy to store Steve and Mary's larger bags between our two stays with them, which meant that we could enjoy the four days at Atitlan unencumbered; they provide excellent breakfast in the £8 per person per night charge…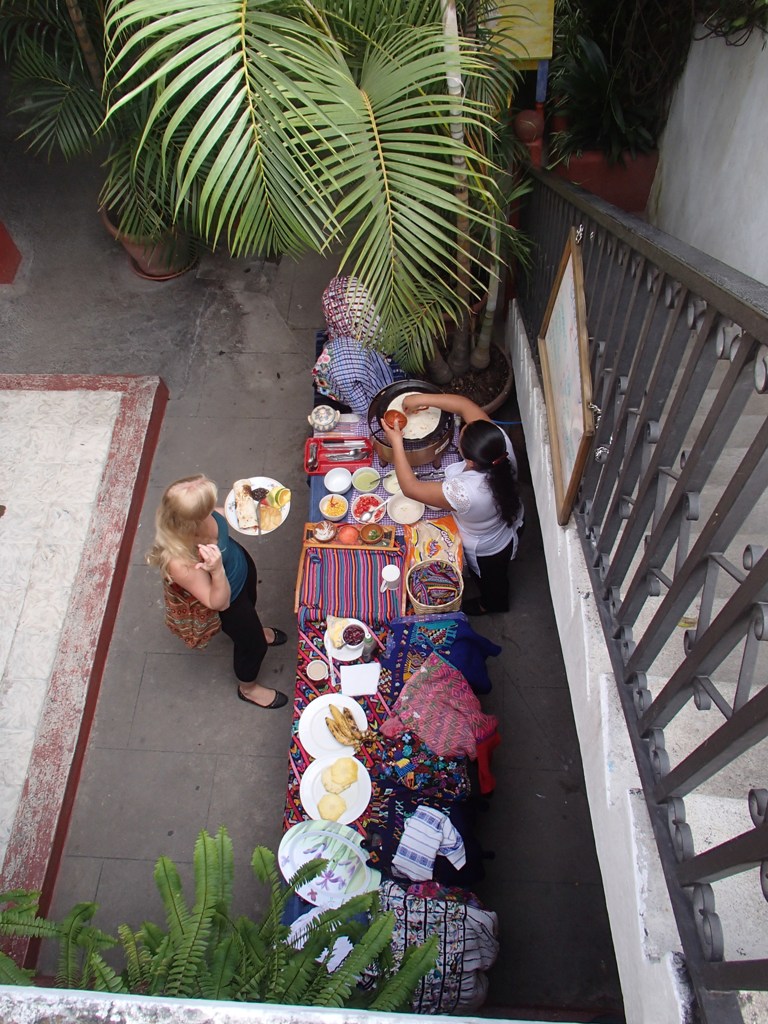 ….and they advised on the best way to get to the market day at Chichicastenango [Chichi]. My original plan had been to spend just three nights at Atitlan and then return to Antigua for three nights, taking the trip to Chichi from there. It was pointed out that it would be much better to have an extra night at the lake, take a shuttle transfer from Panajachel in the morning to the market and a shuttle from the market back to Antigua. This gave us an extra night [and therefore an extra day] at the lake, reduced travelling time by about 4 hours – a good thing – and meant we could leave our bags on the shuttle bus thus leaving us with plenty of carrying capacity to buy lots of stuff at the market. Mary took full advantage of this! If any of you see her wearing beautiful bright jackets, trousers, blouses, hats, shoes, belt, dress, with – or without – accessory bags you will know where she got them. Here is just one example….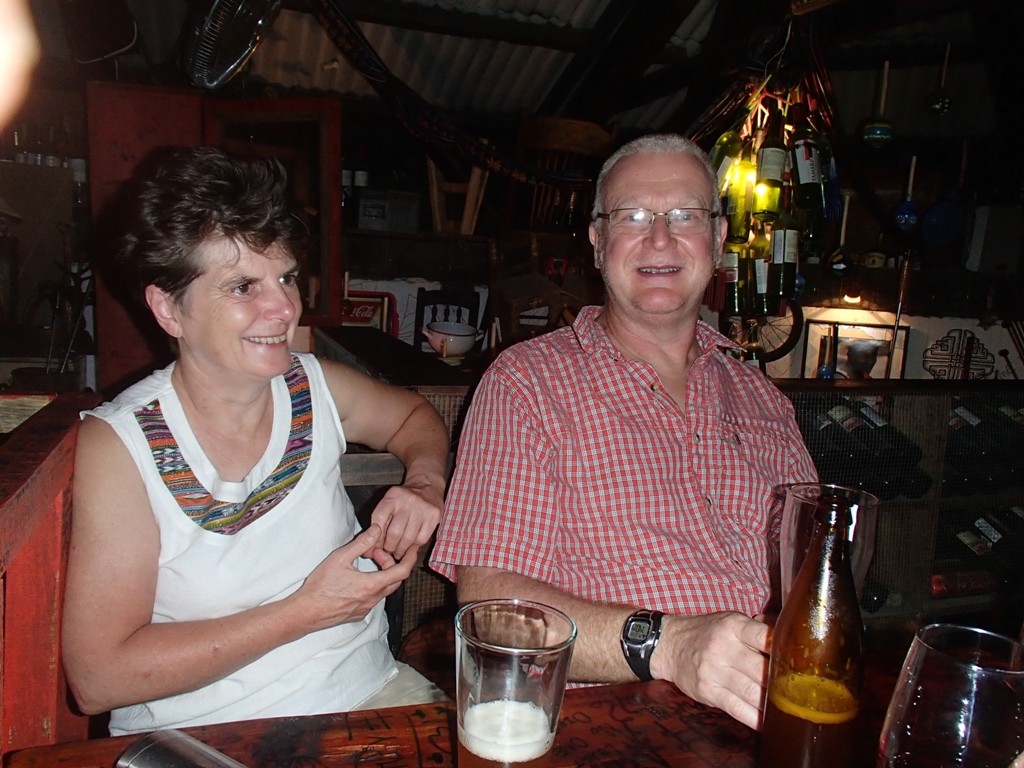 Chichi was an extremely colourful experience. The market is the largest in Guatemala and, I think, the third largest in Latin America. We were there for about four hours and we saw things Steve and Mary didn't and vice versa. As well as the outside stalls selling brightly coloured wares…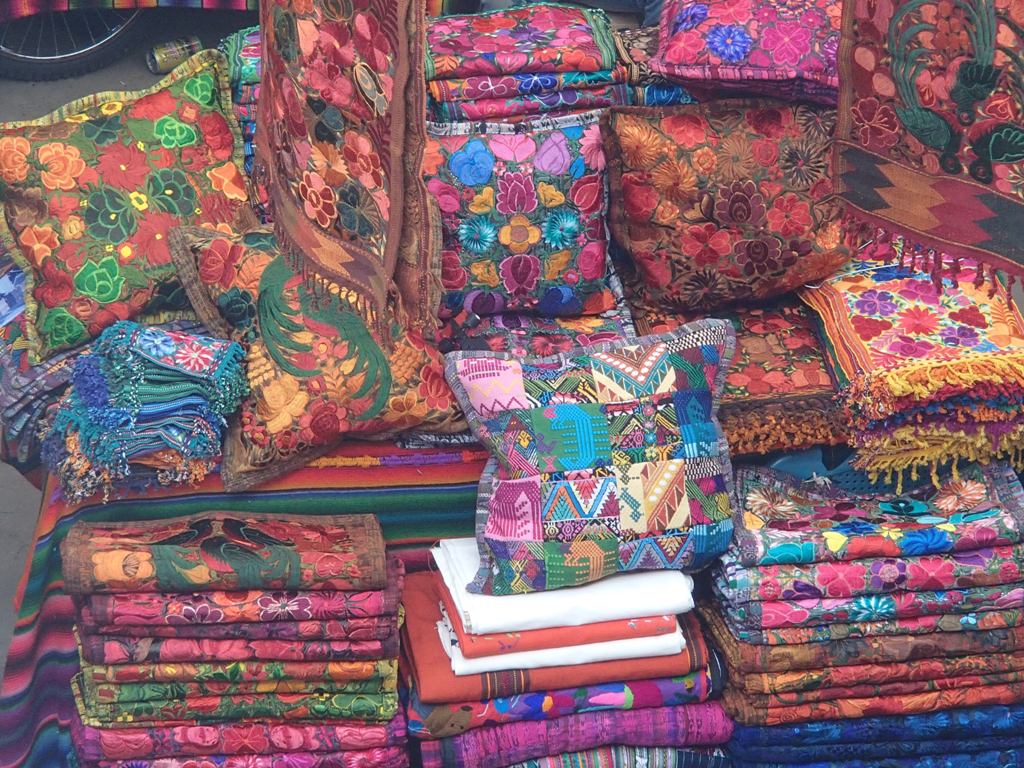 …there was the inside fruit and veg market.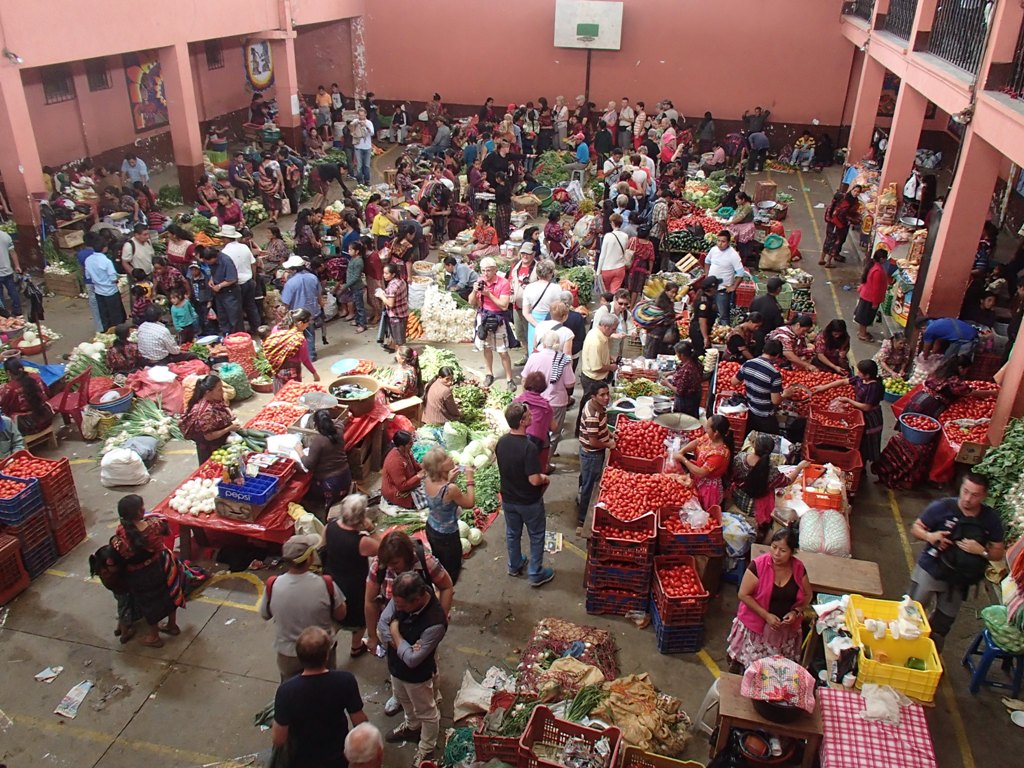 The steps to the church were full of flower sellers…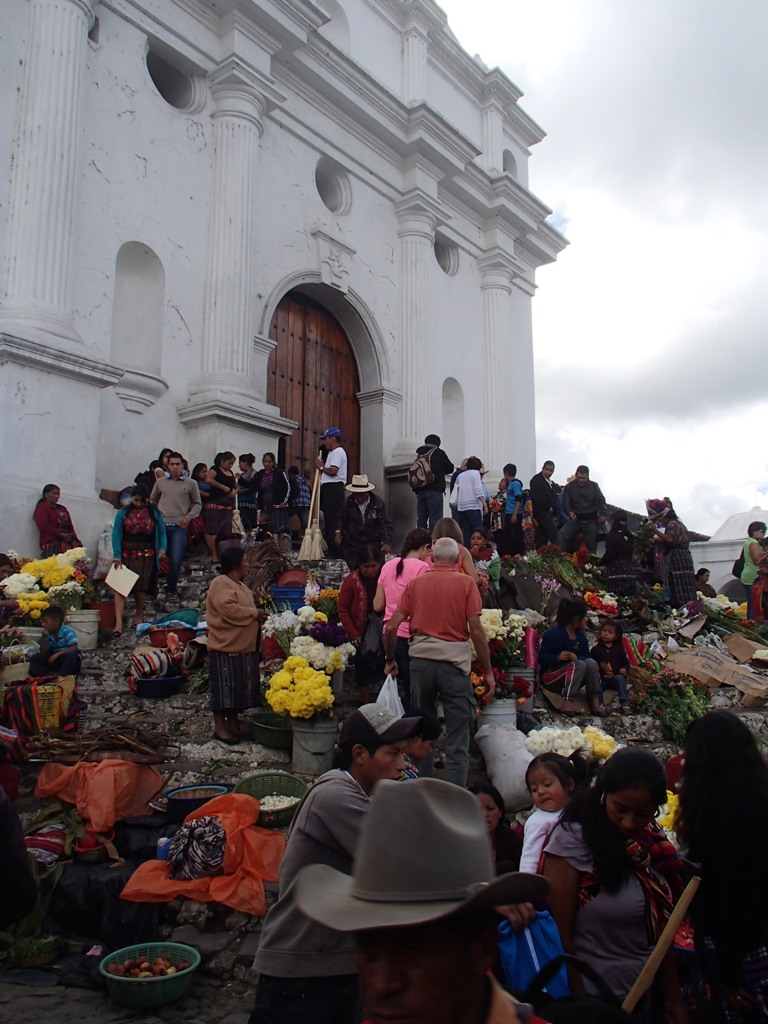 And there was the ceremonial candle stall close by…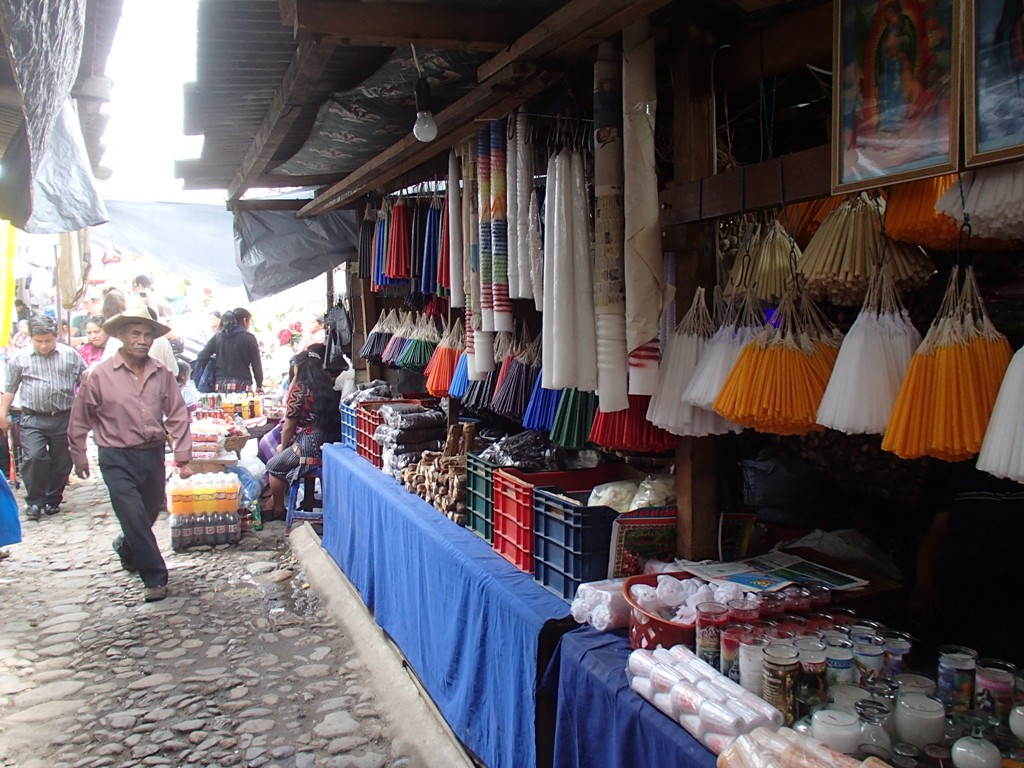 It wasn't just the market which was full of colour. We called in at the excellent Hotel Santo Thomás for coffee. A beautiful hotel with a splendid courtyard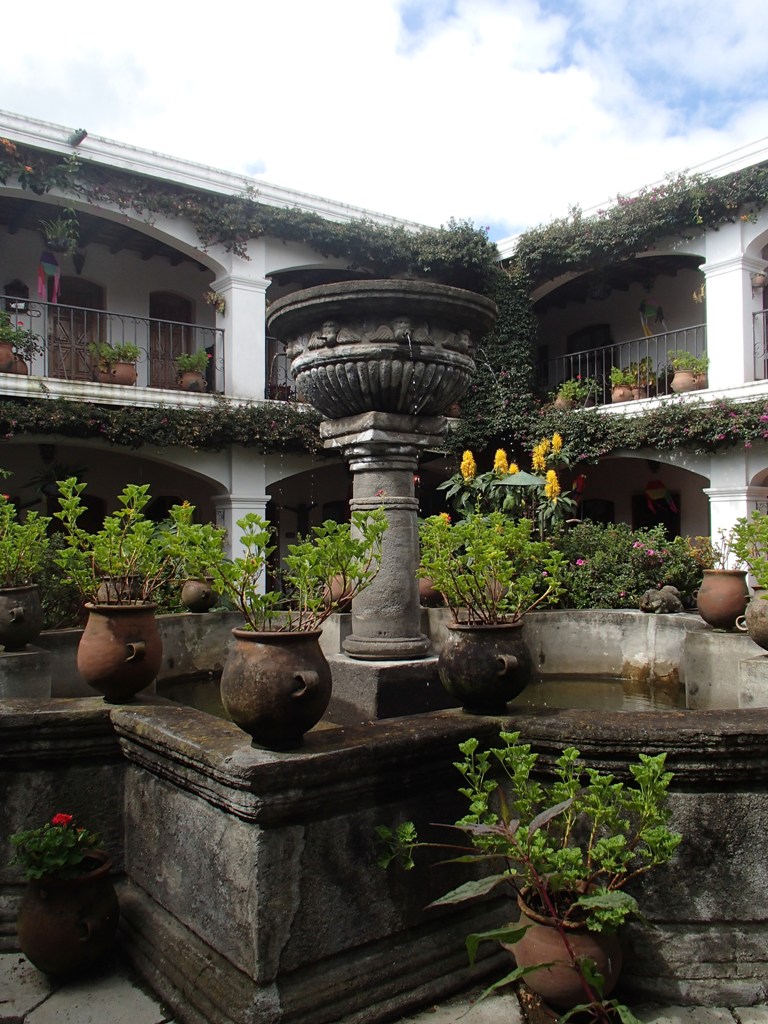 …full of colourful parrots, macaws and toucans
Then, it was back to Antigua and our final days with Steve and Mary. Mike was obviously already feeling quite blue about this before we left Lake Atitlan….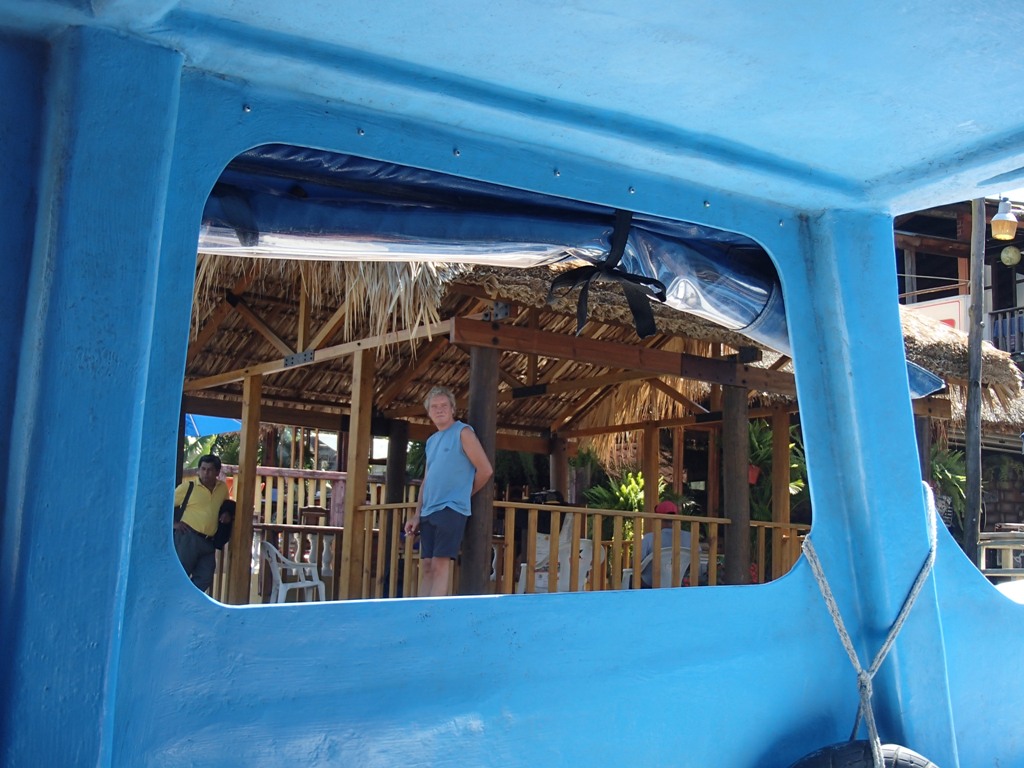 However, the days remained fun packed with more shopping, eating and drinking. Steve and Mary went on an early morning trip up the Volcano Pacaya, visited the museums of Santo Domingo and Hermanos Pedro and we found the Poponoe House.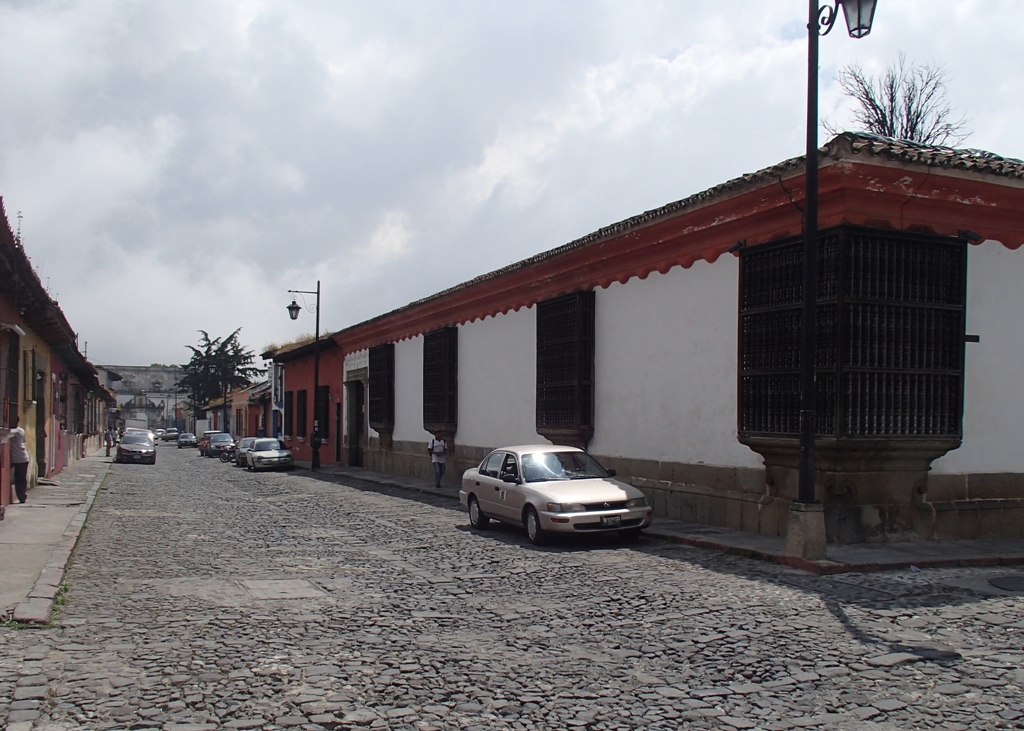 There is a book called "The House in Antigua" which describes a very interesting history of this house and of Antigua itself. We believe it used to be open to the public to show off its restored rooms and courtyards. It is currently closed, though we were told [unfortunately too late] that it is possible to book a private tour if you give about three days notice. The house doesn't look like very much from the outside – but that is the way of many colonial homes. The tree which can just be seen peeping over the roof top is a much mentioned feature of the book. Whilst the Poponoe house remains a mystery we did find, on recommendation, a very whimsical bar called "Porque No!" where the decor was certainly different…
And lived up to the name of the bar…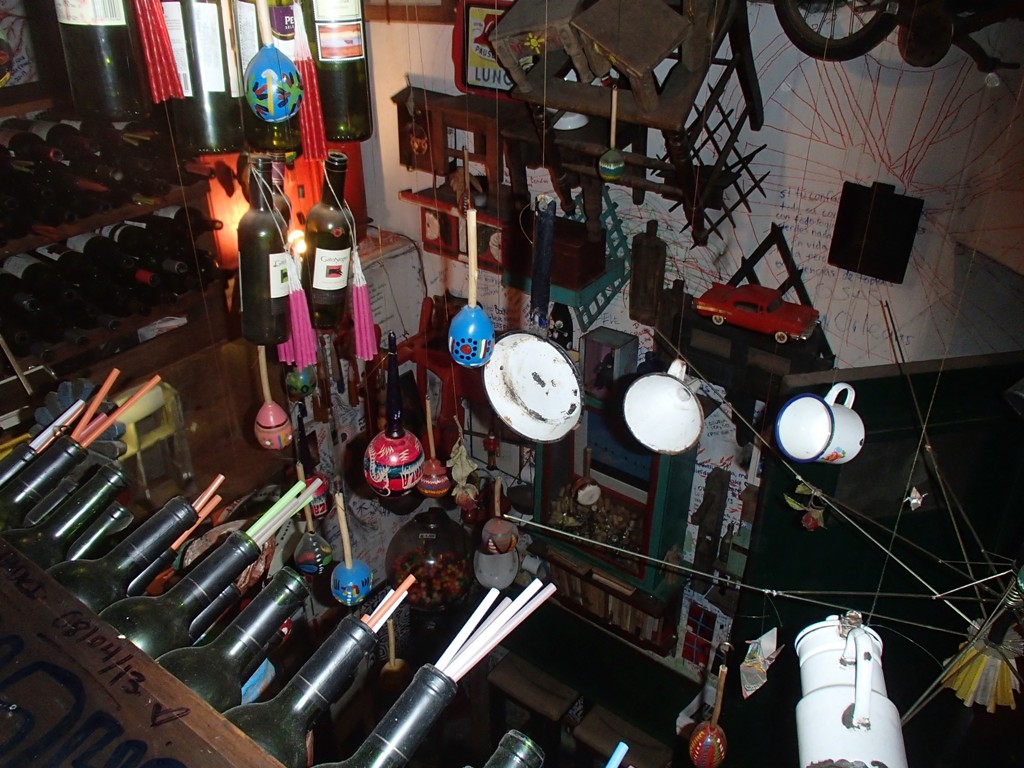 the "Why Not!"
So, we reached the end of twelve lovely days with Steve and Mary. It was "whistlestop" but there is so much to see and do in Central America and it is always special when it can be shared with good friends.