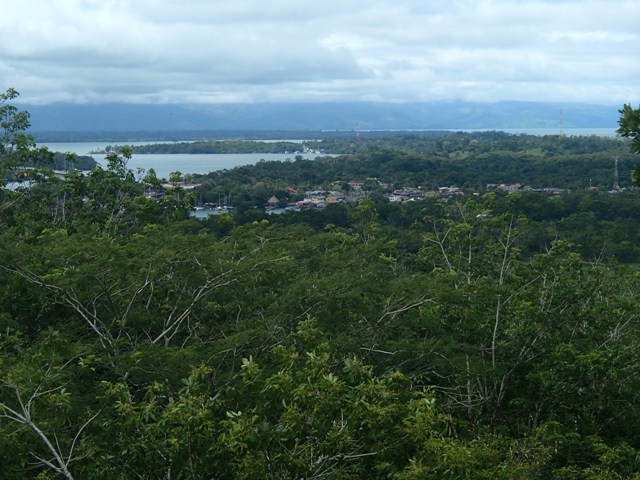 Well, we have now been in the Rio for two months and I thought it was time that I told you something about day to day living here at Hacienda Tijax. This marina is one of about six "large" marinas and several small places to keep your boat on the river. By large I mean that there are about 20-40 boats in each and the distinction between "marina" and "place to keep your boat" is based on the available facilities as some offer basic water and sometimes electricity whilst the marinas usually have toilet/washroom/showers, sometimes a small shop and/or chandlers and a bar/restaurant. The decision as to which marina [or otherwise] to choose is pretty important if, like us, the intention is to remain on the boat for the duration of hurricane season and, having now been here for two months and visited one or two other marinas, we think we have made a great choice.
Hacienda Tijax is more sheltered than some marinas which isn't always a good thing because temperatures here are generally very high [average 33 degrees C/95 degrees F] and without a breeze that can feel stifling. But, Tijax is probably the most attractive marina, constructed of natural, local wood and stone, is surrounded by beautiful foliage and has the best swimming pool in the area.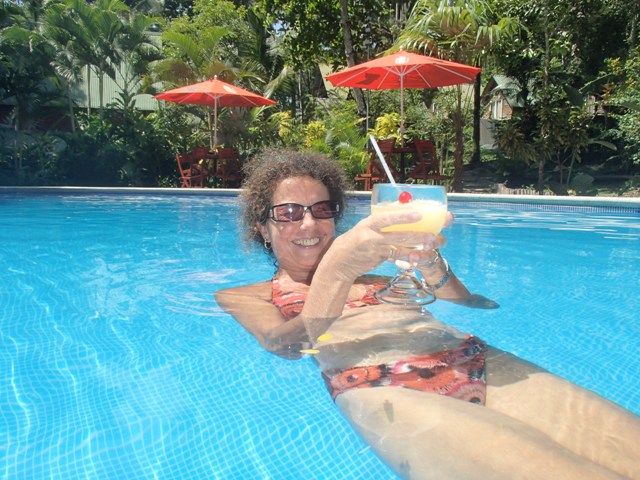 The bar also makes a mean "Naranjada con Soda", a very refreshing drink for the hot afternoons.
Tijax is a popular destination with backpackers and there is horse-riding, kayak trips up the river to see the growler monkeys, walking trails and other organised trips which cruisers are welcome to join. In fact, unlike backpackers, cruisers can walk the trails around the plantation whenever they want and don't have to take a paid guide. We had a very enjoyable morning walking up to the shamen tower from where the view at the top of this post was taken. Some of the trail is via treetop walkway
and part of it takes in the rubber plantation.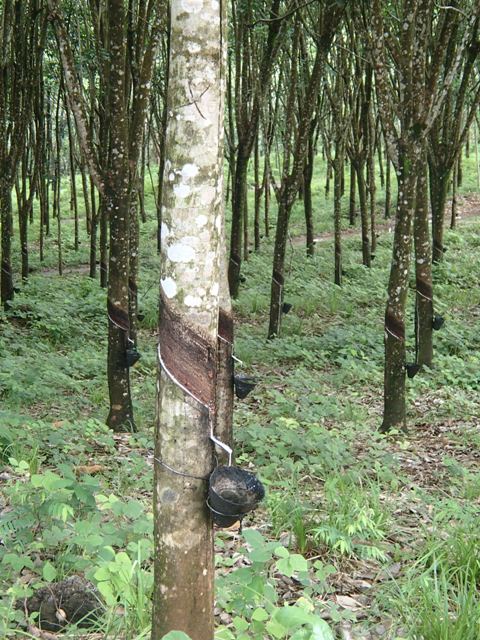 The staff here are really friendly and helpful and the owner [Gene] is very keen to ensure that cruisers are well cared for. As part of the berthing fee [approx £150 per month] all the boats are washed down regularly and if boats are left [for a day, week or for the whole season], at no extra charge the marineros will air the boat as often as you want, check the bilges, batteries and any other equipment specified and generally take good care of everything.
Gene has also built a separate "cruisers lounge" where we regularly meet up….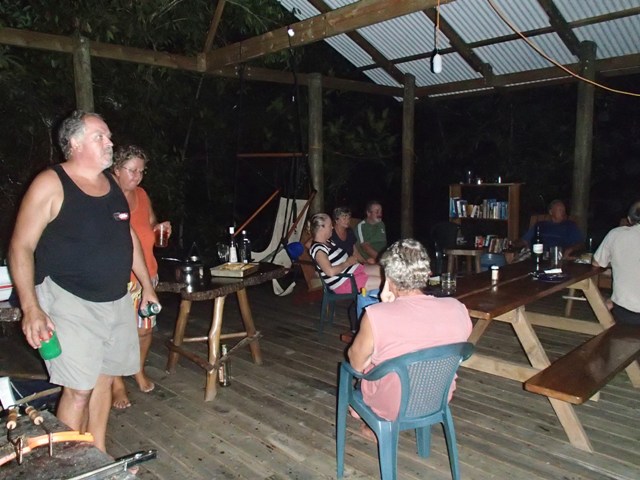 sometimes for birthday BBQ's [this was Larry's – the guy on the right]….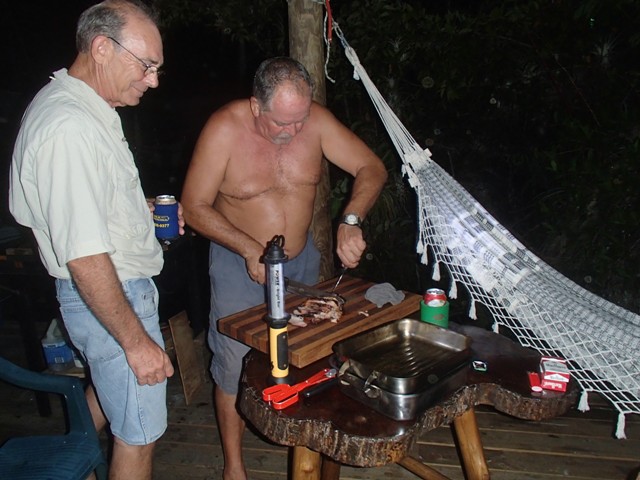 On another occasion, the guy on the left [JD] came across some excellent short ribs in a local shop and we all contributed to another feast….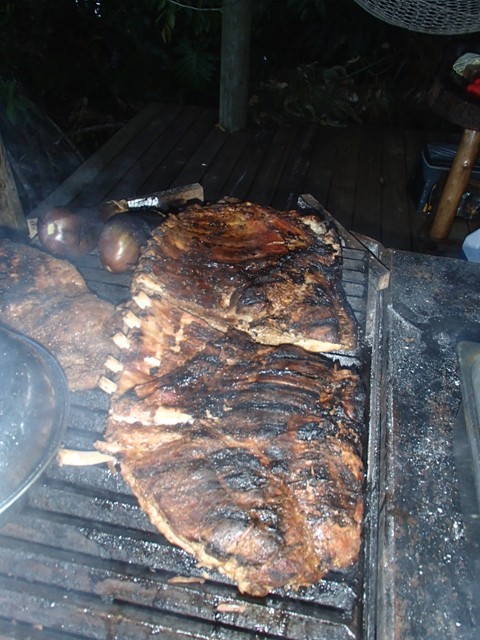 At other times just one or two boat crews get together for food, drink, conversation and, on occasions music….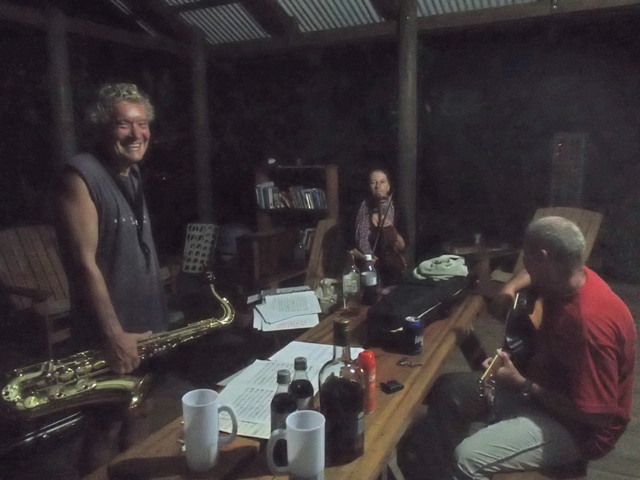 Tijax doesn't have a shop but there are two mobile shops which visit every week selling a range of meats, cheeses [well American cheese anyway], fruit and vegetables.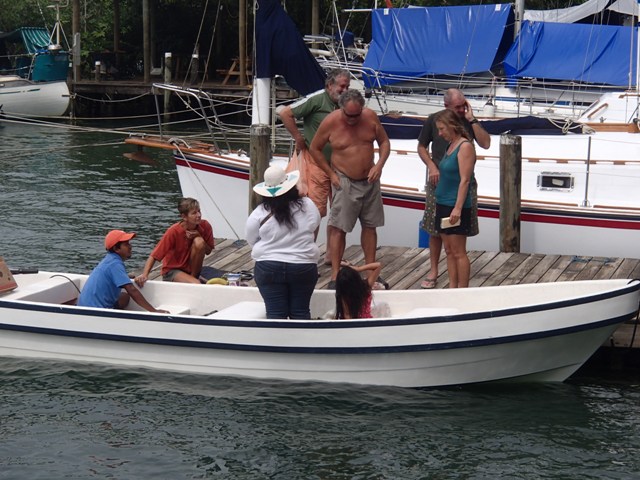 It actually doesn't matter that there isn't a shop because we are only two minutes away from the town by "lancha" or we can walk via part of the trail and then through a local village which takes about 30 minutes. The town isn't particularly pretty [in fact it is described in the Rough Guide as "fairly squalid"] – it's a bustling long street which is generally full of lorry's, cars, tuk-tuks, bikes and pedestrians at all times of day – the photograph below was taken at 7am.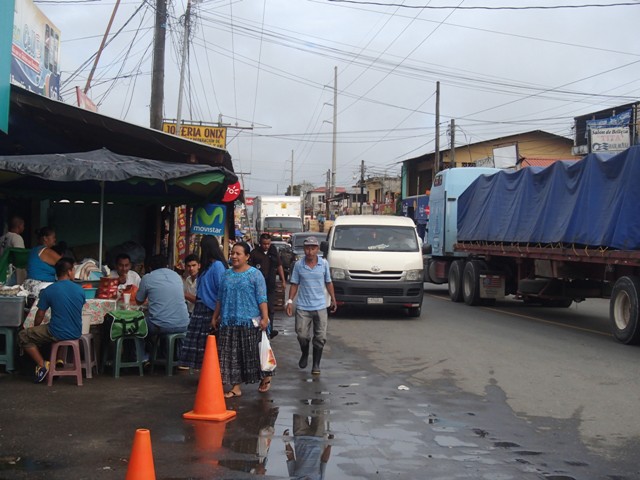 It is quite surprising what purchases can, and cannot, be made in the town e.g. we found stainless steel screws and nuts of the right size quite easily [contrary to our expectations] but I can't find a bikini/ swimsuit anywhere despite there being about 20 clothes shops, all of them selling men's swimming shorts. There is a full range of foodstuffs but fizzy drinks are lurid in colour and full of sugar.
I mentioned earlier that some of the marinas have chandlers. This is also a bit of a misnomer. We have visited one chandlers four times looking for a battery charger, a hull gland, stuff for purifying water and various other bits and pieces but none of the trips have resulted in us finding what we wanted. We could buy fishing tackle, fenders, some cleaning products and boat shoes but that's about it. We have been told that one of the marinas is about to become the local dealer for West Marine and that a full shipment of equipment, spare parts etc has arrived in Guatemala and is sitting in customs – well, it has been there for at least two months now and there is no signs of it hitting the shelves any time soon!
Fortunately there is an importer called "Captain John" and through him we have sourced a replacement battery charger which from order to delivery took five weeks. Our reason for replacing the battery charger is that the one that we had can only deal with 240 volts and 50 cycles. Electricity here [and in many places] is 110 and 60 cycles and we decided we needed a more modern charger, which most boats now have, which can cope with all voltages and different frequencies. So, here is our new Mastervolt Powercharger 12/40-3 installed in the engine compartment.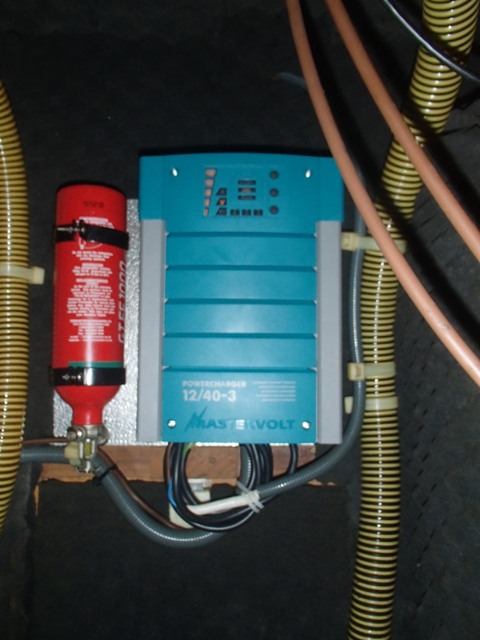 Sorry non – cruisers, you can stop snoring soon, but not quite yet!
I mentioned water purification above. It is important that all fruit and veg is washed before eating – especially salad vegetables and fruit eaten with the skin on. Basically we just have to put a drop of iodine into a bowl of water and wash them before storage. Water in the tanks is another issue. It is possible to put iodine or chlorine into the tanks, but we didn't want to do that as most of the time our water supply is fine as it is made with the water-maker.  Hacienda Tijax has a purification system for its bar and restaurant and we think the supply to the dock also comes via that route, but we aren't sure so our solution is to catch rainwater and filter it ourselves. A £15 filter system doesn't seem to be a large price to pay for clean water!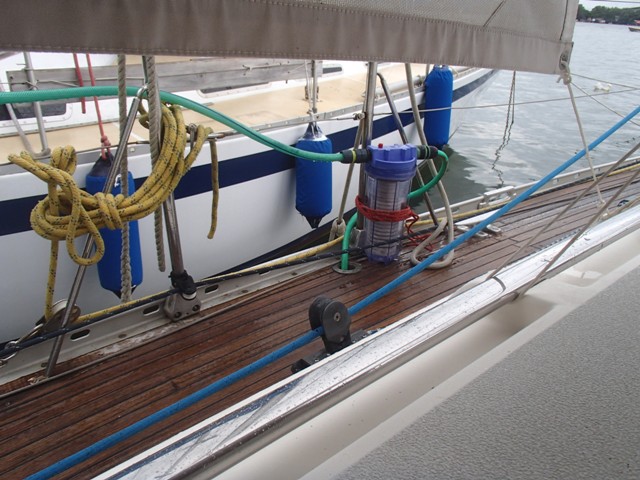 Mike originally tried a side catching set up – which worked quite well….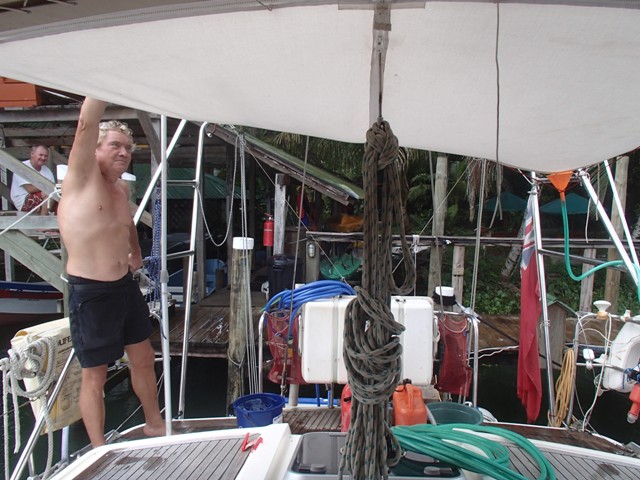 But we then adapted it to a middle catchment system which, in a recent rainstorm completely filled our 400 litre tanks in 2 hours! As you can see the bimini and tent we bought last year is proving very versatile.
As you would expect life in the Rio isn't all work and no play and we are lucky that, unlike we found in Belize, it is fairly easy to get out and about for day trips.
A couple of miles upstream, and therefore accessible by dinghy, is "El Castillo de San Felipe".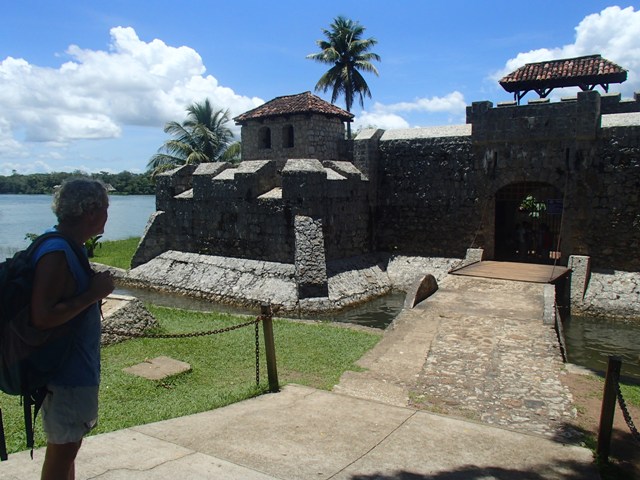 The fortress was built in 1652 to prevent pirates looting the villages and commercial caravans of Lago [Lake] Izabal. It managed to deter buccaneers for a while but was captured and burned in 1686. It was rebuilt but by the end of the next century the pirates had disappeared from the Caribbean and it was used instead as a prison before being abandoned and becoming a ruin. The very sympathetic reconstruction was undertaken in 1956, with many of the original facets being faithfully copied, including the "flooded passage" and the many small stairs and corners which foiled some of its earlier attackers.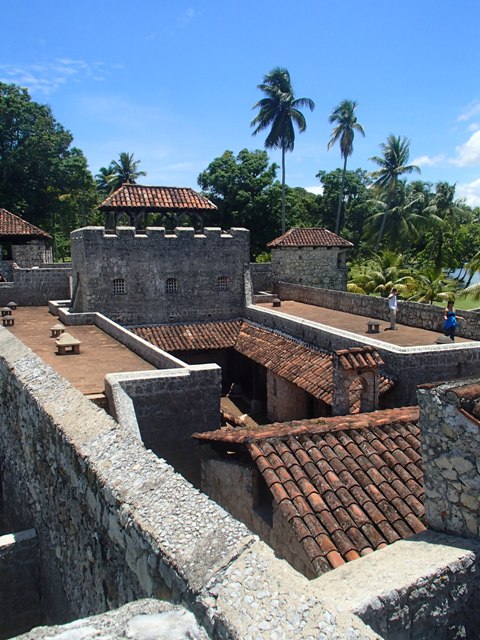 A bus ride away and also on the lake is the small town of El Estor.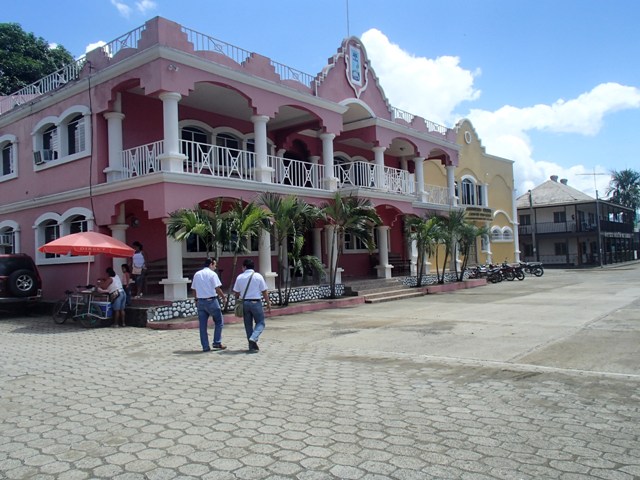 The name means "the store" and its where the pirates used to get food and supplies but the town then grew because of its proximity to the nickel mines which closed in the early 1980's. Local feeling is still divided about whether the mines should re-open as they provided a good source of work and income for some people. Those against want to preserve the now well developed eco-tourism which has grown up around the lake. Maybe the market forces, which are currently insufficient to warrant the re-opening of the mines will be the deciding factor. Meanwhile the lakeside town is a lovely place to visit….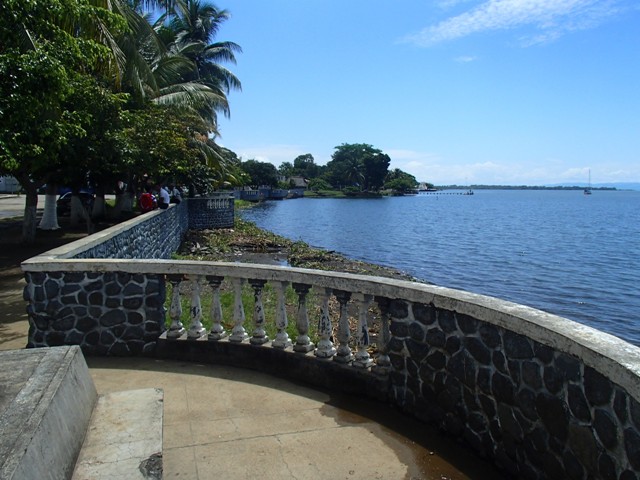 ….with is predominantly Mayan population enjoying its quiet beauty.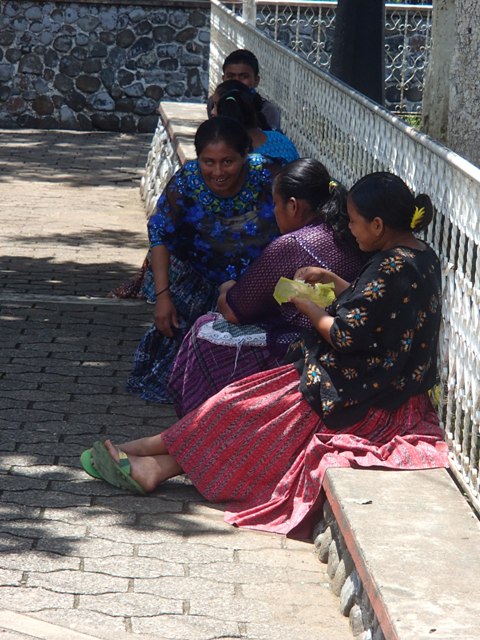 We combined our trip to El Estor with a stop at the "Finca El Paraiso. The land of this working ranch encompasses an amazing pool where a hot waterfall [as hot as a bath]drops 12 metres into a clear, deep, cold pool.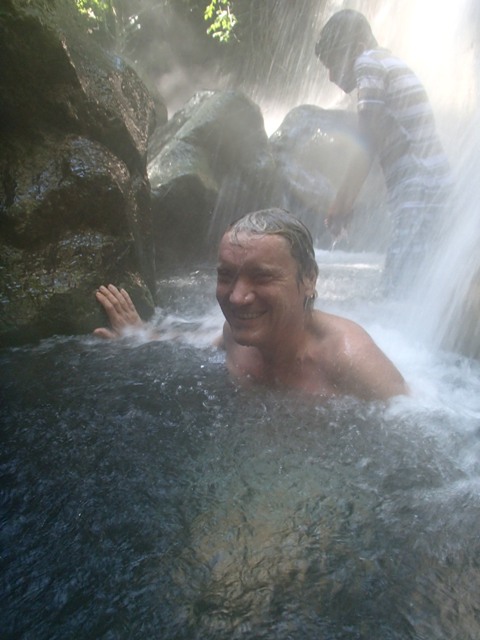 It was a really strange but very enjoyable sensation – almost like a personal sauna and plunge pool combined into one. For a modest sum [£1] Fernando looked after our belongings whilst we enjoyed the waters…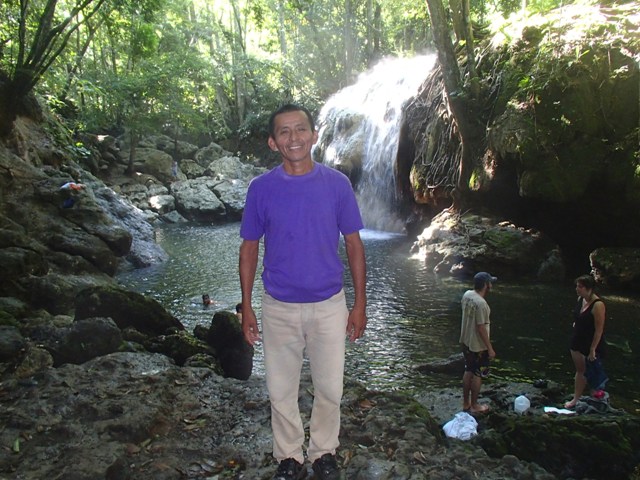 And then he insisted on taking our photograph as well. You will recognise Stu and Steph. The other guy is David, a single handed sailor from the US.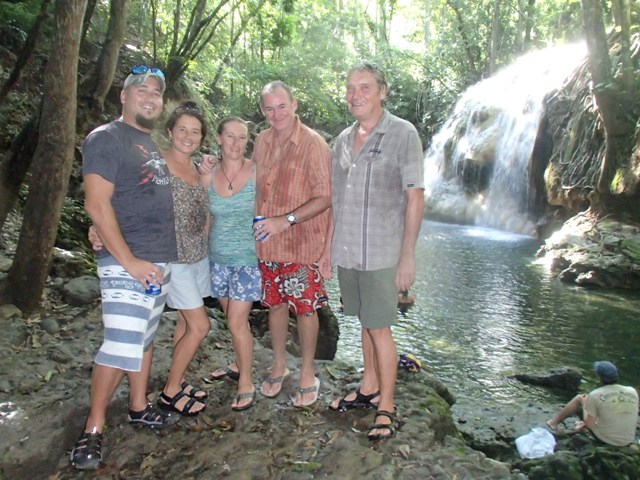 Two bus rides each way meant that we could do a day trip to "Quiriguá" [pronounced Kiriwa].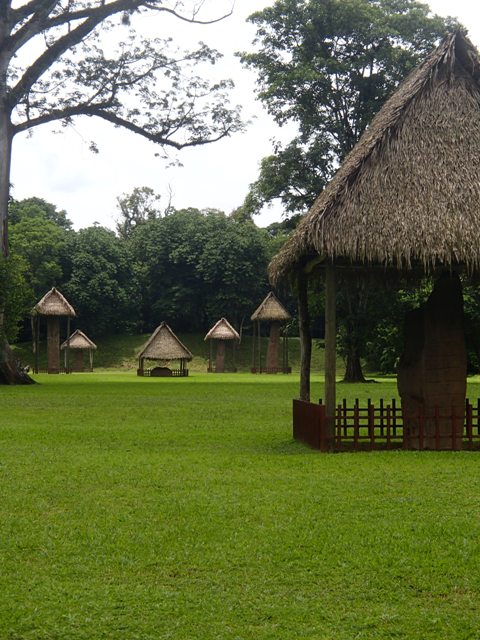 The site houses some of the largest Stelae [800AD] to be found throughout all Mayan ruins because its location close to the red sandstone beds of the Rio Motagua – with its accompanying cleavage planes – meant that giant rocks were readily available for carving. I decided that the explanation of Stelae would be best left to those who know about it….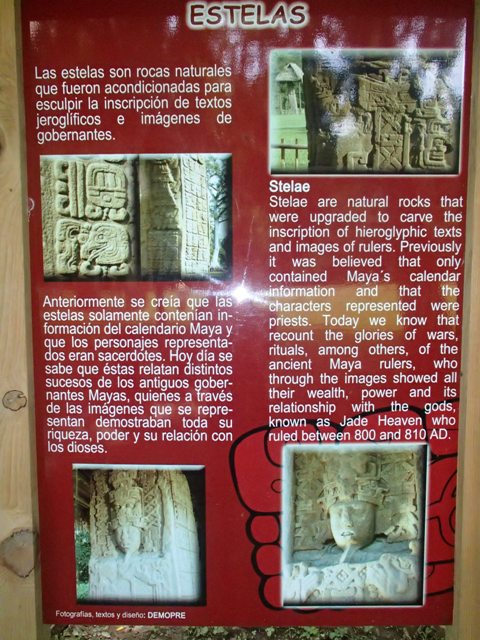 ….but basically the carvings are mainly of the principle leader of this site called K'ak' Tiliw Chan Yo'at [which translates as Cauac Sky – whatever Cauac is supposed to mean?].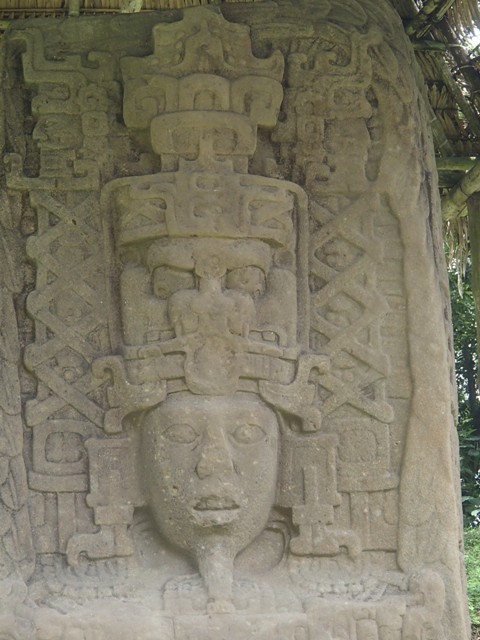 He apparently decided that Quiriguá should not remain under the control of the larger settlement of Copán, went to war against its king and eventually captured and beheaded him. I am not sure what his Mayan name was but he seems to be referred to in books as King 18 Rabbit – maybe Kate and William should have considered this when naming their son!
As well as the Stelae there are also a few Zoomorphs. These are blocks of stone carved to resemble real and mythical creatures. Frogs, tortoises, serpents and jaguars were favourite subjects. I think this one must have been one of the mythical creatures…..!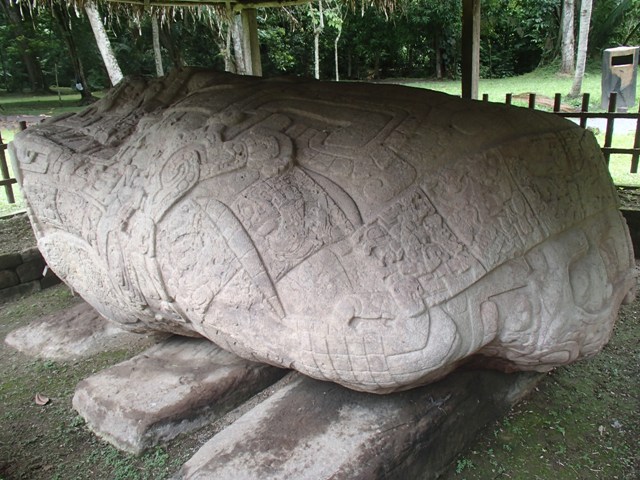 As I said, we took two buses each way. On one of the journeys out we shared the transit van with a puppy in a cardboard box. Coming back we had 19 people and a baby chicken in a 12 seater van, but Mike's favourite transport of the day was the tuk-tuk. Ideally these are for a driver and three passengers.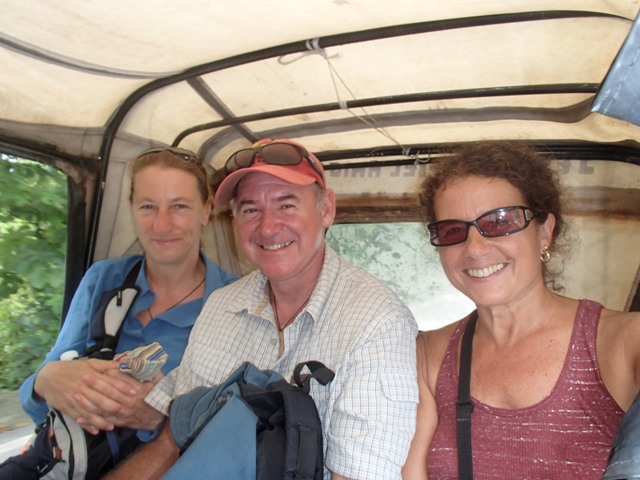 Looks OK so far but, as you know, we were four passengers from the outset and then the driver stopped and picked up a female friend and her small daughter.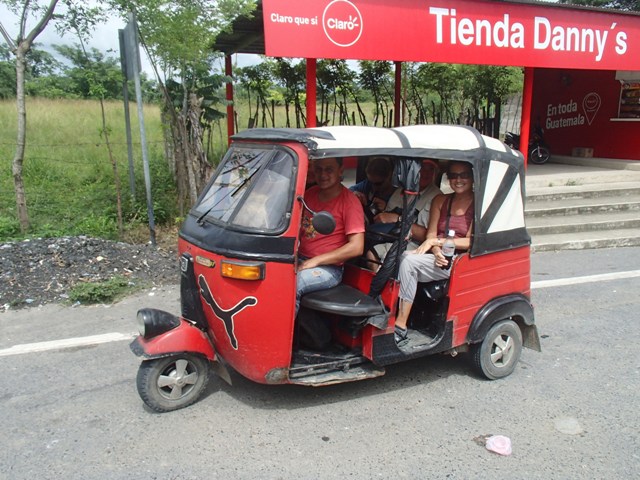 Fortunately it was only about two miles up a little used side road.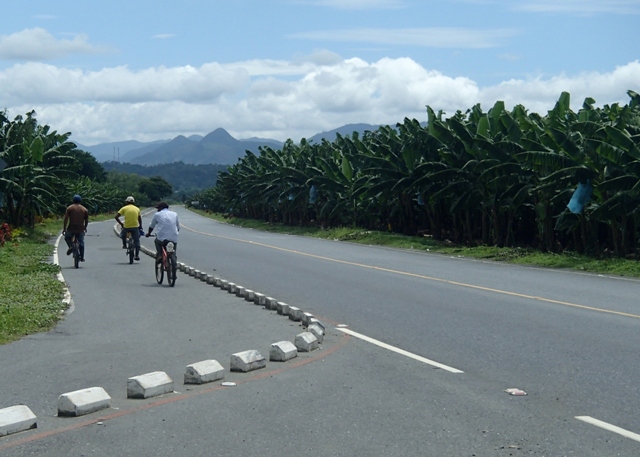 Our latest day trip was to celebrate the birthday of Lucy – the woman who works as trip organiser/ advisor/guide at Tijax. She arranged for 12 of us to visit the waterfalls at Las Conchas. This series of limestone pools and waterfalls are in a beautiful setting off the beaten track. Picnic palapa huts and BBQ pits attract local families but we had a pool to ourselves and really enjoyed the cooling water.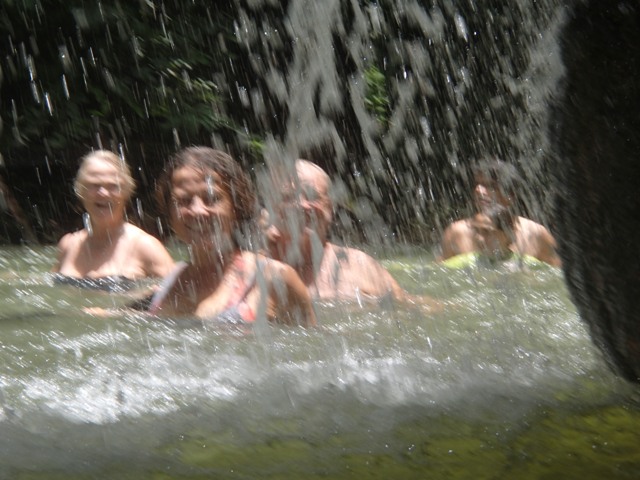 Because of the recent rains some of the swimming pools might better be described as raging torrents but the 40ft falls were more spectacular.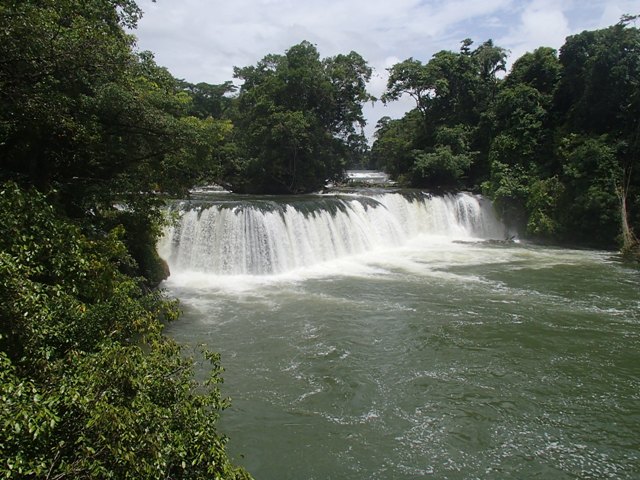 Speaking of recent rains… I really must try to describe the storms we have been getting. I don't think I have ever been anywhere before that the lightening and accompanying thunder clap occur at the same moment. I am sure physicists will tell me it can't be the same moment because of the relative speeds of light and sound but there isn't even time to think about counting to assess the distance the storm might be from us. It's literally overhead and the reverberation of the thunder can be felt throughout the boat. We believe that the town was hit twice during the most recent storm and we were told that the marineros saw one of the berthed boats hit during a storm about two weeks ago. During that one we were in the cruisers lounge and knew it was close. In the most recent one we were confined to our respective boats because the intensity of the rain was such that to venture out would have meant an instant soaking.
I am not actually afraid of thunder/lightening storms but some of these flashes and crashes have caused me to squeak a bit and Mike nearly dropped the cigarette he was rolling. We don't know whether or not it does work – but a couple of times I have put our two hard drives, our phone, our Ipad and camera into the microwave for safety [no not on!]. If we were hit the damage would of course be far greater to all the other fixed electronic gadgetry but there is no harm in trying to protect what will fit. The current estimate that most cruisers seem to work on is that a direct hit could cause around £50,000 damage in electrics/electronics alone! Please keep your fingers and any other suitable parts of your anatomy crossed for us during the next few months. This is apparently very unusual for the Rio – it normally rains but not with these localised storms. It would have to be this year.
But, it's not just us suffering. A walk through the village to town took us past several houses where all furniture and belongings were spread outside in attempt to dry them and whilst one member of the family was sweeping out the floodwater another was taking pans, jugs and any other suitable container to the water carrier which had come to bring them drinking water because their normal supply was polluted. Apparently 77 houses had to be evacuated in the middle of the night.
Unfortunately, also affected was our upholsterer! We were quoted a very reasonable price to get our much worn salon cushions replaced. The old stuff was taken outand motored away last week….
….leaving an Ikea like interior….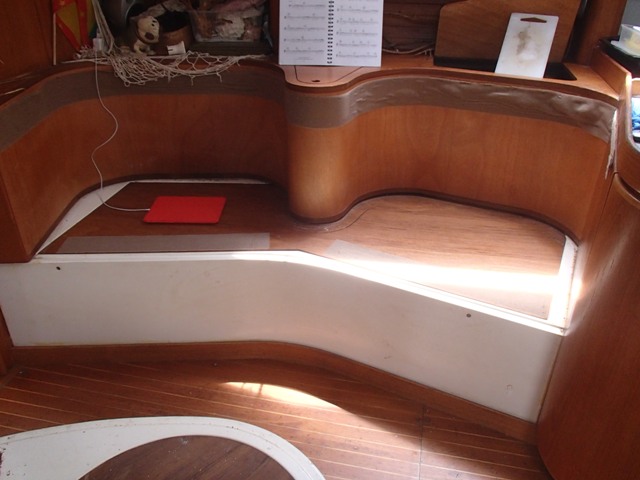 ….and it will be ready for when we return from our next short trip to the interior. We happened to visit Elmer to ask about waterproofing for our bimini stitching and saw that the work he was doing for us had been affected. Fortunately it was only about two inches along the edge of the pieces which go round the base of the furniture and not the new cushions themselves. Ah well.
A cruisers life in the Rio is also punctuated by activities organised by the different marinas. There is a weekly trivia night when a host marina collects interested participants and puts on food and drink specials to entice us to take part. Some marinas also hold a movie night. We went to a screening of the Johnny Depp "Lone Ranger" film – brilliant fun – especially if you remember the originals but we opted out of last night's showing of "The Conjuror" – not my thing at all.
We are also enjoying the different wildlife found here. We were told that we shouldn't be trying to take a photograph of this colourful little thing….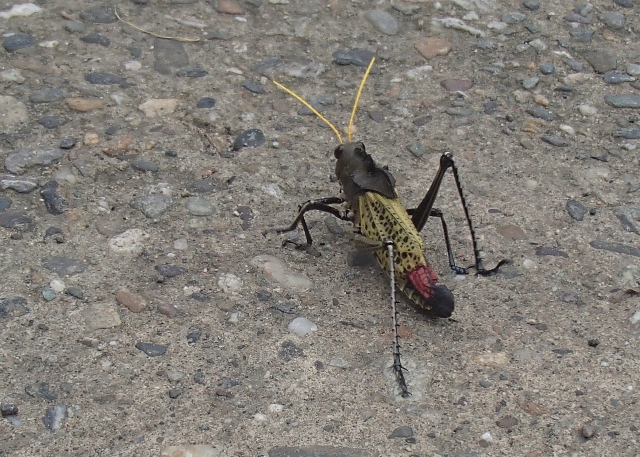 …we should be trying to catch it to eat???
This kingfisher didn't need any help – he visits the marina most nights and balances on the mooring lines catching his fill.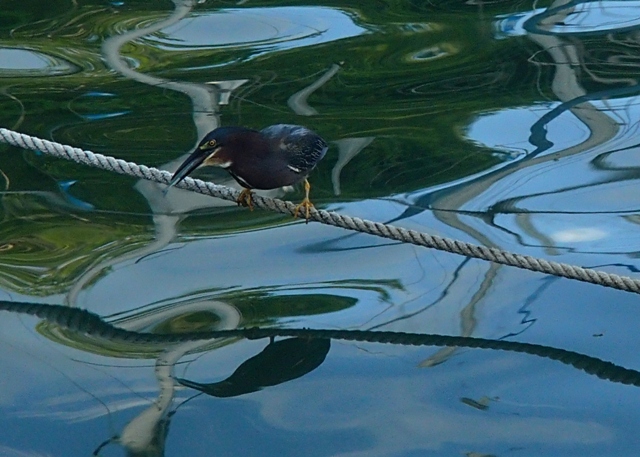 On shopping trips we have encountered a number of parrots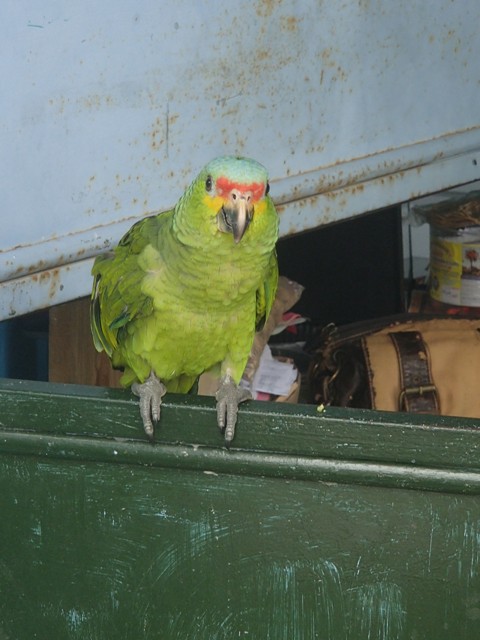 And, following the rains we have noticed some interesting changes to local plants.
These "flowers" are made up of small cups with beak like protuberances.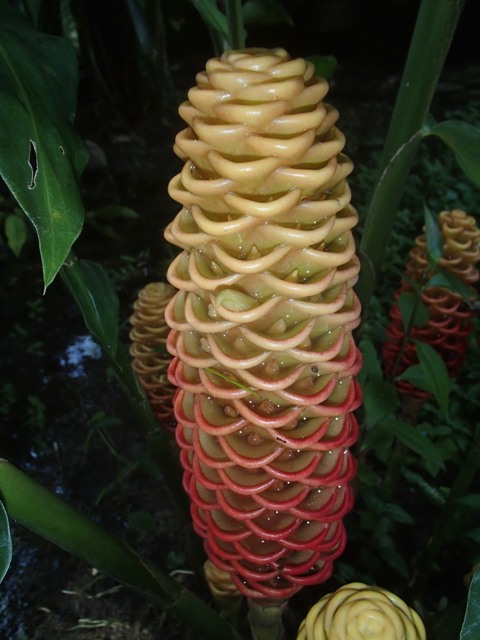 We wonder what we will see next, especially as we are taking another trip into the mountains. We leave in a couple of days for ten days around Lake Atitlan. You will hear all about it in due course but for now, cheerio from Rio Dulce