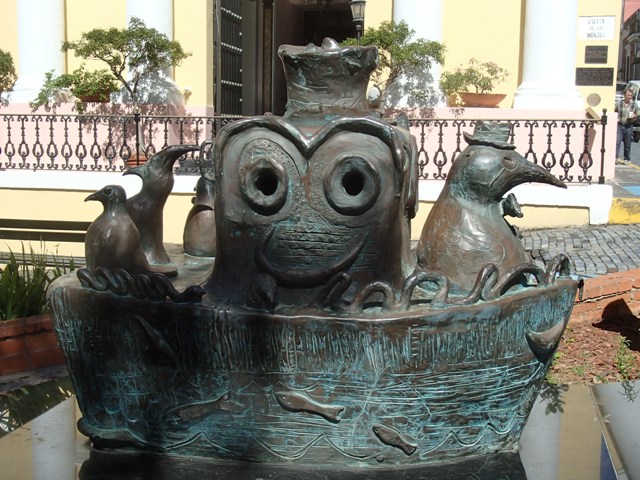 We got an email quite recently from James asking us whether we missed snow, or rain or the cold. He said in it that he probably would. Well, the answer is – "No we don't". We miss friends and family, we miss the range of cheeses [well any good cheese actually, never mind a range], we miss decent beer – though regular readers will know that Mike has been sniffing out more and more "real" beers lately, and we sometimes miss the vibrancy of city life. So, we decided to treat ourselves to a short city break in San Juan, Puerto Rico – the second oldest European founded city in the Americas [Santo Domingo in the Dominican Republic being the first].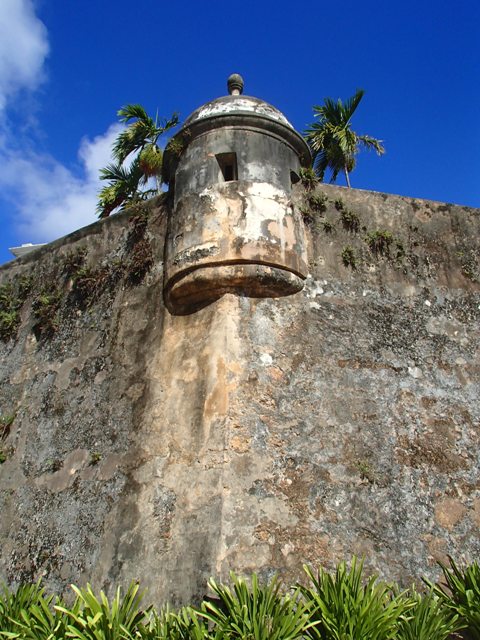 As many of you will know, Puerto Rico was under Spanish rule for 300 years before the Americans "freed" it in 1898 but the island has retained the Spanish spirit. Being in San Juan was like being in a mini Madrid and the daily life of its residents seems undisturbed by the many cruise ship passengers who disembark daily for a quick tour.
An early morning coffee is a ritual, whether in one of the many small cafes or from a kiosk in the square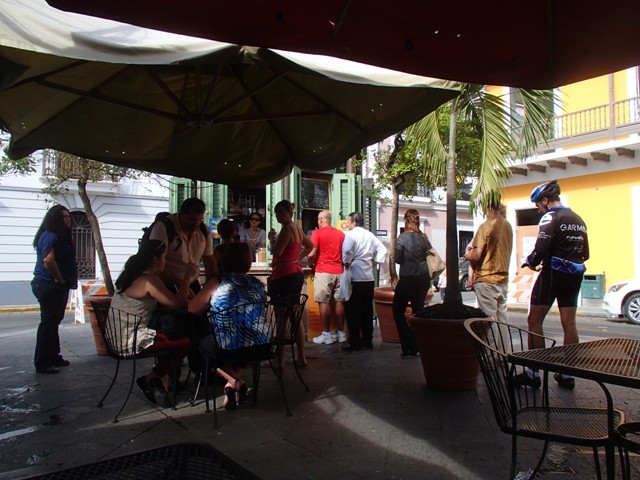 locals gather to play dominoes in the shade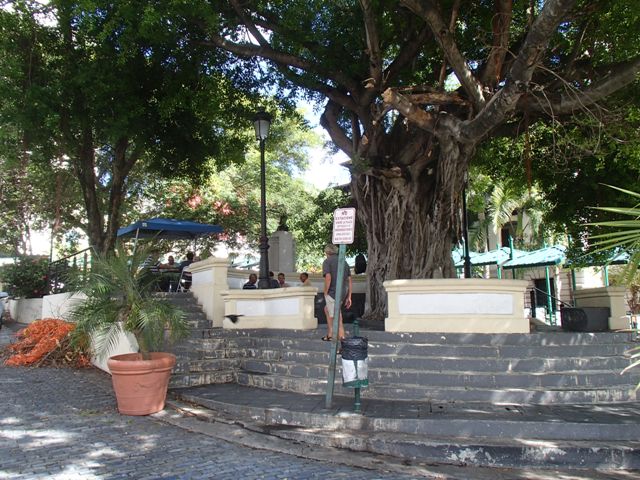 and kids play happily in the fountains.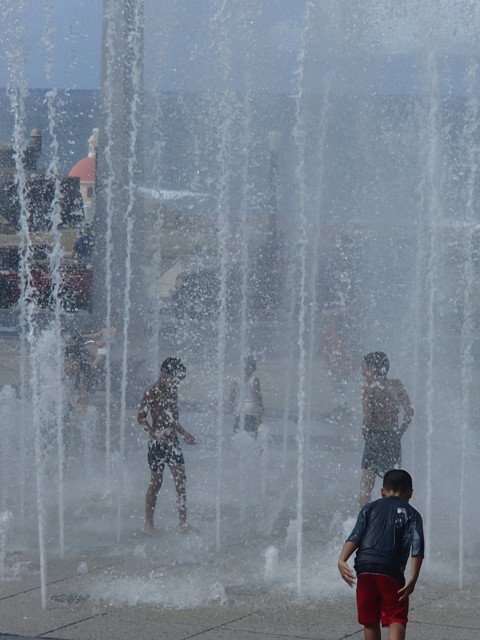 As you would expect there is much to explore and we spent a full day taking the self guided walking tour. There are two forts, "Fuerte San Phillipe del Morro" a six level fort, with lots of interesting passageways and staircases between the levels. It sits on the headland and commands excellent views of the Atlantic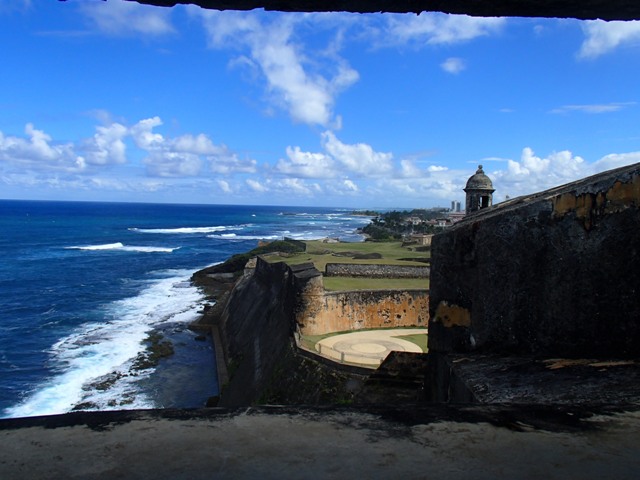 And the "Fuerte San Cristóbal" which was constructed to defend against land attacks and which houses a small military museum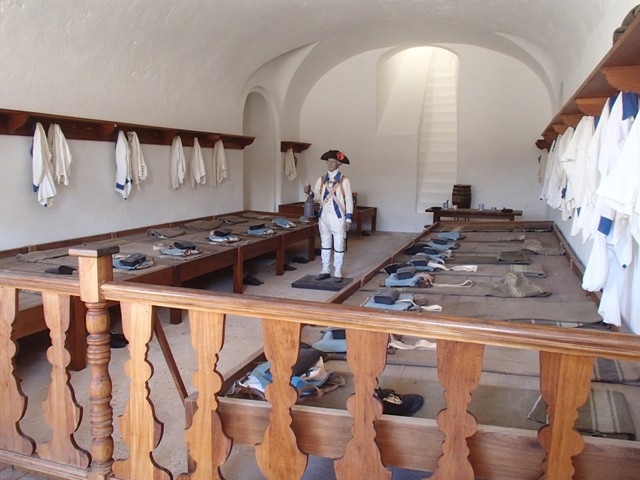 Just outside the city walls is a 19th century walkway lined with antique lamps, benches and statues which culminates at the most famous of the city's fountains….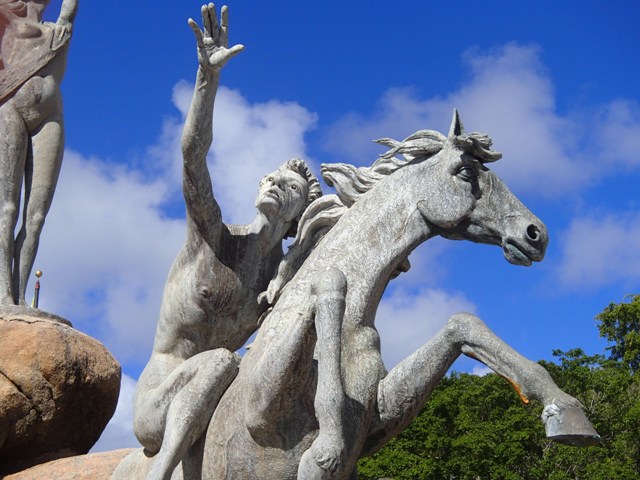 the Raíces Fountain which depicts the islands Taíno, Spanish and African heritage.
A much more modern plaza and monument, built in 1992 to honour the 500 year anniversary of Christóbal Colon's first voyage to the Americas is a really quite surprising sight. It is rumoured that the monument cost US$10 million but no one seems to know quite what significance "El Totem Telúrico" has.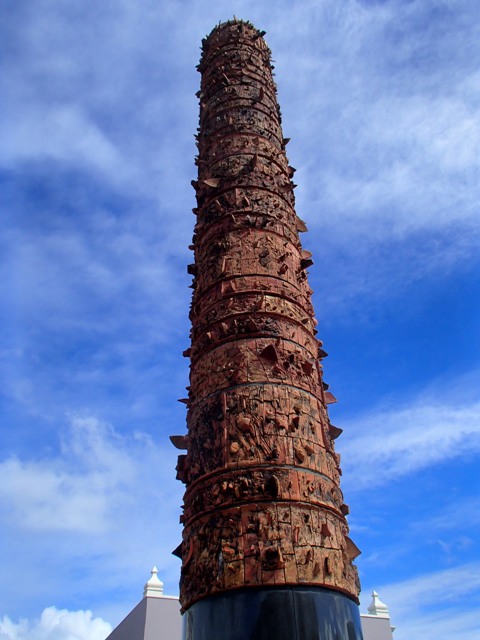 The streets are very narrow and cobbled with many of the street names depicted in mosaic or tiles and there is interesting architecture, both old and new, on every corner.
As you will have spotted already from the photograph at the top I couldn't resist a statue which seems vaguely reminiscent of a certain "Owl and Pussycat", and this guy also took my eye….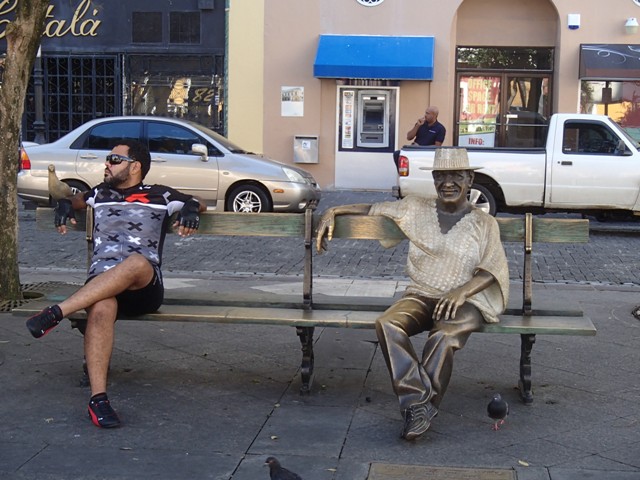 Or should that be guys?
As you will imagine all of this sightseeing was very thirsty work and at around 5pm as the sun was beginning to go down over the walls we chanced upon a small bar and spa. Yes, that's right. A bar and spa where you could order a back massage and a glass of wine all at the same time. A couple of people came in for shoulder or foot massages as we sat there but we resisted. What I couldn't resist though was the special price Margarita. Just perfect for that sundowner drink.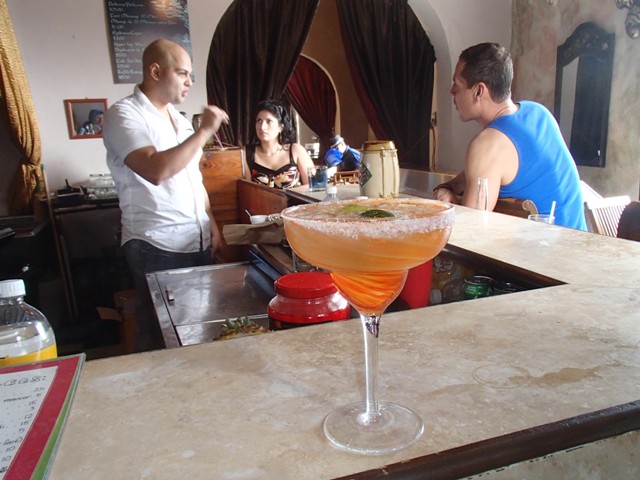 We decided to spread our wings a little on our second day and caught the small ferry…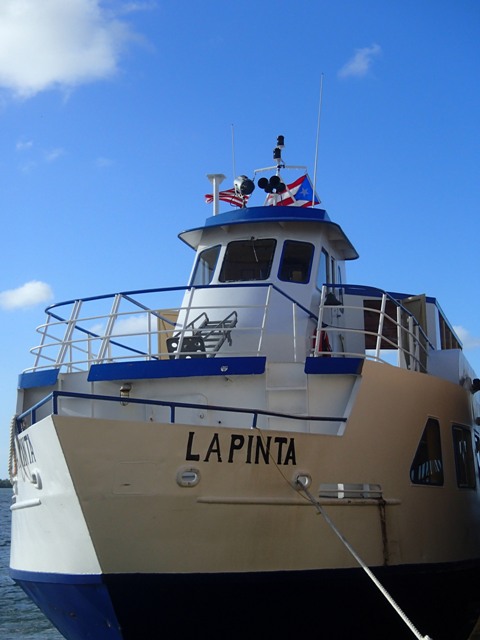 which crosses the Bahía de San Juan to Cataño where we visited the "Cathedral of Rum". It gets its name from the pink six storey distillation tower and is the home of the largest rum producer in the world. Yes, you've got it….Bacardi.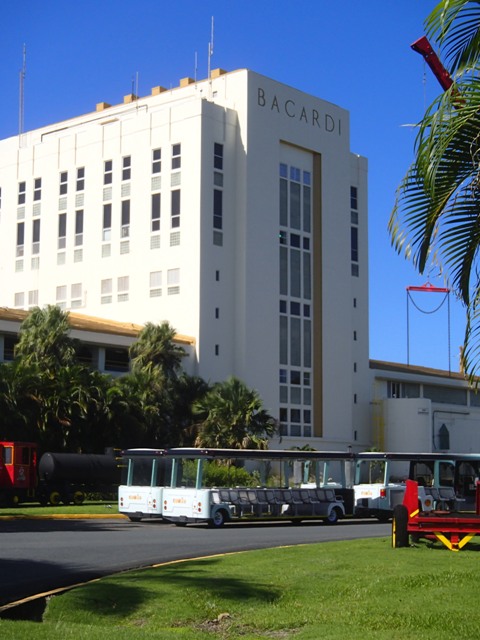 The famous rum producing family began their business in Cuba more than 100 years ago but the Cuban revolution and its aftermath resulted in them moving their production [and themselves] to Puerto Rico in the 1930's. Today, the factory produces 100,000 gallons of rum per day. Now that's a lot of rum. I don't know whether you have ever wondered about the bat logo which symbolises Bacardi. I can't say I had, but if you have then you might like to know that the bat was chosen because when the family first started producing rum in the shack in Cuba, the building they designated was the home to a family of fruit bats. There are now several sculptures some of which are obviously a bat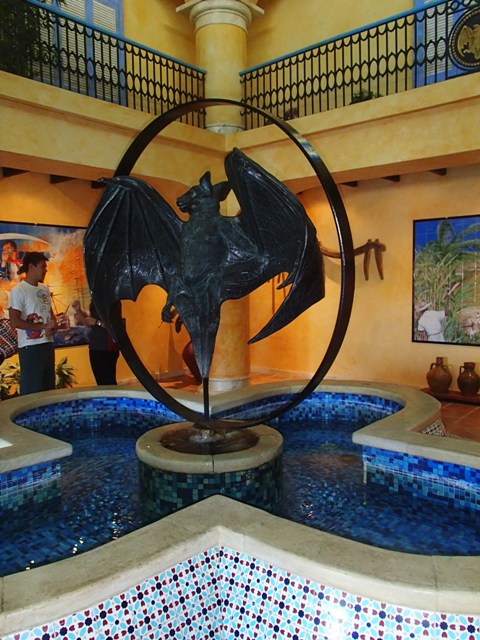 And some perhaps less obvious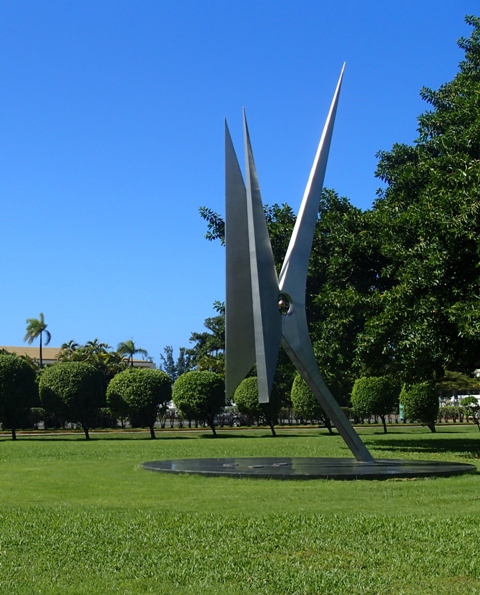 The trip took us nearly all day and was a real value for money day out. The ferry cost US$1 each [return] and the taxi from the ferry to the factory was US$6 each [return]. There was no entry fee for the distillery tour and the tour included two free drinks per person. Each drink was about the size of a double and included a range of options from classic white Barcadi, through the various berry, lemon, coconut etc.  flavoured rums to the Aged Gold and Superior 8. Of course, we can't be simple souls like everyone else – everything we do has to have a story behind it. Having arrived at the factory at about 12.00 we were advised that our tour would be in approx 30 minutes time and, contrary to what you might expect from us,  instead of doing what other folk did and rush to the bar immediately with our free tickets we wandered around a bit and looked in the gift shop etc.  The tour was fairly interesting and we saw a short video about the family and rum production and ended up being shown how to make 3 different Bacardi cocktails – which, surprise, surprise [not] were Piña Colada, Mojito and the Cuba Libre. So, who knows the difference between  Rum and Coke and Cuba Libre? First of all, it is supposed to be Bacardi only – no other rum will do, but aside from that the difference is…. a slice of lime
Anyway, having completed the tour we got our first drinks and sat in the sunshine enjoying them. For some reason, Mike had not heard the woman say two free drinks [I really don't know how he missed that one, most unlike him] and so when I asked what we were going to have for our second drink Mike said "What second drink – we haven't got any more tickets". There then ensued a long debate which I won't bore you with but Mike was finally convinced that we should have had two each and that we had either only been given two tickets or that  he had handed all four over for the first drinks. So, he spoke to the lady on the desk and asked for two more tickets. She gave him four. Not bad we thought and settled down to enjoy the ambience, which was getting better by the minute, and to watch all the comings and goings of the other visitors. About half way through our third drink Mike was searching his pockets for his cigarette lighter and – lo and behold – he came across the two lost tickets. So, as I said above… a story behind everything we do and, of course, we didn't waste them.
Back in Cataño there was quite a festive atmosphere [which had nothing to do with the rums we had drunk]. It was the inauguration of the town mayor and all the townspeople had come out for the afternoon ceremony and street party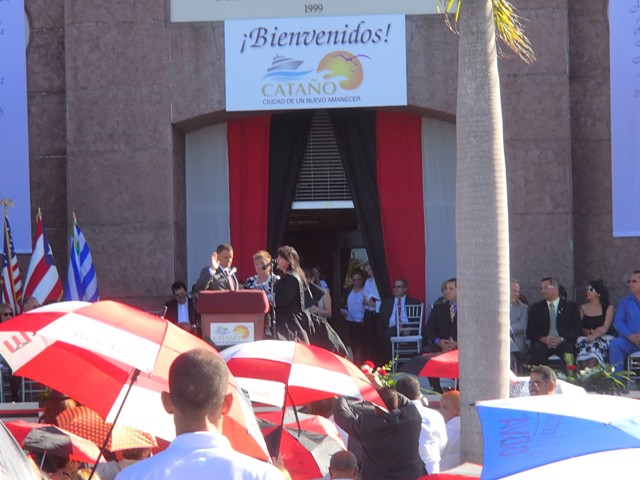 We didn't wait to see the fireworks in the evening as we wanted to head back to the delights of Old San Juan.
As you can imagine, the old city comes alive at night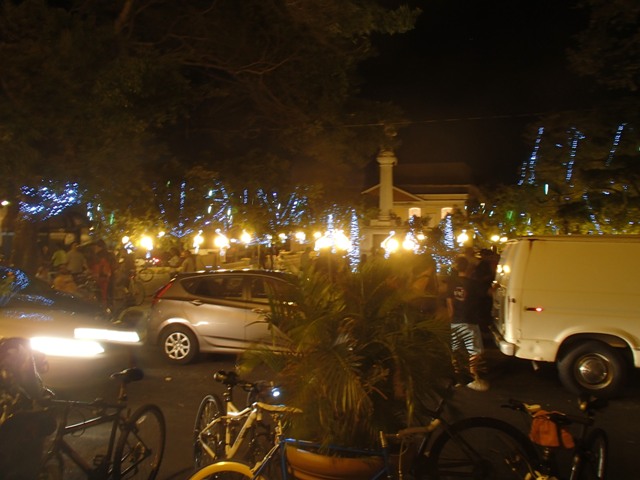 with lots of bars and restaurants hidden away in tiny corners or spilling out onto the pavements and promenades. A bar we particularly liked – maybe because they gave us complimentary hot sausages – was Marilyn's Place.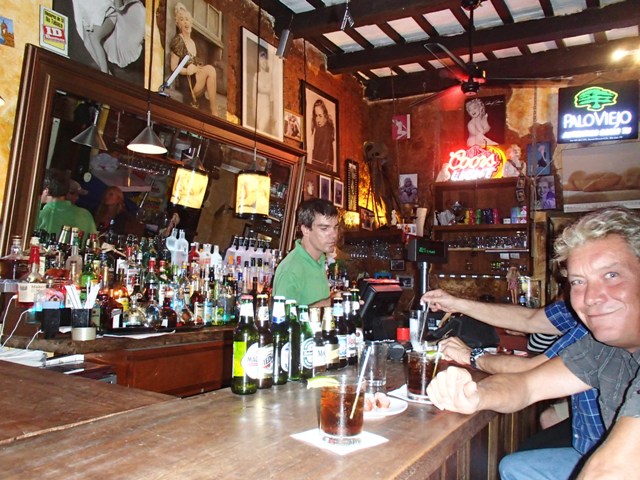 We chose our excellent hotel – "Da House"[highly recommended]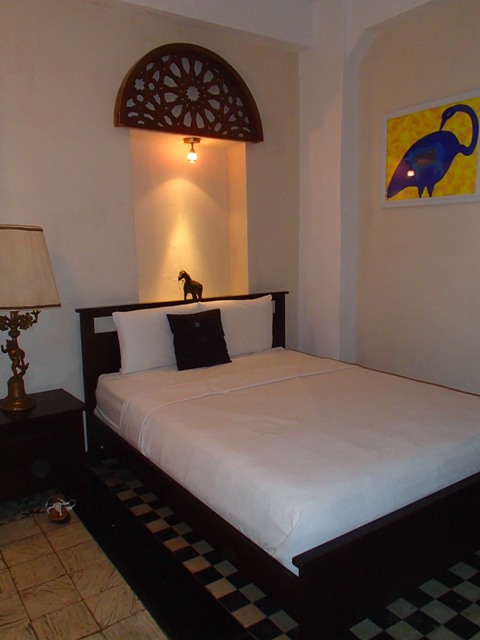 partly because of its proximity to one of the city's best known Salsa Bars. We knew it was going to be close by because when we booked we were given the choice of a slightly cheaper room "near to the nightlife" or a more expensive quieter room. I hadn't quite realised that by near to it meant almost immediately above. The famous Nuyorican Cafe was in the basement next door.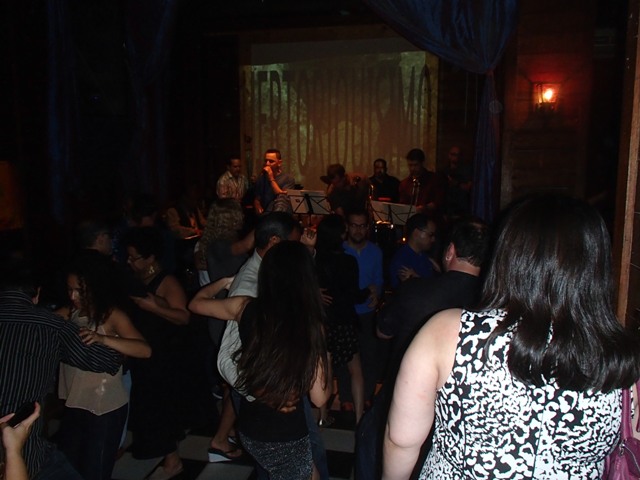 But, the fun didn't end there. The hotel roof may not have been somewhere I would have wanted to spend much time during the day, because the view was marred by building walls and telegraph wires and aerials, but by night with the city lights glimmering and the stars out it took on quite a different feel. Maybe it was the Bacardi……..or maybe it was the hot tub!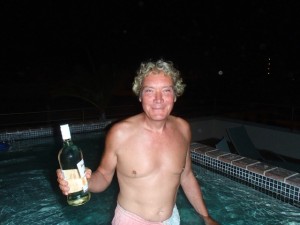 I realise that this post hasn't given any information about how we got from Vieques to the mainland, or where we have anchored or what else we have done in Puerto Rico.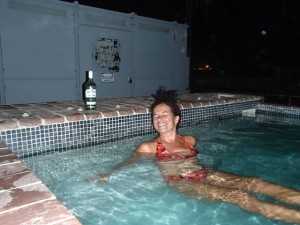 All that is to come in the next thrilling installment. I just wanted to share with you the Old Town of San Juan and the excellent weekend we had there.