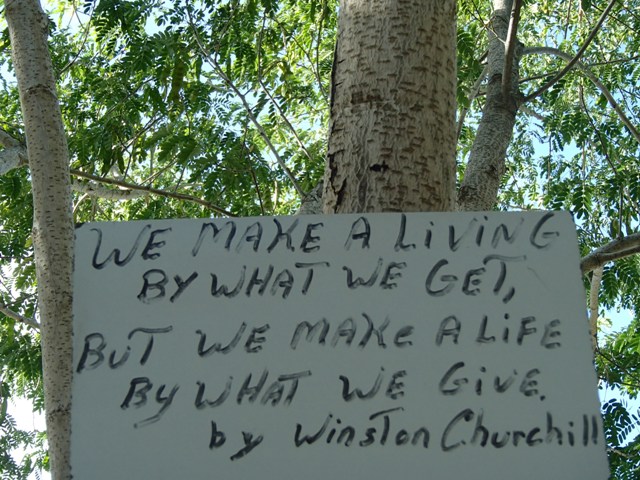 In my last post I made a passing reference to St. Martin – as that was where we were at the time. In total we spent a week there but the only real thing of significance to note, other than an excellent French meal at the "Tropicana" restaurant in Marigot, was the building of a new road right across the centre of the lagoon. We had read that there were plans to extend the airport runway into the lagoon and when we initially entered through the Dutch Bridge and saw the construction work we thought that this was what it was. However, unless the future of aviation includes planes which like to take off and land on runways with a big hump in the middle it seems more likely that this is a road! For anyone reading this who intends to visit the lagoon please note the importance of following the marked passage quite carefully. There is dredging work going on but it is shallow outside of the fairway and only currently dredged to about 8 feet under what will be the swing bridge. We don't know if that will be its final depth. In addition, you may recall the anchoring and payment arrangements in the lagoon i.e. anchor on the French side free but pay on the Dutch side. The road is Dutch and it is easy to think that once beyond the road it becomes the French side because it is close to the "Witches Tit". However, we saw the Dutch coastguard patrolling near to where we were anchored and the divide isn't as obvious as it seems. Some charts actually show the border. Our version doesn't but err on the side of caution and keep close to the "Tit" or head further toward Marigot if you don't want to pay.
Having stocked up on provisions and with all clothes and bedding washed and dried we were ready to leave St. Martin by 8 December to sail to pastures new – completely new. We were sailing into the US with our new Visas burning holes in our passports waiting to be used. The passage from St. Martin to St. Croix is approximately 100 miles so we opted for a night sail. It took us eighteen and a half hours with only 40 minutes of motor power – so a very environmentally friendly passage. It wasn't the most comfortable of journeys as the wind was only just off the stern and the waves were mainly from the side so there was quite a bit of roll. We were reminded of our Atlantic crossing which isn't perhaps surprising as exactly one year before we had been right in the middle of the Atlantic. During the course of the night we saw four cruise ships which isn't surprising in these waters at this time of year. Only one of them displayed obvious navigation lights, the others it was a case of watch and guess exactly which direction they were moving in. Still, it gives the person on watch something to do.
St. Croix is the southern most of the three United States Virgin Islands [USVI's] and the least visited by yachties. It is perhaps not surprising that charter boats don't visit because of the comparatively [to other Virgin Island destinations] lengthy passage from St. John or St. Thomas [40 miles] but we are surprised that more cruisers don't stop there. Maybe its because its not on a direct route or maybe its because St. Croix hasn't got the best reputation. There was a fairly major incident about eight years ago when two tourists from a cruise ship were attacked whilst sunbathing. In fairness, such an incident could have occurred just about anywhere in the world but in this case it resulted in all Cruise Ships taking St. Croix off their itinerary and word spreading that it wasn't safe. The guide book also goes into detail about a huge oil refinery on the south coast which gives the reader the impression that the island is nothing more than a system of pipes and storage tanks but in reality it is really quite nice with a wild, rugged beauty.  Because at least half of its 84 square miles is a fertile plain, like all other Caribbean islands it was once a hive of sugar cane production – this time under Danish colonisation.
We anchored in Christiansted which lies on the North coast. The anchorage is behind a reef, which gave the town good protection against pirates as well as seas, and although seemingly exposed to the predominant winds it was surprisingly sheltered. It provides excellent access to the town's historical buildings and its more modern day "boardwalk" of bars and restaurants.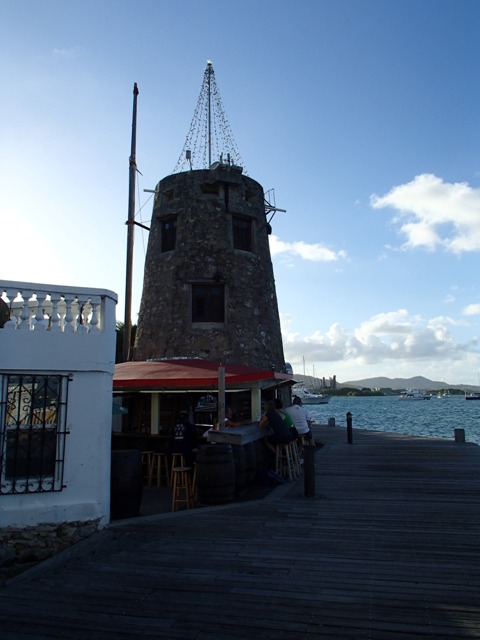 "Homeland Security" is a seven day per week operation though an overtime rate has to be paid on a Sunday for clearance through customs and immigration. It therefore cost US$15 which, given that we were in the office for 45 minutes, works out at a rate of about 22 UK pence per minute shared between the two people who were there to process us. I guess they are not making money from the entry of small yachts like ours.
There are seven buildings of note in Christiansted, the largest of which is Government House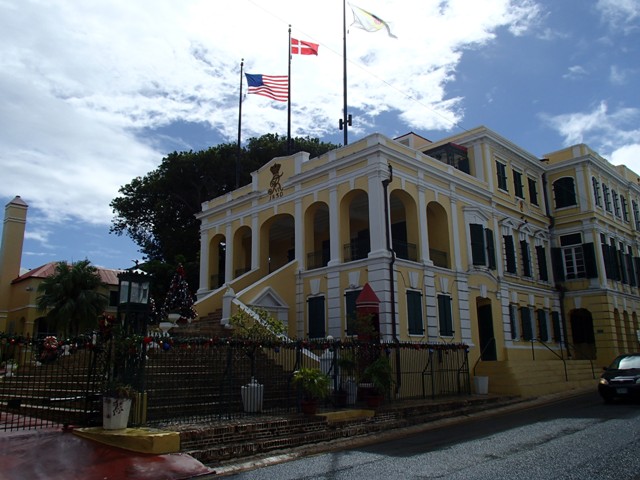 which was completed in 1830 by connecting two imposing 1700's townhouses. As it is still used by the USVI government the interior is not open to the public.
The fort, however, is completely open – including the isolation cells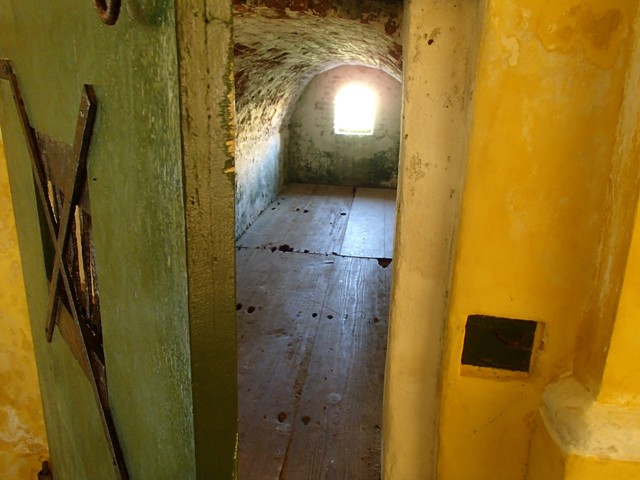 with prisoners drawings scratched into the floor.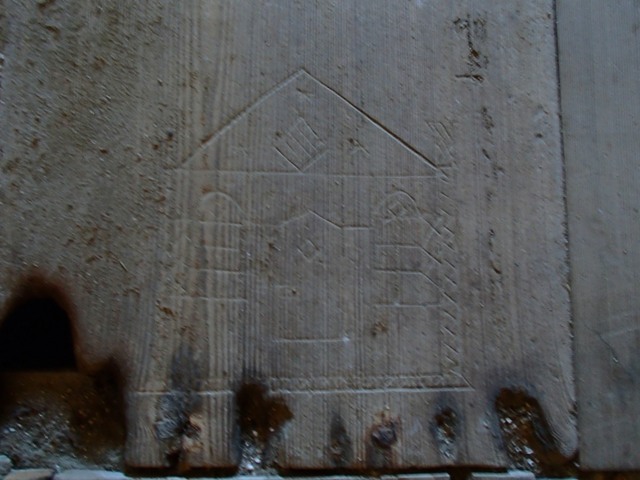 It contains the usual exhibits and provides the kind of view that one would expect.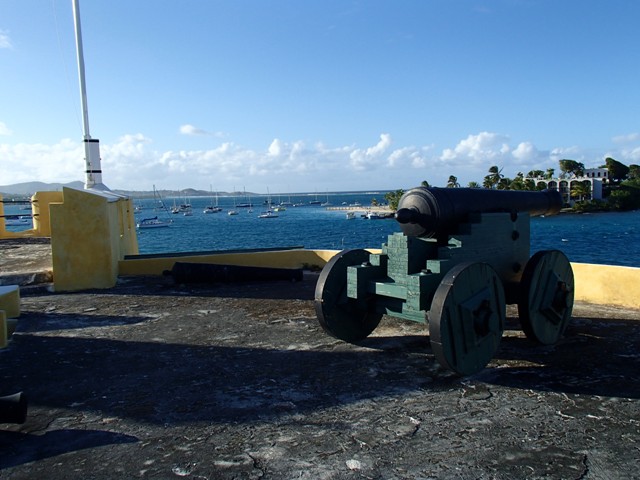 The "scale house" near to the old dockside was built in 1856 to replace the 1840 wooden "weighing house" – but as far as we could make out the scales were not updated.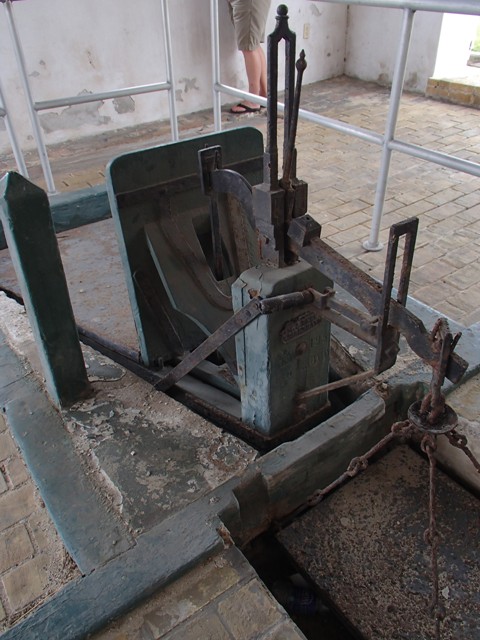 As well as history, parts of the coastline of St Croix are noted for their natural beauty and these areas along with the historical buildings are overseen by the National Park service. So, what do you expect to find in a National Park? Well for those of you of a certain age there should be Yogi, Boo Boo and lots of "Pick –a –nick" baskets….. Unfortunately we didn't glimpse of any of these but we did see several Mr [and Mrs] Park Ranger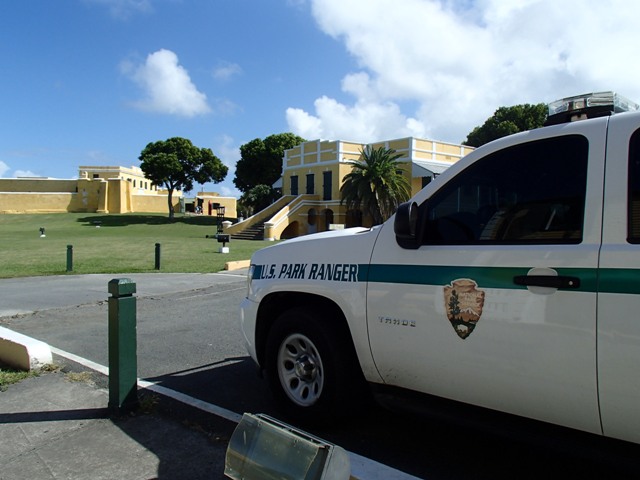 Part of the National Parkland, the Altona Lagoon, was right next to our anchorage and we wandered around hoping to be able to walk along the coastline to Green Cay. Although this wasn't possible we did come across a part of the park which seems to have become dedicated to the older residents of St.Croix and is maintained by them. It centres on the House of Blues – "Blues" being the name of a guy who took a lead in the regeneration programme and who has erected lots of signs like the one below and the one at the top of this post.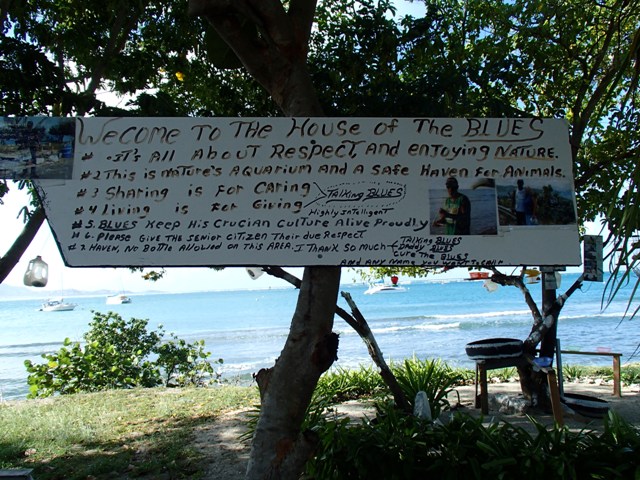 Perhaps the most visited National Park area in St.Croix is Buck Island.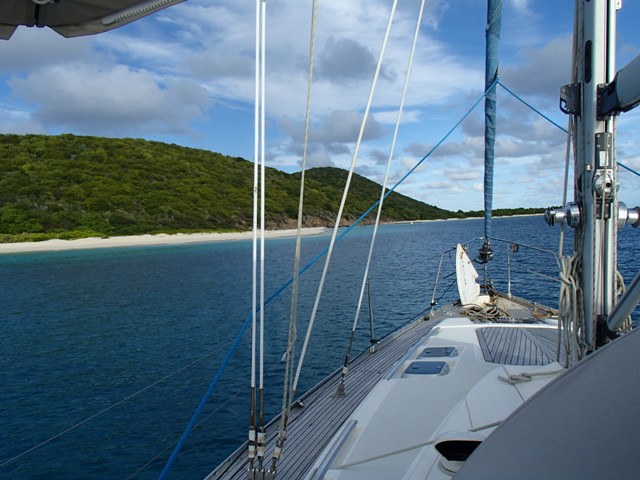 We came here for our last evening in St Croix and it was well worth applying for a permit to stay overnight as we were the only ones there. At no time of year are you allowed to play loud music or have bright lights shining after dusk and so we had a romantic candle lit dinner. Applying for a permit isn't difficult – it just has to be done two or three days in advance of visiting and it is free. Apparently now that we have got it we can go anytime we like as long as we are on Siga Siga and we update them with new boat registration numbers as appropriate. The only permitted anchorage is on the Western side – and is not the best holding we have come across! We had two initial attempts and didn't feel secure, which was proved correct after snorkelling the anchor told us it was still sitting on the sea bed, so we moved forward a little to drop it for a third time into probably about six to nine inches of softish sand which was enough to catch and hold us in the gentle winds. We would not like to have stayed there in anything above 10-15 knots but as it had been 8 knots all day and the forecast was the same for overnight we felt OK. On the Eastern side of the island is a large reef which is accessible by dingy and which has mooring buoys for small boats. After tying up we found the flag which indicated the start of the guided underwater trail. This is basically a series of concrete blocks which have been carefully placed on the bottom and which have either directional arrows on them or large drawings of the different types of coral and fish which are found there. Although there weren't as many shoals of small fish, the reef fish there have grown much bigger than the ones we have seen before and, we came face to face with our first barracuda. Unfortunately I didn't have my camera though I wasn't sure hanging around eyeball to eyeball was the best move anyway.
The other main town on St. Croix, Fredericksted, was once a thriving seaport and, like Christiansted, boasts some nice historic buildings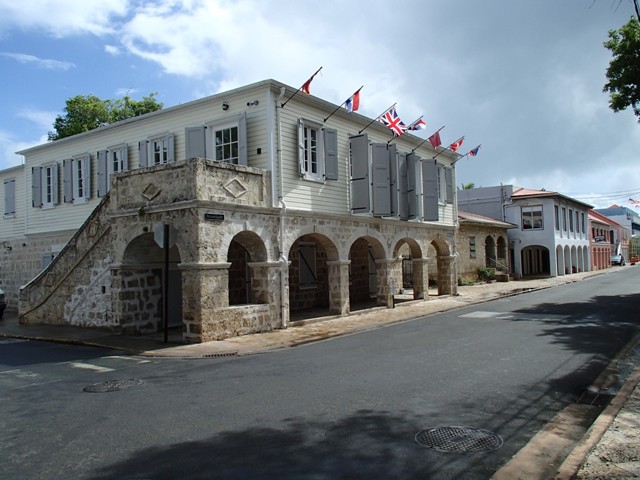 It now seems to exist for the cruise ships which have started to revisit. If I tell you that there was a cruise ship visiting on the day we went, these photographs [above and below] might give you some idea of just how quiet it must be on non cruise ship days!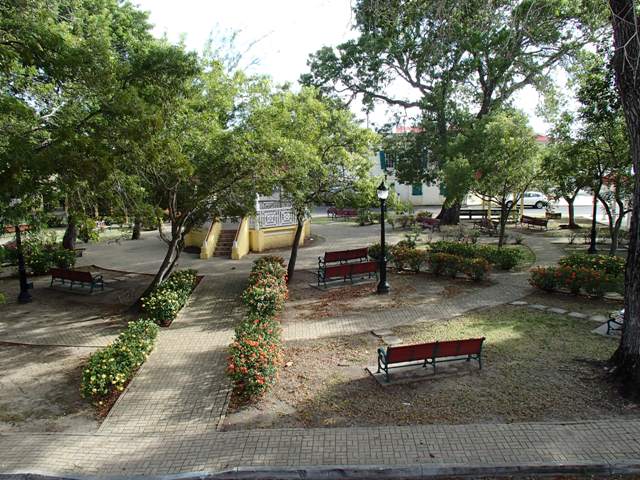 Perhaps the best part of this day out was the US$5 per person return bus trip – a journey of approximately 45 minutes each way which took us through the interior of the island. We also got to see a slightly different side of a typical Colonial Fort because instead of just ruins and canons, what used to be the Commandants Quarters has been filled with period furniture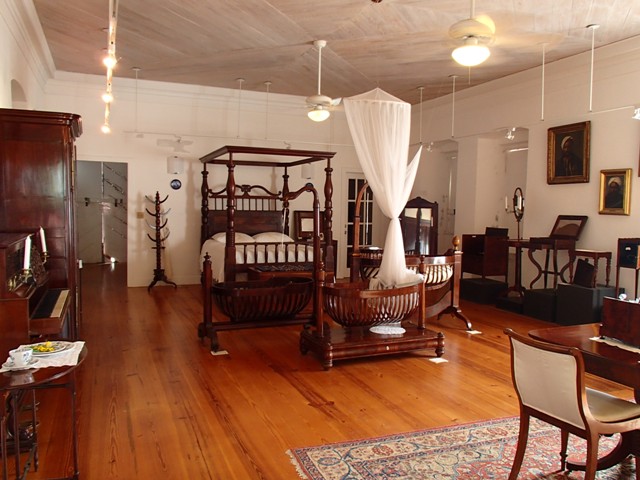 It also gave Mike the chance to indulge in photographing another statue in the garden area where we sat for lunch….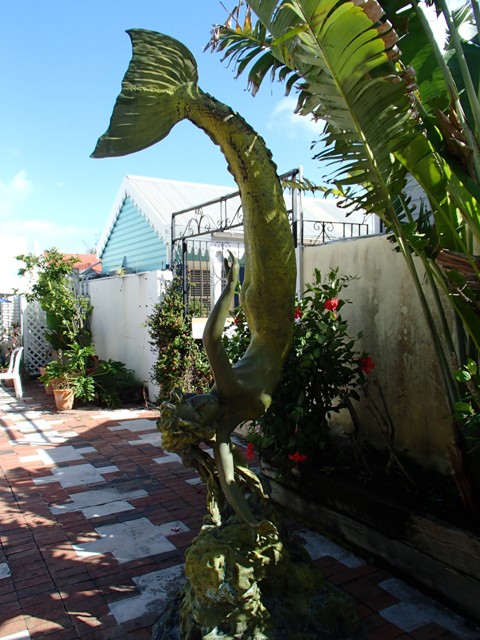 On our last evening on the St.Croix mainland we indulged my love of all things Greek …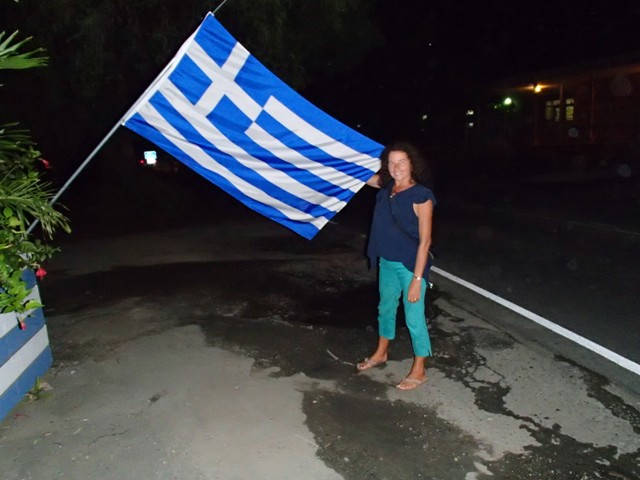 and shared a couple of Ouzo at the end of the evening with the restaurant owner "Peter". Perhaps that is not the most well known Greek name I have come across and he didn't seem to know what a "Horiatiki" [Greek Salad] was but hey ho…at least he looked fairly Greek….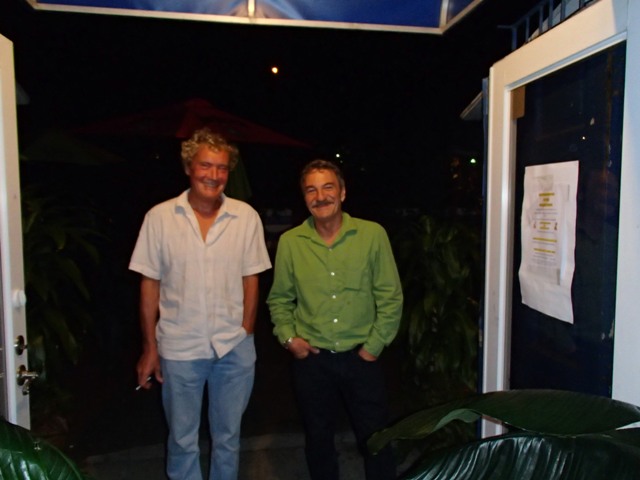 Speaking of indulgences [no, this is not an X rated edition!!!!] something which we are often teased about in emails and messages from friends is the lovely beer we have left behind in the UK and you may remember me telling you just how hard Mike tried to remedy that when we visited in September. Well, in St. Croix he found a Microbrewery pub…..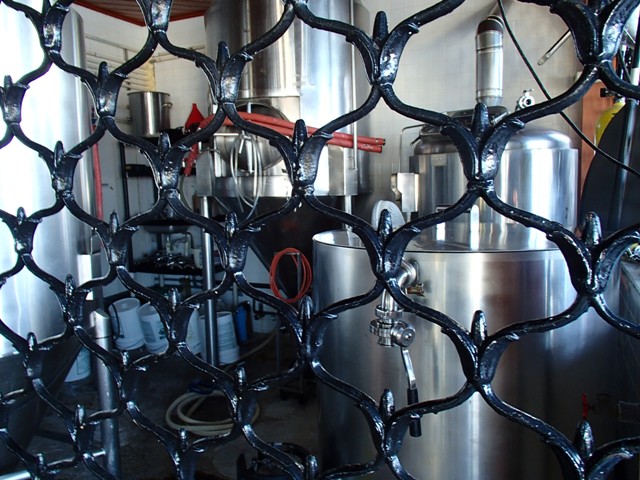 …selling  five different ales, Mike's favourite of which was the IPA. However, better was to come on St. John when in another Brewery pub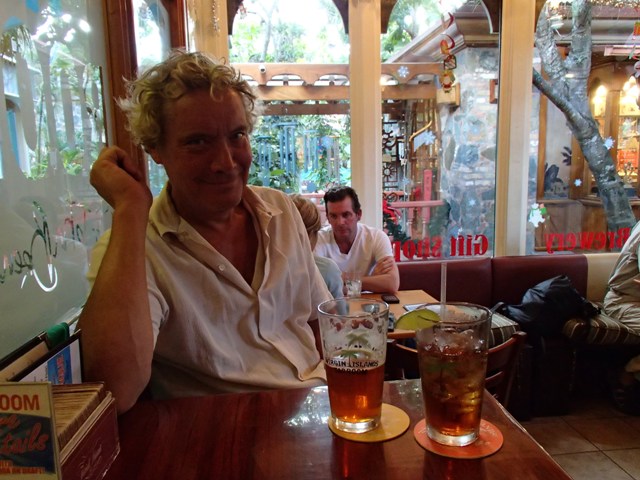 he found "Island Hoppin". Although all the beers seem to taste just about the same, Island Hoppin became his favourite and he was therefore delighted to also find it on St. Thomas where we stayed for just one night.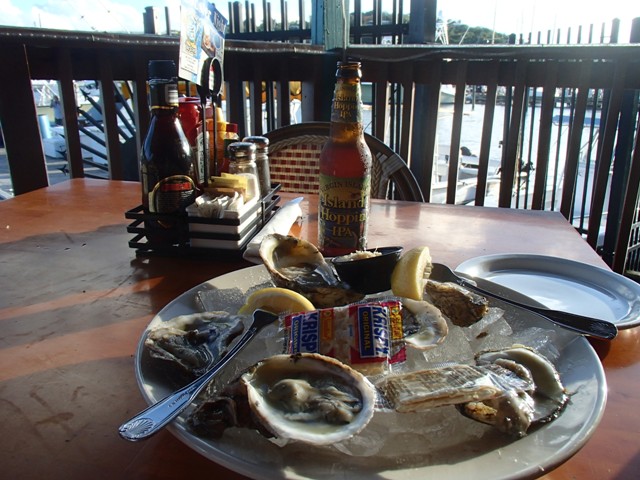 Despite the fact that Happy Hour included 6 oysters for US$7 we didn't think very much of St. Thomas as it was rather too commercial for us. However, like St Croix, anchoring in Red Hook Bay was free.
The sail from St. Croix to St. John was excellent with winds 8 to 14 knots from the NE. Close hauled all the way we covered the 40 miles in 6.5 hours.  As the majority of it is National Park, anchoring on most of St. John is forbidden and moorings costing US$15 per night have to be used. It is an absolutely beautiful national park so we really didn't mind paying and it is clear that the money goes to maintaining the moorings and the walking trails.
There are quite a lot of these trails [probably around fifteen] and altogether we walked four of them. None of them were particularly difficult and each provided us with a different experience. We saw colourful wildlife…[which was about the size of Mike's first finger]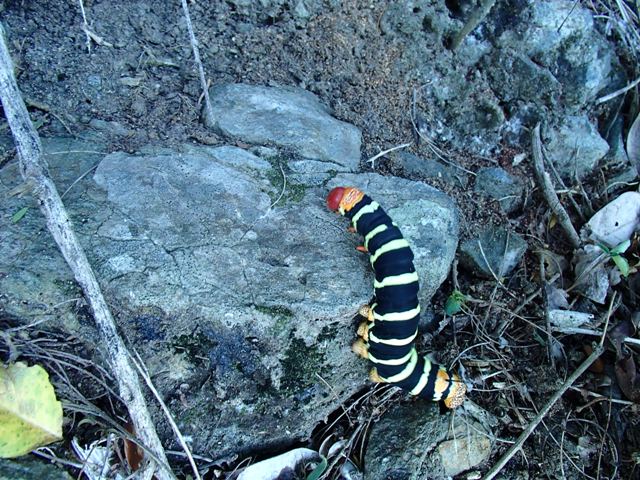 and great views of one of our anchorages…..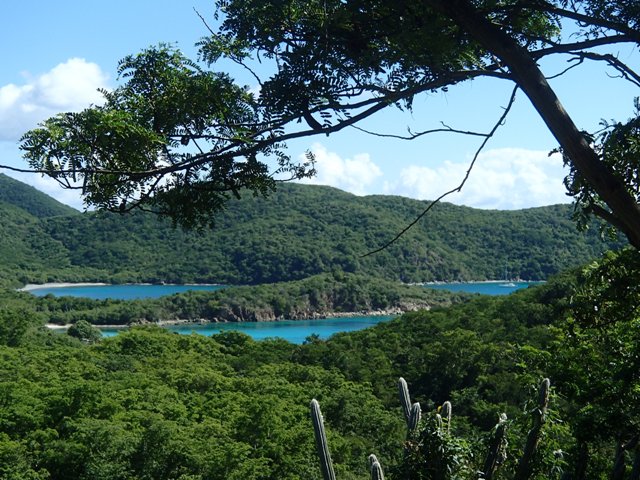 We found the usual ruined sugar plantations and noted how the buildings were built with holes strategically aligned.  If you look carefully at the picture below you can see the two squares which housed the wooden runs carrying the liquid crushed from the cane at either the windmill or the cattle mill into the boiling room.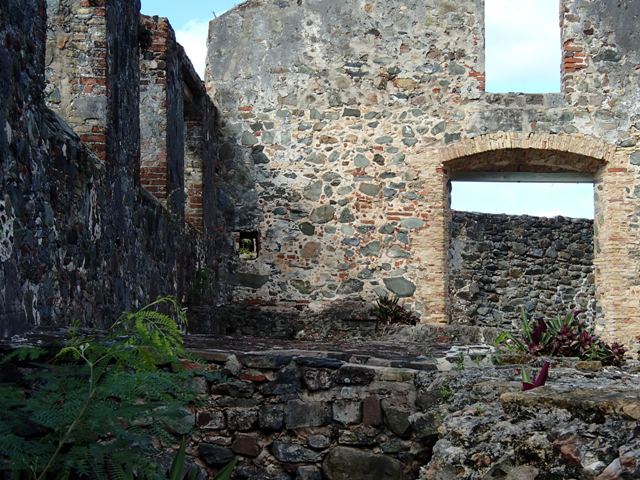 We also wondered where this tree in the ruins could possibly be getting enough water from to survive….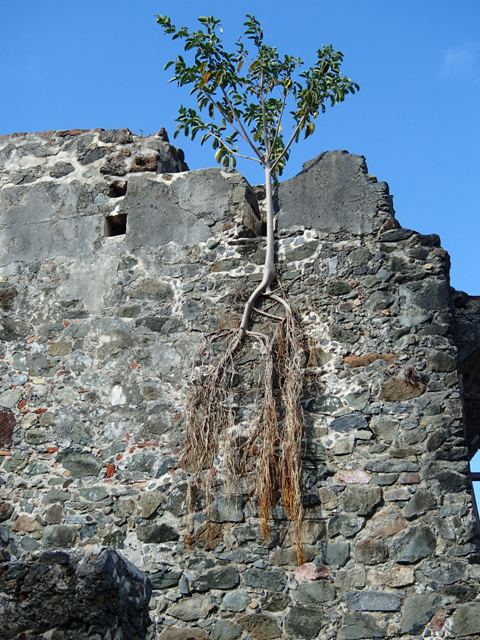 One walk took us over a headland and up a dry river valley to a [mostly dry when we visited] waterfall where we saw Petroglyphs carved out in the rocks by the pre Columbian Taino Indians sometime around 1200AD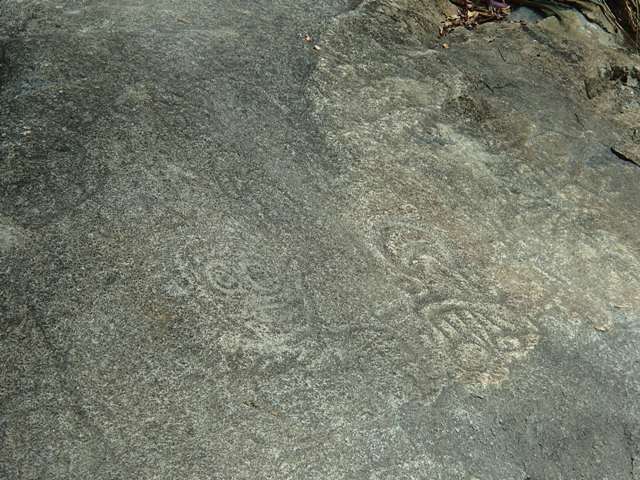 On our way back from there we took a detour to see the ruins of "The Great House" perched high on the hillside in the middle of nowhere.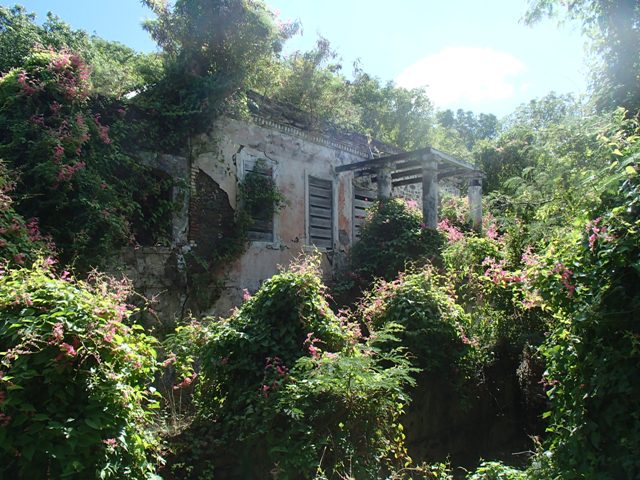 Firstly it didn't seem very "great", with only two main rooms, and secondly it made us think about the isolation of these families – particularly the women who shipped from their homeland to join, or be joined with, planter husbands. When we were in the UK Maggie gave us a copy of "The Wide Sargasso Sea" which is a strange book but is worth the read to get some idea of life in the Caribbean colonies at that time.
Perhaps best of all was our anchorage at Waterlemon Bay – and no – that's not a spelling mistake.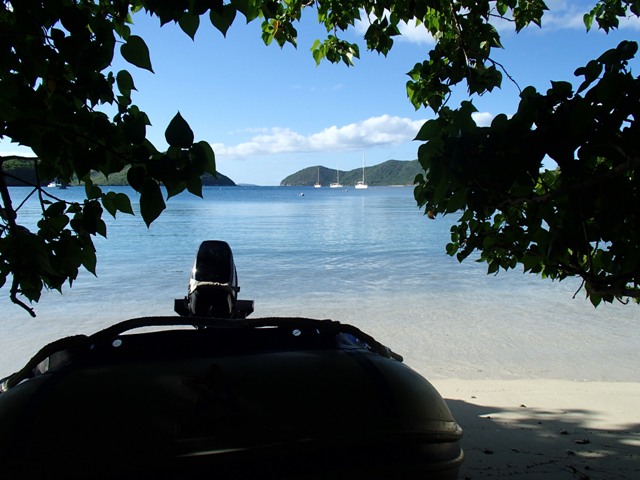 At its eastern edge is Waterlemon Cay which is surrounded by a reef. Snorkelling the reef and the shoreline gave me the opportunity to try out my new camera which is waterproof to 10metres. Some more practice needed yet as I discovered that the setting I had chosen didn't allow me to zoom in so although my photographs were fairly clear the subjects were often rather small. I did see sea slugs and a strange kind of sea spider as well as the usual colourful fish. I also came across Touché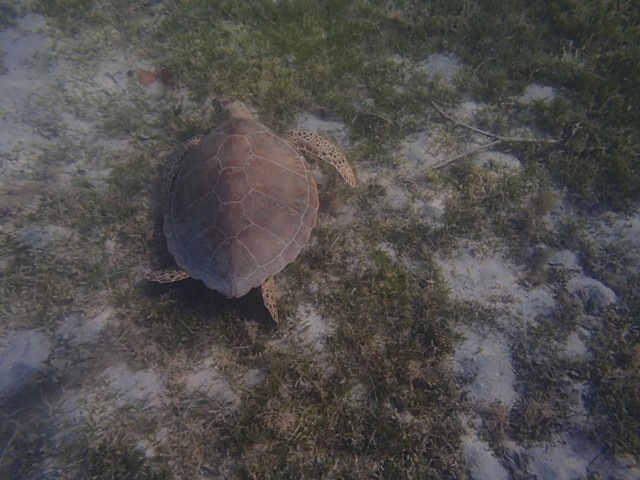 and, when I got back to the boat I found this nurse shark swimming underneath….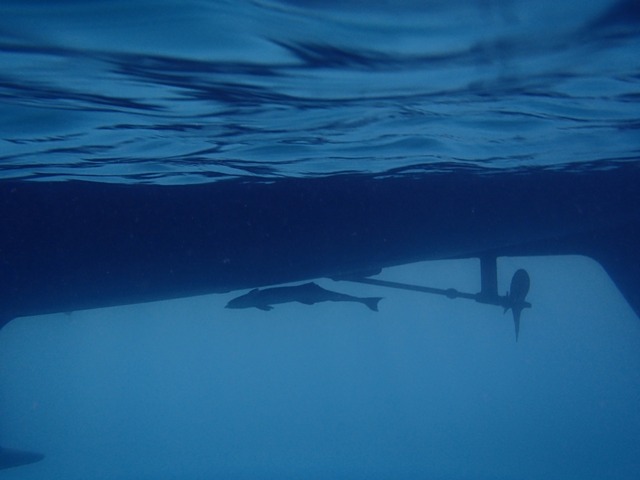 When sailing around St. John we passed very close to the BVI's. It was strange being so close but not visiting as to do so would have meant four separate clearances just for one day [as we wouldn't have wanted any longer than that]. Or at least we think it would were we to remain "legal". Whilst in Waterlemon Bay a catamaran moored next to us. The next morning it passed us and went straight to Norman Island. Whilst it was possible that it had cleared out of Cruz Bay St. John before coming to Waterlemon Bay it did not go to Soper's Hole on Tortola and there is no clearance into the BVI's on Norman Island. We think that US boats are allowed to ply between the different islands willy nilly but all "foreign" [to the US] boats have to clear in and out.
Sailing so close to Tortola did mean that we could use the phone because the European signal was strong enough to reach us on the north east tip of St John! The US phone system is different from the European system and I guess it serves us right for buying a cheap phone in Spain. Mind you, at that time we thought we would be able to get Mike's old phone fixed which, like no doubt all of yours, works on all systems. We also found Internet access difficult in the USVI's. A couple of cafe's had access but in restaurants/bars there was none unless it was a hotel bar – in which case you had to be a resident before being given the password. So it's been a case of fairly limited opportunity and therefore apologies to family and friends who we would normally communicate with a bit more regularly.
On one occasion approaching the BVI's we really thought we were back in good old blighty – as the sky was definitely more UK than Caribbean…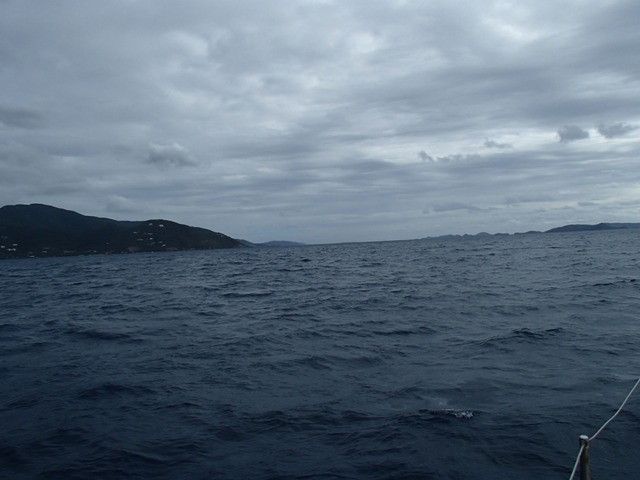 but it sorted itself out…..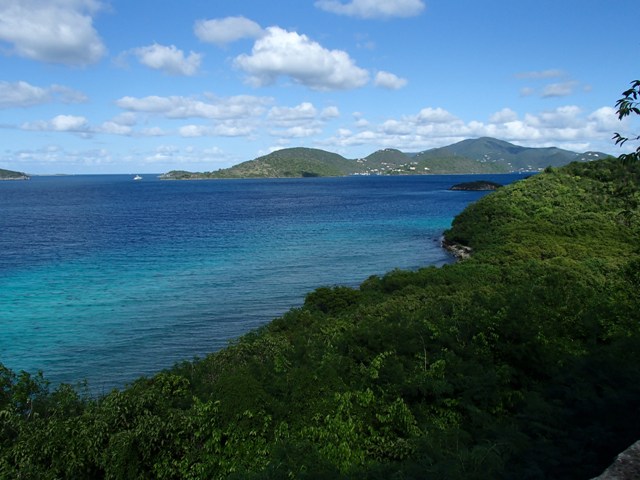 And so, there we leave you. For anyone interested in taking a holiday either on a boat or in a hotel, St John is well worth a visit and it would be very easy to spend a week there and not get bored. To charter and spend some time in the BVI's and some in the USVI's we now realise would be a good option. St. Croix is worth a short visit and, if cruising, definitely worth the effort. If you like jewellery shops, clothes shops, duty free shops and holiday complexes then maybe St. Thomas would also be for you. On all the islands we found the folk to be friendly and helpful and there is plenty of local colour….