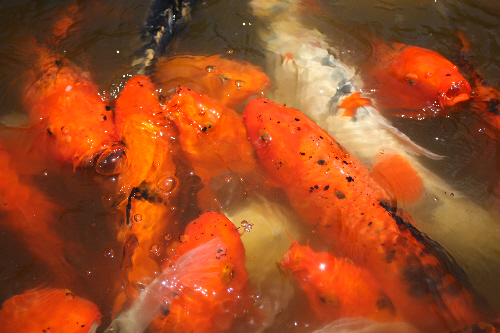 It always seems to take a few days following friend's departure to get back into the full swing of life aboard with its laundry and shopping trips and chandlery and jobs and so, even when we went into Marigot five days later to clear out of St. Martin, we were still in holiday mode and took a baguette picnic up to Fort Louis and took in the fantastic view of Marigot Bay, the lagoon and Simpson Bay beyond.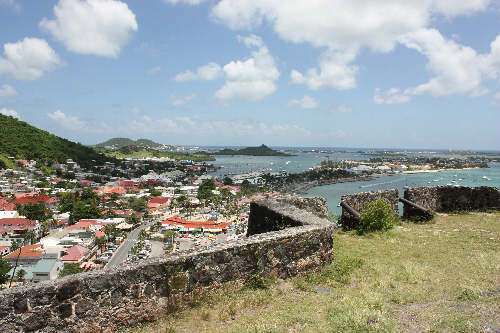 Whilst staying in the lagoon it was great to have access to "the Dutch side" because generally speaking provisioning was cheaper there and there are, of course, the Happy Hours and most of the yachty evenings are spent there – if that's your thing – but as a place to go, Mike and I liked Marigot much more. Unfortunately, other than three trips to the French bakery for excellent filled baguettes, we didn't actually eat there.
Of course we did the other stuff too – in particular the purchase of antifoul, at an approximate cost of £600 for 10 litres [US prices! –Yachting friends, if you can find a place for it aboard bring it from the UK]. Wine was a far more reasonable £177 for 160 litres. Thank goodness we drink wine and not antifoul!
Something we did learn when buying antifoul is to take care with any advice by sales people because the chap we spoke to would have sold us the wrong stuff. It wasn't that he was actually trying to sell us the most expensive. Possibly he was trying to sell the more locally made [Trinidad] than that from the US – which is OK in principle – but it wasn't compatible with what we already have on. Clearly we could have scraped it right down and done undercoating etc but then that would have cost more in both time and money. So, having come across some handy little leaflets showing the various application requirements we were able to determine the best one for us. We have kept the leaflets for future reference, or anyone else's reference for that matter.
We set sail from St. Martin on 26th May having cleared the first bridge of the day at 9.00am. You may remember my tale of the bridge entry and the policemen when we passed through into the lagoon with Dave and Mag. Well, undeterred, I decided to take the helm again and am pleased to report that I held Siga Siga in line just in front of the bridge for about 15 minutes and cleared it without mishap.
Once into the bay we hoisted both sails and set as close a course as we could hoping to make Antigua, or Guadaloupe.  It very soon became clear that Antigua was totally out of the question and Guadaloupe was only just about hopeful, but we had deliberately chosen this track to the east of St. Kitts and Nevis in the knowledge that if all else failed we could make landfall there or at Montserrat. Given the distance to both Antigua and Guadaloupe we had also planned an overnight sail so we weren't too bothered as dusk fell and we were still just north of St. Kitts. Anchoring in the Caribbean in the dark in places you don't know isn't really a good option. Obviously in foul weather it might be preferable to sailing on but there are very few lights – and not all of them work – and there are often fouled anchorages and so we just continued on past St. Kitts and then Nevis and finally as dawn approached, past Montserrat too. We do want to visit these islands at some time but to do them justice would mean at least two or three days on each and we had decided before leaving that we wanted to get back to the windward islands as soon as we could.
We had flaky winds past all the islands, with intermittent heavy cloud cover adding to the already changing speed and direction of the wind caused by the mountains, so holding a south easterly course became increasingly difficult and therefore, at 10.15 am on 27th, when we were actually being forced south west we decided enough was enough, hauled in the genoa and motor sailed the rest of the way to Guadaloupe [about six hours].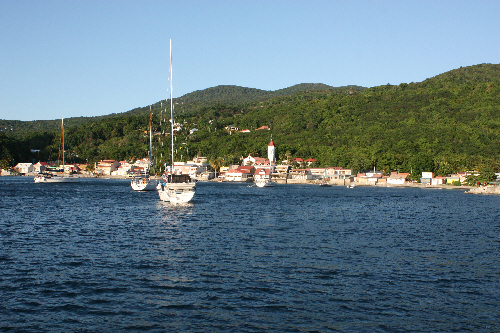 You might remember that when we sailed northwards we had intended to go up the river which separates the two halves of Guadaloupe and when that became unviable we opted for the east coast of the island. We therefore knew nothing about the west coast or its anchorages.
Well, it's really quite beautiful. We anchored at 5.20pm at Deshaies which is on the north west corner and it was such a pleasant looking town within a lovely bay that we decided we would clear in – especially as clearance in and out of the French islands is so relatively cheap. [It was €3 in, and €2 out from The Saints a few days later]. The Pelican café in Deshaies, the clearance in access point, was easy to find and we were surprised that the young guy there actually took note of what we were doing and read the document quite carefully before stamping it. He still didn't want to look at passports, but at least he seemed keen to ensure that all the rest passed muster before he put his official stamp on it. The most important thing he told us was that we should not state our clearance out date unless it was 24 hours from the time the form was completed. On every other occasion we have cleared in to a French island we have struggled to try to work out a date but, as the guy said, if you then decide to stay just one day longer you have to be able to access a clearance point to make good the date on the form. If you don't, you have technically outstayed your time and, if asked to produce your documents by a coastguard or other official, you could be fined. No date means that your clearance out is "open ended" [well for a month anyway] and you then determine it on the clearance out document. Sorry if that was a little convoluted, but it may be something some of you are interested in.
Now you may have been wondering why there is a photograph of Koi Carp at the start of this post. Well, it's because of our visit to the Botanical Gardens. These are just outside of Deshaies, up a rather steep hill which made us so hot and sweaty when we climbed it that the receptionist at the entrance tore off about six pieces of kitchen roll and handed them to Mike before he melted all over her pamphlets.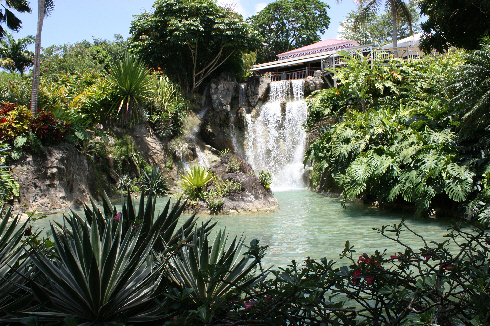 The once private gardens were beautifully set out with the main feature being a 50ft waterfall.
The guidebook states that they have over 1,000 species of plants and, unlike some other places where the plant name and description tags have become rather worse for wear; these were really clear and descriptive – even if it did need translation from French.
Thus we have been able to identify three of our particular favourites. The Rose de Porcelaine kind of speaks for itself…..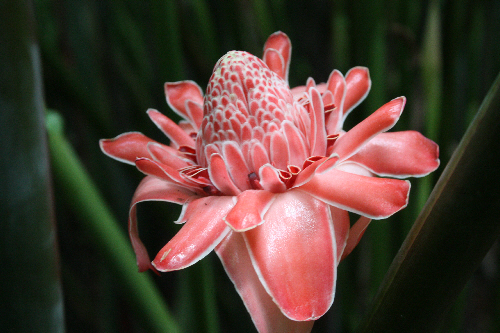 But we would never have guessed that this Aristoloche Gigantique is known as "The Dutchman's Pipe". It is a Brazilian plant but can apparently grow wherever the temperature stays around or above 60 degrees. Each bloom can grow up to 10 inches long. For perspective, that it Mike's hand….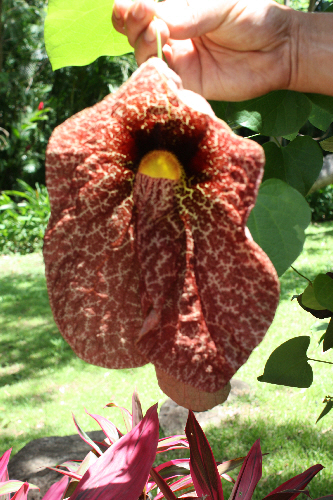 As yachties I guess we would like this one – the "Travellers Palm". We have seen these in a few places and thought they were actually called Peacock Palm – again for obvious reasons – but Arbre du Voyageur it is…..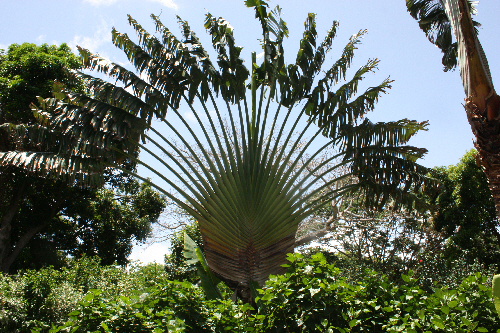 There was also plenty of shade to be found in the garden…..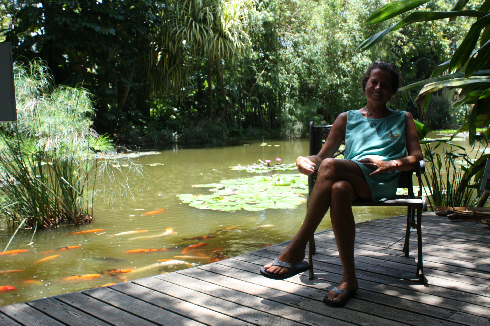 and for the children – or so it says, so it must mean children of all ages, 'cos I loved it too – there is an aviary with parakeets…..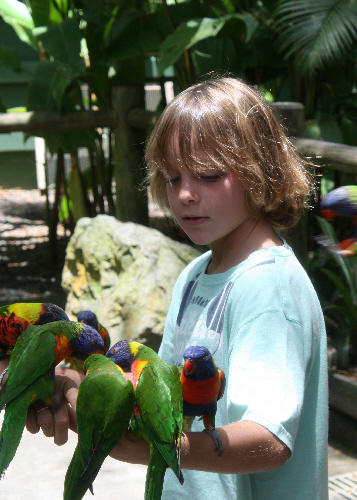 as well as macaws who sit outside brightly painted bird houses and swing on ropes across the pathways. This one was rather keen to take Mike's fingers off – quite a mean look in his eye don't you think….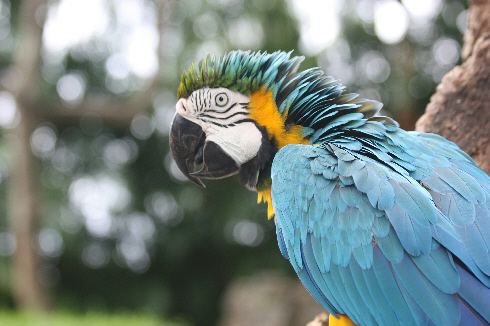 Having been disappointed at not having seen wild flamingos on Anegada in the BVI's I was pleased to see these elegant and colourful birds. They varied from just off white, through pale pink and peach to quite vibrant pink and their beaks ranged from white to black to red. Had the beaks been just two colours we might have guessed at the difference being linked to male and female birds but three colours?? Maybe juveniles?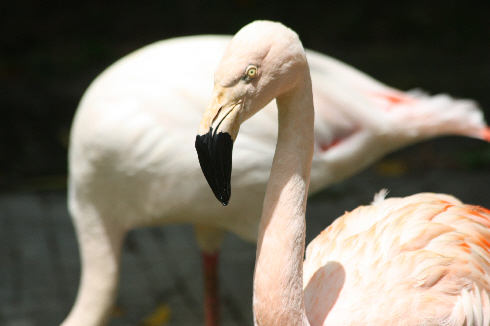 You might remember that at the butterfly farm in St.Martin we were told about mating times of 36 hours. This particular encounter was more like 36 seconds but was quite spectacular – though I don't think she was as impressed – perhaps she had just dropped her pizza!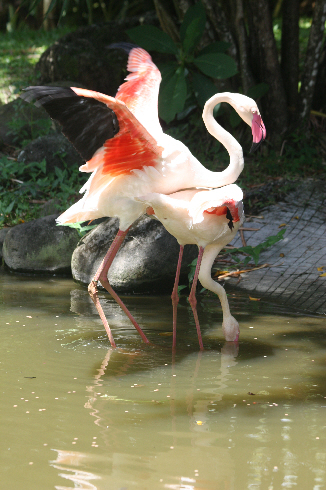 Onward, ever onward and the following day it was a fairly pleasant sail down the island to Riviere Sens Marina to pick up some fuel. Yachtsmen and women take good note. Don't buy fuel here unless you have too. It was approximately twice the price we have paid anywhere else and to get into the fuel dock there was a very shallow entrance with reefs and abandoned sunken boats.
From there we battled the wind for a couple of hours down to The Saintes where we cleared out after a night spent at anchor under "Le Pain du Sucre". Just before leaving the dinghy dock we spoke to a young couple who had appeared at the dockside in a rather battered Hobiecat. We assumed that they had come from another part of the island but that isn't quite the case! They are sailing from St. Martin to Venezuela – and hurricane season approaches! They are either extremely brave, totally crazy or, more probably, both. The details of their travels can be found at:
http://www.dickbrano.blogspot.com/p/some-peoples-junk-is-another-pair-of.html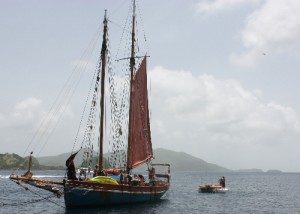 It may well be that their blog is not actually up to date. When we accessed it they had arrived in Guadaloupe but just after that, and before we met them, their "craft" was turned over by a wave and they lost several belongings including their laptop. They told us that they had spent five days in a fairly deserted part of Guadaloupe sleeping on the beach and fixing their outboard. Also talking to them at the dockside were four young people from an old schooner and the last we saw of them, the schooner had taken them under their wing and towed them to Portsmouth, Dominica.
Yes, you have guessed it. All our plans to by-pass Dominica on the way down failed and the magical island lured us back for a few days. Although we cleared in we didn't take any trips, we just sat and enjoyed the views, wandered the village, ate Roti and sold my bike! A few people were interested and whether it's because it had "Specialized" written on the side whereas Mike's far more expensive custom made bike doesn't I don't know – but his is still on board and mine is now receiving some much needed TLC [I hope] in Dominica. Well, it is fairly obvious that the opportunity to use them has been very infrequent as the last time it was ridden was last September in the Canaries and it was certainly beginning to suffer at sea so one down…. one to go.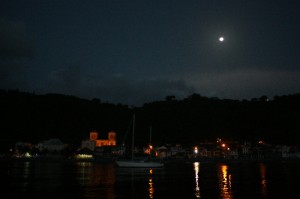 We left Portsmouth at 6.30 am on 2nd June for a 54 mile run to the top of Martinique. Whilst in the lee of the islands we mainly motored. We did try to turn the engine off a couple of times but the wind kept dropping to 6 or 7 knots until we passed Scotts Head at the southern end of Dominica at which time it was clear wind across the channel to St.Pierre where we spent a pleasant evening on board.
Given that it was only a three hour sail down Martinique to Grande Anse D'Arlet we knew we would be in good time for clearance so didn't bother taking the dingy off to go ashore in St.Pierre.
Again, a café housed the access point – this time called "Le P'ti Bateau". A walk along the beach, both ways from the dingy dock, was followed by a return trip to the cafe – this time to sip Ti Punch at a waterside table.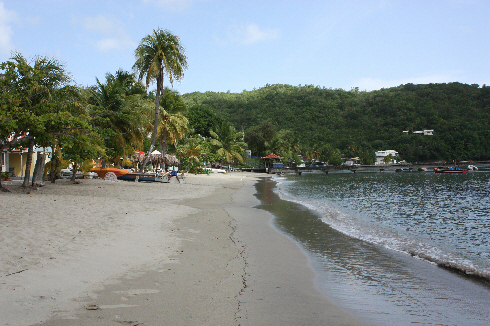 We hadn't been to this anchorage before but it is well worth remembering. There is a bit of tourism but only one single storey hotel, some good restaurants and there are some lovely walks nearby. The following day we chose to walk to the main town of the Arlets "Le Bourg" which is about 45 minutes each way across the headland.
Communing with nature again we came across a rather unusual black and white dragonfly and, next to a pool on the beach, this kingfisher.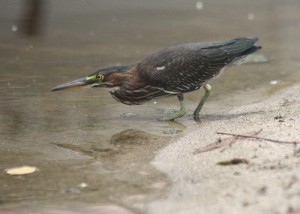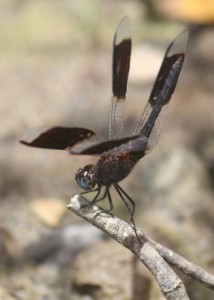 Le Bourg is a very quiet place and it took us all of about 15 minutes to walk around the whole of it, including a visit to the now dilapidated presbytery. But, like all good French towns there was a bakery so we were able to buy another baguette lunch which we enjoyed whilst sitting on the promenade.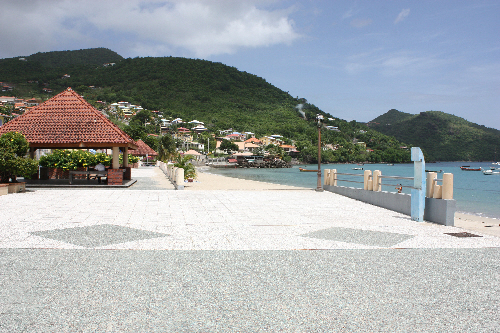 And finally, for this part of the trip, we sailed to St. Lucia. Having "turned the corner" at Dominica into the Windward Islands we were hoping the sailing would be more favourable and we weren't disappointed. Basically on our crossing from Martinique to St.Lucia we only had the engine on whilst lifting and dropping the anchor. We arrived in Rodney Bay in the afternoon, fully intending to anchor at Pigeon Island – just as we had promised ourselves when we had left the bay on 20th Feb of this year on our sail north. But, there was no-one there. All the boats were anchored off Reduit Beach – so we acted like sheep and joined them! It was probably a good decision. Both anchorages are safe with good holding but the proximity of the beach to the town and the marina means a far shorter dinghy ride which, given the waves in the bay the following day, was a good thing.
We had come to St. Lucia specifically to celebrate one year. Of course, in true Hampson style it can't be just one day of celebration so we opted for one year of marriage [9th], one year of sailing [10th] and the 11th for "Owl and Pussycat Day" which is, as you know, about sailing for a year and a day! Also in true Hampson style – we seem to enjoy sharing our celebrations….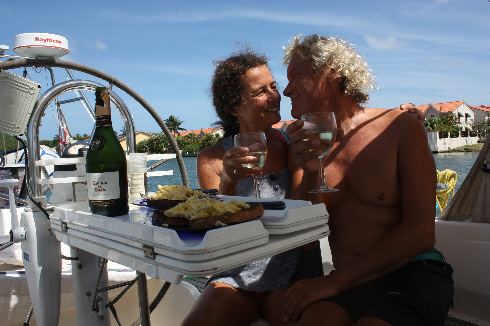 After a bubbly start to the morning of the 9th we met up with Caroline and Martin who were on their honeymoon. Mike knew Caroline as the daughter of friends, had last seen her when she was about 14, but thanks to Chris S we were alerted to them being in St Lucia and were really pleased to be able to spend some time with them. Over drinks on the previous evening we had planned a dinghy trip to Pigeon Island for snorkelling and lunch.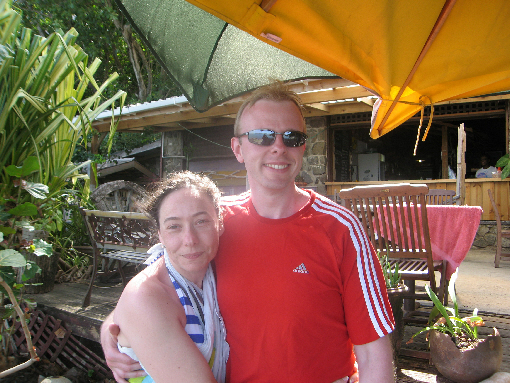 We left them wandering round the island looking at the Fort etc [which we had done previously] so we hope they found their way back……, but we had an appointment at Razzamataz that evening for excellent Margueritas and a lovely Indian meal.
We took a short trip on the 10th down to the anchorage in Marigot Bay and visited a couple of eating establishments to decide where we wanted to go for our Owl and Pussycat meal the following night. We managed to go during happy hour so it wasn't exactly a difficult chore.
Having noted that neither of them would have mince and quince on the evening menu [how surprising is that?] we had sausages [the nearest thing we could find to mince] for our breakfast on the 11th eaten off our special plates [thanks Cathy, Mark and Phillipa]. A lazy day followed with another excellent meal at Dr. Doolittle's. Yes, this bay is famous for being the film set – not that we've seen the film so we can't comment. But, it is a superb spot and well worth the visit.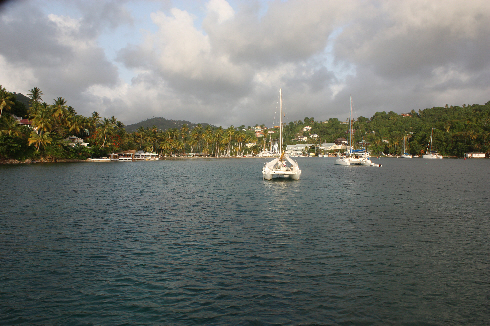 And that's where we will leave you for now. We have had an excellent year in all respects and recognise how lucky we are being able to follow our dream.