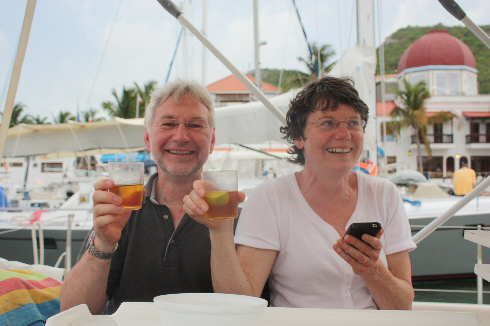 We were determined to have the stern arch fixed, the engine hose replaced and everything all ship shape for Dave and Mag's arrival on 9th May and therefore spent the five days between anchoring in Simpson Bay and their plane landing doing just that.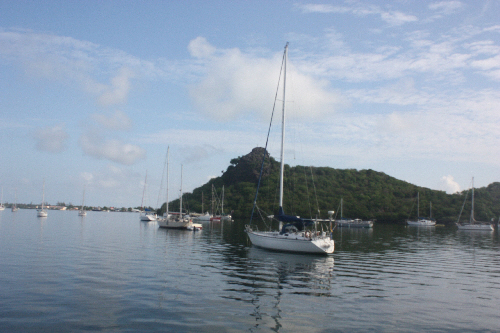 Initially we were anchored under the "Witches Tit" in the French part of the lagoon because it's free to anchor there, whereas it costs $US30 per week on the Dutch side. OK, so 30 dollars is hardly breaking the bank but why pay when another five meters away it's free? However, FKG Rigging, who undertook the work on the arch have a small dock and therefore, from the Saturday morning to the Tuesday morning we were berthed there. This is in the Dutch part of the lagoon but no-one seemed to care that we had cleared into the French side – in fact no-one asked and we don't ourselves know whether it matters or not? Everyone also uses the Dutch bridge which you are supposed to pay for when you clear in on the Dutch side, but as most people clear in on the French side they don't pay for the bridge – and no-one seems to mind that either. All very strange.
Anyway, we were feeling very pleased with ourselves at having finished everything and Dave and Mag arrived on time without a hitch [well only a very minor one in that the taxi driver from the airport didn't know where "Barnacles" Bar was, but we soon sorted that] and so we settled down to a few drinks and some catching up and looked forward to the next ten days. The only thing that was a bit disappointing at this stage was the weather. During their two day stay in Barbados on their way to meet us it had rained for the whole of the first day but, cheerful as ever, Dave reported that he had still enjoyed the snorkelling and, although it was a rather rushed visit to Welchman Hall Gully, Mag had enjoyed that.
It was on the way back to the boat at the end of the evening that the first hint of problems [and more expense] ahead first struck. The outboard stopped and refused to go again. Never mind we thought – we will look at it in the morning – perhaps there is some water in the fuel? Well, water in the fuel there may have been but that didn't solve the problem so we decided we were going to have to go into one of the lagoon marinas and spend a night there and find a "man who can" with outboards.
Good plan –but a bit difficult to execute when – lo and behold – the windlass wouldn't work. It was fine for the initial brief burst Mike gave it to lift the chain sufficiently to remove the snubber but when he came to raise the anchor proper – nothing! So, having stared at it for a while we decided that brute force was going to have to come into play and, with Dave stood at the bow giving me hand signals for forward, back, left and right, I was able to manoeuvre the boat sufficiently for Mike, with help from Dave to raise the anchor hand over hand. Not an easy thing when it weighs 25kilos and is also stuck in very sticky [and smelly] mud.
To cut a long story very short, we ended up in the IGY Simpson Bay marina for two nights and purchased a new motor for the windlass and, Mike's new pride and joy, "Stuart" the outboard. We have called it Stuart in honour of our friend who also bought an outboard during Matadors stay in Simpson Bay. Stuart and Steph did it as an upgrade rather than a necessity but secretly, or perhaps not so secretly, I think Mike is chuffed that his is 9.8 horses to Stuarts 8! Boys and their toys eh…..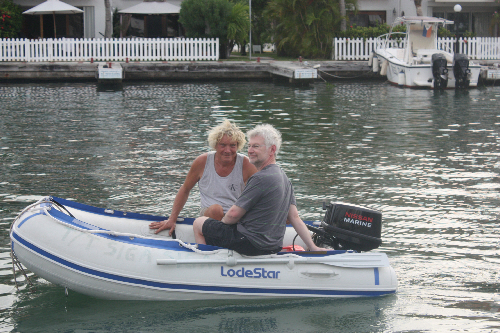 ….and Dave enjoyed the maiden voyage just as much as Mike!
Whilst Mike and I were running between chandlers trying to gather all the bits and pieces we needed Dave and Mag ventured to a couple of different beaches for snorkelling and it's great to report that Mag has snorkelled for the first time ever – and enjoyed it.
We also had two excellent evenings. On the first we went across to the beach area where we had two for one drinks at "La Bamba", where they also had a bonfire, and then down to "Buccaneers", where they had lit the fireball. Normally this is only lit for full moon parties [and it wasn't a full moon that night] but there was a private event taking place, with fireball, and we just wandered along, bought a drink and enjoyed the party atmosphere.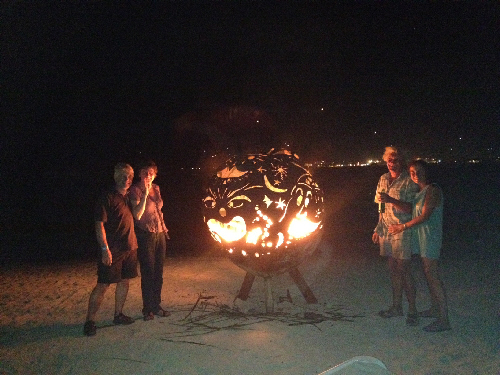 Our second evening – when we had the new outboard – we just had to make good use of it so zoomed from side to side across the lagoon taking in happy hours and returning to games of our youth in a pool hall at "Pineapple Pete's" where, later in the evening, we also enjoyed a good rock band which had us all bopping away.
The Dutch bridge opens for outgoing traffic at 9.00am and 11.00 am [as well as in the afternoon] and, the following day, we had intended to be ready for the 9am bridge but it would have been silly not to take advantage of the marina shower facilities and why rush breakfast when on holiday – so we opted instead for the 11.00 exit. We were able to sail along the south west coast for nearly two hours but then, having turned north east after Plum Point, we had to turn the engine on for the remaining 75 minutes to Grand Case.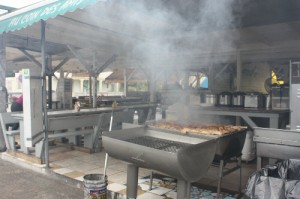 Baie Grand Case is a long sweeping stretch of beach and is the home to countless restaurants. It is known as the gastronomic centre of St. Martin which, as well as some very up-market venues, also has local "lolos".We opted for one of the lolos called "Scooby's" and although Dave's "Fish stew" turned out to be "Stewed fish" [which actually meant it was baked in foil] we all dined really well before a repeat performance of the pool hall experience, this time followed by a reggae band.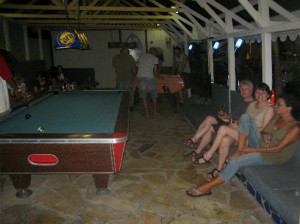 Whilst at Grand Case Mike decided that we needed to buy some spare fuel for "Stuart". Easier said than done. But, thanks to a lovely local lady called Katina who – when Mike asked her where the nearest garage was – took him in her car practically right across to the other side of the island and back, we were restocked with the necessary unleaded petrol. In the meanwhile Dave, Mag and I had a quick look around and came across this grinding wheel which we think was for salt – and definitely too big for the table.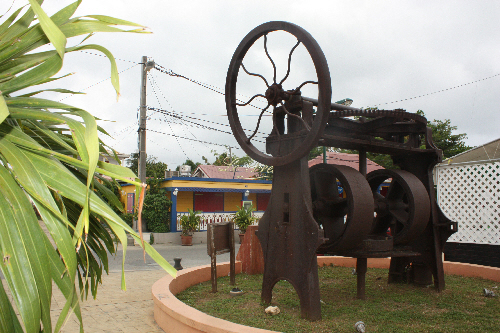 On 13th May it was a short trip to the small island of "Tintamarre" just off the north east coast of St. Martin where we had read there was good snorkelling. It wasn't bad, but we were a bit disappointed that the best part for the reef fish wasn't really accessible from the beach and, when Dave swum out to it he felt that the current was a bit too strong for safety. Even so, it was good fun – especially as Dave got to swim with a turtle – and the weather was being much kinder with real blue skies at last. Having said that, the previous days hadn't been a repeat of their Barbados experience but there had been some rather overcast bits at times.
From Tintamarre it was just a short hop back to "Île Pinel", just off the mainland, at the top of Orient Bay – a gorgeous spot.  Île Pinel is renowned for its turquoise waters, lovely small beach, snorkelling and beach cafe's and it all lived up to its reputation. There are very precise details in the pilot about the approaches to Orient Bay and it would be quite easy to make mistakes if care wasn't given to following these. But it's the reefs which make this east facing bay both tenable and beautiful so taking the time to pay attention to the advice and following it through is worth the effort.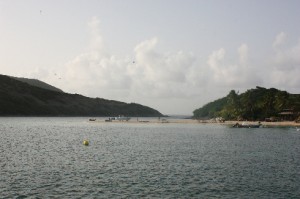 We arrived at around 5pm and, after securing a free mooring buoy in the National Park, we watched a number of paragliders soar the cliffs for about an hour or so. It's a far cry from a landing at the Fisherman's and no-one attempted the beach in front of the cafe's but, we know a man who can and, Pete, it's a perfect spot for some picnicking afterwards – even if we weren't actually there on a Thursday which, for those of you who don't know, is the day which Pete and Mike always seem to do their best picnicking/partying! Maybe something to do with the amount of whisky consumed……..or, in the case of a legendary occasion in Greece, gin.
Speaking of picnicking – that's exactly what we did – BBQ style. There is no actual accommodation on this little islet and so, apart from a night watchman and his dog and a couple of other boats on moorings there was no-one else there. We decided that although all beaches are public, it would probably be rude to BBQ right in front of the cafe's and so we found our own little spot in front of our boat – which added to the fun as the strip of sand got smaller and smaller as the tide came in.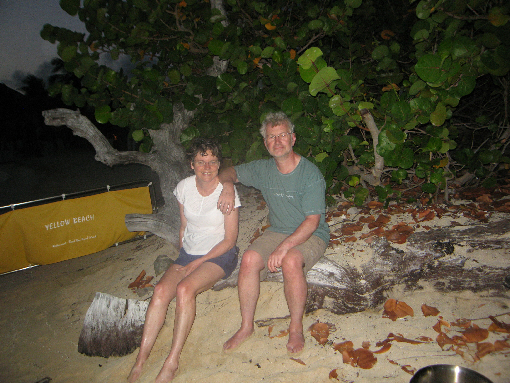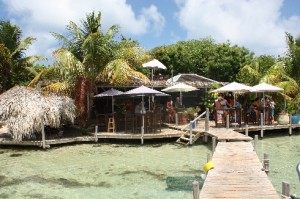 We spent the following morning snorkelling – much better than we had found at Tintamarre – and then had a long leisurely lunchtime visiting two of the available cafes. What a very pleasant way to spend a day before a short 25 minute trip down Orient Bay to our next overnight stop just off Green Cay. There is a long beach ashore in this southern part of the bay which is probably busy by day, judging from the number of beach bars – but totally deserted at night, except for a resort at the very tip of the bay. We came across this resort because there is no dingy dock along the whole length of the beach and being steeply shelving, it looked like we would be sure to take a tumble had we tried to run up the beach in the dingy. Worse than that, the outboard might have taken a tumble so you will understand that Mike was in no way going to allow that!
Anyway, Mike, Mag and Dave had all seen a couple leave the boat anchored next to us and make for the bottom corner of the bay and so we decided to follow suit. What I forgot to say is that the couple got off their boat naked which is OK but rather unusual given that they didn't seem to be going swimming and it was too late for sunbathing.
Yes, you have guessed it – a naturist resort. Fortunately for us [and probably for them as sand doesn't half chafe!] this less shelving part of the beach provided a safe landing. Also fortunate for us, we then saw a sign that said that clothing was optional so we didn't have to strip to walk through the resort onto the road to the village.
"The Village" wasn't quite what we had expected. The Lonely Planet states that "the tiny village square just off Orient Beach is one of the most charming spots on the entire island. Each restaurant offers overflowing patio seating that spills out of the sides and onto the cobblestone roads". What it failed to say was that it was a custom built "Village" with one road and a small area of restaurants arranged around a circle. But, for all that, it was an attractive place to spend the evening and we had cocktails followed by excellent Tapas or, in Dave's case, one of his favourite's – Duck Confit.
And then, it was on around the island again to Oyster Pond.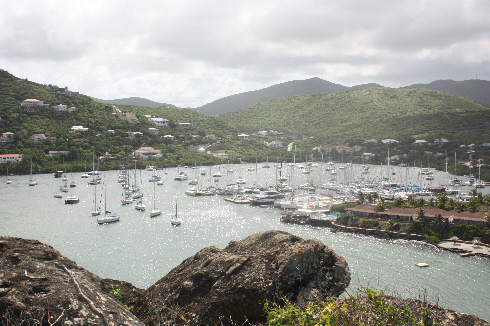 When we were on Barbuda we had drinks one evening with Mike and Connie who, for about nine months each year, run a boatyard in North Carolina. They were very complimentary about Oyster Pond and, having read in the pilot that it is a peaceful, pleasant small lagoon, completely protected and surrounded by hills, I – for one – was really looking forward to it. What a disappointment.
We were prepared for the fact that most of the space was filled up with a marina but, what neither the pilot nor Mike and Connie had mentioned was that all the available anchoring space was full of moorings for the Sunsail/Moorings fleet. However, having got there we were determined to stay – partly because we had agreed we would have a day off the following day to tour parts of the island by car, which the pilot said could be hired at the marina – and so we took an available berth as directed.
The berth was on the outer end of a pontoon and I don't know what on earth the pilot can mean about protected because we were battered from the time we entered to when we left – so much so that one of our mooring warps has now become several handy bits of rope! The office was hardly ever open, the showers took tokens which were only available at the office and so we only managed a shower on our last morning, the showers were then cold and we didn't get a receipt when we paid for what was the most expensive marina we have been to – yes it even exceeded Portuguese prices. In addition, if it hadn't been for a very helpful young woman at the hotel up the road we wouldn't have had car hire either because open or closed, no-one in the marina seemed able to offer any assistance at all about car hire – indeed, they told us there wasn't any. Part of the very expensive Captain Oliver's marina restaurant is loftily called an aquarium as the tide washes in and out under the small restaurant deck and is enclosed by bamboo type panels so the fish can't get out. They kept two turtles there before turtle protection came into being but they couldn't then release them as they would have died in the wild so somewhere in the murky "aquarium" were supposedly the said turtles. We didn't see them and suspect they are no longer alive. On top of all of that, the approach to Oyster Pond can, as the pilot states, "put hairs on your chest". You have to run downwind onto a lee shore dotted with reefs and through a narrow gap. Although interesting, it was OK for us as we had fine weather but, had it turned, we wouldn't have been able to get out!!! OK, needless to say – not impressed but rant over.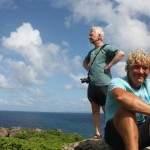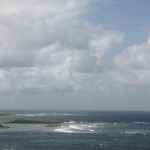 It wasn't all bad, however, because we were able to take a short walk up Fife Hill to take in the views and then down into a small village area where we got chatting to a local man who has just retired from captaining for a charter firm. Interesting that in his retirement he couldn't wait to get off boats and we couldn't wait to get on. We also found a nice restaurant just to the side of the marina for our evening meal and, having managed to hire a car we were at a good point on the island for making the tour.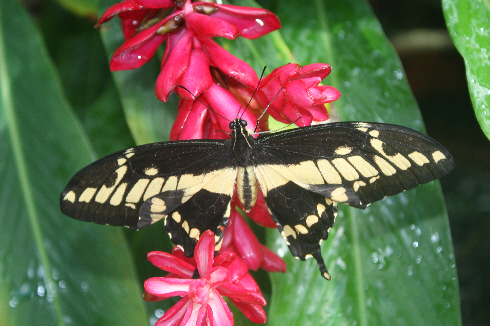 The first stop on our day tour was the Butterfly Farm. I was in two minds about this because, as Phil may remember many years ago when we visited a similar farm one holiday, I didn't go in because I really don't like things fluttering around me. I decided to be brave and, although I did flinch a couple of times when they got a bit close, I really enjoyed it.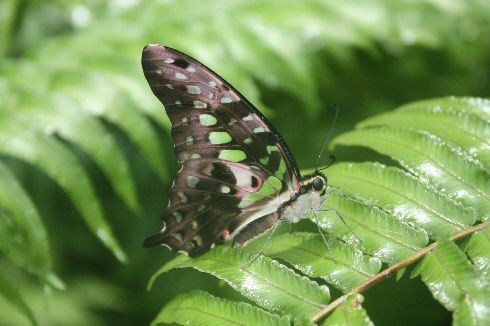 We were given a "tour" by Tito who was extremely knowledgeable about the butterflies, their habitat, their lifespan as egg/ caterpillar/ chrysalis and butterfly or moth and their sexual activity. He seemed particularly interested in this repeating often that they mated for about 36 hours.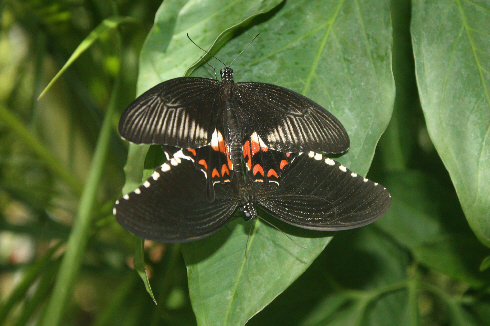 Had he not shown us, we would never have spotted the eggs on the underside of leaves or the chrysalis hanging, almost invisible, looking like part of the foliage.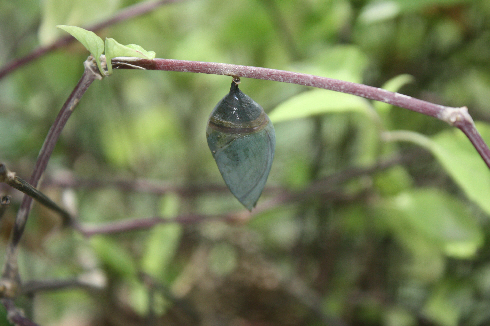 There must have been about 30 different species, including several huge moths which, fortunately as far as I was concerned, didn't seem to flutter around. They were probably more active at night and maybe the name "Papillion de Nuit" as the French call them is both more accurate and evocative.
From there we went to Ance Marcel which we could have also visited by boat either to the anchorage or to the marina but which we by-passed on our sail around the top of the island in favour of Île Pinel. It was the right decision because although it had a lovely beach it was part of an all inclusive resort which looked very chic and probably beyond our budget. After coffees and a swim [for all but me – the swim that is] we set off again for Marigot – the French side capital. We decided to take a short detour to Friars Bay and it was there that we ended up having lunch. Marigot enabled us to clear out ready for our passage to Anguilla the following day and also for Mag to get some stamps. Post Offices and post boxes seem really hard to come by on St. Martin and when you find one [the Post Office, not the post box] it is packed full of people filling in endless forms seemingly to get mortgages???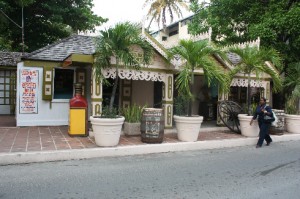 Our final planned stop was Phillipsburg, the Dutch capital and the cruise ship docking point. As a result it is rather commercial with hundreds of duty free shops. Probably the most interesting building was the "Guavaberry Emporium" where you could purchase just about everything you have ever thought of – as well as things you probably haven't – which can be made from Guavaberries, which incidentally are not from a Guava. Their cordial seems to be a best seller but, having tried Grenadine syrup – probably a similar concoction, we decided to give it a miss. We made our way on to the promenade which is the nicest part of the town and there, when it started to rain we decided to have a beer. We were trying to shelter under a bar umbrella when we were invited instead to sit inside the posh hotel bar. When I say posh – it probably was about 75 years ago. Called the "Pasanggrahan Hotel it had considerable character – as did the lovely lady serving. She described how regulars had inscribed brass name plates above the bar. We met one of them who talked about the high times in the early seventies and we think we fully understood what he meant by "high". Also, what we realised when we arrived in Phillipsburg was that Dave and Mag's snorkelling gear [including some prescription goggles] had been left at the coffee bar at Ance Marcel. In an effort to ascertain whether or not they had been found we wanted to phone the resort. Not only did the lady provide us with the phone book but she also insisted that Mag use her phone twice to try to get through. Unfortunately it was engaged both times so we were no further forward and therefore had to drive back to the top of the island just in case…. and all's well that ends well… snorkel gear back in Dave and Mags possession.
We left Oyster Pond the following morning for our longest sail of 23 miles up to Anguilla. When Dave and Mag had told us they were coming out on holiday we tried to look for a contrast to St. Martin to take them to. The small islands of Saba and Stacia [Saint Eustacia] would have been ideal but all accounts are that the anchorages there are very roly and they are a greater distance away than Anguilla.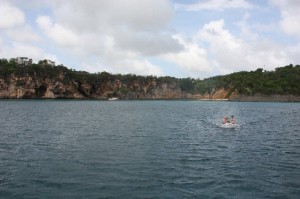 Therefore we thought it would be safest to go with what is described as "a low island surrounded by spectacular white sand beaches and banks of coral with excellent diving/snorkelling."
We weren't disappointed as that's exactly what it was like. We had two nights in a lovely small community at Road Bay and spent the intervening day visiting Little Bay [photo] where we saw the biggest variety of reef fish yet with tropic birds circling overhead.
Two local children were particularly charming and insisted that "mens don't live in boats, mens live in Sandy Ground" which is the small village along the strip of land between the sea and the salt marsh. It was certainly a quiet and friendly place for children to grow up.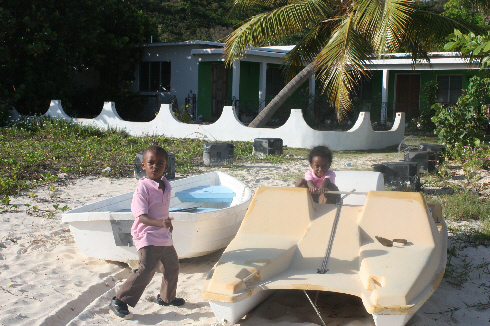 Anguilla is still British as its inhabitants are very keen to point out. We had met one chap from Anguilla during the first pool night at Pineapple Pete's in Simpson Bay lagoon and, as well as being extremely proud of his British passport he had insisted that we visit Ripples in Road Bay. So we did and spoke at some length to the lady owner who came, we think, from Kent. When I say that we spoke at length, what I mean is that she spoke at length and we listened as she regaled us with tales of her two husbands and how she had come to own the restaurant and how much the people of Anguilla liked to have her at meetings because she always had something to say! An understatement if ever there was one.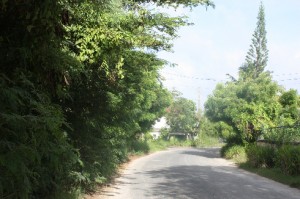 We made a brief visit to Crocus Bay which was rather unassuming and left Mike on the boat while we walked into the capital to get some money. It was quite uncanny as the lane we were walking down was very reminiscent of an English country lane, but all that can be said of the capital really is that it had an ice cream van selling good sorbet and ice cream. We remarked at the time that if Mary had been with us she would have wanted to try all flavours!
19th May saw us on the passage back to St. Martin and quite a blowy passage it was too. Unfortunately we were only able to sail for the first half because the tide and wind were taking us too far west once we had passed the small islet of Anguillita and therefore Dave and Mag finished this sailing experience with a rather rough beat to windward back to Simpson Bay.
We arrived in the bay in good time for the bridge back into the lagoon and I decided to take the helm and "hold" us in the queue whilst waiting for the bridge to open. I had decided it was about time I tried my hand at this manoeuvre and was doing really well. I held her steady with small movements back and forth for about 10 minutes, the bridge opened, I steered her into the narrow channel at the entrance when, "Nee naw, nee naw, nee naw" – there came the sound of police sirens, the bridge light turned red and the bridge started coming down. I bet it wouldn't have happened if Mike had been at the helm – which he was, pretty sharpish, as  I cried out "What do I do now" as I couldn't go forward, there was a boat hot on my heels in the channel and the width of the dredged part was only about as wide as the boat.
Fortunately the guy behind, and the one behind him turned round and Mike was able to turn us basically on our axis [if we had one] and we all motored out of the channel again until the police cars had crossed and the bridge was once again raised. I let Mike stay at the helm!
Bet they only wanted to get to their coffee break!
We ended Dave and Mag's holiday in the manner it had started. A meal at Barnacles [which is Greek food by the way – and very good], a drink at La Bamba, a dance and a bonfire on the beach.
It was, however, an early night because they had to be at the airport by 6am and, it has to be said that there aren't many airports that you can arrive at by dinghy. With all the luggage it took two trips but we shared breakfast before their check in and a sad goodbye.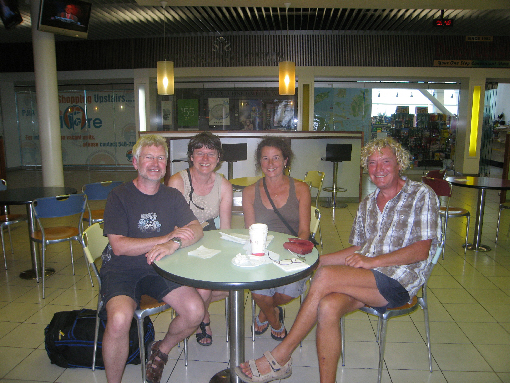 So, Dave and Mag flew off for another night in Barbados before returning home and we made our way back to the boat for a lazy day reading and reminiscing about their stay. We didn't have the weather I would have wished for them but, then again, the Caribbean isn't wall to wall sunshine like summer in the Med. It was hot, there was good snorkelling, we did have fun and best of all we had their excellent company.