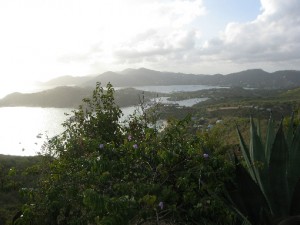 You will remember from the last post that we had a really good sail from Guadaloupe to Antigua. We arrived in Falmouth Harbour about an hour before sunset and therefore in excellent time for "sundowners" with Steph and Stuart who we had last seen six days previously in the Îles des Saintes. Although the following day was Sunday, Falmouth and English Harbours are so busy that Clearance in or out is possible every day. This is a good thing because Antigua is fairly clear in its instruction that only the captain should leave the boat prior to all the paperwork having been done and, as the Shirley Heights BBQ takes place on Sunday night, it would have been a bit of a bummer if I couldn't have got off. Mind you, neither could Mike if the Customs etc hadn't been open so at least I would have had someone to share the sulking with.
Shirley Heights is a restaurant which is housed in one of the old Shirley Fort buildings and it stands at the top of Signal Hill, affording excellent views over the two harbours. The BBQ gets rave reviews in both the pilot and the Lonely Planet but, although we enjoyed it, we found it to be a much more commercialised event – not at all like the Hog Island [Grenada] and Portsmouth [Dominica] evenings where local people join in the fun. There was a steel band though – the first one we have seen [and heard], followed by Reggae.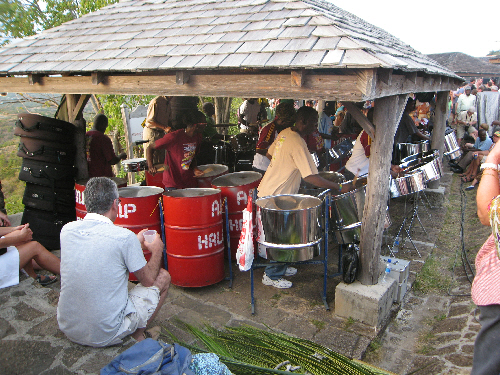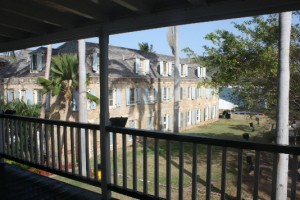 English Harbour is probably the "must see" attraction on Antigua, being the site of Nelson's dockyard during the duration of his stay on the island more or less at the start of his career. The whole site has been very tastefully restored and the small [free] museum gave an interesting insight to life in the dockyards in Georgian times. From behind what was the Copper and Lumber Store [now a hotel] there is a ten minute stroll out to Fort Berkley and then a further twenty minutes took us up and over the hill to Pigeon Point Beach, just next to where we were anchored in Falmouth Harbour.
The capital of Antigua is St. John's – a rather ramshackle place with a grand cathedral [reputedly, as we couldn't visit due to renovations], a fairly good market, an excellent supermarket [which we didn't find on our first visit], and a cruise ship complex which was closed when we went because there were no cruise ships in [not that we particularly like cruise ship complexes – in case you were getting worried].
What we did find is probably one of the strangest restaurants we have ever been to. There was a sign at the foot of a flight of stairs which indicated a reasonable sized menu so up we went to find ourselves in a very small "room", which was separated off from a barbers at the front and a hairdressers at the side by lurid pink voile curtains. There were two tables covered with plastic tablecloths and another area sectioned off by a swing door which housed the kitchen. It was tempting to turn round and go back down again but we are glad we didn't because the chicken and goat curries were absolutely excellent.
On 28th March [Happy Birthday Phil], we set sail for Five Islands Harbour on Antigua's west coast. There wasn't a lot of wind but by "goose-winging" we were able to sail all the way. Five Islands is a very quiet bay with Maiden Island in the middle. There was one other boat anchored off the island and about four others off the south beach. Luckily we had read the pilot carefully and anchored to the west of the island so that we couldn't see [or smell] the large rubbish dump at the head of the bay – well I guess rubbish dumps have to be somewhere! Speaking to other cruisers since, we would perhaps choose Deep Bay next time partly because there is interesting snorkelling there over the wreck of the Andes.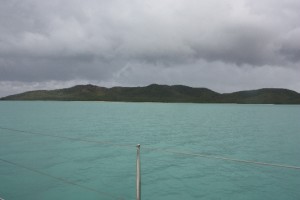 The north side of Antigua has several anchorages which are dotted amongst reef protected islands. This part of the coastline is really beautiful and only visited by a few cruisers and the rich folk who can afford the posh all-inclusives on Long Island. Although it is possible to anchor there we passed it by and headed on out to Big Bird Island [OK, it's actually called Great Bird but we renamed it in honour of sis's fella John who for some reason goes by the nickname of "Big Bird". Perhaps it's better not to ask Chris why?]. The whole area is environmentally sensitive and part of a park area within a maze of reefs and shoals so it was "Slowly, Slowly" to ensure that we stayed within the often narrow and shallow channels.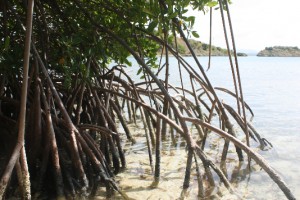 The island was really lovely, with small mangrove lined beaches and white sand. Having spent some time snorkelling we then wandered around enjoying the solitude. Mike decided to go exploring and managed to find a route which was rather more than he bargained for as he ended up having to slip and slide down a scrub bank but he did find a couple of snakes and, of course, had to take a photo.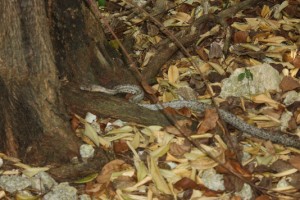 The following day was a bit rainy so we used the time to sail to the "town" of Pelham and take a bus to the aforementioned supermarket in St. John's. Fortunately it didn't rain too heavily, or for the whole day, and Pelham provided us with a pleasant anchorage which Mike described as having "a certain haunting beauty" as well as a nice sunset.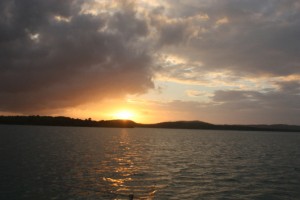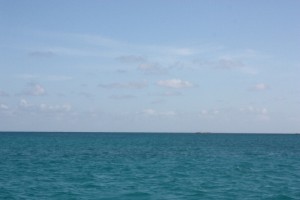 Whist within these anchorages it looked as though it was possible to just sail away north – but that would have been a bad thing and – because Big Steve doesn't like us to – we don't do bad things. What we did do though was find Horseshoe Passage which is the only real option through the reefs to the north and not to be attempted in poor conditions. But, being a bright and sunny day when we left, we had excellent visibility and by taking this route saved about twelve miles and got a good line for Barbuda.
Barbuda [Antigua's sister island] is an iconic desert island and probably one of the Caribbean's least visited places. Certainly that is the case this year because the ferry has broken down so the only way of getting to the island except by yacht is to catch one of the two flights in from Antigua per day – the plane being big enough for nine passengers per trip.
There are about 1,250 islanders, most of whom can trace their lineage to a small group of slaves brought to the island by the Codrington family. For almost two centuries, the Codringtons leased the island from the British Crown for an annual rental payment of one fattened sheep and their legacy remains through the only town's name and by the continuance of the policy of communal land use. This policy has been the main reason why the island has remained undeveloped for tourism – because the islanders have voted against it and it is their land so what they say goes. It's a shame that more of the Caribbean Islanders can't vote on whether they get a McDonalds or a KFC. Oh, and whilst on the subject – we are reliably informed that KFC stands for "killing foolish customers!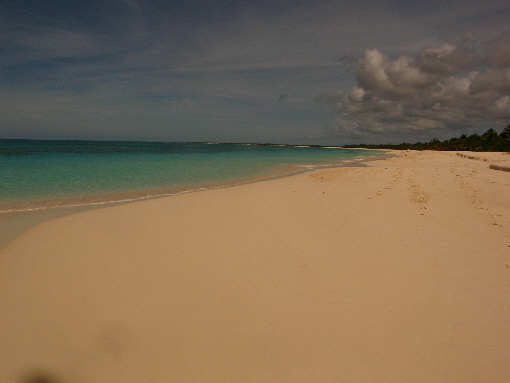 There isn't much to do on the island except swim in crystal clear waters, pick shells up from the pink sand beach [pink because of the shells], collect coconuts from the palm trees fringing the beach and use their milk and flesh to make Pina Coladas and generally have a laid back time. There are about three restaurants in Codrington and two on the long south beach [Cocoa Point].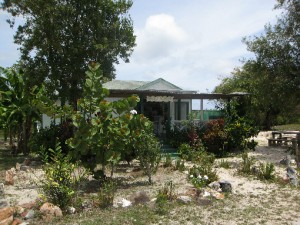 One of these is "Uncle Roddy's". His reputation has spread through the yachty world – by word of mouth on SSB [which we don't have – yet] and on blogs. He offers Chicken or Fish or Lobster and you have to phone in advance to book. So far we have not eaten lobster – mainly because of the price – but Uncle Roddy's prices are very reasonable and we got Garlic Bread, 5 lobster between four of us [because he thought that one was too small so gave us another to top it up], Rice, Plantain, Salad and several beers for around £50 per couple. Lobster still isn't something I would want on a regular basis but these beauties certainly didn't leave us feeling hungry.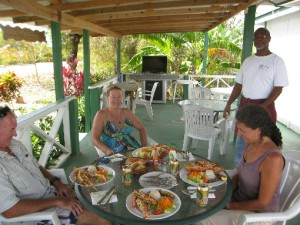 We also did some snorkelling and Mike saw this Ray – yes, they are quite hard to see – good camouflage eh!
Although it is only a small island, the town of Codrington is actually quite difficult to get to without transport but we needed to get there to clear out. We have got bikes on board, and could have cycled the seven or so miles each way from Cocoa Point, but these haven't been ridden since Portugal and they would now take quite a bit of work [understatement] on the chains before they could be ridden again. It is possible to canoe across the lagoon from our second anchorage, Low Bay, but we don't have canoes.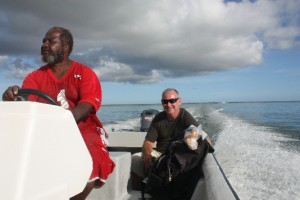 So, the answer is "The King Number 1"- a really friendly and cheerful water taxi driver. The Barbuda "government" sets taxi fares and it is US$20 each way across the lagoon. This is actually quite expensive if there are only two people but fortunately Stu and Steph were leaving at the same time as us so we could share the cost as the US$20 is for up to four people. In addition, the star attraction of Barbuda [other than the beaches] is the Big Bird colony. No, not a whole posse of John's – real big birds – Frigates. The cost for four people to the colony is US$50 but, if you combine the trip to Codrington with a trip to the colony it only costs US$70 instead of US$90 and so, at the risk of boring you totally with fares and fees we were able to have a fun day out for just under £12.00 each.
The first treat of the day was a fast boat ride – much faster than we have travelled for ages! Then, on arrival at Codrington jetty "the King" proceeded to walk us around. Clearly water taxi driving takes on a new element on Barbuda – though it's a good job that it does 'cos I'm not sure how long it would have taken us to clear out if he hadn't helped.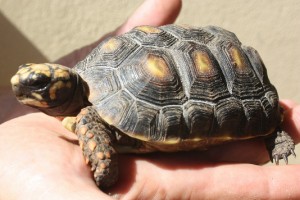 Firstly, you need to know that although Codrington is very small it has a lot of streets in a kind of grid lay out and they all look very similar and secondly, to check out, it is necessary to go to the immigration office, where Samantha, the Port Authority lady may or may not be, then to Customs across the other side of town and then back to Immigration – this time for passport clearance. It also has to be done in the correct order so, having found that Samantha wasn't at the Immigration Office "the King" took us to her house – which is apparently OK even though she was having a day off. We were also introduced to her tortoises while she was stamping the relevant paperwork.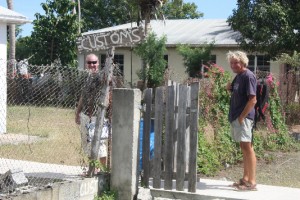 We were then taken along to customs, another quaint experience which also involved a trip across to the cafe on the other side of the road. Then we were left to our own devices to go back to Immigration, to look round and to have something to eat if we wanted before being picked up about two hours later back at the lagoon to visit the birds. In those two hours we managed to fit in some Wifi time and a trip to the small but quite well stocked shop for bread and pineapple juice [remember – the Pina Coladas]. Unfortunately the shop didn't have fresh pineapple which, when you can get it, is gorgeous.

Apparently there are approximately 5,000 Frigate Birds in the Barbuda colony with as many as twelve different birds roosting on a single bush. Mating season, which we just missed as it is September to early April with a peak in December, is rather a noisy, as well as spectacular, time. The male birds line up in the bushes and puff out their red pouches to attract a mate and, once paired, they stay together to hatch and feed a single baby bird. Some of the males don't attract a mate and so one or two were still puffing away in vain. Although they are sea birds which eat fish they don't actually swim or even land on water because they don't have the oily feathers and they can't take off from the water. They are really quite ungainly until they take to the air but, once there they are a spectacular sight with a six foot wingspan. Because it takes seven weeks for a chick to hatch and then six months to learn to fly and leave the nest we were able to see babies and juveniles of various ages. It was certainly a trip worth doing.
So, thanks to Caroline and to Phil and Emma who told us Antigua was a beautiful place to visit and caused us to overcome our previous negative experience of the place and give it a go. And, if anyone wants a get away from it all, do nothing holiday, Uncle Roddy has a bungalow to rent right on Cocoa Point beach, Barbuda – which can apparently be found on Trip Advisor.