As you will have realised from the previous entry, we really liked Dominica so it was hard to know, on leaving, what we would make of the next place and whether it might suffer in our expectations because the bar was set so high. Well, not to worry – we appear to be managing to take each new experience on its own merit.
Our first port of call in "Guadaloupe" was Bourg des Saintes which is on Terre d'en Haute, the largest island in Les Îles des Saintes. The group of islands lie to the south of Guadaloupe and, like Marie Galante and La Désirade to their east, have been French since they were colonised. However, since some of the islands were never agricultural, no slaves were imported so any inhabitants of African descent on Terre d'en Haute have arrived recently and by choice.
It was a pleasant sail from Dominica, taking just over three hours in north easterlies blowing at around 16 knots which is ideal for Siga Siga. Because the weather was settled and there was good light we chose the slightly shorter, but narrower, passage between La Cloche and Grand Îlet rather than the Passe du Sud Ouest. Having made our way past Terre d'en Bas and Îlet Cabrit we picked up a mooring buoy in the bay at Bourg des Saintes. The pilot suggests that there is plenty of space for anchoring but since it was written the entire bay has been laid with moorings, for which there is a charge of €11 per night. The moorings are new and in good condition so we were happy with that.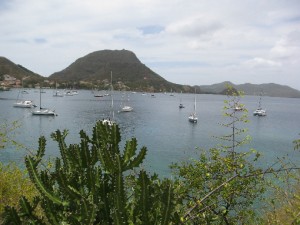 Bourg des Saintes is a small picturesque "seaside" town which seems to exist mainly for the benefit of day trippers from Guadaloupe. There are small chic boutiques and the restaurant/café prices reflect that tourism is the main source of income. Having said that, it was nice to sit on the quayside at the Bar La Crique, whilst watching the world go by and sipping Leffe. Sipping was, in fact, the operative word because on arrival we only had enough Euro for about one drink each and the ATM on the quay was empty! It was Sunday evening and it had obviously been well used during the weekend.
So, Monday morning dawned but, what we hadn't thought about was that both ATM [as by this time we had found another near to the town hall, also empty] would not be filled until someone from the bank arrived on the ferry from Guadaloupe – and that it would be the afternoon and not the morning ferry which they would use! Anyway, we managed to clear in which took one of our six remaining euro and were able to provision because the supermarket took cards.
We decided to make the most of our penniless state by taking our snorkelling gear to Marigot Bay. As can be seen in the photograph, this is a beautiful bay with a calm, protected beach, but unfortunately what we hadn't realised was that to get to the beach it was actually necessary to arrive by boat and anchor there. We started to take a path which we thought might circle the bay but it climbed up to a viewpoint. We remembered that there was another bay further to the east and, by following a track down and then a short road we found ourselves at the Baie due Pompierre. At least we think it's called that. The Lonely Planet gives it the name of Pont Pierre, but the pilot and, more importantly the signposts on the island, call it Pompierre. Here we found fantastic snorkelling. In particular there was a bright yellow fish which I saw and tried to show to Mike, but it had disappeared by the time I found him and led him to the spot. So, all I could say to him was that it resembled an old fashioned flat iron and, surely enough, he later saw it and from my description recognised it. It was triangular shaped and had fins all round its base, like a frill, which were used for swimming. It also had a head a bit like a sea horse. It was really lovely, but unfortunately we didn't have the underwater camera with us and, even if we had, getting a photo of these fish is rather more luck than judgement.
So, having passed the best part of the day away we were sure there would be money now available at the ATM and sure enough, there was. But…. now, our cards wouldn't work. Neither of them. "Contact your bank" said the machine. So, back on the boat, Mike phoned the appropriate number and a nice chap on the other end told us that within 10 minutes or so they would work again. He didn't actually tell us why they weren't working in the first place – maybe that's a secret for the bank to know?
Anyway, we had already decided that we were moving to another of the small islands that evening, as it was only a half hour trip, and had therefore taken the outboard off the tender and secured everything on the boat so we didn't see the point of getting it all off again to go to get money. Maybe we should have because, the following day, on Terre de Bas we found the one ATM on the island, which had no money!!!!!
Despite the fact that we were unable to buy anything we had a really great day on the island. It is extremely quiet and has only two small villages. The larger of these is called Petites-Anses and the smaller, Grande Anse which may seem rather back to front unless you are a French scholar and realise that Anse relates to the beach rather than the town.
Anyway, our day started with a visit to an old pottery which was situated on the shore of Anse Fideling, our anchorage. Terre de Bas did have sugar plantations, and therefore slaves and sugar export and the pottery existed to create, well, pots! The pots were to make sugar cones – though we are not sure whether the pots were taken off the cones before transportation once the sugar cone was formed and dried or whether they were also used to protect the cones during the passage.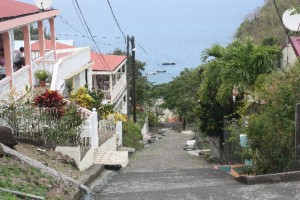 We then walked along the main [only] road to Petites-Anses. There are two parts to this village, the more recent half which contains most of the houses, the Post Office, ATM, Town Hall etc and the lovely old fishing village. Here I was finally able to get some decent photographs of pelicans. These birds are found on most of the Caribbean islands and really make me laugh with their strange shape and their awkward movements – but I had never been close enough before to get a decent shot.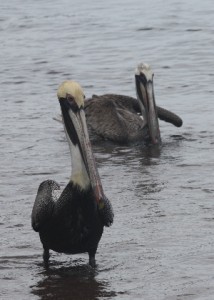 From Petites-Anses we took the old road which doesn't seem to be used anymore as a road. Having walked it we now know why. Firstly, it is more of a track than a tarmac road and secondly, rather than contouring round the island like the main road does, it goes up between the two peaks of Mourne Abymes and Morne Paquette. And, when I say up, I mean UP. It's not really the height that is the issue, even though it was about 750 feet [240 metres] but the gradient. But, having reached the top we found that there were three different walking trails, any one of which would take us down into Grande Anse.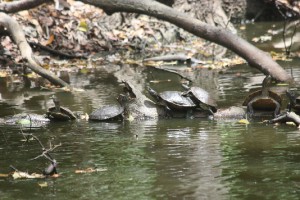 We had thought to do the longer route around the north coast but we seemed to lose the yellow paint markers for this route and found ourselves, instead, on the blue route. This worked really well because it took us past L'Etang where we came across fresh water turtles – we think? They may be tortoise but they seemed to be able to stay under water for a long time and their bodies were flatter like a turtle rather than rounded like a tortoise. We first spotted them from the far side of the lake and I took this shot.
Wanting a better, more close up, photo Mike took the camera and skirted the pond to creep up on them. Well, he didn't manage to creep very well and they all leapt into the water on his approach – except for this fellow who was obviously enjoying his sun bathing too much to notice that all his mates had gone.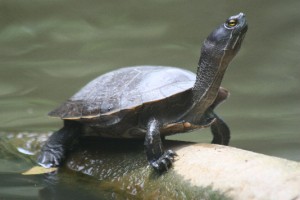 We also spotted this snake, which was different to those seen on Dominica. We don't think he was poisonous because snakes aren't listed in the "Dangers and Annoyances" section of the Lonely Planet, but we didn't really want to find out so we kept a safe distance.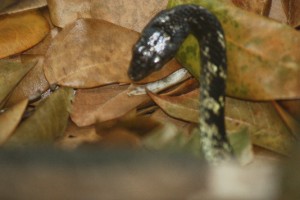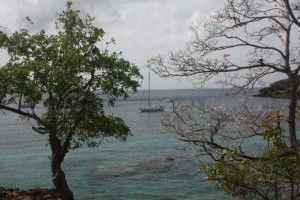 Back at our lovely anchorage we again went snorkelling where there were less fish than in the bay on Terre d'en Haut but more coral and fans – still beautiful. As an anchorage Anse Fideling is quiet and secluded and, as the only anchorage on the island, is certainly worth visiting because of the access to the island, but it did roll. Were we to return again we would anchor closer to the eastern side as the swell there appeared to be less active. This island was also cheaper than Terre d'en Haut and it would have been nice to have a meal at one of the pretty restaurants in Grande Anse, but there were no signs that they took Visa [or any card] and anyway, we had bought lamb shanks the previous day so there were no complaints about our meal that night.
Whilst lazing around in the Îles we had been contemplating our best passage around Guadaloupe in order to reach Antigua. The most obvious route is up the western side stopping at one or all of the four possible anchorages, the favourite spot for most yachties being Pigeon Island, in the Cousteau National Park. However, this means checking out at Deshies – which other people [and the pilot] had suggested could be a bit of a hit and miss affair. Given that Antigua, by repute, requires proper paperwork it would not be a good idea to leave without clearance and this could result in an extended stay in Deshies to get it. In addition the passage from the NW tip of Guadaloupe across to Antigua would be a very close reach which doesn't suit Siga Siga at all.
So, we looked at the passage through the middle of Guadaloupe – up the Rivière Salée. Although it is called a river it is in fact more of a saltwater mangrove channel and it sounded really interesting and something we hadn't done before. From its northern end it would also give us a much better line on Antigua and, if we wanted there were a couple of "away from it all" anchorages in the National Park around the Baie Mahault. The river is technically a French inland waterway but captains don't need to have the usual licence to navigate it and it is only about 4 miles long. According to the pilot we met all the mast height, beam and depth restrictions, so although it would be "tight" at just one spot at the north end where the depth is supposed to be 6.9 feet at low tide, all indications were that we would be able to pass through, especially as high tide coincided with the bridge opening times.
To enter the river, the best port to head for in Guadaloupe was therefore Pointe à Pitre. This city, though not the capital, is the largest on the island and although there is an anchoring option, there is also a marina there and, therefore, the opportunity to take on water – which was a bonus for us as we were running low.
So, that decided, on 21st March we duly set sail from Les Îles for Pointe à Pitre. Having cleared the small islands by 9am, we hoisted the sails and with four tacks we reached the south side of the river at just after 2pm. The next task was to berth the boat which we hadn't done since La Gomera. As it transpired, this manoeuvre was completed without hitch, though it was disconcerting to find that what the pilot describes as "pick up buoys" are actually buoys without any lines attached. There are "Port Masters" on hand to assist and we thought this meant guide us in, but what it required was our own bow line to be ready to throw to them which they then tied to the buoy. Well, of course, there I was at the bow expecting to pick up their line and Mike was beautifully lined up for an approach stern to. Quickly realising my mistake, and with some fancy footwork to the back of the boat and back, we alleviated that oversight and our bow line was then attached and we reversed gently back into our allotted slot.
You will remember that we still had no money and we were pleased therefore that there was an ATM on the Marina complex but…. you guessed it…. it was broken. So, as the city was only about a mile away, we decided to walk in as the inner city is described as a lively and attractive old town with sidewalk cafes. However, to get there we ended up walking through the red light district – which was fortunately rather low key as it was only 4pm but I didn't fancy the walk back later. We then reached the market, which is the start of the old town and if what we saw is considered attractive then I wouldn't like to see the part the Lonely Planet thinks is unattractive! Not good, but we had seen a bus stop and a bus with "Marina" written on it so we were more than happy to shell out €1.60 of our newly acquired cash to get back.
The Marina complex is actually quite old having been built in the 1970's to accommodate the "Rhoute de Rhum" but it had a good atmosphere and a newer shower block and, best of all, a self service laundrette. It may sound strange that I can get excited about a laundrette, but they are actually few and far between, the normal service being a laundry. The cafés weren't overpriced either and we treated ourselves to a nice "French" meal.
Now we come to the part where, on the advice of the marina, we realised that we probably shouldn't go through the river. Although they may have been giving advice on the cautious side, the depths they quoted meant that even with a favourable tide we would be cutting it very fine in a couple of places. So, we decided to look at some yacht forum on the internet and firstly, there was only one forum which mentioned it – suggesting that this was not a popular route and secondly, the one thread that we did find was very negative about the whole thing. We had known that the bridge opening times were not favourable [4am] but had originally thought that the experience of doing it was worth it – because there is an anchorage after the second bridge where you can wait for better light and then see the landscape as you go up the river. Anyway, after considerable deliberation we decided against it. So, we were now in Pointe à Pitre with the option of a 30 mile trip back to the SW corner or a passage along the south and then up the east coast.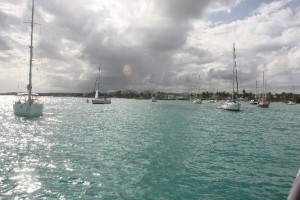 In the end we opted for the second option, having read that St. François on the south coast was a pleasant place for an overnight stay and having downloaded the grib which assured us that the conditions were good for a windward passage.
St François was, indeed, a very pleasant anchorage in a lagoon. Care certainly needs to be taken with the approach and it is critical when sailing from the west not to take what seems like the obvious line to the already anchored yachts. That would prove very messy – for both the boat and the reef – but, by following the buoyed channel it is quite straightforward. However, I am not sure I would like it quite so much if there was a decent sea running. We decided not to visit the village because it was growing dark and, after spending the evening sitting peacefully and watching the sun go down we opted for an early night ready for a 6am start the following day.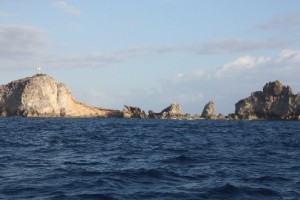 Leaving the anchorage at 6am was no problem because we had good light by then and, having motored east to Pointe la Chaise, we rounded the corner, set the main and genoa and had an excellent sail for 60 miles, on one tack, to Falmouth Harbour, Antigua.
And there I will leave you for now – with the thought that we have been to Antigua before, when in transit from the BVI's back to the UK [a long story which I won't bore you with but which Chris will remember well!] and we didn't really like what little we saw…….