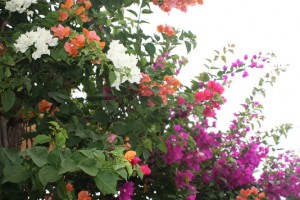 The Caribs, who inhabited the islands prior to Europeans colonising them, called Martinique "Madinia" – the island of flowers. There certainly were lots of flowers to be seen though, from our perspective, it doesn't seem as though Martinique stands out in relation to its floral displays. Maybe we just didn't see it at its best or maybe, unfortunately, Martinique didn't really capture our hearts in the way that other islands have.
Perhaps Martinique's biggest claim to fame is that the Empress Josephine was born here – but the locals would actually rather that fact [or she] was forgotten. It appears that she was brought up on a 150 slave estate and because of her influence Napoleon delayed abolishing slavery in France and its colonies. There was supposed to be a statue of her in one of the city parks but we didn't find it. We do know that some years ago the statue's head was lopped off and red paint splashed all over the body – a fitting French tribute!
Like Guadaloupe, Martinique is still part of France so yachts fly the tricolour as the courtesy flag. It is actually a very yacht friendly place and there is no clearance fee at all. It is free to anchor everywhere as well, so it is a good place to stay for a week or two if the "boat" side of the liveaboard budget needs a bit of a breather! Clearance is also fairly simple. You will recall that because of carnival we couldn't clear in when we arrived. This delay was never questioned, no one wanted to see our passports or ships documents and it was just a case of completing a form on a computer in the chandlers in Fort de France and getting it stamped. Clearance into the main marina in Marin may have been a different affair but neither we, nor our friends, went there so we don't know. Certainly, clearing out at St. Pierre was equally simple – just exchange chandlers for tourist information office and the process was the same. Probably the most difficult thing was that the keyboard is French so lots of the letters are in different places. Also, although this doesn't apply to us as we intend to visit Dominica, had we wanted to go straight to Guadaloupe we needn't have cleared out as it is "France" to "France".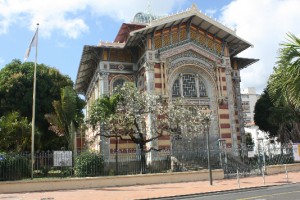 The French influence is heavily reflected in the buildings such as this library in Fort de France. Its full name is "Bibliothèque Schoeler, a very colourful building with a Byzantine dome. The building was designed by a contemporary of Monsieur Eiffel, built in Paris and displayed at the 1889 World Exposition, then dismantled, shipped and reassembled in Fort de France. We had hoped to visit Sacré-Coeur de Balata, which is a replica of Sacré-Coeur in Paris. It is a ten minute drive north of Fort de France, but unfortunately as you will hear later, the trip did not take place…..
Following carnival, we spent another couple of days in Fort de France stocking up in the supermarkets which have a far wider range of provisions than on most islands. It was good to be able to buy real cheese, though as you might expect, the range was limited mainly to Brie and Camembert.
We re-acquainted ourselves with a couple of friends we hadn't seen since Barbados – Stu and Steph on "Matador". We shared a meal on our boat one evening and the following evening had food and a "music night" on their boat. Yes, Mike has finally taken the sax out of its case – though it transpired that Stu actually blew more notes on it than Mike did – and he had never played one before. Still it seems that it has encouraged Mike to try to play again and he now has a small supply of music to work on.
On 25th February we sailed across the bay to Anse Mitan but, before starting our journey, we had to get a Scandinavian guy out of his bed at 9.00am. It was his fault for anchoring over our anchor in the first place. On the day he had arrived he came alongside in his tender to apologise and as he wasn't likely to hit us we were quite happy for him to stay there as he had said he was also moving on the morning of 25th anyway – perhaps he hadn't actually meant 9.00am!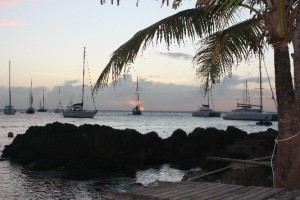 It is only a 50 minute journey, though there are reefs to be negotiated and there were rather strong winds blowing so it wasn't just a case of anchor up and down again. We were quite pleased to have moved to our new anchorage because it is more sheltered that Fort de France and those strong winds were supposed to, and did, get stronger. It is also a very attractive anchorage.
Like us, Stu and Steph are Rugby fans and, although born a "kiwi", Stu is quite happy to support England when New Zealand isn't playing them! Being a French island we expected there to be TV coverage of the Six Nations – but there wasn't. Well, not on the Saturday when England was playing. We did, however, manage to find a hotel showing the French game on the Sunday and gamely sat cheering for Scotland amid a group of French guys. Unfortunately it was not to be….so they took our cheering quite well!
From the anchorage it is possible to come ashore at the pier beside the beach or dingy to a small bay which was once the beach of a now abandoned hotel. It's a lovely spot and warranted a BBQ.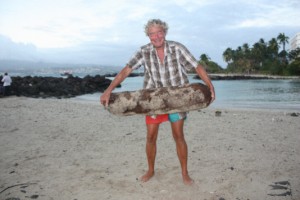 Not sure what Mike originally intended with this log as we had plenty of charcoal…. but it did serve as an excellent seat.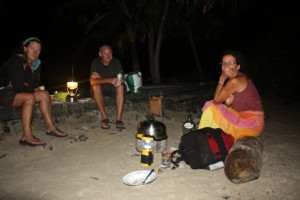 We had planned to be ashore by around 5.00pm but we had an absolute downpour at around 4.45 so there was a bit of a delay. Unfortunately rain also stopped play at the end of the evening but we had eaten our fill by then so it didn't spoil things too much. Maybe that's another reason why Martinique isn't highest on our list of favourite islands – because it rained a lot.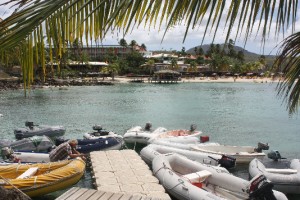 Although the abandoned beach created quite a dingy puzzle due to its popularity, it was also our favoured spot to step ashore, even though it meant a longer walk through the village when we wanted to go anywhere.
On 28th we decided to walk round to Anse à l'Ane, the next anchorage south. The pilot describes it as "a sweet little bay with a charming beach" which sounds lovely. However, the pilot does go on to say that it is "a pleasant anchorage in good conditions but which should be avoided in heavy swells" and, since the conditions were rather rough, we thought a walk might be the better option. However, it remains to be seen what this bay is actually like because we didn't manage to get there. The plan of Anse Mitan and the surrounding bays shows a path via a fort on the hill between the two bays. We took the road which we thought would most likely become the track over the top but just reached a dead end in a newly built block of apartments. Having taken about 20 minutes going up and down [literally] this no through road we decided that maybe the main road was the better option – but now we found that the main road went inland, also via about three hills and so, by the time we had hoped to be in Anse à l'Ane we were actually only halfway there.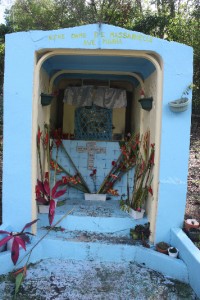 So, we decided to visit "Trois Islets" instead as it was nearer and had been described as "charming and photogenic" and not yet overrun with visitors. On our way there we came across this shrine and, apparently, passed the house where the above mentioned Josephine had lived. It wasn't signposted – again perhaps an indicator of the islanders views of her – but we have since been told that we didn't miss much by not going. I can also see why Trois Islets isn't a tourist trap. The houses are old, built of wood and have fish-scale tiled roofs and are therefore quite interesting in their own right – but apart from that there is nothing to be seen.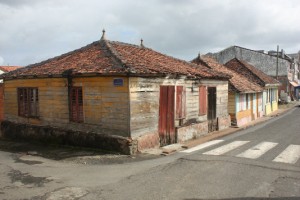 It is possible to anchor in the bay off the village, but as far as we could see we had made the far better choice with Anse Mitan.
29th February dawned and Yippee – Mike was 14 years old at last. Now, I hinted above about the journey which didn't happen and this was the day that the tour of the island was planned. We got up nice and early, much to Mike's disgust on his birthday, because we had booked a car for 9.00am. Mike said we probably didn't need to be there at 9.00 on the dot, but those of you who know me well will recognise that I wasn't going to cope with that – even though I am now relaxing into island time. Mike was just about able to conceal a smug grin when the car hire place hadn't opened by 9.15 but the grin turned slightly sicklier when 9.45 arrived but the car hire proprietors didn't! Time for coffee, we decided, and a rethink about how to spend the day. So, we thought, maybe a bus to the south west of the island. Buses are hard to come by on Martinique as everyone seems to travel by car but we had seen several buses on our walk the day before and they went to Marigot via Anse D'Arlet – another possible anchorage which we thought we might take a look at particularly as the Lonely Planet praises its fish restaurants. That sounded like a good second best for a birthday lunch as the car hire place still wasn't open at 10.30 so the drive into the mountains at Morne Rouge and onto the eastern peninsular "Presqu'Îsle de Caravelle definitely wasn't going to happen. We walked out through the town and up the hill to the bus stop and sat there until we realised that people driving past were looking at us strangely and we hadn't seen hide nor hair of a bus [not that buses have hides or hairs – but you know what I mean].
We are still not sure why the car hire place didn't open. Fortunately no deposit had been taken when she wrote down Mike's details under 29th February at the time it was booked. We are still not sure why there were no buses on the Wednesday when we had seen buses on the Tuesday. Everything just conspired against us and so we ended up spending 4 hours in a bar called La Marina. This was one of only a couple of places we found on Martinique where we could get internet access [for a small fee] and we therefore spent two hours sending e.mails, posting the St.Lucia blog entry and updating the blog map.
The second two hours were spent in a more birthday like manner over a long leisurely lunch which, we decided, was actually the best way to spend the "not to be" car hire cost. We also ventured out in the evening for a couple of cocktails and thus, all in all, it was a good day even if it was nothing like we planned.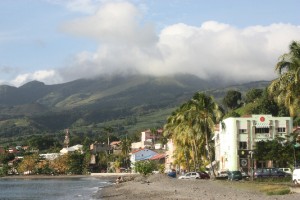 Another day, another anchorage. This time, St. Pierre, at the NW corner of Martinique underneath the volcanic Mount Pelée. It took 3 hours 25 minutes to get there from Anse Mitan with two thirds of it under sail. As it transpires, leaving at just before 10.00am was the right thing to do as Stu and Steph, who had been back in Fort de France for a few days, left later and had to motor sail nearly all the way. We had planned a walk up the mountain but it was another rainy day so we just did some shopping and hunkered down.
Even though the clouds were still with us on the following day, meaning that walking up Mt. Pelée to see what remains of the volcano would have been a rather pointless exercise, we did want to see something of the island and decided to take a walk out to the Depaz rum factory – well what else do you do in the drizzle???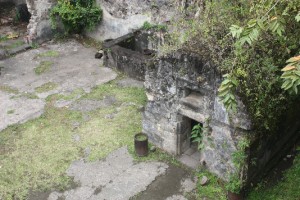 First of all, however, we visited the small museum which exhibits photographs and artefacts of St. Pierre prior to, and after, the volcanic eruption of 1902. Today, St. Pierre has a population of around 12,000. In 1902 there were 30,000 people in St. Pierre, of which only two survived, one of whom went on to join the Barnum circus as a "sideshow". His name was "Cyparis" and, ironically, he owed his life to having been locked in a tomblike solitary confinement cell at the local jail. The burst of superheated gas and burning ash which devastated the town had a force 40 times stronger than the Hiroshima bomb and the town was laid to waste within minutes. Some of the "after" artefacts showed just how hot it must have been with glassware fused together, stacks of nails melted into sculpture like blocks and the enormous brass church bell twisted and misshapen.
It was a pleasant walk out to the distillery particularly as, during the late morning, the sun decided to make an appearance and stayed with us throughout the rest of the day. It was free to visit the factory and there were very informative placards around the self guided route. Perhaps the most interesting part of this factory, or at least the thing which made it slightly different from others we have visited, is the steam engine which had been there for 100 years but which had been bought second hand – the first part of its working life having been to power the fountains at Versailles.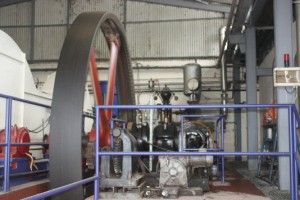 Yes, of course we bought some rum – slightly less powerful than the last one, but we have now learned how to make Martinique's speciality "Ti-Punch" ["Little" punch]. Basically it has no fruit juice in it so it's just rum, lime and a little sugar syrup – therefore a good job that the rum is slightly less strong!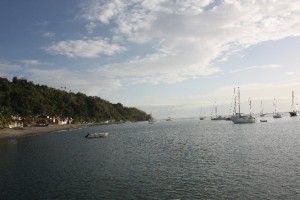 And there we leave Martinique. Maybe on our return down the islands we will call again to those anchorages on the west coast which eluded our attempts to visit on foot and by bus. Maybe we will eventually take the trip into the mountains and round the east coast but, for now – its farewell to St. Pierre, Martinique and out of the Windward Islands to sail north to the Leewards…..