For our trip from Fuerteventura to Gran Canaria [some 50 miles] we decided on an early start because on 17th Sept, the day before we left, we had had slightly more breeze than normal, which didn't subside that much overnight. It hadn't risen either and the grib hadn't suggested anything untoward, so we weren't too concerned, but we thought it prudent to leave earlier rather than later. In addition, at an average 5 miles an hour and the light fading by 8pm a late start isn't really the best option, so it was a 6am alarm call. I am pleased to say that not only was it the right call, it was a good sail too with nearly 8 hours of the just over 9 hour trip being conducted under sail. The wind didn't exceed 25k and other than at the very start, didn't go below 16k – excellent and ideal for making good progress.
Other than a couple of ferries we saw no other traffic, a friendly pod of dolphins joined us for a short while and it was all very civilised.
Las Palmas is probably the biggest port we have so far entered and we didn't know how big until we got there. There must have been about 10 container ships parked outside – one of which was blocking the view of the entrance and, until we saw another ship emerging from behind it we weren't quite sure exactly where the breakwater was. Having entered the outer harbour we then made our way past several other tankers and ferries etc and into the inner harbour from where we were eventually able to make out the entrance to the actual marina [as distinct from the local fishing boat marina to the southern end of the harbour and the yacht club marina to the north].
As many people will know Las Palmas is the marina for the start of the ARC crossing. I have to say that whilst understanding that size is in its favour the aspect and the very messy seas outside the port are perhaps a less than auspicious beginning. Though we haven't of course done the ARC and nor are we planning to I felt that had I been approaching with that in mind I may have been less enthusiastic. That said, I am sure that on the day, with around 200 yachts all leaving at once and the party atmosphere etc etc it is a real adrenalin rush.
Another reason for it being the ARC Marina of choice could well be the cost. Although a four day stay was €84, approx €40 of that was for a one off payment of harbour fees. It is actually about €10 per night which is extremely cheap in comparison to anything else – and it may well be that for a month or longer there is also a discount. There are adequate facilities, fairly good access to shops/town [though we did find the bikes an advantage] and a range of chandlers. It is here that we purchased some new batteries. As Malc, and John – who carried it over to us! – will know we now have in our possession Nigel Calders "bible" on boat mechanics and electrics. There are about three chapters which include info on batteries and we had more or less determined that, if possible, we needed more power than our old batteries could give us. Having done loads of measuring we found that the only way we could achieve this would be to put one of the batteries in a different place and we had quite a discussion about which cupboard was going to become a new battery bank. Whatever was in this cupboard was going to be relegated to under a bunk and therefore harder to access – so was it clothes or tools or what? I think you can imagine which side I was coming down on which wasn't necessarily what Mike was thinking.
Anyway, I was then reading the chapter to double check a couple of things when I came across the following: "It is not acceptable to expand battery banks by wiring additional batteries in a different physical location." Basically this was because of different ambient temperatures occurring affecting their discharge and recharge etc and, "in a worst case scenario (quite common on boats), the batteries can be driven into a dangerous condition known as thermal runaway which can lead to an explosion"!!! Needless to say that solved the problem of the clothes or the tools! Both are still stored in their respective cupboards and the new batteries fit into the space the old ones vacated. Maybe we haven't got as much power as we would have liked but the prognosis on not destroying the boat seems improved.
We also purchased our solar panel and fixed part of the windlass as well as the man overboard casing [again – and this time because a Spanish fishing boat had caught a sticking out rod and line in it when berthing next to us]. So it was quite a productive stay – even though the batteries which, when first making enquiries we were told could be made available in one hour, took two days as they had to actually come from Tenerife, a minimum 2.5 hour ferry journey away. Ah Manyana……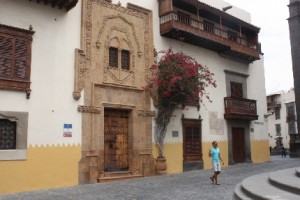 In terms of "entertainment" – we ventured out into the Old Town which is worth a visit and within which there is the Triana district and the Vegueta district. Both of these have what they term Tapas bars but which are perhaps more restaurant like than tapas – but still good, if not necessarily as cheap as in other places. However, as we said, Las Palmas is the London of the Canaries so things are bound to be more expensive.
The later than anticipated delivery of batteries meant that our planned second port of call on Gran Canaria – Puerto Rico – didn't happen and instead we ended up doing an overnight sail to Las Galletas on Tenerife. Although the first part of the journey round the top of Gran Canaria had to be done by motor, five hours into the trip Mike, who was on watch, was able to hoist sails at 11.30pm and we didn't start the engine again until 11.00am. All this is sounding good you may think, but, remember that this is us and it wasn't all plain sailing. So, what this time?
We had made better time than we had expected and were off Las Galletas at just after 7am. However, it was still quite dark and we were unable to make out where the harbour was so we gybed and hove too. Still sounding good – except it wasn't – as a strange clanging noise started from somewhere around the pedestal region. Throttle, clutch or steering?  Regular readers will be aware of our engine problem in Leixoes and, initially therefore, we thought that it was probably either the throttle or the clutch, particularly as we have had a slight issue with the engine not always completely stopping with the throttle seemingly in neutral. However, as far as I am aware, neither a throttle nor a clutch malfunction results in the boat going round in circles which is what happened next – so, into autopilot, and Mike disappeared downstairs and under the bed to find that a steering cable had snapped.
It isn't necessary to go into any great detail but I have to say that Mike's knowledge of machinery is really paying off. Not only did he know immediately what had happened [even though the sheared cable may have been a bit of a giveaway] he also, more importantly, knew how to do a temporary fix. OK, so it took about three hours to achieve this whilst I sat at the helm obeying various orders shouted from below, but it got us into port safe and sound.
Operating from Las Galletas is a sailing school run by a british couple and they were able to assist with the purchase of new cable which involved yet more of that manyana time but other than that caused little problem. I am also pleased to report that Mike has been able to suss out what was causing the sticking throttle and now, when we think we have stopped we are actually stopped – which is a good thing!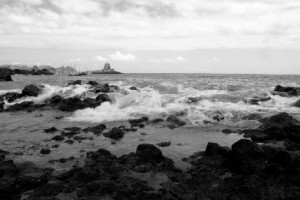 Las Galletas was a great place. Its really hard to imagine that just around the corner is Los Cristianos and Playa de las Americas. Whilst there were a couple of restaurants reflecting either a british or a german menu, 90% of the town were Spanish people leading normal lives and the prices reflected that. We had two great evenings out whilst there without breaking the bank.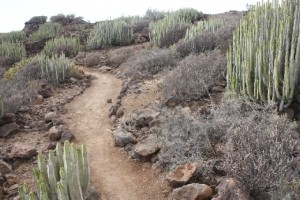 Just a walk away from the marina we found a kind of coastal walk/cactus garden. Parts of it looked as though it was also meant for camping and there were a couple of tents – but, then again, there were No Camping signs and threats of fines for doing so.
We also planned a bike ride but, one of the tyres on Mike's bike needed replacing and as it was a Sunday this wasn't going to be possible so, we decided to walk instead. It was a good decision as the walk, and thus the potential bike ride, was 6k up followed by 2k on the level and 3k down. As a bike ride this would also have had to be reversed – but as a walk it meant a bus ride back. Good result.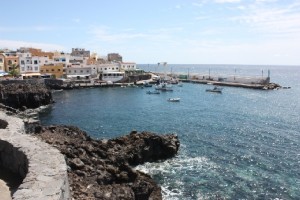 What was also a good result was where we ended up. Not only is Los Abrigos a very pretty village it also has an old part behind the port. Within this we found a very friendly bar where they were advertising "Vino del Norte". The owner was very proud that a five litre container of this had been delivered to him that morning and so it just had to be sampled. He was so pleased at having English people in his bar – which we gathered was not a common thing – that he fed us with complimentary dishes of whitebait, bread and tortilla. He also introduced us to his son and insisted on having his photo taken with us. He also tempted Mike into trying some Canarian rum which is produced on La Palma. A great way of spending Sunday lunchtime.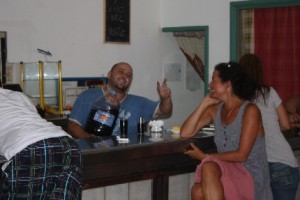 All that then remained before James's arrival was for us to get ourselves safely to La Gomera. This was accomplished, without mishap, on 27th September with a stern too berthing in San Sebastian Marina. I mention the stern too berthing because it's only the second one we have done on Siga Siga, the first being at Las Palmas – but there it was with lazy lines. Here it was into a finger berth – and caused us no problem at all. Perhaps all that practice on charter boats in the med hasn't gone to waste after all.
Arriving here on La Gomera is a cause for celebration. It is the end of the first leg of our journey. Some years ago when we visited the island for a week's holiday Mike said "this is where I want to leave from when we go to the Caribbean"…. And so, here we are. Then it was a dream to plan for and to hope might come to fruition. Now it is a reality – we really are living the dream.