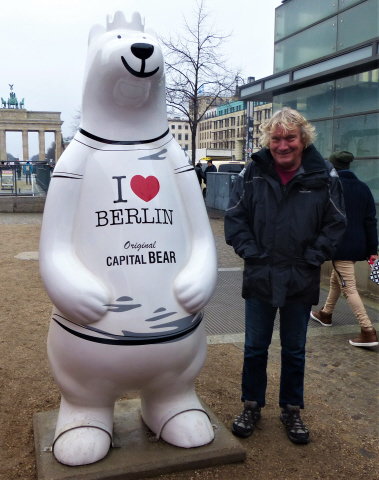 How lucky were we! We had decided that we would visit James in Berlin at some time during this over-wintering season in Kalamata. He had a holiday booked in Vietnam at the end of 2019 so sometime between January and March 2020 seemed ideal. He sent us a message to say that he had booked a special gallery visit on Saturday 15th February and could get extra tickets if we wanted to go that weekend. I was a bit surprised, given that it was Valentine's weekend and that he now has the lovely Polina playing a big part in his life. However, taking after his dad, James didn't work out until after we had booked our flights and accommodation that maybe it wasn't the best weekend! But, had we not gone then, we would probably have booked for mid-March…. and wouldn't have been able to go at all given the current situation.
So, not only did we see Berlin and James, but we also met Polina and Coco and had a super weekend.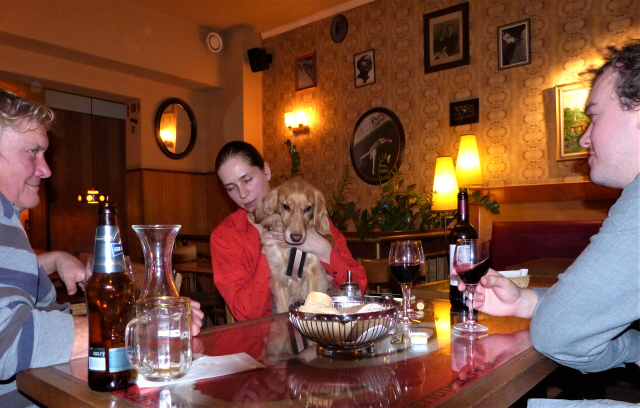 There is so much to see and do in Berlin that we were a bit unsure where to start. When we met James and Polina on the Thursday evening they gave us some hints and tips and we were able to plan a walking tour for the Friday based on the places we most wanted to visit.
Public transport in Berlin is absolutely fantastic. A €2.90 ticket lasts for 2 hours and can be used as often as you need during that time period on all four types of transport within zones A/B, i.e. bus, tram, metro or train within the wider city centre boundaries. Although we only used it once on that day to get into the city, we did make good use of the system throughout the weekend.
So, our starting point was the "Reichstag" building.
Taking ten years to construct, the building opened in 1894 and was the parliamentary seat of the Weimar Republic between 1919 and 1933 when it was damaged by fire, the circumstances of which remain unclear. Unrepaired following the fire, it was further damaged by air raids. Post-war, being situated in West Berlin, it wasn't used by either of the governments of the Democratic or of the Federal Republics. The official reunification ceremony was held at the Reichstag on October 3rd 1990 and the following day the parliament of united Germany assembled there as a symbolic act. After a "healthy" debate in 1991, the decision was taken to move the German government back to Berlin from Bonn, though it wasn't until after reconstruction of the building finished in 1999 that it once more became the parliamentary seat.
A very short walk from there is the C18 neo-classical monument – the Brandenburg Gate.
Berlin's only surviving historical city gate it is also one of the city's most iconic sights. Given its geographical location in the city, which was in an exclusion zone within an arc of the Wall, it has symbolised both the Cold War Division and the Re-Unification.
Originally built as a military memorial, it has now come to epitomise peace and unity, freedom and tolerance. Hence, it – and the "Pariser Platz" in which it stands – have become the site of both large and small demonstrations against injustice. It is perhaps not surprising, therefore, that we witnessed these demonstrators on the day we visited.
Equally iconic, but rather less immediately noticeable, is "Checkpoint Charlie".
The current "barrier" is actually a small simulation of the original which was removed on 22nd June 1990 in the presence of the foreign ministers of the four Allied states, the DDR and West Germany.
People were queueing to take photographs at the barrier. I actually thought that this made a much better shot!
Just before reaching Checkpoint Charlie we passed the "Trabi Museum".
I have to admit that I had never heard of the "Trabant" – which is perhaps hardly surprising as I would be pushed to name the make of any car I haven't owned and might well still get those I owned wrong!
Anyway, the "Trabi" was manufactured between 1957 and 1990 by the East German company "VEB Sachsenring Automobilwerke Zwickau". The most famous model was the 601 and 2,818,547 of these were built from 1964 onwards. They have been variously dubbed as "that weird soviet car", "the worst car ever built", "an awful car made by communists" and "the car that belches like an Iraqi oil field".
Apparently the average lifespan of a Trabi was 28 years though it seems that this may have been because, having taken ten years from ordering one to getting one, owners tried their best to care for them – which wasn't easy as spare parts were even harder to source than the car! In its favour [?!] there weren't actually that many parts…. E.g. No speedometer or fuel indicator – the former wasn't much of a problem as the car hardly ever managed to reach speeds more than 50mph, the latter was compensated for by drivers learning approximately how many hours it took to empty the tank.
These interesting facts, and many others, we learnt about when we visited the interactive DDR museum which housed an amazing array of exhibits covering "everyday life" in the former East Germany.
There were three themed areas and although "Public Life" and "State and Ideology" were absorbing – particularly information about how children were "socialised"- I think the most memorable for me was "Life in a Tower Block".
What was particularly fascinating, and shouldn't have been surprising, was the huge number of objects around the "flat" that I recognised from my childhood. Many goods were, like the car, in short supply and hard to obtain and, possibly as a result, what was common place in the UK in the 1960's wasn't available to the average East German citizen until the 70's.
As well as the Trabi, there was also this bike…
The original owners of the company, the Simson family, were Jewish. Having been dispossessed of their factory in 1936 they fled the country following which their products were built with various names under the Nazi and early Communist governments until the brand name "Simson" was restored in 1955.
Whilst the Wall and the East/West Germany split dominates the Berlin tourist trail I also wanted to visit "The Memorial to the Murdered Jews of Europe" particularly after seeing these plaques which mark the spots on various Berlin streets where German Jews were taken.
Also known as the "Holocaust Memorial", it consists of 2,711 concrete slabs of different heights.
To be honest I did not fully understand the representation. I suppose that the blocks look rather like coffins but, from everything I have read or seen, coffins were certainly not a feature of being shot in a pit or gassed in a chamber. One critic has suggested that if you walk around in the centre of the memorial where the blocks are taller, you see less sky, the walls feel like they are closing in and the way out seems less possible and that this denotes how Jewish people were hounded and trapped. I can understand what that critic is saying but remain disappointed by the Memorial.
However, I was not at all disappointed by the Information Centre which is housed beneath it. It was full of things you had to read and look at but wish you didn't.
There are several themed rooms. One room sets out the historical time line from the early persecution by the Nazi regime of people with mental illness, of homosexuals and of Gypsies and Roma to the concentration on the Jewish race.
The "Room of Families" tells the fateful stories of how families from different countries were rounded up, transported and separated. I had not realised that almost 59,000 Greek Jews from a population of around 71,000 Jews in Thessaloniki were transported and murdered during the holocaust. Similarly I had not realised that the Ukraine had such a large Jewish population with around 1.5million killed.
I had also mainly associated concentration camps with Auschwitz, Belsen and Dachau but in the "Room of Sites" learnt about the atrocities of Belzec, Sobibor, Treblinka and other lesser known sites [lesser known to me that is].
The short biographies, the photographs and the memoires take the victims out of their anonymity with the "Room of Letters", for me, the most poignant. I sat on one of the benches reading extracts from letters written by wives, husbands, mothers and children, I looked around the top of the wall where the numbers of people from each country murdered were inscribed and I cried.
Most importantly, for me, the Memorial is not only a place of Remembrance, but also one of warning.
Bosnia, Rwanda, Myanmar were three places which immediately sprang to my mind when I read this. Will we ever learn?
Well, after that I am sure you need cheering up. We certainly did.
A wander through the classical "Gendarmenmarkt Square"….
….was followed by a Gluhwein in "Alexanderplatz"……
… then a few more drinks and a meal as we worked our way back to our accommodation.
We knew that Saturday evening was the art gallery visit which James had booked so we decided to have a light hearted day. We like seeing local neighbourhoods outside of city centres which are geared more for people who live there than for tourists and we plotted a route which took in a couple of real ale outlets with decent sounding food.
What we hadn't researched was their opening hours! "Neighbourhood" bars/pubs, it would seem, open only in the evening. Still, we had a good look around and made full use of the above mentioned transport before making our way to the city centre where we finally found Mike some beer……
… and then headed to the "Sammlung Boros Art Gallery".
One of several old war bunkers, this WWII air raid shelter has been used variously to house prisoners of war [by the Red Army], as a warehouse to store textiles and then, during the Cold War, tropical fruit. After being abandoned for a while, it resurfaced as a Techno club before being bought by Christian Boros, in 2003, when he transformed it into a gallery to show his contemporary art collection.
It was certainly an interesting building, five stories high with 120 rooms – though we went into less than half of them.
One of the outside walls is full of bullet holes….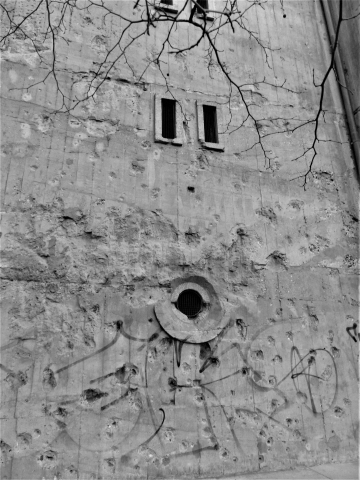 …… and one of the entrance doors is strangely blocked by a rock.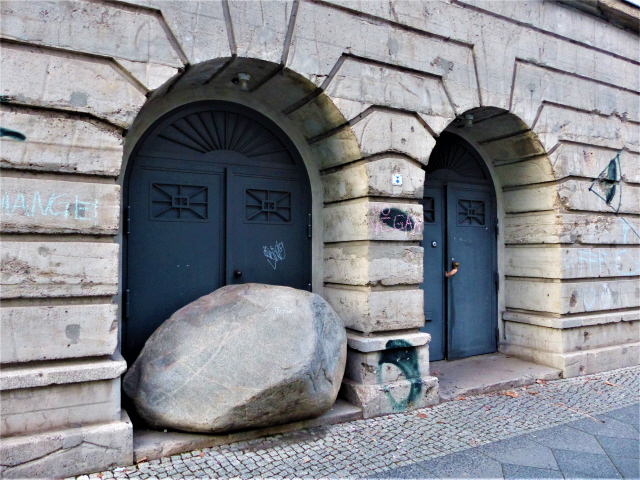 We weren't allowed to take photographs of the exhibition so, to give you a taste of what we saw, I credit this to the galleries Facebook page.
However, I was able to take a photograph of the corridor as we entered the building.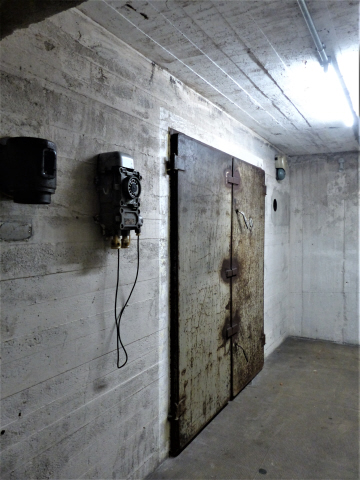 Two memories of the tour will remain with us, the first being the excellent, if rather wacky, guide and the second the ink pad print we were encouraged to make replicating the "Arma Branca" woodcut on journal paper and wood prints created by Paulo Nazareth, a Brazilian artist of African heritage.
Our final full day, Sunday, dawned rather damp. This was disappointing as James and Polina had told us about a "karaoke in the park" event which apparently happens most Sundays and which is, we were told, fun to watch. Plans about when and where to meet them therefore changed and gave Mike and I another opportunity to go into the city centre to see some of the places we hadn't managed to get to on the Friday.
Considered another obvious city landmark, the double decked Oberbaum Bridge spans the River Spree.
It too has become a symbol of unity as the river was part of the Wall and split the Eastern borough of Friedrichshain and Western Kreuzberg.
The first bridge was built in 1732, made of wood with a drawbridge in the middle. Modified and extended over the next hundred years or so it was finally replaced by a stone bridge in 1896. Designed in a Gothic style it has turrets, coats of arms, pointed arches and cross vaults.
In 1945 the middle section of the bridge was blown up by the Wehrmacht to try to prevent entry of the Red Army and parts of it were destroyed or allowed to rot whilst the bridge was effectively the border and, for the most part therefore, closed. It re-opened to traffic and pedestrians in 1994, with the upper U-Bahn rail section being completed a year later.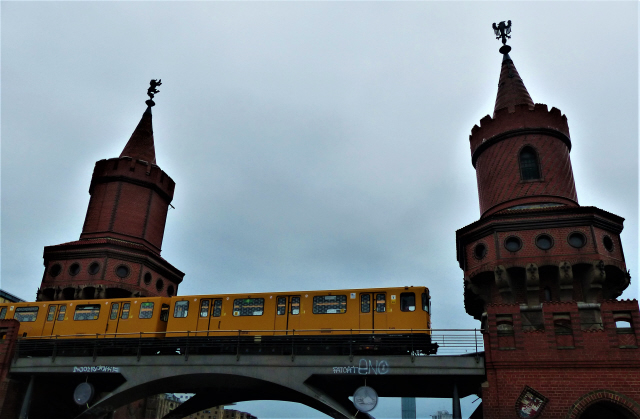 Its other claim to fame is its use in the mini-series "Smiley's People – as the hand over point of Karla to Smiley. Mike remembered this scene. I didn't, though we both remembered seeing the "Glienicke Bridge" in spy films which was a real exchange point for spies during the Cold War. Unfortunately, being out of the city near Potsdam, we didn't see it – a good reason to return methinks!
From the Oberbaum Bridge we could see the 30m high metal sculpture which stands in the river.
You can just about see that it consist of three humans leaning towards each other. Their bodies have hundreds of holes punched in them which are, according to the American designer/artist, representative of "the molecules of all human beings coming together to create our existence".
The Oberbaum Bridge is at the southern end of the East Side Gallery.
At 1.3km long it is the longest open air gallery in the world and the longest continuous section of the Wall remaining. Other parts of the wall, with their graffiti have been and still are being sold off as memorabilia!
Immediately after the wall came down, 118 artists from 21 countries began painting it and it officially opened in September 1990 before being awarded protected memorial status just over a year later.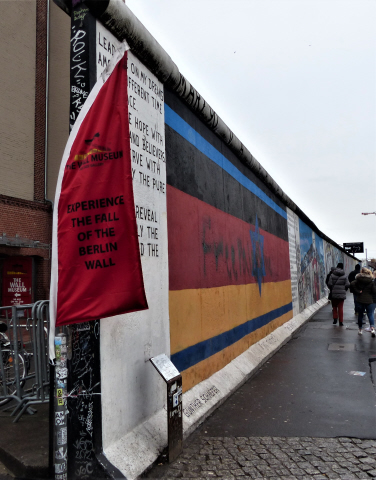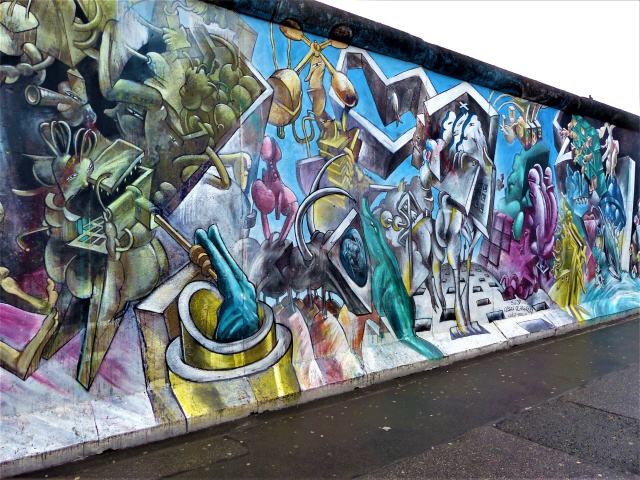 To conclude our tour of Berlin galleries we later met James and Polina who took us to the Berlin Photography Museum. The ground floor was dedicated to Helmut Newton, a prolific and somewhat provocative fashion photographer. Whilst interesting, Mike and I actually preferred the third floor showing the work of local industrial photographers in the 50's that recorded industrial processes, people and localities.
As well as seeing the sights of Berlin we looked forward to the tastes. Over the course of four evenings we ate in Vietnamese, American diner style, German and Russian restaurants – all different and all good. I think the Russian was our favourite, which we could not have managed so successfully without Polina showing and telling us about the best choices.
All too soon, the weekend was over. We had a great time, especially the time spent with James and Polina. So, until our next visit……