Well, I have been promising to tell you about the storm we weathered in Porto Cheli and will, indeed, come to that in this post. But at the time Andrea and Fiona left us in mid-September we had no idea of the bad weather to come so, with our friends Steve and Gill on "Coriander", we intended to slowly make our way south down the eastern Peloponnese coast.
However, before leaving Nafplio we decided to spend a couple of days stocking up with food etc and take the opportunity for a bus trip to the nearby town of Argos. Today, the town is best known for its recently opened Byzantine museum – our main destination for the day – but its history actually goes back over 6,000 years, with the usual suspects variously occupying the area.
The museum itself is housed in the restored former "Ioannis Kapodistrias" barracks, named after the first President of Greece. Its six themed rooms take the visitor through "life in the Argolis" from 4000BC onwards all of which was very interesting but two exhibits particularly took my fancy. Firstly, this "Stibadium"….
… a semi-circular piece of furniture sometimes used as a desk but more often as a table in the "triclinium" – the large, usually arched, reception room of a Byzantine villa. During formal meals guests were "seated" on pillows in a reclined position around the stibadium and foods and drink were placed in the middle. They normally ate with their fingers, placing their chosen morsels in the nearest dish cut out.
Secondly, I rather liked this child's toy…….
….made of clay, it would once have had wooden wheels.
Back in Nafplio the provisioning didn't us long – the boat isn't big enough! We therefore had time for an evening walk around parts of the town….
…..and its lesser known and visited ruins which sit atop the rocky jutting edge of the town – the "Akronafplia fortress". There isn't much left of Nafplio's oldest castle, who's walls date back to the Bronze Age, but we got great views over the ruins and across the gulf of the clouds gathering above and around the 1771m [approx. 5,800ft] high Mount Artemesio.
We also found a brilliant bar called "Lichnari"…..
Why is it always the last day of a visit somewhere when you come across such gems!
We left Nafplio the following day [14 September] for an easy two hour crossing to Paralia Astros where we spent 3 nights – no need to rush away, it's such a pretty place.
Its castle, built in 1256 was later fortified by the "Zafeiropoulos Brothers, during the Greek War of Independence, when they built their homes there.
Mike and I decided we would walk up to the inland town. Should anyone reading this think of doing the same I would suggest you think again – unless you want the exercise! It was a long straight dusty main road leading to a town that was, not unexpectedly, almost deserted when we got there as it is, after all…."only dogs and Englishmen"! The only slight signs of life were in a couple of ouzeries around the main square.
Tiros harbour was our next port of call which we reached following a 2 hour motor-sail from Astros.
We were quite surprised by the wave height given the relatively low winds and were glad that we had left fairly early in the morning as later in the day it was really quite boisterous at sea. Again we spent three nights – and saw just how much difference a charter fleet can make.
We bought some fantastic locally produced olives and oil from a small shop near the harbour and also strolled across to the other side of town to try to see the windmills….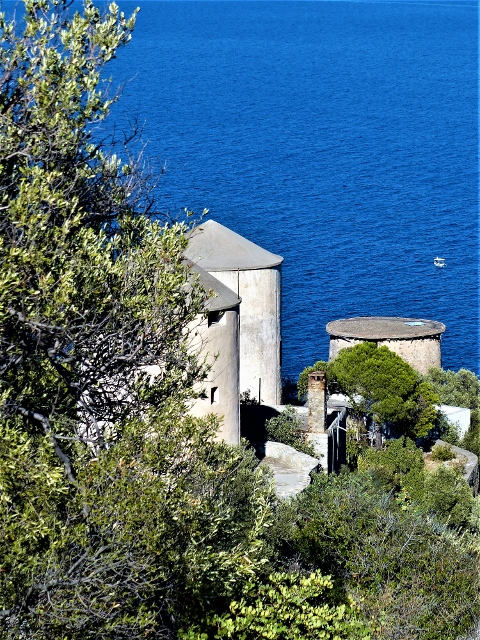 ….which, from the sea, are an excellent landmark for the port.
Heading south again on 20th September it was once more an approximate 2 hour sail to Plaka Leonidion. You can perhaps understand why this area is so popular – small distances with lovely places to visit.
It was here, the following morning, when we got first warning of potential bad weather to come. As do most sailors we know, we look at various weather apps/forecasts at least once a day and very strong winds from the NE were showing up. We had said a temporary goodbye to Steve and Gill the day before because Gill had pulled her back and couldn't face med mooring in harbours and as all the anchorages along that coast were untenable with the NE wind direction, they had planned to stay in Tiros for a couple of days and then think about following us. Given the new forecast they had decided Porto Cheli or Koiladha were likely to be the best bolt holes if all went pear shaped weather wise. We felt the same and decided that we too would cross back to Porto Cheli, as even staying in the eastern Peloponnese coastal harbours didn't seem like a good idea as their entrances and position allow in considerable swell with moderate NE winds, never mind strong ones. We could then see how the forecast shaped up over the next few days and, in addition, it was going to be Steve's birthday 2 days later and we are the last ones to miss out on a good excuse for a party!
Thus, after a nice afternoon sail in 10-12kn winds we dropped anchor in our lovely sticky mud "home from home" Porto Cheli anchorage.
Boy, are we glad we made that decision!
The first forecast "blow" was due on 25th so we had three days grace and made the most of it by getting laundry etc done on the first day  with a very pleasant walk around the west side of the lagoon…..
….and along the ridge back to town…..
…. before drinks and a birthday meal for Steve on the second.
On 24th Steve hired a car and we all went off to visit Epidavros. Our route took us via the Didyma Caves – sinkholes created when caves collapsed a few thousand years ago. The larger of the two can be seen easily from the surrounding area…..
……but does not look as dramatic close to. The smaller is below ground….
….and surrounded by trees and is only really seen once you have actually entered it.
An almost perfect circle….
….within which are two small chapels which have been there since Byzantine times.
The one nearest to the entrance – "Agios Giorgios"….
….has wall murals dating back to C13.
At the other side, the "Metamorphosis of Sotiros" is literally built into the surrounding rock.
It is said that the villagers of the nearby small town of Didyma hid in this smaller cave during raids by invading Ottoman armies and much later from occupying Italian and German troops during WW2.
Mike and I had visited Ancient Epidavros once before, during a great charter holiday with friends Dave and Mag. However, the size and grandeur of the place stunned us once again. Whilst these inland ruins are known as Epidavros – you might recall that with our summer visitors we visited both Nea [New] and Paleo [Old] Epidavros on the coast.
The famous site of "Epidavros" was actually the Sanctuary and renowned healing centre of "Asklepieion" dedicated to the God of Medicine "Asklepios"
The museum is relatively small but contains some excellent artefacts.
Re-used later as part of a door frame in the "Asklepieion"….
….this stone is actually an "account book" which records the expenses for the construction of the "Tholos".
Medical instruments….
….and statues….
….are displayed, as is part of the surviving architecture of the principle building in the Asklepieion – the "Temple of Asklepios".
Stunning plasterwork and stone-masonry include part of a frieze from the "Temple of Artemis"….
……. and this magnificent Corinthian Capital which topped one of the pillars of the "Thymele".
Its preservation is a result of it having been buried, for some reason, by some of the original inhabitants of the site which meant that it wasn't destroyed by earthquake or plundered. It was found during excavations carried out in 2006.
The ruins cover a large area and are well signposted with clear paths meandering through them.
At the outer edge we finally reached the "Propylaia" – the ancient entrance to the Sanctuary, the Gateway through which the sacred processions passed and where the roads from the city of Epidavros and the western Argolid terminated.
The well…..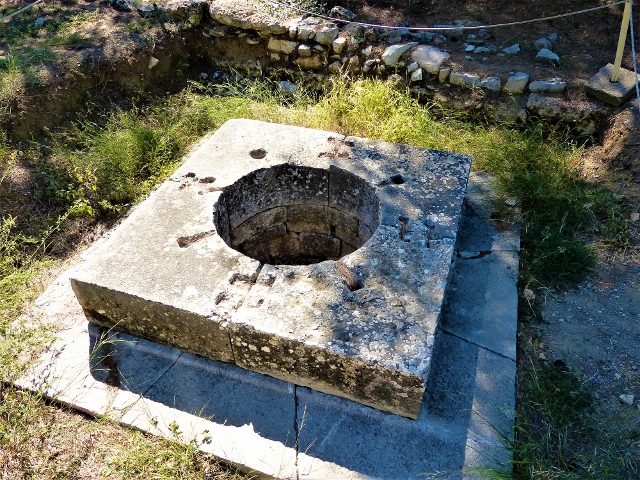 ….. just inside the entrance was used as a cleansing place for pilgrims entering the sanctuary and remnants of pots and ewers also lie here.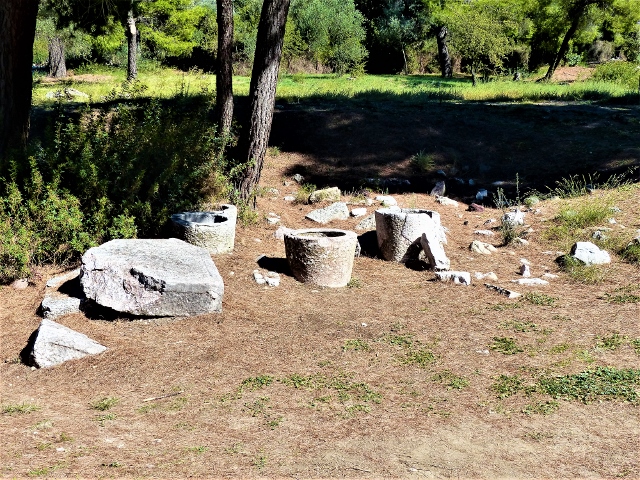 In our view, the highlight of any visit to the site is the C4BC Theatre – reputedly one of the best preserved Classical Greek structures in existence today.
Acoustically it is astonishing. Any sound made in the centre spot resonates throughout the theatre which seats 14,000 people and stages Greek Dramas during the annual Hellenic festival.
Our final stop that day was the port of Methana.
Over the summer we passed by several times whilst sailing between Aegina and Poros but never attempted to enter because we believed the entrance to be narrow and too shallow for our draught. Having now seen it we think it is probably best that we didn't go. There is little space to manoeuvre in the lagoon and the outside harbour area where the ferries dock looked both exposed and stony. Boats arriving that evening had a hard job getting their anchors to set – and we are fairly sure some were "held" by weight alone. It was a calm night so it was probably OK but I hope they moved before the next night!
And, yes, this brings us to the first bad weather episode, the one which had led to our leaving the eastern coast and crossing to Porto Cheli. On the morning of 25th Sept we went ashore to shop for 3 days of food and then prepped the boat for wind and let out another 20m chain. All the boats around us were doing the same – except the idiot who came and anchored in front of us who didn't believe us when Mike went across in the dinghy to tell him bad weather was coming and suggest that he was too close for the chain we had out. Fortunately he was finally convinced by another boat crew, who also stopped to speak to him, and he upped anchor and moved to a bigger space on the other side of the anchorage.
Two fairly sleepless nights followed. Some boats tried to leave on Day 2 but turned round once into the main Hydra channel and re anchored in Porto Cheli Bay. It must be very difficult if you have chartered a boat which is due back to. e.g Athens on a Friday and a hoolie starts on the Wed and blows for 3 days. Fortunately in all our years of chartering we didn't encounter that, although we always planned our "furthest away" anchorage for about the fifth or sixth day of a fourteen day charter so that any delays could be, hopefully, compensated for.
During the three days of that first storm front we generally saw around 30kn with gusts of around 35-40kn. However, the wind remained constant from the NE with no sudden direction shifts and we were largely sheltered from any fetch. It was therefore mainly a case of staying on board and being alert.
By the afternoon of 27th the wind had dropped sufficiently to take the dinghies ashore and we met Steve and Gill for a couple of drinks and to discuss the new weather front which we had been following on the internet during the past few days as it developed, this time out to the west. On various forums and some weather sites its name had been coined as the "Medicane" – as it was forming in the Mediterranean and, at its centre, it was reportedly showing sustained 95kn winds with gusts of 150kn+ i.e. a category 3 hurricane. Variously it was reported that it would pass either north of Crete but south of the Peloponnese, or south of Crete along the Libyan coast or further north along the south Peloponnese and into the Aegean.
It was tempting to think of going north up to Nafplio but we knew there was no shelter there in west winds. Astros and Tiros are protected from the west but any wind change would mean exposure. We also considered making a run back around into the Argolic Gulf maybe to Poros which has generally good protection, or up as far as Paleo Epidavros or Korfos. In the end we felt that the mud of Porto Cheli had stood us in good stead so far, our anchors were now well dug in and, other than in wind directly from the west, we were protected by land.
Another good decision.
28 Sept was very calm – almost eerily so.
Bits of drizzle on and off and then thunder and lightning around 7-8pm, but no rain. By this time the forecast had settled on the track of the storm being north of Crete with warnings that the southern Peloponnese was going to feel its effects.
Heavy rain started at around 7am on 29th and the winds followed. We now know that the eye passed to the south and east of us and then swung north. At the time all we could do was sit, fully suited and booted, in the cockpit and try to watch what was happening to us and other boats as the wind blew from south, to south-west to west,  finally north/north west. During the 19 hours we saw three particularly violent wind shifts and, each time, some of the boats in the anchorage dragged and had to try to re-set in horrendous conditions, trying desperately to work out distances between other boats and find a safe place to drop their anchors with enough space for all. A couple of boats were forced to move when wind shifts resulted in them being too close to their neighbours – or vice versa. Everyone managed to re-anchor and, as far as we could see no boat actually hit any other. We watched boats which had chosen to moor against the harbour wall get blown onto the quay and we could only imagine what damage might be being done to their sterns.
Happily, I can report that both "Owl and Pussycat" and "Coriander" remained firmly in place throughout the storm with both crews tired but delighted to see a calm morning follow.
Ashore the fire brigade was out in force trying to unblock drains and remove debris. I think four or five boats on the wall had stern damage, but fortunately none had holed sufficiently to sink. What we were most surprised to learn was that Astros had been very badly affected, the wooden boardwalk and pontoon at Poros practically washed away and a couple of boats at Paleo Epidavros sunk. You might recall from a few paragraphs above that those were all places we had considered as possibilities. Much of that damage was due to fetch and, although we regularly saw 45-50 knots sustained with more severe gusts, the land protected us. The period when the wind went west was obviously the worst but, fortunately, that period was relatively short lived.
Had the eye passed directly over us it could have been a very different story. Happily, despite several towns and villages suffering some damage the eye actually stayed out at sea so catastrophe was averted.
So, that's it. Two storms weathered in Porto Cheli – an anchorage I would certainly recommend to anyone reading this who might find themselves in the Argolic/Saronic sailing grounds facing similar conditions in the future.
Throughout this summer's sailing season, and in previous blog posts, I have remarked on the changed weather patterns. I am not going to have another rant about global warming but differences are certainly beginning to arise more regularly and nature is showing us that it is not happy.
However, to finish on a happier note, nature also has a way of making us smile and, as in many of my posts, I am always delighted to post photographs of some of its small wonders.