Well, if you don't like seeing any photographs of friends having fun together then this blog post might not be for you! There are some cultural bits as well but, as it's all about Christmas and New Year in Valencia, Cartagena and Granada then, of course, there has to be fun and frolics.
We were delighted to be invited to spend Christmas with "Coriander" and "Destination Anywhere" in Cartagena but before we went there we had a couple of Christmassy things to do in Valencia.
Firstly, on 22nd December, there was the circus…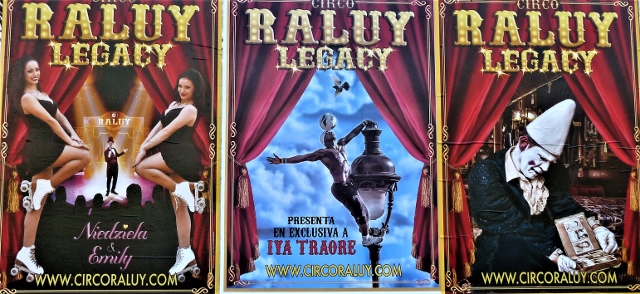 Circo Raluy was created more than one hundred years ago by Luis Raluy Iglesias, an acrobat, circus man and collector of old wagons – which are still in use today.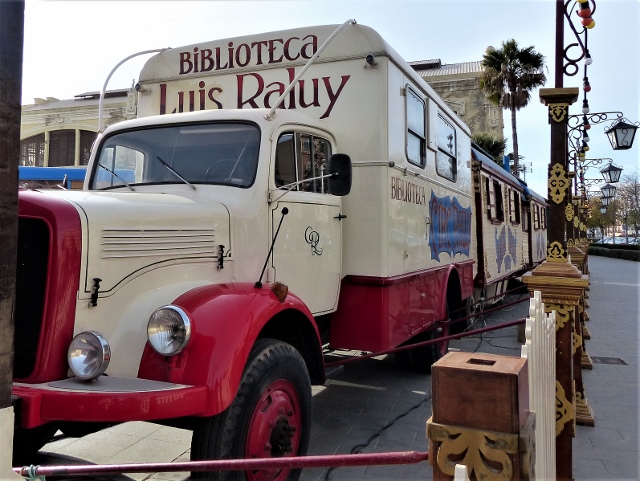 His legacy passed to his eldest son, also Luis, and then to his grandsons Luis and Carlos who separately head up two travelling circuses.
In Valencia we saw Luis, [the Pierrot]…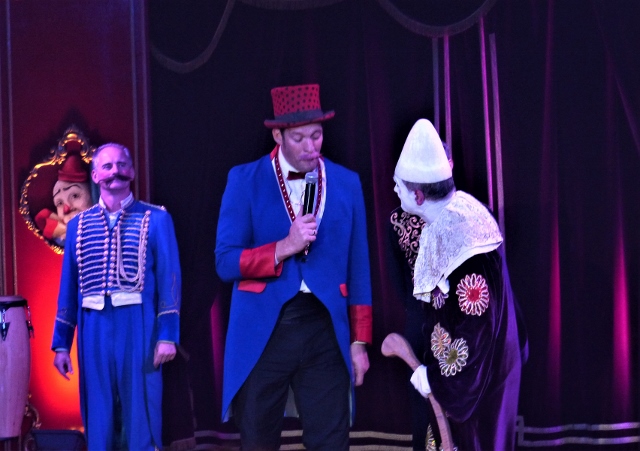 …. who, with his wife, daughters and some of the wider Raluy family, are currently touring Catalonia following the route of the legendary Cirque Raluy. Prior to the performance we went into the "bar"….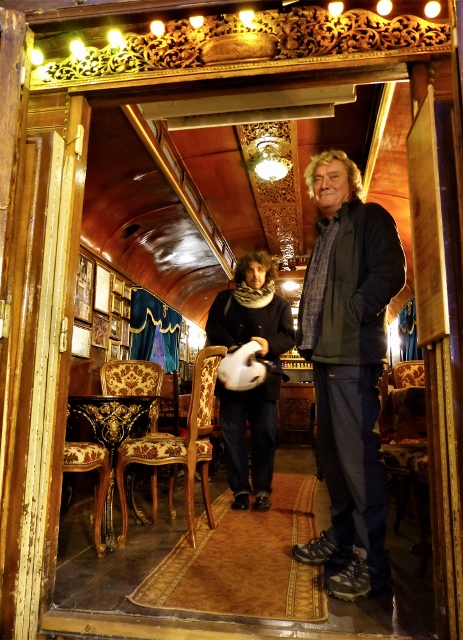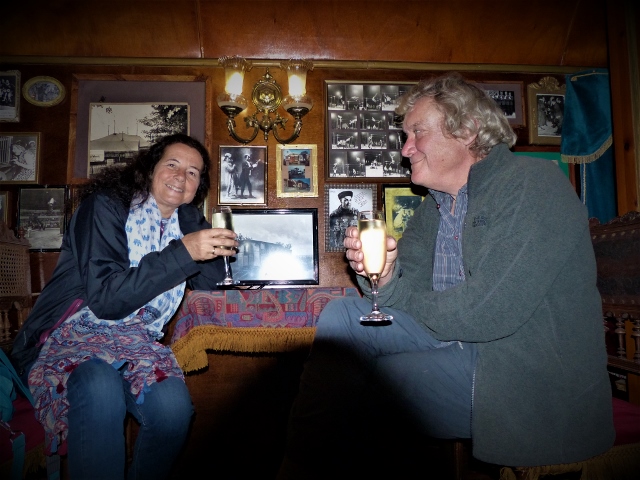 …and there found posters and photographs of the circus performing all over the world – including in the UK where they apparently had a somersaulting car. Unfortunately we didn't get to witness that spectacular event but really enjoyed being in a traditional "Big Top"…..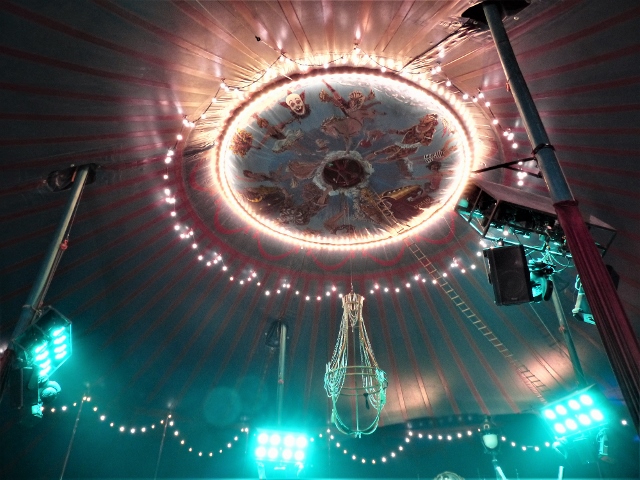 ….. seeing historic memorabilia….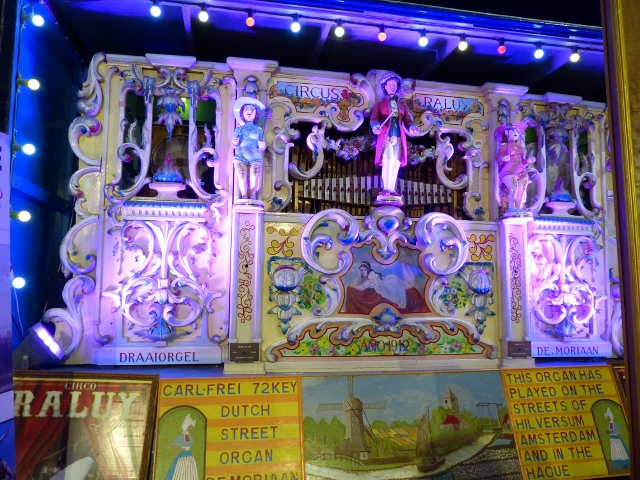 ….and watching the customary tightrope walkers, flyers, balancing acts etc. Whilst most of these were the fourth and fifth generation family members they also had a visiting celebrity act….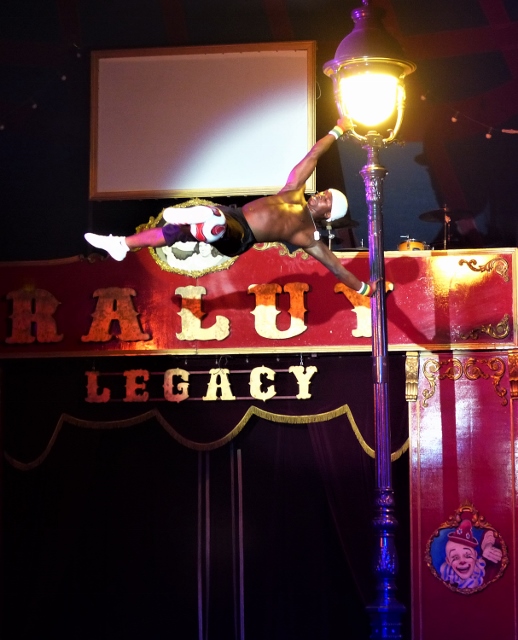 …Iya Traoré, a Guinean football player and freestyler. If you want to see some of his skills just type in his name and You Tube videos will come up.
Circo Raluy is just one of three circuses that performed in Valencia over the Christmas period. It is obviously a very popular thing, as is the Fair…..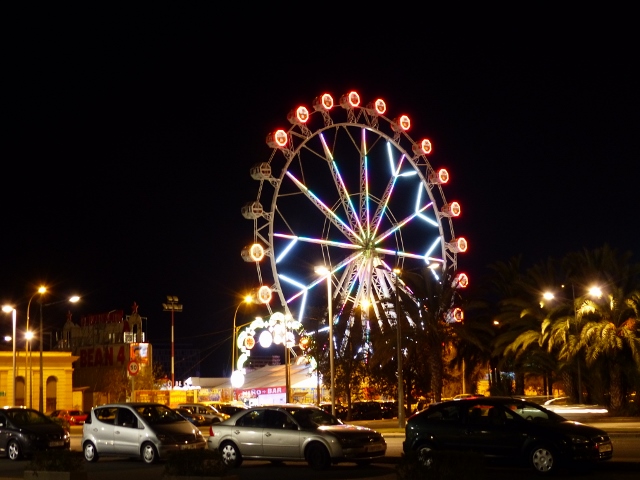 ….which arrived at the end of November and stays until the end of January. It isn't Mike's cup of tea so we haven't been – even though it is near the marina, opposite the waterfront.
Secondly, on 23rd Dec we went to the Botanic Gardens auditorium for a jazz evening. Rather like "The Jam Factory" [who Mike and James used to play with] it was quite a family affair and at times there was perhaps more enthusiasm than talent. But it was entertaining and well attended and even though it didn't start until 9.30pm there was still time for a drink afterwards in the old town. It was an amazingly still, balmy night and walking back to the boat from the bus stop we got a great view of one of the party venues across the marina inner basin channel.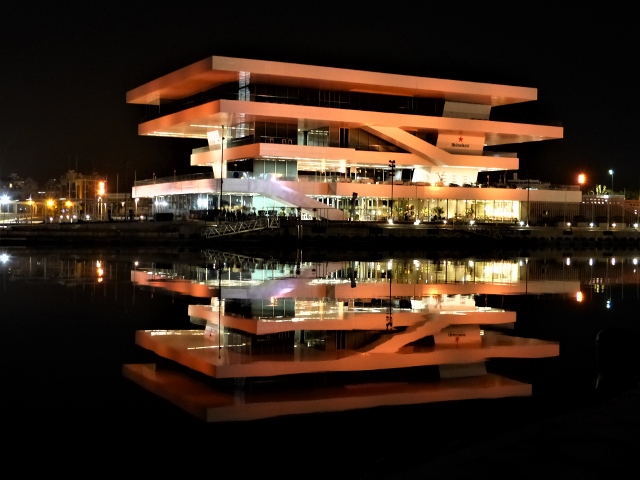 Whilst Spain celebrates the Christmas period with events, there are no overpowering displays. Decorations are minimalist and tasteful in shopping precincts….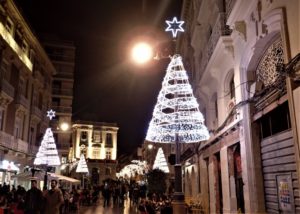 ….and on houses.
Perhaps the most "gaudy" things we saw were these colourful balloons which were popular on Christmas Eve.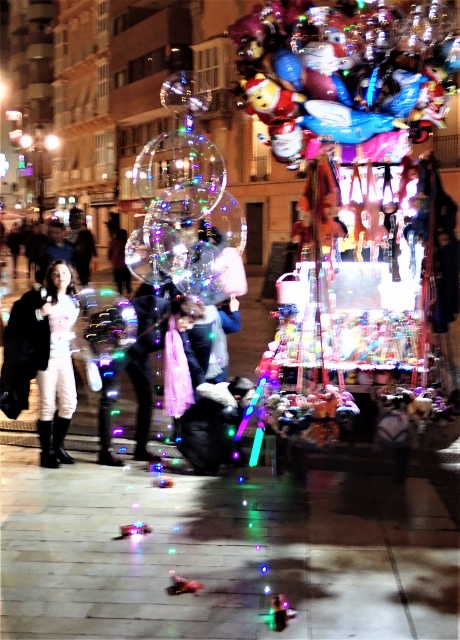 It was mid-afternoon on Christmas Eve was when we arrived in Cartagena and we soon settled in aboard "Coriander". Malc and Nikki were out in town with Barbara [Nikki's mum] so missed out on the first round of wine and mince pies….
…but they had ample chance to catch up later. We missed some of the festivities which apparently started around noon – when all the bars put tables out into the streets and squares – but there was still sufficient activity in the evening to keep us entertained and we enjoyed a bar crawl through the town.
Cartagena is a popular over wintering marina with many liveaboards [unlike Valencia where we are the only ones!] and a committee was formed – with Gill and Nikki being two of the members – and a brilliant Christmas Day BBQ was arranged.
It was especially good to meet up once again with friends Dorothy and Duncan ["Hunda"] …..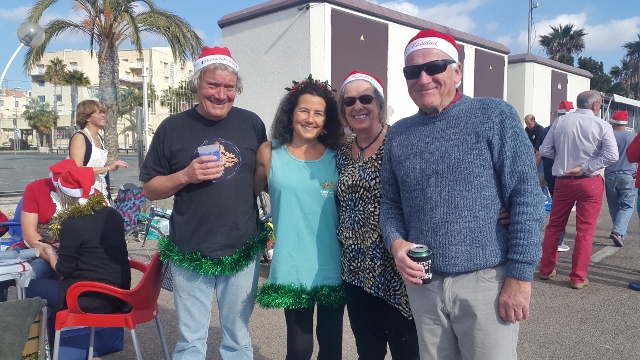 ….. who we first met in Isla Mujeres in 2013, but haven't seen since. They hadn't changed one bit and the catch up continued during an Indian meal for nine a couple of nights later.
Cartagena is full of history and with the marina being right on the edge of town we were easily able to access some of its sights. Steve and Gill took us on a whistle-stop tour……
…. ending in the Plaza de los Héroes de Cavite.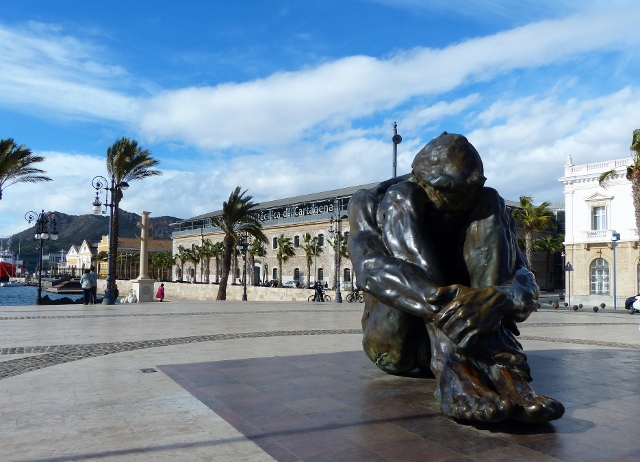 We were told that the plaza and statue were to commemorate slavery. The Spanish word for slavery is actually "esclavitud", which is close – however, when I looked up "Cavite" I found it was a town in the Philippines which was, at one time, colonised by the Spanish and to where galleons travelled from Spain via Acapulco. There is a strong possibility that Filipinos from Cavite were enslaved and they are the heroes? I guess I will never know.
Just off this square is the Museo Nacional de Arqueología Subacuática where we spent part of the afternoon. It was another of those museums where some bits of it had strange coloured lighting, which may be to preserve the exhibits or, in this case being blue, to give visitors the impression of being underwater.
It was all quite interesting and I was particularly taken by this sign….

…..and will try to remember that "trinca's" are to be avoided!
Gill and Steve left the museum before us and returned to the boat before it rained. We also missed the shower – as Mike took rather longer than everyone else to take in the museums exhibits – and on leaving we were treated to some quite startling light/sky….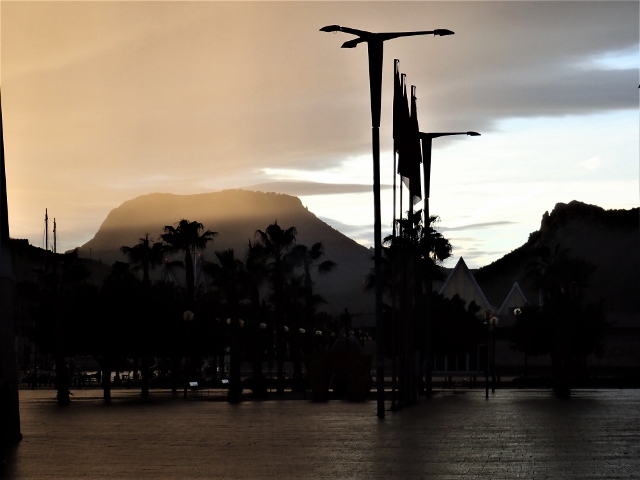 ….and to a double rainbow over the marina.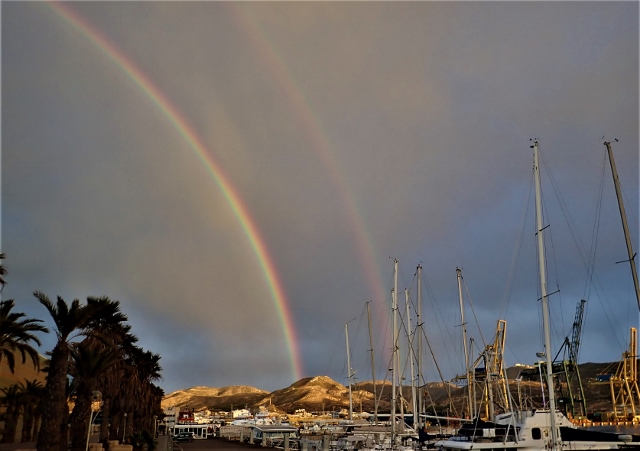 Cartagena is in the province of Murcia and we all visited its capital, Murcia City on the day after Boxing Day [not that Spain has Boxing Day, but you know what I mean].
Built in 1394, Murcia's cathedral, like many others in Spain, stands on the site of a mosque.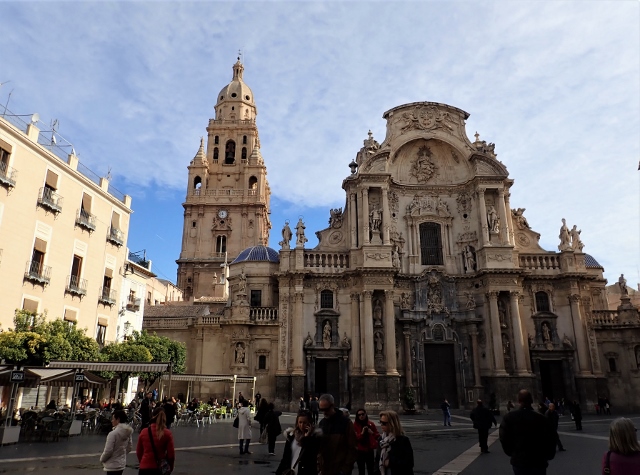 Once again we were stunned by its interior…..
…. the highlight being the "Capilla de los Vélez" …..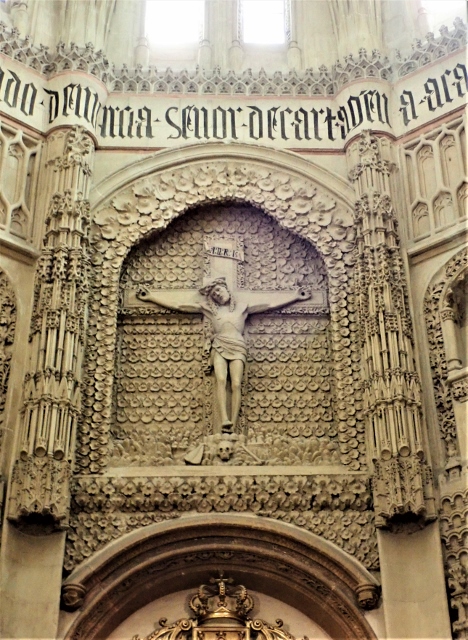 ……. .with its filigree looking almost like icing.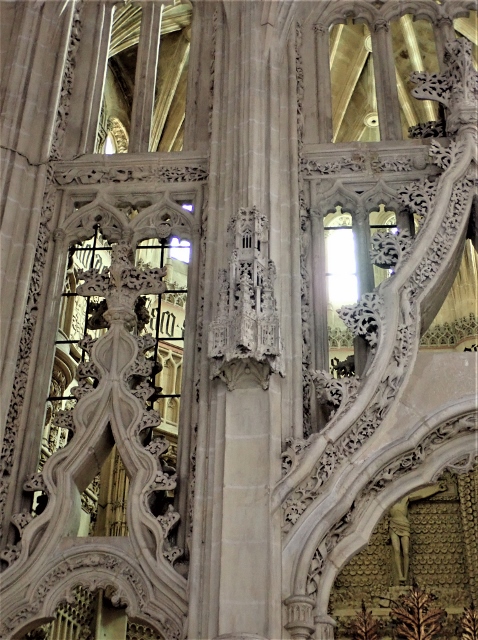 Across the Plaza in the Bishop's Palace….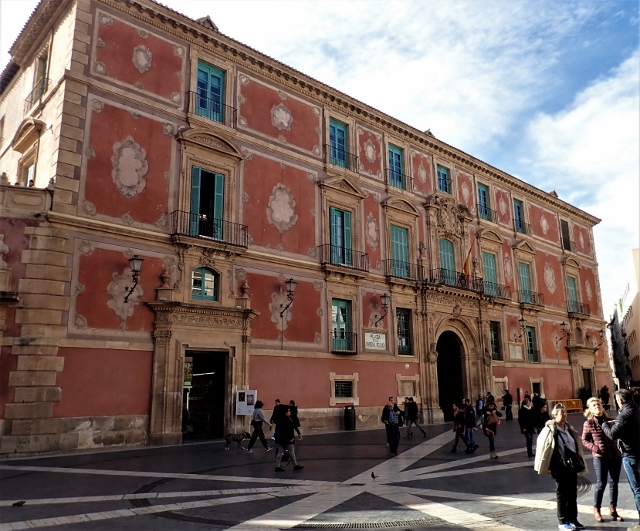 …with its magnificent hammered, moulded and embossed copper doors….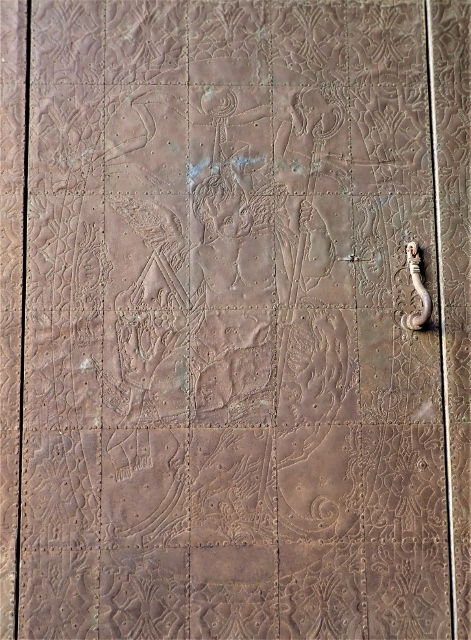 ….is where we saw the Murcia version of the "Belén".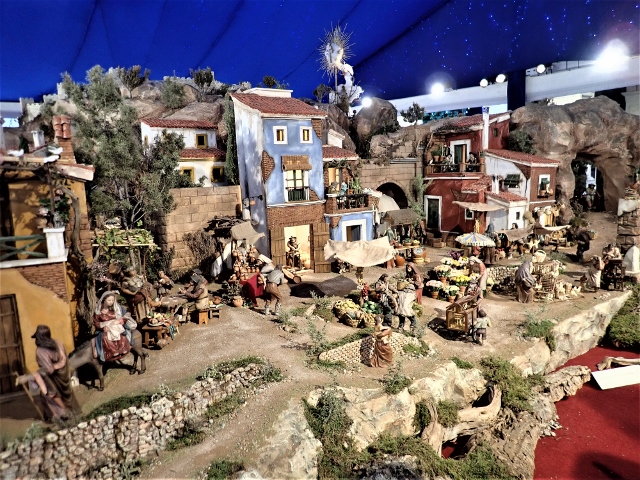 Belén is the Spanish name for Bethlehem and the elaborate nativity scenes include "normal life" as well as the manger and the three kings/wise men.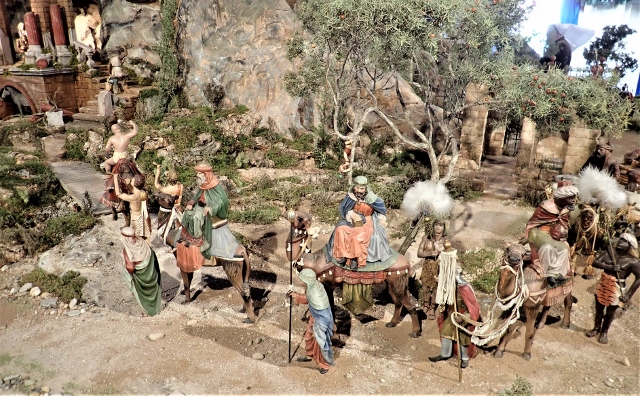 Thursday 28th Dec was a day of eating and drinking. For lunch we opted for a Menú del Día at Restaurante Mares Bravas at Cala Cortina…..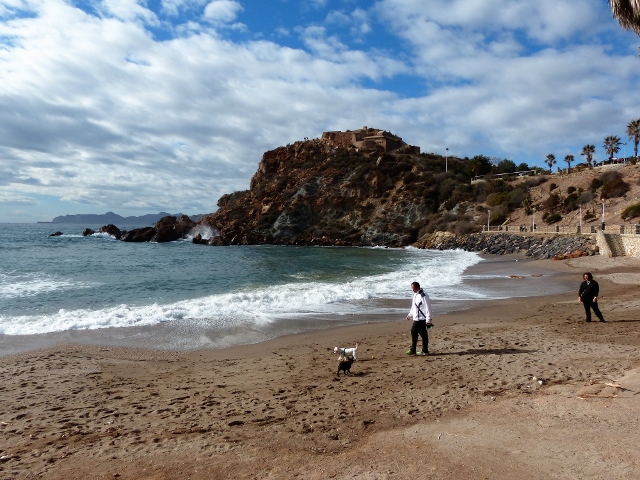 ……..a five minute car ride from the marina, but feeling like miles away from the city.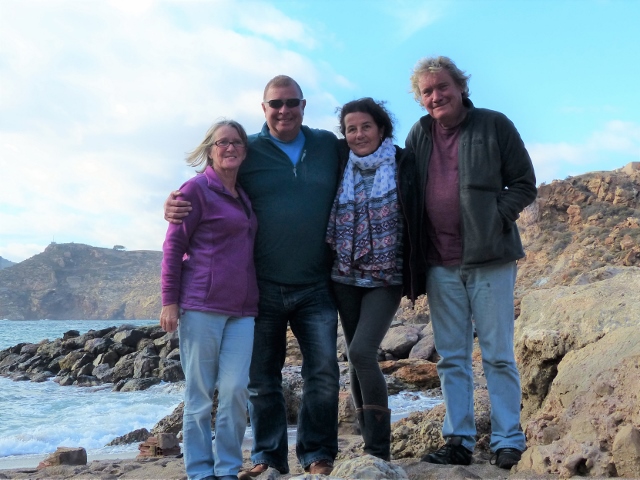 Then in the evening it was Tapas time. Our favourite bar was "La Uva Jumillana"…
… though we also really enjoyed Mr. Witt's – more about that later.
Having hired a car and travelled down to Cartagena, Mike and I also wanted to visit Granada – approx. 300km [180miles] west. Unfortunately it wasn't good timing for Nikki and Malc to join us but we were really pleased that Steve and Gill decided to come along too.
The Tapas sampling continued….
…and what is so amazing about Granada is that it is possible to eat enough, with the tapa included with every drink, not to actually have to buy any extra food.
Two fabulous evenings, with our first glimpse of the Alhambra as we walked down from our accommodation on night one.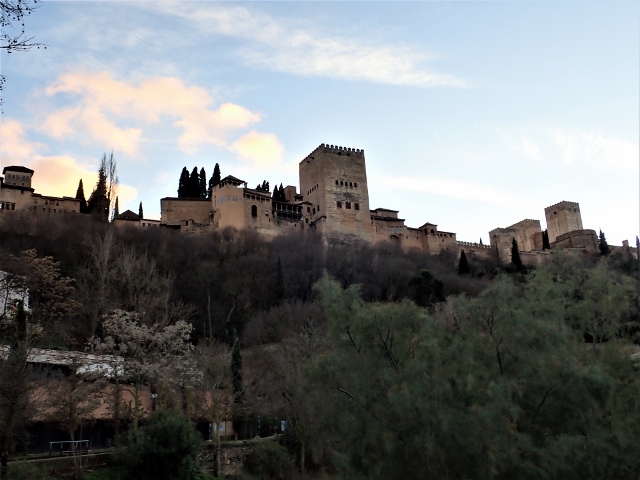 We stayed in the Albaicín neighbourhood…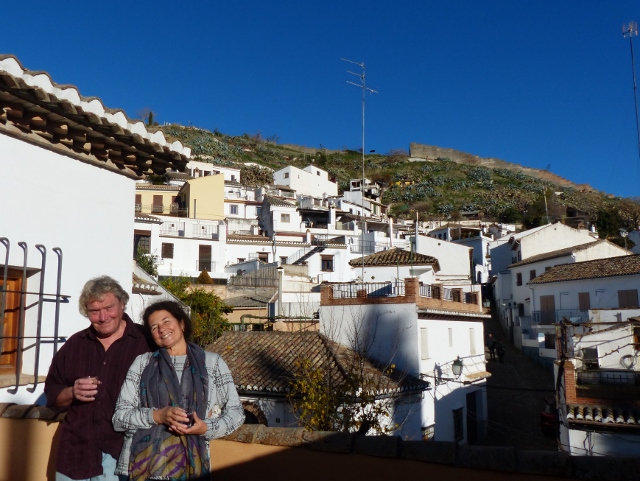 …..with its maze of narrow streets and passages dating back to the Moorish Nasrid Kingdom…..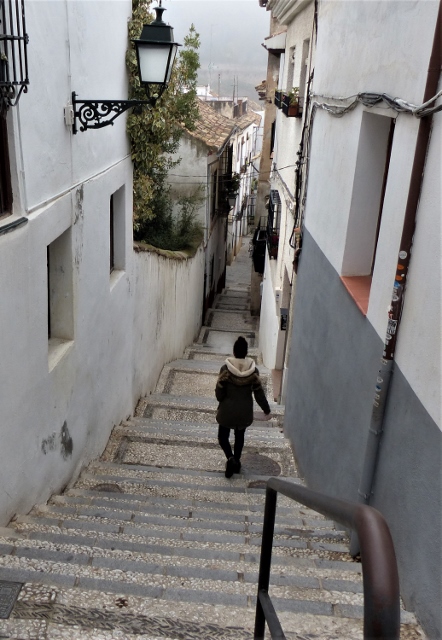 …. and also had a lovely view over to the Sierra Nevada.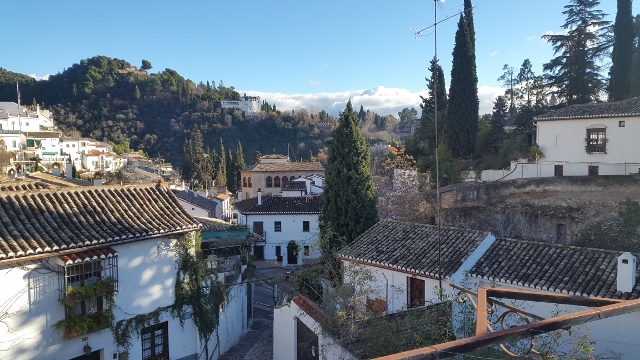 Even better views…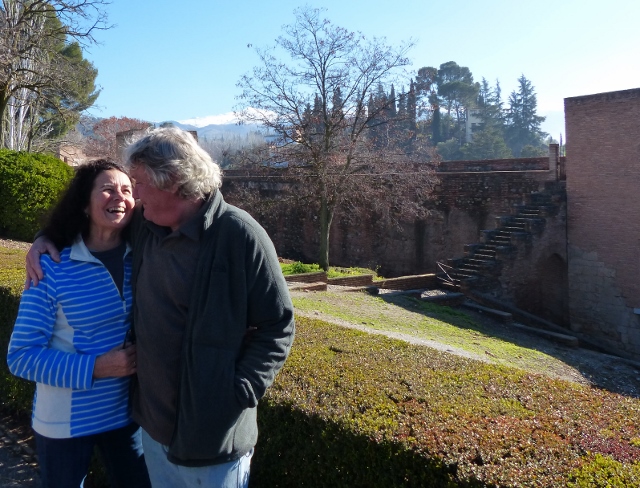 ….were to be had from the Alhambra….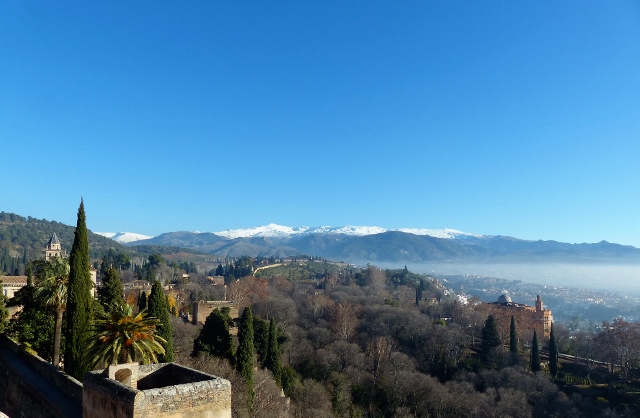 …. and not only of the Sierra Nevada but also of Granada Cathedral….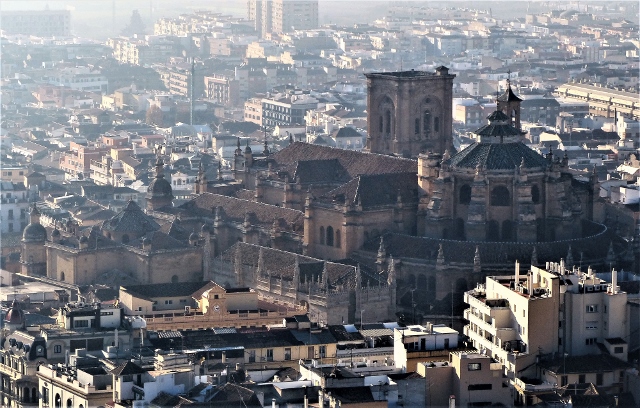 ….and the town itself spread out before us.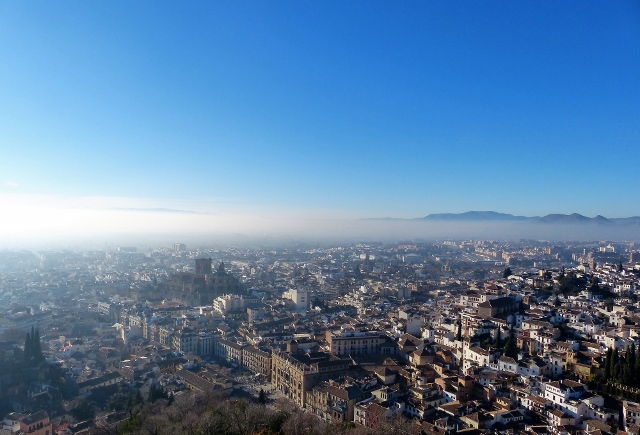 The early morning mist had lifted, in the main, but just enough remained to create a quite beautiful scene.
You are probably now expecting a series of photographs and some information about the Alhambra itself. Well, I am sorry to disappoint, but you are going to have to wait for the next post. I just couldn't decide what photos to leave out, therefore concluding that there were so many I wanted to include that it warranted a post of its own.
I do feel, however, that as the following two aren't about the Palace itself I can include them here. These trees grow in one of the gardens…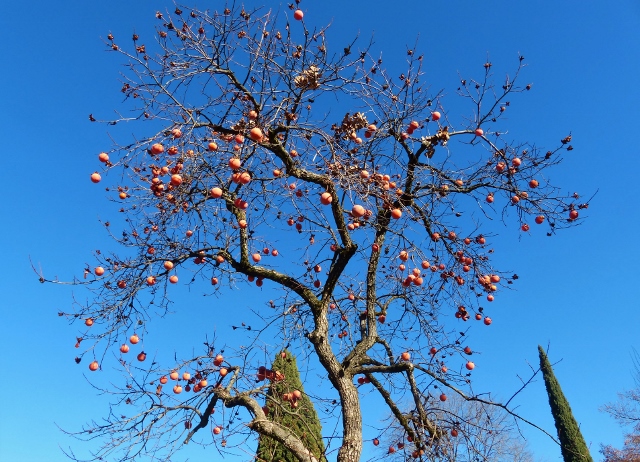 Can you guess what they are? If so, you are better than me. I had to look it up. They are Caqui fruit – which you might know better as the Persimmon.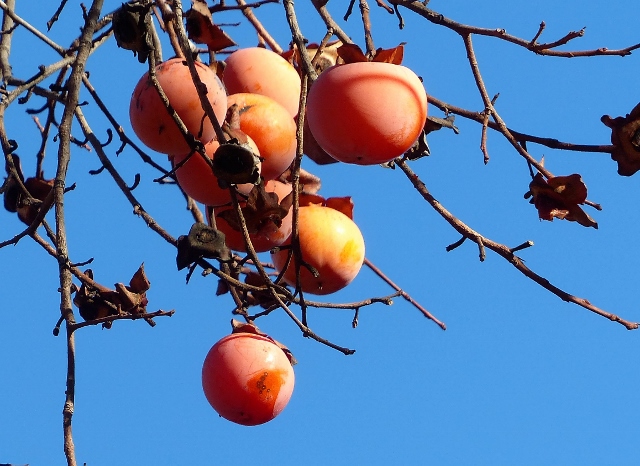 OK, so if I had put this picture first some of you might have known!
Unfortunately we didn't have much time to look around the rest of Granada but did see the outside of the cathedral, by night, and just before going up to the Alhambra we passed by the tourist office which is housed in the Ayuntamiento [town hall] with this rather amazing statue on top.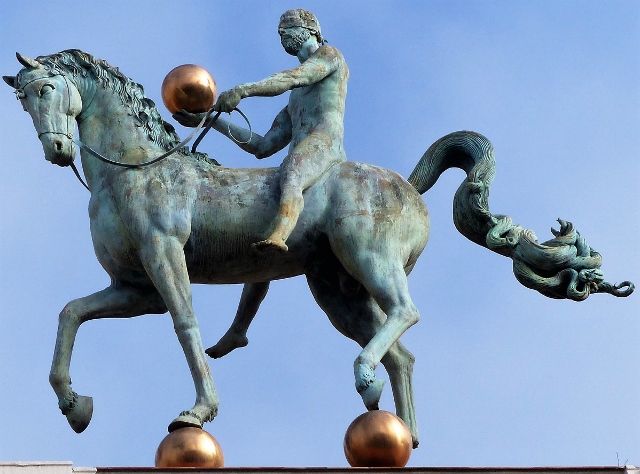 It was apparently conceived as "a symbol of happiness, representing the achievement of a moment of triumph, of perfect, yet fleeting, balance – a moment you are only aware of when it has already gone by and the blindfold covering your eyes falls".
So, it was now New Year's Eve and time to return to Cartagena for a fabulous evening starting with a wonderful meal cooked for us by Nikki.
We then wandered up to the town hall square for the midnight bells. The tradition in Spain is that as each of the twelve "bongs" are heard you have to eat a grape.
If you manage to do this within the twelve seconds then you will have good luck for the year. Well, we managed to eat our grapes but, I have to admit, I didn't do one grape per bong. As the first one sounded I just started stuffing them in and swallowing as quickly as possible. Hope that's OK as far as luck goes!
You might have noticed in the above photo that there weren't many people around. That's because most people celebrate at home with a meal, including the grape ceremony, and then come out. So, on NYE the bars don't open until 00.30.
I said you would hear more about Mr. Witts – because that was our bar of choice to bring in the New Year. We arrived not long after the bar opened…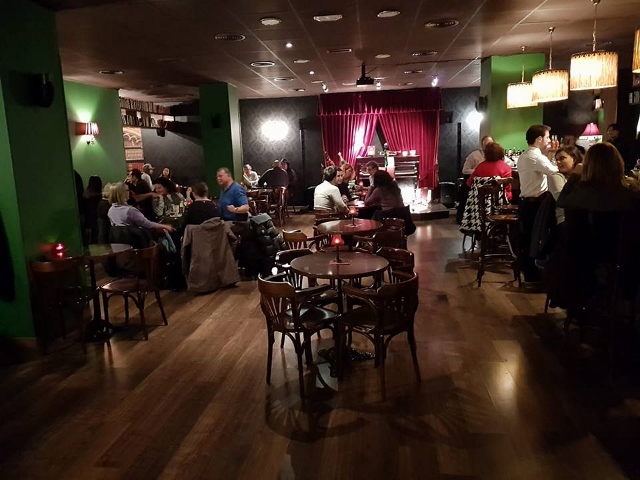 ….but it got a lot more crowded later. I have to thank Malc for these photos. Mine were rubbish. I'll put it down to the phone [yes, even though I have two cameras I chose to leave them on the boat] but some of you might think it was more to do with the alcohol of which there was plenty.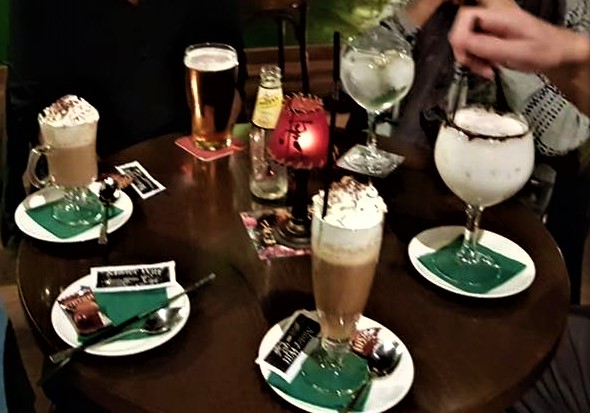 Don't be fooled by those coffees!!
Finally, although this post is now a little late it still seems fitting to wish all readers a Very Happy 2018.