Despite a distinct lack of wind, we managed to enjoy our 52 mile passage from Mallorca to Ibiza. The day was bright and sunny and for a while we sailed near to the Dutch flagged boat "Atlantis".
Licenced for 140 passengers on a day sail we think she was actually on one of the legs of a longer sail where up to 36 passengers can be accommodated. Apparently you can holiday on her in the Med, up the Portuguese and Spanish Atlantic coasts and in the Baltic.
Although a rest, rather than a full holiday, was what this little fella had in mind, we also had a passenger for a while.…..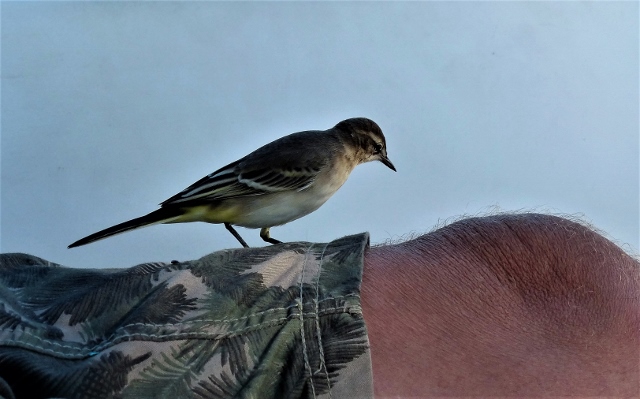 We anchored, just in time for sundowners, in the beautiful Cala Portinatx on the NE tip of Ibiza.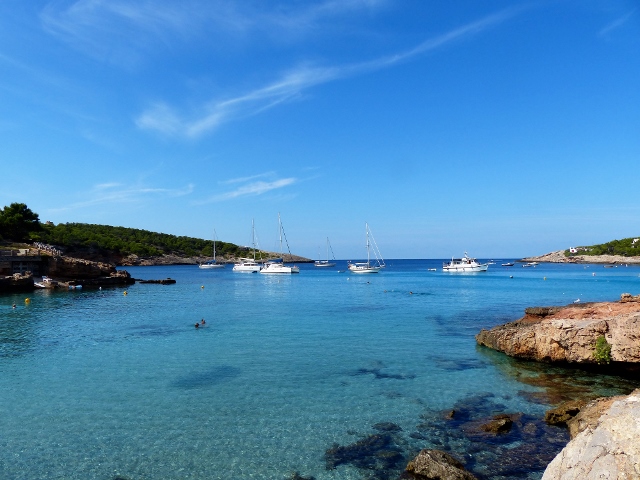 The water is incredibly clear so it was easy to pick a sandy spot and there was no need to snorkel to check whether we were properly dug in. Even though we were in 7m it was quite possible to see from on deck.
In the photo above we are at the back of the fleet and if you look towards the entrance to the bay a white house stands on a promontory behind which is another arm of the Cala. It is supposed to be possible to also anchor there but there are several permanent moorings taking up most of the space.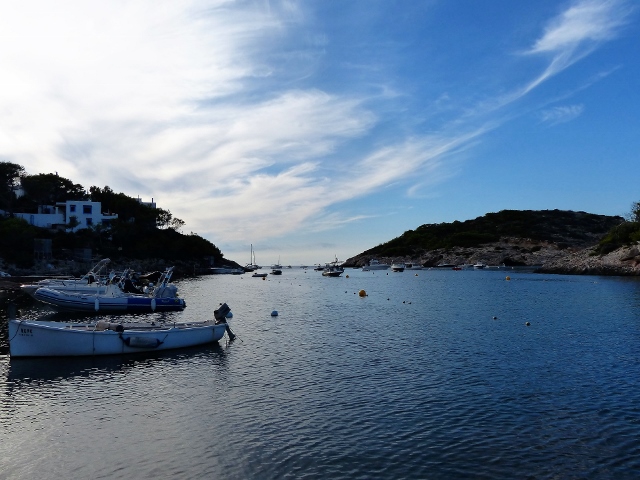 It was a pleasant walk round the town to reach the bay by road and well worth the effort [not that there was actually much effort] because we came to a great little beach with, as you might expect, a great little beach bar.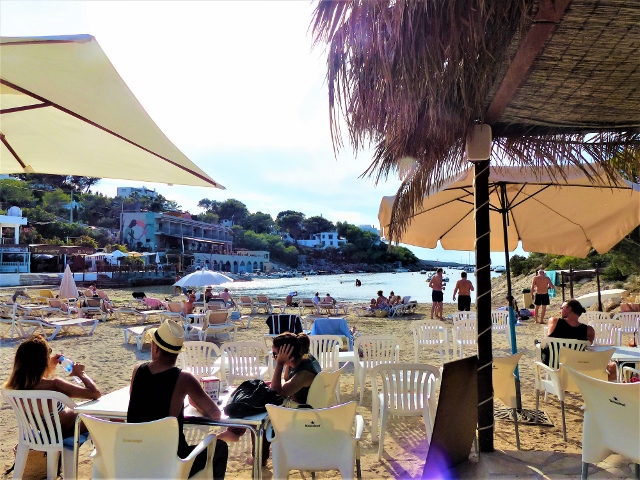 The following day we decided to venture a bit further and walk to the lighthouse. Enjoying variety, we opted to find the inland route and return by the coast path. That was nearly our downfall. What started as an obvious path inland soon became less obvious and then not obvious at all! We ended up scrambling over walls and through brush and up and down small gullies. By luck, rather than judgement, we finally climbed a small scrubby hillock and emerged onto a marked track. Where that track had come from we will never know – but it did lead us to the lighthouse on "Punta Moscarté which was our target turnaround point.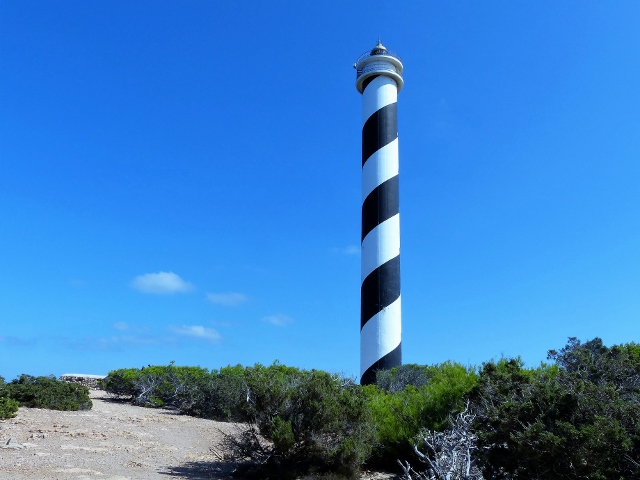 Built in 1975, without any space for accommodation due to it being fully automated from the start, it is the tallest of the 34 Balearic lighthouses, 20 of which we have sailed past.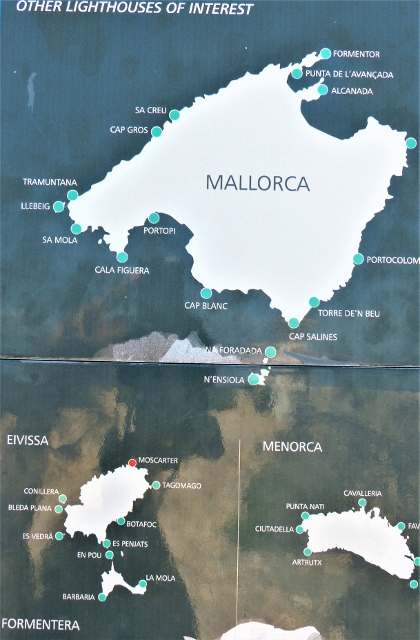 Fortunately, the coast path back to Portinatx was much easier to follow….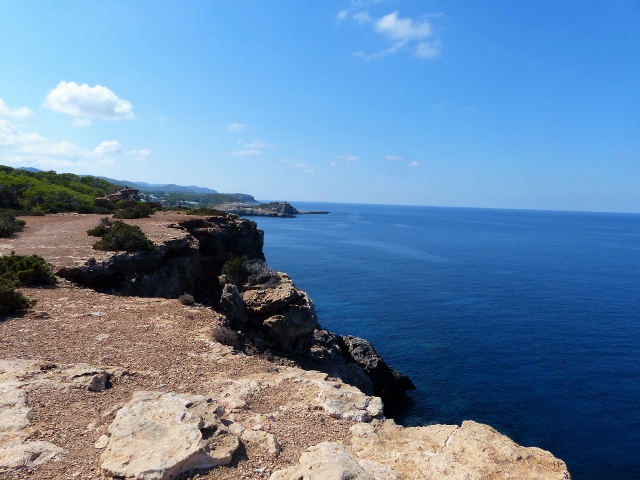 ….. even when making slight detours to avoid Mike having to walk close to the edge in places.
As if a beautiful anchorage, fun bars and interesting walks were not enough, our enjoyment of Ibiza increased even further with the arrival of "Coriander" into Portinatx.
Dinner for four on board "Owl and Pussycat" that evening was just the start of twelve fantastic days cruising with Steve and Gill, friends we met whilst we were both berthed in Ardrossan eight years ago. Having left the UK this spring, they have now joined the liveaboard cruisers world – and seem to have got well into the swing of things.
Our next stop was Puerto de San Miguel – a whole hour away – another sheltered clear water anchorage where we also managed to find ourselves at a beach bar….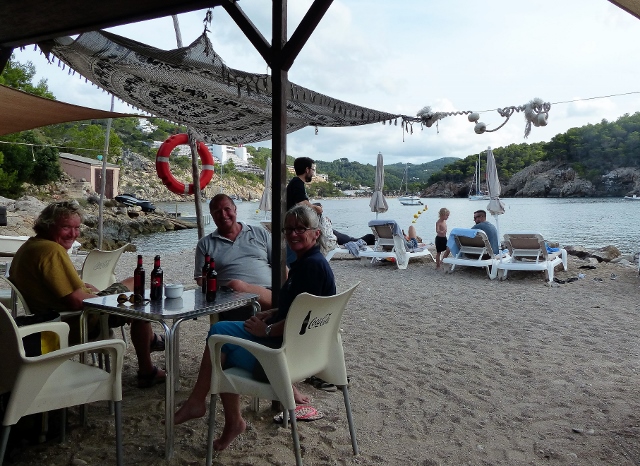 ….now how did that happen!
Cala Salada was our third anchorage. Much smaller than the previous two and with an unmarked rock and shoal water on its northern edge and a swimming area buoyed off at the head we were quite glad that, being towards the end of the season, there were only two other small boats there when we and Coriander arrived. The fishermen's huts which line the southern shore add an authentic feel to this largely unspoilt cala.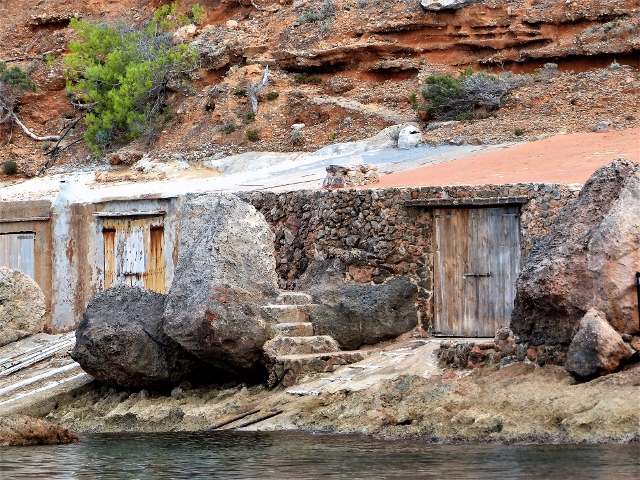 The second largest town and port on Ibiza is Puerto de San Antonio….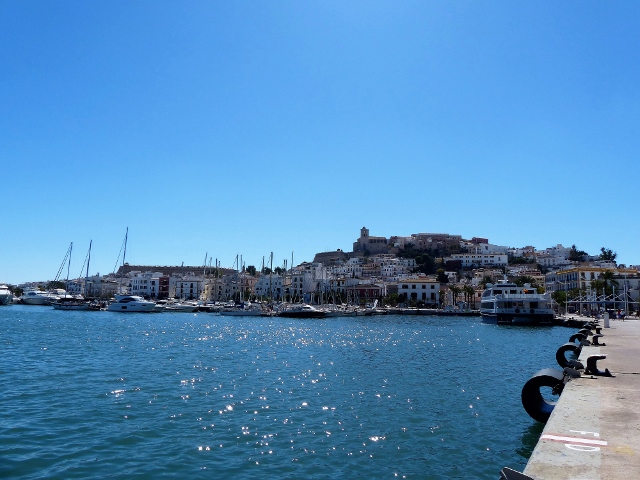 …….which is deep inside a bay and fairly well protected from most winds.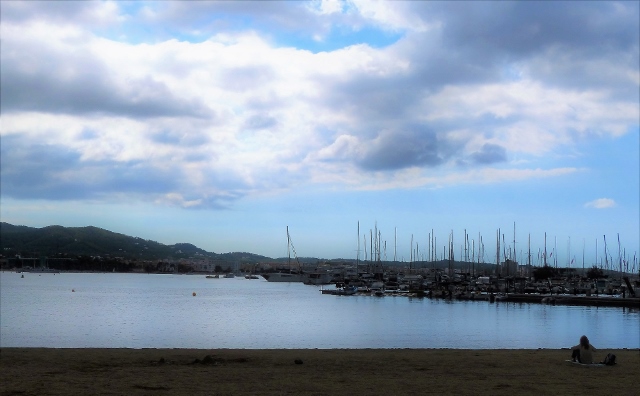 Much of what is, in winter, a larger anchoring field is taken up with laid moorings during the summer months so we had to drop the hook in the small permitted anchoring area in the south eastern sector where holding is, reputedly, less good. We actually came and went from San Antonio three times and whilst we had to set the anchor more than once on one occasion, we generally found the holding to be fine – once properly dug in.
San Antonio is THE place to PARTY and most of the, mainly British, holiday makers come here specifically for the clubs – of which there were far too many to count. However, that is not our thing! Being there right at the end of the season, most of the clubbing seemed to be closing parties and the number of clubbers diminished as the days went by. Thus we were not at all disturbed by noise and were able to enjoy the out of season more leisurely pace. That said, one night we did manage to find ourselves in a Scottish bar with its attached fish and chip shop [and fried Mars Bars if they took your fancy] and, on another night, a late opening Irish bar.
Whilst bars, restaurants and apartments line San Antonio's waterfront, there is an old town up the hill and we spent a pleasant couple of hours wandering around.
I particularly liked some of the street art.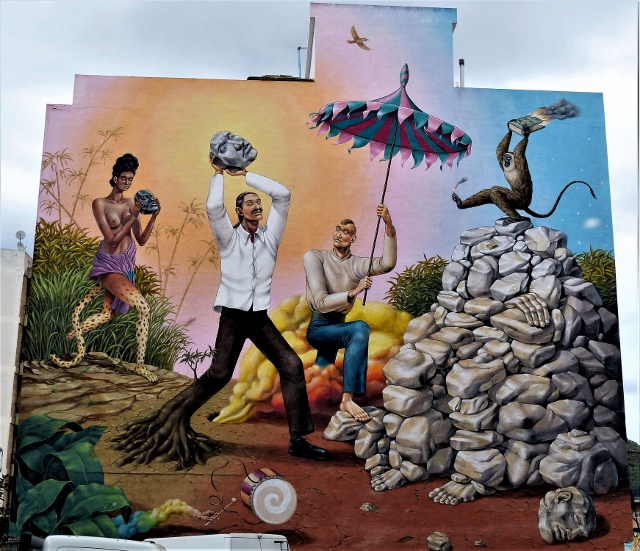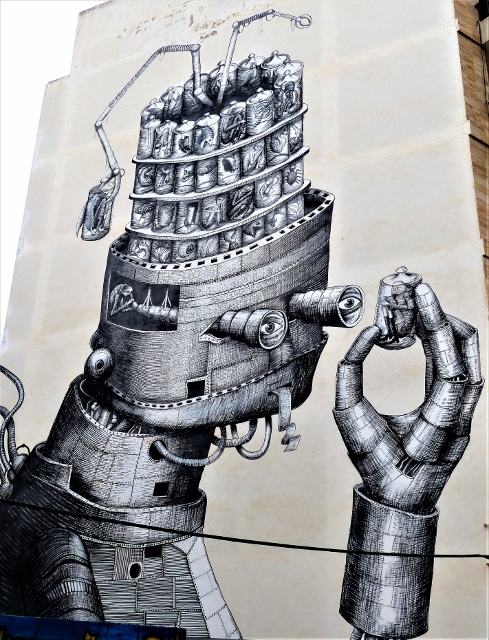 Believing that anchoring in the approach to Ibiza Town is prohibited, we decided that the best way to visit it would be by bus from San Antonio. It also offered an opportunity to see the interior.
An international tourist destination, Ibiza Town is well worth a visit. Pleasant open plazas….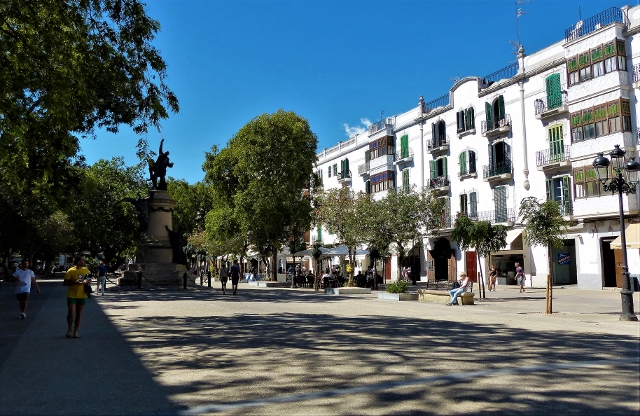 …. are linked by streets lined with, often quite up-market, shops and cafes. There are restaurants on every corner and the citadel offers a splendid view of the harbour.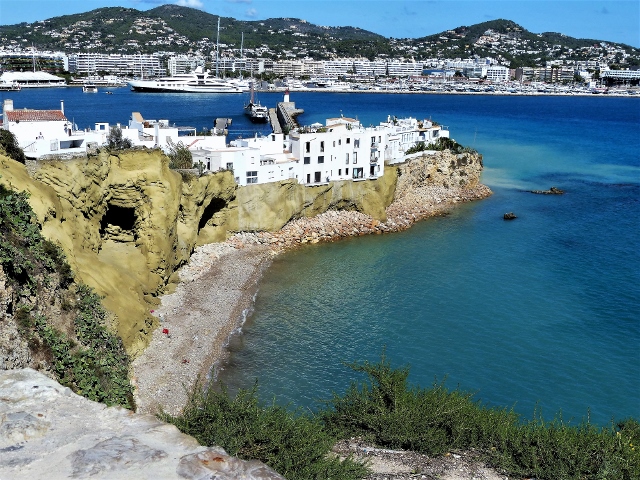 Founded by the Phoenicians during C7BC it later became a Punic and then Roman city before becoming the Islamic city of Madina Yabisa. C13 brought the conquering Catalans and House of Aragon to Ibiza and during C16 it became increasingly fortified. The hill – now known as D'Alt Vila [old town]…..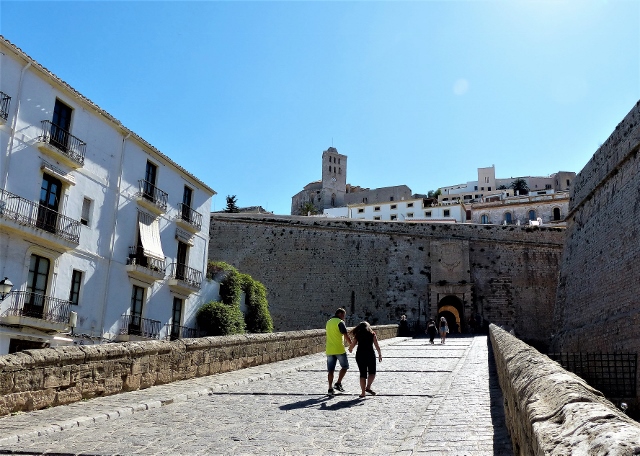 …… houses the cathedral…..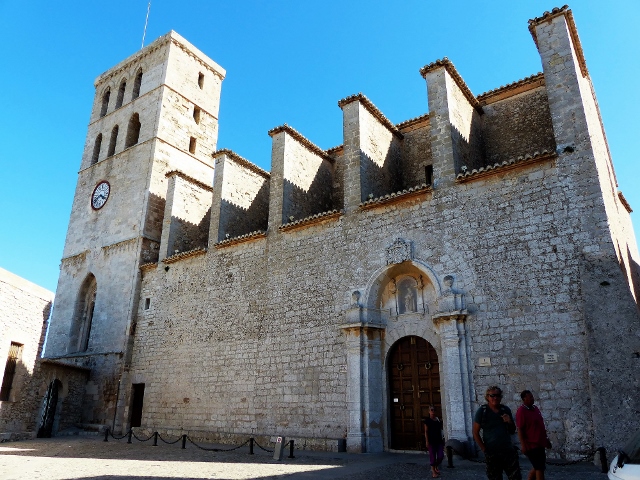 …….and was declared a UNESCO World Heritage site in 1999.
Thinking of spending another night in Cala Salada we left San Antonio on 6th Oct but, unfortunately, the waves and swell thought differently! Cala Salada was untenable so we decided that we would return to San Antonio – but first we went to look at the eastern anchorage [Éstancia des Dins] on Isla Conejera ["Rabbit's burrow"], the largest of the three islands which lie at the far west end of San Antonio bay. The island has been claimed as the birthplace of Hannibal – which isn't totally impossible as the Carthaginians were there at the time.
A beautiful, quiet anchorage, but without prior permission it is not possible to go ashore. I had hoped to see the protected green lizard there but having seen the signs prohibiting access I thought I would not get the opportunity. Considered "near threatened" due to its total area of occurrence being only Ibiza and Formentera the Ibiza Wall lizard is, however, more prolific on the two islands than I had thought….and here he, or she, is….
We also wanted to visit Formentera and a weather window for both the sail there and back and a few nights at anchor presented itself on 8th October. When I say "sail" I do of course mean mainly motor but it was nice to see the more mountainous coastline and the islands off the west coast. Most famous of these islands is Isla Vedra……
Did you recognise it? Well, I am not sure I would have done. "South Pacific" was one of my favourite films as a child and one of the things which pre-empted my wanderlust. Steve told us that Cala Portinatx had also been used in the film and that a rope way along the cliffs had still been there when he visited as a boy.
Whilst I had a bit of trouble seeing the island as Bali Ha'i, much to Mike's consternation I had fun singing "I'm gonna wash that man right outa my hair", "There is nothing; like a dame" and, of course, "Happy Talk" as we passed by!
Formentera has only one port – Puerta de Sabina" which is in constant use by fast ferries and dodging these is part of the game when sailing to the island. You have to dodge them as they give no indication of intending to dodge you!
Anyway we made it safely and anchored just off the beach. In summer the area is carefully patrolled by "Poseidonia" and we fully expected to have to pick up one of their mooring balls – but it seems they take them in at the end of Sept. Poseidonia is a government initiative to protect the sea grass from which it takes its name. The grass is vital to the ecology of the Balearic Islands. It has a huge impact on water clarity and the "health" of the beaches and the sea.
Ashore at Puerto de Sabina we found little to recommend the small town. There were a couple of bars/cafes and several car/moped/bicycle hire outlets. Clearly most people arrive by ferry, rent their vehicle of choice and leave for their chosen beach – often just staying one day before returning to Ibiza town.
On the inland side of the town are two lagoons where shallow draught boats moor….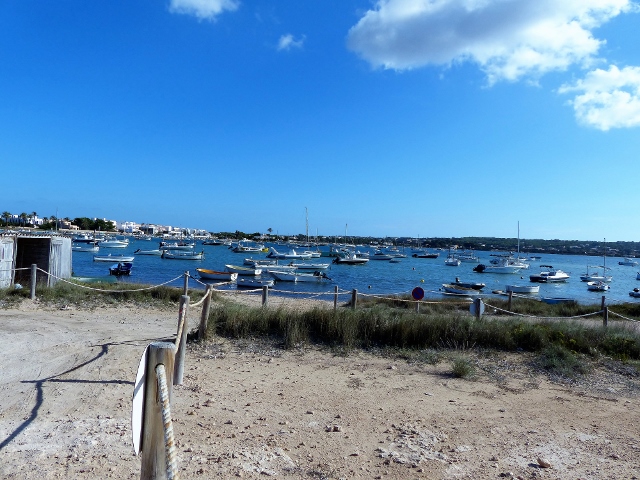 ….and a rather interesting wind vane decorates the main street.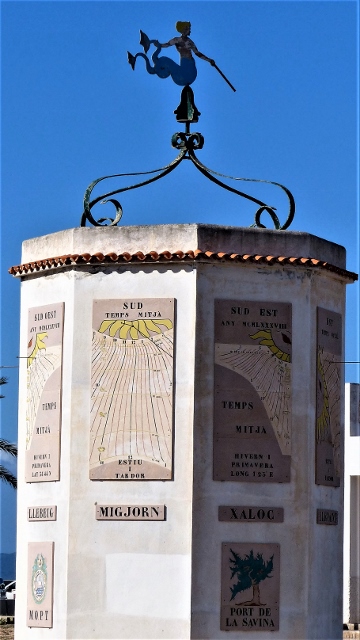 We spent a rather rolly night there before moving round to the other side of the islands for two nights sheltered under the cliffs in the very calm, clear waters of Calo Rocó des Mares – but watch out for the jellies!
Sant Augustin, the nearby village, had a couple of quite well stocked shops for provisioning as well as a very pleasant bar. It has a small landing quay where fishermen haul their boats…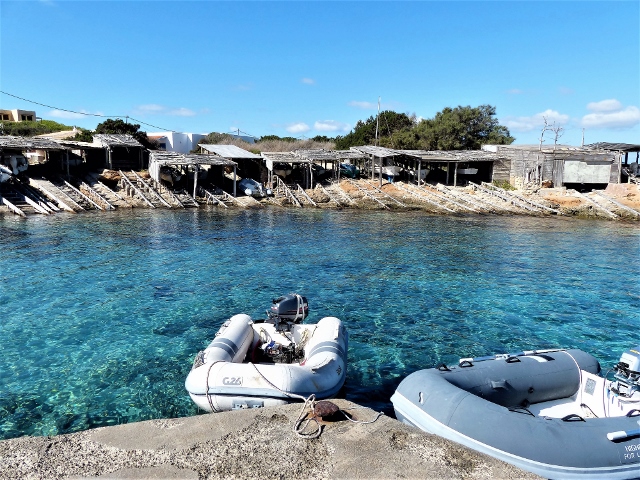 ….and this doubled as a very handy dinghy dock – though whether this is allowed in high season I am not sure. Reputedly there can be well over fifty boats anchored off at any one time and if they all dinghy ashore I can see a real scramble ensuing as well as some rather pissed off fishermen.
Leaving Steve and Gill to enjoy the peace and tranquillity, Mike and I decided to walk to San Fransisco Javier, the "capital". The walk took us past a number of olive groves and we saw how harvesting is aided by a petrol powered tree shaker based on the garden multi tool – a vibrating pole which the operator clips to the trunk. I really must learn to ask permission to take photos – either that or just be rude and go for it!
Rather less animated than the olive pickers was this statue….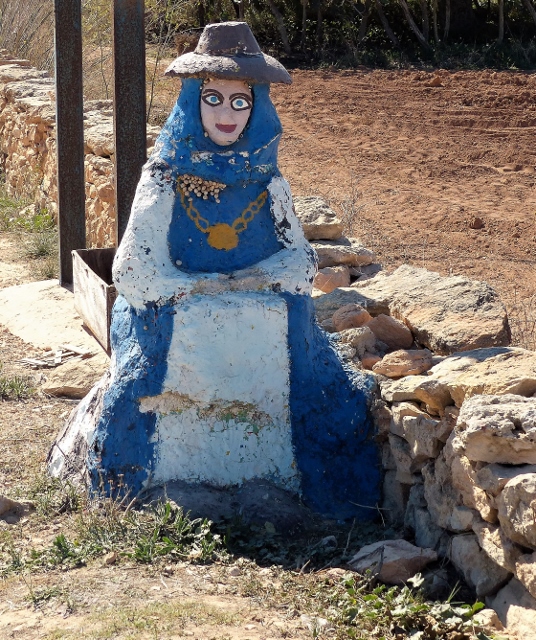 …. which I think was there to denote the entrance to a farm rather than scare people away though, with those eyes I think a bit of both was the result.
Apparently this C18 church at the centre of San Francisco Javier was once fortified….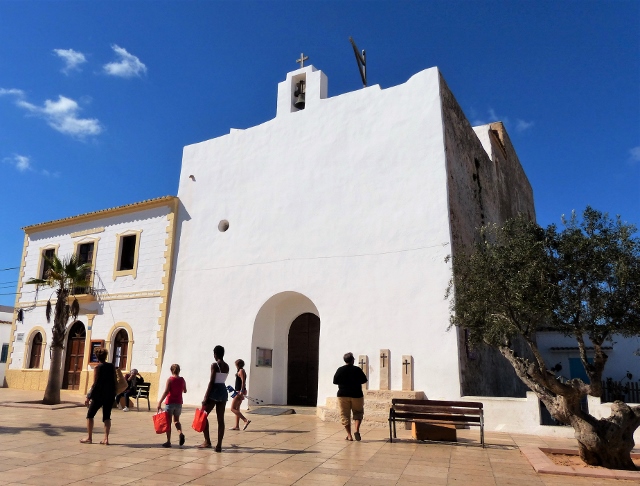 It stands in the main square from where several pedestrianised streets fan along which numerous restaurants can be found.
The following day we returned to San Antonio where, on 12th Oct, we said goodbye to Steve and Gill to make our way to our over wintering marina in Valencia. You will be hearing more about this soon.
We really loved Ibiza and Formentera – more so than Menorca and Mallorca though, as earlier blog posts have shown, they too are worth vising. Well they must be, some cruisers spend a whole season, or two, in the Balearics. After all, there is good provisioning, adequate chandlers, good quality marinas [at a price] and pleasant anchorages. But, we are not sure we would enjoy it in high season. We found some of the anchorages tight with only ourselves or one or two other boats in them. It looks like, until we return to the Caribbean/Central America/Pacific, crowded anchorages during the summer are going to be the norm. But things aren't exactly bad if that is the only worry we have!