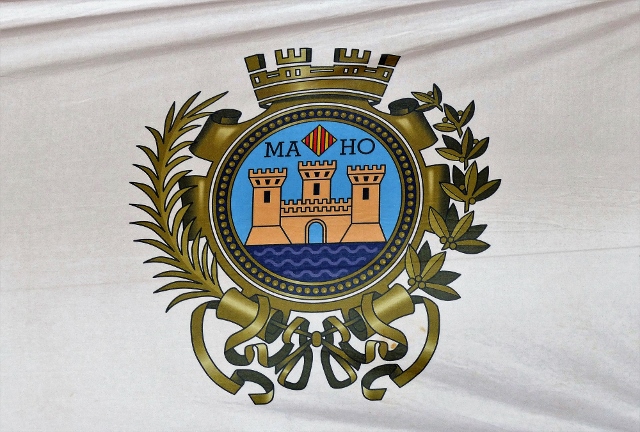 It may surprise some people that, given the popularity of the Balearic Islands with UK holiday makers, neither Mike nor I had ever been there – so, after Andrea returned home from her holiday, we looked forward to putting this right. But, the weather forecast wasn't immediately favourable as there were very strong winds in the Gulf of Lyon and we therefore left Calvi for a six and a half hour sail down the west coast of Corsica to Porto D'Arone…..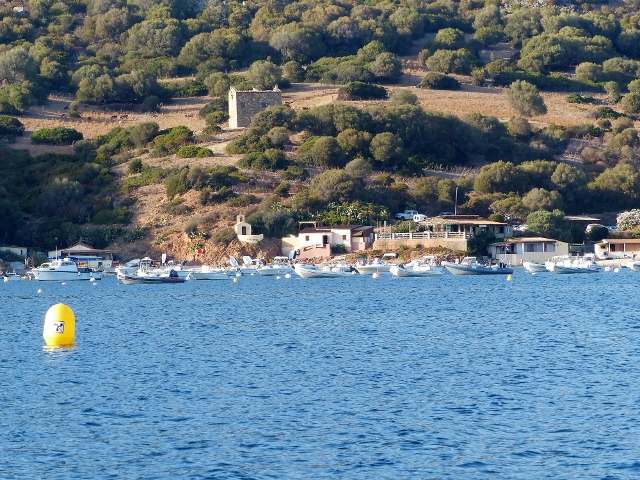 ……. where we spent one night at anchor.
The following day was a short hop of just over three hours to Port Provençal, Golfe de Lava where we had to anchor well off because once again, and contrary to the description in the cruising guide, there were lots of local moorings and swimming buoys. We enjoyed a glorious sunset …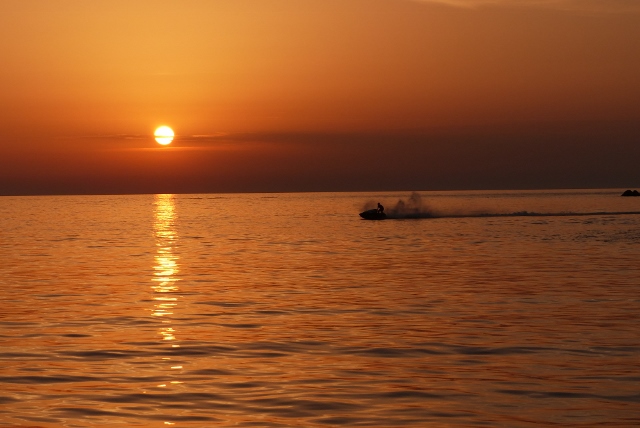 …. but, unfortunately, not such a glorious night due to roll which started about 3am and didn't stop! Having risen early we then had to delay our start to allow a couple of small squalls to pass through before motoring through the "Passe des Sanguinaires", where we saw depths of 5 metres…….
…..and into the Golfe D'Ajaccio. Once in the gulf it took another hour and twenty minutes to make our way to an anchorage at the head of the bay. Anchoring in Ajaccio is not easy as most of the bay is either too deep, full of mooring balls or off limits. According to the cruising guide we were in an area which was marked as off limits because of a Natural Gas tanker dock but there were about 20-25 other boats there and it was well sheltered so we decided to join them and see what happened.
There are two marinas available to transiting yachts but we didn't really want to go in unless the weather turned really poor – or we were told to move. As it transpired, on our last night there a tanker came into the anchorage and we were advised that we had to move by 7am the following morning for the tanker to dock. There were almost a dozen boats between us and the tanker dock and none of those moved – so neither did we, though I was up early [the only person on our or any other boat!] just in case.
Like the other towns we visited on Corsica, Ajaccio has a nice old town….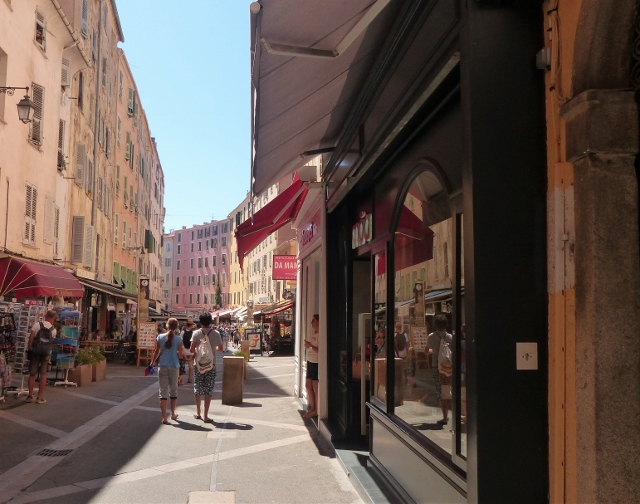 ….and small fishing harbour….
…….and we spent three days wandering around, provisioning from a Carrefour supermarket -about a 30 minute walk from the anchorage – and making regular checks on the weather trying to find the best window to cross. In the autumn, weather systems build in the Gulf of Lyon which result in strong winds down the east side of Corsica and across to the north west of Menorca.  Travelling west, we therefore had to cross the wind/wave affected area and had the choice of being potentially battered or picking a "calm between weather systems" slot which would mean motoring.
In the end we left Ajaccio on 4th September at 2.30 pm and managed to catch some sea breeze which enabled us to sail until dusk when it dropped…..
The following day and evening was practically flat calm ….
…….until the middle of the night, and my watch, when the wind rose from the SW and was therefore on the nose – even though NW had been forecast!! Fortunately after four hours of this the wind veered and by 09.30 had gone NE which pushed us towards Menorca and our landfall at Maó [Mahon].
The port of Mahon is one of the finest natural harbours in the world. It is 5km long and up to 1km wide and has a very narrow entrance. As such it has an extensive nautical and military history – as the fortifications on its shores and mid channel islets bear testament to. As well as housing the C19 fortress "La Mola", the north shore promontory, which nudges out into the sea, protects the channel from the insistent northerly wind – the Tramuntana. Behind it is "Cala Teulera" where we anchored at 2.15pm on 6th Sept having completed our 245 mile crossing.

Despite the fact that it is a 20-30 minute dinghy ride into town, it is a fantastic anchorage. However, it is the only Cala in the harbour in which anchoring is allowed and it is time limited to a maximum of three days. On our second day the Port Authorities visited the boat and gave us the map below and very politely informed us that we could not stay there longer than the appointed time.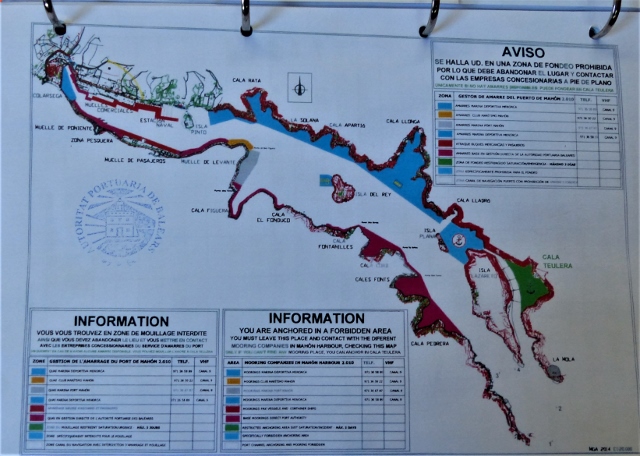 As it happens we had already booked ourselves onto the Club Nautico moorings for three nights so it wasn't an issue for us. As far as we could tell some people just ignored it and were themselves seemingly ignored as we know at least one boat was anchored there for seven nights – though things may be monitored much more closely in high season.
Despite the cost [€57.46 (approx £51) per night in mid-season] we had decided to move to the moorings because a particularly bad weather front was forecast to hit Menorca full force, we wanted to take on water [not yet having a watermaker] and there was a festival in town which we wanted to be able to fully enjoy without the 30 minute dinghy ride back after a few bevvies!
The festival….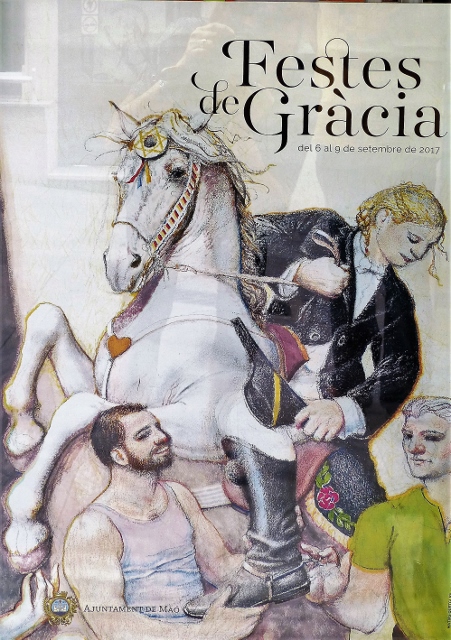 ….. is celebrated between 6th and 9th September each year, though quite what, if anything, happens on 6th I don't know as all information seems to be about 7-9 Sept.
Most of the town centre shops are shut and owners prepare for the parade….
….. the streets are decorated…..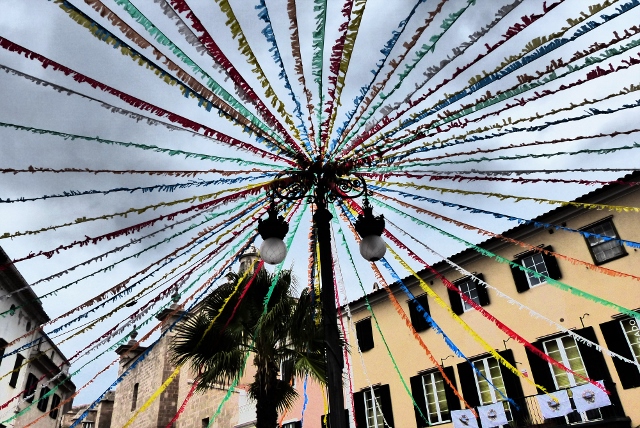 …. Bands strike up…..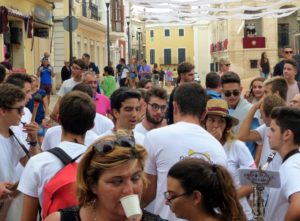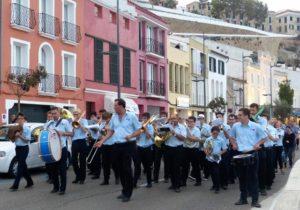 …..and everyone is in party spirit by lunchtime on 7th …
……..at which time a peal of bells announces the start.
The riders gather and the "Colcada" makes it way through the crowds….
…and around the town…..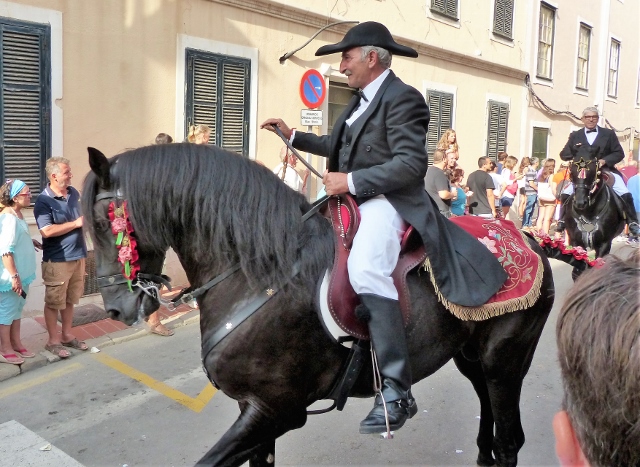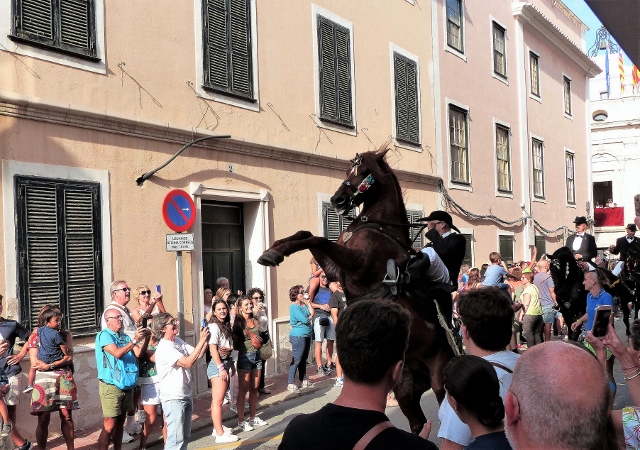 There are certain "special" roles such as "Fabioler", "Caixer Fadri", and Caixer Pagès" – though we did not know who was what. However, we think this woman was the "Caixer Batle" [organiser/leader]…….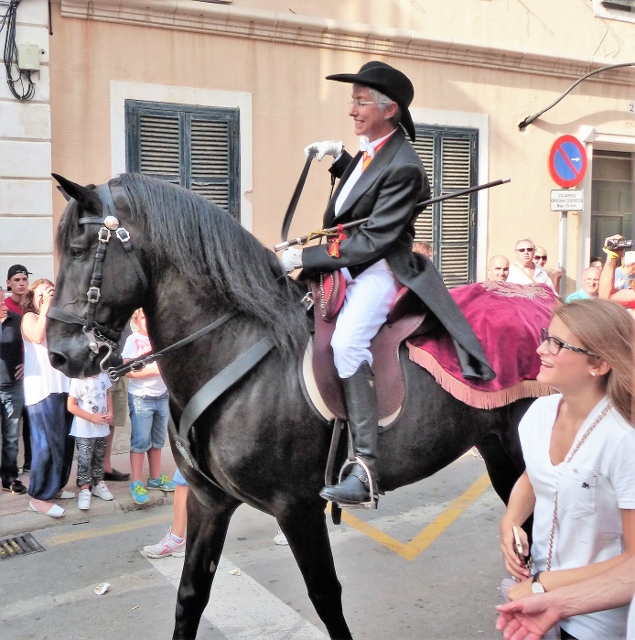 ……and this man was the "Caixer Capellà"……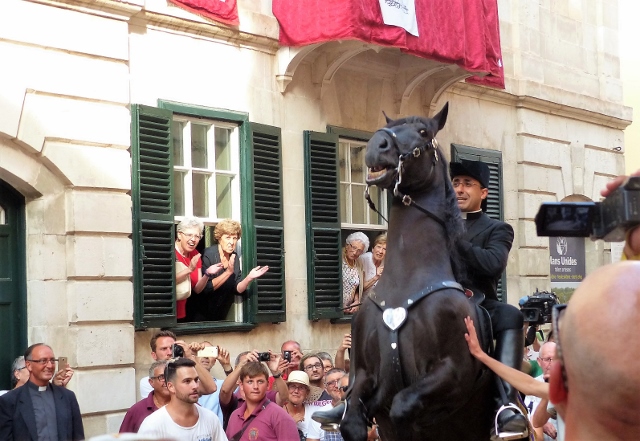 ….who waits his turn to join the Colcada at the church of Santa Maria.
Over the three days the riders meet twice and on each occasion there is a ritual order of progressing round the town. Mass is celebrated on the second day and on the last lap of the Colcada each rider receives a palm frond.
These statues were in the town hall prior to the fiesta starting but I have no idea if they were part of it or not…..
….and on the second day there was a procession involving these figures….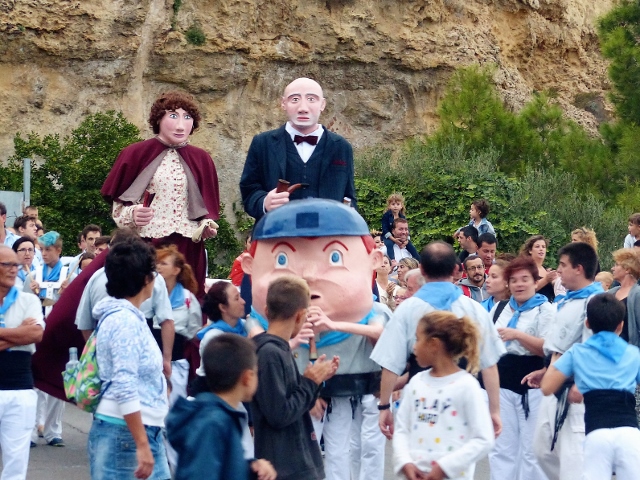 ….but we are not quite sure what they were about either – other than the parade moved down to the harbour front where the celebrations were supposed to continue. I say "supposed" because just after we returned to the boat having seen this parade the heavens opened, the wind really got up, the pyrotechnics were cancelled and everyone went home!
The bad weather continued until mid-afternoon the following day when there was a huge thunderstorm with hail which cleared the air, brought an end to the wind and blue skies returned.
Even had there not been the festival, Maó is a lovely town to visit…..
…has a gin distillery – which was unfortunately closed when we were available to visit – and is a good base for taking buses to various points around the island.
We didn't have much time for this either but did take one bus to the small coastal village of Es Grau….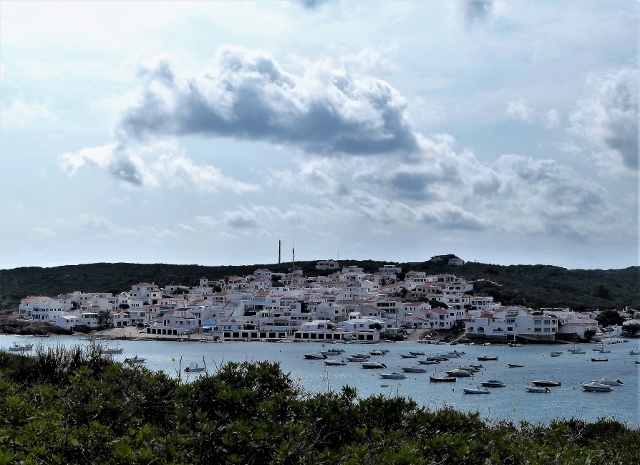 …from where we did a nice walk to Sa Torreta, passing a couple of anchorages which, in the right conditions, would be very quiet and peaceful places to drop the hook.
The main purpose of our walk was to see one of the "Taula" and "Talayot" sites.
The talayotic settlements are the best known features of pre-historic Menorca having been built during the Talayotic Iron Age [850-550BC]. The society responsible for their construction then and during the post talyotic period up to 123BC developed only on Menorca and Mallorca.
Archaeologists have not yet been able to ascertain their original function but they do know that the structures were public buildings, a vantage point and a landmark and possibly had a religious/symbolic purpose.
The Talyots in the settlement are often positioned just a few metres from the Taula – a T-shaped structure comprising two huge stones.
Some sites contain several talyots but there is rarely more than one taula.
Nearby we also saw the "Naveta of Torreta"…..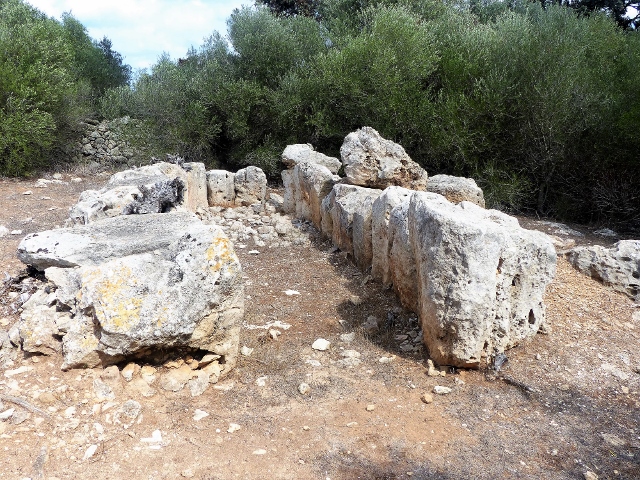 … a chambered tomb.
We also saw an old threshing floor…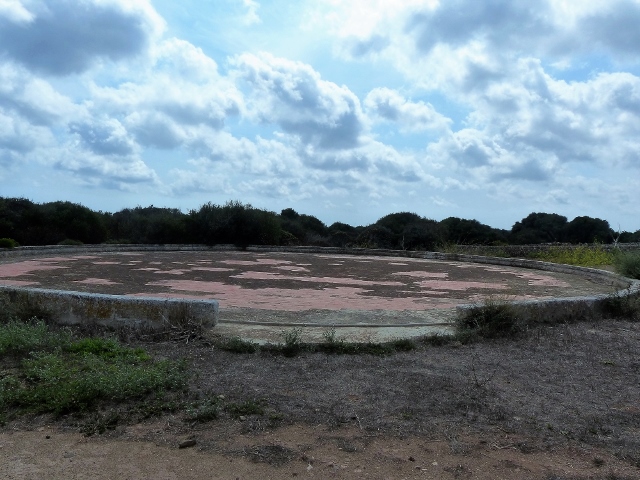 …and several examples of Menorcan style gates.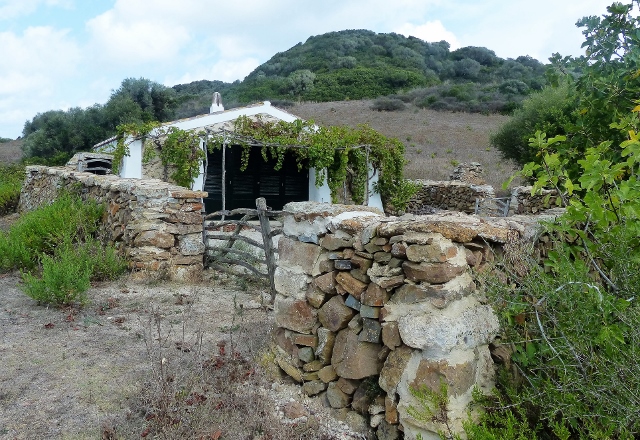 Flora and fauna captured at the S'Albufera des Grau freshwater lagoon, now a natural park….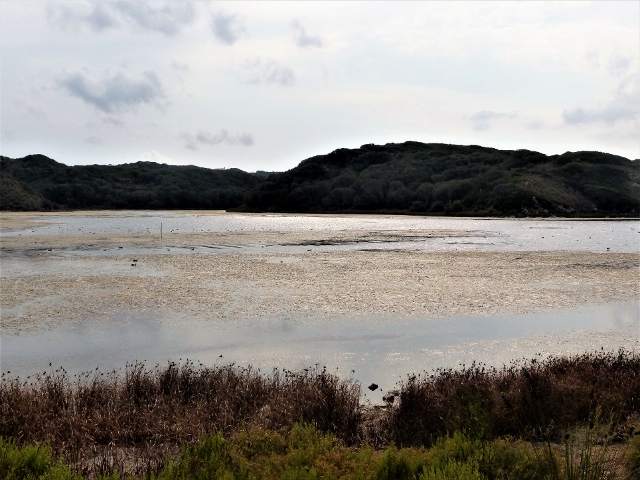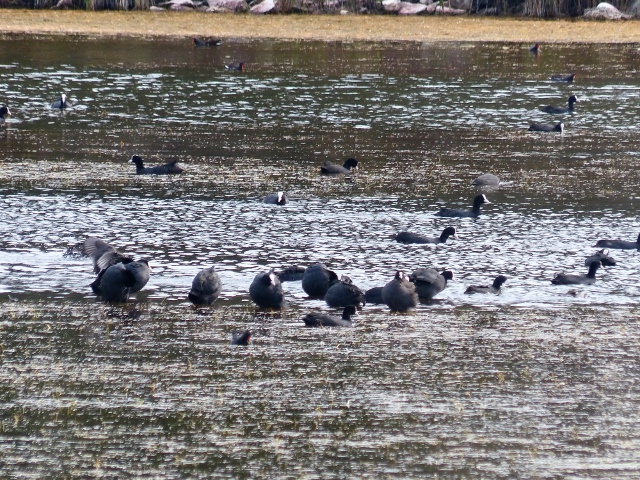 On leaving Maó, we planned to visit a few anchorages along the south coast. First of all we entered Cala Biniparratx but found it far too narrow and scary. Mike had to do a three point turn to get us out of there. We worked out that given the depth at which you had to anchor we would have needed thirty metres of scope. With a fifteen metre boat that gives a ninety metre turning circle. The cala was 100 metres at its widest. Rather too close for comfort we thought!
We next tried Cala Trebalújer – which was wide enough and had good holding but the swell was pretty dire and after an hour of rolling we upped anchor and moved on again to Santa Galdana.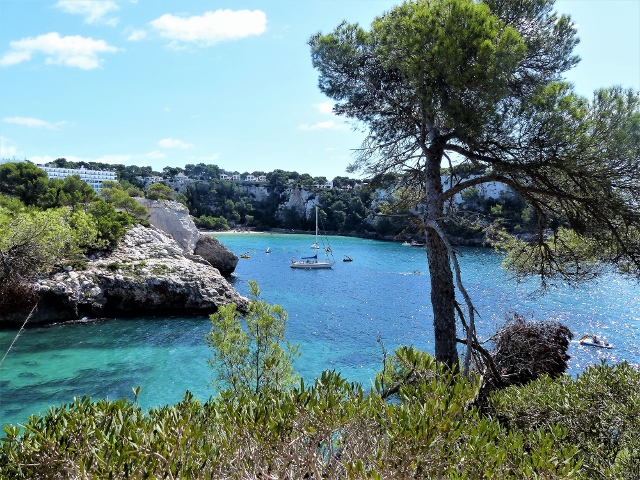 In the end we spent three nights there rather than trying out other anchorages. Maybe we missed out, but their descriptions suggested that once again many were narrow and we were comfortable in Santa Galdana [little/no swell] so why move.
The only issue we found with Santa Galdana was that the holding was a little patchy. Initially we were quite close to this rock….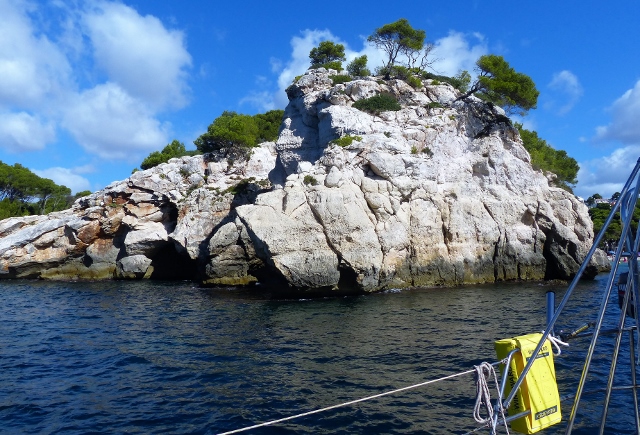 …..but when space became available we moved as we dragged a little – we think there was bedrock under fairly shallow sand.
We spent one day on a bit of maintenance….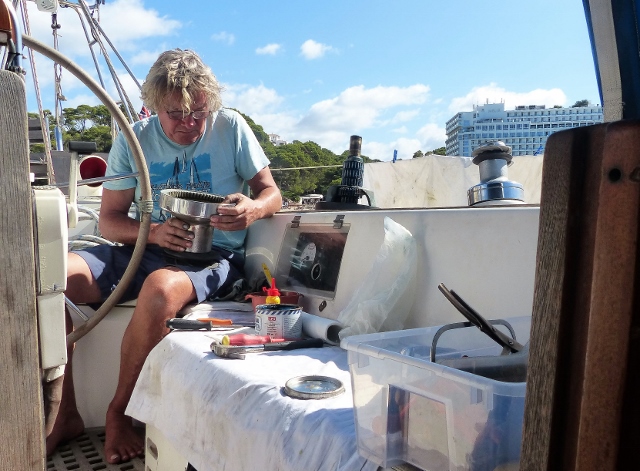 … but took one day out for a walk to Cala Turqueta.

This is a popular anchorage which, during the day, is full of visiting tourist boats and people. As you can see, the swimming area means that boats have to anchor out and as a result are exposed to the wind. It would no doubt be lovely on a calm day and/or out of season but as I said above, we were happy in Santa Galdana where we were protected.
The walk itself was very pleasant…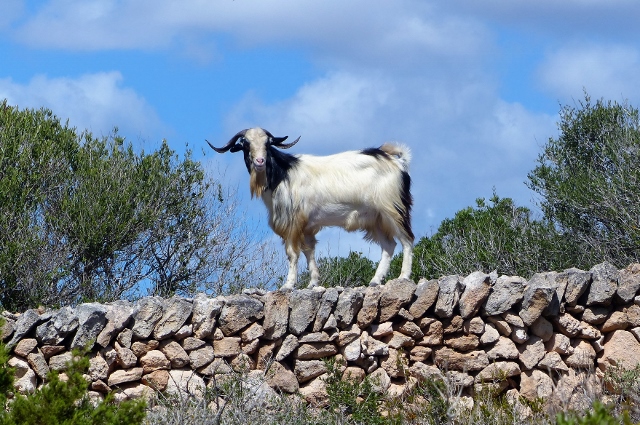 … was a nice end to our short stay on Menorca, and we sat in the cockpit that evening looking out at our next stop….Mallorca.