"Able was I ere I saw Elba"….. is one of the most famous palindromes and, indeed, able we were at last – with Elba as our first major goal.
Able to leave Livorno….
Able to visit islands…..
Able to swing at anchor….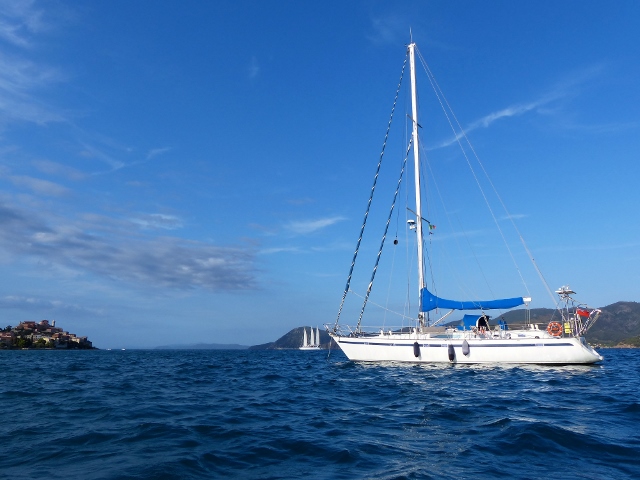 Able, once again, to do what we set out to do six years ago.
We finally left Carlo's yard on 3rd August and motored through the commercial docks into Livorno harbour ….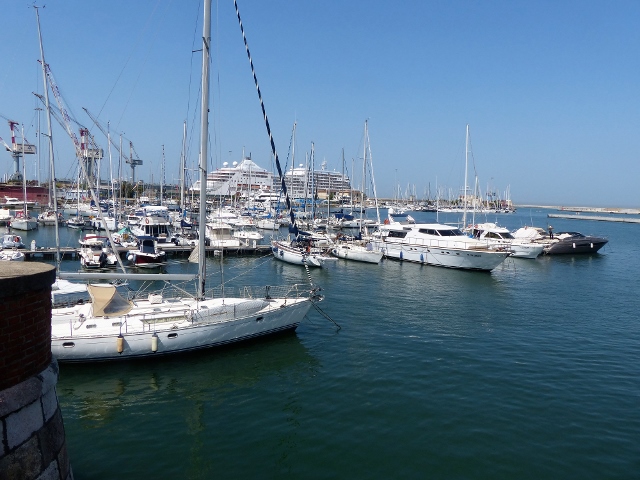 …….where we had a "free" berth [i.e. Luciano did not charge us]. Our intention, whilst there, was to stock up on a few things from the market, enable Luigi to come on board whilst motoring and complete any adjustments/calibrations to the new engine and finally visit a couple of sites which, despite all our time in the city, we hadn't actually taken the time to see.
The old fort [Fortezza Vecchia]….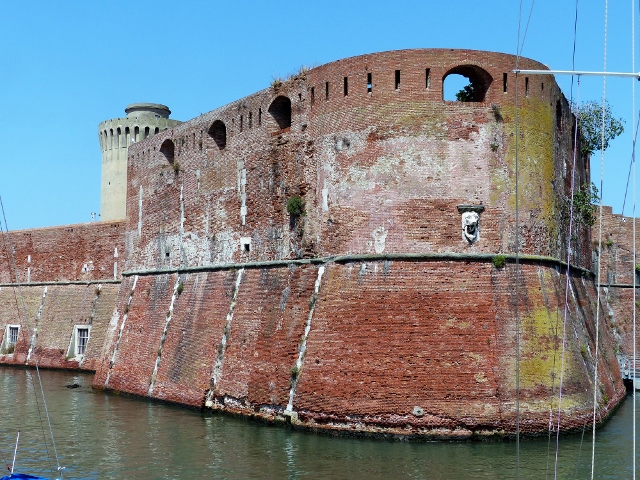 ….a symbol of Medicean rule was completed in 1534, though some of the buildings inside date back to the 1100's and the circular tower to 1241. Unfortunately we were unable to go inside because the system of automatically opening the pontoon bridge did not appear to be working, despite our going at the appointed 00-15 or 30-45 mins past the hour.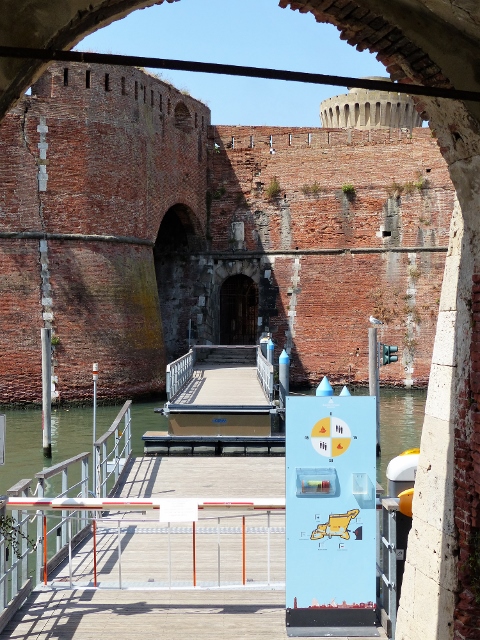 We were, however, able to access the New Fort [Fortezza Nueva] built between 1580 and 1596 but it was really rather uninspiring. The walk around the shaded, grassed area was pleasant and we got views of Livorno – including where we had spent a month living….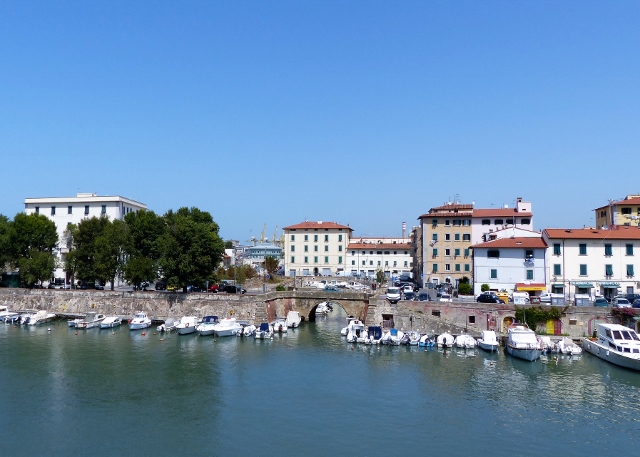 …. but the plan of the fort….
….was probably more interesting than the reality!!
Much more interesting was the "Quatro Mori" [Four Moors] – Livorno's most popular monument which symbolises the victory by the Medici Grand Dukes over the pirates who roamed the Mediterranean. The huge bronze figures were the work of Carrera sculptor "Pietro Tacca".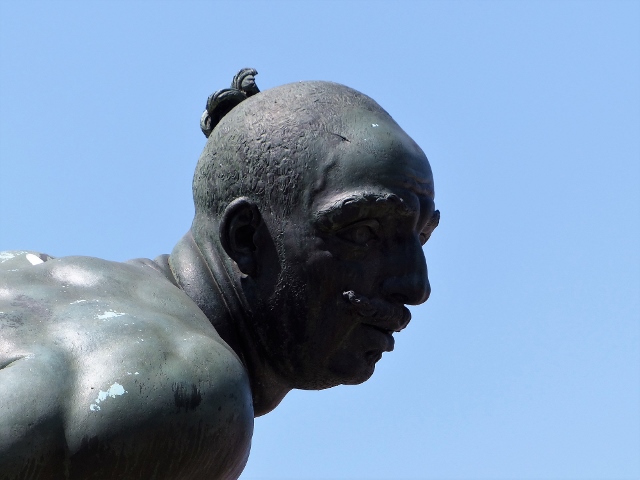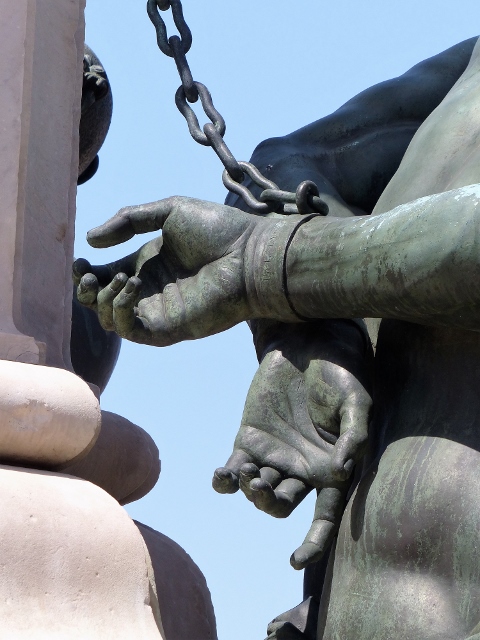 It is said that from a particular spot in the square the noses of all four can be seen at one time and that finding this spot is supposed to bring good luck. I'm all for that…..
Unfortunately good luck wasn't an immediate feature of our lives. Whilst laying out the anchor chain to put in our new markers we noticed that the windlass wasn't working properly. When we changed anchors [back in May] we had lowered the old one and raised the new but now the chain did not seem to want to come out. We had serviced the upper part fully and wondered if we had put it back incorrectly so Mike took it apart again. No problems there. The motor was running so it could only be the inner workings and, on investigation, Mike discovered that the bearings had collapsed and jammed the worm gear. We had been on the hard when we ran it and now surmise that it was gravity which lowered the old anchor, not the windlass mechanism. It was stuck in "up mode".
So, a new windlass was needed and, now for a bit of luck… Forniture Nautiche in Cecina had one in stock and were open the following week – even though it was the first week of Italy's two week break when practically everyone in Italy goes on holiday and virtually no factories/businesses are open.
So, instead of heading out for Capraia we did a 30 mile passage south to Cecini to spend two nights in the marina there.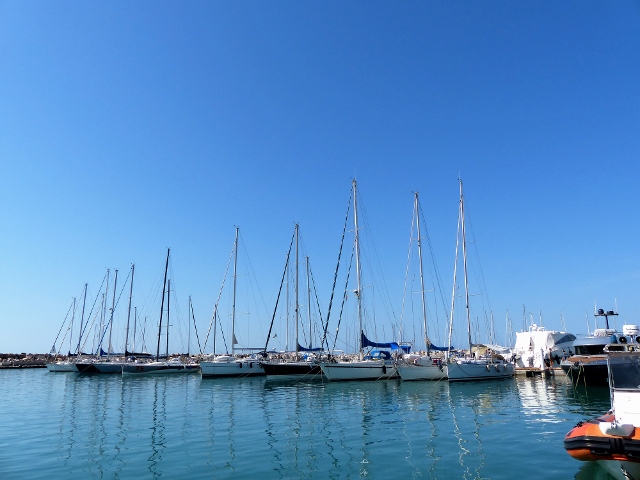 The old housing had been sealed down with sikaflex and it was a real struggle [understatement] to get it off. But a few strained muscles later and the job was done just before sunset.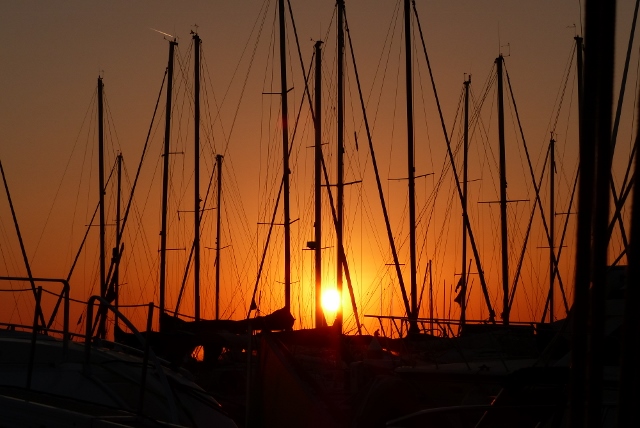 We decided that we now didn't have enough time to visit Capraia but, as the wind was in a direction which would have caused swell and roll in the islands only anchorage, perhaps this wasn't a bad thing. Instead, on 8th August we set out for the 40 mile run to Elba and finally felt that we were properly on our way.
Elba's capital, "Portoferraio" is so called because it was the port for iron ore export. It is a lovely harbour which Nelson described as "for its size the most complete harbour in the world"….
…but it is very expensive to berth there so we anchored out.
We prefer to be at anchor anyway and the dinghy ride wasn't too bad – as long as you were able to avoid the many ferries!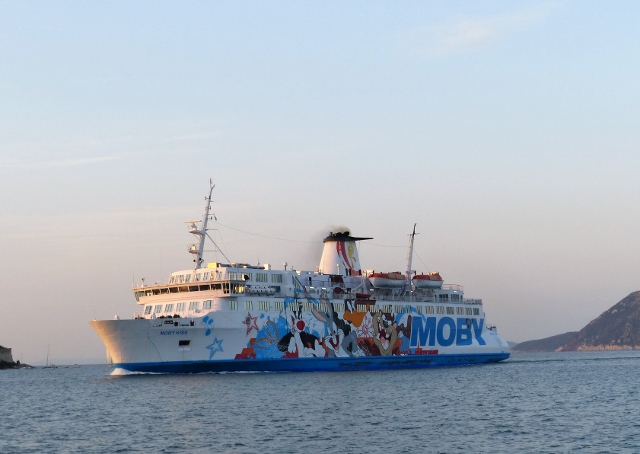 According to a billboard there are upwards of 100 ferries a day. We think this was an old advertisement because the number was nearer to 30 – but every one of them involved wash across the anchorage! Fortunately they don't run during the night so all was calm then.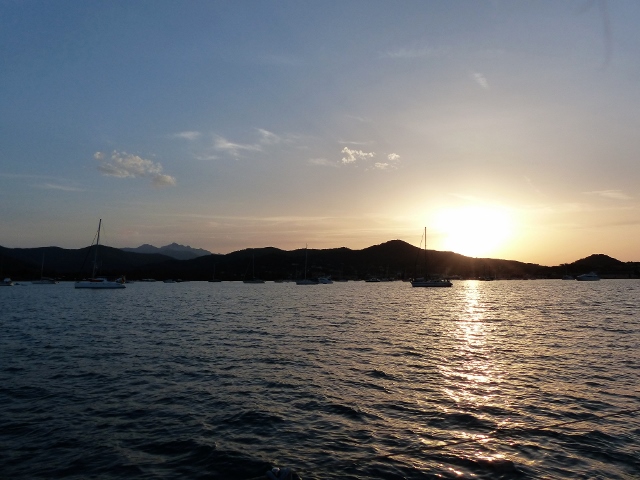 We only had three nights on Elba but made the most of our time there. As everyone knows, Elba is the island to which Napoleon was exiled in 1814. Now, maybe my historical education [or memory] is lacking but, my idea of exile and the reality differs somewhat. I hadn't realised that although in exile he was actually in charge of the principality of Elba and Pianosa. He had with him 700 soldiers and a small naval contingent on the brig "Inconstant". Whilst there he modernised the town, constructed roads, built the "Teatro Dei Vigilanti"…..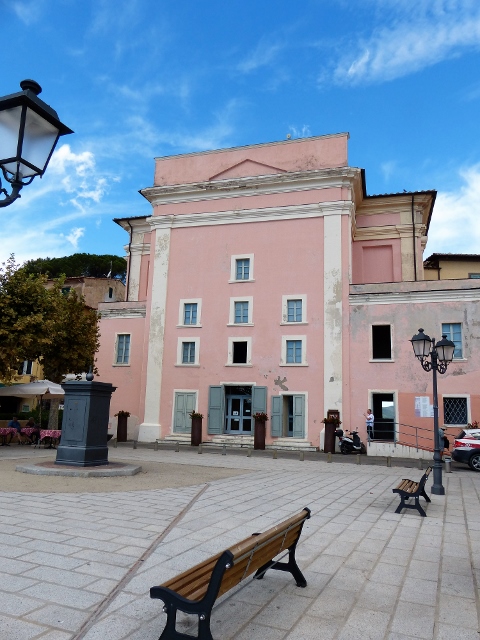 ……. and a hospital and lived in total comfort in two different properties. His country house was three miles away in San Martino so we didn't see that but we did visit his town house…..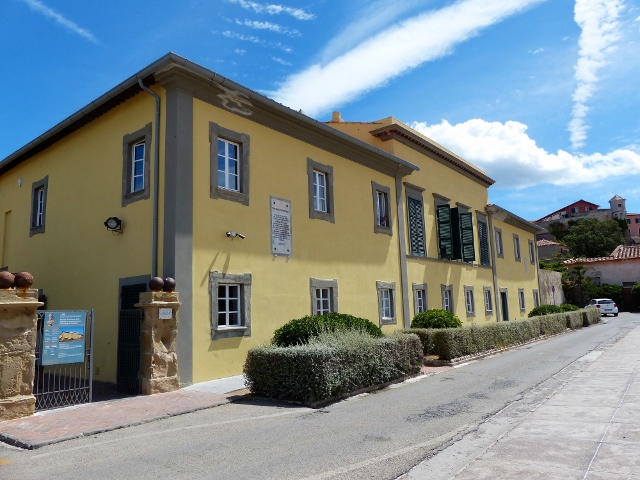 …..the "Villa dei Mulini" which he shared with his favourite sister, Caroline, who was considered one of the most beautiful women of her time and who loved to party.
The Italianate gardens were really quite lovely.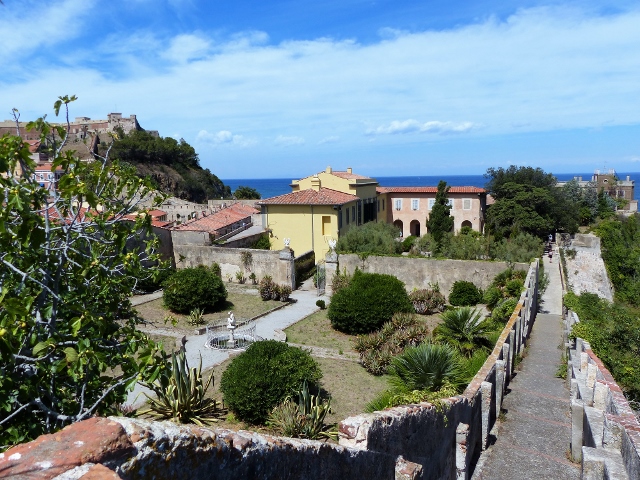 Portoferraio is famous not just for Napoleon. The pictorial walking guide….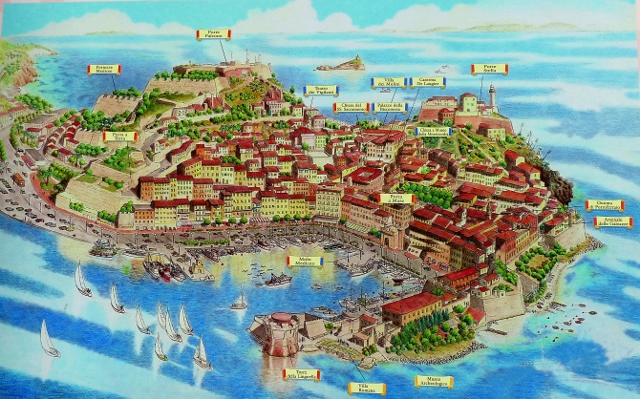 …. also pinpoints the various Medici and Roman sites that can be seen such as the remains of the "Villa Romana" with its below sea level baths.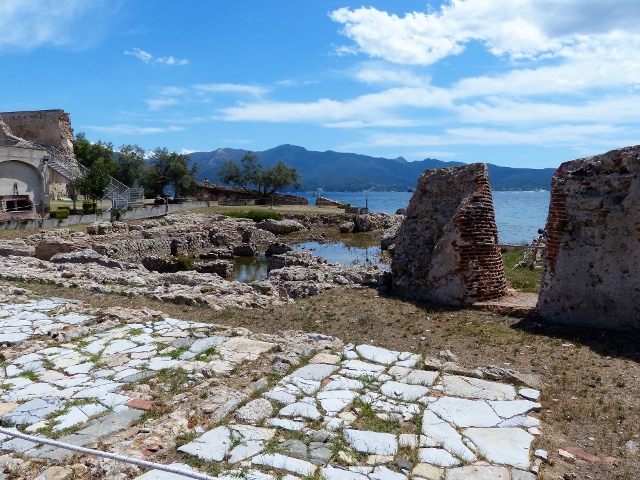 The site of the Modello tower on the south eastern point is now a small museum dedicated to "Sandro Pertini", a political prisoner for many years – as a result of his anti-fascist stance – who then became Head of State [1978-1985] and remained a Senator until his death in 1990.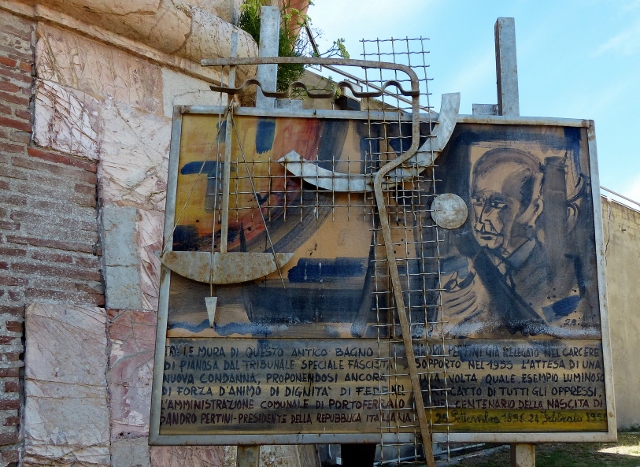 Portoferraio is a maze of tiny back streets and alleys….
….and full of hidden surprises such as this old water fountain….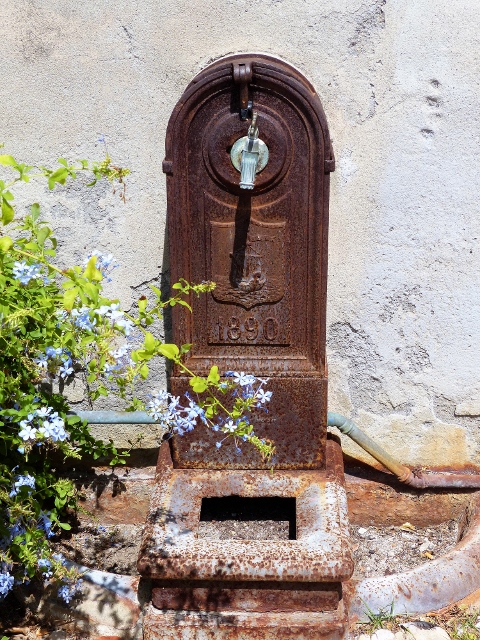 ….and this interestingly decorated building.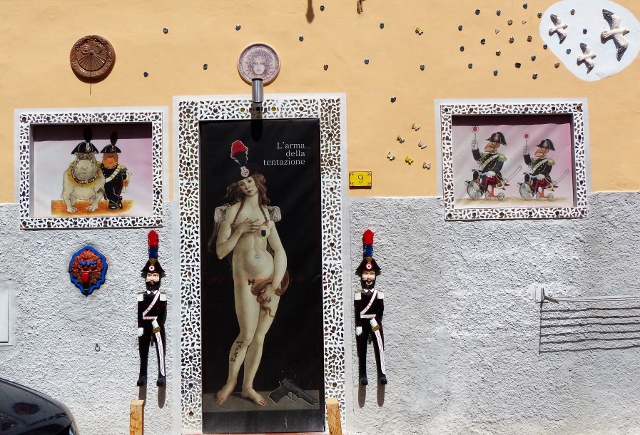 You can decide for yourself what it might have been or continue to be.
Not having time to stay in any other anchorages we travelled to one of them, Porto Azzurro, by bus.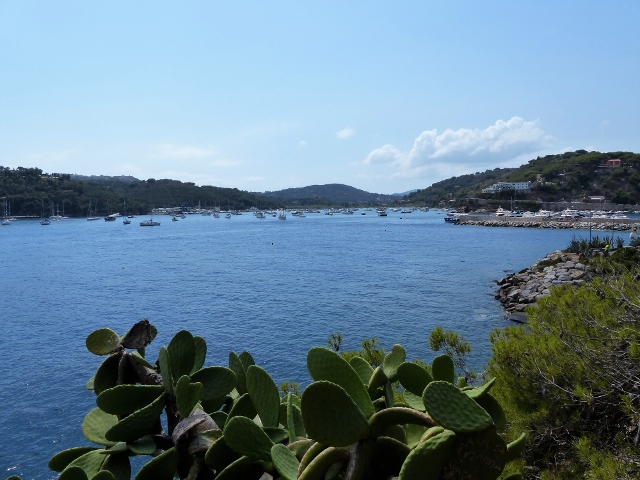 An often crowded harbour, with 25 visitor berths, and a large bay containing several anchoring choices it offers an attractive option in pleasant green surroundings – the shores lined with trees, shrubs and Mike's favourite…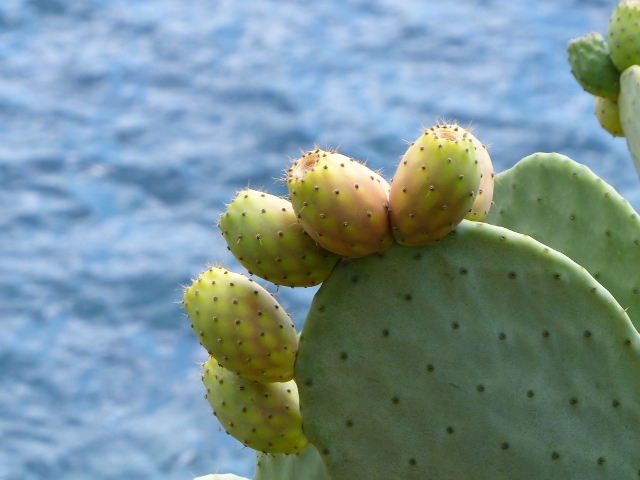 A smaller, but equally quaint, town….
…..it was until fairly recently known by its original name of "Longone" which was also the name of the C16 citadel which, during C19-20, housed notorious, hardened [Mafiosi] prisoners.
That, unfortunately was all we had time for but before we leave Elba, just a few observations.
Most provisions are available but, understandably, at a cost greater than on the mainland.
A couple of chandlers/fishing tackle type outlets on the quayside but only for smaller items.
Restaurants abound but we found them to be of poorer quality and with rather surlier staff than we had grown accustomed to in Livorno. End of season syndrome? Tourists not locals so who cares if the customer returns or not?
Pretty island – green even towards the end of a long hot summer.
Historically and architecturally interesting.
So, although it would have been nice to see more of Elba, we had an appointment to keep in Corsica and therefore on 12th August we set sail from Napoleon's island of exile to the island of his birth – so you haven't heard the last of him yet…..