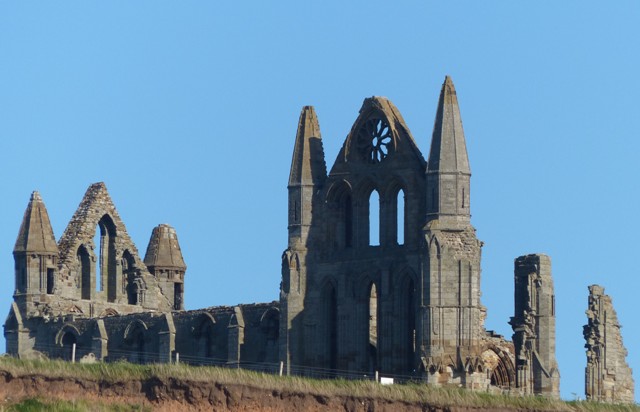 OK family and friends in the UK. This is where you feature – well most of you anyway. Apologies to those we didn't get to see and also to those who we did see but failed to capture the moment for posterity. Some things will just have to be pictures in our minds!
So, it was a seven week whistle-stop tour – our first time back in the UK for 3 years and all started with flights via Newark, USA. The flight to Newark from Panama was on time and we enjoyed seeing below us the "Jardines de la Reina" – islands off the south coast of Cuba which, you might remember, we sailed through about 2 years ago.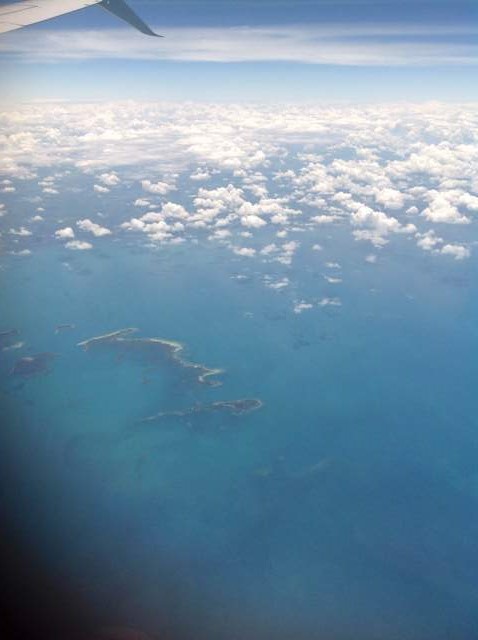 Once at Newark, however, things took a decided turn for the worst. "Plane has mechanical problems" so delay will be two hours until another arrives. "New plane late arriving" so delay will be four hours. "Plane now ready, crew out of time", so plane not going anywhere! "No flights until tomorrow evening". Confusion, anger, upset, a couple who are now going to be late for their own wedding, a person who will miss their friends funeral etc etc. Chaos as we try to get booked onto a flight. Several queues of people all wanting the quickest way back to the UK. We end up on a flight to Heathrow leaving 20 hours later and a connecting flight to Manchester. Finally, at about 2.30am we are given taxi fares and a voucher for a hotel which we arrive at exhausted but unable to sleep much and worry that it will all be repeated on our return to the airport later.
It would have been so much better if they had told us about the dreadful weather conditions over much of the US which was causing cancelled and delayed flights everywhere. But they didn't. It would have been much better if they had used their intelligence and worked out in advance that with the four hour delay the crew was going to run out of time and arrange a different crew – that is if one was available. But they didn't. It would have been much better if they hadn't given us our duty free purchases [which they normally hold until boarding but handed out when the franchise closed at 10pm] because having left the airport with them we couldn't take them back through the security check the next day! But they didn't. We only lost half a bottle of rum – some people lost several bottles.  Then again, thinking about it some more, it was a good thing we were given that bottle – there was nowhere else to purchase much needed alcohol that evening!
Rant aside; there was a nice side to this delay. Our hotel was in a small town called Clinton in Huntingdon County and we had time to get out and take a walk around it. We saw what we assume are fairly typical houses in this area….
…and also walked by the restored old watermill.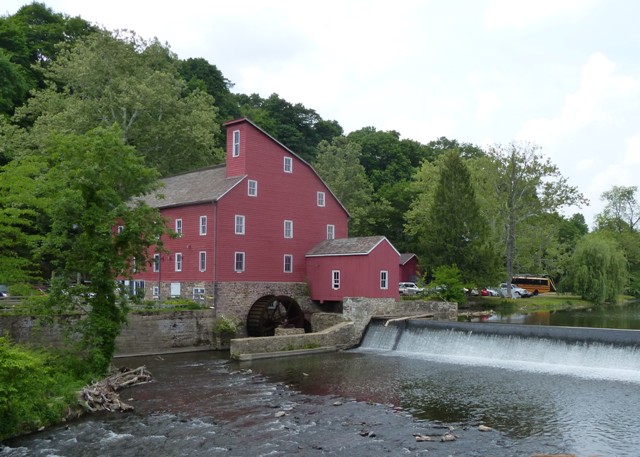 Our new flight was delayed but only by an hour and we finally got to Manchester- after a hectic transfer through Heathrow- filled out forms because our luggage didn't keep up with us and escaped to be greeted with a lovely hug from Chris.
I will tell you now – so that I don't bore you at the end – that our return flights to Panama were also delayed but not in a major way and without drama!
So, what did we do during those seven weeks? We spent about a third of our time staying with Chris and John [NB Dave – you remember, my sister – not the Silkstones!!!] and another third with Dave and Maggie. The hospitality in both of our temporary residences was, as always, the very best.
We attended a fabulous beer festival at "The Foresters", Winterley.  What a great pub and a lovely landlady "Liz".
We found time to call and visit Mike's aunt and uncle – William and Norma – a sprightly couple….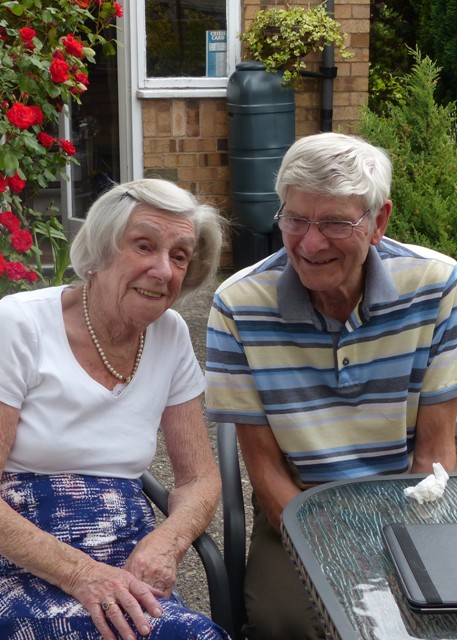 We went for some super walks – usually ending up at a suitable watering hole where often we also met Cath [and sometimes Mark] who would drive us home so we could all indulge in food and more socialising.
One memorable walk was along the Sculpture Trail in Rossendale……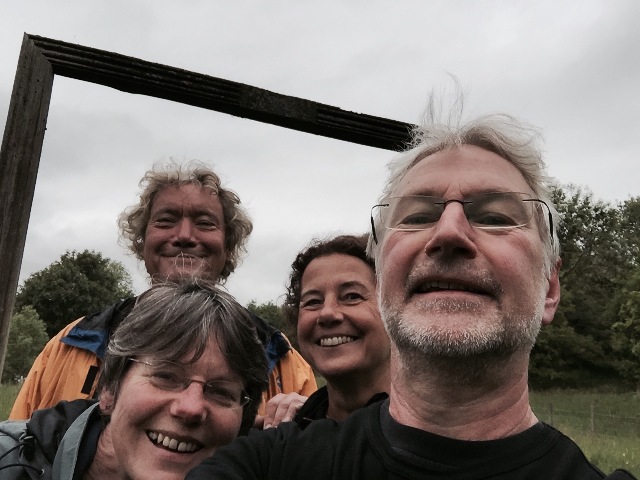 Not the best "Selfie" ever but thanks Dave for this "framed" shot!
Along the trail we saw local wildlife. But, hang on a minute – this is the UK – we left Peru behind….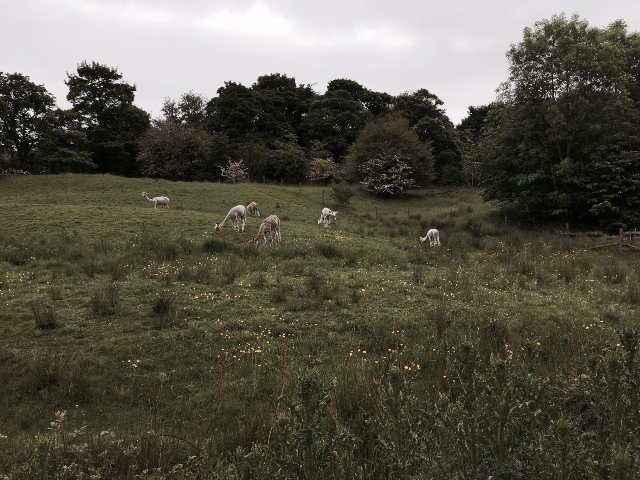 Yes, they are Alpacas!
We were also reminded what a walk in the British summertime can be all about….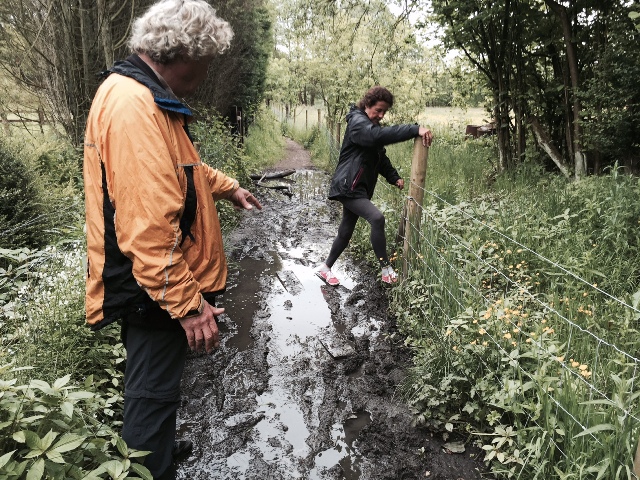 We went to the theatre, drank real beer and ate wonderful things like proper bacon and British cheeses. Talking of food, we also visited Altringham market near to where our friend Lesley now lives with her partner Kath. The old market hall has been transformed into a foodies delight. Local artisan food stalls surround a bustling eating area. Well worth a visit. We were there for Saturday lunch but we were told that the evenings are also good too. We had spent the previous evening having a meal in Hale Barns and then at Kath and Lesley's house where Perudo had to be played and where, looking now at this photo, we should have remembered that it is better to get the camera out at the start of the evening – not the end.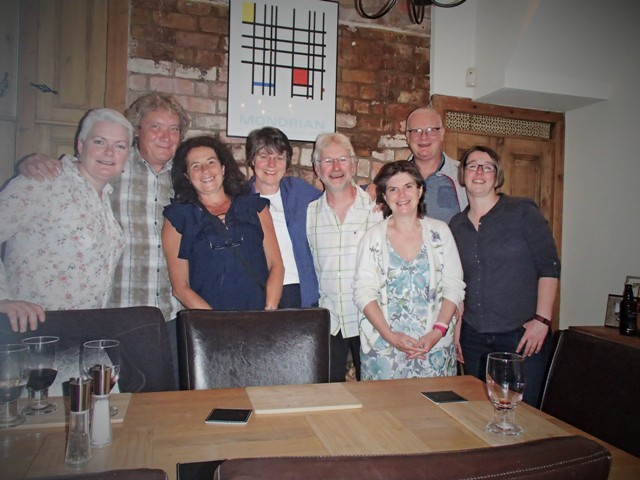 Could have been much worse I suppose!
As well as Dave and Maggie there was also Steve and Mary to make it an even more fun evening and about a month later Mary treated us to a Lamb roast dinner in Wales – I think Mary quite likes taking advantage of non-veggie friends. With roast lamb like that she can take advantage of us anytime!
The rest of the time we toured the UK from North to South, visiting people and places along the way.
First of all we took a trip down to Royal Tunbridge Wells [with Dave and Maggie] where we stayed for a night with John and Nadia.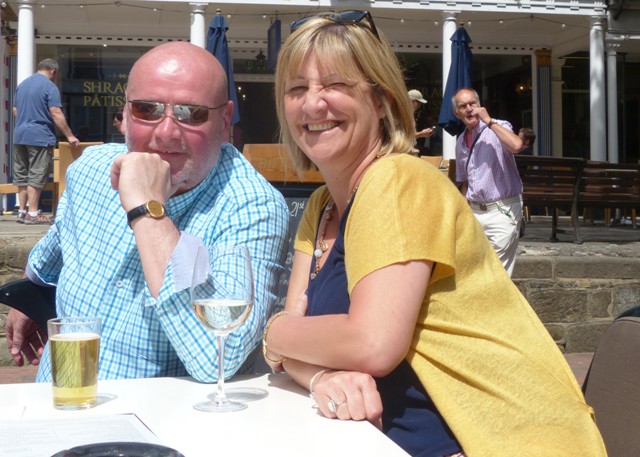 Never having been to Tunbridge before it was interesting to see the Chalybeate Spring….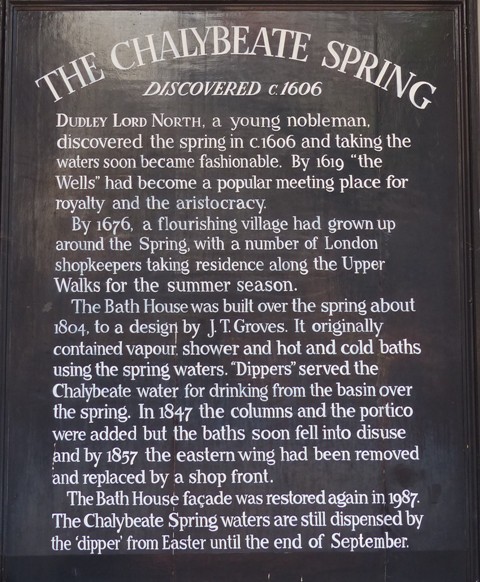 …. though I'm not sure I much fancy drinking those waters…..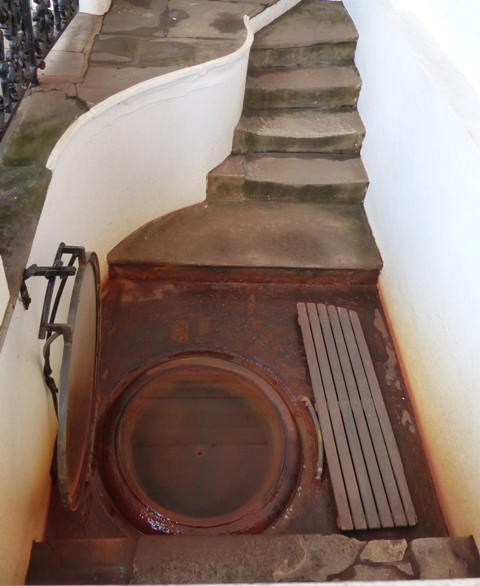 Far better was the wine shared with friends. As usual, with John and Nadia – it was a fun packed time and we were taken to a great wine bar and a lovely restaurant.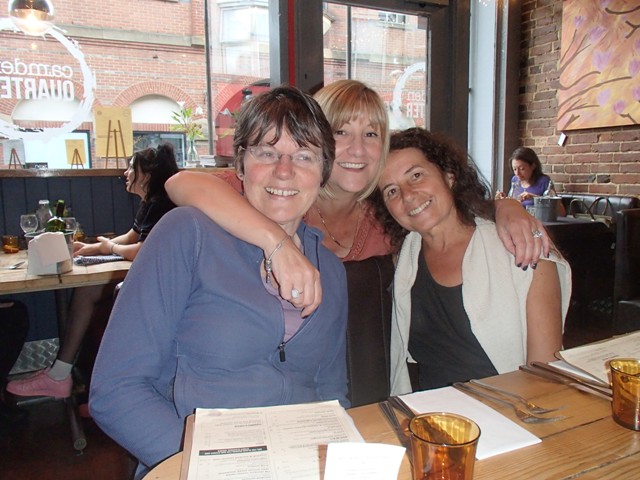 On the way back we were invited to a BBQ with Phil and Emma where we saw a much grown young Joel,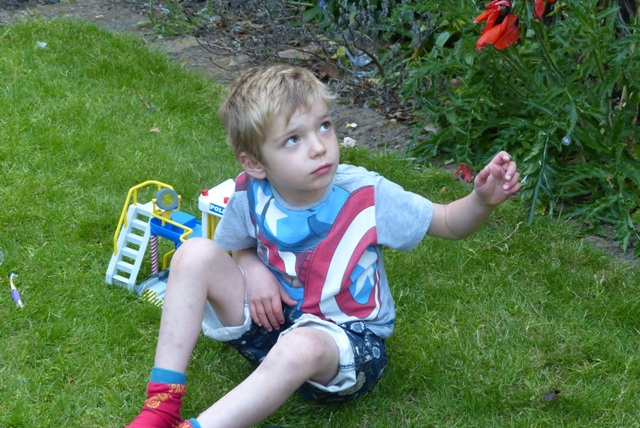 …. and the welcome new addition to their family, Georgie.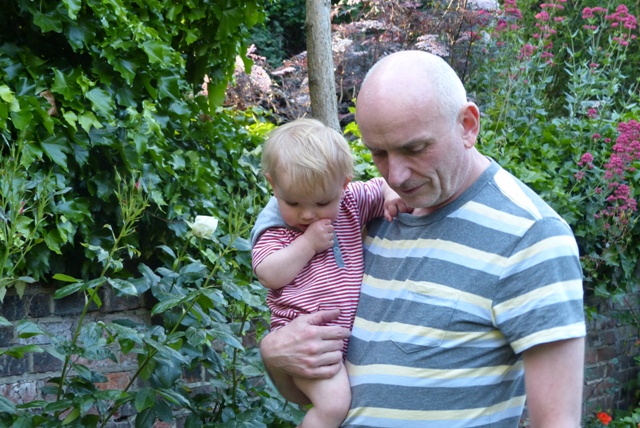 We also caught up with James and Jenny and Tom….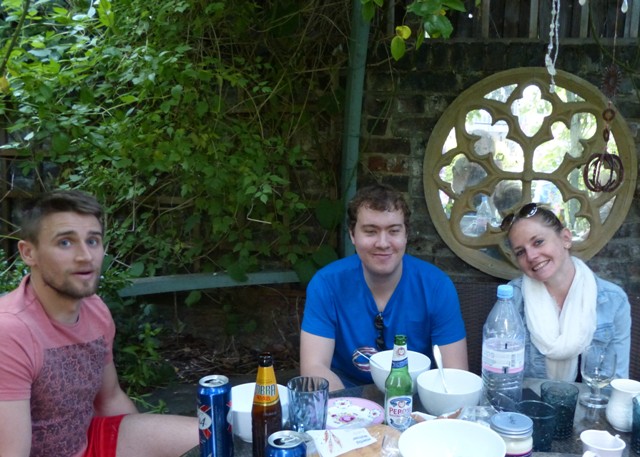 ……who were also invited to spend what was a lovely warm early evening in the sunny garden.
Our second trip was with Chris and John to Whitby. I have loved visiting Whitby for many years now but Chris and John had never been. Unfortunately the drive there was fraught with delays due to accidents and roadworks. We took detours that we thought would make things better but we aren't sure that they did!
Anyway – it turned out to be a great couple of days. The weather was fabulous and allowed us to see the harbour….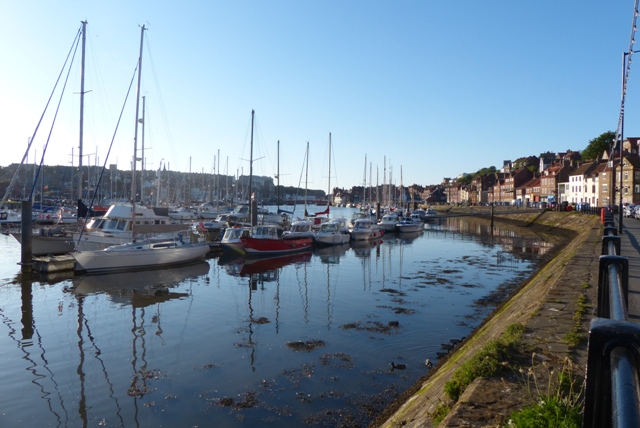 ….and the Abbey ….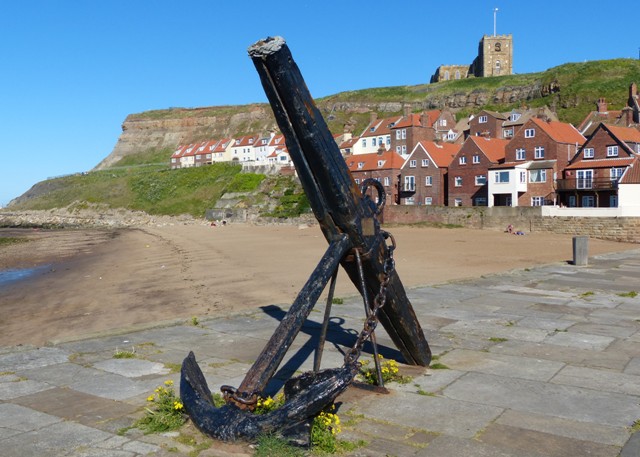 ….at their best.
Despite having visited this town many times I had never before seen this statue commemorating shipbuilding…..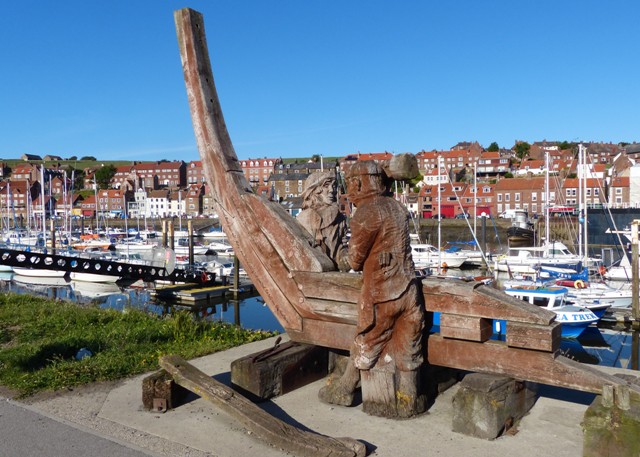 ….and the explanatory plaque, the text of which mentions Whitby's most famous sea farer Captain Cook.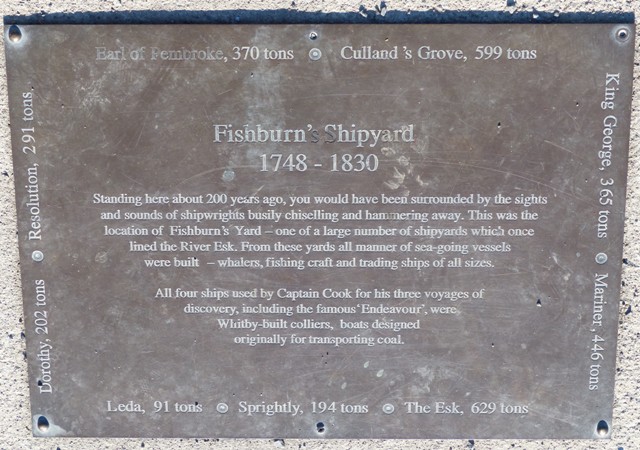 We took a drive up the coastline to Runswick Bay….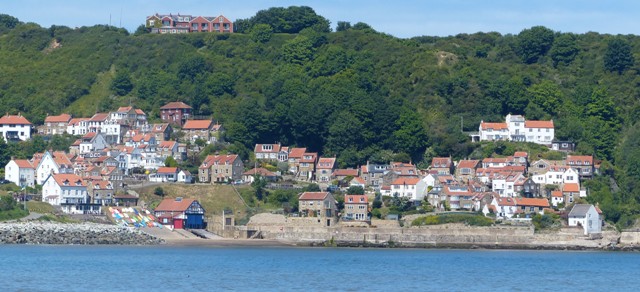 ….where we spent a very pleasant hour wandering along the beach…..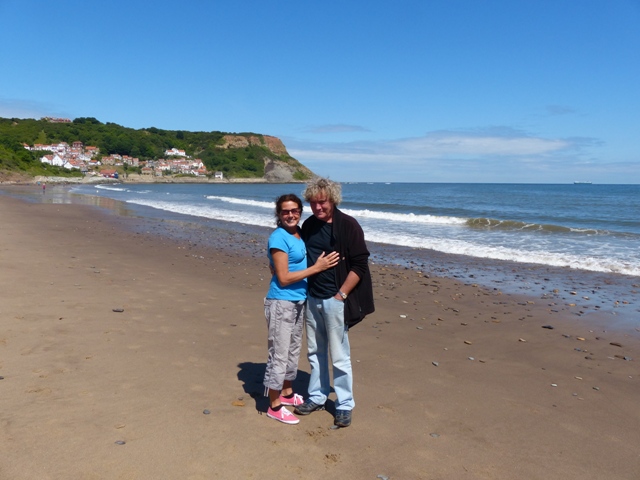 …. though none of us enjoyed it quite as much as Preston.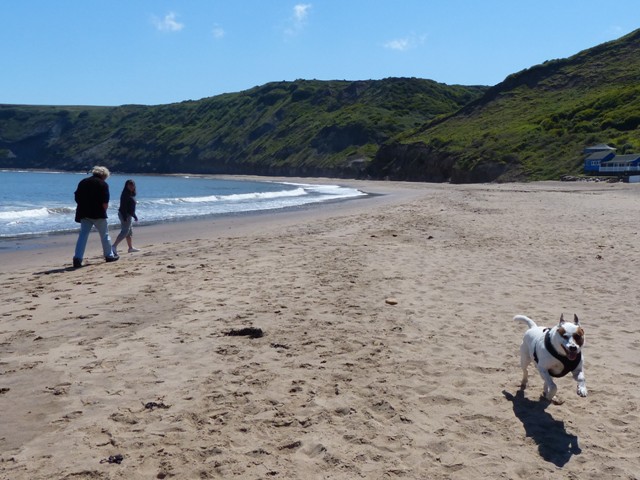 Lunch [crab and prawn sandwiches] was eaten at the famous "Cod and Lobster"…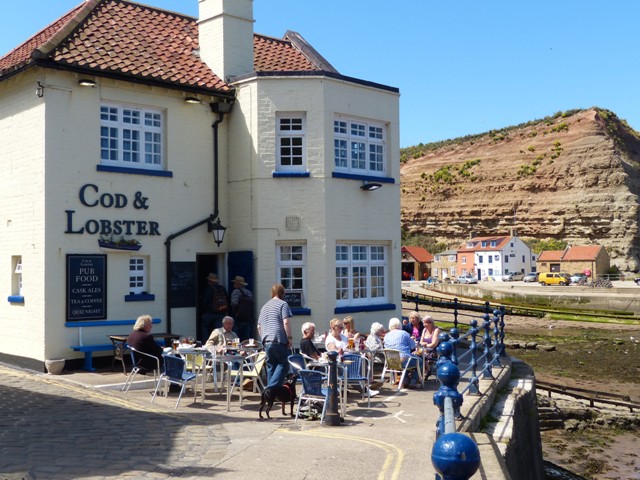 …. before it was time for another Preston walk – this time even John managing to limp along – early days for his recovery from operations on both feet.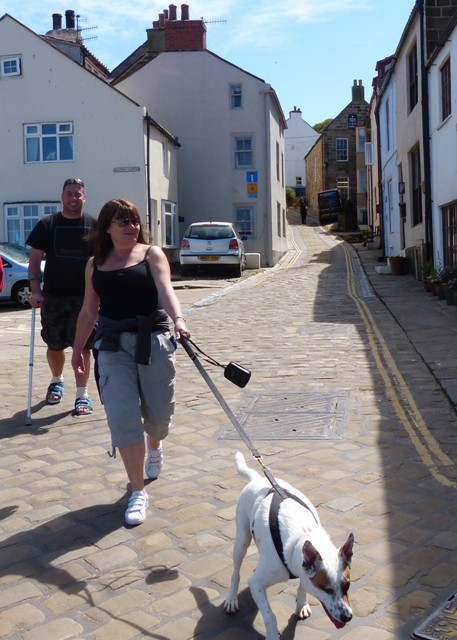 Mike and I sat and enjoyed the view….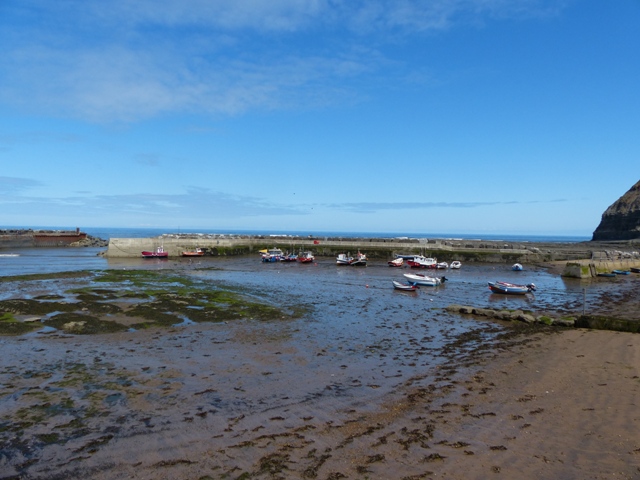 …and then took a small detour on our way back to the car down the small alleyway which enabled us to look at the creek.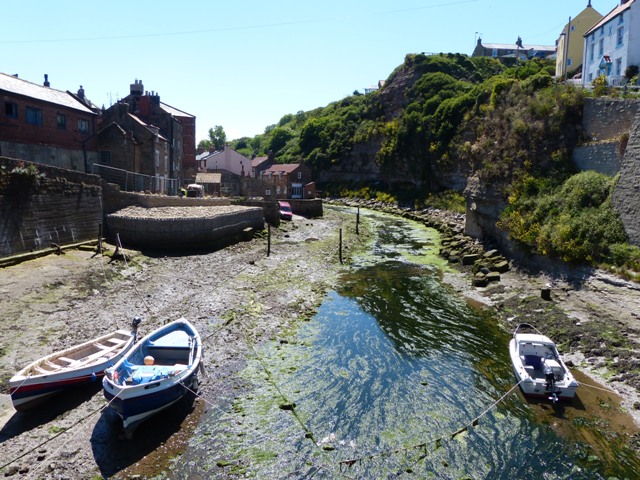 It was our fourth wedding anniversary that day and it couldn't have been spent in a better way especially as we topped it off that evening with a meal at the "Magpie" cafe.
Our eyes were bigger than our bellies but we just couldn't resist sharing starters of Oysters and Whitby Smoked Kippers served with Raspberry Jam [the Kippers that is, not the Oysters – and you really ought to try it….magic].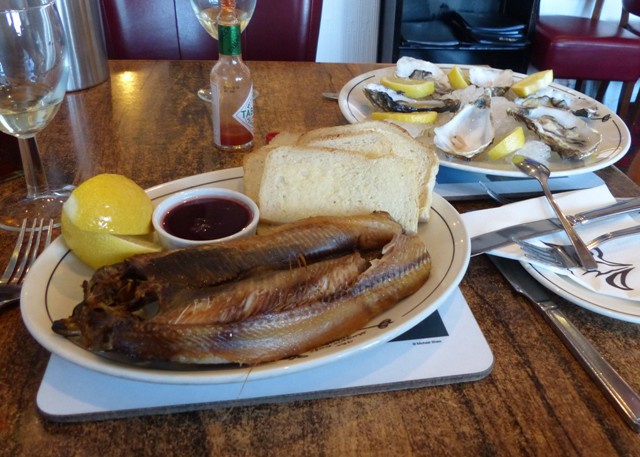 We then tried to polish off Whitby Cod, Chips and Mushy Peas – but I'm afraid we were outdone by the portions.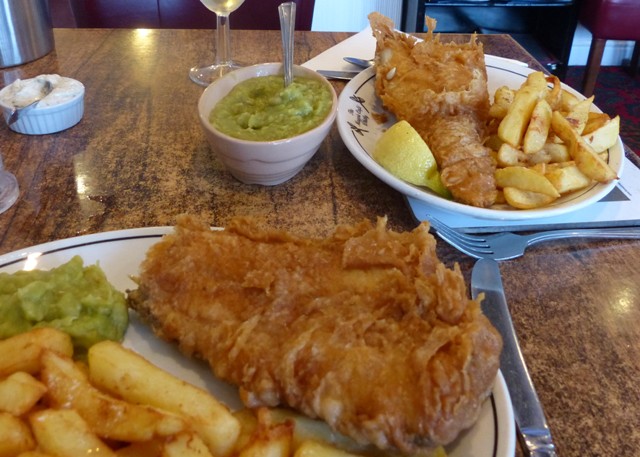 A couple of weeks later we ventured north again – this time firstly to Newcastle-upon-Tyne to visit Claire. We had a really lovely evening, catching up on each other's gossip….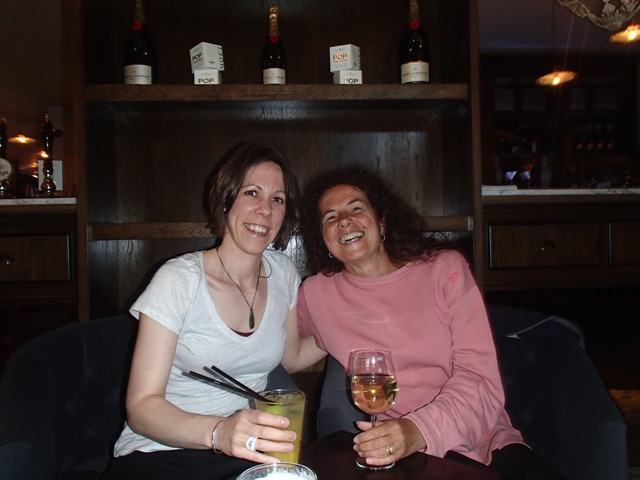 …. and took time out the next day to have a look at the waterfront and some of Newcastle's many bridges.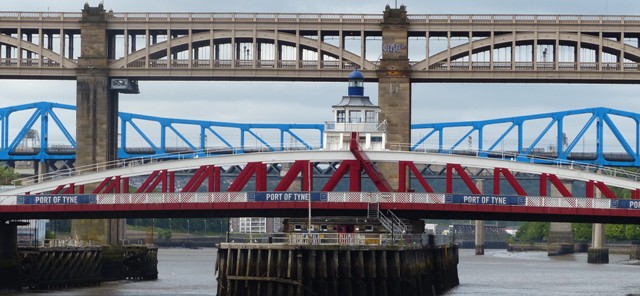 Perched on one bridge was a small colony of seagulls….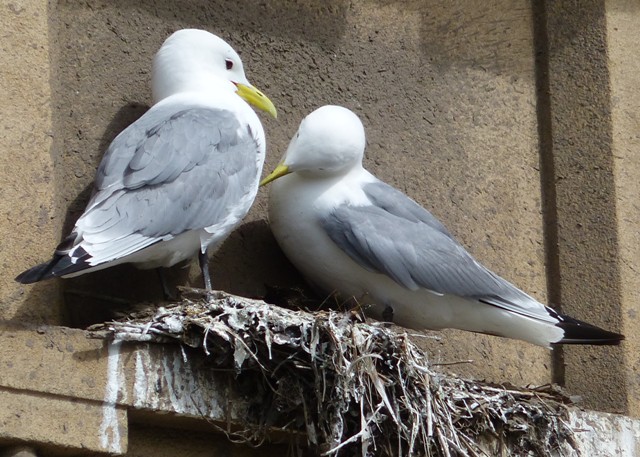 ….some with babies.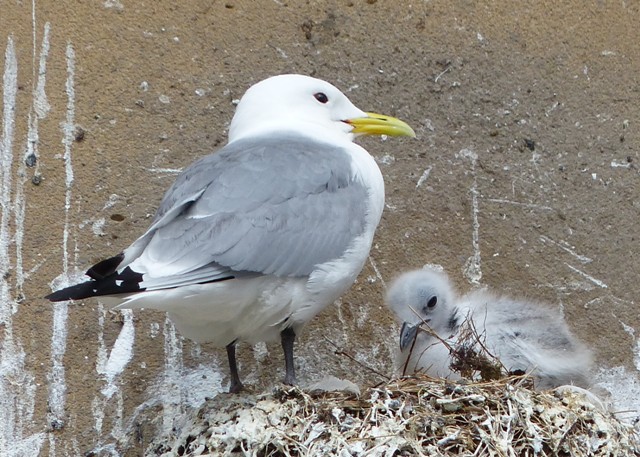 From Newcastle we crossed the country taking in part of the route of Hadrian's wall and stopping for coffee in Hexham. We saw the gaol which is purported to be the oldest purpose built prison in England ……..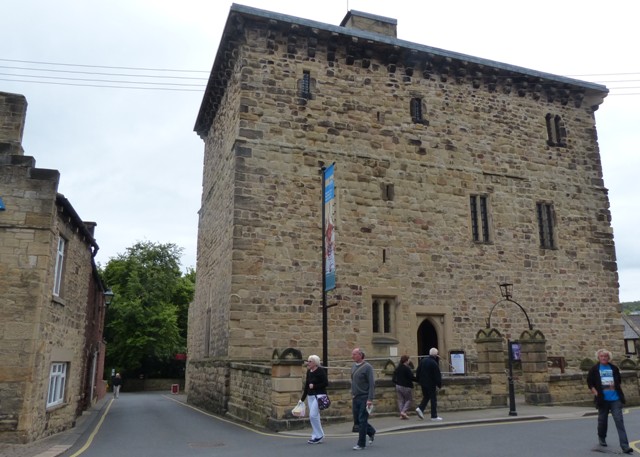 ….and also looked into the Abbey.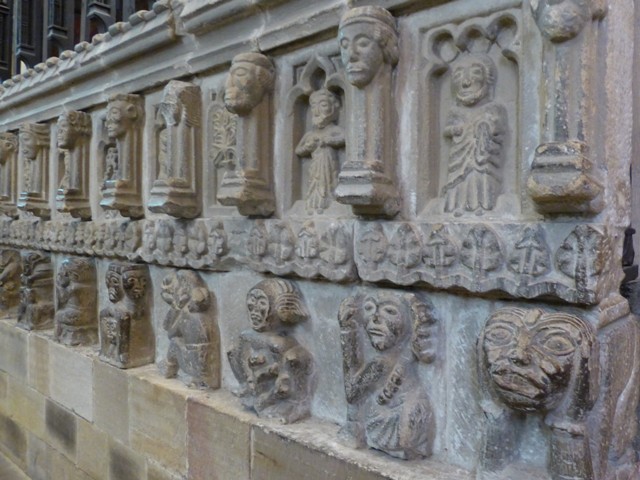 After all, we spend time and effort to visit historical sites wherever we go in the world so why shouldn't we look at and write about some British heritage. There has been a church on the site of the current Abbey for more than 1300 years and the photograph below shows a 7th/8th century "cathedra" [throne].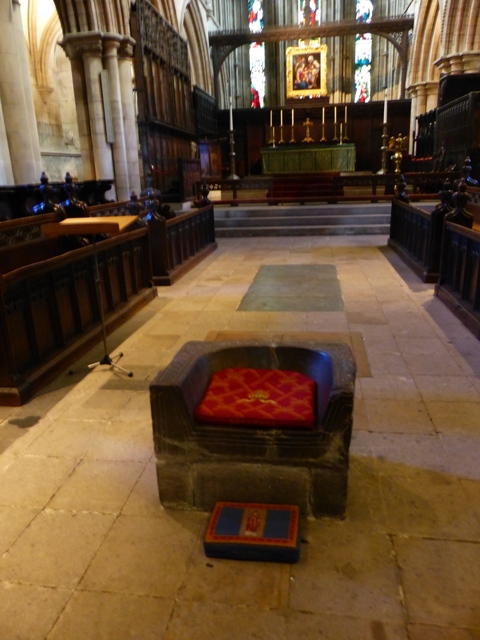 That evening we stayed with Pete and Lisa and lovely baby Rae in Keswick. It was really great to see them and we talked about their plans to visit us in Mexico this Christmas. Unfortunately that has now fallen through as they have another exciting project in the pipeline – but the invitation still stands – as it does to all our relatives and friends to visit anytime.
From Keswick we made our way up to Ardrossan for a brilliant weekend with Malc and Nikki ["Destination Anywhere"] and Steve and Gill ["Coriander"]. Once again these good friends gave us a fabulous time visiting one of our favourite Arran haunts – Loch Ranza.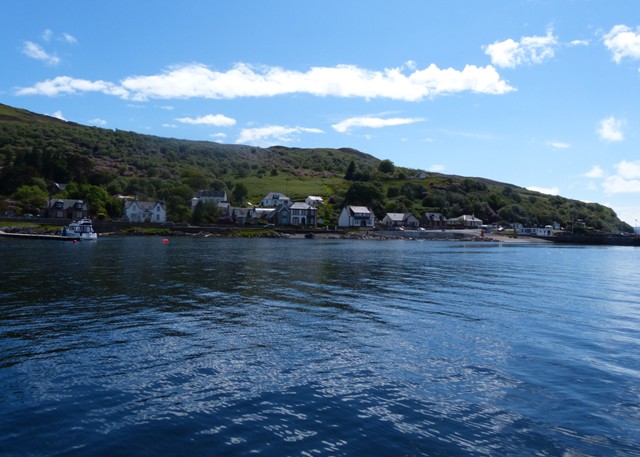 They were also generous in welcoming John B [you may remember he was one of our crew through the canal] who got another go at steering "a big boat". Well, he steered two big boats actually and received a bit of free tuition from Malc and Steve and, although full of a cold, seemed to enjoy himself immensely.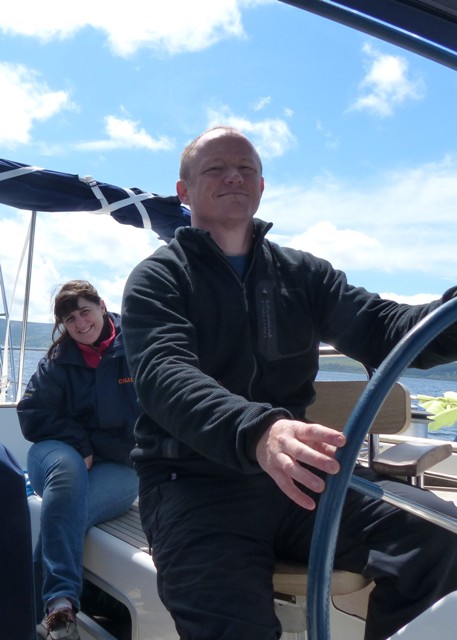 We walked down to Loch Ranza castle from where we saw the iconic "Waverley" out on a pleasure cruise….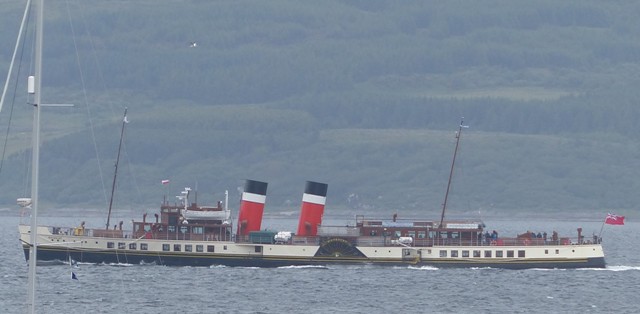 ….and also watched a small herd of deer.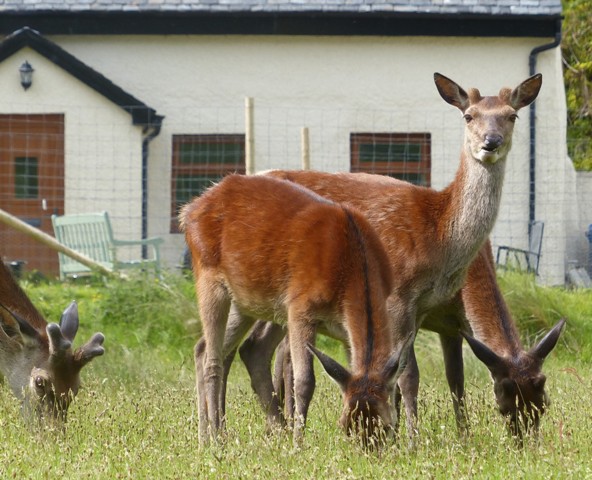 The weather was once again kind – if a bit on the chilly side – and it was a great sailing weekend.
To top it off, on the way back south we were able to meet with Andrea and Fiona who were taking some mother and daughter time following Fiona's GSCE's. Unfortunately we weren't able to spend as much time as we would have liked as there were duties to be undertaken with Estate Agents on behalf of mum. Still, we knew we would be seeing them later in the week so it wasn't too bad.
Our final trip was south once again – this time to Suffolk and London. Our first stop was Bury St. Edmunds where Caroline now lives with John.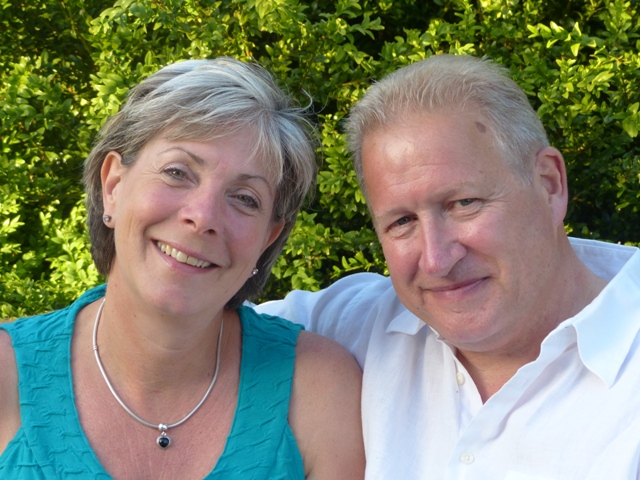 We hadn't met John before but after the excellent night we had with them – and having sampled his cooking – we are hoping they may come to visit us soon!
We then had two nights at Andrea's – and a very fun packed two nights it was. It was Fiona's "prom" on the first night and we got caught up in hairdresser appointments, nail appointments, a dress to be picked up, what jewellery to wear and so forth and then nearly had a disaster when during a dog walk  before Andrea had to take Fiona to her friends to "dress" the car keys were lost somewhere along the route – to be found just in the nick of time by Mike otherwise there might have been tears before bedtime!
It was Mike's dads 91st Birthday on the Saturday and, although he unfortunately no longer knows who we are, it was an occasion that couldn't be missed. It was nice that three generations of "Hampsons" could share a little time together.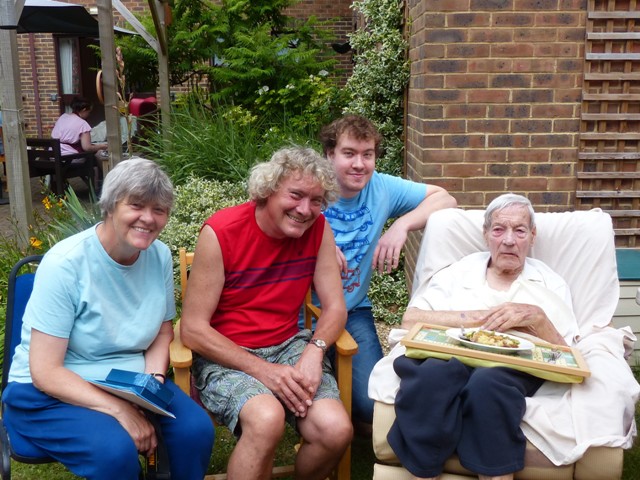 Andrea lives very close to our friend Stephs mum, Patricia, and it was fantastic that Stu and Steph [Matador] were visiting the UK at the same time as us so, later that afternoon, we were all able to get together for a grand BBQ.
Andrea, we did manage to capture [but sorry David we didn't seem to get one of you]….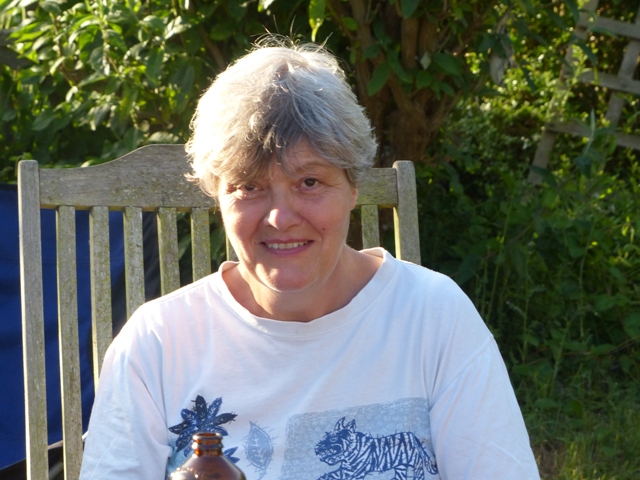 …..and the star of the "prom" – though not quite as dressed up as the previous evening.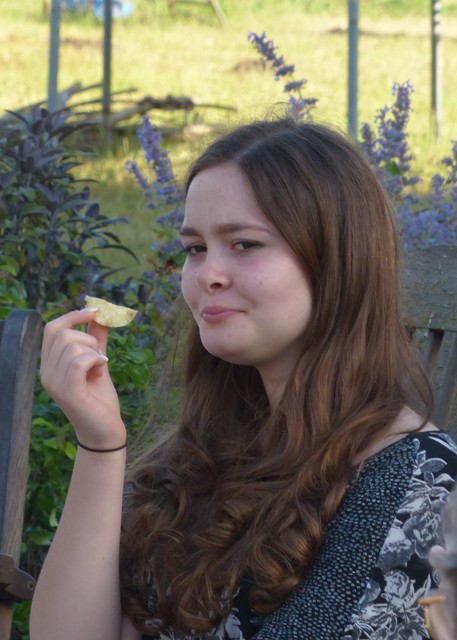 It was then down to London for a splendid few days with James who has really made the city his home. He lives near London Bridge – a fabulous spot for getting around.
We walked past St. Catherine's dock and past the Tower which appears to have gained a new turret called the "Shard"!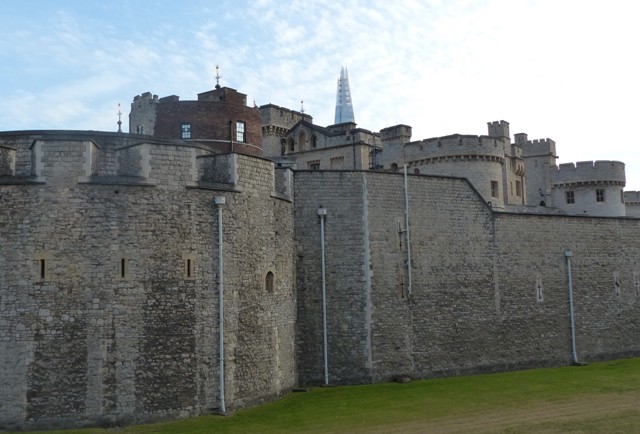 We visited the Natural History Museum, mainly for the Photographer of the Year Exhibition, but you can't not look at the dinosaur!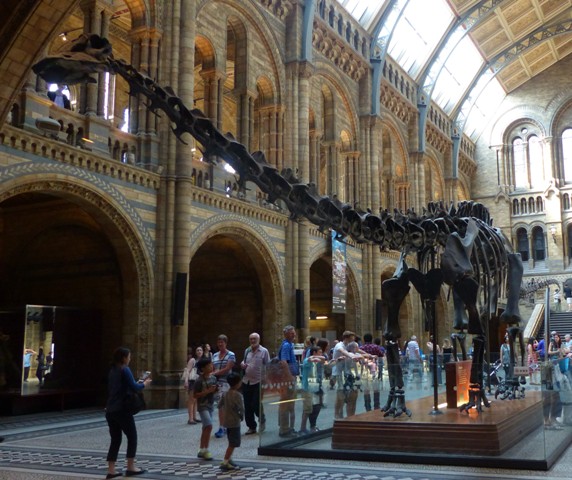 We had a lovely time walking along the Embankment….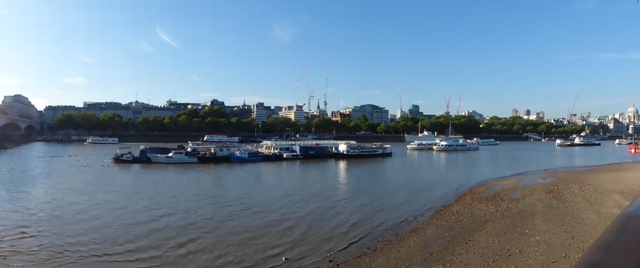 ….taking in views of the skyline.

We ventured into Rotherhithe to visit the "Mayflower" – the oldest pub on the Thames.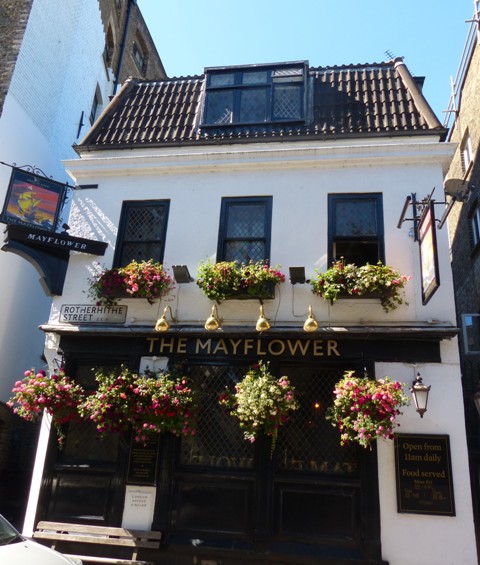 This was just one of about ten excellent pubs James took us to but of particular interest as I can now share this plaque with our US friends….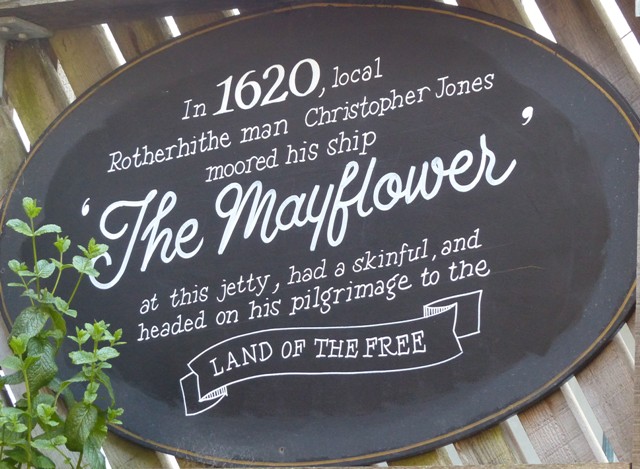 A highlight of our London visit was going to "The Globe" theatre….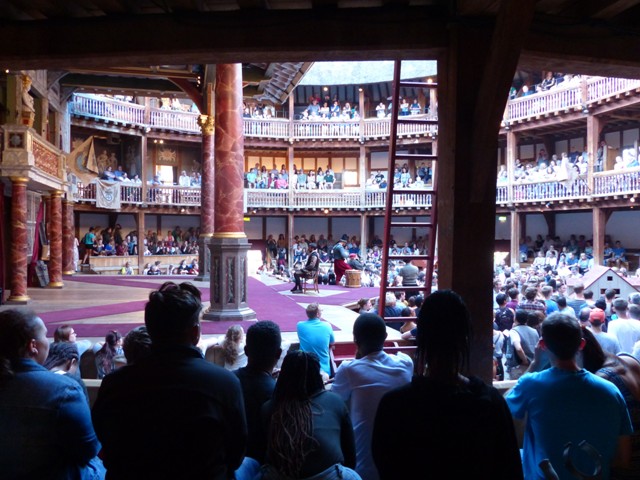 ….where we saw "Much Ado about Nothing".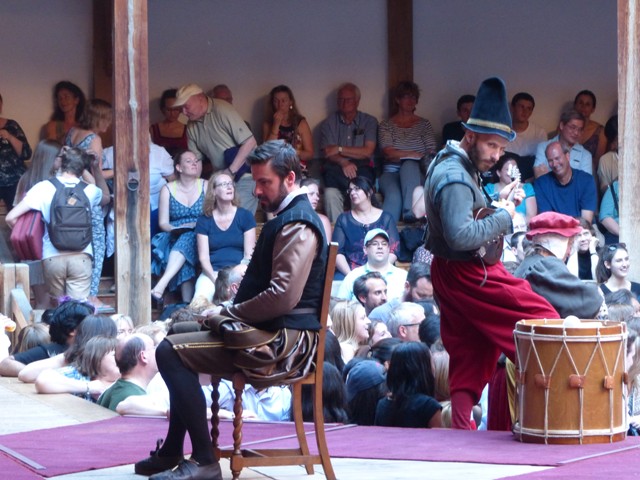 An excellent experience and well done to James for organising it. We also met up once again with Phil and Emma and also JT [but unfortunately not Yvonne who was visiting her family].
It was then back north for our final weekend and another marvellous evening courtesy of Maggie and BBQ chef extraordinaire, Dave.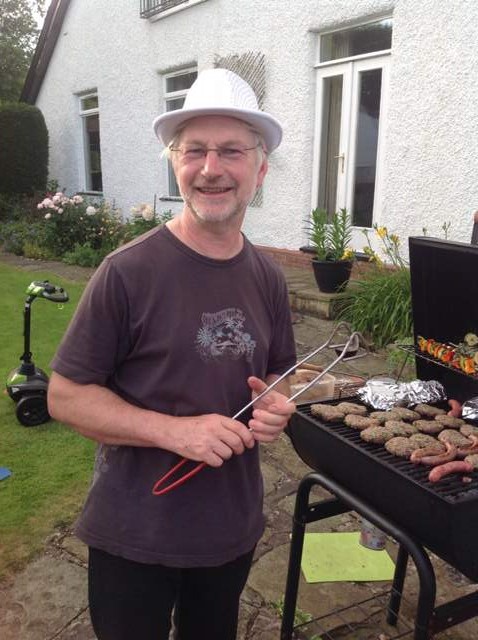 It was really nice that so many friends were able to get together again including AJ – [sorry it's only the blurred back of your head!]……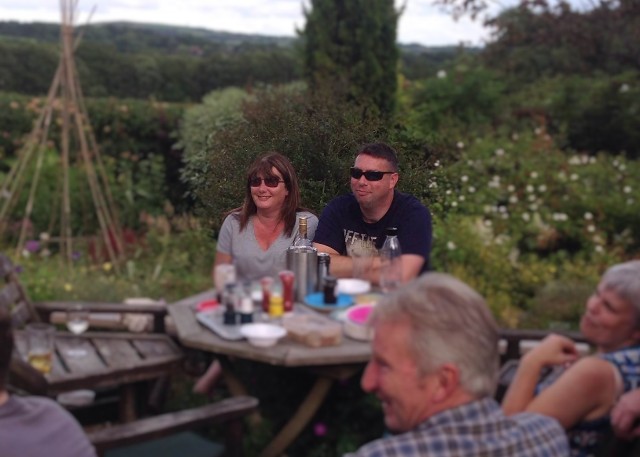 ….and Martin and Ruth – with whom we also had a lovely meal out the following Monday. The novelty entertainment at this BBQ was Cath's scooter. Having shown us how to really do it we were given rein to ride the scooter round an obstacle course on the lawn. Steady how you go there Martin….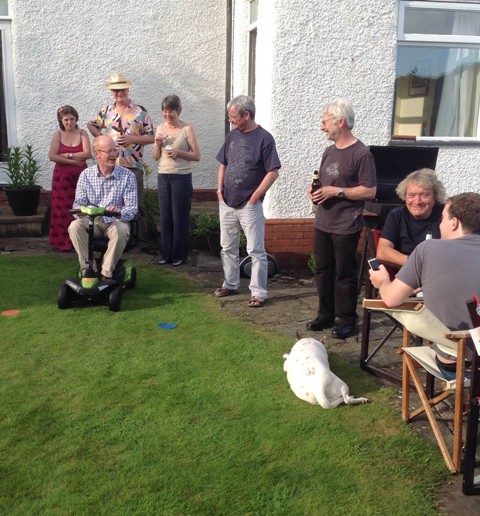 Great fun was had by all once again. Its a shame that Cath didn't have her scooter from the start of our visit because we know she is now zooming along everywhere and instead of joining us at the end of walks we could all go together. Never mind, there will be a next time.
We had just three more evenings with Chris and John and then it was time to leave.
So, I will also leave you with a reminder of what walks in the British countryside can also look like in summer!