We arrived in the colonial city of Arequipa at around 9.30am on Friday 17th April following an overnight bus journey from Ica. Outside the main bus station we found a collectivo taxi which, although we didn't know it at the time, stopped just around the corner from our excellent accommodation – Hostal Bubamara……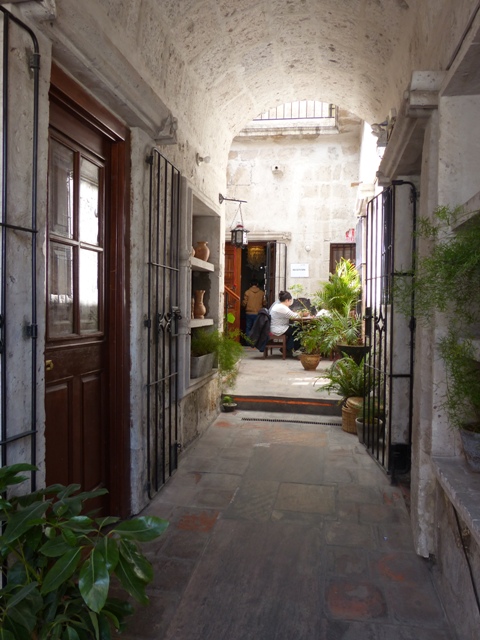 ….. the roof top patio [just outside our room] giving us our first view of "El Misti" volcano.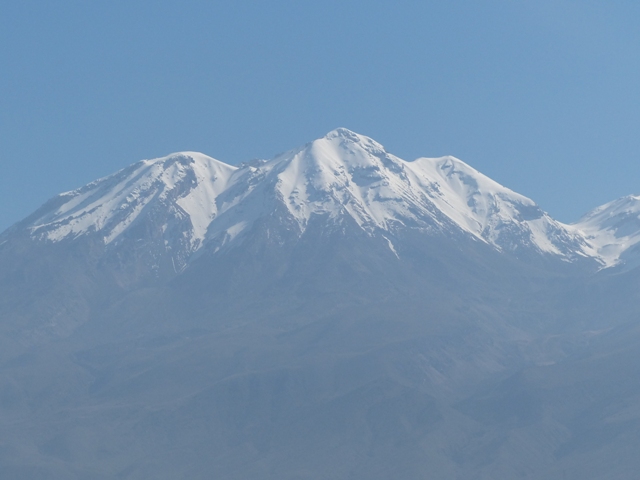 Surprisingly, we weren't too tired and set off to find out what the city had to offer. We had only walked about 200 yards when we came across a demonstration.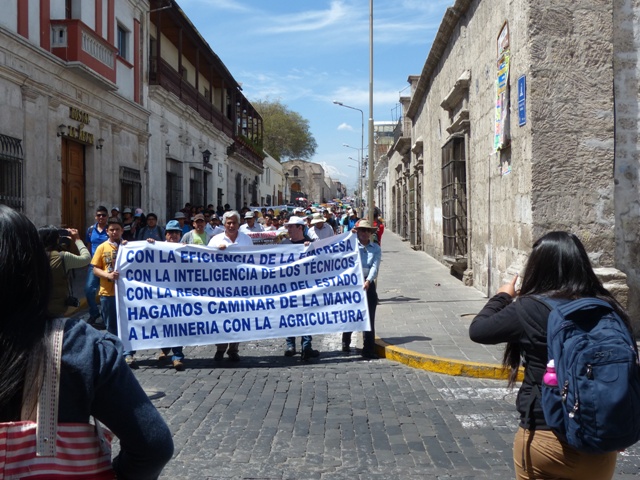 You might remember that I told you that the main economy in Peru is based around mining. There are increasing numbers of environmentalists, understandably in my view, concerned about the impact of this. What these – I assume "School of Mining" – students and lecturers were basically saying [as I understand it] was that if efficient business, intelligent technology and a responsible state worked together they could lead the way [or maybe were leading the way – my Spanish is nowhere near that good] with [joining] mining and agriculture – i.e.  "rape" of the land didn't have to be result of mining. Having read that Peru's mining areas are the poorest and most polluted in the continent, there is clearly still a long way to go.
Anyway, on with the sightseeing and the obligatory cathedral…..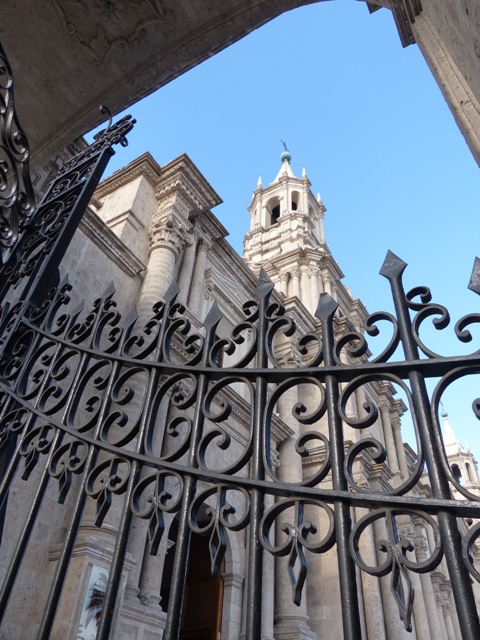 …..which, having been rebuilt [or partially rebuilt] several times following  a fire in 1844 and earthquakes in 1868 and 2001 now has a remarkably simple and airy interior.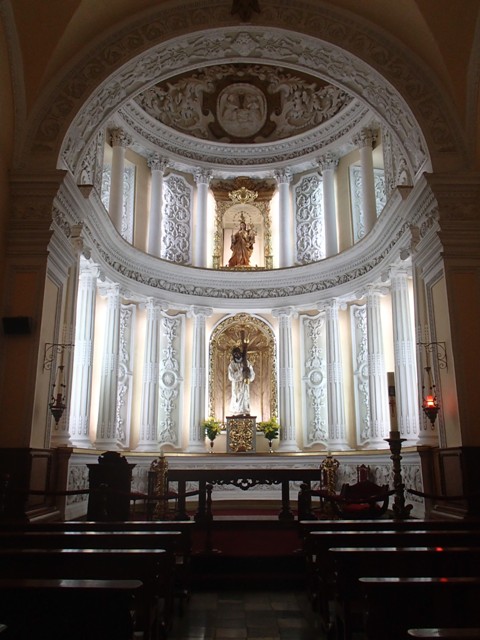 This quite impressive organ, supposedly the largest in South America, was imported from Belgium in 1870.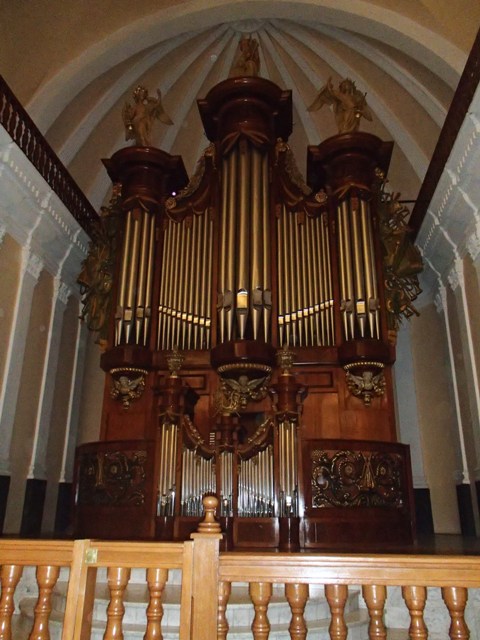 Rumour has it that damage caused during shipping distorted the notes and it remained out of tune for more than a century.
As one might expect, one of the paintings in the cathedral was of the Last Supper.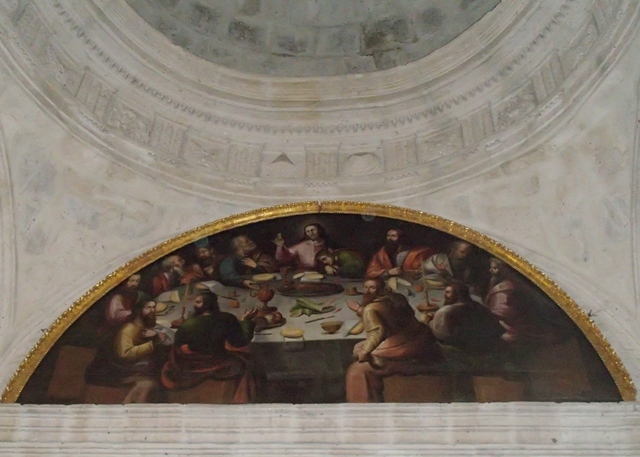 Unfortunately it is not immediately obvious but the main dish is "Cuy" [Guinea Pig]. We have been interested throughout Latin America to see how often local foods, clothing and animals are depicted in religious paintings. It will no doubt be a theme which continues as we travel around – which is hardly surprising and will be similarly obvious in Europe now I think to look for it.
La Catedral is similarly quite plain outside except for the carvings over the main doors….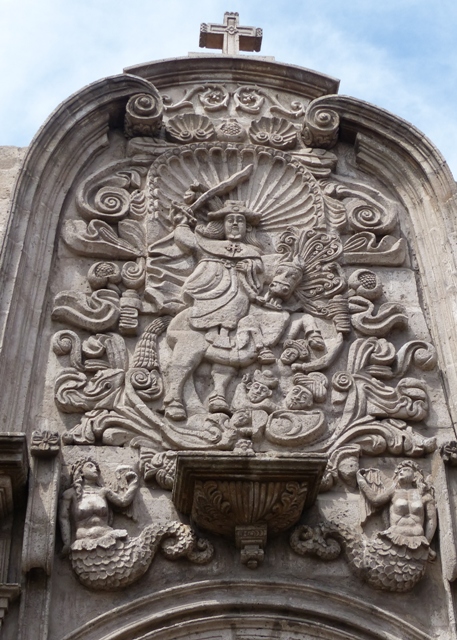 However, much more ornate is the small Jesuit church [La Inglesia de la Compañia]…….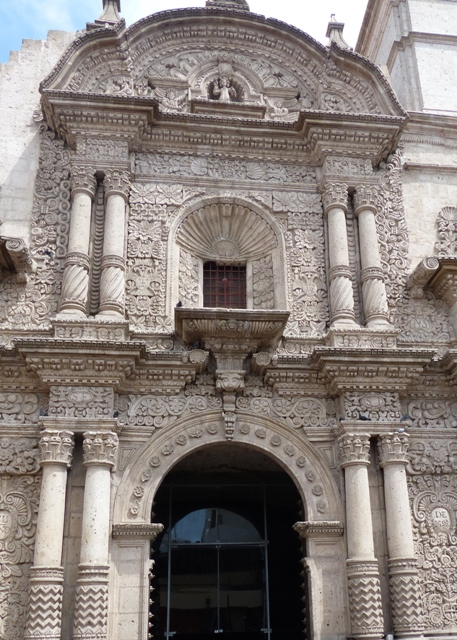 ….very intricately carved in the "churrigueresque" style which was popular in Spain in the late 1600's.
We also visited "Casa Ricketts" with its dual courtyard…..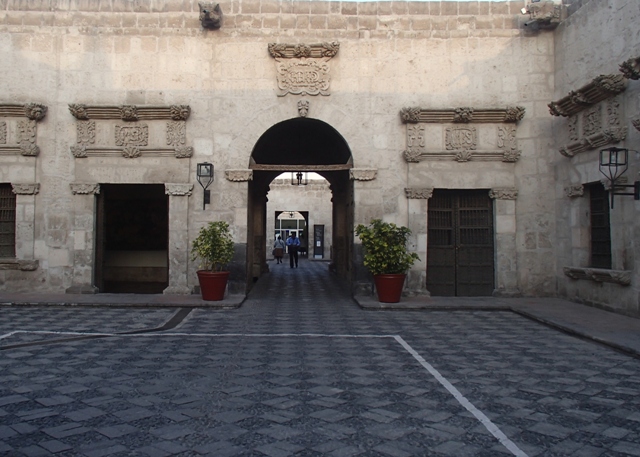 ….and ornate doors….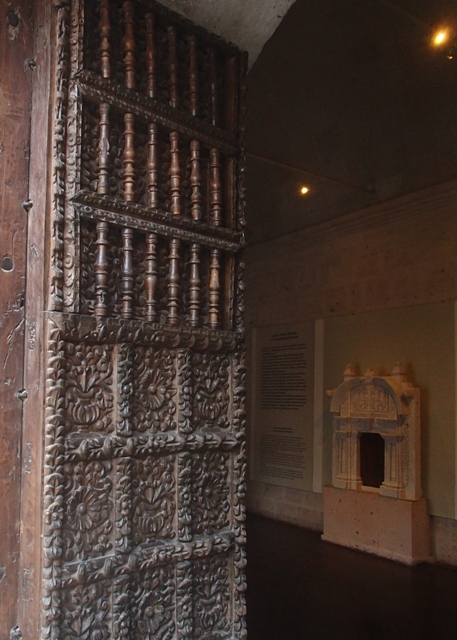 …..  leading to rooms which variously served as seminary, archbishops palace, school and aristocratic home before becoming what it is today…. a working Bank.
Day two in the city and we decided to take a walk to the Yanahuara neighbourhood from where we got another view of El Misti……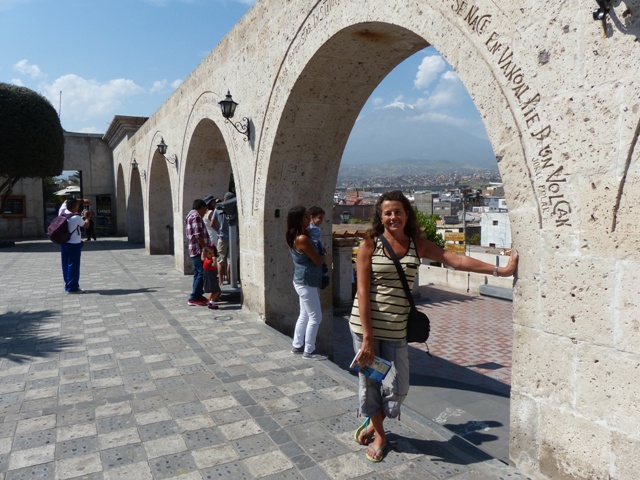 ……and where we found a typical local arequipeño eatery. We paid around £5.50 for two lunches [soup, then fish, chips (fries) veg and salad with a glass of juice each], and shared a large beer. We were a bit of a novelty – don't think many tourists had made it through their door.
It was then time for another spot of culture and, although again religion based, I would say that a visit to Arequipa would not be complete if you did not see the "Monasterio de Santa Catalina". The convent, founded in 1580, occupies a 20,000 sq metre block.  Like most of the buildings in Arequipa – it is constructed from "Sillar"…..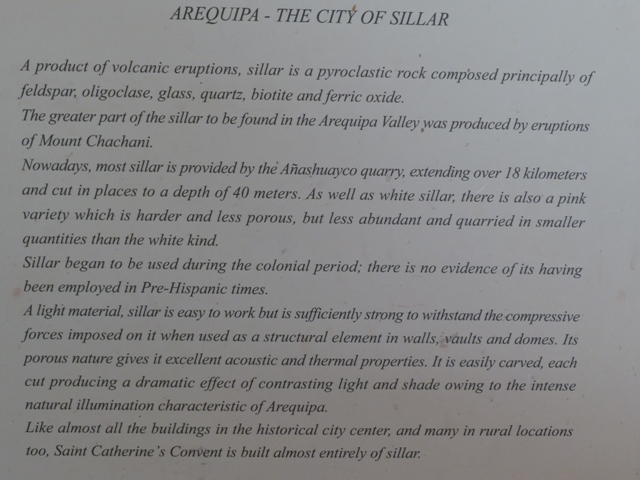 Surrounded by high walls, it is a small "town" in itself with streets….
… and individual dwellings [which reminded me of Greece].
The entrance leaves you in no doubt what it's all about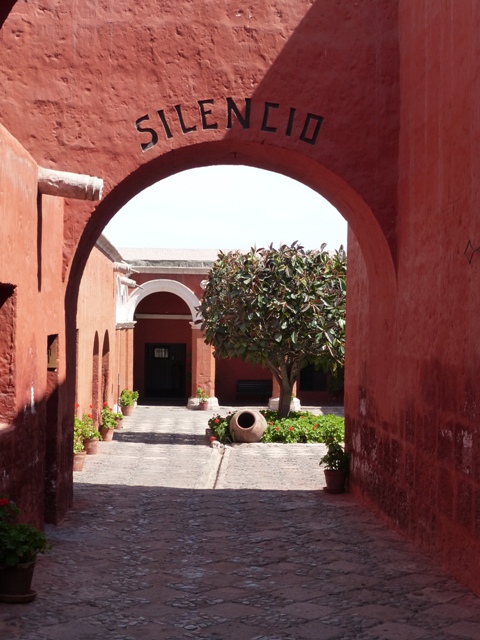 – the "Silencio" arch being where novice nuns passed through to "zip their lips" in a vow of silence. They remained in the Novice Cloister….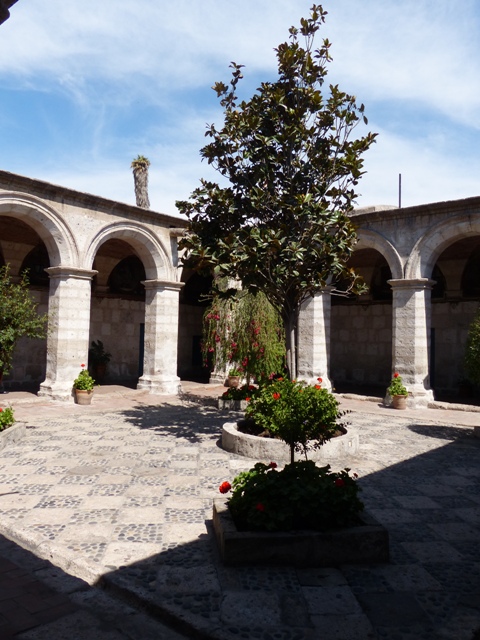 ……for four years during which time their families were expected to pay a dowry of 100 gold coins per year. In 1580 this was hardly a place for the poor!
After those four years they could choose to leave the convent [at great shame to their family] or graduate to the Orange Cloister [named for the trees not the paintwork!].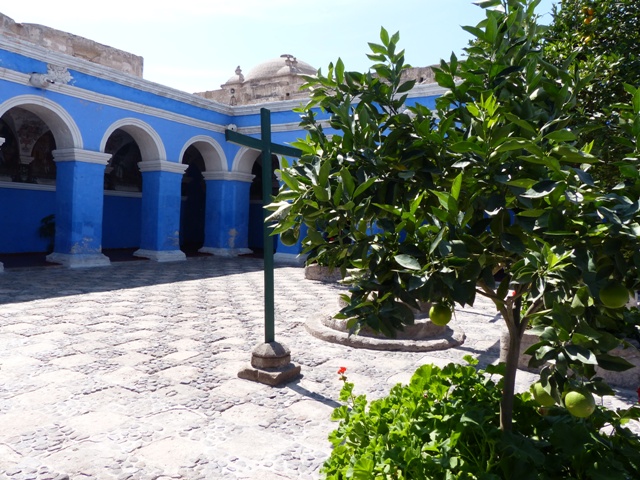 It was at this time that the nuns moved into "cells" [dwellings]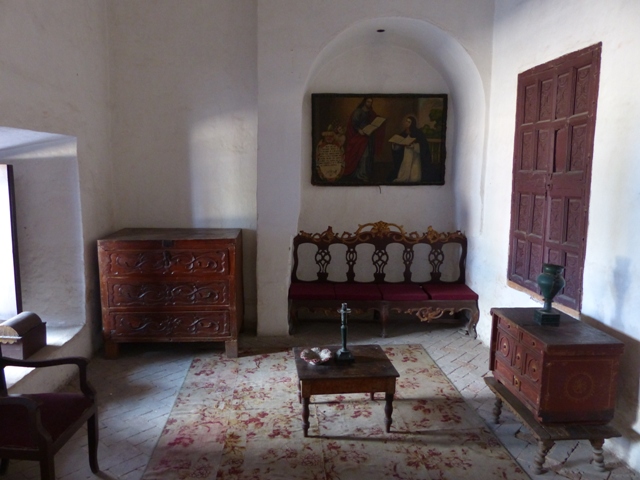 – which housed one or more nuns,  some with servants. They were not all as "luxurious" as the one above which also had, as did some others, its own kitchen.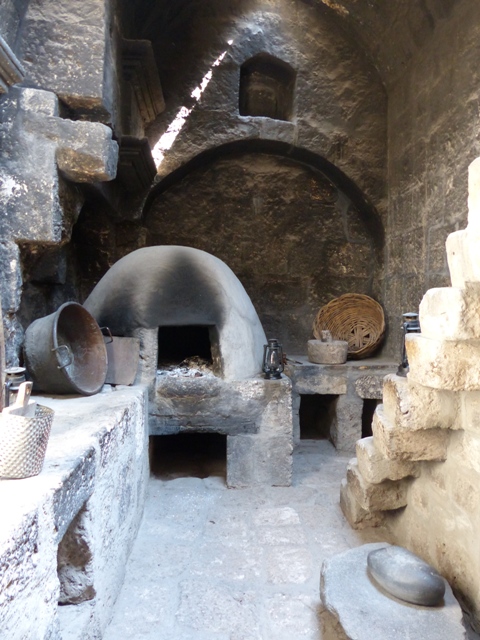 A communal kitchen provided for the majority and a communal washing area used mountain run-off water….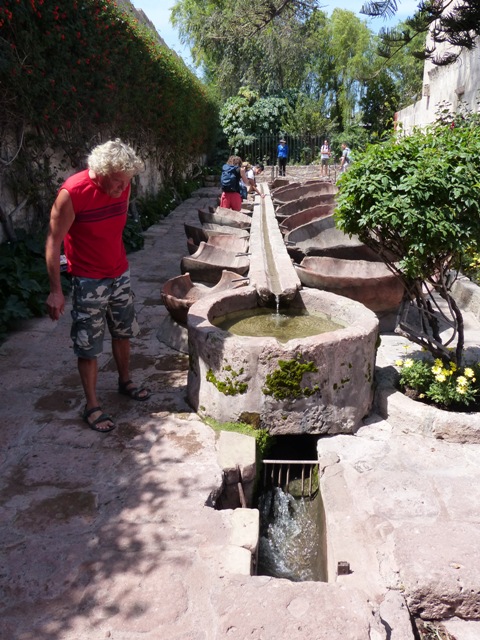 …. channelled into huge earthenware troughs. [Guess who spotted that!]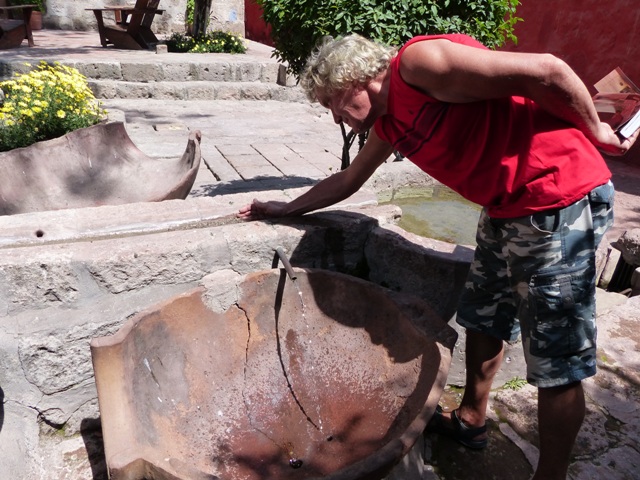 Some of the cells had whole walls or just alcoves decorated by wall paintings which almost looked like wallpaper…..
The nuns made and bartered handicrafts such as soap and baked goods but their main "occupation" was making Communion Wafers using this silver press.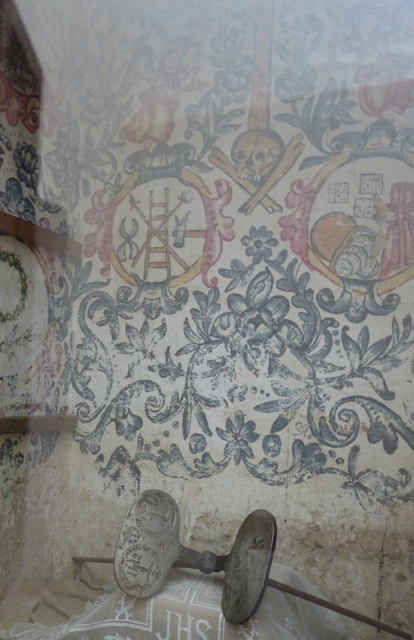 The "Profundis" room was the mortuary where dead nuns were mourned. Around the walls are paintings of some of the more famous [wealthy] deceased.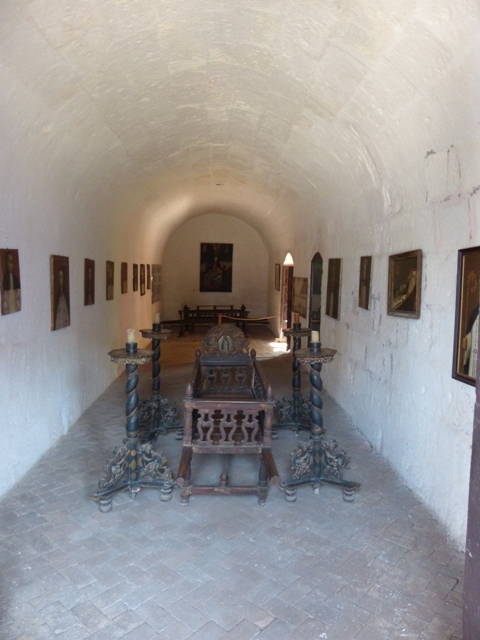 Artists were given 24 hours to complete the posthumous paintings since painting the nuns was entirely out of the question whilst they were alive.
There is also a small cafe in the convent – run by the current nuns – which serves large portions of sticky cake and acceptable coffee. Apparently, a restaurant open in the evenings can be accessed from outside the walls – but we didn't visit that, neither were we there on one of the two nights per week when the convent can be visited after dusk so you can traipse through the streets etc by candlelight to get more of a feel for how it was centuries ago.
Coming out of the convent we ran across what we initially thought might be another demonstration. However, led by an enthusiastic band….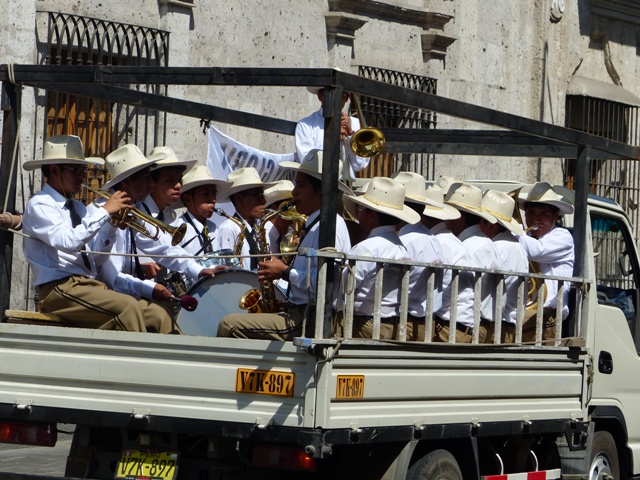 ….were several groups of men dressed in football kit….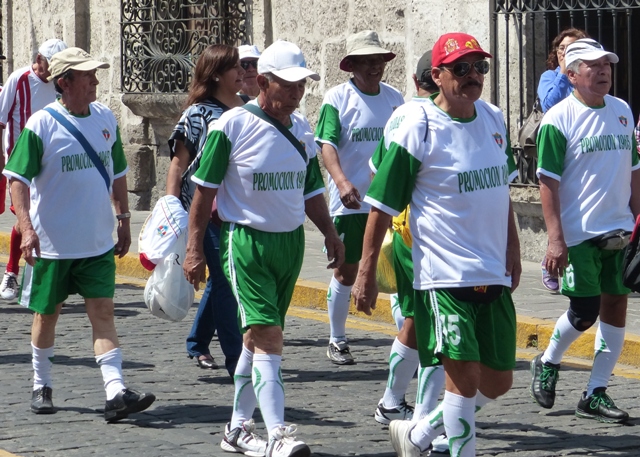 ….. from the mid 60's above to the 70's.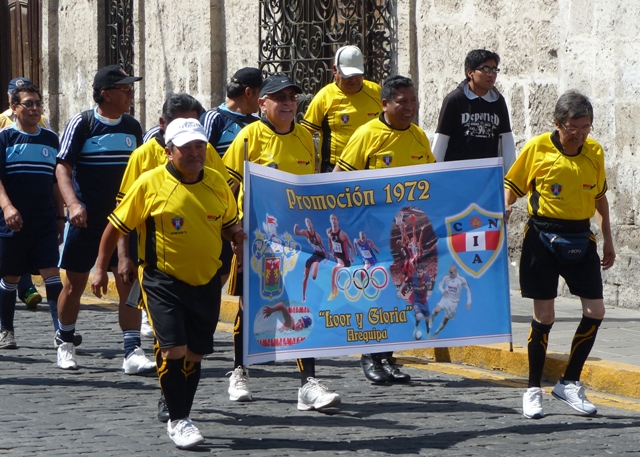 Not sure what it was all about but they were enjoying themselves.
We found night life in Arequipa to be more European style with a few bars, good small restaurants and tables in cobbled courtyards and, as any of my blog posts seems incomplete if it doesn't have some mention of alcohol [thanks Mark for that observation!] then here is this posts contribution – Mike quite likes trying the local brew [even if its just a local name and not a home brew style]….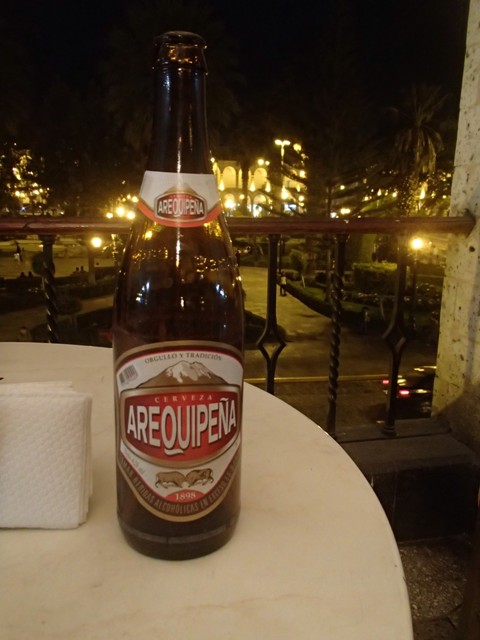 There was a really nice feel to the city and we thoroughly enjoyed the days and nights we spent there spanning our two day trip to the incredible Colca Canyon….

……with the Colca Trek Company [who we would thoroughly recommend].
We were collected from our accommodation at 8am and found ourselves part of a very small group of people [five] for this trip. We had booked the trip online and paid in advance as had one of the other travellers. All online bookings are apparently honoured so it could have been that we ended up with a private trip but it was nice to get some company – especially as they were three pleasant young people, two of whom were very glad we had made the booking because it meant their "walk in" inquiry resulted in them getting the trip when they wanted it.
Having driven out of the city we headed up into towards the mountains and plains [Pampa de Toccra]….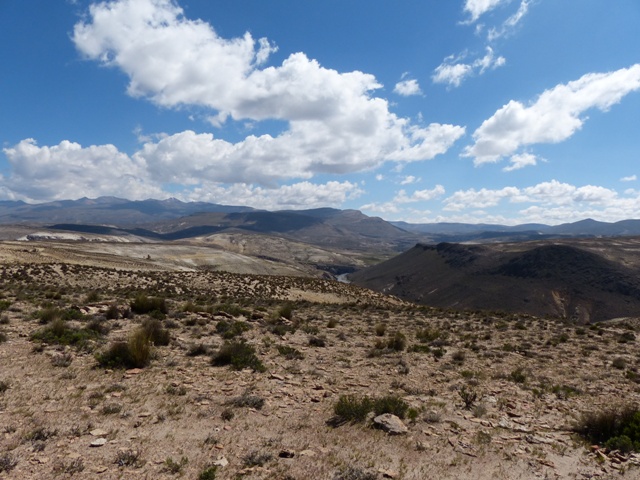 …. and into the "Reserva Nacional Salinas y Aguada Blanca" with El Misti feeling very much closer.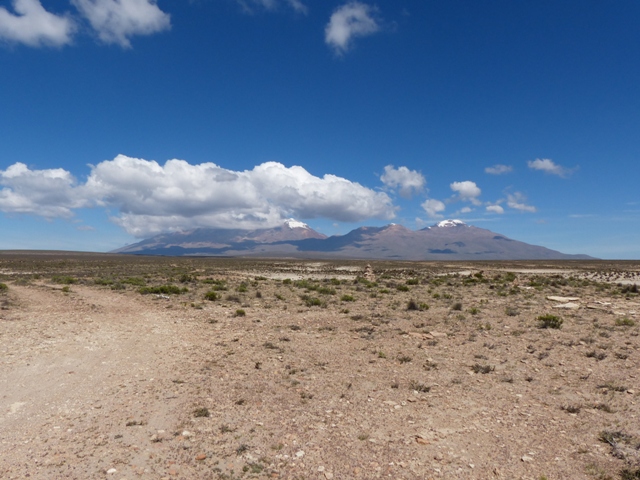 Our first "main stop" was what our guide called the "Stone Forest"…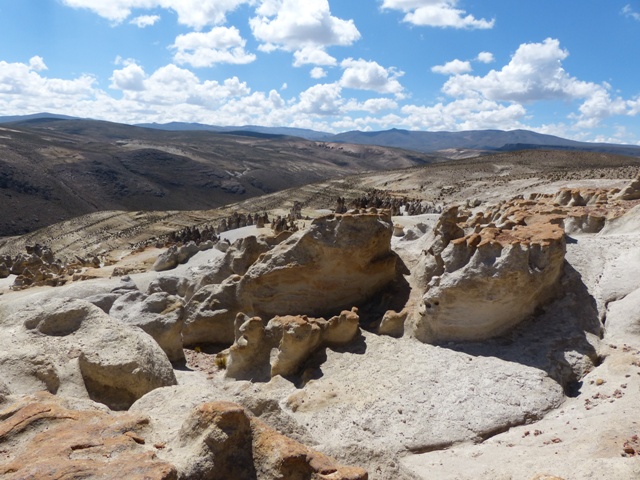 …. which we walked around for about an hour – partly to get us slowly acclimatised to increasing height. The rocks were quite stunning.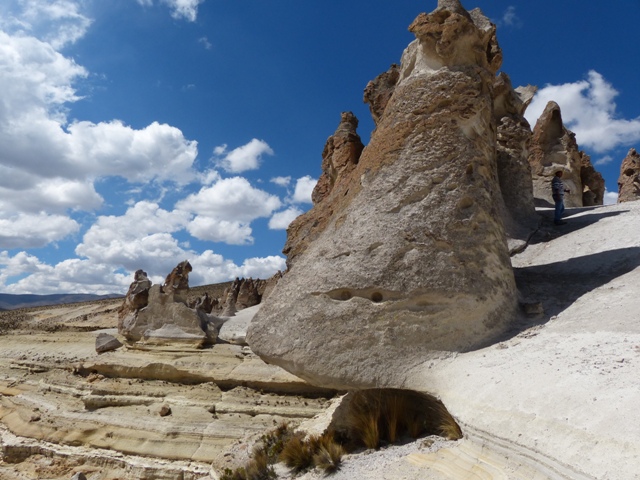 About an hour further and a change of scenery – the wetlands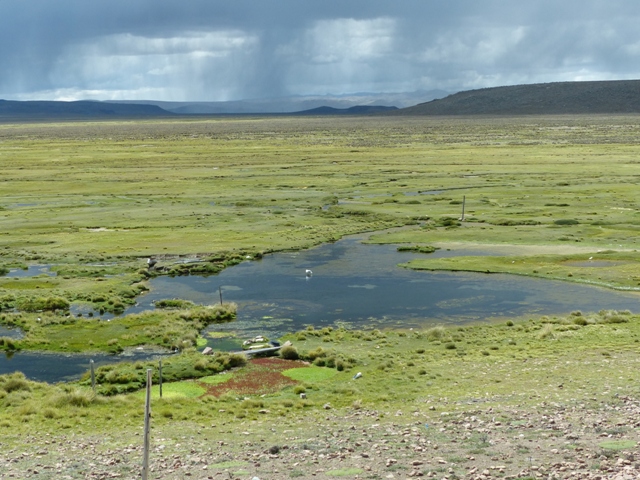 …. where we saw a variety of birds – photos of which I won't share now as I feel a "Birds special" will provide another themed post later.
We were shown a moss which is particular to this area….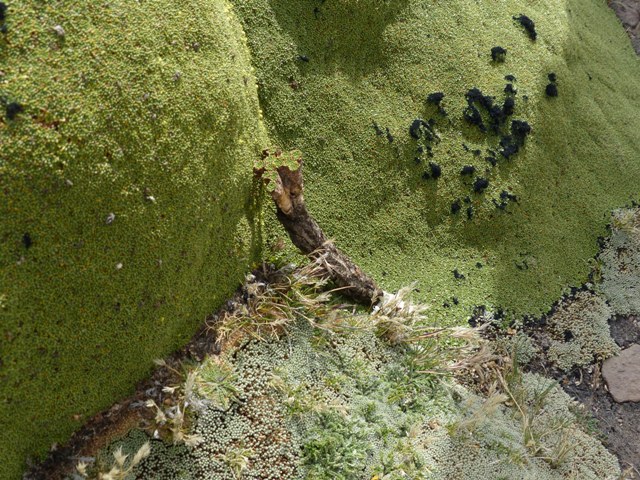 …..and saw herds of the South American camelid family.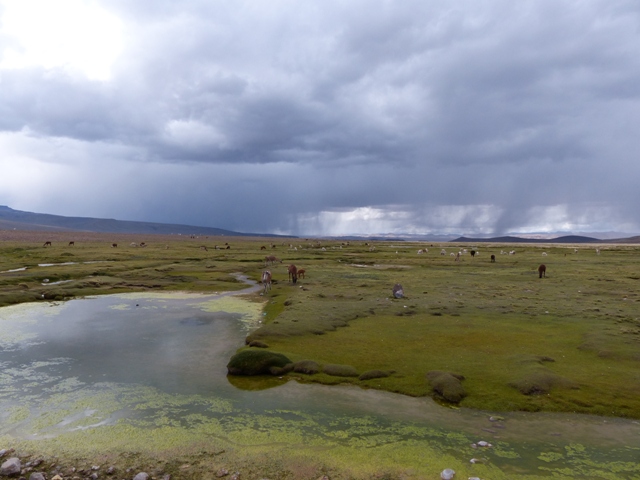 There are four members, the smallest being the [mainly wild] vicuña….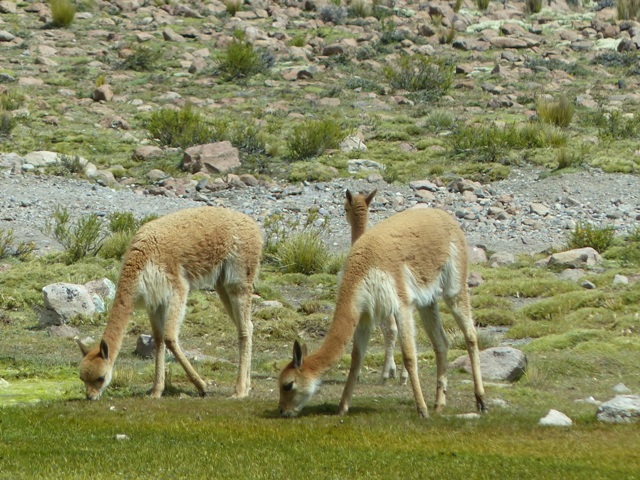 ….from which comes the very softest wool.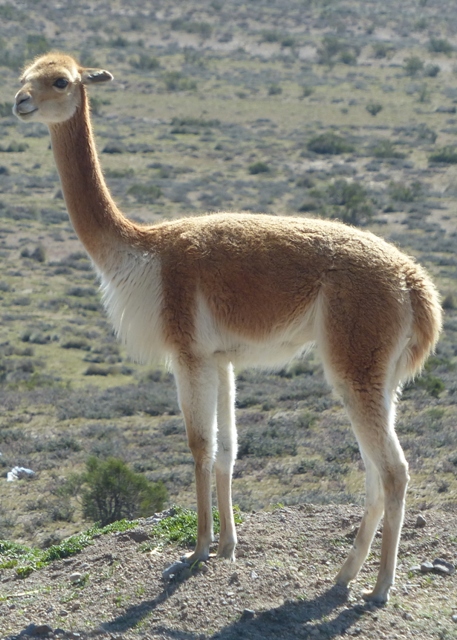 Alpacas, sturdier looking animals, are either brown….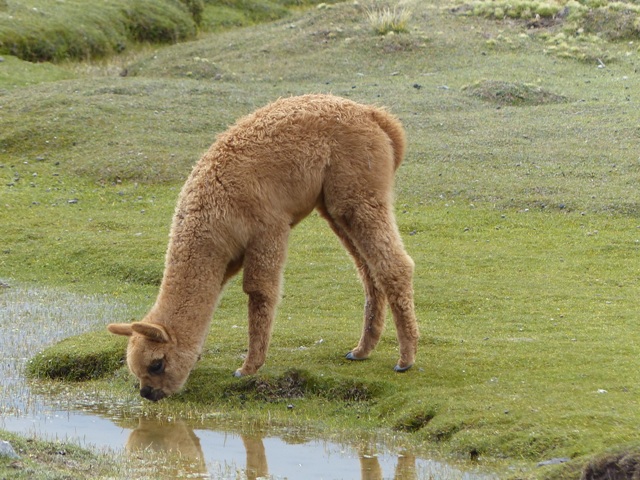 …or white, though through interbreeding there are now some salt and pepper ones which are less valuable.
Alpacas and llamas are herded [often together]….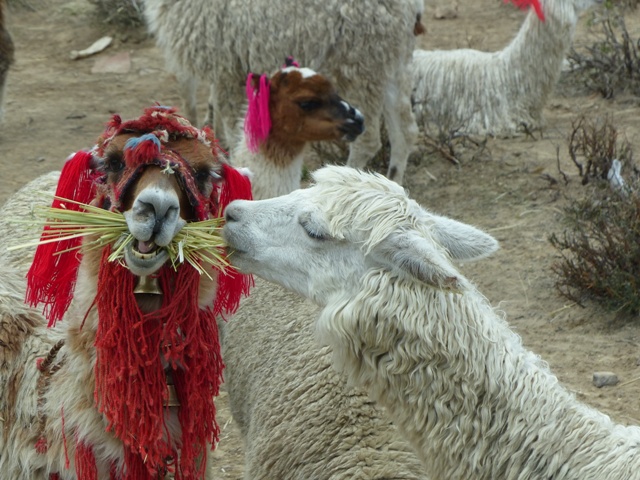 ….and the llamas are obviously the extroverts of the camelid family!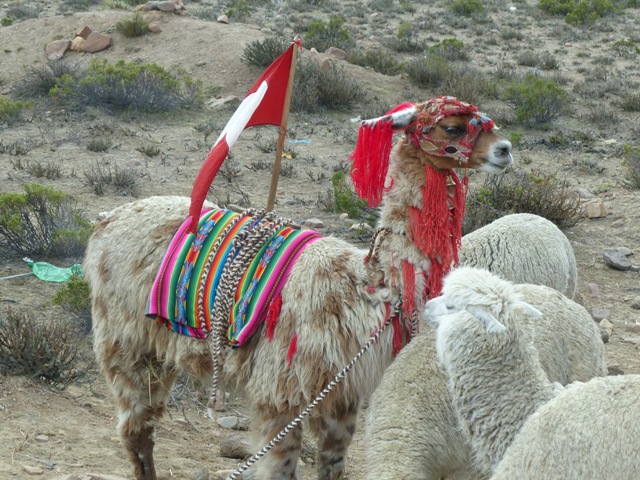 The Guanaco, the largest of the four is rarely seen [ this one was domesticated].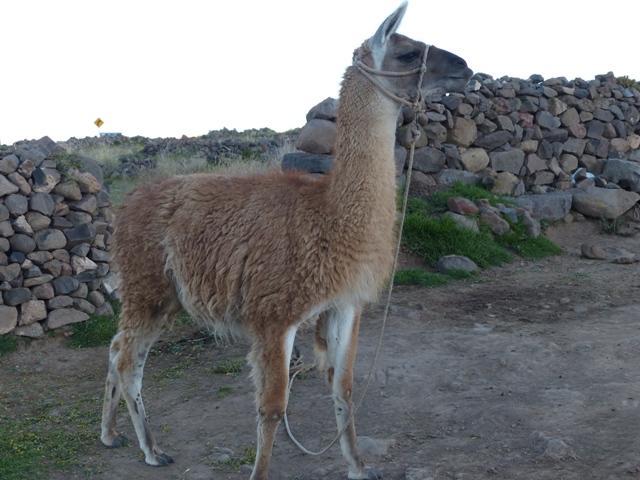 However, I really thought I had hit the jackpot with the incredibly elusive "pushmepullyou" of Dr Doolittle fame….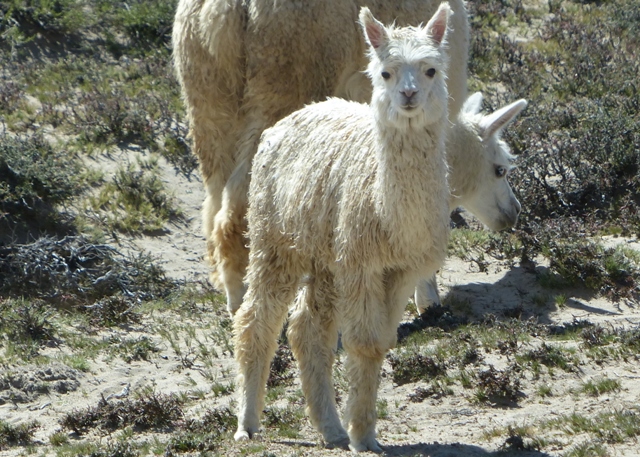 OK – its obvious really but I thought it was a fun shot!
We then got what we were told was a much unexpected sighting of our first condor…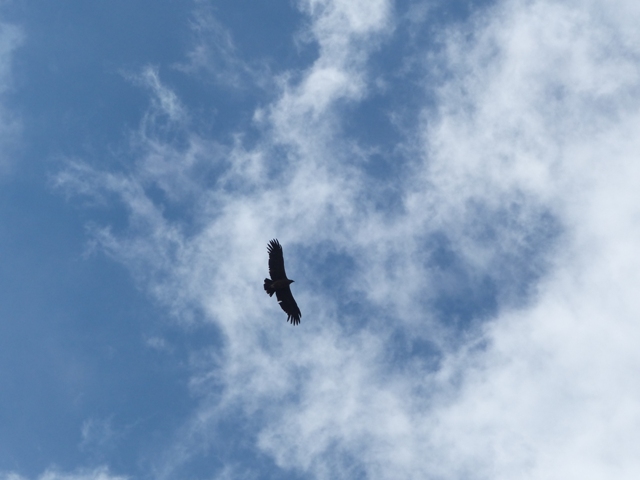 According to our guide and the driver, both of whom leapt out of the van and raced up the hillside to see it, condors aren't normally seen in this part of the country.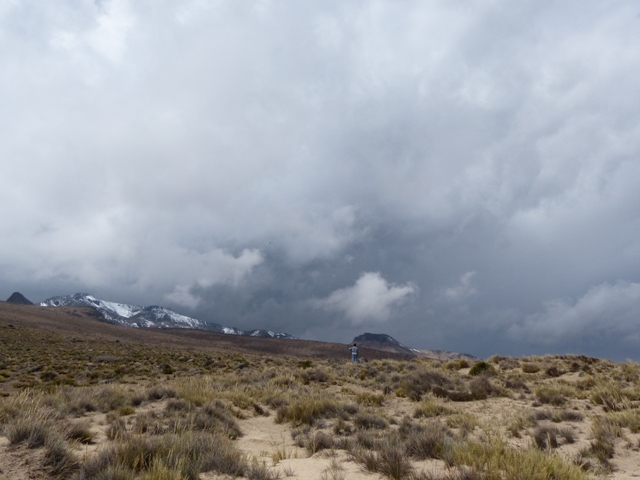 It was great that they were both so enthusiastic about the sighting – one of the real value for money sides of the Colca Trek organisation was that they wanted us to see as much of the beauty and nature of their country, even though – as you can see – the clouds were really beginning to roll in.
This rabbit like animal….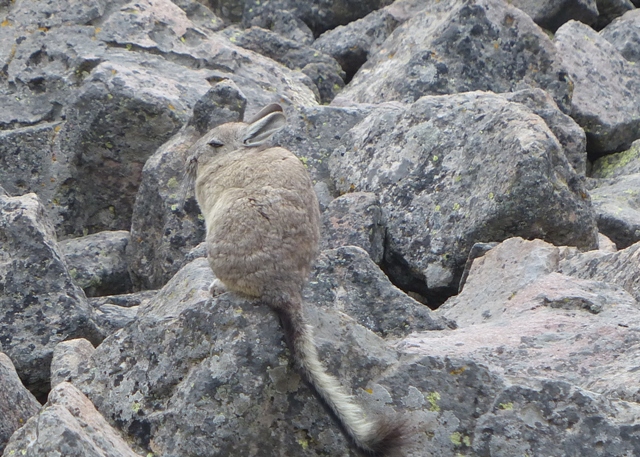 …. is actually related to the Chinchilla and called a Vischacha". We saw a small group of them just before reaching the highest point on the road – the Paso de Patopampa – at 4,910 metres.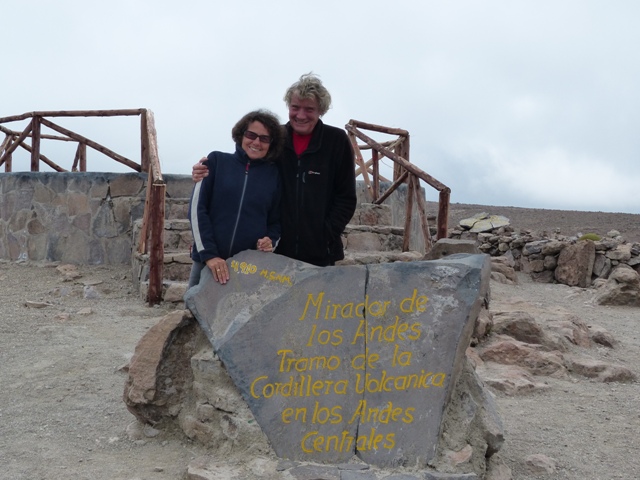 Bbbrrrrr and this was only mid April – in mid winter [July/August it gets really cold].
We finished our first day at the Colca Trek Lodge [not to be confused with the more luxurious, but I believe much more expensive, Colca Lodge]. Our accommodation was solely for people trekking with Colca Trek and was, I have to say, pretty luxurious anyway…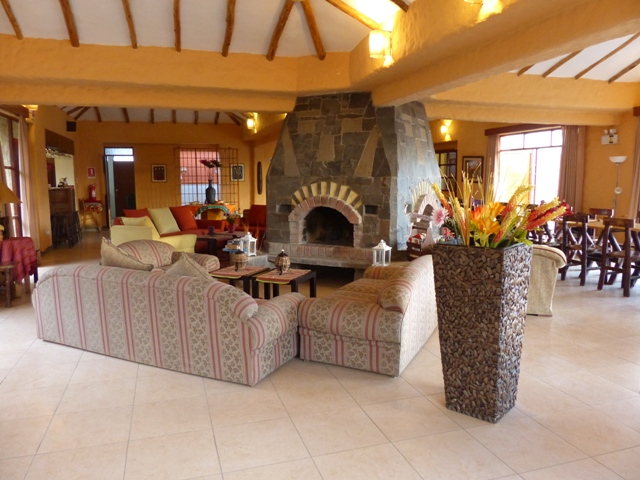 There are four separate fireplaces within the central pillar though for our small group only one of them was lit that evening – which was very welcome after our final 45 minute walk of the day to the start of the lower canyon. I went to bed that evening hoping that the rain and cloud which had descended would lift so that the Condors would fly and was so pleased to be greeted with this view from our bedroom at dawn the following morning.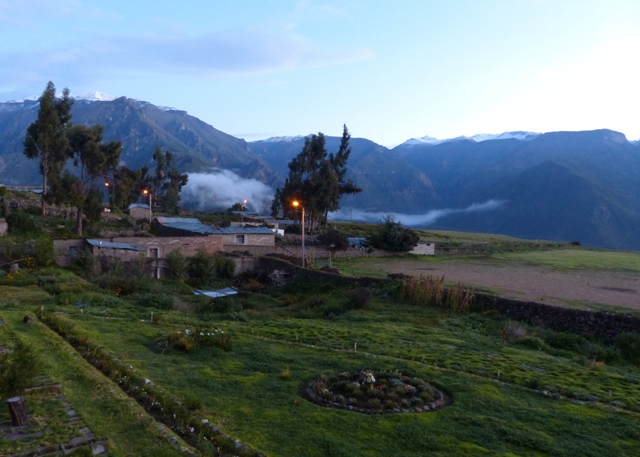 Wanting to capture as much of the atmosphere of this beautiful place as we could, we went for a pre breakfast stroll into the village….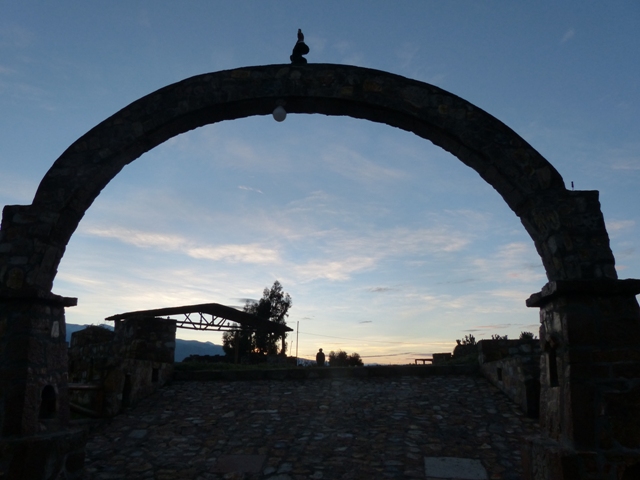 ….but weren't the only ones up at first light.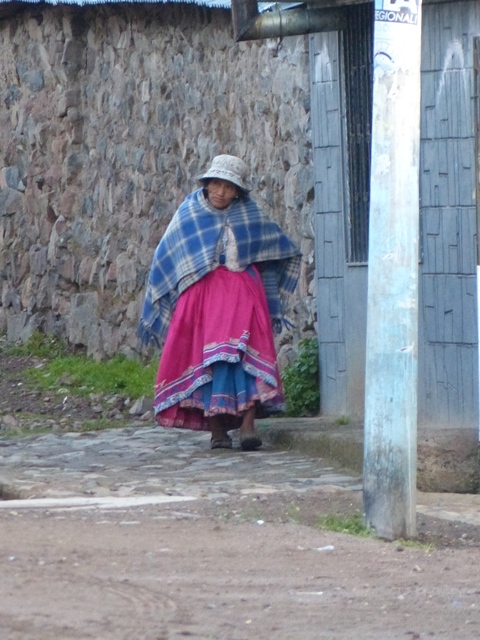 You will now have to forgive my indulgence as I share with you the following photographs of the views as we walked around. It was magical…..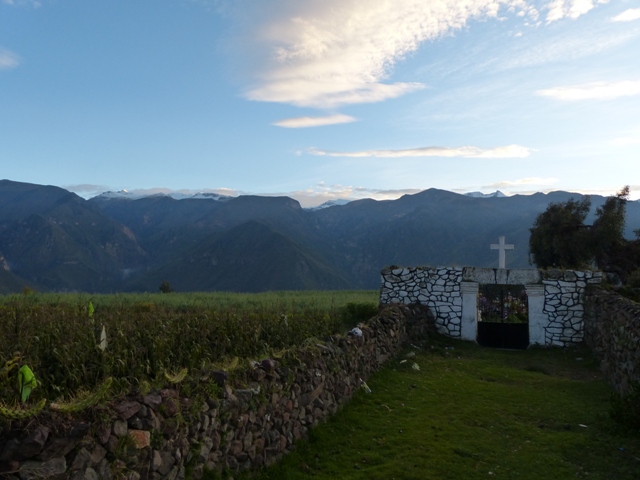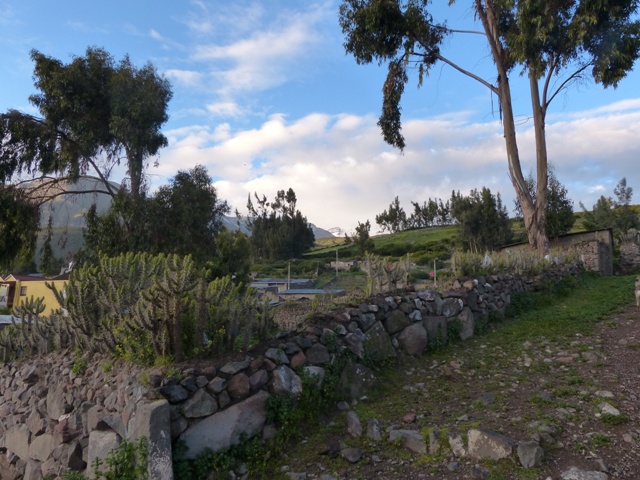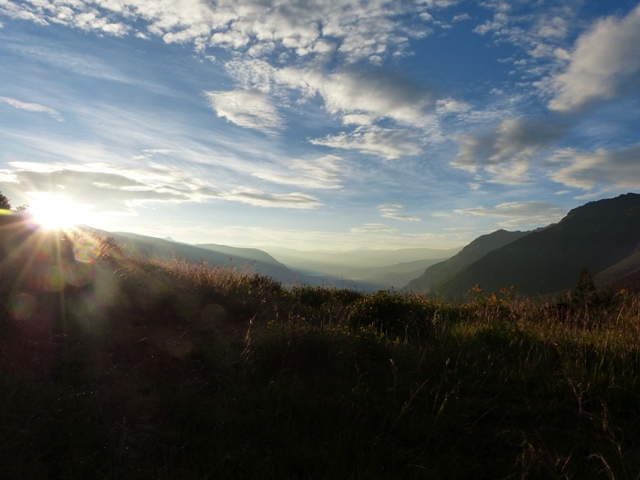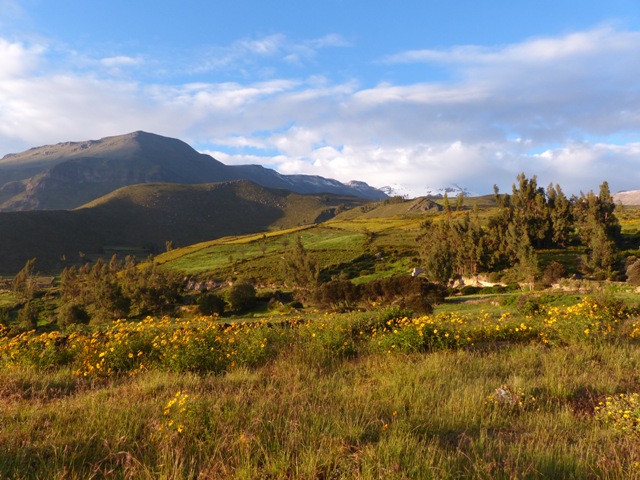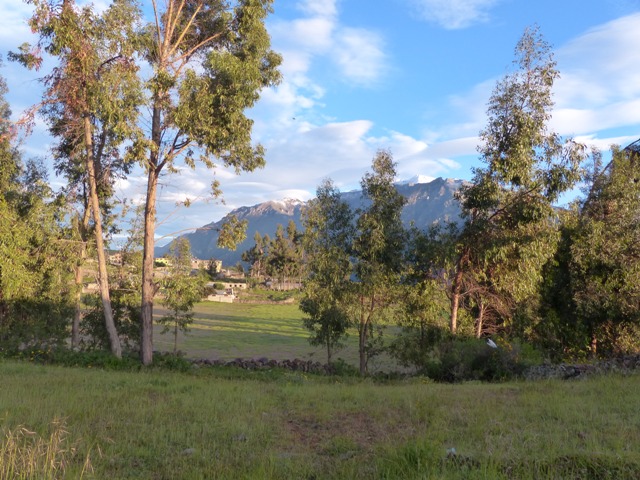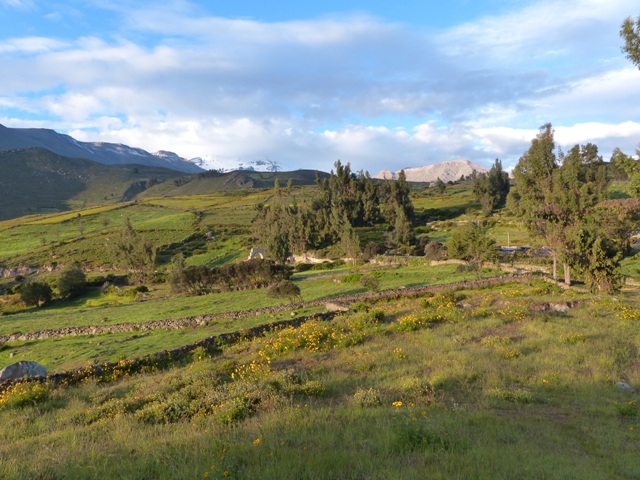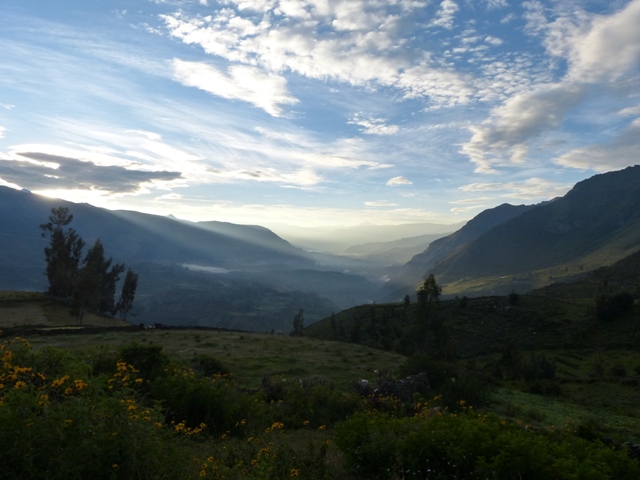 …..and all this and breakfast before 7am when we left for the "Cruz del Cóndor" – a magnificent viewpoint from where we could see back towards the Lodge…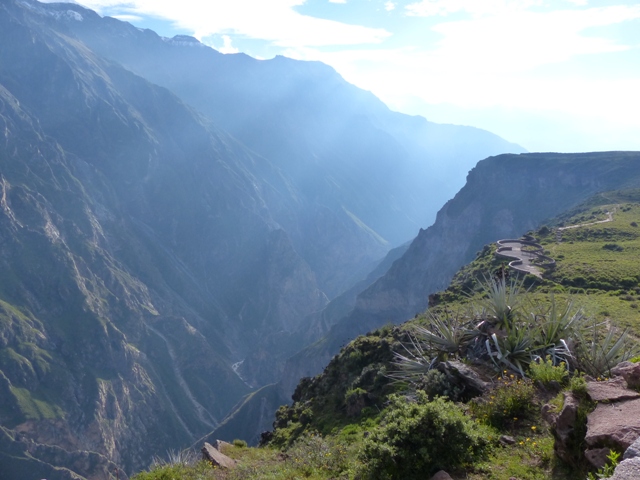 ….and on to the lower canyon….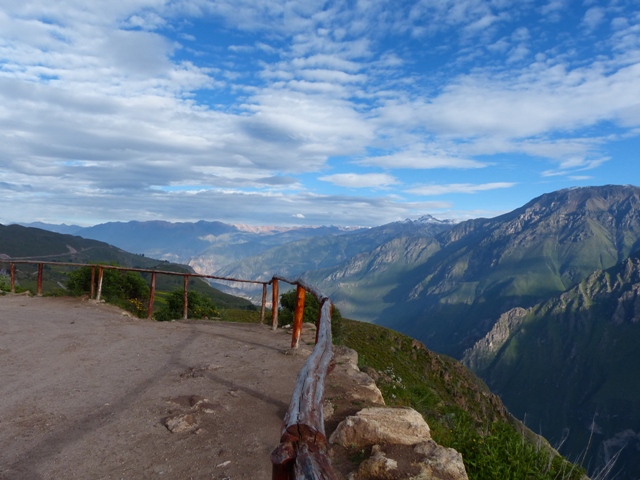 Colca Trek Lodge is so close to this point that we were there before any other tour groups and saw the birds lining up waiting for the thermals so they could take off….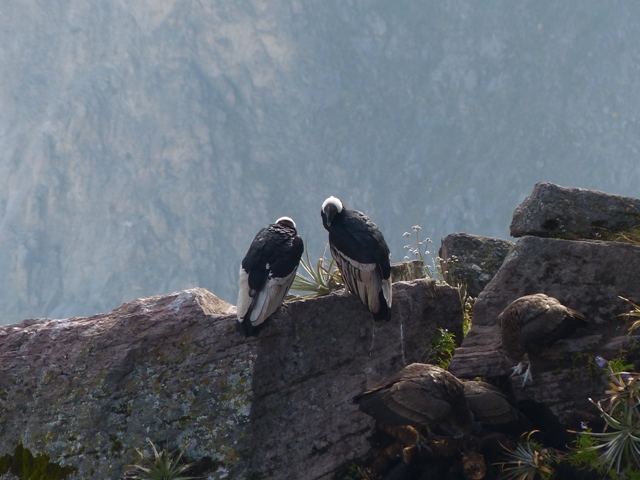 Here is a juvenile….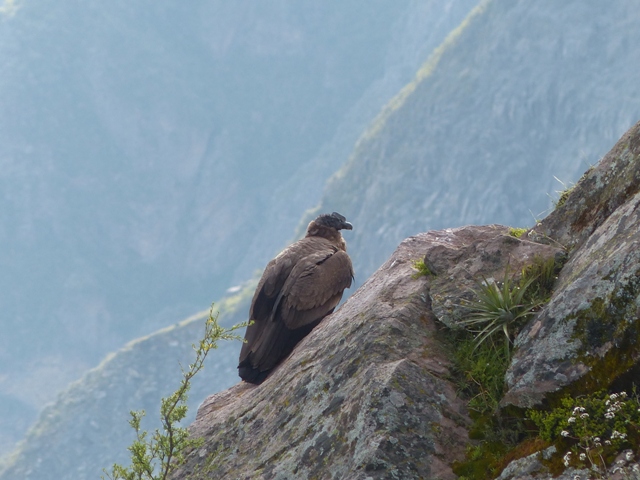 ….next spotted way down in the valley….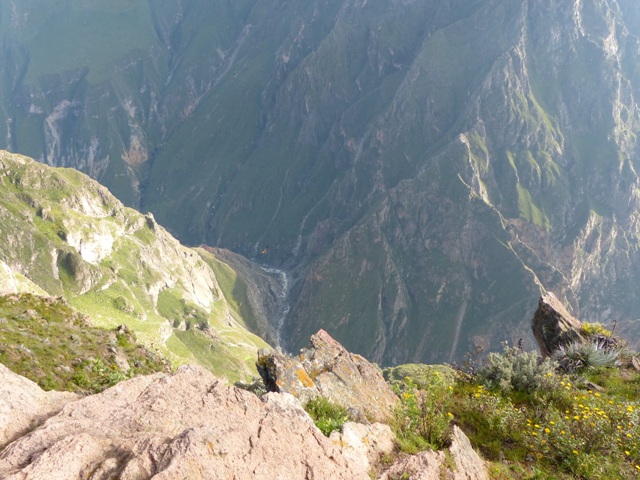 ….up he comes……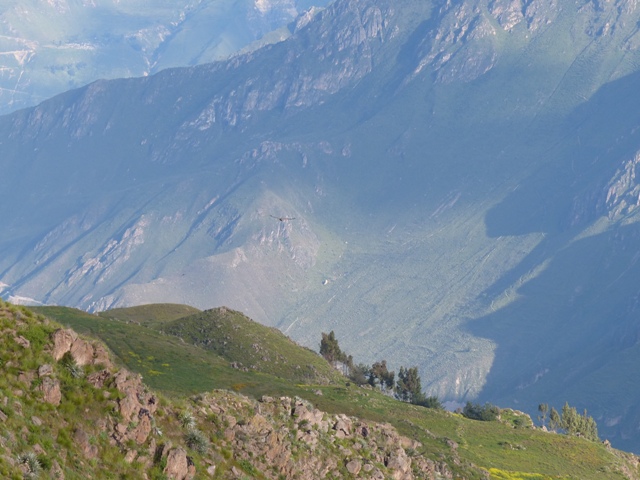 ….for a fly past.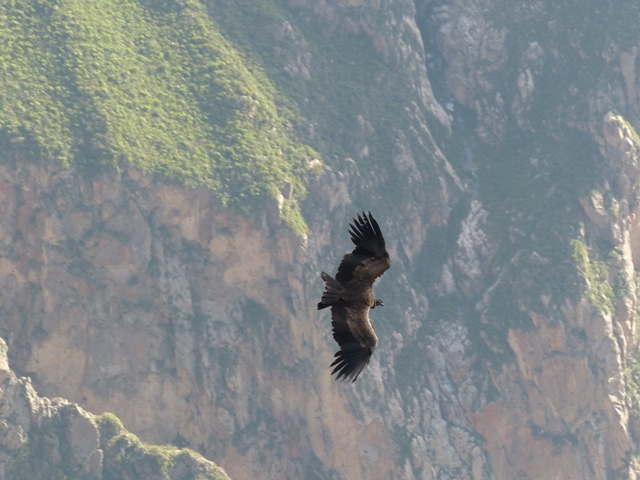 This group were waiting too….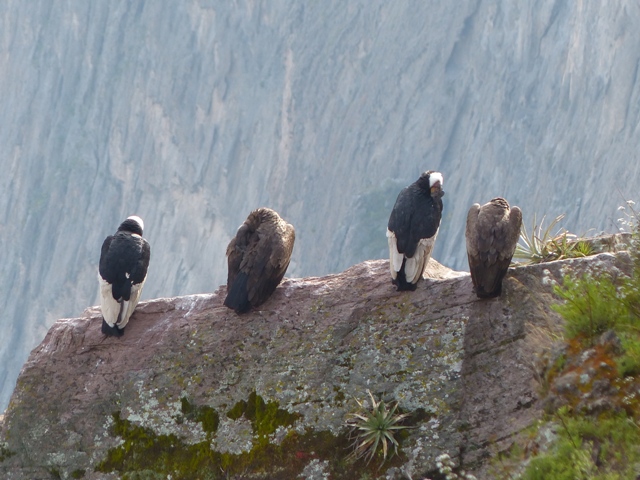 …. and off they went…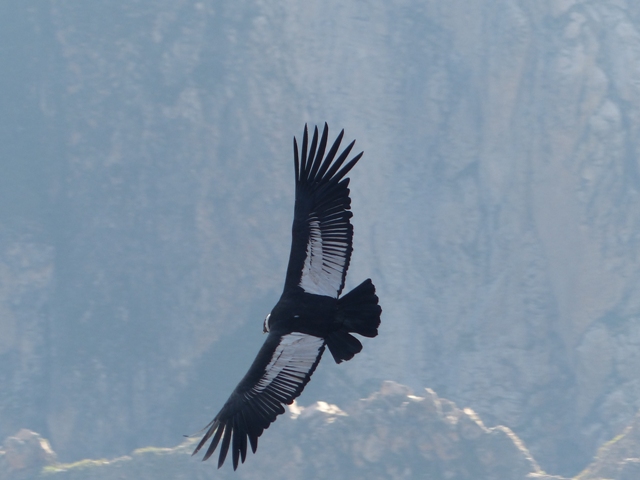 But, at 9am the day had only just started. Next up was biking….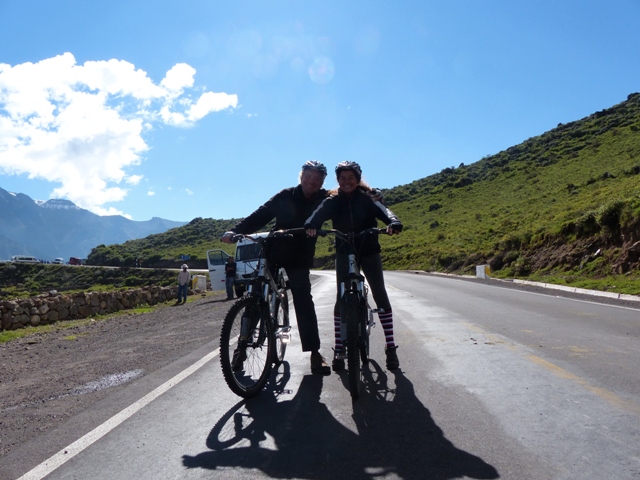 ….along this road into the narrow lower canyon.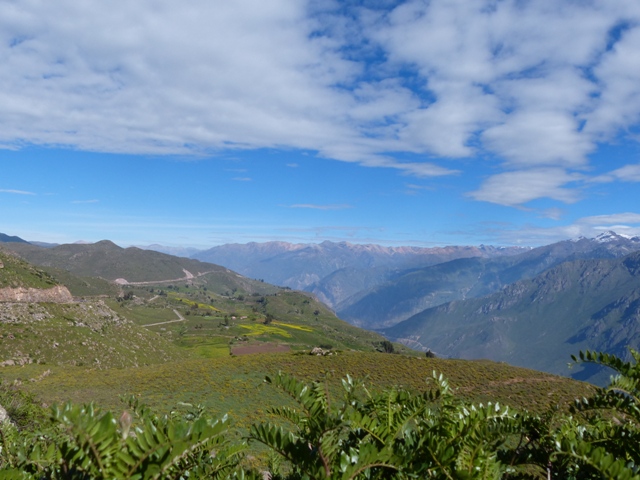 More astonishing views along the way…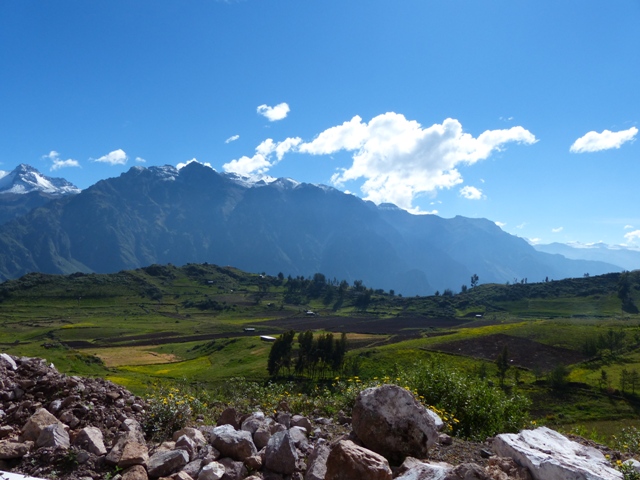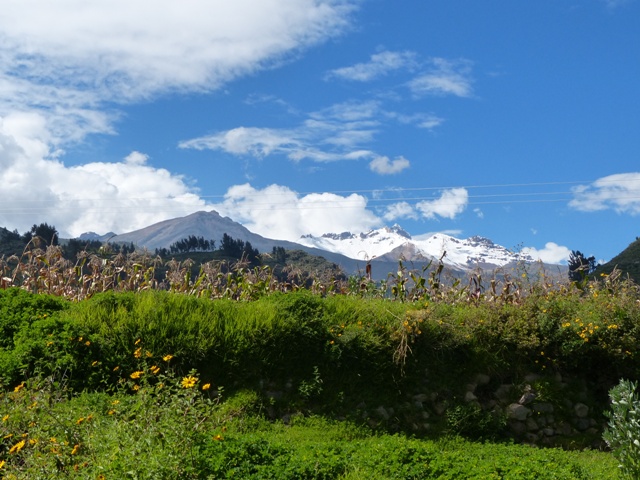 …but then, Oh Shit – an uphill section. When I took this picture looking back at the hill it looks nothing…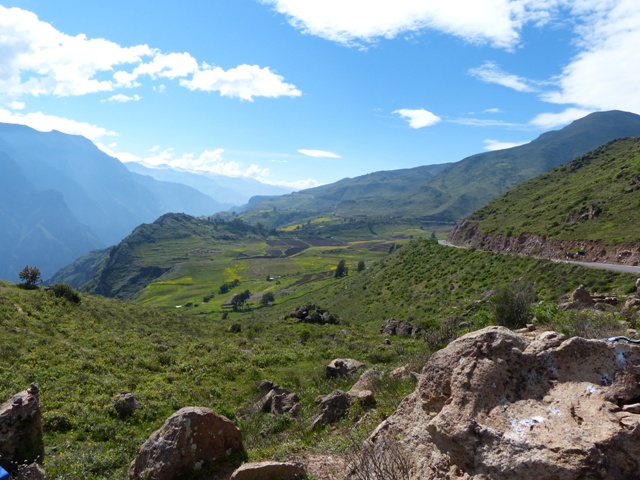 ….but, at 2km long and a climb of approx 200metres [when we were already at an altitude of over 3,000 metres] it was no mean feat – especially as I am not the keenest cyclist in the world. There wasn't much question of Mike managing to do it but I must have had the world's widest grin on my face when I made it to the top of the rise – especially as one woman about half my age didn't. Smug or what!!!!
After that it was all downhill to the village of Cabanaconde and a small traffic jam at the edge of the village….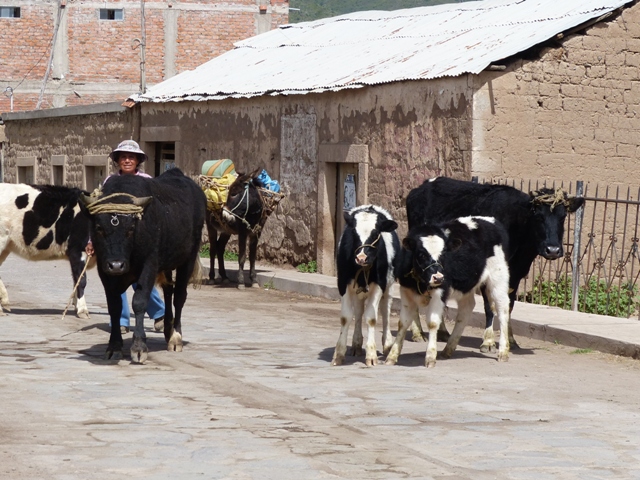 We then climbed back into the van for the journey back to Arequipa, once again being instructed in local lore such as these burial chambers high in the cliffs….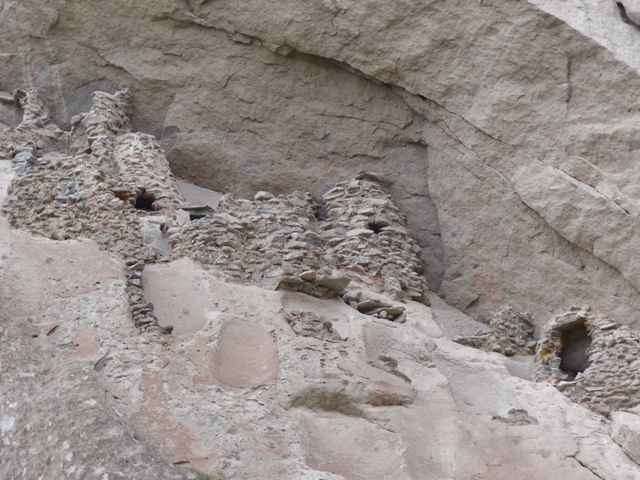 We were told about the agriculture of the area, including quinoa….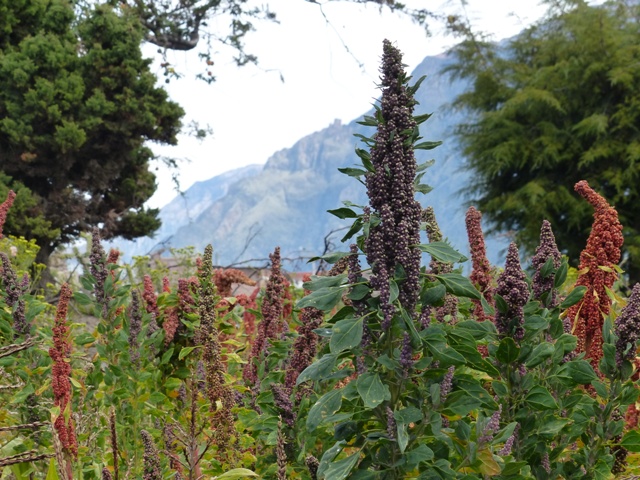 ….. which, as you can see, comes in red and black as well as the more often seen creamy brown. I felt it was a sad indicator of the unfairness of world economics when we were told that Peruvians pay more for quinoa in the shops than we do in Europe and the US.
Most fascinating were the intensely terraced hillsides….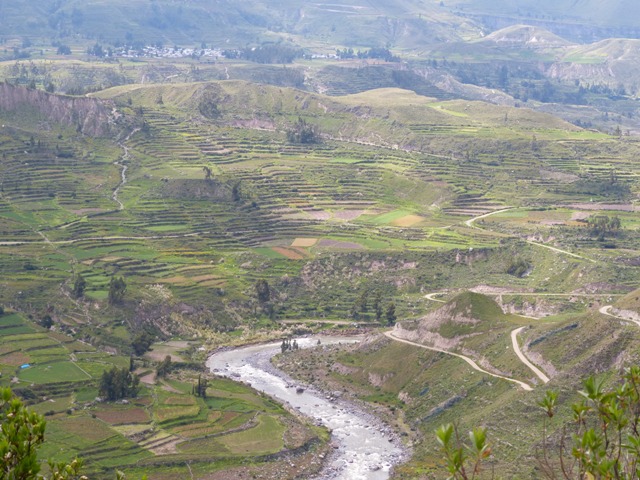 ….which have been this way since pre-Inca times. They are not like paddy fields in that they are not water logged, but instead form a kind of aquaduct system to direct the water back and forth and from top to bottom. In this way erosion is minimised and the agricultural area maximised.
On both days we were taken to very pleasant lunchtime restaurants where typical food was served buffet style and before finally leaving the canyon we indulged in one of the famous La Calera Hot Springs.
They were two fantastic days and I hope that I have been able to portray the beauty of this place which will remain with me always. Of course, we still had Lake Titicaca and The Sacred Valley to visit and as my forthcoming posts will hopefully show they too are brilliant. However, I think if I could choose one place in Peru to revisit it would be the Colca Canyon.