I am hoping that this is the final post from Shelter Bay! We are going to Panama City tomorrow to meet James and John [Byrne] and his friend John who are going to be three of our line-handlers for our canal transit on 27/28 Jan. We are, in fact, going to have a boat full of line-handlers because we had offered the "role" to our friends Jack and Christine before we knew that the 3 J´s were coming. Still – the more the merrier!
In fact, this post is about merriment and friends. We have been in Shelter Bay so long and have, at times, been full of woe and just longing to be out of here. But, we have had good times too and, for our memories, it is important that they are recorded on the blog. So, apologies in advance, this post is mainly  for Mike and I to look back on and smile
As there is a strong US influence in Panama it was not surprising that US Thanksgiving was celebrated at the end of November. The marina cooked turkey, ham and stuffing and all the cruisers brought a dish to share. It was early in the evening and not much alcohol had been consumed so it was a very orderly queue – and Mike managed to share a joke or two with Joyce ["Minx"] and Harold ["Ilanga"]….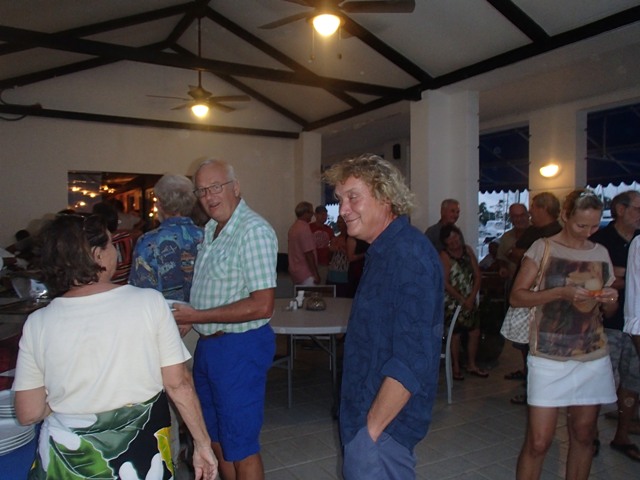 There was plenty of food – though it was rather a shame that Shelter Bay charged us $9.50 each when we had all brought the side dishes and desserts. Quite typical of this marina though so I shouldn´t have been surprised. Perhaps it was the glass of wine that created the cost! Anyway we had a good time sharing our meal with Joyce and Peter and also our good friend John Milici ["Peking"]. "Mauricio" is the main waiter at "The Dock" restaurant and he managed to get in on most people´s photos!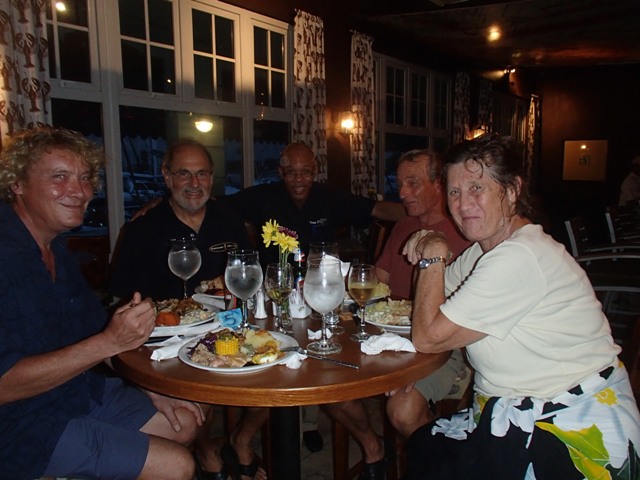 Rather less formal have been the cruisers BBQs. We have had about five of these over the past few months and they have proved very popular.  As friends will know, Mike is really good at BBQ´s – at the eating and drinking that is! He doesn´t do the cooking part very well because we have mates like Dave who are much better at it. So, it was very fortunate that when we organised this one Scott, one of the "resident" mechanics here in SB, was on hand to help out……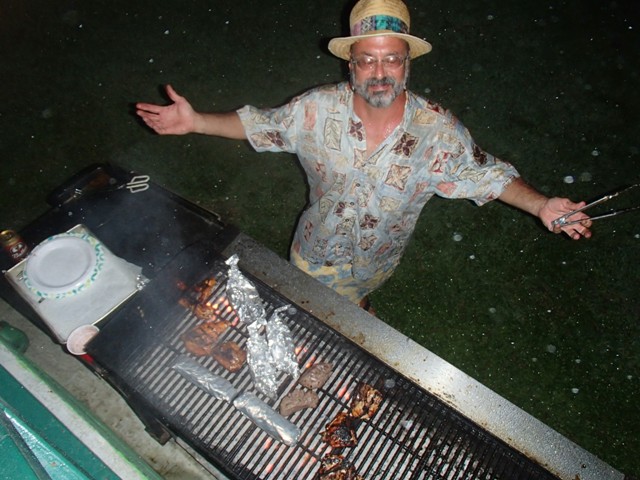 Its amazing that on a daily basis there don´t seem to be that many people around, but a mention of food and socialising and everyone appears as if by magic.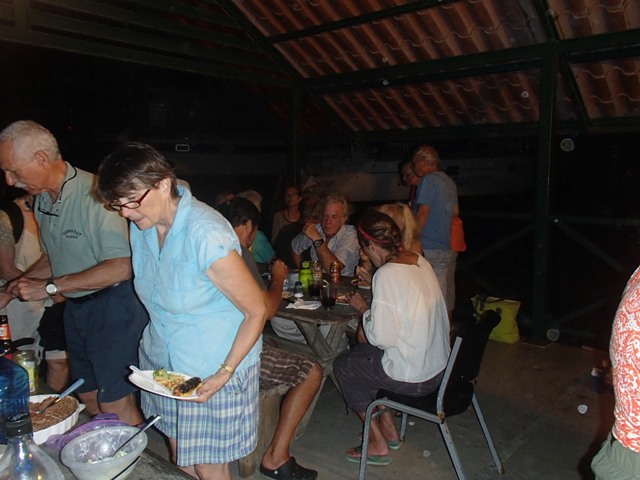 The couple on the left, Vicky and Porter ["Cinnamon Teal"] became regular members of the small happy hour gathering we also had on a fairly regular basis.
At Christmas we were lucky to have the offer of a few days away on "Mekeia" with Jack – who regular readers will have seen in various posts over the last couple of years as we have caught up with each other in Grenada, Nevis & St Kitts, Guadaloupe, St.Martin and Cartagena. Anchored in Portobelo he was only a couple of short bus rides away and it was so good to be able to sit on a boat not attached to a berth and watch the sun go down…..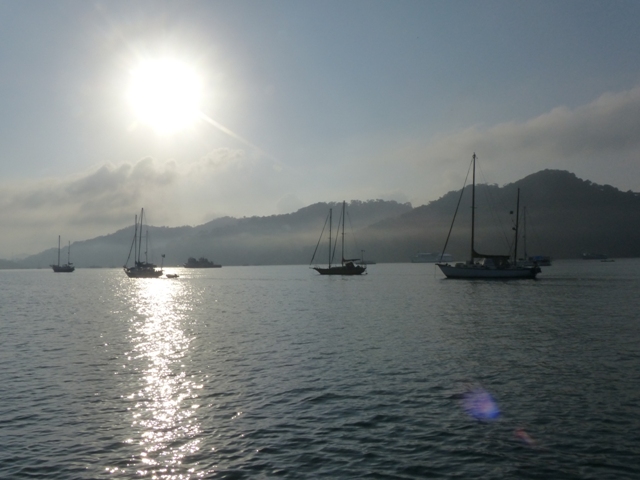 …..and to be entertained in the morning by watching the local lads fishing.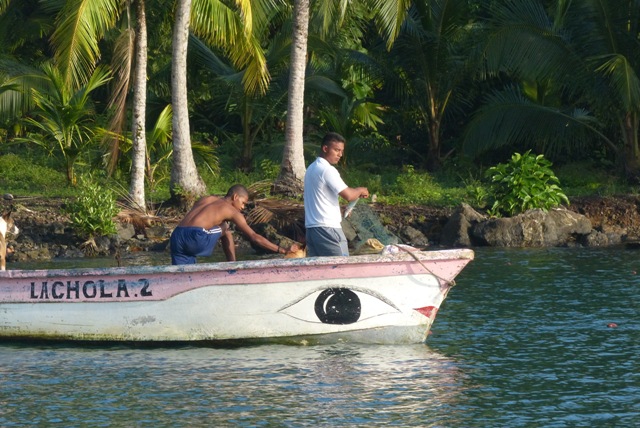 On Christmas Eve, while Jack was busy putting wiring and ceilings back together, Mike and I went to visit Puerto Lindo.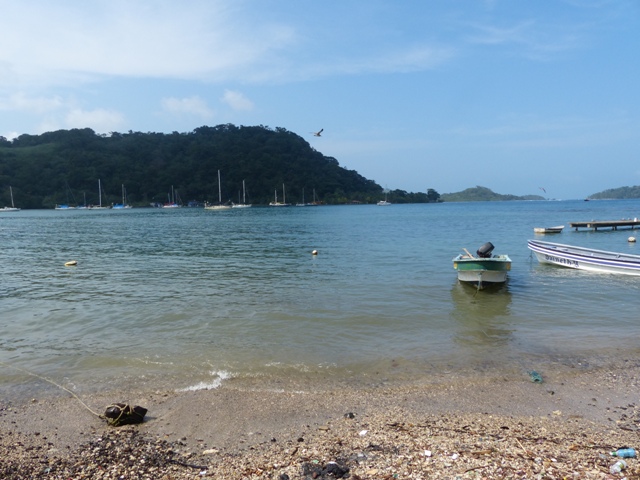 The anchorage there is nice and quiet and there is a restaurant on the shore. I am not sure how rough it might get in a Northerly or a strong NE wind when the current might come round the point, but it was very pleasant on the day we visited.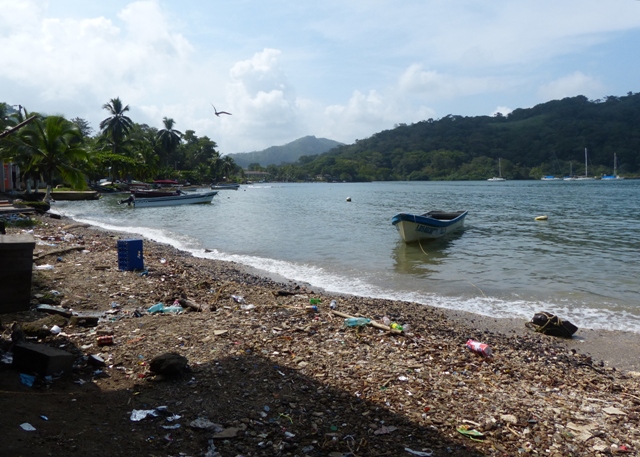 If you are a cruiser, it might help you to know that the main anchorage nearer to the small island offshore is better known as "Linton" – and that is the name given in the Bauhaus Cruising Guide. There is also a new marina being built which will hold upwards of 120 boats when finished. Currently, although there are no services, it is possible to berth on the docks for $20 per night.
Anyway, back to our visit. When enquiring about buses to Puerto Lindo we had been told they started from Colon at 7.30am and were then every two hours until 9.30pm. We assumed it would be approximately the same in the opposite direction. However, whether it was because it was Christmas Eve – or whether it was our assumption that was wrong – we found that there were no buses back that afternoon! So, at 3.15pm we were about 20km from Portobelo with no obvious means of transportation.
Fortunately a bus turned up which went just over half way back to a place called La Cruce – basically a cross road. Then, whilst walking we were debating whether or not it was safer to try to thumb lift or to walk the, now, 8km [4.5miles] meaning we would be in the dark for part of it on an unknown road……when along came a cattle truck. Thankfully there were no cattle in it and we were offered a ride in the back. I am really glad I am not a cow – these trucks really throw you around – but its certainly a seat with a view!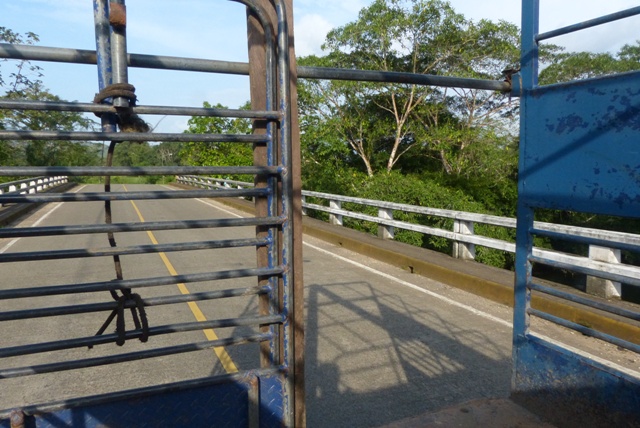 Mike and I cooked on Christmas Day and – to assist with the preparation – he imbibed a rather surprising beer….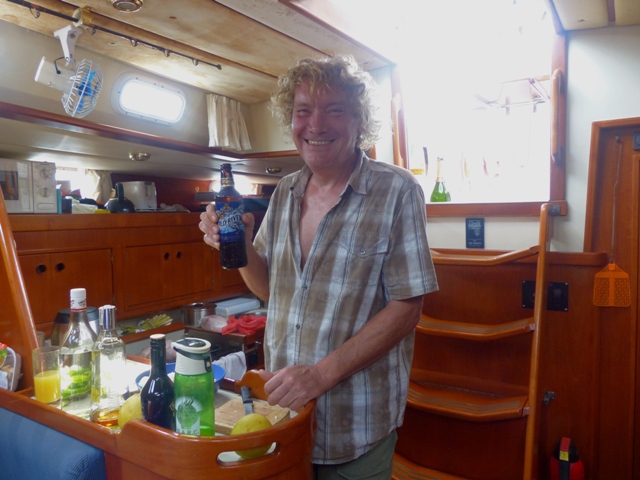 ….well two actually. I found them at a supermarket in Colon. OK, maybe Fullers wouldn´t be his first choice but beggars can´t be choosers.
We had chicken rather than turkey, but all the trimmings were there. As there were no sprouts to be found in Panama we had to make do with asparagus – shame!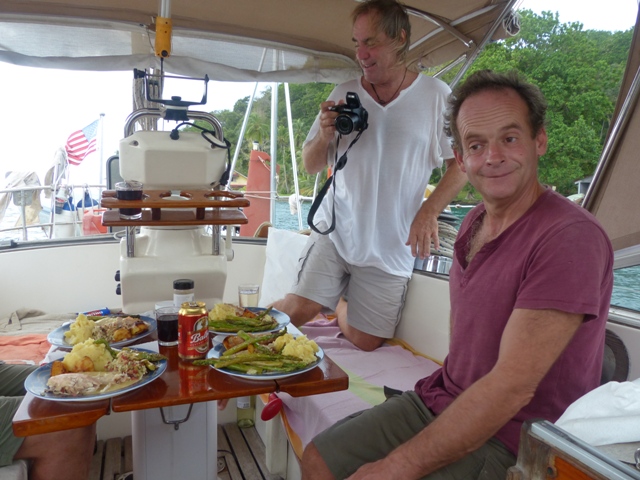 "Irish Dave", who joined us for the meal, had never had asparagus and threw it overboard because he didn´t like it. If Mike had had his way I think Dave would have followed close behind – but we weren´t on our boat so Mike kept his cool – and man overboard drill is not best after a few glasses of bubbly!
The stuffing we made was quite unusual as we put ginger and coriander in it. Yummy. We hadn´t seen ginger for ages and so having found it I decided to do the same as we do with garlic and pickle it.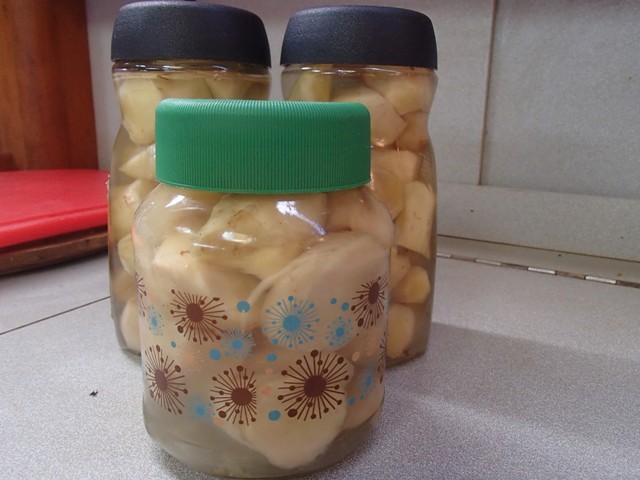 I was delighted to find on the internet that one of the best ways of preserving ginger is in Vodka. This means when we finish the ginger we also have an interesting beverage – so I am using ginger in almost everything at the moment!!!!!
Perhaps the most memorable night of the year was New Years Eve. We repeated the formula from NYE in Roatan, visiting different boats for drinks and hors d´oeuvres. The two differences this year being that we didn´t need dinghies – though maybe that could have been fun – and that we took our own drinks with us. This always seems a little weird to Mike and I but its what some cruisers prefer so we just fit in.
Anyway, among others, we shared the evening with Maurie and Bonnie ["Smidge"]…..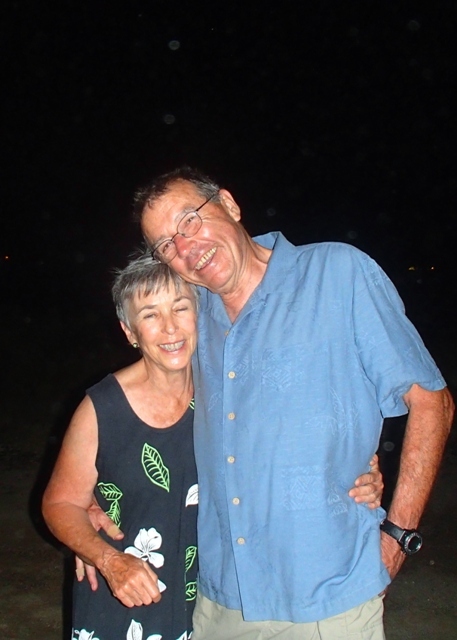 …..Dave and Margaret – no not the Holcombe Brook one´s, unfortunately, but another really nice couple on "Heart and Soul"….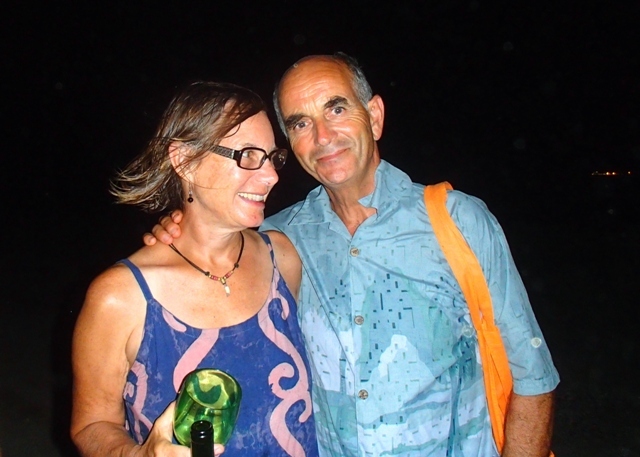 And Randy and Dawn ["Nirvana Now"].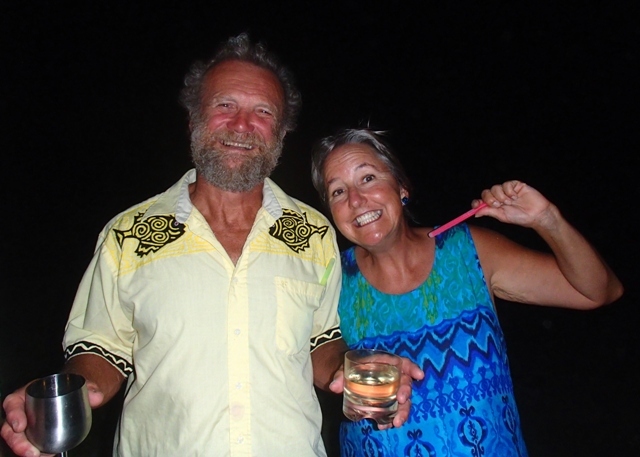 Of course, we were there too….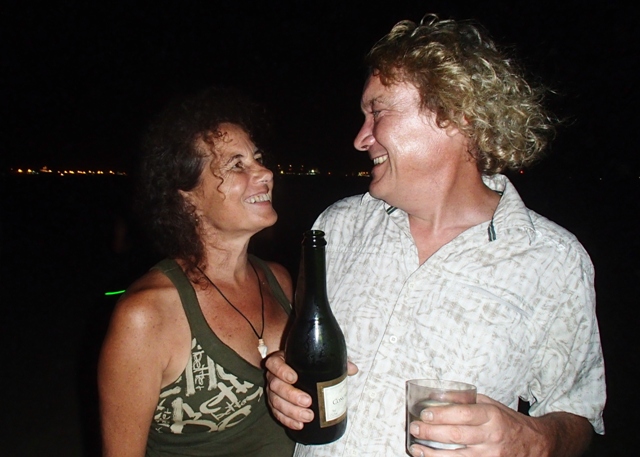 ….and everyone enjoyed the fireworks across the water in Colon – and a rather spectacular flare launched from the breakwater.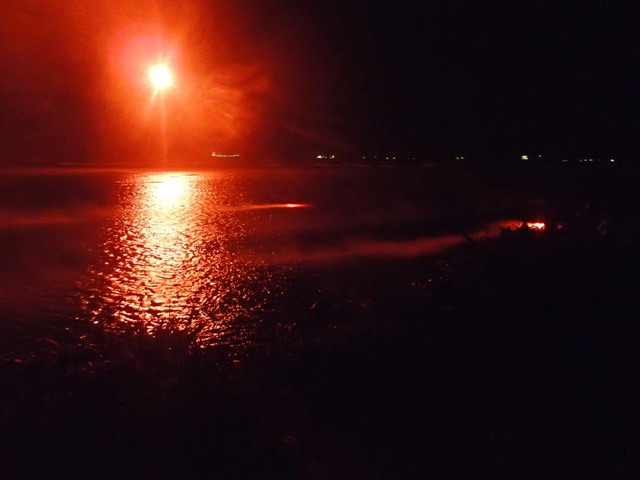 We have also done two more Canal Transits and the first of those was with" Nirvana Now".
Randy and Dawn have done a lot of work on their boat, including building a new "dodger". Randy was still putting the finishing touches to it as we waited in the anchorage for the advisor to arrive….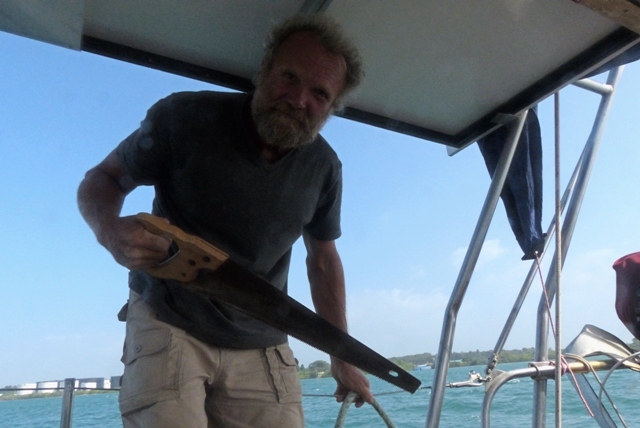 ….and Dawn was very proud of their new windscreen……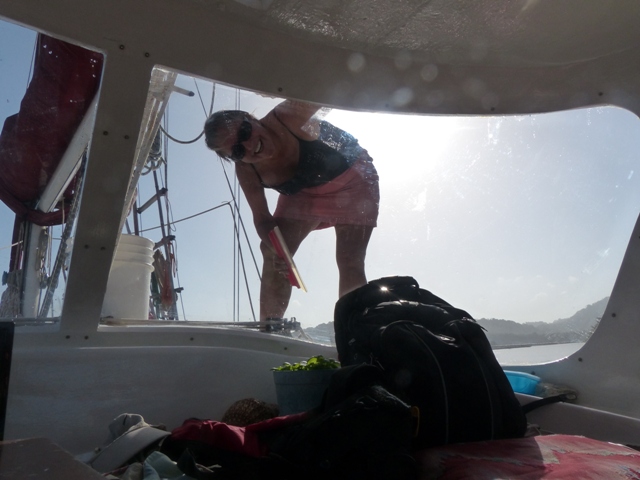 [Does that kind of dedication to cleanliness whilst underway remind anyone of a dearly beloved – Malcolm, raise your hand now!]
Once again, just being on the water doing yachty things brought a big smile to Mike´s face….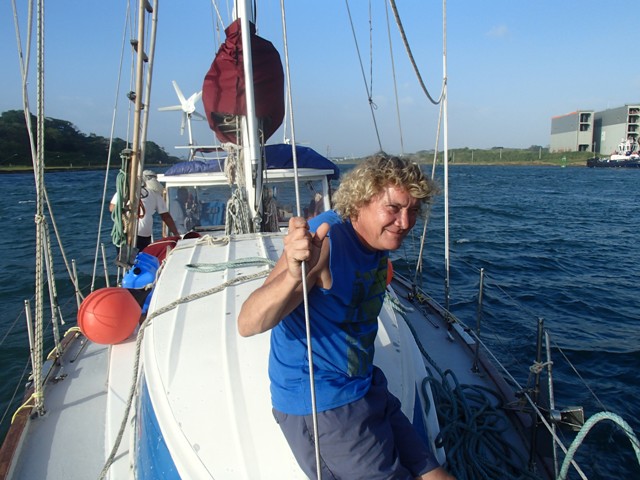 Every transit is different. This time we were rafted with a smaller boat which left us after the last lock.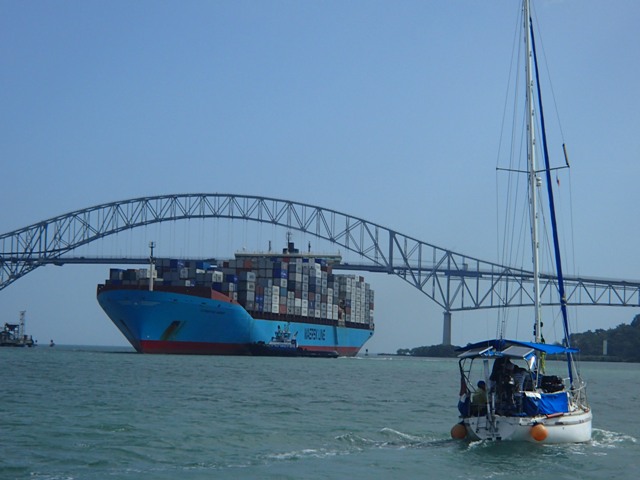 Isn´t it amazing what perspective can do. That big boat did fit under the bridge – just.
Our last trip through the canal was on Peking – a "Diesel Duck" trawler…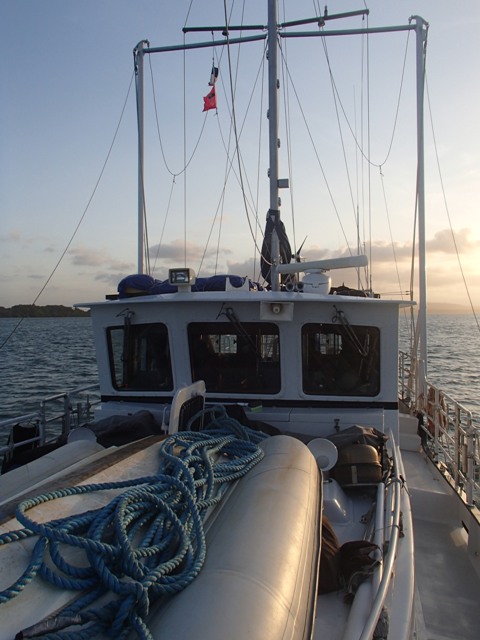 It was a fun transit because two of our fellow crew members were Allen and Patricia ["Nauti Nauti"]. So, it was like Hacienda Tijax all over again. The final member of the crew was Tim ["Serenity"] who we have only just met but will possibly be seeing more of in the Pacific.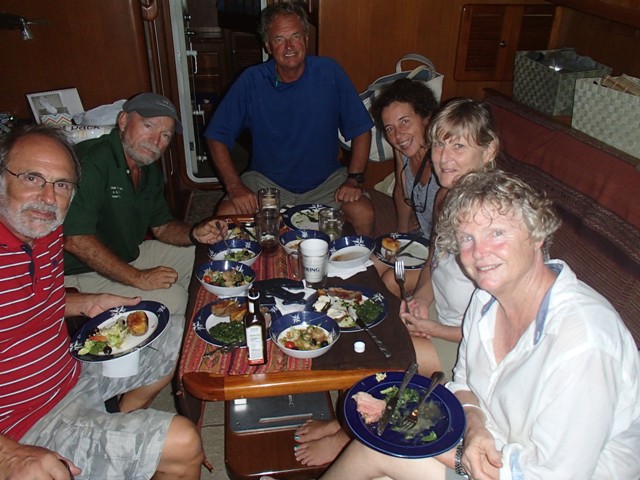 Mike was nicknamed "Mooring monkey because he secured the lines in Gatun Lake….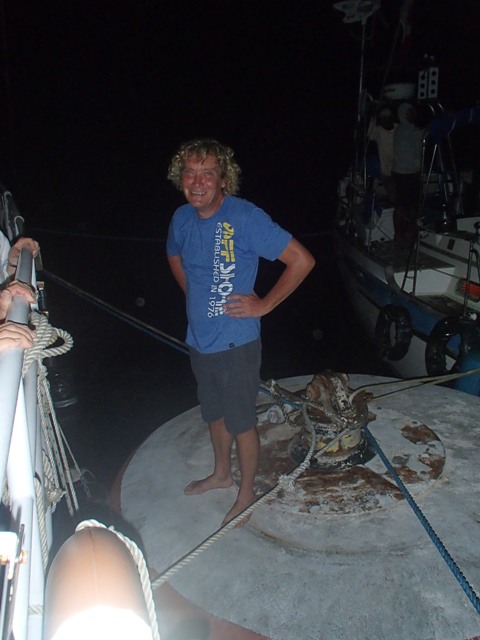 ….and the celebratory drinks at the end were certainly of a higher class than we are used to!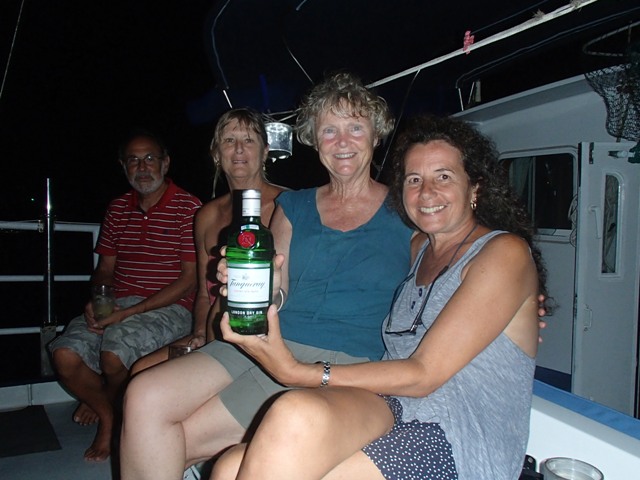 More old friends we have met up with here are John and Diane ["Jasdip"]. They were only here for about four days before flying out to the States but we were invited aboard for drinks and a fish fry…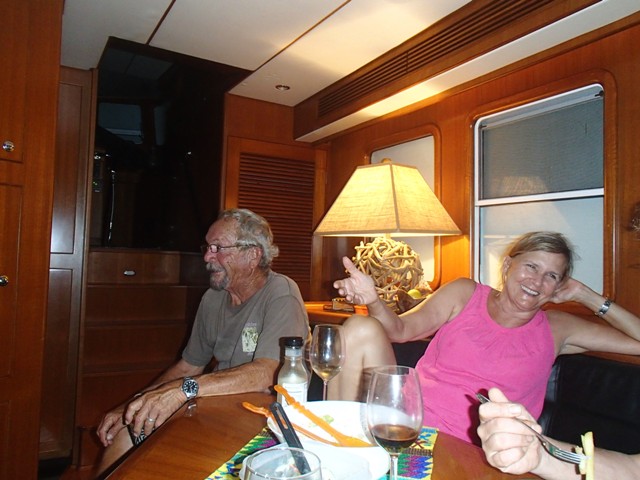 …cooked by Don, who is currently sailing with John and Diane. Also joining the party were Paul and Andy ["Talullah Ruby II"], a British couple who have lived in the Canaries for about 30 years and are on their second circumnavigation.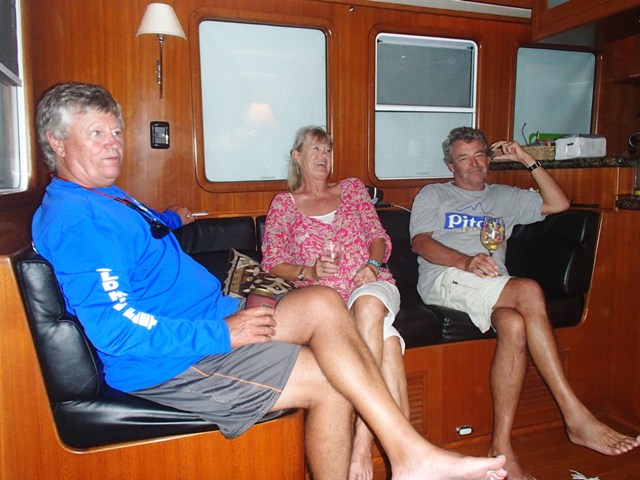 We were sad that JD and Linda ["Kokopelli"] didn´t make it in time for us to meet as they have just arrived in Portobelo – though we are sure we will get together again somewhere. The yachting world is amazing and the best people turn up when you least expect them….and, to prove a point, "Yonder" sailed in just a few days ago. We were humbled by the fact that part of their reason for coming to Shelter Bay earlier than anticipated was to see us before we transit the canal as they are most likely staying on the Atlantic side. Steve and Sandi are exceptional people… they keep us grounded in adversity and are brilliant "lunch club" partners.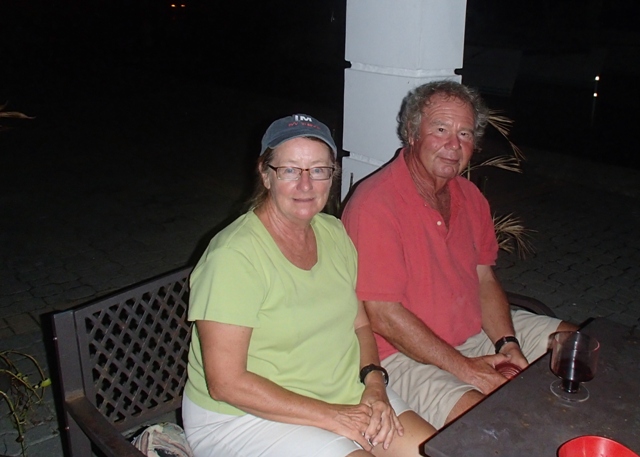 So, that´s it – well almost. "The dress" still comes out for special occasions and as we were actually somewhere decent for my birthday – i.e. Panama City – so, it got an airing.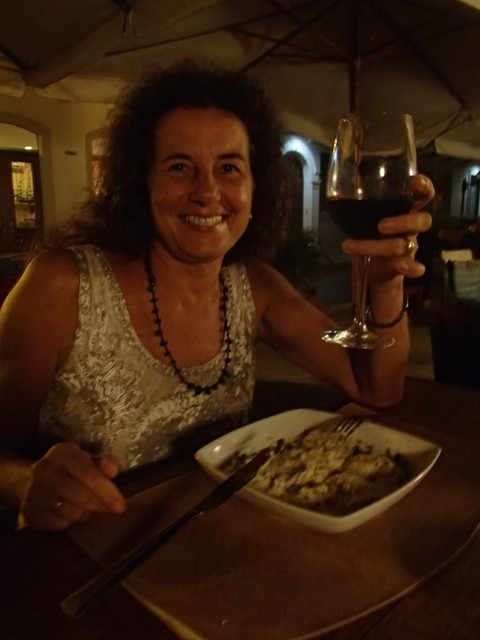 Well, it´s been a strange year – not at all as we planned – with most of 2014 spent in Shelter Bay. But, as you see there have been some really good times too….with, I am sure, many more to come. Cheers!