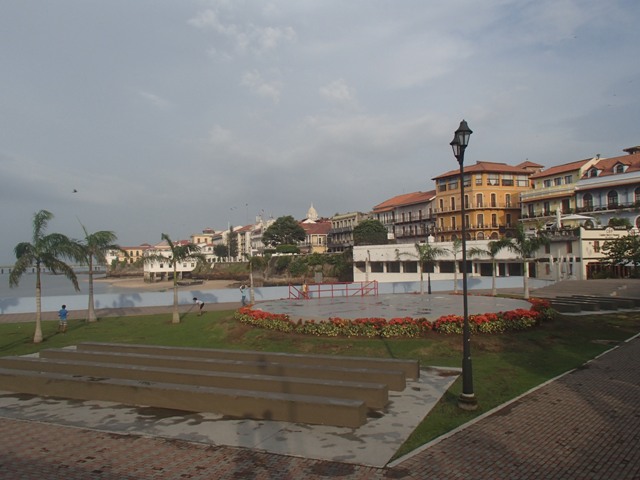 Time has moved on…but we haven't! We are still in Shelter Bay Marina awaiting our replacement engine fresh water pump. So, what have we been doing to pass the time?
Well, we have replenished some provisions using the twice daily free bus from the marina to the supermarket which is fairly well stocked. Don't worry – that doesn't mean we have gone twice a day, every day. We may be a bit fed up with being here but we haven't resorted to quite such bizarre behaviour yet!
One thing we have started to do is to preserve garlic, partly because it is sometimes difficult to find and partly because when we have found it there have been largish quantities per "pack" which has resulted in some bulbs going off before we got round to eating them – which takes some doing as we have garlic with just about everything!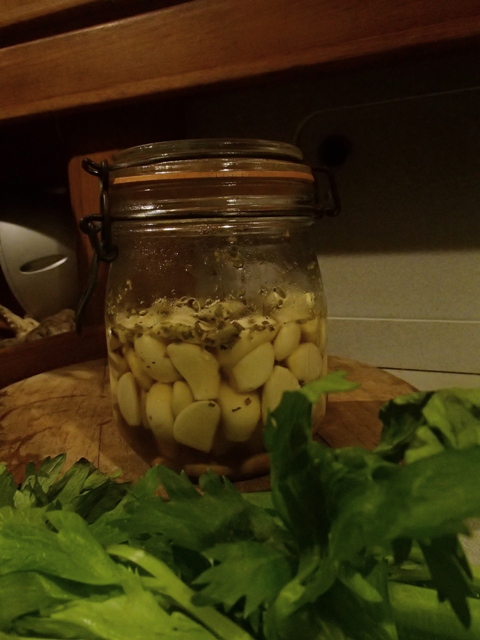 Anyway – if anyone wants to consider doing this it may interest you to know that preserving garlic in oil is not a good thing [unless you are a "commercial" enterprise and can adhere to the strict conditions required to do it without resulting in something which is bad for your health]. I am not sure of the chemical reaction or result but it is not good. Garlic should be preserved in vinegar. We can vouch that it works and, even better, the garlic doesn't taste of vinegar but the vinegar does get quite a hint of garlic after a while and can be used for other purposes too.
We have been taking walks and looking out for local wildlife. Although we once saw a group of eight or so Coatimundi crossing our path, we haven't been as lucky as some of our friends who have seen alligators [which Mike really wants to do] and sloths – of both the two and three toed varieties and lots of monkeys. We have managed to see a small family of howler monkeys but, as usual, they were rather camera shy.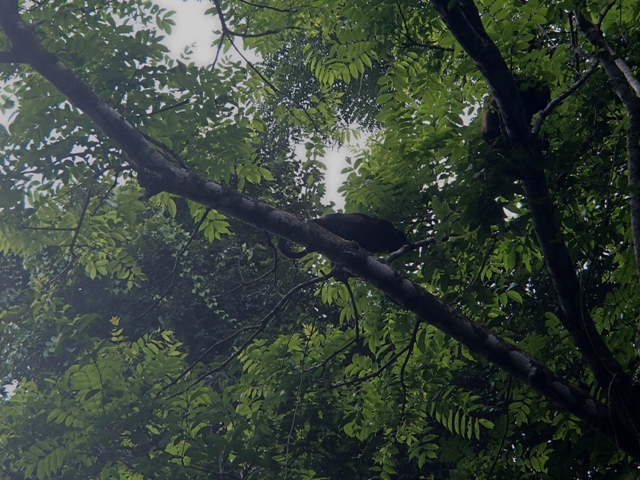 We have often thought that the world is likely to be taken over by ants as they are everywhere and come in all sorts of shapes and sizes – from the small red ones which bite – to these, our favourite busy "leaf cutter" ants.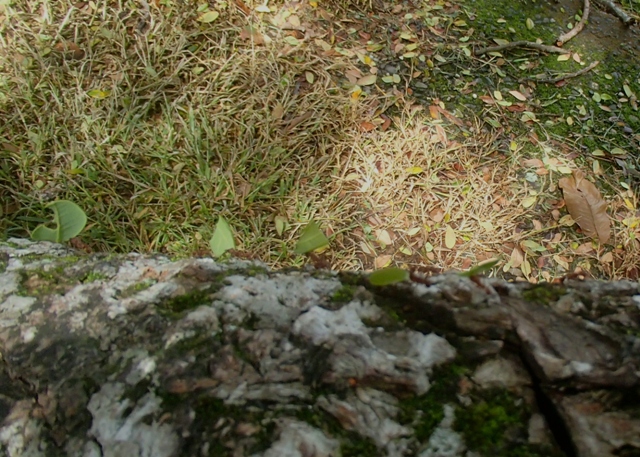 Unfortunately they move so fast that even with my camera set to "action" I couldn't really capture them.
One thing which did stay still long enough for me to capture it was this butterfly that made us smile! It reminded us of the "Joker" in Batman.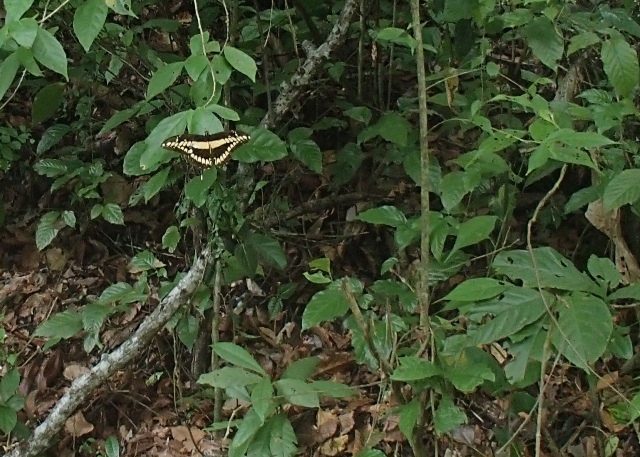 One of our strolls took us to the jungle and the old US Military Base ruins beyond the marina "hard" and work areas during which we came across these…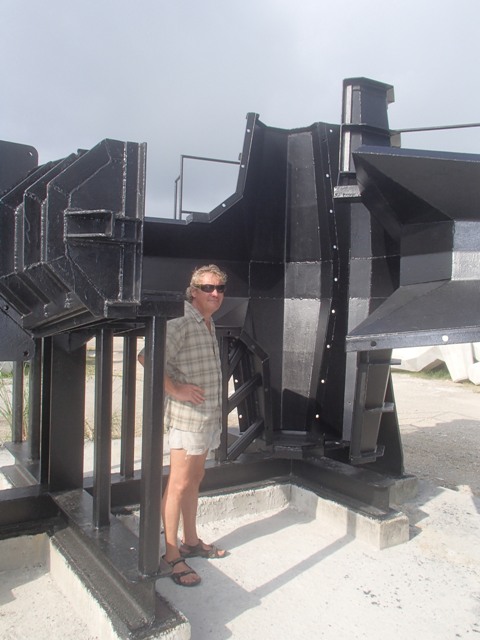 …..which – as you may have guessed – are the moulds for these….
Another walk led to a nearby beach called Playa Diablo……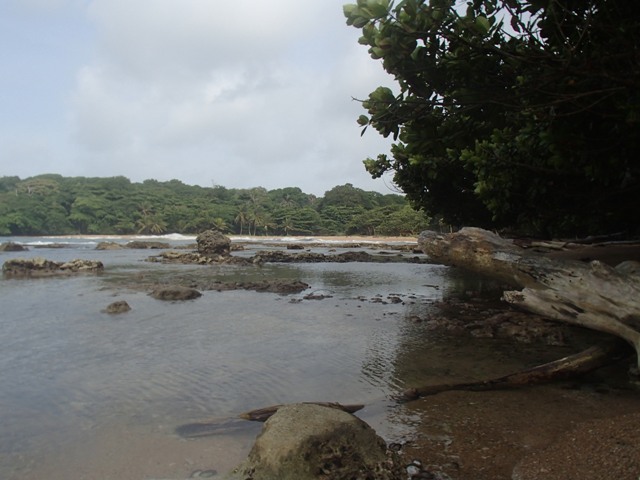 ….which wasn't particularly exciting………. and also out along the breakwater….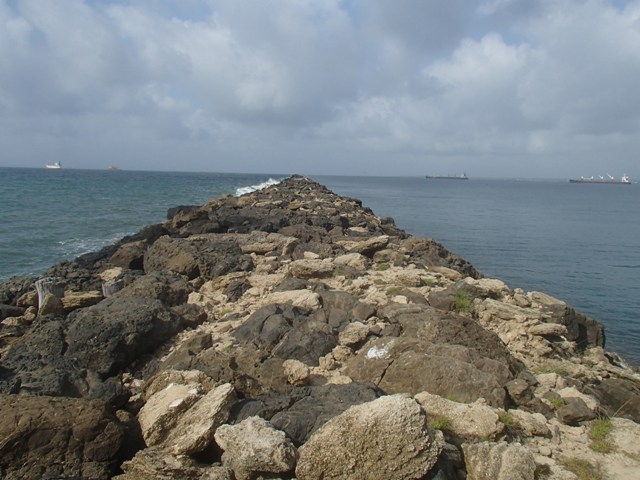 The ships on the right are heading for the large ship entrance having transited the canal, those on the left are at anchor. The photograph I took having turned round again shows the relative calm inside the breakwater and in the distance is the entrance to Shelter Bay…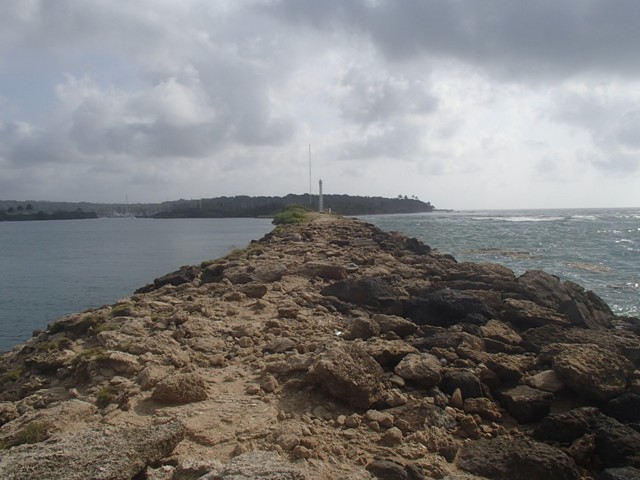 ……seen slightly more clearly in this photo.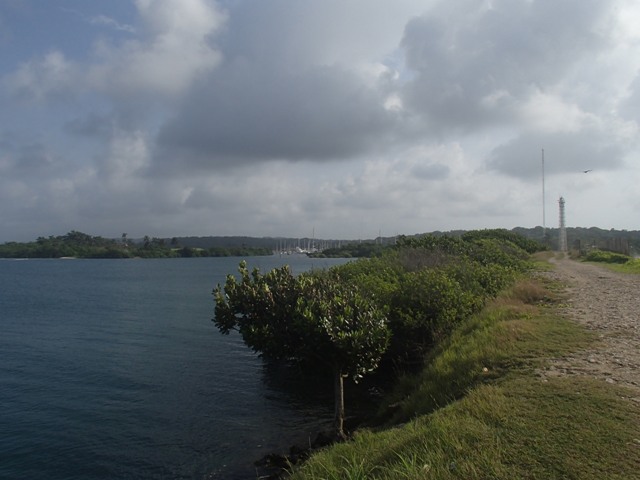 You may have noticed that there is a lot of cloud in these photographs which doesn't necessarily give a true indication of the weather we have had here. Most days have been sunny – at least until maybe mid afternoon. We have had a couple of storms which have lasted about 30 minutes but the Panamanians are getting concerned that there has not been enough rain. Their main concern is that Gatun Lake is very low. You will remember from my blog post about our line-handling that Gatun Lake is a huge manmade lake which was created to "feed" the lock system in the canal. It is also used for hydro-electricity and, with a low water supply decisions have to be made about whether to keep the canal running 24/7 or to continue supplying electricity to the whole population. Guess which wins! There are actually other sources of electricity but one of the canal advisors told me that these alternatives are more expensive so household bills rise whilst the canal continues to operate as usual.
I mentioned in my last blog post that the canal is being widened and that new locks are being built. Their purpose is to facilitate the transit of much bigger ships e.g. container ships [already in operation and rounding the Horn as they can't fit through the canal] which have three times the capacity [1,300 containers] of current transiting ones [400 containers]. They are 49m [160ft] wide instead of the current 32.3m [106ft] and their length has grown from 294.1m [965ft] to 366m [1,200ft]. An innovative aspect of the new locks is that there will be three water utilisation basins for each new lock chamber which, it is reported, will mean a saving of 60% of the water actually used. The old locks aren't going to be disbanded – they will continue to run alongside the new ones. Even with a water saving system in the new locks, operating two lock systems can only result in more water use so they are also going to raise the height of the lake by 40cm.
As part of a day out, we visited the new lock observation centre, saw the video, heard the speech and looked out over the site. At intervals along the observation walkway were pictorial signs depicting the work being undertaken.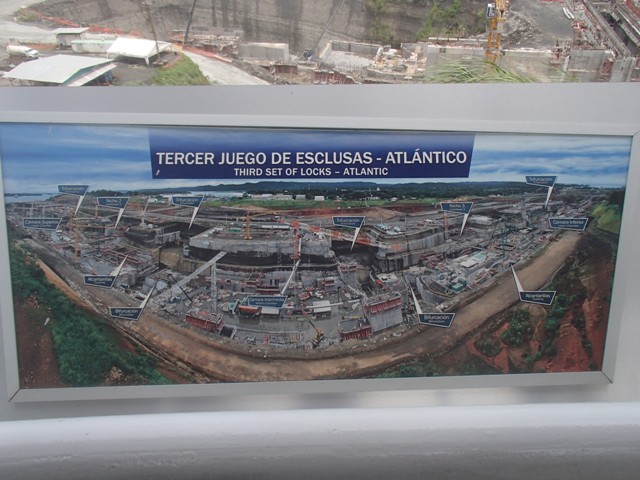 These were quite interesting and helped us to understand what was happening. The new lock gates [made in Italy] are going to slide rather than swing in the conventional manner. The six larger ones weigh approx 3,500 tons each.
I was also able to get this panoramic shot of the work in progress.

The new canal was due to open this year. Predictions now are for end 2015/early 2016. I have my doubts but maybe?
Also on our day out we went to the ruins of Fort San Lorenzo [I know – yet another fort!]…..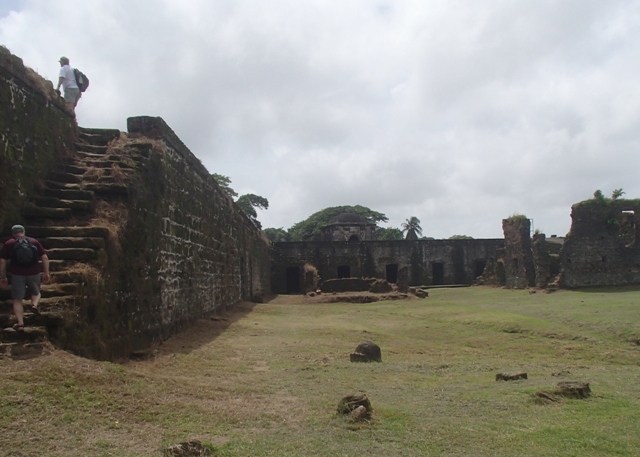 Like the forts at Portobello, it was built to protect the trade route of gold and silver from the new world and was strategically placed for this purpose at the entrance to the Chagres River.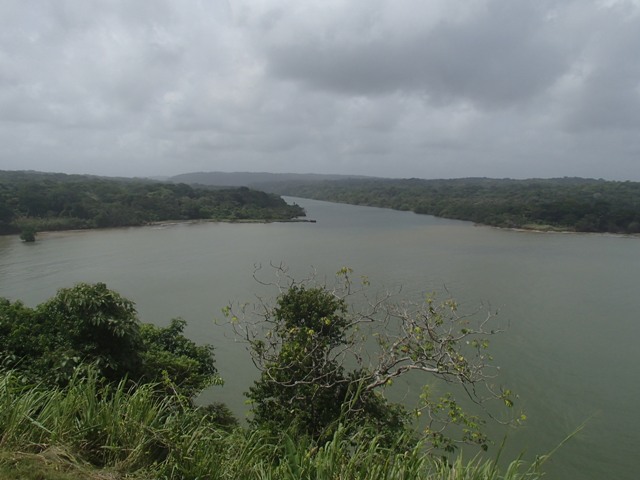 This river is still navigable and the Bauhaus Cruisers Guide to Panama recommends it as a good place to go. We were overlooking it on a relatively calm day and I have to say that I couldn't really work out the route from sea to river.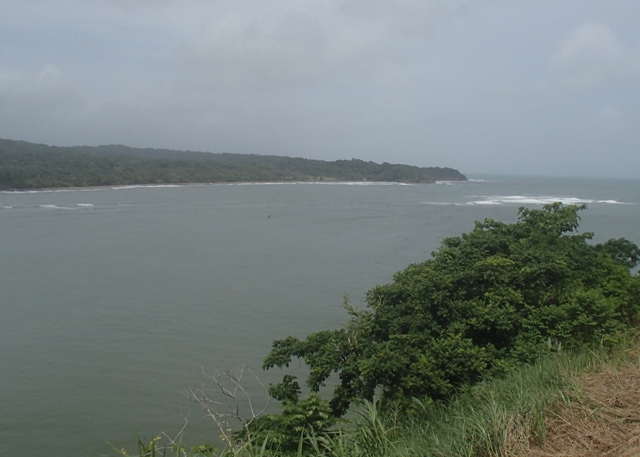 There are a lot of reefs and shallows. According to the chart you pass to the west of the large "Lagas" reef i.e. make for the opposite shore and then turn back towards the fort [from where the photograph was taken]. We know three boats which left Shelter Bay yesterday to go there – hopefully we will meet up with them in Bocas del Toro and maybe, if they found the route quite easy, we will get their waypoints and give it a go ourselves later in the year.
Our day trip finished with a tour of Colon. We had already passed through Colon a couple of times and been shopping there. It is not a particularly nice place and has a reputation for being unsafe. Even when we had to go only about a quarter of a mile, shopkeepers were advising that we took a taxi – which fortunately isn't actually expensive around the town – approx 90cents [60p] per person. When shopping we did walk around a few main streets without feeling threatened but there is a definite air of poverty through most of it. On our day out we were in a minivan driven by "Teddy" who works at the marina. His van has tinted windows which made my photographs a weird purple shade so I converted them to black and white to see how that looked.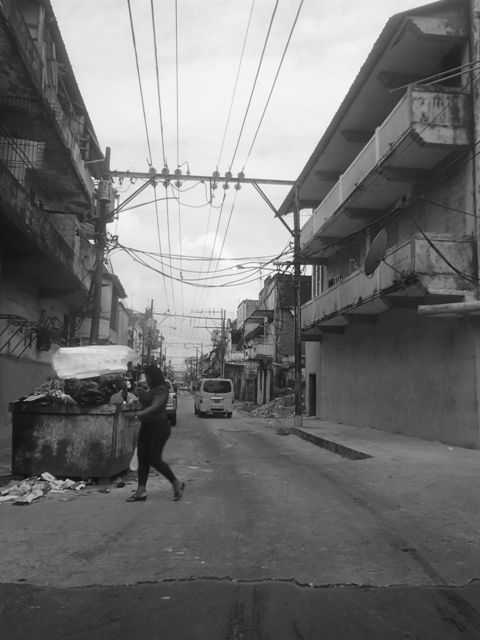 I actually think it helps to depict Colon as I will remember it.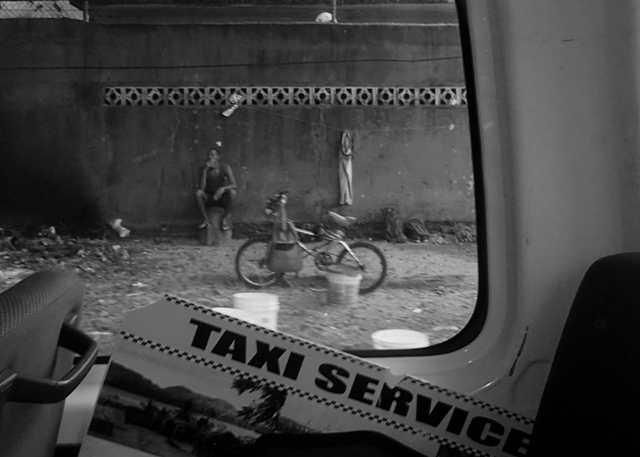 Mike has a slightly less "grey" view. He wandered around on his own when shopping for some new hoses and found people to be quite friendly. Both of us have been impressed with the helpfulness of some of the shopkeepers we have met with a special mention to "Dingo's" [Cables] and "The Diesel Shop" [just about everything for engines].
Thanks also go to Elise and Gordon ["C-Lise"] who organised the above reported day trip. They were being visited by their niece and nephew [and spouses] who were line handling for them and before they went through the canal they wanted to visit a few sights so had arranged the trip which we were able to hi-jack. We had already spent several "Happy Hours" with Elise and Gordon, but the last one involved their family too….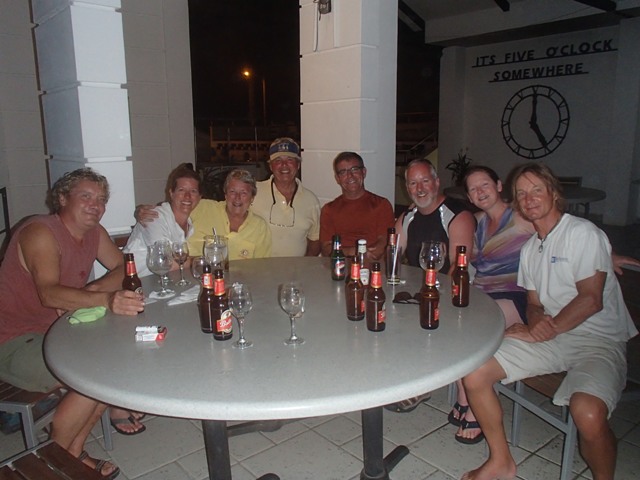 On the right of the photograph is "Kenneth" – a delivery skipper who also needed two line handlers to supplement his crew. Well, who are we to say "No", especially when we have time on our hands. So, off we went again.
This transit was on a new 43ft Leopard [Catamaran] which was being delivered from Cape Town to Brisbane. Apparently the "Southern" route had been attempted by a different captain but had been abandoned due to bad conditions so it was the long route [15,000 miles] for Kenneth, Stuart and Mark. Just as previously, we left the marina at around lunch time on the first day and were dropped at the other side the following afternoon having spent the night on Gatun Lake. There were similar delays – so this seems to be the pattern. The two advisors "Maclean" and "Oswald" were very professional and we had no mishaps up or down. Up was again a centre chamber, four line handlers required, operation. Down we were rafted to a canal tourist boat so other than ensuring that we had the fenders at the right height for the strange shape of the tourist boat and tying on and off three times [once at each of the separate lock chambers] we had little to do or worry about.
Eager to be off on their 40 day non-stop leg to Tahiti there was just time for a quick wave before they were gone.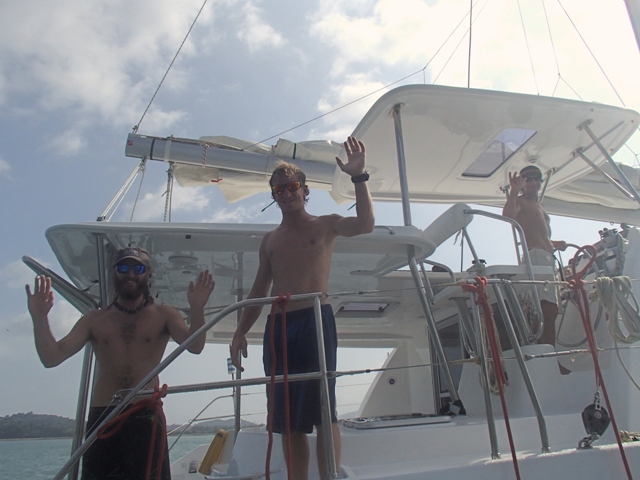 By the time we agreed to the transit we knew that our new engine part was about to leave the U.S. but we also knew that it wouldn't be delivered for another few days, so we decided we would take the opportunity to spend a couple of nights in Panama City after being dropped off there.
We opted to stay at the "Cruisers Casa" which is run by an ex-pat and an ex-cruiser [Debbie] and is used by a number of boat crews. It is situated in the middle of a business zone in the new town but has access to several restaurants nearby.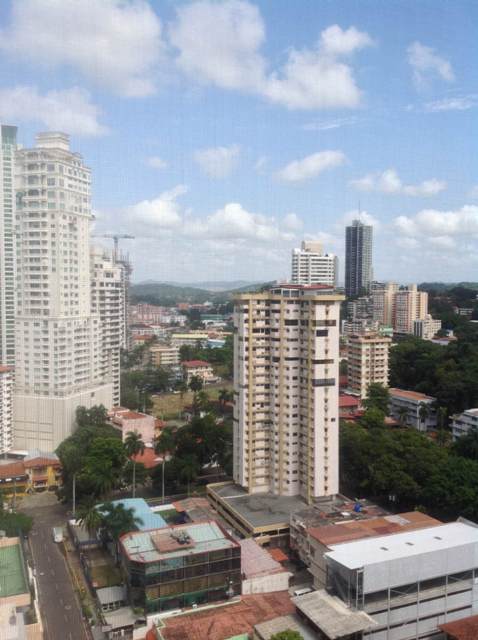 The accommodation – the "penthouse" consists of two double en-suite rooms, a room with five single beds, a large shared lounge and shared kitchen. Breakfast, which you make yourself [fresh fruit/yogurt/juice/eggs/bread] is included in the price. Although we had a very nice "Mezze" at a nearby Lebanese restaurant on our second night and it was good to see that part of the city, should we stay in Panama City again we will probably try the "Casa Luna" – a hostel on the outskirts of the old town [Casco Viejo] which looked good and which is better situated for the things we like to do.
Running all the way along the waterfront [it was approx 2.5 miles from our accommodation to the old town] is a promenade….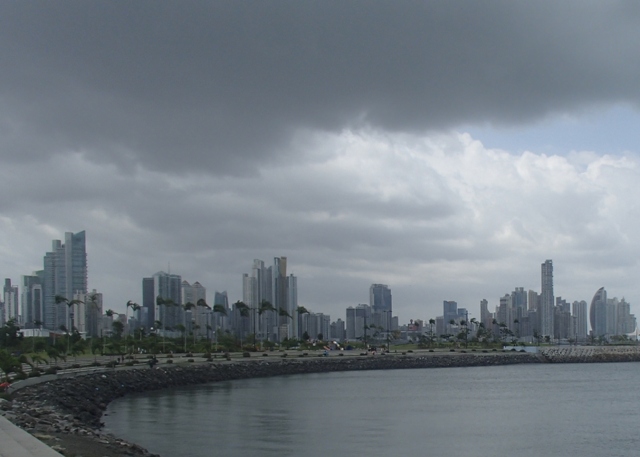 ….which, in the late afternoon comes alive with runners, skateboarders, strolling couples, families and vendors.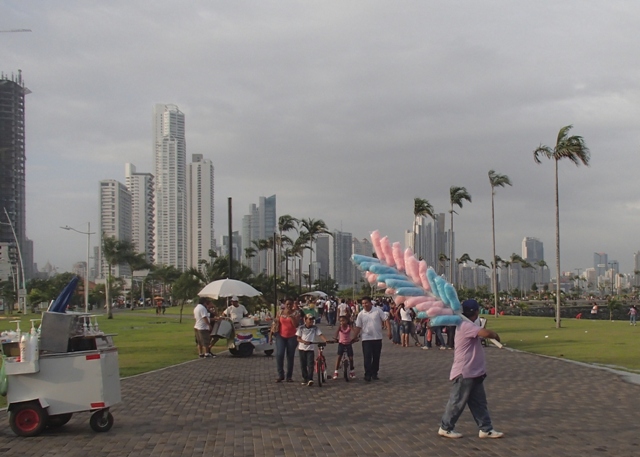 The lovely walkway is nothing like the travel guide suggests. The book is about 4 years out of date but it painted a picture of a rather down at heel area of the city which was not very safe. Nothing could be further from the truth. There are several children's playgrounds, open air basketball courts and five-a-side pitches, trim trails and table tennis tables – certainly lots of encouragement for Panamanians to get, and stay, fit, to socialise, to walk around in open, landscaped, safe surroundings and generally have a good time. It was still bustling at midnight – in a very pleasant way.
Getting around the city is also quite easy. There is a system of metro buses [overland] and a small underground tube type operation. Money does not change hands so you have to buy a card from one of the main stations and then top it up when necessary. An overland journey is 25cents [18p] and underground is a little more. As yet the underground only accesses a small part of the city but the buses are city wide. There is also the option of Chicken buses which seem to be used for travel outside the city centre and on many of these routes Pullman coaches also run costing only a little more.
Towards the older city end of the promenade is the bustling fishing harbour…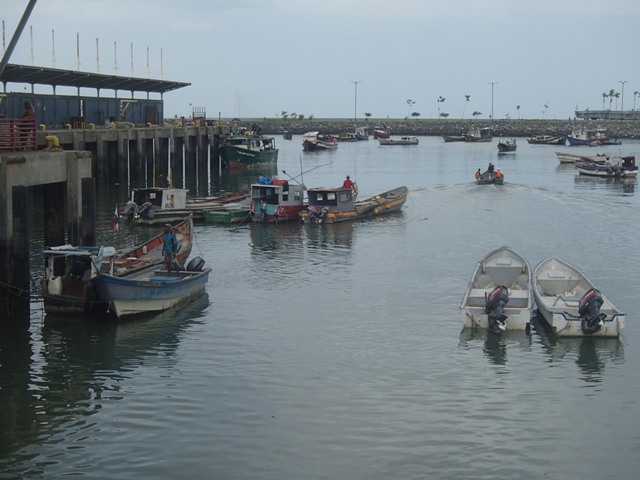 …where people living on the outlying "Perlas" islands can catch a lancha.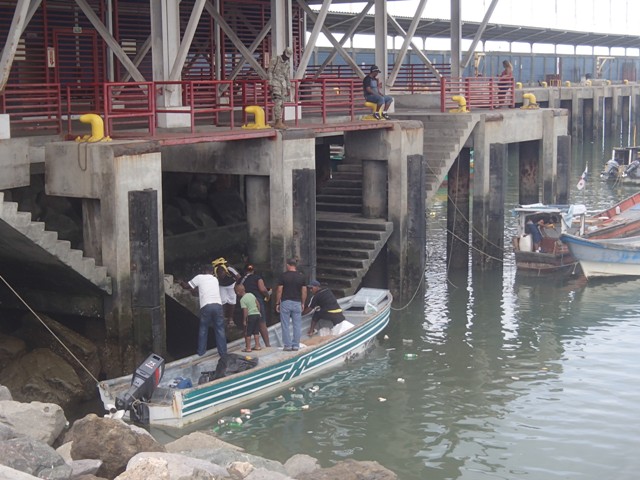 This photograph was taken at approximately half tide. The tide range often reaches over 5m [16ft] – particularly in the northern part of the Gulf of Panama. Whilst this is not particularly significant, if you are used to UK waters, having been on the Atlantic side with no real tide ranges it is something we will have to get used to again once we go through the canal.
As you might imagine, wherever there is a fishing harbour there is a Fish Market.
As well as the wet fish stalls [indoor] there are many small restaurants surrounding the market selling fried fish meals, "coktels" [seafood, not alcoholic] and ceviche. We joined the local families for an excellent Sunday lunchtime snack.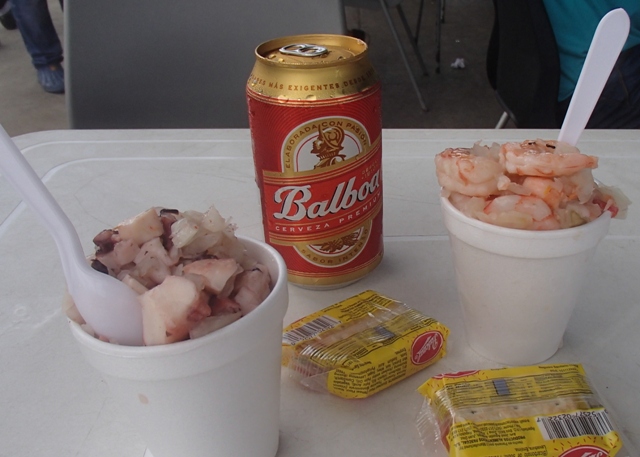 Both my "langoustina" [king prawn] and Mike's "pulpo" [octopus] were fresh and succulent…..YUMMY… and also contained good portions for between US$2.25 and US$4.50 [£1.60-£3.10], the most expensive being for "langousta" [lobster]).
The old town, now a World Heritage site, is only partially renovated but work is clearly taking place on many streets and houses.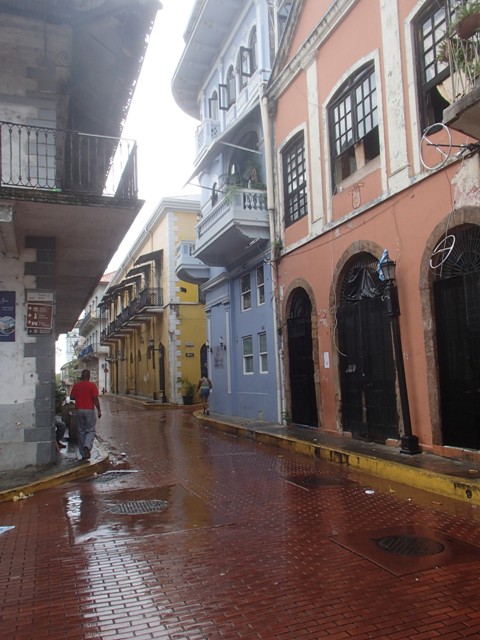 This particular building – fully restored to its former glory – now houses the equivalent of the foreign office.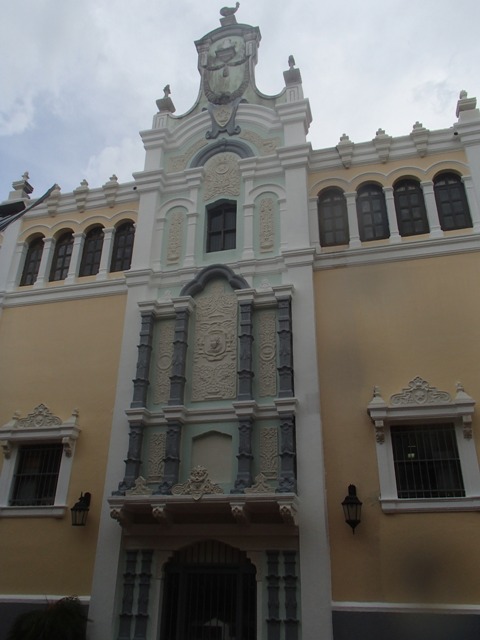 It may always have been a government building because, prior to the construction of the canal, the "old town" was the whole city. Expansion and new building pushed the boundaries east and the "elite" moved with the boundary resulting in a rapidly deteriorating urban centre which soon became a neighbourhood slum and remained that way for almost 100 years.
Although they don't perhaps look their best in the rain, the main squares and buildings have been fully restored with  the Cathedral Square and Plaza Bolivar…….
….forming just two of the focal points of interest. More of interest to Mike – Beer, as you have probably guessed – is available at a micro brewery…..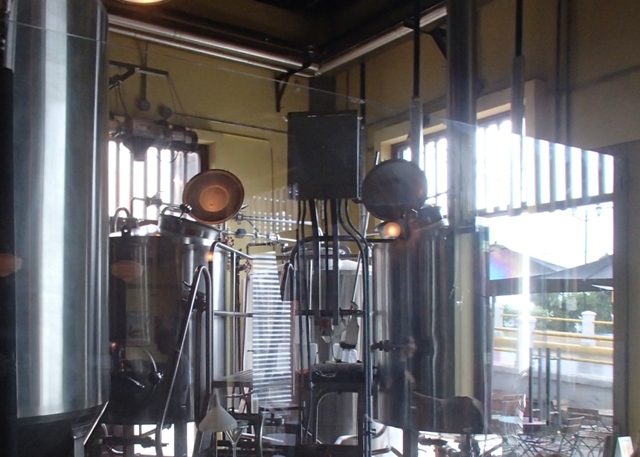 …… situated just round the corner from the hostel I mentioned above. Now why is it that Mike agreed that a stay near the old town would better suit our purposes????
Anyway, "La Rana Dorado" [the Golden Frog] offers a range of six beers. A taste of each is offered in shot glasses placed in the little yellow boats. We particularly liked the Pilsner and were surprised by the Stout which was a lot lighter than many stouts and very palatable.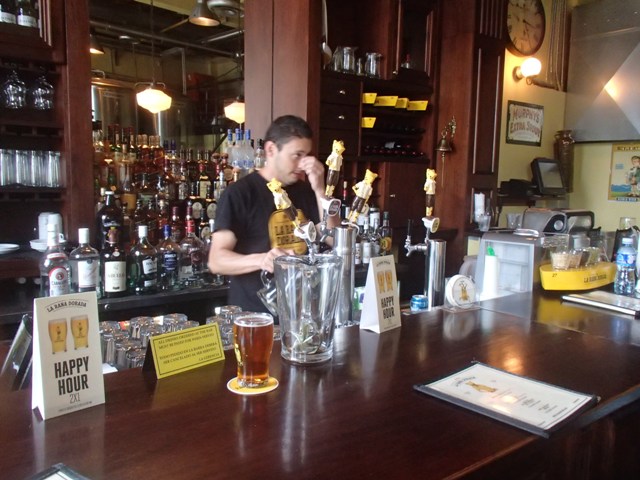 Although I enjoyed the beer, I was actually more taken with the bar we had found the previous evening when we first visited the old town for a night out. A great place for a final nightcap.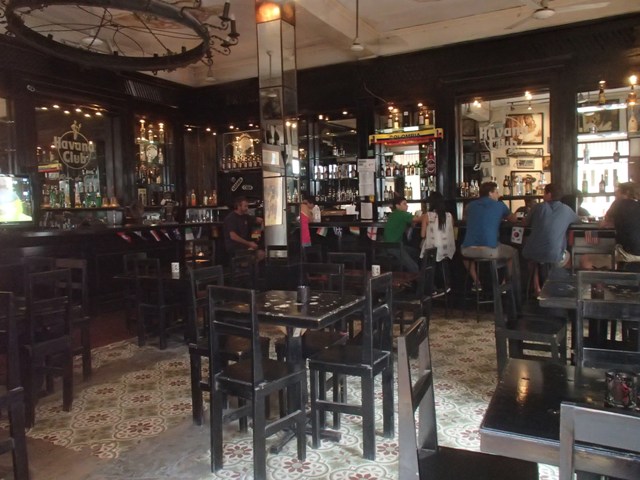 Talking of final…. on this fire damaged balcony two stories up in a building which was completely gutted by what must have been a very recent fire is the final resting place of these few personal items which were the only things untouched by the flames. Even the chair on the same balcony and the plant pots on the next one were badly scorched.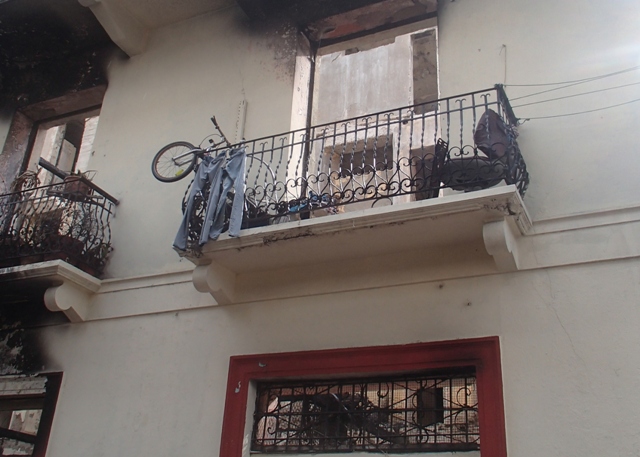 And finally, for us, as our water pump has now arrived we hope that, subject to all going according to plan, the next time I write we will be in Bocas del Toro. Keep your fingers crossed for us!