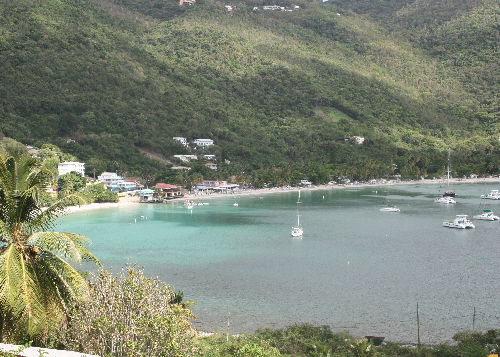 We left the St Barth island group on 9th April for an approximate 100 mile passage to the British Virgin Islands [BVI's]. Our original plan, or at least I thought it was, was to leave at around 4 or 5 pm so that we would arrive in daylight the following day. I was therefore very surprised when, at around 1pm, Mike said "Shall we go then"? Upon being questioned by yours truly, he revealed that he had always thought that 1pm would be a good time to leave but he hadn't told me because I would have been chomping at the bit from about 11am onwards. Hmm – he won't get away with that one again!
With the wind from the East, at around 10 or 11 knots, it was a case of genoa only and a steady 5mph. We kept this up all the way – except for a short spell when we put the motor on to boost the batteries overnight – and we anchored in the harbour outside Spanish Town [Virgin Gorda] at 10.30am on the 10th.  An uneventful, and not unpleasant, passage.
Some of you will know that we visited the BVI's on a Charter holiday [with Chris and Mark] for Mike's 50th birthday treat. Well, when we left after our hols in 2006 we didn't expect to return, ever, because other than the fact that it was a holiday – which meant away from work and somewhere hot and sunny – we can't really say we enjoyed it that much. Sunny was correct most of the time, except when there was a tropical shower, which seemed to be every evening just after settling down to some food and drink ashore and remembering that one or more of the hatches was still open [wet beds again]. Hot was also correct, though "sticky hot" probably more accurate. And in our dreams when planning the holiday we had forgotten all about mosquitoes and didn't know about sandflies and we hadn't even considered the very strong American influence resulting in burgers, ribs and tomato ketchup with everything, inflated prices and an expected 15% tip.
So, you might ask [and I am sure that Chris is doing plenty of asking], why on earth did we want to do it again? Well, lots of other cruisers were saying that they had really enjoyed it, that it was beautiful and the snorkelling was great. We were therefore tempted to find out whether it was us that got it wrong last time or whether, as is sometimes the case, we don't seem to like what other cruisers like and vice versa.
It is actually quite difficult to argue with the beautiful bit because it is – blue/green water, white sand beaches, palm trees – you get the picture. There is also excellent sailing which can be as long or as short as you like, there are sheltered anchorages to be found somewhere in the islands regardless of the wind direction and, yes, the snorkelling is great.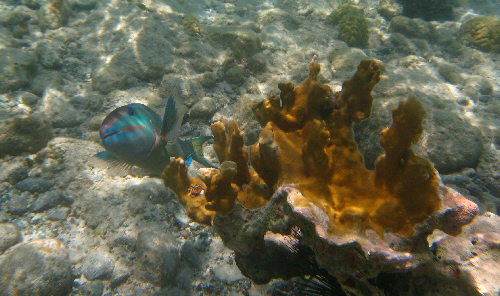 We revisited "the Caves" on Norman Island and once again marvelled at the shoals of small fish – which is like swimming through a snowstorm – as well as seeing a range of larger reef fish. We also walked from Spanish Town on Virgin Gorda to snorkel "the Crawl" which is in the bay before the famous "Baths" visited the first time around. We found the Crawl to be just as good, if not better than the Baths, basically because there was no-one else there and we therefore had the water and the beach to ourselves. We also discovered Green Cay [just east of Jost Van Dyke] which is a turquoise heaven [if you can have heaven underwater] and Brewers Bay on Tortola [shown in the photograph] where there were lots of varieties of both fish and coral. We understand from friends [Carol and Steve] that the diving is also excellent. Unfortunately this is not something which Mike and I do but we are very happy with the snorkelling experience anyway.
So, what is there not to like? Well, having anchored in Spanish Town we attempted Clearance. Having found the office we read a sign on the door which said "For Clearance in or out commence at window A". So, we went to window A and there was no-one there. Someone came to window B and handed us some forms which we started to fill out whilst standing at the window. From a doorway to our left an officious voice said "You can't stand there – you must use the counter opposite". OK we said trying to keep a smile on our faces and not really understanding why one counter was any different to another as we were the only ones there. Then someone came to window A and passed us some more forms. Having stood at our allocated counter and completed all the forms to the best of our ability we returned to window A to be basically shouted at because we hadn't filled some boxes in/signed to say we didn't have firearms aboard. On every other island so far we have been told not to do anything with the firearms box because we don't have any. Here we had to sign below the box even though we hadn't ticked it? Then we moved to window B and finally window C. What you need to understand is that all of these windows are one step sideways from each other with adjoining desks inside. Each of the three officials assigned to Customs, Immigration and Port Control could quite easily process the forms simultaneously but, No, they have to be done in order, at the right window and by the right person. I was beginning to remember now about the officials in the BVI's.
Later the same day we had a similar experience when we tried to throw a rubbish bag into a bin. "You can't use that bin" was followed by vague pointing out onto the road and a muttered "Use the dumpster". So, we used the "Dumpster" and maybe that terminology has given you some insight as to the attitude – it is very American and it is probably a result of 99% of visitors to the BVI's being from the US and themselves having a fairly rude approach to local people. I accept that not all the American visitors are like this but a vast majority are and, in some cases, it has clearly rubbed off.
Mike then wanted to find the town. "There isn't one" I said – "it's just a road with a few houses, businesses and cafe's on". "It can't be" said Mike, as the pilot describes it as the major settlement on the island and once the capital of the BVI's. Well, major settlement it might be but it is still basically a dusty road with a few houses, businesses and cafe's on it! So, after traipsing along the dusty road and finding nothing else Mike decided that the clearance, rubbish drop and lack of anything looking even remotely like a major settlement had served to reinforce our original 2006 experience.
Fortunately, however, things improved starting with a pleasant 4 hour sail on 12th April from Virgin Gorda to Green Cay. We decided to use the continuing easterly to sail through the islands to the north and east of Tortola which, although surrounded by reefs and shoals, are really quite pretty and make for an interesting passage. The approach to Green Cay also needs careful navigation, particularly if you are a monohull, but anchoring west of the sandbar in about 6 metres was quite easy. The pilot describes this anchorage as daytime only with often untenable swells. It was as calm as a duck pond on the night we were there and made even more pleasant because all the charter boats that had come along for snorkelling left at around 3pm and our friends arrived and treated us to some rather strong G+T's ["shirtlifters" as Caroline would describe them!].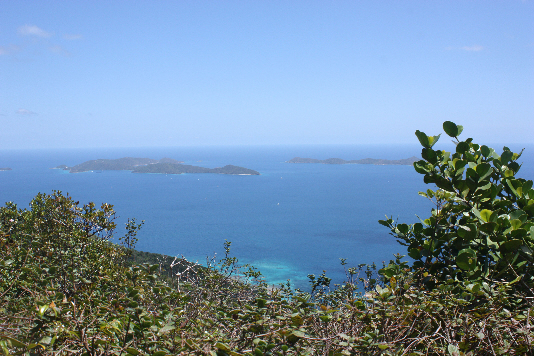 A strong NE was forecast for the weekend so "Innamorata II" [Carol and Steve] suggested we move across to Norman Island or Peter Island on the south side of Tortola both of which have bays sheltered from the NE. Because the south side of Peter Island is basically barren with no roads we opted for the "Bight" on Norman Island. As it turned out, Steve was right to be a bit pessimistic about satisfactory anchoring there as the bay is jam packed with moorings. He said that he thought there was space in front of the moorings fairly close to the beach and so, on arrival that's where Mike and I looked. We also circled the whole bay and tried to drop the anchor a couple of times but we were either too close to shore/shallows for comfort should the wind have changed or too close to moored boats. Finally, having watched Steve and Carol drop the hook in front of the beach, which we had decided was something we didn't want to even contemplate, and then seen another boat follow suit we were beginning to think we were just wimps so, having spotted what we felt was a sufficient "hole" in the middle of the moorings, we opted for there. As it turns out we were right to be cautious. Firstly in the middle of the night the wind changed direction causing Innamorata to have to reduce chain length and then, at about 5am, they had to up anchor and move to a buoy – closely followed, we were told the following morning, by the other boat. Meanwhile, on that occasion we got a full night's sleep.
You might be wondering why I felt the need to put in "on that occasion" in the last sentence. Well, it's because the following night it was our turn! Understandably, Innamorata wanted to move and we therefore chose Road Town [Tortola's – and the BVI's capital] because of it being a very sheltered and indented harbour and because, as well as high winds, rain was also forecast and we thought that being on Tortola there might be land based options of things to do if we had to stay for a few days.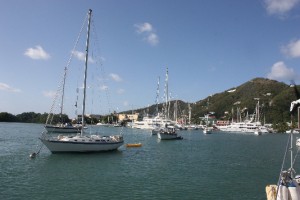 Road Town Harbour is the base of the Moorings/Sunsail fleet, plus one or two other small charter companies and it also encompasses Wickhams Cay and Village Cay marinas. Given that at its outset the Moorings base was for 220 yachts and has since expanded, you will understand that there are lots of boats here. Surprisingly enough, however, right in the middle of the harbour there is enough space for about eight or nine yachts to anchor – though what appear to be two permanently buoyed boats reduce that. We had spent part of the morning at the Caves and therefore arrived after Steve and Carol who appeared to have got the prime spot. We were left with the option of just outside/behind them close to the fairway or next to one of the buoyed boats in quite a small space. We opted for the former but, unfortunately Village Cay is a favourite spot for some of the larger motor yachts and, as the law of sod has it, about 2 hours after we anchored along came a "small" one of around 75 – 100 metres. Having motored, without any apparent difficulty, into the marina he must have complained because out came the marina chap to tell us to move. So, into the small space we went.
All was well until about 11pm when I had gone to bed and Mike was enjoying his last ciggie of the day that I heard a "Can you come here a minute – I think we are dragging". So, it was up anchor and move. However, not as easy as one might think because the anchor was actually well and truly stuck in and, by the time we had managed to  lift it we had moved rather too close