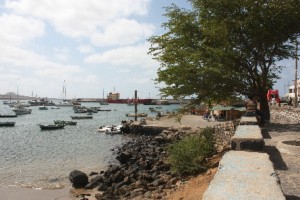 I last reported our arrival in Palmeira on the island of Sal, stating that there was a story to tell. First of all you need to remember back to the tale of the lost oars – when the dingy turned upside down and we had to strip down the outboard. Parts of the motor that we didn't touch at that time were the propeller and the automatic clutch – because back then we were concentrating on getting water out of the actual engine – which then worked and continued working. What we hadn't realised is that water had seeped into the clutch compartment and, with no use at all for 6 or 7 weeks, this had now seized and we had no drive. So, rather than going ashore we had to spend about three hours until darkness fell dismantling the outboard yet again and also working out how to get at and fix the clutch. At one point a hammer came in quite handy even if it was a case of "it will either work or mess it up completely". Fortunately it worked and so, once more, did the outboard.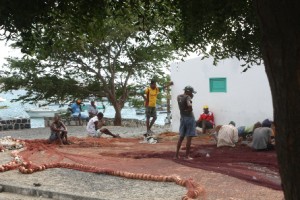 Thus, the morning of 22nd November saw us finally going ashore to find the Port Authorities. This was not an easy task. The pilot said "stand in front of the blue building and the authorities are through the doors to the right". Well, to start with there are about three blue buildings dotted around the harbour and also, since the pilot was written, the authorities have moved and occupy a different building entirely – they are now based in what also appears to be the local police station. Having finally found it, at about 11am, we were told that the person we needed to see would be there at 12.00 so we wandered around and watched the local life.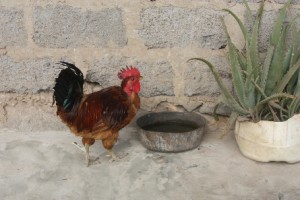 We chanced upon three guys walking around with a lost look on their faces and we guessed that they too were looking for the port authority so we told them what we knew and caused them even more confusion when they realised they had altered their watches to what they thought was local time to still be an hour adrift. At 12.00 all five of us turned up at the police station to be told that it would now be 4pm before we could be processed and so we wandered off again.
This time Mike and I decided to follow instructions on catching an "aluguer". This is not a version of the plague but a local bus/taxi. The trick is to find one that already has other people in it, preferably locals and, obviously, going to the right place. The destination bit isn't in general too tricky because there is hardly anywhere to go and therefore all of the aluguers are usually going to the same place. The reason for needing other [local] people in it is that it is then a bus and only a small charge is made whereas if you are the only people in it then it becomes your taxi and you are charged more. We wanted to go to the capital of Sal called "Espargos" which Mike and I kept muddling up as a cross between a French delicacy and a vegetable but, after careful scrutiny, we hopped on board a likely looking Toyota Hiace [which all the aluguers seem to be] and within 10 minutes we were deposited in the centre of the capital for the modest fee of 50p each.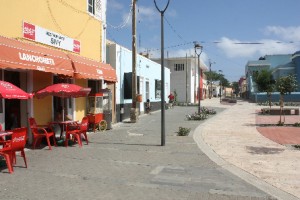 As capitals go Espargos is very small. It took us about fifteen minutes to walk its length and breadth but we did find a Post Office and a bank as well as a good place to eat and have a beer and a shop selling one of the islands famed "Ponches" – this being a flavoured drink. The flavour seems to vary a bit. Either that or it doesn't travel well – not even the 10 minutes back to the port, as the lemon flavoured drink we were given to sample in the shop turned into a kind of liquorice flavoured drink when we opened the bottle later back on the boat.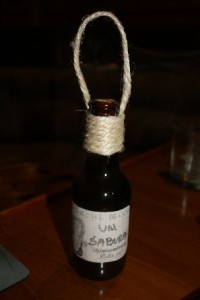 The following day we sailed down to the bottom of the island to the tourist resort of Santa Maria. The sail, including the Baia da Mordeira, allowed us to view the island and note its barren and rather bleak landscape before we had to dodge the jet skis, wind surfers and kite surfers which abound at the southern end.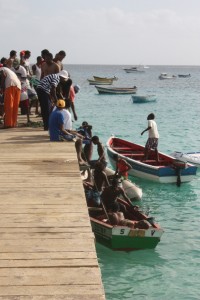 Even though there was quite a swell we went ashore. Yes, our new Pig is brilliant. It scythes through the waves nicely and you don't get wet. Well, nothing like as wet!  We landed at the old pier where there was a lot of fishing activity which, unfortunately, was probably the most interesting part of the town.
Because there are tourists there are sellers and souvenir shops etc and the atmosphere is a little false. We were considering returning later for an evening meal out but, having just praised Pig I have to report that it tried to make good an escape, detaching itself from the painter and needing rescuing by a French guy who leapt off his boat and swam to catch it. He obviously needed rewarding with a glass of wine so I opened a bottle [deciding that feeding a carton of cheap Spanish white to a Frenchman was not really on] and we had to finish the bottle once he had gone and by then we were happily relaxed on the boat and going into town seemed an unnecessary chore.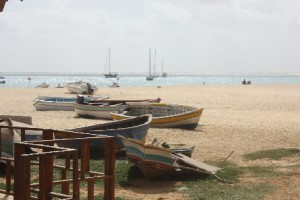 Our next island was Boa Vista and the town of Sal Rei. There are two possible anchorages at Sal Rei, the northern one being closer to the town, but the southern one less exposed. We opted for the latter, particularly as our night at Santa Maria had been rather rock 'n roll and we felt that a couple of nights not bouncing around would be preferable. This anchorage was my favourite of all the ones in the Cape Verdes and both Mike and I felt that this town had got it right. There are some tourists but they are not catered to in the same way as on Sal. There are bars and restaurants but no pushy sellers. What seems to have happened on Boa Vista is that the "all inclusives" have moved in rather than the self catering type apartments found in Santa Maria. Whilst I appear to be reporting this as a good thing because the impact on the town has been less, Mike and I commented that this type of development is actually no good at all for the local people and the local economy. The resorts are built by European companies and all the money goes to them. There may be jobs for a few local people but the local businesses do not benefit at all.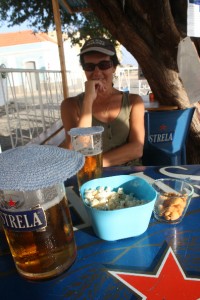 So, we enjoyed the local beer [and I will let you decide which the mug with the hat is!], mixed with the locals and had a meal in a great restaurant in a house courtyard.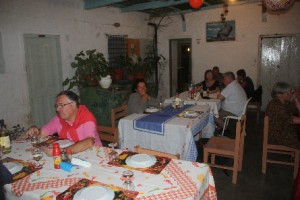 On our second day we took the dingy to the small islet of Sal Rei, walked around it and looked at the remains of the old fort and then had a picnic on the small beach.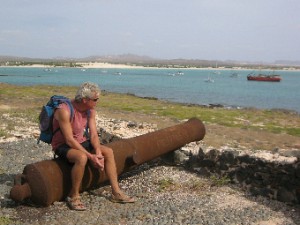 We had a warning from Steve and Gill about sandy winds in the eastern islands [of which Sal and Boa Vista are two] and the effect these winds can have on sails. Indeed, in Sal Rei I saw some yachts with dirty/brown sails but we were not affected at all. Whilst we had wind, we weren't there when the desert winds were at their worst and I think the affect would be greater if one was based there. But it was good to have had the warning.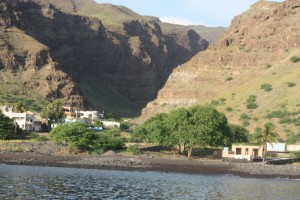 Our third island was Sao Nicolau and the port of Tarrafal. We arrived after a pleasant night sail of 88 miles taking us 16 hours.  Apparently the pilot says that this is a favoured anchorage of many yachties but I wasn't really taken by the place at all – though Mike appeared to quite like it. It was here that we had our first real experience of "boat boys" who will guard your boat and/or assist you at the landing stage. They weren't any problem but it is hard to know whether giving them the expected tip is a good thing or not as they clearly weren't in school as most of the towns children were. The tip is only actually the equivalent of a few pence and so, maybe it's just my conservative outlook with regard to schooling which gave rise to my concern.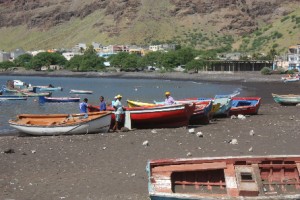 What Sao Nicolau does have, in contrast with Sal and Boa Vista, is mountains and vegetation. It is really quite a lush island and our aluguer trip to the capital of Ribeira Brava was excellent, including spotting a dragon tree – Sao Nicolau being the only island in the Cape Verdes to have them.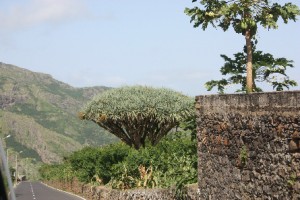 We had a great time looking round the small but quite pretty capital and we also took time out to walk part way up the Ribeira. Had I read the guide book more carefully we could have been dropped off at the top of the ridge and walked right down the Ribeira. Unfortunately I didn't realise this until we were in the town and we decided that walking all the way up wasn't really an option, especially as I was wearing flip flops!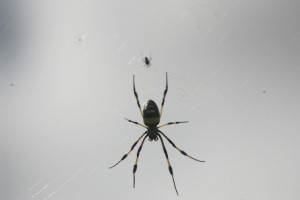 We got some great views, came across a few large arachnids and, best of all, found a grog shop in the middle of nowhere. This was actually the garage of a small house where, to the amusement of the locals we partook of a beer each. I don't think that they get many visitors up this valley. What we also noted was that they did take away grog – which most of the local people were drinking as we had our beer and so, we took some away. It seemed rude not to.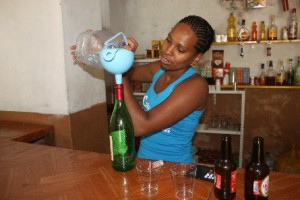 Sailing west again on 29th November brought us to our final island – Sao Vicente. We commenced the sail at around 4am – it was supposed to be 5am but Mike used the GMT clock rather than the local time clock and got us up early! It was at this stage that we particularly noticed the potential hazards of night sailing in these parts. Firstly, very few of the harbour lights or lighthouses actually work and, secondly, not all the local fishermen have lights on their boats. The larger ones are generally lit but there are lots of small rowing boats which aren't. Anyway, there was no mishap but sailors beware and plan any journey in the Cape Verdes with this in mind.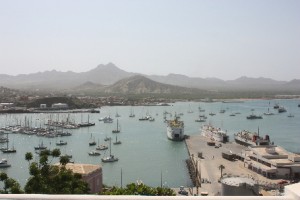 Mindelo, Sao Vicente's city, is in a large natural harbour which is actually a volcano crater rim with the northern section of the rim breached by the sea. It is well sheltered – which is a good thing because there is quite a swell down between Sao Vicente and the nearby island of Santo Antao – so much so that the pilot advises not to sail to Santo Antao itself.  Mindelo has a marina and it is here that all the boats heading across the Atlantic converge to do their final preparations, some boats only actually staying in Sao Vicente rather than, as we have done, visiting some of the other Cape Verdes.  This seems like a bit of a waste to me. I can see the advantage of using the Cape Verdes as a stopping point on the crossing from the Canaries to the Caribbean. Clearly, whilst it extends the overall journey time by a couple of days it does provide respite part way across but to just go to Mindelo means that the experiences of the Cape Verdes are, in the main, missed because Mindelo is not at all typical of the  rest of the places we visited.
Along with several others, we opted to anchor in the bay rather than berth in the marina and we were quite glad that we had because the advantage of shore power was, in our view, outweighed by the movement on the pontoons with boats pulling quite hard on their warps and what looked like an uncomfortable rolling. The Marina was, in any case, available to those at anchor – the equivalent of €4 per day enabling the dingy to be parked safely, rubbish to be landed, showers and toilets to be had and a pleasant bar to drink at whilst accessing the internet.
The town of Mindelo is very interesting with cobbled squares and colonial type buildings. It has an old fort which we walked up to see only to find that they are renovating it [or something] and there was no access. Mindelo is the second largest town in the Cape Verdes, the largest being Praia on the island of Santiago which was too far south for us to visit. It has dual carriage ways and roundabouts and supermarkets [well maybe largish shops better describes them but compared to the other islands they are supermarkets!]. There are also lots of bars and restaurants to choose from and we found one which served us a lovely red wine – even if the food was a bit disappointing. Caroline and Claire – you may be interested to know that there are ESOL opportunities here [and also on Santiago and Sal]
Whilst there we saw a couple of yachts who had commenced the ARC but who had needed to divert to Mindelo for repairs, including quite a large Amel which appeared to have lost its forestay. We also encountered a few Brits, some of whom indicated that they too were going to Barbados. We hadn't seen any British boats in any other part of the Cape Verdes so it is our fellow countrymen [and women] who seem to use the islands as a staging post rather than a destination in their own right.
Originally our plan was to spend three days/nights in Mindelo and perhaps take a ferry trip to Santo Antao. However, the guys we had met up with earlier in Palmeira were also in Mindelo and we owed Rik [the captain] a beer. So, we chewed the cud over a few drinks and he regaled us with stories of the fish he had caught – which seemed to involve a tot of whisky and a winch handle – both of which were to stun the fish! What we also discussed was leaving dates and he brought up the sailors superstition about not setting off on a voyage on a Friday. Obviously I hadn't heard of this and Mike kept it very much to himself when we left Liverpool because he knew how I would probably react. And – he was right. The three night stay in Mindelo would have meant leaving on a Friday so, Santo Antao remains unvisited and we left on Thursday 1st December.
Overall then the Cape Verdes were worth visiting and, if I was doing the trip again I would certainly include them. The islands are economically poor but the people very friendly. There are barren islands and there are lush islands and all have their own beauty. It is a good job we did our provisioning in the Canaries because there is little to be had even in Mindelo, though we were able to top up our supply of chicken and sausages. Apparently, according to the guide book, the Cape Verdes are set to be the next Canaries with regard to holiday destinations. They are certainly warm enough and, if you like watersports or diving there are things to do but they have a long way to go to be anything like the Canaries and, as noted earlier, if this means lots and lots of all inclusive resorts then I don't think it will work. But as a safe haven for yachties they are great and we are glad to have been and, after all, they do make their own beer.