Something we are beginning to learn is that one has to be flexible. Plans made don't always come to fruition……
Before leaving Liverpool we had in our mind that after Portugal, Madeira would be our next stop. Madeira is an island that we have considered visiting for some years now during a February/March break but we have [I have] always been put off by the temperature at that time of year compared to other destinations like the Canaries or Seville or the Algarve. So, it was definitely time for a visit and, although the pilot didn't describe Madeira as ideal for a yacht [about 2 marinas and little chance of anchorage because of the steep sided cliffs etc] we were clear in our minds this was where we were headed.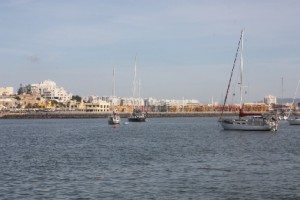 And… so it remained as we left the anchorage at Portimao on 31st August. Texts to Chris and to James to advise we were leaving said as much. However, what we weren't expecting were the strong south westerly winds which blew for two and a half days.
We are ashamed to admit that we hadn't looked at the grib prior to departure. Limited and frustrating access to the internet and short inland waters hops has resulted in us not relying on that source of forecast, using instead the weather bulletins posted daily in marinas and ports. On this occasion Mike had looked at such a forecast and checked for wind strength etc but admits not to really studying direction in any detail.
The prevailing winds at this time of year are NE or at least northerly in some aspect and, although our memory is of more southerlies [head to wind, for the direction we're travelling] looking back in the log northerlies are definitely dominant and, when a southerly has blown it has usually been one day only.
So, perhaps we were unlucky in one respect – though we recognise rather stupid in another.
Anyway, enough self castigation for now and it is something we have vowed not to do again. At this time I should hasten to add that we weren't at any time in any particular danger – we just couldn't go where we wanted to and for about two days Morocco was definitely looking favourite!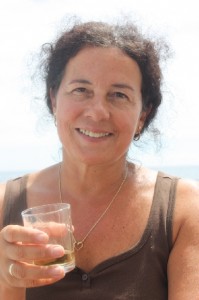 One high spot during this initial frustrating period was that we crossed the 1,000 logged mile barrier. The reason that I have included "logged" in here is because as many will know, current etc adds or reduces speed over ground and means that more, or less, miles are covered than recorded in the log. To rely on a chartplotter is also not possible because that tells us the distance between waypoints and once approaching a waypoint it is often visually clear that a slightly tighter line can be taken and so on. Overall, we have been recording speed over ground at a higher rate than actual miles, by about 5 – 10%, so we know that we had achieved at least the thousand when the log told us – but chose that time to celebrate.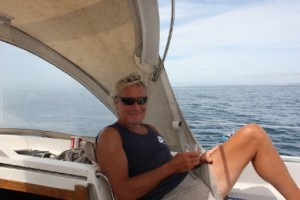 We could probably have actually motored all the way through the SW winds and remained on track for Madeira – but that's not what this trip is all about and, to do so would be both costly and might mean that the vital fuel needed in an emergency would be used up just to prove a point so, having set off with engine we decided this wasn't sustainable and plotted a course to suit the wind. In sailing terms we were doing fine and set a steady pace. Thinking the wind would change at any time we were also still unconcerned about destination because we needed to go south as well as west and anticipated that when the wind came good we would just set a course for Madeira from  a slightly different angle but still be able to sail comfortably.
What we hadn't anticipated was the aforementioned two and a half days of SW winds which meant that, when it did change and a time came when we could change course we were actually equidistant from Madeira and the North of Lanzerote.
Portimao to Madeira is about 400 miles and Portimao to the Canaries around 550. Madeira to the Canaries is approximately 300. By the time the wind changed we had done 150 miles south/south east and we were approximately 300  miles from both possible destinations when we had to make our decision. I am afraid there was really no decision to make. Had it been our intention to stay in Madeira for a month or so then that it where we would have gone, but our plan had only been for a four or five day stay before setting out for the Canaries anyway – so, Madeira remains unvisited…. but still on our list for someday.
From then on we had northerly winds and, although the wind was often directly behind and the waves more from a direction starboard of the stern causing roll, we made good passage.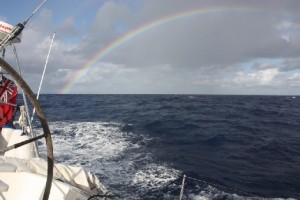 We had to put the engine on for a while during part of a night passage because the wind dropped and the wind generator couldn't keep up with the ampage required by navigation equipment and lights [hey Malc – we are onto it and know what we need in battery terms – its just a case of finding them and Portuguese prices were not worth considering].
We had the spinnaker up for a while one day which boosted our confidence about using that in slightly stronger winds and which aided us to make 8k for a couple of hours.
In terms of sightings of other vessels – there were very few and mainly on the horizon.
We had an electric storm one night [or rather I did] which lasted for about four hours, during which time each bank of cloud caused sufficient wind shift to necessitate a course change so that I didn't need to gybe – but the shifts were relatively slight [only 10 or 20 degrees one way or the other] and of about 15 minutes duration each so the course on the chartplotter shows as more or less straight.
Unfortunately we saw very little wildlife – two separate pods of dolphins joined us but only stayed long enough to attract our attention and make us smile.
The only other thing worth reporting is what was possible our second mistake of this trip. For sometime now Mike has been considering giving up coffee. He has, for much of his working life, drunk copious amounts of the stuff – and of the strong percolated variety and, on board we have a similar brew available. He chose now to give it up. We don't actually know whether it was caffeine withdrawal or something else but for the first time ever he felt sick and, unfortunately the feeling lasted more than three days. He also felt tired and nothing tasted good so he hardly ate and had to be reminded that water was pretty vital. Once he got the hang of water, it has to be said, he recognised its positive properties and it aided his recovery.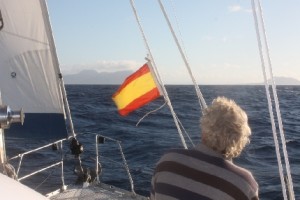 Thus passed our journey and just over 100hours after leaving Portimao land was sighted. We celebrated a couple of hours later with a small G+T by which time we were approximately 1 hour from harbour. Incidentally this was the only alcohol, other than the 1,000 mile celebratory dram four days before, to have passed our lips since Portugal.
However, the story doesn't quite end there. Our destination was the small marina on La Graciosa – the island off the top of Lanzerote. Mike had read about the marina and the island and we were looking forward to landfall there. The approach in the sunset was perfect and we sailed up the Estrechio del Rio, furling the genoa on the approach to the entrance. We sighted what the pilot said could be a difficult entrance to see and motored in. There were two berths clear on the visitor's pontoons to port and we had ropes out on both sides ready for mooring along either side. Brilliant.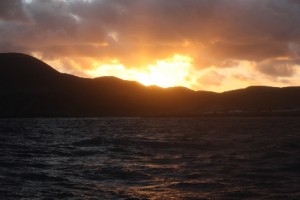 Then came a whistle. That's OK we thought – its just the marinera telling us to follow him. Hhmmm. Not to be I'm afraid. It was the marinera telling us "No reservation, no stay". It was also an emphatic, no argument kind of "No reservation, no stay" so, we didn't even bother to try to plead our case – after all at least 50% of yachties who arrive there are likely to have done, like us, a 500+ journey – so who were we to get special treatment!
Fortunately we had read the pilot and knew there were three possible anchorages only a mile down the island. In the first one, which was described as less good, there were just two fishing boats [actually fishing – in a nature reserve where we thought no fishing was allowed???].
In the second one were already anchored about 12 – 15 other yachts, but the third anchorage was not looking good given the wind direction. By now it was beyond dusk with no moon, so sighting a clear spot in the correct depth wasn't the easiest exercise but, the anchor bit first time – so much so that it nearly took Mike in for a swim as he was holding the chain when it stopped us! "That's in then" was about all that needed to be said and two weary travellers made their way to bed.
Apologies to Chris who told me that one of my earlier posts was a bit technical [talked about sailing]. Hopefully she has made her way through this OK.
And just one final word about forecasting and actual weather. We have accessed the grib since our arrival which told us that we were in for a basically windless week. That hasn't actually been the case. So, my new approach is likely to be – if it says it will be bad it might be or might not but don't risk it and don't go. If it says it will be good, expect the unexpected!