This is probably going to be a slightly shorter post – which will no doubt delight Dave as he still can't seem to find the time to read my longer ones! So, hi Dave!!
The successful conclusion of the fixing of the water pump was celebrated with a bottle of fizz before we ventured out into Matosinos for a meal. What we hadn't bargained for was that restaurants close during the "Portuguese fortnight" as the owners obviously take the same holidays. So, other than a couple of beach bar restaurants which, although they had nice views, weren't really what we were looking for, we had the choice of one! But it turned out to be a great evening.
"Mar Vivo" may not have presented us with the best meal [in fact it was rather basic] but there was the usual football on TV and the owner was obviously very keen to watch it [Benfica v Sao Vicente]. Clearly Benfica were the favourites but Sao Vicente is a "northern" team from close to Porto so the north/south rivalry was at the fore. We had glanced at it a couple of times and Benfica were 2-0 up at half time. Then Sao Vicente scored and as we were the only ones in the restaurant by this time I made some kind of encouraging comment to the owner. He then launched into a long conversation with us in rapid Portuguese – some of which we understood, vaguely – and then he went to get a European cup ticket from a stadium in Germany which he had been to [with Sao Vicente playing – I think] which he was very proud of. We then played charades again about football and then made to pay the bill. He really didn't want us to go. We think his wife wanted to serve him his meal but he wanted to watch the end of the match so he produced a two thirds full bottle of wine which he said someone had paid for and only drunk part of, plonked it on the table and told us to enjoy it. Well who are we to turn down an offer like that. So we kept him company for the rest of the game and he was practically doing a jig when Sao Vicente scored again making it a draw – away from home as well! A very memorable way to end our stay in Leixois.
We left Leixois at 9.30am on Saturday 13th in very little wind but, in line with Alexander's instructions, after half an hour we turned the engine off and left it to cool for another half hour [going nowhere fast] until at about 11.20 when – with the engine checked and watered – we set off again. An hour later and we were in fog but fortunately this cleared after an hour, the wind picked up and we were able to sail for about 3.5 hours. Mike tried his hand at some fishing but to no avail.
It was a fairly dreary night with limited visibility at times. In fact, when Mike was looking to port for lights designating some rocks we knew had to be negotiated he was startled [and initially alarmed] to see lights emerging to starboard through the fog. Fortunately we weren't on the rocks, we were in the right place with the rock lights out of sight and a fishing boat passing us! The sea fog stayed with us until we turned to make the final approach to Cascais  at 1.30 pm on Sunday.
Just prior to leaving Leixois we had been chatting to the French people berthed next to us who told us they had had to leave Cascais the week before because there were no berths available because of the America's cup. Mike therefore phoned ahead to check whether we could stay on Tuesday and Wednesday to give Chris and John a marina start rather than a "pig 'n anchor" start to their holiday – that must make a good name for a pub! There was no problem so we thought the racing must have finished – therefore we were absolutely delighted when we drove out of the mists to see a harbour full of racing yachts. OK, so they were at anchor but, we thought, at least we could look at them.
The yachts and various support boats all seemed to be in the area indicated in the pilot as the anchorage but there were other yachts anchored further down the beach and we decided to join them. I still haven't always got the right technique for stopping the boat for Mike to set the anchor and, this was one of those occasions as we were still driving slowly sideways [with wind] as the anchor was going in. However, this turned out to be a good thing because just after we had settled, a couple of other boats anchored just to port of us were asked to leave by a support boat. What that indicated to us was that a) there was apparently going to be racing and b) we were perhaps in a good place to see it. And we were…..
Various yachts passed us, some quite close and we were able to capture boats and crews.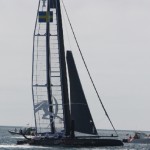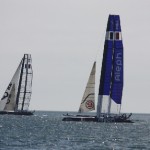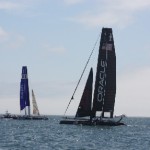 We were also just outside the area set aside for the yachts to use when mustering and hustling each other at the start line.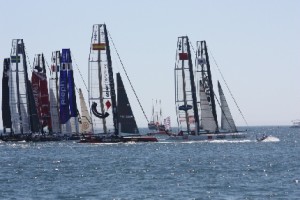 This position would also have given us a grandstand view for the finish as well except for one yacht who the officials weren't able to move because there was no-one on board. Unfortunately that boat got right in the way of my victory shot but the yacht with its hull in the air was the win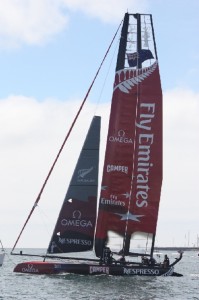 ner and here is a better shot of it.
The Emirates boat just pipped one of the American boats at the very end as the two Oracles had been in the lead for most of the way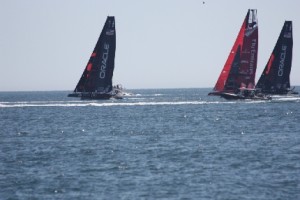 So, we were delighted to have been able to watch the European leg – well, that is, at least the last day of racing –  and we also heard the party which followed, well into the early hours of Monday morning!!
It was also quite interesting over the next couple of days to see all the work which goes into dismantling the yacht sheds etc. We saw some stripped hulls being towed down river [presumably to be put onto a plane or boat??] The sheds were made up of containers which seemed to be named "Masts", "Rigging", "Grinding" and "Building" and these were loaded onto lorries along with various large pieces of scaffolding, roof and huge concrete blocks. On one occasion I counted fifteen lorries queued up awaiting their container. Quite an enterprise this America's cup!